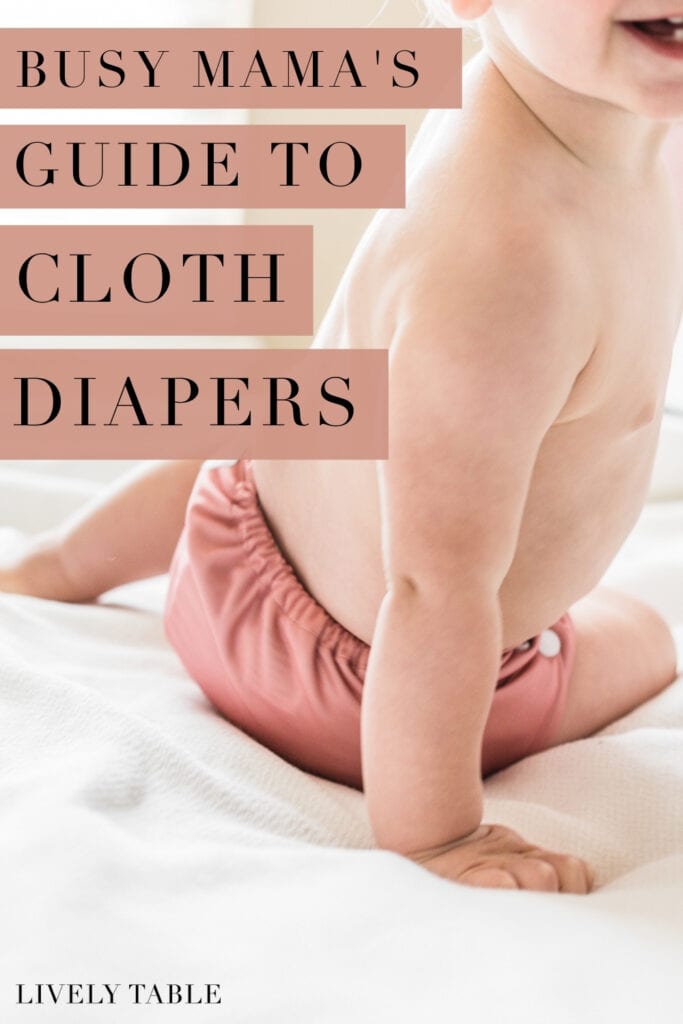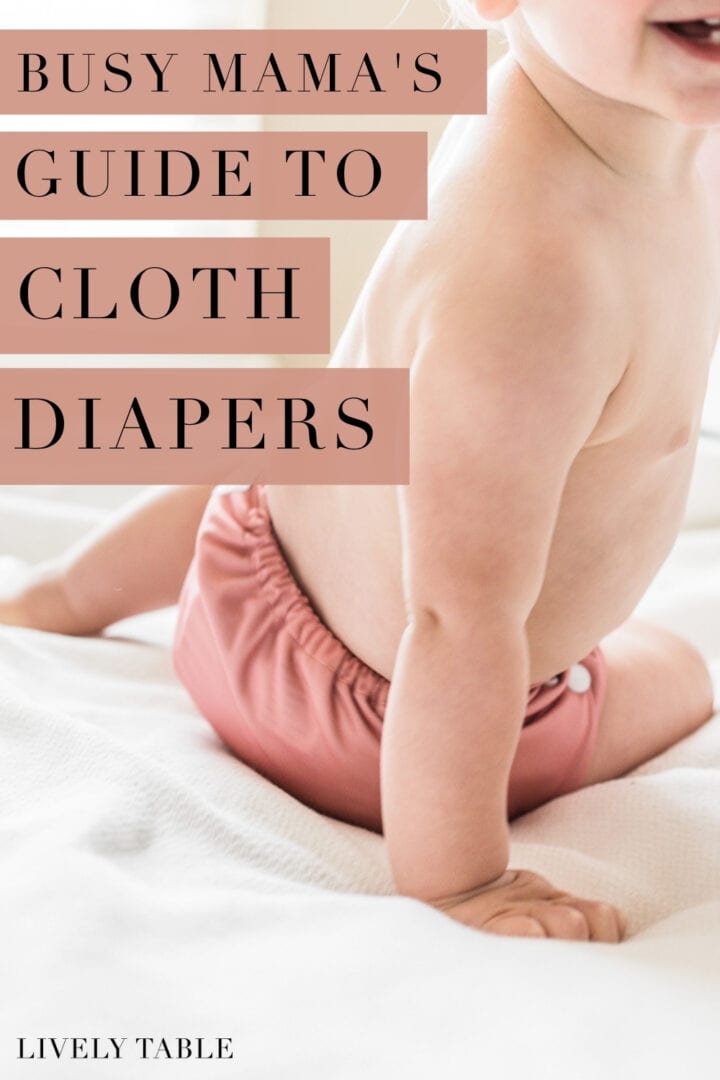 Interested in using cloth diapers, but feeling overwhelmed or unsure of where to begin? This is the post for you! I'll walk you through everything you need to know in this stress-free guide to cloth diapering for busy moms.
If you told me two years ago that I'd be writing a post on cloth diapers, I would have laughed in your face. Cloth diapering was something I never had any interest in. In fact, I was in the "no way would I ever use cloth diapers" camp. But a second baby and a pandemic later, I'm singing a much different tune.
My dear friend Amy actually put the thought of actually using cloth diapers in my head. She has three girls about the age of my own little ones and she's used them with all of her girls. She was convincing enough to make me think about using cloth diapers with my second baby, but I still wasn't completely sure I could handle it. Then the pandemic hit, and in a moment of panic during the early days (circa the toilet paper shortage), I bought a full setup of cloth diapers. You know, just in case. Then I figured that since I had them, I might as well use them. And I actually love it and it's much easier than I imagined it would be!
BUT I will say that it helps to have a friend or family member (AKA an Amy) who uses cloth diapers to get you up to speed and give you some confidence. It can be really intimidating to just search 'cloth diapers' because there are SO many options and information overload. In the beginning, Amy sent me a comprehensive email that was so helpful, that I've decided to pass along the information to all of you in a concise, easy to understand format so that you feel confident with cloth diapers, too! In other words, I'm here to be your Amy.
Why cloth diapers?
There are so many reasons parents choose to use cloth diapers. They're healthier for the environment (no diapers in the landfill!) and save you a lot of money in the long run, especially if you plan on having more than one child. They're also helpful later on when potty training, because your child is used to feeling when he or she is wet, which they don't feel in disposable diapers. But the biggest reason I love using cloth diapers is that they are healthier and gentler for my babe's skin. There are no chemicals or fragrances in cloth, so I feel much better about using them!
What Kind of Cloth Diapers To Buy
There are tons of different cloth diapering options. They each have different levels of convenience and cost. And if you're unfamiliar, it's overwhelming to sort through, really. What I use, and what I'll be talking about, are pocket diapers. But the same information can be applied to sleeve and all-in-two diapers, which are all the same idea with very slight design differences. I find these the easiest to use and wash, so I highly recommend this type. However, different types work for different people, so go with what works best for you. I bought mine from Nora's Nursery, because I love their non-obnoxious colors!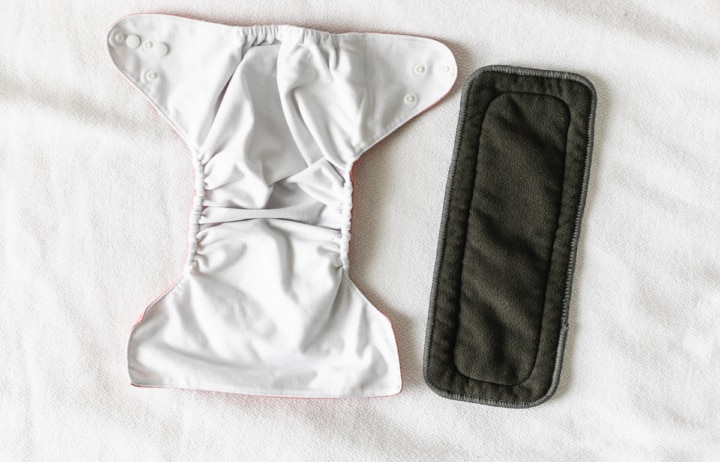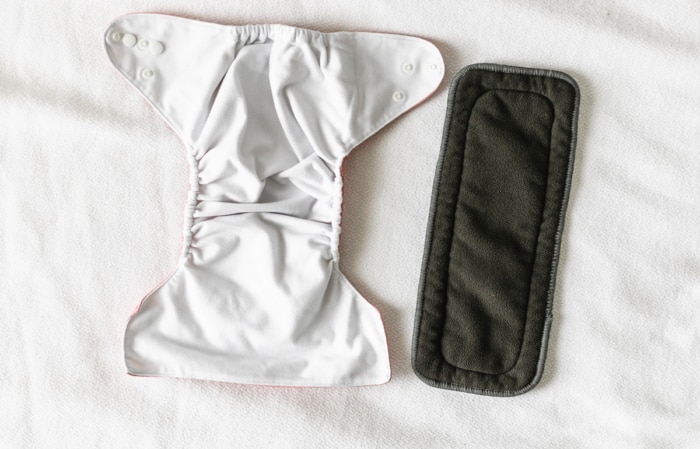 How To Assemble and Put On Cloth Diapers
First let me break down the terminology. With a pocket diaper, you have:
The Shell - The outer part that's usually colorful and has either snaps or velcro to secure the diaper.
The Inserts - The absorbent pieces of cloth that go inside the diaper that absorb the wetness. They are usually made of bamboo, fleece, or microfiber. I find that the fleece are most absorbent.
The Pocket - The pocket is built into the inside of pocket diapers and sleeve diapers, and it's where the insert goes (more on that in a minute).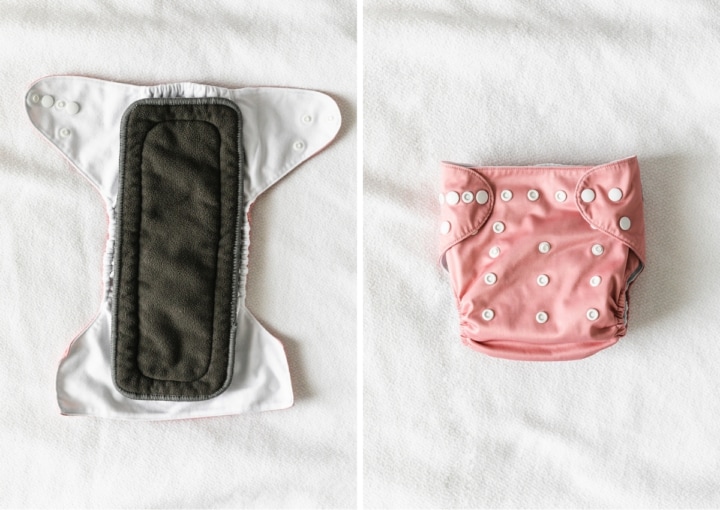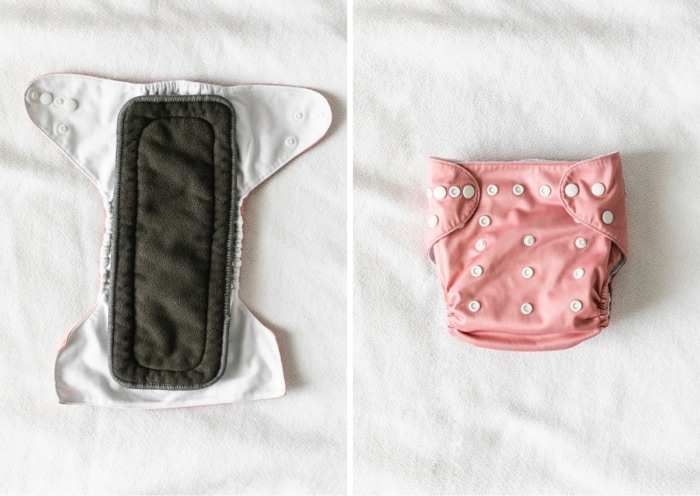 Basically, you stick the insert into the pocket (or snap it in if you have an all-in-two or hybrid) then put the diaper on your baby just like you would a disposable diaper using the snaps or velcro to close it. BUT what I prefer to do, and some people feel differently, is to stick the insert ON TOP of the shell instead of in the pocket, so that I just have to take it out and place a new one on top when it's wet or dirty. This way I go through fewer shells and my diaper pail doesn't fill up as quickly. Washing the shells less frequently also reduces the wear on them so they'll last longer.
How To Change Cloth Diapers
Changing cloth diapers - the part that most people dread! But honestly, it's not that bad. For diaper changes, you'll need a receptacle for dirty/wet diapers. I use a small trash can (with a lid) lined with a wet bag. When your baby's diaper is wet, simply take it off and place it in the diaper pail (your prepared trash can) and put a new one on your baby. Or, if your insert is on top, you can place just the insert in the diaper pail and use the same shell, just adding a fresh insert. You'll handle dirty diapers differently depending on how your baby is fed at the time. If your baby is exclusively breast fed or receives both breastmilk and formula, you can throw the soiled diapers directly in the pail and move on. Breastmilk poop (and breastmilk/formula combo) is water soluble so it can go right in the wash. If your babe is exclusively formula fed or is starting solids, you'll have to do a little more work. I found that most poops are easy to just shake off into the toilet, then the insert can be placed in the pail. If it's a little more stubborn, you may have to try a little harder to get the poop off the insert and into the toilet. Some moms invest in a diaper sprayer or use a dedicated diaper spatula. Others are fine using toilet paper. I find it easiest to use the spray nozzle on my sink to rinse particularly messy diapers, then sanitize the sink afterward. You may also choose to use disposable liners, which will catch solids and make diaper changes really easy. I used these for a little bit while making the transition to solids and they really made things easier. No matter what method you choose, don't worry too much about getting the inserts completely clean, they're all going in the wash anyway!
How To Wash Cloth Diapers
Washing is typically pretty easy, but there are a few things you'll need to know. You'll need to wash diapers every 2-3 days. That's why I have a very small dirty diaper receptacle. If dirty diapers sit too long, they can build up ammonia which is irritating to baby's skin (and stinky!). Simply throw all of the diapers, inserts, and wet bag/pail liner into the washing machine and do a cold rinse. Then wash on the hottest, most powerful setting on your washing machine with a full load of detergent. You can also add an oxygen booster (I add a scoop of Branch Basics Oxy Boost). If you have hot water you may also need to add a water softener with the detergent to make sure you aren't getting mineral buildup that will cause your diapers to leak and be more stinky. Then throw everything in the dryer. Some people choose to line dry the shells, but I don't. If your inserts have staining, you can place them in the sun to dry, which will help clear up the stains.
After doing some research and experimentation, I've found that plant-based or all natural detergents are not the best for washing cloth diapers, especially if you have hard water. We have VERY hard water. Unfortunately, it's best to use detergents with a lot of surfactants, which are also good at softening water, to get diapers really clean. And don't skimp on the amount of detergent. I've had good luck with Tide Free and Clear powder detergent. Then I usually add either a scoop of Branch Basics Oxy Boost, a capful of Branch Basics Concentrate, or Charlie's Laundry Booster (which is good for hard water).
Even after following these guidelines, you may have to strip your diapers if they collect too much buildup from washing in hard water. I've had to do so 3 times. If you need help stripping, there are tons of how-to resources out there, or send me an email and I'm happy to walk you through it!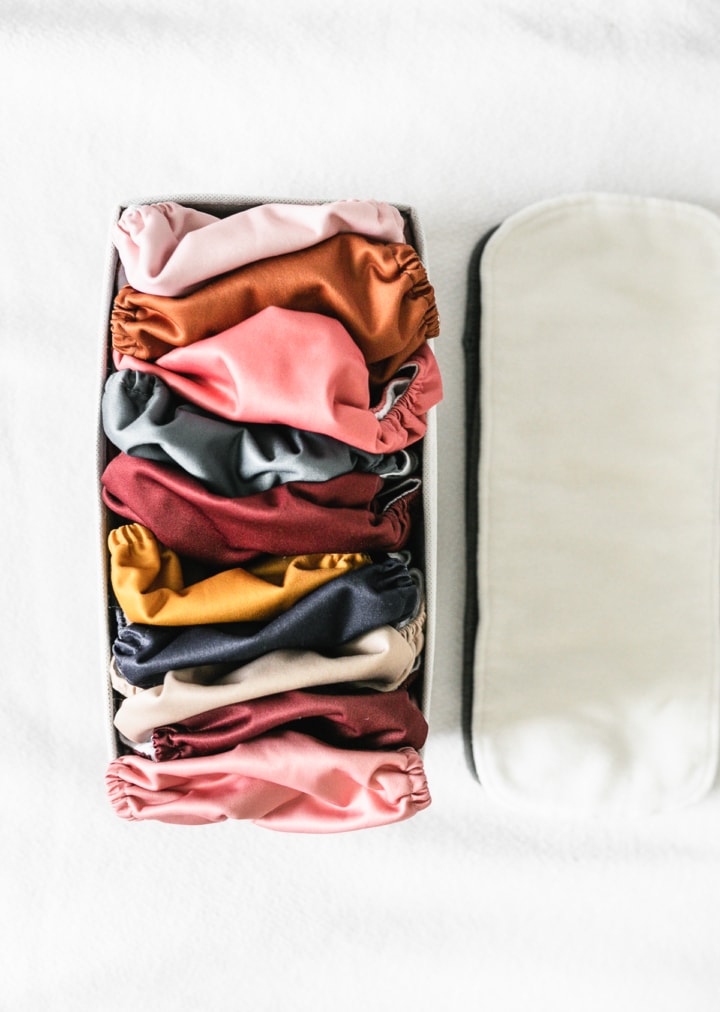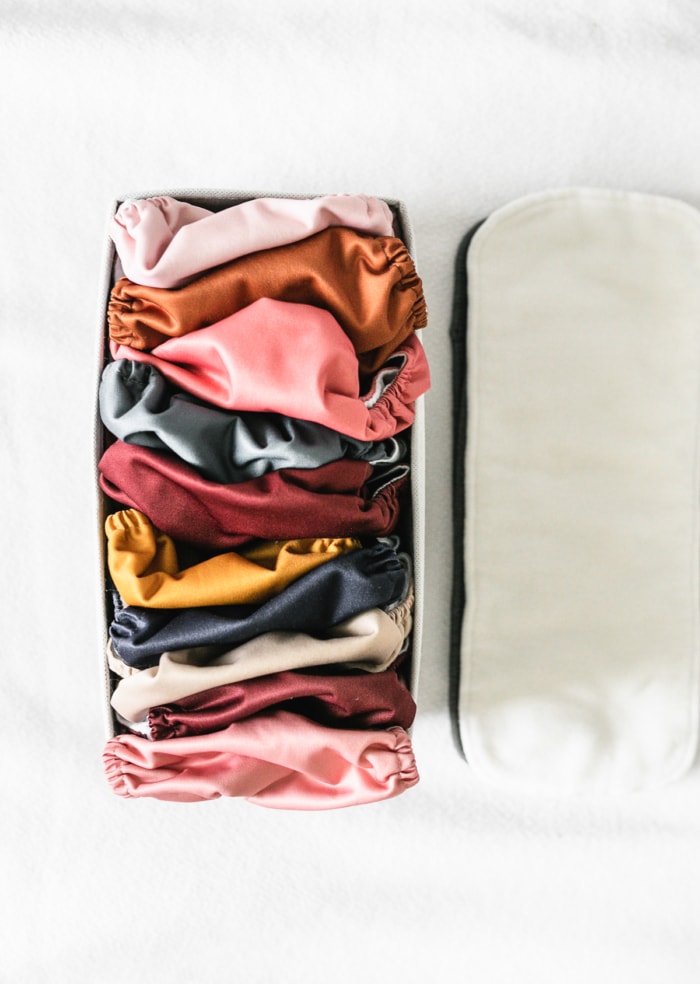 Things That Will Make Your Life Easier
I'm all about the least amount of stress when it comes to all things parenting. Here are my tips for making your life easier when it comes to cloth diapering:
As mentioned, disposable or flushable liners are great for the transition from breast milk to solids. They're also great for when you have to use diaper cream, as most diaper creams cannot be used with cloth diapers since they will cause buildup.
Get two wet bags or pail liners. You'll need one to use in your diaper pail while the other is in the wash.
Dark colored inserts. I love the charcoal colored fleece inserts I have because you can't see any staining!
Get the diapers with snaps. They last longer than the ones with velcro, and your baby can't get them apart.
You'll probably still want to use disposables with small newborns (the cloth may not fit until they grow just a little bit), while baby is sleeping at night, or when traveling/at daycare. I use Dyper bamboo disposable (and eco-friendly) diapers for nighttime to prevent leaks and for traveling. Cloth doesn't have to be all or nothing!
Complete Supply List For Cloth Diapering
There you have it - your guide to cloth diapering without stress! Tell me your questions, or if you're already a cloth diapering mama, share your tips and tricks in the comments. If you found this guide helpful, please share on social media or with your mama friends!