Portobello mushrooms are a popular ingredient in many dishes for their meaty texture and savory flavor. They have been used in home kitchens around the world for centuries, but now they have become a staple of restaurant menus everywhere.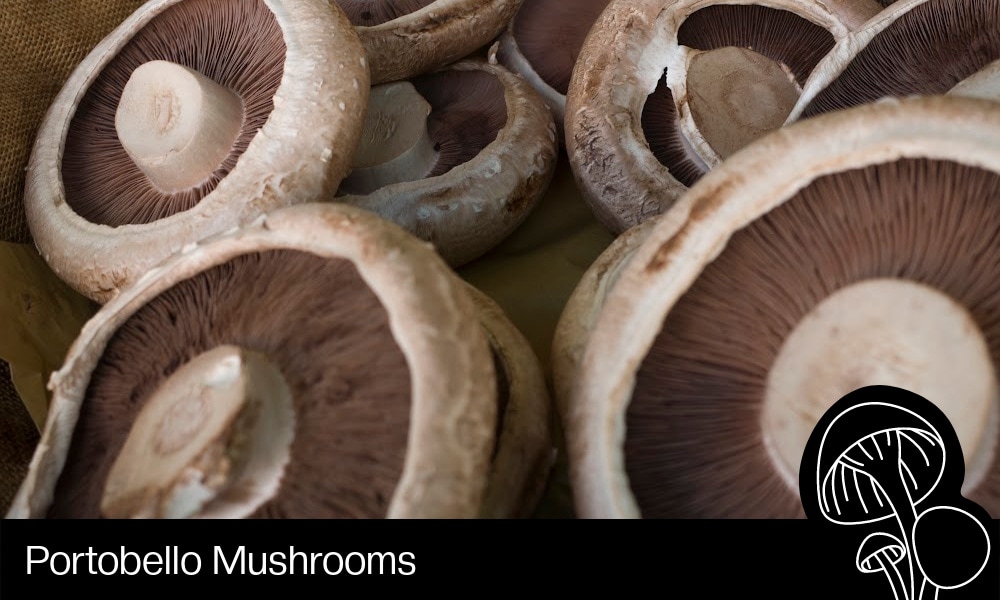 What Are Portobello Mushrooms?
The large mushrooms you see in the grocery store are portobello mushrooms. Portobello mushrooms are the fully-grown version of the edible mushroom species Agaricus bisporus, which also includes button and cremini mushrooms. All these types of mushroom are the same species that have reached different stages of maturity; button being the least mature variety, followed by cremini and then portobellos. Portobellos are the largest and most mature of them all.
The portobello mushroom has a wide, flat cap that can reach up to 4 or 5 inches in diameter. The cap has a distinct brownish-gray color, often with small dark spots on the surface. The stems of portobello mushrooms are thick and range in color from white to light brown.
Portobello mushrooms are known by several spellings. Portobello, portabella, portobella, and portabello are all acceptable. The name portobello comes from the Italian word for "beautiful door."
The uniqueness of portobello mushrooms lies in their versatility. You can use them as a meat substitute for sandwiches or salads, grilled or roasted for main dishes, in soups or stews for more depth of flavor, and even raw. Portobellos are great chopped up and added to sauces, pesto, and blended into smoothies or juices for an extra nutrient boost.
How to Cook with Portobello Mushrooms
The versatility of portobello mushrooms makes them ideal for a variety of recipes. You can serve portobello mushrooms as a side dish, main course, or topping. They can be used to replace meat in burgers, tacos, and wraps. They also make a great addition to salads, pizzas, pastas, and casseroles. Here are some tips for cooking with portobello mushrooms:
Wipe the caps with a damp cloth or paper towel to remove any dirt or debris. Slice off the stems and discard. Scrape out any gills on the underside of the cap if desired.
Brush each mushroom with olive oil and season with salt and pepper before placing them on your preheated grill. Cook for 5 to 7 minutes, turning once, or until cooked through.
Brush each mushroom with olive oil and season with salt and pepper. Place on a baking sheet lined with parchment paper and bake at 375 degrees F for 20 to 25 minutes, flipping halfway through cook time.
Heat olive oil in a skillet over medium heat before adding the sliced mushrooms. Cook until golden brown, about 3 to 5 minutes per side depending on thickness. Add salt, pepper, and other seasonings if desired.
Stuffed portobello mushrooms make an easy and tasty dinner option. Scoop out the gills on the underside of each cap. Fill with your favorite stuffing mixture – rice, cheese, or whatever you like. Top with a sprinkle of cheese before baking at 375 degrees F for 15 to 20 minutes until hot and bubbly.
What Do Portobello Mushrooms Taste Like?
Portobello mushrooms have a unique, earthy flavor and an umami taste. When cooked, the flavor becomes even more intense and complex. Roasting or grilling portobello mushrooms brings out the nutty, smoky flavors hidden within them.
The texture is tender but also firm enough to hold its shape when cooked.
Portobello mushrooms pair well with other ingredients like garlic and herbs, adding an extra layer of richness to whatever dish you create. Their earthy flavor and meaty texture make them popular for vegans and vegetarians who want to add more plant-based proteins to their meals.
How to Store Portobello Mushrooms
The best way to store portobello mushrooms is in a cool, dark place away from direct sunlight. The ideal temperature range is between 40 to 50 degrees F like a refrigerator in the vegetable crisper. Store the mushrooms in their original package or wrap them loosely in paper towels. They can last in the refrigerator for up to 5 to 7 days.
It is important to check on your portobello mushrooms and discard any with signs of spoilage before eating them. Don't eat any mushrooms that have a slimy texture.
For longer storage, you can freeze portobello mushrooms. Clean and dry the mushrooms before storing them in an airtight container or freezer bag labeled with the date. Frozen portobello mushrooms will last for up to 6 months in the freezer. Thaw the mushrooms in the refrigerator overnight before cooking with them.
Portobello Mushroom Benefits
Portobello mushrooms are rich in vitamins, minerals, and antioxidants, making them an excellent source of nutrition. They can help to reduce inflammation and provide many other health benefits.
They are a rich source of dietary fiber, vitamin B3 (niacin), pantothenic acid, potassium, selenium, and copper. Portobellos are also low in fat and calories but contain some protein.
Portobello Mushrooms Vs. Shiitake Mushrooms
Portobello mushrooms and shiitake mushrooms are two of the most popular types of edible fungi. The biggest difference between these two types of mushrooms is their size and flavor. Portobellos are much larger than shiitake mushrooms.
Portobellos have a mild earthy taste while shiitakes offer a richer, more intense flavor with hints of smokiness. Texture-wise, portobellos tend to be firmer than shiitakes, making them great for grilling or baking. Shiitakes are more tender, making them great for stir-fries.
In terms of price, portobellos tend to be less expensive than shiitakes since they're more widely available.
Portobello Mushroom Recipes