Truffles are one of the most sought after mushrooms in the world. These small, flavorful delicacies are prized not only for their unique flavor and aroma but also for their rarity and cost. The truffle mushroom is considered a delicacy due to its distinct flavor and high price tag.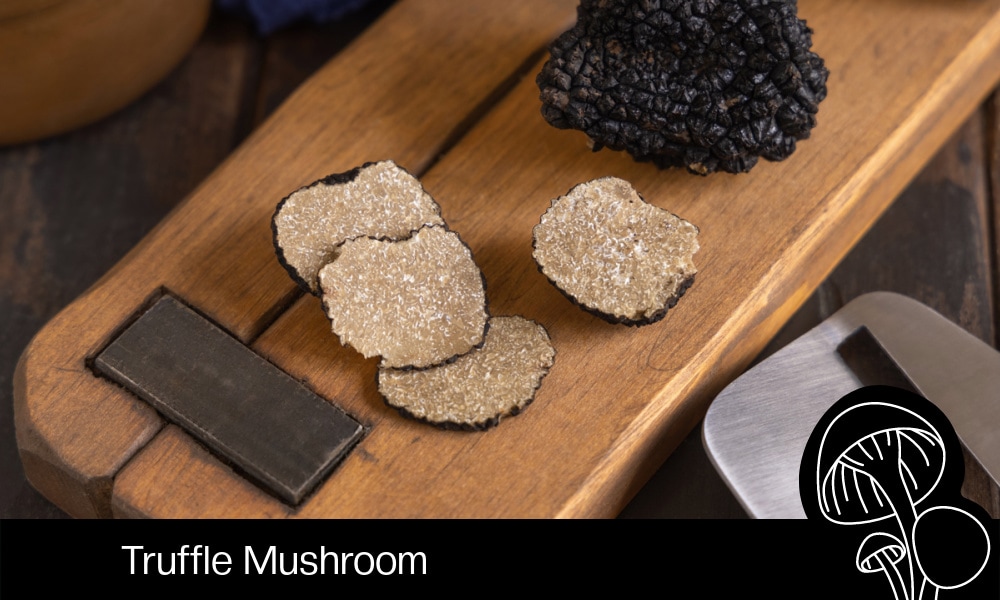 What Is a Truffle?
A truffle mushroom is a fruiting body of an underground fungus from the family Tuberaceae. Chefs prize truffles for their intense and complex flavor in culinary dishes. They often use them as a finishing touch to enhance the taste of food.
The most sought-after variety comes from France, but you can find them throughout Europe, Australia, China, and North America. These unique mushrooms grow best in temperate climates with high humidity levels. They have a distinctive aroma that makes them identifiable even when hidden deep underground.
Truffles range in size, shape, and color. The most popular varieties are the black truffle and white truffle. Other varieties include the burg truffle, brin de cabri truffle, bianchetto truffle, and the brezola truffle.
What Is Truffle Oil?
Truffle oil is an oil that has been infused with the flavor of truffles. The most common types of truffle oil come from white or black truffles, which have distinct flavors and characteristics.
Chefs use truffle oil to add its unmistakable earthy, nutty flavor to dishes. They often use it as a finishing touch for certain recipes. Adding a few drops to steamed vegetables or roasted meats gives them an extra kick of flavor.
Using truffle oil can be tricky because it has an intense flavor that can overpower other ingredients. It's best to use it judiciously - a few drops will go a long way in adding its distinctive taste to your dish. Look for all-natural oils made from only real truffles for the most authentic experience.
Why Are Truffles So Expensive?
Truffles are an expensive type of mushroom, and one of the most sought-after ingredients in the culinary world. Their unique properties and complicated harvesting process make them pricey.
Truffles are rare finds. They grow underground in root systems, making them hard to locate without help from trained dogs or pigs. And their harvest season lasts only a few months each year when the conditions are right for finding them. As a result, there is high demand but limited availability which drives up prices.
The taste and aroma of truffles is also a factor in their cost. They have an intense, earthy flavor and smell that can't be replicated by any other ingredient. Finally, truffles are fragile and start to lose freshness right after harvesting. The need for fast transportation adds additional costs for retailers and consumers.
How to Cook with Truffle Mushrooms
Truffles are a great way to add a gourmet touch to your cooking. You can eat truffle mushrooms raw or cooked depending on the recipe and personal preference.
You can add truffles to a variety of recipes, such as sauces, risottos, and pasta dishes to add an extra level of flavor and depth. Truffles can also work in desserts, such as creamy truffle mousse or chocolate truffles. Because of their price, they are often grated or shaved over dishes right before serving.
What Do Truffles Taste Like?
Truffles have an earthy flavor profile with hints of garlic, nuttiness, and umami. They have an intense musky, garlicky aroma that pairs well with rich flavors like butter, cream, and cheese-based dishes. Some say they have a bit of a sweet edge to them that helps to bring out the richness in whatever dish they're cooked with.
How to Store Truffle Mushrooms
Truffle mushrooms require special care when it comes to storage. It is important to store truffle mushrooms in the right way to maintain their flavor and texture. Here are some tips for proper truffle mushroom storage:
Store truffles in the refrigerator at around 35 degrees F. Keep them away from direct sunlight or heat sources as this will cause them to lose flavor and moisture.
Wrap each truffle mushroom in a paper towel before placing them in the refrigerator. This will help keep out any excess moisture that can cause spoilage of the mushrooms.
Keep them in an airtight container.
Plastic or glass containers with tight-fitting lids are ideal for storing truffles. They will keep out any excess moisture and prevent spoilage.
Use your truffles within 5 days of being harvested or stored because their flavor and texture diminish quickly over time. If you're unable to use them before the 5 day mark, it's best to freeze them for later use.
Black Truffle Vs. White Truffle
Black truffles,Tuber melanosporum, and white truffles,Tuber mangnatum, are the 2 main varieties of truffle mushroom. Black truffles are more common than white truffles, so they are also less expensive.
Black truffles are black on the outside, and white truffles are more white in color. Black truffles have a deep rich nutty and umami flavor while white truffles have a more subtle flavor with garlicky aroma and taste.
Mushroom Recipes