Morel mushrooms are sought-after edible fungi due to their unique flavor and texture. These delicious mushrooms have been used in cooking for centuries and the demand for them has increased with time.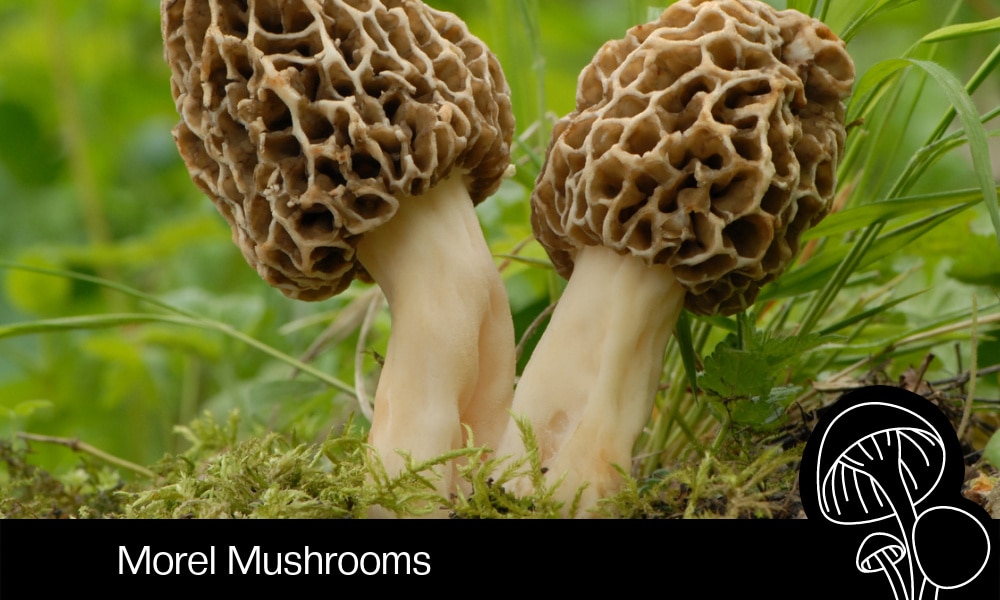 What Are Morel Mushrooms?
Morel mushrooms have a distinctive honeycomb or netted cap. The caps vary in size, ranging from 1 to 4 inches tall and 0.75 to 3 inches wide. The color can range from light tan to dark brown, but the most common is gray-brown. The stems of morels are hollow and white or yellowish in color. They range from 2 to 6 inches long.
Morels have ridges along their caps that become pits as the mushroom matures. When cut open, morels have an off-white coloring on their inside and may appear fibrous like a sponge when mature.
Morel mushrooms grow in temperate climates. You can find them in the wild in woods and fields. If you are hunting for morels, remember that some poisonous mushrooms look similar to morels but can be deadly if ingested. Make sure to do your research beforehand or bring an experienced mushroom hunter with you to help distinguish them.
Chefs and other culinary professionals seek out morel mushrooms, but they are harder to get than more common types of mushrooms, such as button mushrooms or cremini mushrooms.
How to Cook with Morel Mushrooms
Morels are a versatile ingredient you can use in all sorts of dishes, from pastas to soups and stews. They make an excellent addition to pizzas, or you can saute them in butter for a delicious side dish.
Once your morel mushrooms are clean and ready to use, you can cook them in a variety of ways, such as sauteing, baking, grilling, or stir-frying. Morel mushrooms pair well with proteins such as chicken or steak, and they work great in sauces and soups. Try roasting morels with garlic butter for an easy side dish or adding them to your favorite pasta recipe. With a little bit of creativity, there are many tasty ways to enjoy the unique flavor of morel mushrooms.
What Do Morel Mushrooms Taste Like?
Morel mushrooms have a distinct earthy flavor that many describe as "woodsy." The texture of morels is also unique with a meaty firmness that makes them stand out from other mushrooms.
Some people enjoy the taste and texture of raw morels, while others prefer to cook them first to bring out the full flavor. When cooked, morels can take on a rich nutty flavor and their texture softens a bit and becomes chewy.
How to Store Morel Mushrooms
Morel mushrooms are not as available as some other varieties of mushrooms, and many consider them a delicacy. So you want to store your morel mushrooms in the right way to keep them fresher for longer.
When preparing morel mushrooms for storage, start by brushing off any dirt or debris that may be on the surface of the mushroom using a soft brush. Do not rinse the morel mushrooms with water as this will cause them to spoil faster.
Place the morel mushrooms in a paper bag to allow air flow and to help absorb any moisture. Store your morel mushrooms in the refrigerator for up to one week.
When it comes time to cook with your fresh morel mushrooms, make sure you inspect them before consuming. Discard any mushy or slimy mushrooms as these may contain harmful bacteria that can cause food-borne illnesses if consumed.
If you want to store morel mushrooms for longer than a week, you can dry, freeze, or pickle the mushrooms. With these storage tips, you can enjoy morel mushrooms anytime.
Morel Mushroom Benefits
Morel mushrooms are a great source of nutrition. They provide protein and dietary fiber as well as a range of vitamins and minerals, including vitamin D, copper, iron, manganese, phosphorus, and zinc. And they are low in calories and fat.
In addition to the nutrients listed above, morel mushrooms contain an array of antioxidants that can help protect against oxidative damage from free radicals. Research shows that morel mushrooms can also decrease inflammation and provide relief in arthritis.
Morel Mushrooms Vs. Truffle Mushrooms
Morel mushrooms and truffle mushrooms are two of the most sought-after types of mushrooms. While they share some similarities, they each have distinct characteristics that set them apart from one another.
Morels have a unique cap with a honeycomb pattern. They have a spongy texture and a nutty flavor. They grow above ground in woods and fields. Morels are hard to find but prized for their flavor and aroma.
Truffle mushrooms grow underground near the roots of certain trees like oak or chestnut. Truffles have a distinctive aroma like the smell of chocolate, garlic, or even cheese. The most common color of truffles is brownish-black. The surface of a truffle mushroom is bumpy with distinct grooves and wrinkles that give it its characteristic appearance.
While morel mushrooms are considered expensive, truffle mushrooms are much more expensive than morels because they're harder to find. While both are edible mushrooms that can add a special touch to recipes, they each have their own distinct characteristics.
Mushroom Recipes