Wood ear mushroom is a fungus often used in Asian cooking. Whether fresh or dried, wood ear mushroom is a versatile ingredient. It has a unique texture and mild flavor that adds interest to many dishes.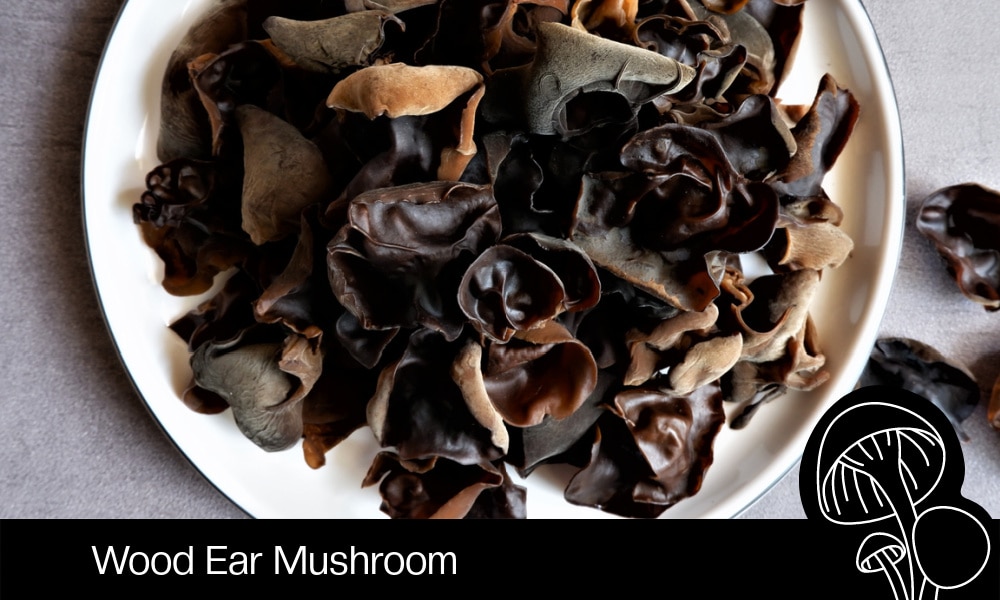 What Are Wood Ear Mushrooms?
Wood ear mushrooms, Auricularia auricula, are a type of edible mushroom native to Asia and Europe. They grow on decaying wood and other organic matter.
They have an elongated, wave-shaped cap that resembles the shape of an ear. They range from black to grayish-brown in color. The underside of the cap is often a lighter color. When mature, they can range in size from 1 to 6 inches. They are characterized by their thin, rubbery, and jelly-like texture.
You can find wood ear mushrooms in many grocery stores, Asian markets, and online retailers. They are often sold in dried form, but you can sometimes find fresh wood ear mushrooms as well.
What Do Wood Ear Mushrooms Taste Like?
Wood ear mushrooms have a light and subtle flavor. They have a meaty texture similar to that of button mushrooms but are crunchier. The flavor can be described as a bit nutty and earthy with hints of sweet and sour.
Chefs often use wood ear mushrooms in Asian cuisine to add texture to dishes like stir-fries or soups where their unique texture is appreciated. They don't impart any strong flavors, so you can pair them with other ingredients without overpowering them.
How to Cook with Wood Ear Mushrooms
Dried wood ear mushrooms have a subtle flavor that is great for adding umami richness to dishes like noodle soups, stir-fries, and salads. When rehydrated, the dried mushroom expands and has a chewy, crunchy texture that adds an interesting contrast to dishes. Wood ear mushrooms are also popular garnishes due to their unique appearance.
When cooking with wood ear mushrooms, it is important to keep some tips in mind to make the most of their unique flavor:
Before using dried wood ear mushrooms, it is necessary to soak them in warm water for 15 to 30 minutes to soften them up and remove any dirt or debris from the mushroom. They contain large amounts of sand and other impurities that you need to remove.
Unless you are using the mushrooms whole, cutting the mushrooms into small pieces will help them cook faster and release more of their flavor into your dish.
Wood ear mushrooms are delicate and will become tough if they are cooked for too long, so be sure to add them near the end of cooking or steam them in a separate pan before adding them to your dish.
Wood ear mushrooms absorb the flavors they are cooked with, so feel free to add in seasonings like garlic, ginger, soy sauce, and sesame oil to enhance their flavor.
How to Store Wood Ear Mushrooms
Proper storage is essential for helping your wood ear mushrooms stay fresh for longer. If you have fresh mushrooms, the most important thing is keeping them dry. Moisture will cause the mushrooms to go bad, so wrap them in a paper towel or cheesecloth and place them in a paper bag in the refrigerator. This will allow air to circulate around the mushrooms, keeping them dry and preventing spoilage.
It's also best to store them away from other produce as their odors can affect each other. Fresh wood ear mushrooms last for a few days in the refrigerator.
Store dried wood ear mushrooms in an airtight container such as a jar or plastic bag. This will help to keep any moisture at bay and prevent the mushrooms from getting stale and losing their flavor. It is best to keep them away from heat and direct sunlight.
Make sure not to overfill the storage container because too much pressure can crush or break the mushrooms. With proper storage, your dried wood ear mushrooms should last up to 6 months.
Wood Ear Mushroom Benefits
According to the USDA, 10 pieces (7 grams) of dried wood ear mushrooms have 25 calories and 6 grams of carbohydrates. Four grams of those carbohydrates are dietary fiber. The same amount of dried mushrooms also has 2.7 mg of iron, which is 15% of the Daily Value. So dried wood ear mushrooms are a healthy food choice with good amounts of dietary fiber and iron in a small amount of calories.
Wood Ear Mushroom Vs. Black Fungus Mushroom
Wood ear mushrooms and black fungus are both healthy choices that make for delicious dishes, but they have some subtle differences. They look similar, but black fungus mushrooms, Auricularia polytricha, are smaller and thinner than wood ear mushrooms.
Wood ear mushrooms have a chewy texture, while black fungus has a crunchy texture. When it comes to taste, wood ear mushrooms are mild and nutty, while black fungus mushrooms have a more earthy flavor. Despite these differences, wood ear mushrooms and black fungus mushrooms are good substitutes for each other in recipes.
Mushroom Recipes