Dutch oven pizza is like having restaurant-quality pizza at home. Dutch ovens are versatile and can create pizzas with a crisp crust. Pizza made in a Dutch oven is as good as pizza on a traditional pizza stone.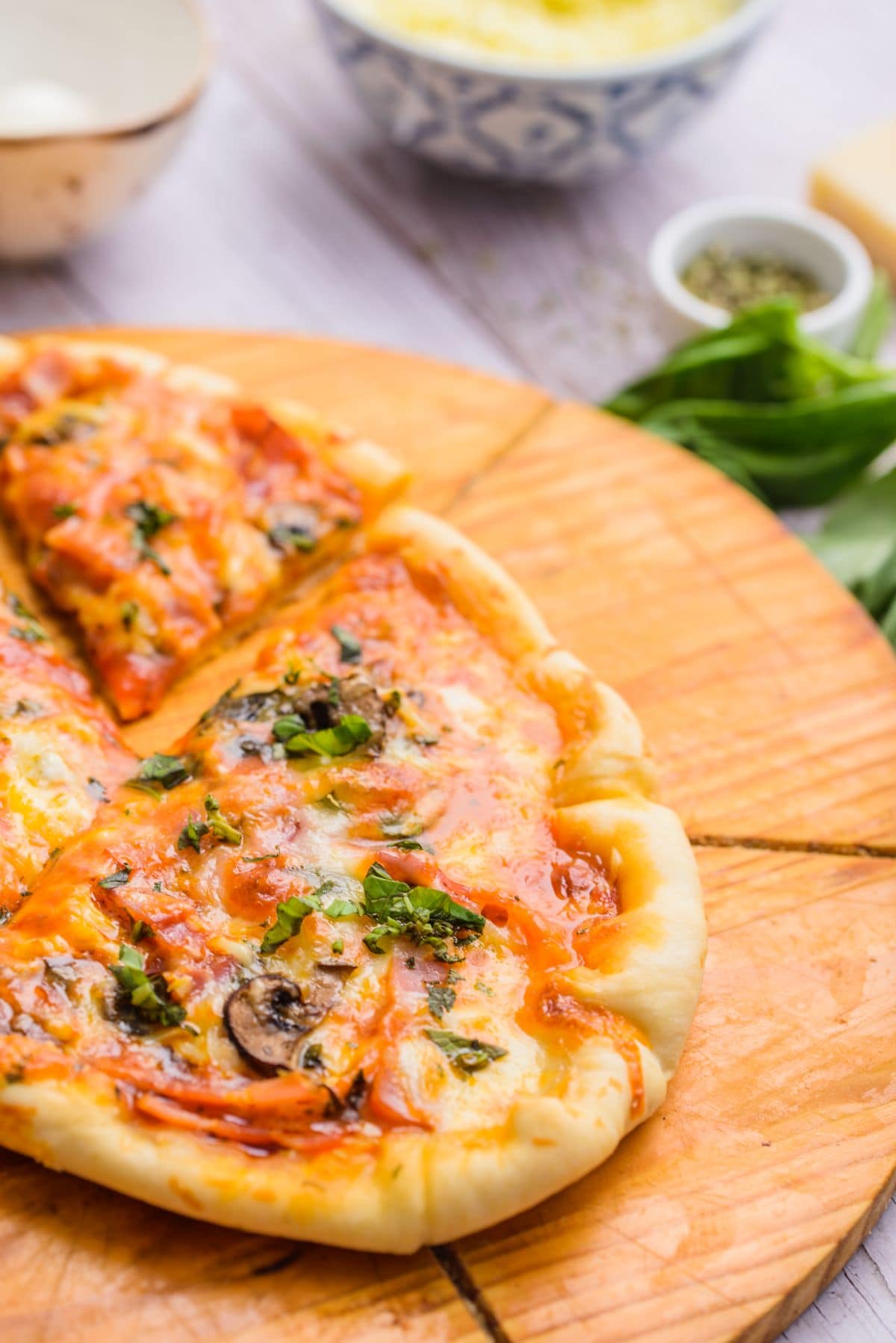 Why You'll Love Dutch Oven Pizza
This recipe for Dutch oven pizza has all the classic ingredients - marinara sauce, onion slices, mushrooms, mozzarella cheese, Parmesan cheese, basil, and oregano. It has a crisp and crunchy crunch topped with gooey cheese. And it's quick and easy to make so you don't need to spend all day in the kitchen.
Dutch oven pizza also allows for lots of creativity - feel free to experiment with different ingredients and flavor combinations. This recipe works for a party, potluck, or your family's weeknight dinner.
Is this Recipe Healthy?
Dutch oven pizza can be a healthy meal that you eat from time to time. The combination of the protein in the cheese and the fresh vegetables (onion, mushroom, and basil) make this dish nutritious and filling. Use lower-fat cheese, fresh or homemade marinara sauce, and whole wheat pizza dough to up the nutrition.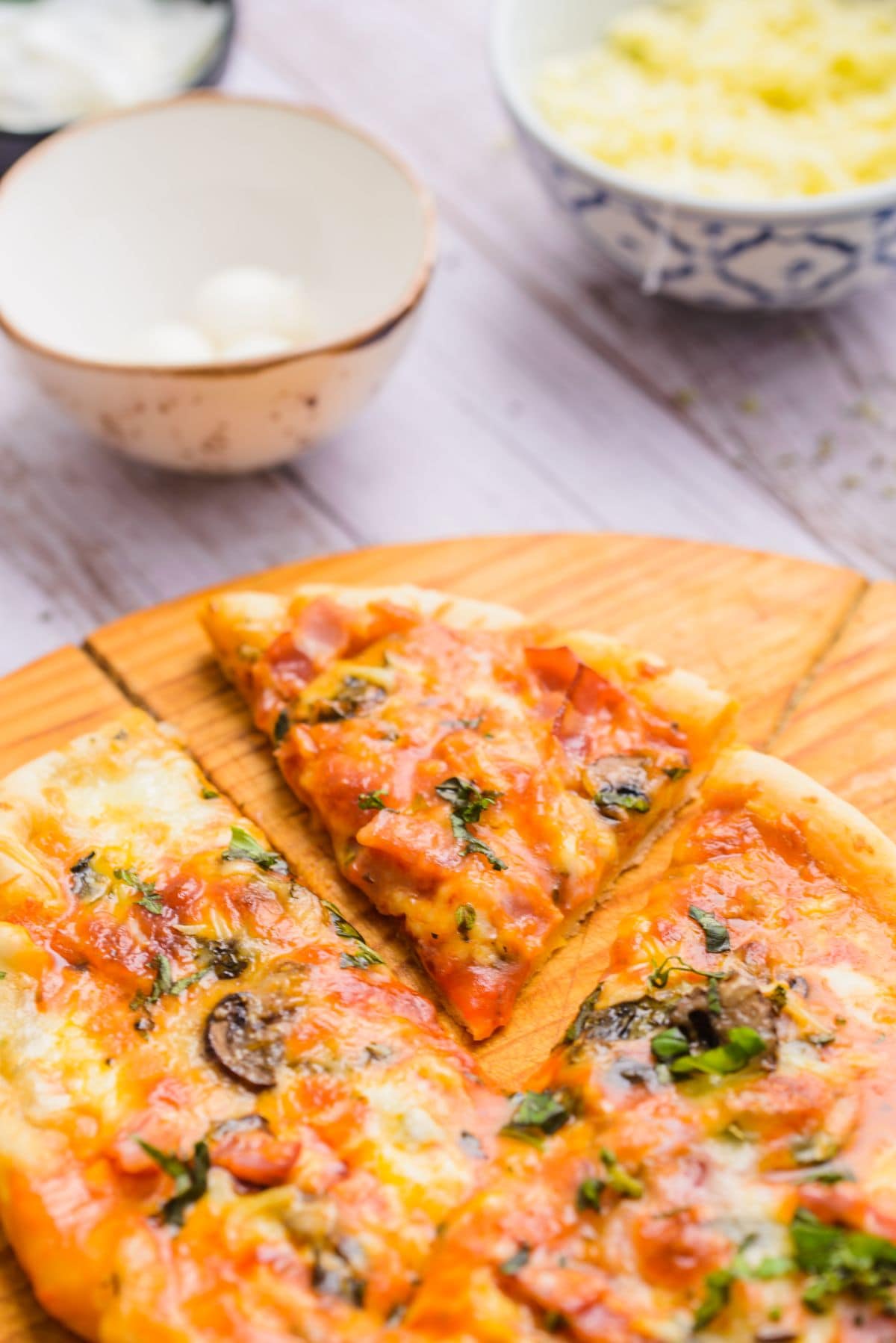 Ingredients for this Recipe
Fresh store-bought pizza dough
Bacon strips
Marinara sauce
Onion slices
Mushroom slices
Shredded mozzarella cheese
Mozzarella balls
Grated Parmesan cheese
Bunch of fresh basil
Dried oregano
How to Make Dutch Oven Pizza
Preheat the oven to 450 degrees F.
Spread the fresh pizza dough on a flat surface.
Place the Dutch oven on top of the pizza dough and trace its shape with a knife.
Place a sheet of parchment paper inside the Dutch oven and place the pizza dough on top. Roll the edges of dough up a bit to create a crust.
Spread the toppings over the dough: a generous amount of marinara sauce, mushroom slices, onion slices, oregano, bacon, shredded mozzarella cheese, grated Parmesan cheese, fresh sliced mozzarella, and chopped fresh basil.
Place the Dutch oven on the bottom of the preheated oven. Cook for 15 minutes until the pizza is browned and the cheese is melted.
Remove the Dutch oven from the oven. Remove the pizza from the Dutch oven with the help of the parchment paper.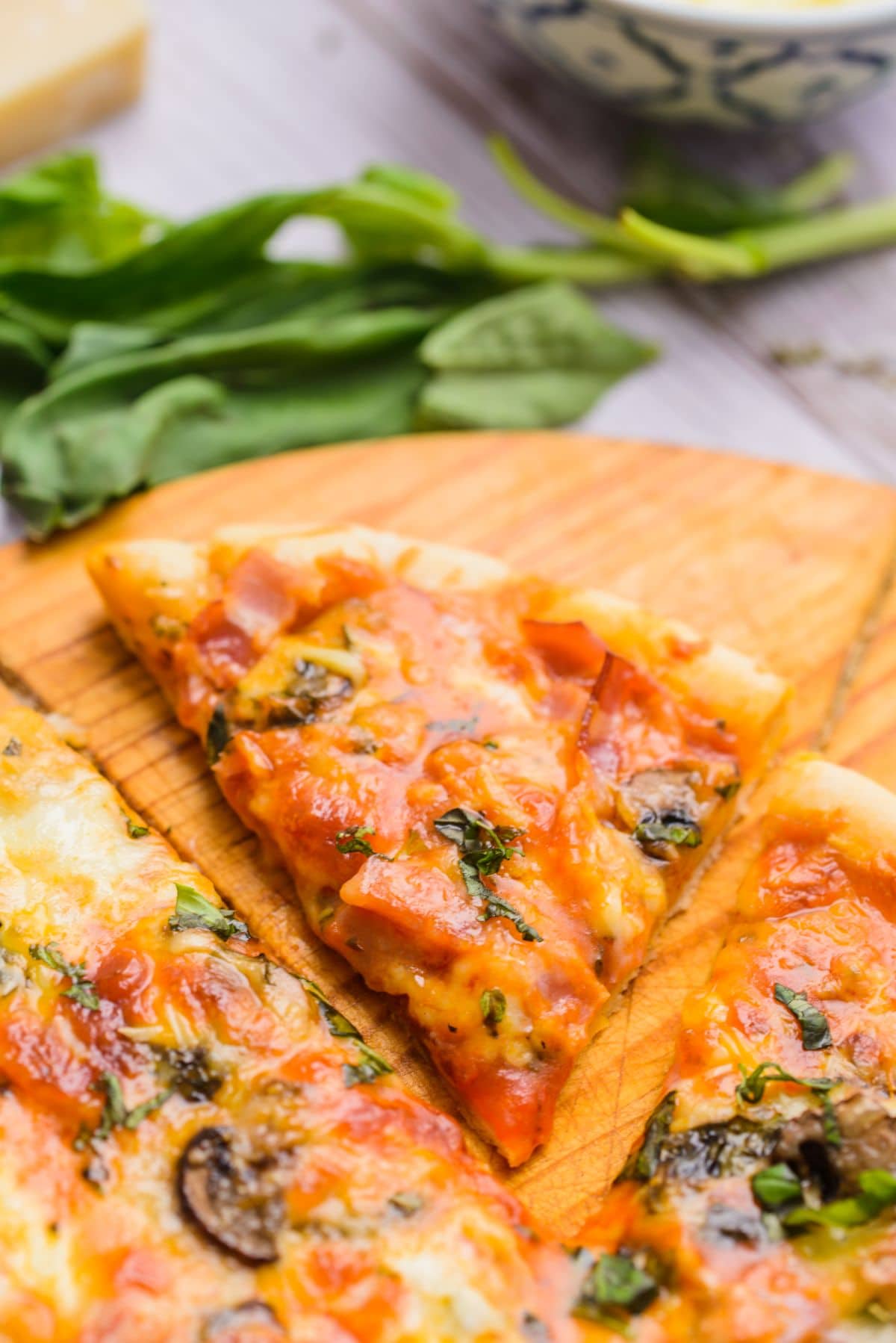 Tips & Variations for this Pizza
There are several tips and variations to consider when making Dutch oven pizza for the best results.
Start with a high-quality pizza dough, either fresh store-bought or homemade, for the perfect crust. Choosing a good pizza crust is the base and foundation of the pizza.
Use fresh grated cheese for maximum meltiness.
Experiment with different toppings and flavor combinations to give the pizza some extra oomph. Consider adding roasted red peppers, artichoke hearts, herbs, or a pesto sauce instead of marinara.
Add some leafy greens, such as spinach or arugula, for extra flavor and a boost of nutrition.
Sprinkle fresh grated Parmesan cheese on top of the pizza after cooking.
To make this pizza for a crowd, use two Dutch ovens to make two pizzas at the same time.
For a vegetarian version, omit the bacon and add additional vegetables or different types of cheese.
Enjoy your Dutch oven pizza with a side salad or some roasted vegetables for a complete meal.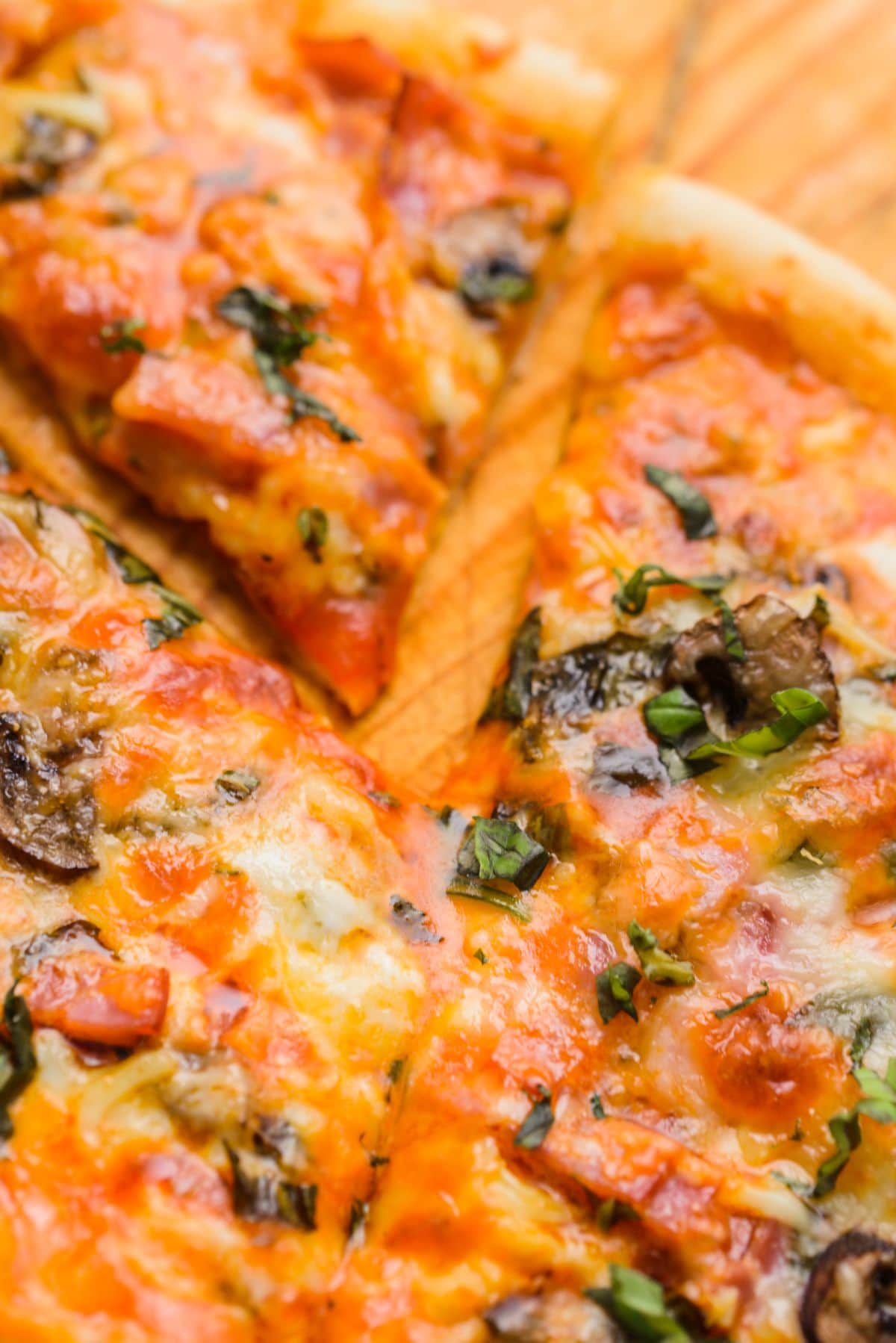 More Recipes for the Dutch Oven
Print
Dutch Oven Pizza
If you don't have a pizza stone, don't worry, the dutch oven will cook to perfection your pizza!
Author: LINDSAY DELK
Prep Time:

5 minutes

Cook Time:

15 minutes

Total Time:

20 minutes

Yield:

2

servings

1

x
Category:

Main meals

Cuisine:

International
1 fresh store-bought pizza dough

½ cup bacon strips

¼ cup marinara sauce

¼ cup onion slices

¼ cup mushroom slices

½ cup shredded mozzarella

⅓ cup mozzarella balls

⅓ cup grated parmesan

a bunch of fresh basil

1 teaspoon dried oregano
Instructions
Preheat the oven to 450 F

On a flat surface spread the fresh pizza dough.

Place the dutch oven on top and trace its shape with a knife

Place a sheet of oven paper inside the dutch oven and place the pizza base on top. Roll over a bit the edges.

Spread the toppings: generous spread of marinara sauce, mushroom slices, onion, oregano, bacon and cheeses.

Place the dutch oven on the bottom of the hot oven and cook for 15 minutes until it has browned and the cheese has melted.

Remove the dutch oven from the oven and carefully remove the pizza from it with the help of the oven paper.

Slice and enjoy!
Notes
This method can be used with either fresh storebought doug pizza or homemade with equally good results. It gives the perfect cooking for the base, crunchy and delicious.
You can customize the pizza with the flavors of your choice.
Pizza should be eaten right away.
Can I use any type of cheese for the Dutch oven pizza?
You can use any type of cheese that melts well, such as mozzarella, Swiss, cheddar, or Monterey Jack. The type of cheese you use can make a big difference in the taste and texture of the pizza.
How do I store leftover Dutch oven pizza?
It is best to eat the pizza hot and fresh right out of the oven. But you can store leftover pizza in an airtight container in the fridge if needed.
What else can I make in a Dutch oven besides pizza?
Dutch ovens are versatile, and you can use them to make a variety of dishes. You can make soups, stews, roasts, breads, and cobblers. Dutch ovens are perfect for simmering slow-cooked meals that yield tender results.