Porcini mushrooms are a type of edible mushroom known for its earthy and nutty flavor. They hold an esteemed place in the culinary world with chefs using them in everything from sauces to soups.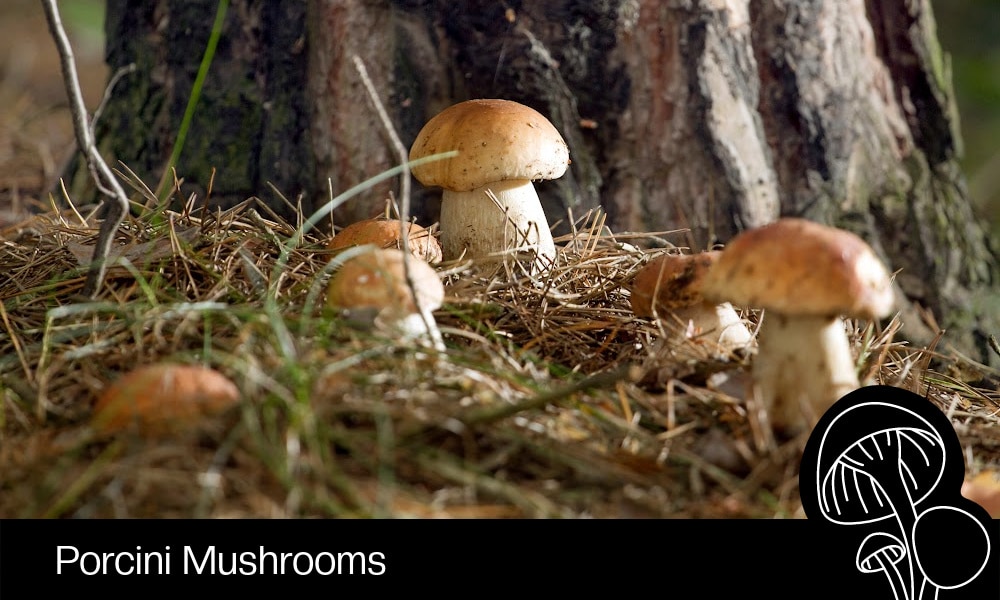 What Are Porcini Mushrooms?
Porcini mushrooms are a type of wild mushroom. They have a nutty and meaty flavor that is popular among many chefs and home cooks. Porcini mushrooms are also known as cepes or boletes.
Porcini mushrooms have a golden brown cap that forms an umbrella over a thick stem. The cap can reach up to 6 inches across. The gills underneath the cap of porcini mushrooms are whitish or pale pink in color.
You can harvest porcini mushrooms in the summer and fall months right before they reach maturity. You will find them growing near trees, such as oaks and maples, but you can sometimes find them in meadows or grasslands as well.
In the United States, you may find dried porcini mushrooms more often than fresh porcinis. You can use fresh porcini mushrooms in pasta sauces, soups, stews, risottos, pastas, and other dishes where their robust taste adds a depth of flavor. Dried porcini mushrooms are great for adding a punch of umami flavor with their concentrated earthy aroma and taste.
How to Cook with Porcini Mushrooms
Clean your porcini mushrooms before you start cooking. Brush off any dirt or debris with a mushroom brush or damp cloth. Don't wash mushrooms with water unless you are planning to use them right away because they can become soft and mushy.
Cut off and discard the tough stems and slice or chop the mushrooms as desired. If you are using dried porcini mushrooms, soak them in warm water for about 30 minutes to rehydrate them before cooking.
Porcini mushrooms are versatile, so you can use them in a variety of dishes. You can saute them or grill them for a side dish, or you can add them to soups, stews, risottos, and casseroles. Porcini mushrooms pair well with complementary ingredients, such as tomatoes, herbs, and cheese.
What Do Porcini Mushrooms Taste Like?
Porcini mushrooms have a rich, woodsy flavor that is often described as nutty and earthy. The texture of porcini mushrooms is meaty with a firm but tender bite.
To bring out the flavors of these mushrooms, brown them before adding any liquid ingredients. Brown them in butter on low heat until they are golden brown and a bit crispy on the outside. Cook porcinis with ingredients like garlic and onions to enhance their flavor even further.
Dried porcini mushrooms have a more intense and robust flavor than their fresh counterparts. The drying process intensifies the umami flavors of the mushroom. Dried porcinis also tend to be more chewy with a texture similar to beef jerky. This makes them great for using as an ingredient in soups, stews, and sauces where you want a strong flavor.
How to Store Porcini Mushrooms
It's important to store fresh porcini mushrooms in a cool, dark, and dry place. It is best to store them unwashed and whole in an open paper bag or cardboard box. You can store them in the refrigerator for about 6 days.
When freezing porcini mushrooms, clean them with a damp cloth before drying and slicing. Place the sliced pieces into an airtight container or freezer-safe bag before freezing. Use the frozen porcini mushrooms within three months for best results.
To store dried porcini mushrooms, start by transferring them to an airtight container. Remove as much air as possible from the container. Store your mushrooms in a cool, dry place away from direct sunlight for up to 6 months.
Porcini Mushroom Benefits
Fresh porcini mushrooms and dried porcini mushrooms are excellent sources of nutrients. They are high in B vitamins, vitamin D, copper, and selenium. And porcini mushrooms are packed with dietary fiber. Porcini mushrooms also provide a good amount of antioxidants which can help protect against free radical damage and aid in overall health.
Porcini Mushrooms Vs. Shiitake Mushrooms
Porcini mushrooms and shiitake mushrooms are both popular varieties of mushrooms. But they have some important differences. Porcini mushrooms are prized for their strong earthy flavor and meaty texture while shiitake mushrooms have a more subtle taste that many people find appealing.
You can eat porcini mushrooms raw, but most people recommend cooking shiitake mushrooms. Both types of mushrooms are good sources of fiber, vitamin D, and selenium.
Porcini mushrooms tend to cost more than shiitake mushrooms because they're harder to come by. Porcinis are harvested in the wild while shiitakes can be cultivated.
Porcini Mushroom Recipes