Cremini mushrooms are an edible mushroom used in cooking. They have a robust, earthy flavor and a firm texture that makes them an ideal ingredient for soups, sauces, and other dishes. By understanding more about this versatile mushroom, you'll be able to create meals with ease.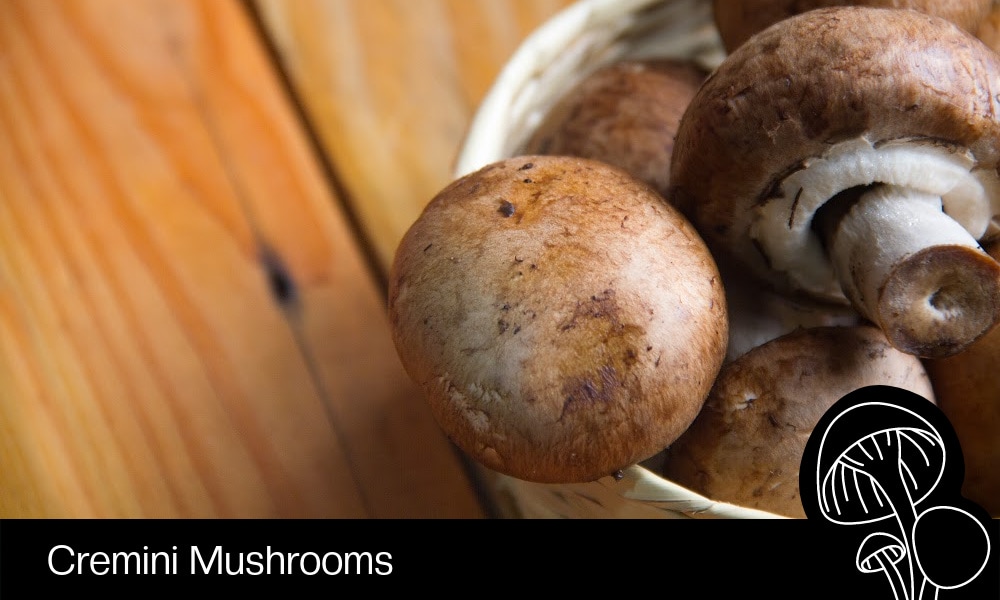 What Are Cremini Mushrooms?
Cremini mushrooms, also spelled crimini, are Agaricus bisporus mushrooms. White mushrooms and portobello mushrooms are also Agaricus bisporus mushrooms, differing only in their level of maturity.
White button mushrooms are harvested when the Agaricus bisporus mushroom is young. Cremini mushrooms are harvested when the mushroom is a little older. And portobello mushrooms are allowed to grow the largest before harvest.
Cremini mushrooms have a classic mushroom shape with a small-to-medium size. They are tan to dark brown in color with gills underneath the cap. The cap of a cremini mushroom can range from 1 to 4 inches across. The stems are white and firm and about 2 to 3 inches long.
Cremini mushrooms grow in grasslands and temperate forests, though you can also spot them growing on dead or decaying wood. Cremini mushrooms tend to appear during cooler times of year.
Farmers often grow cremini mushrooms indoors in climate-controlled environments. This allows them to control factors such as temperature and humidity and allows them to produce higher quantities of mushrooms. Commercially grown cremini mushrooms may also have a lighter tan color than those found in the wild due to the different growing conditions.
How to Cook with Cremini Mushrooms
Clean your cremini mushrooms before cooking. Start by brushing them with a soft mushroom brush or damp cloth to remove any dirt or debris. Trim away any tough stems.
Don't submerge the mushrooms in water or they can become mushy. You can rinse the mushrooms under cold running water, but pat them dry with paper towels before using them in recipes for the best results. Slice the mushrooms before cooking them if desired.
Cremini mushrooms work well in many dishes to add depth and flavor. You can cook them by sauteing, roasting, or grilling and serve them alone or with a sauce. They make an excellent side dish, or you can use them in soups, salads, stews, risottos, or pastas. When cooked, they are softer and their flavor is more intense.
What Do Cremini Mushrooms Taste Like?
Cremini mushrooms have a distinctive nutty flavor with earthy undertones that make them a great addition to many dishes. Their texture is firm and meaty with a pleasant chewiness. When cooked, they become soft and juicy with more mushroom flavor.
Creminis are more flavorful than white button mushrooms but still have a mild taste that takes on the flavors of whatever dish they are added to. They are perfect for adding umami flavor to soups, sauces, stews, and pasta dishes.
How to Store Cremini Mushrooms
When storing cremini mushrooms, the most important thing to remember is to keep them as dry as possible. It's best to store them in a cool, dark place away from direct sunlight and moisture. Use your cremini mushrooms within 7 to 10 days for optimal results.
If you want to freeze cremini mushrooms, clean and slice them into the desired size. Place them on a baking sheet in the freezer for 1 to 2 hours. Once frozen, transfer the mushrooms to an airtight container or bag and store in your freezer for up to 6 months. Thaw them overnight in the refrigerator before cooking.
Cremini Mushroom Benefits
Cremini mushrooms are a low-calorie food, rich in essential vitamins and minerals. An 85-gram serving of cremini mushrooms contains 20 calories, 3 grams of carbohydrate, 3 grams of protein, 0 grams of fat, and 1 gram of fiber.
They contain various vitamins and minerals, including vitamin B2 (riboflavin), vitamin B3 (niacin), pantothenic acid, potassium, copper, and selenium. In addition to these nutrients, cremini mushrooms are also a source of beneficial antioxidants that help reduce the oxidative stress in your body.
Cremini Mushrooms Vs. Baby Bella Mushrooms
Cremini and baby bella mushrooms are in fact the same thing. They are two different names for the same mushroom. As mentioned above, white button mushrooms, cremini mushrooms, and portobello mushrooms are all Agaricus bisporus mushrooms. Because cremini mushrooms are harvested earlier than portobello mushrooms, they are called baby portobello, or baby bella, mushrooms.
Cremini Mushroom Recipes