A skinny margarita has less alcohol than a regular margarita. Instead of Gran Marnier, Cointreau, or triple sec, a skinny margarita substitutes some of the liquor ingredients with fresh orange juice or agave nectar. The drink is called a "skinny margarita" because it has less calories than a regular margarita.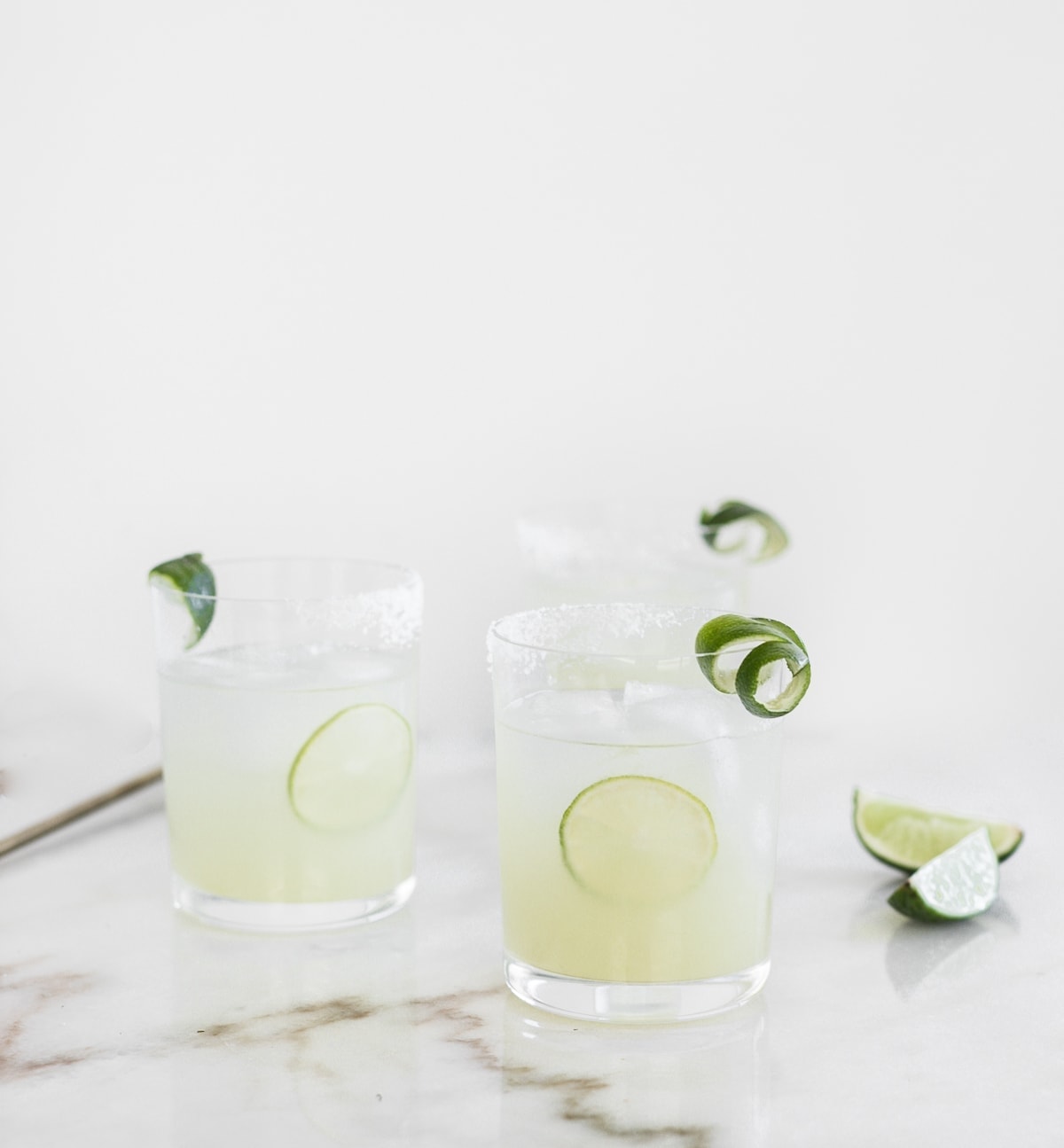 Imagine an alcoholic beverage that made you thinner when you drank it? The skinny margarita isn't that, but at least you know that when you drink one, you're consuming less sugar.
It would be impossible to celebrate Cinco de Mayo without margaritas. In Texas, the margarita may as well be the unofficial beverage of the Lone Star State. A Tex-Mex restaurant wouldn't be complete without a selection of top-shelf margaritas on their menu.
Now, there's something you should know about me. I am particular when it comes to margaritas. At a restaurant, I won't hesitate to send a margarita back if it isn't made to my liking. The problem I encounter is when a margarita is too sweet. Perhaps it's rude, but I can't help it. I'm a margarita perfectionist.
Skinny margarita ingredients include: fresh squeezed lime juice, a top-shelf tequila, and fresh juice. As a rule of thumb, never rely on skinny margarita mix.
Here is my favorite skinny margarita recipe:
The recipe is simple to make. Four ingredients are required. It's not too sweet or tart. It will be the only skinny margarita recipe you'll ever need.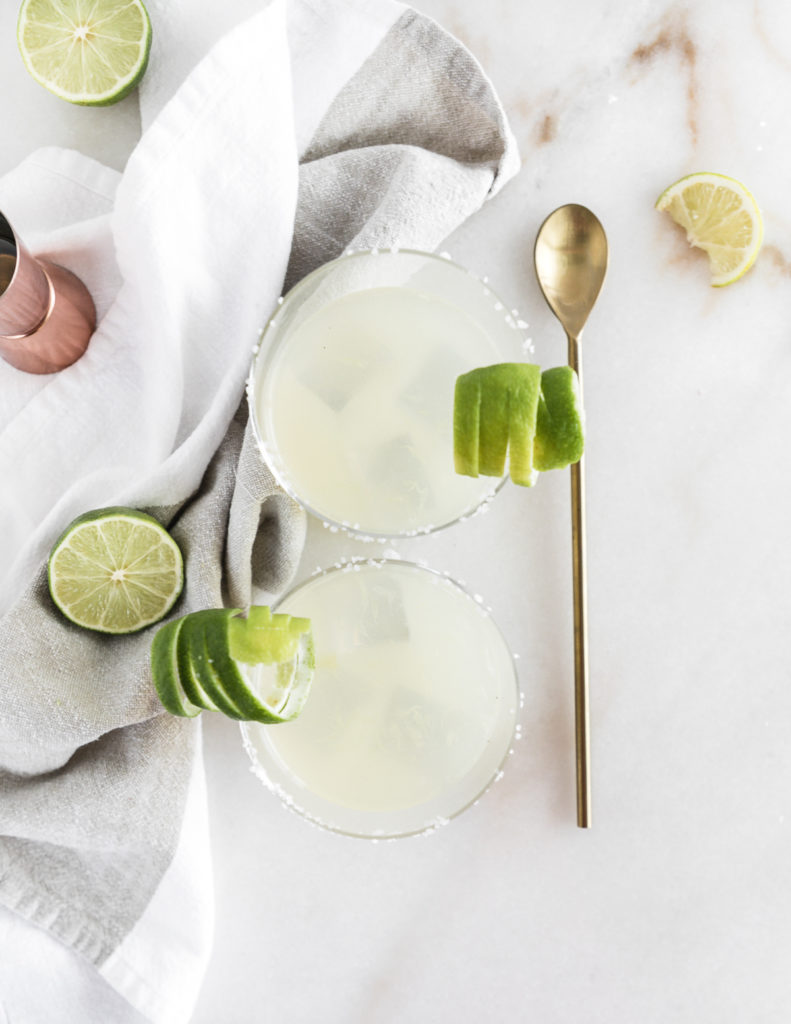 What Makes A Skinny Margarita?
Admittedly, these are not 'skinny' in the sense they are low calorie or any of that nonsense. I've found that at most Mexican restaurants, 'skinny margarita' refers to the way this one is made - with fresh lime juice and agave nectar - rather than with a mix.
Although sometimes skinny can mean that it's made with artificial sweeteners to lower the sugar content. That is not this recipe.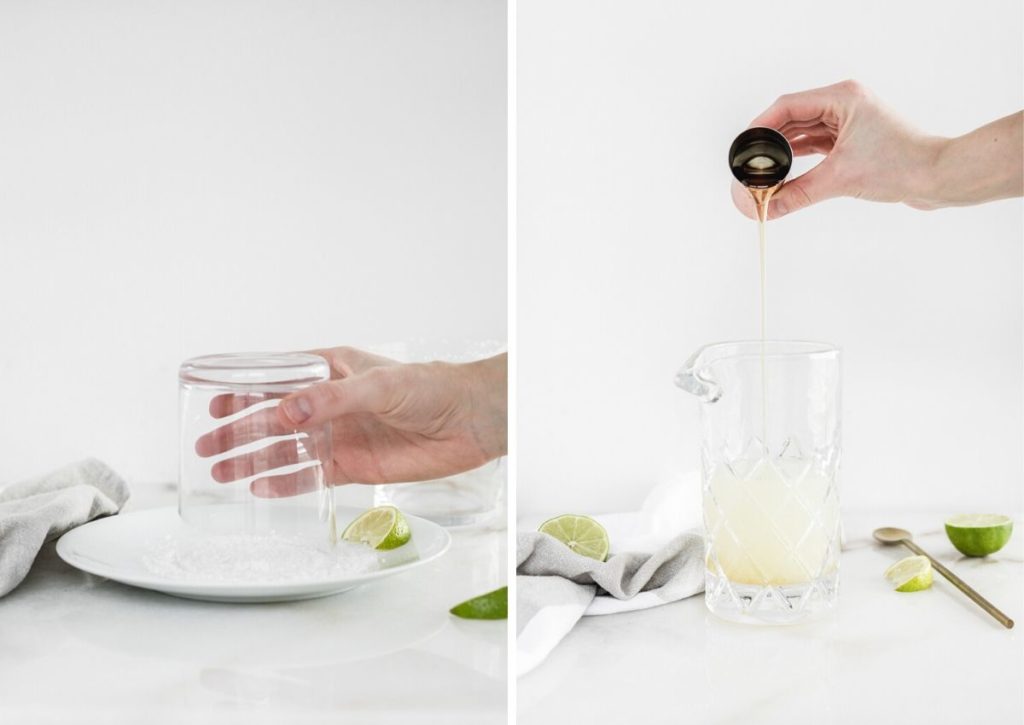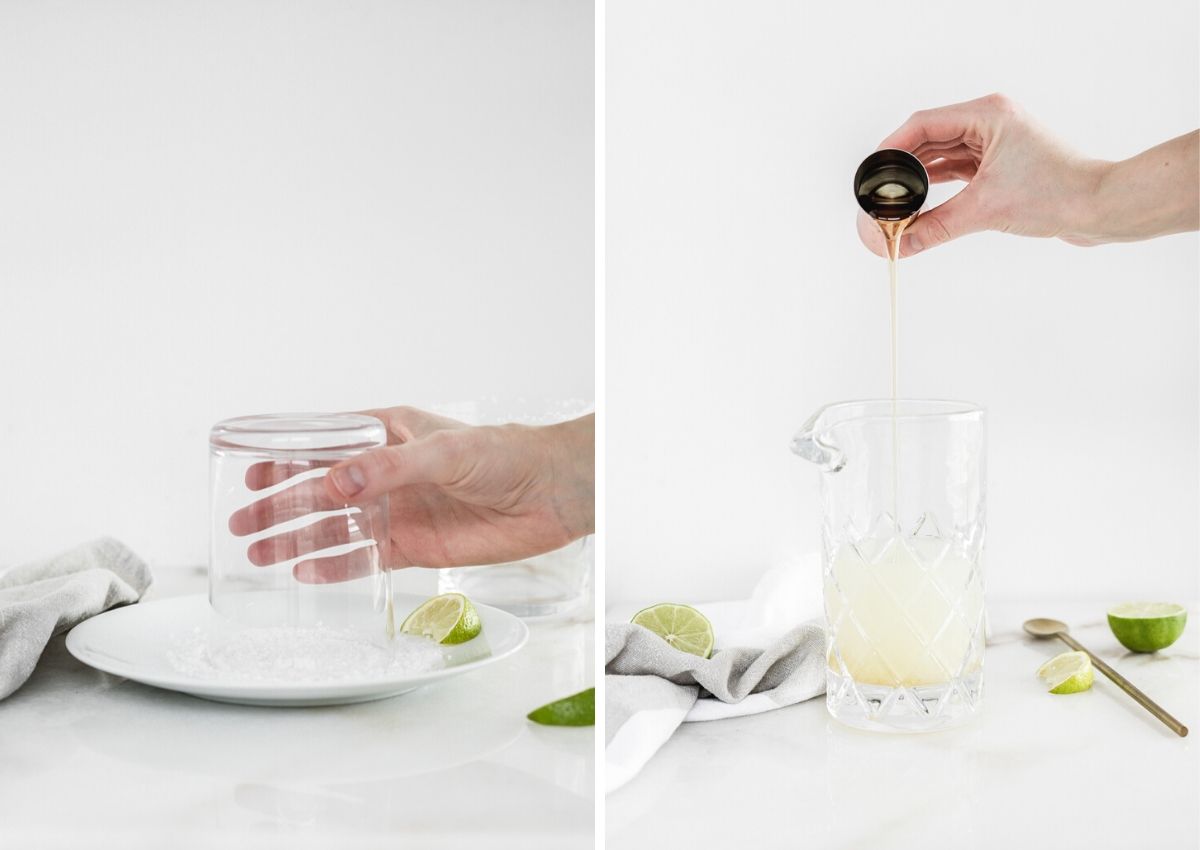 HOW TO MAKE THE BEST SKINNY MARGARITAS
Skinny margaritas are easy to make.
First, squeeze limes. Use a citrus reamer or hand press. (If you're making a lot, KitchenAid also makes a citrus juicer attachment for the stand mixer that I impulse bought on sale for such occasions.)
If you want a salt rim, run a lime wedge over the rim of your glass, then turn it upside down onto a plate of salt. Next, fill your glass with ice.
Add lime juice, tequila, and agave nectar to a shaker filled with ice (or if you're making many drinks, use a pitcher with no ice).
Shake or stir, then pour into your ice-filled glass and enjoy.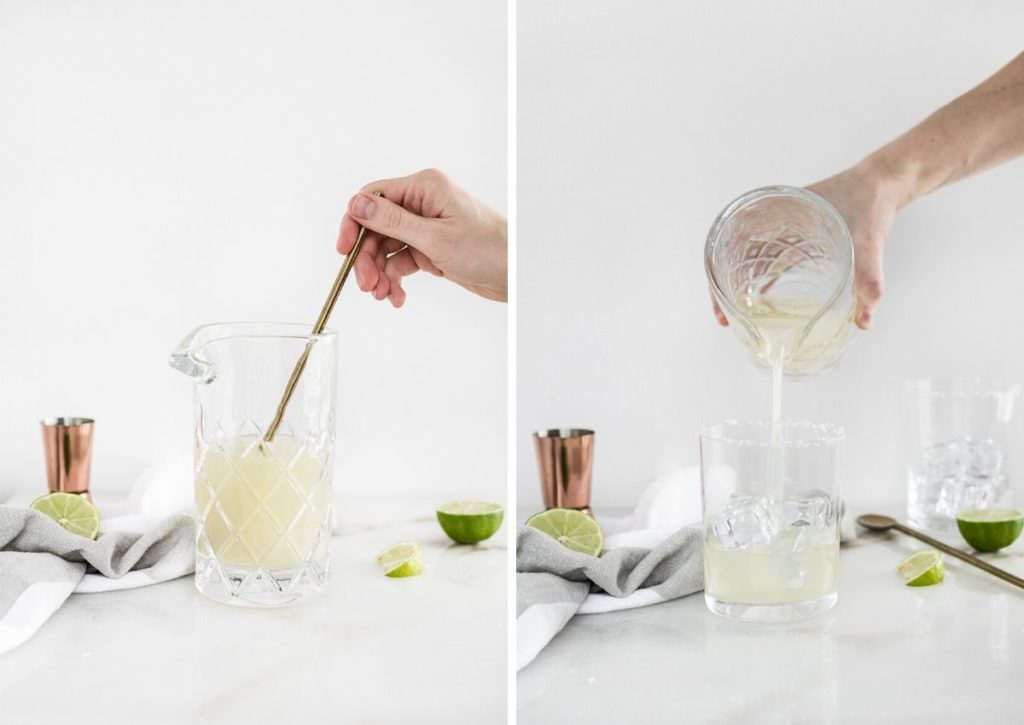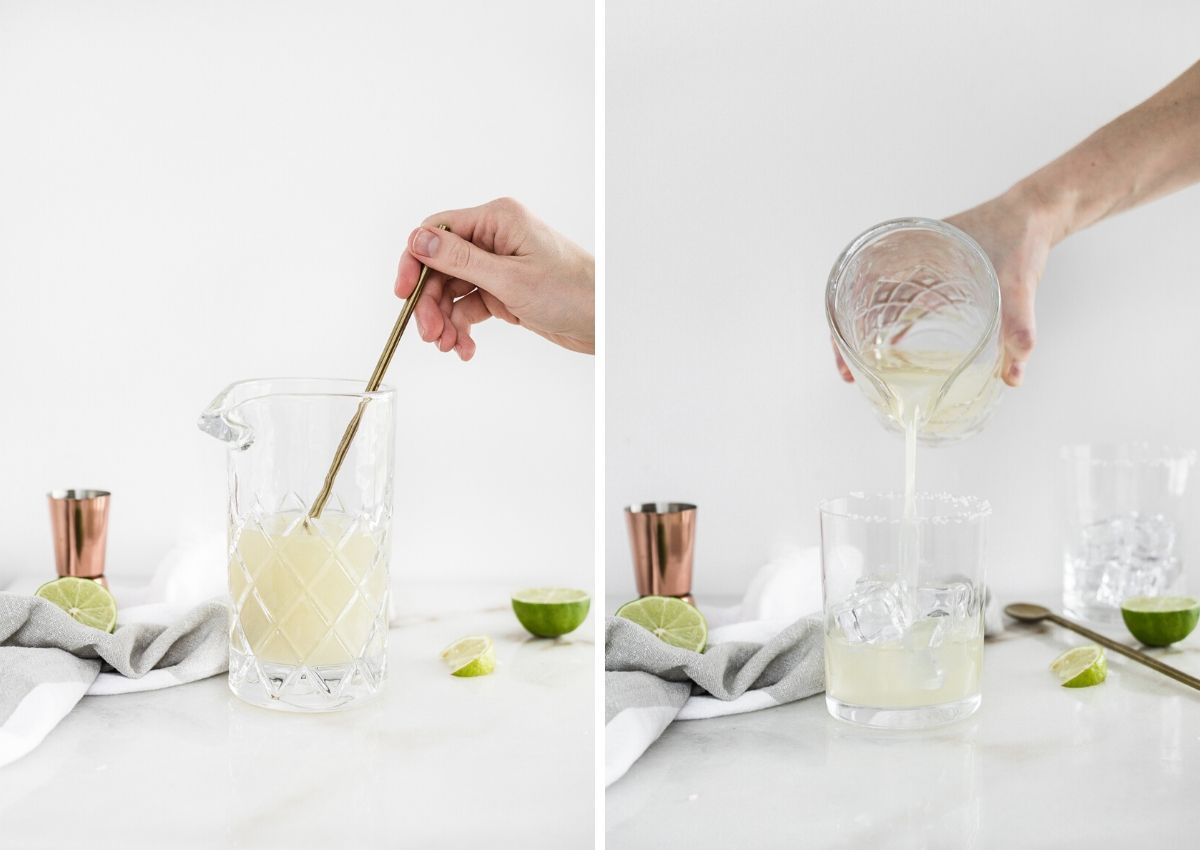 Tips For Making (And Drinking) Margaritas
It's best to use lime juice that has been freshly squeezed the day you make the skinny margs. Lime juice loses its flavor when it isn't fresh, so don't prepare your margarita mix too far in advance.
With cocktails this simple, quality ingredients are important. Use a top-shelf tequila and triple sec.
Adjust the amount of tequila and sweetener to fit your taste. I prefer tart margaritas, so I use half of the agave nectar. If you prefer a sweeter drink, you might increase it. If the amount of tequila is too strong for you, decrease it a little bit. Or dilute it with a splash of soda on the top.
These margaritas are strong. And they taste very good. So pace yourself. And alternate with water. They will knock you on your ass if you drink too many.
What If I Don't Have Agave Nectar?
Agave nectar in cocktails is great because it mixes well without any extra steps. You can use simple syrup. To make it, just simmer equal parts sugar and water in a saucepan until the sugar is dissolved. Cool the simple syrup completely before using it.

MAKING PITCHER MARGARITAS
Hosting a party? Start with a pitcher of margaritas. First, you'll need limes. To convert this to a pitcher recipe, just replace 'oz' with 'cups'.
Mix 2 cups tequila, 2 cups lime juice, 1 cup agave nectar or simple syrup. One pitcher will make 8-10 drinks. Repeat as needed.
Main Types Of Tequila
Many people don't realize how special tequila is. The alcohol doesn't have just one flavor or style.
Here are the different tequilas and their unique qualities.
Blanco tequila - The Spanish word for "white" is "blanco," otherwise referred to as "silver tequila," is clear instead of brown, like popular tequila.
Anejo tequila – The Spanish word for "vintage" is "anejo." The tequila is aged in oak barrels between one and four years.
Joven tequila - The Spanish word for "young" is "joven." The tequila is white and blended with aged tequila.
Gold tequila is an "Abocado," a tequila that has not rested in wood but has added color, oak natural extract, glycerin, and sugar syrup so it looks like it has.
Reposado tequila - The Spanish word for "calm" is "reposado." The tequila is aged in oak barrels between two months and up until a few days shy of one year.
Cristalino tequila – The Spanish word for "crystalline" is "cristalino." The tequila is aged and then filtered again, which removes its color. It's a clear sipping tequila, with aged characteristics.
More Margarita Recipes You'll Love
How Many Calories Are In A Regular Margarita?
A standard four ounce margarita on the rocks has 250 calories. Frozen margaritas have 500 calories because of their sugar content. Skinny margaritas have the lowest calories because they require less alcohol.
Do I Always Have To Use Tequila For Margaritas?
Vodka is a popular substitute for tequila when making margaritas. For example, a vodkarita is a margarita with vodka instead of tequila. What's nice about vodka is how it doesn't have a scent. Tequila has a strong aroma. People know when you've been drinking tequila because your breath will smell. With vodka, you won't have that problem.
Skinny Margarita Conclusion
A skinny margarita is low in calories. If you're on a diet and craving a margarita, try a skinny margarita. The drink also has less alcohol, which makes it easier to consume.
The margarita has a Spanish name, but it may as well be the national alcoholic drink of America.
Did you make this recipe? Please leave a star rating in the comments!
Print
The BEST Skinny Margaritas
The BEST skinny margaritas are classic, delicious, refreshing, and made with just a few simple ingredients, the way a margarita should be! This top-shelf recipe is the only margarita recipe you'll ever need!
Author: Kaleigh
Prep Time:

10 minutes

Cook Time:

0 minutes

Total Time:

10 minutes

Yield:

2

margaritas

1

x
Category:

cocktails

Method:

no cook

Cuisine:

Tex-Mex
For 2 drinks:
2 oz

freshly squeezed lime juice

0.5 oz

light agave nectar (or

1 oz

simple syrup), more or less to taste
Ice
Coarse sea salt
Lime wedges
For a pitcher (8-10 drinks):
2 cups

silver tequila

2 cups

freshly squeezed lime juice

1.5 cups

Cointreau

½ cup

light agave nectar or

1 cup

simple syrup
Instructions
Use a lime wedge to wet the rims of 2 glasses and dip in salt (optional). Fill glasses with ice.
To make margaritas, add tequila, lime juice, Cointreau and agave nectar or simple syrup to a shaker filled with ice. Shake vigorously and strain into ice-filled glasses.
To make a pitcher, simply stir all of the ingredients in a pitcher (with no ice) and refrigerate until ready to serve.
Notes
To make simple syrup, simmer equal parts sugar and water in a small saucepan until sugar is dissolved, then remove from heat and cool to room temperature. For 2 oz of simple syrup, use ¼ cup each. For pitcher recipe, use 1 cup each.
It's best to use lime juice that has been freshly squeezed the day you are making margs. The juice looses it's flavor after sitting a while, so don't do it too far in advance.
With cocktails this simple, quality ingredients are important. Use a good tequila and triple sec. (I usually use 1800 Silver and Cointreau).
Adjust the amount of tequila and sweetener to fit your taste. I prefer tart margaritas, so I usually use half of the agave nectar. If you prefer a sweeter drink, you might increase it. If the amount of tequila is too strong for you, decrease it a little bit. Or dilute it with a splash of soda on the top.
These margaritas are strong. And they taste very good. So pace yourself. (AKA, please drink responsibly.)
Keywords: skinny margaritas, the best margaritas, classic margaritas, healthy margarita recipe, margarita recipe with fresh lime juice