Keto flour is any type of low-carb flour. Keto flours have become more and more popular among individuals who follow ketogenic diets. With several keto flour varieties available on the market, it can be difficult to know which one to choose for your ketogenic recipes.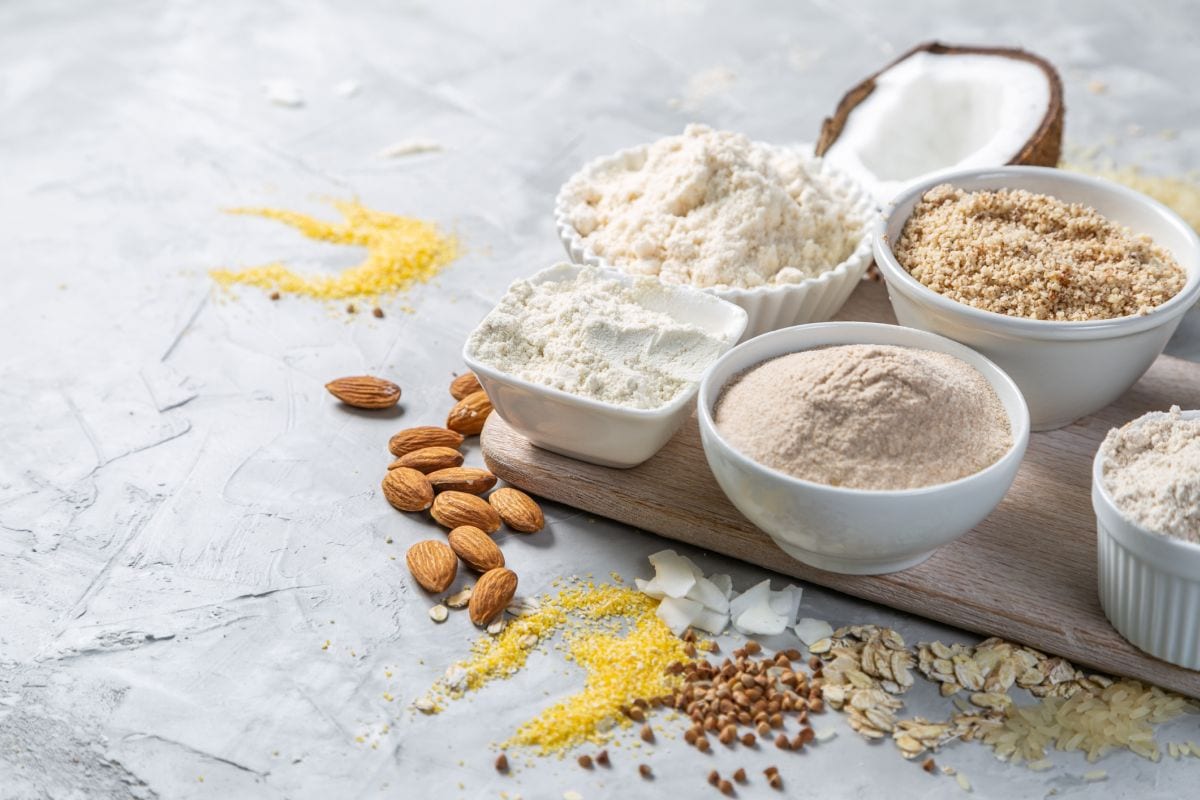 What Is Keto Flour?
Keto flours are low-carb alternatives to regular wheat flour. You can use some types of keto flour in baking and cooking. These flours are made from ingredients like almond flour, coconut flour, and flaxseed meal, which contain fewer carbohydrates than traditional wheat flour.
Keto flours have become popular among those following a ketogenic diet as they provide a way to make delicious recipes without having to worry about consuming too many carbs. You can also use them to create dishes with a healthier nutrition profile and a more unique flavor.
The most important thing is to understand the basics of using keto ingredients so that you get the desired result. With some experimentation and practice, you'll find yourself making tasty treats that fit your low-carb lifestyle.
What Are Net Carbs?
Net carbs are the carbohydrates that your body digests and absorbs. They're calculated by subtracting dietary fiber and sugar alcohols from the total number of carbohydrates in a food item. You can calculate the net carbs using the information on nutrition labels.
It's more important to consider net carbs than total carbs when following a low-carb or keto diet. Net carbs provide more accurate information than looking at the total carbohydrate count because some types of carbohydrates are not absorbed by your body. For example, foods high in fiber have a lower net carb count than those with more simple sugars. Knowing the amount of net carbs in a food item can help you keep track of your total daily carbohydrate intake.
Types of Keto Flour
There are several types of keto flours, each with its own unique taste and texture. Below is a list of some common types of keto flour/low carb flour:
Is almond flour keto? Yes, almond flour is one of the most popular types of keto flour on the market. It's made from ground almonds and has a mild, nutty flavor. It's often used in baking as it creates textures similar to that of wheat flour. Almond flour works well in recipes, such as pancakes, muffins, and cakes. It also works well for breading fried foods. Almond flour is gluten-free, high in protein, and full of healthy fats.
Almond flour net carbs: 2 grams per 15-ounce serving (2 tablespoons)
Is coconut flour keto? Yes, coconut flour is another popular option for those following a keto or low-carb diet. Coconut flour is made from dried coconut meat that has been ground into a fine powder. It has a mild sweetness with a slight coconut flavor. You can use it to replace regular wheat flour in recipes for breads, muffins, cookies, and other baked treats. But you'll want to use about ¼ to ⅓ cup coconut flour for each cup of regular wheat flour. It's best to use coconut flour in recipes developed for coconut flour. It is also gluten-free and packed with fiber, so it keeps you feeling full for longer periods of time.
Coconut flour net carbs: 4 grams per 15-ounce serving (2 tablespoons)
Is flaxseed meal keto? Yes, flaxseed meal, made from ground flaxseeds, is an excellent choice for a keto flour alternative. Not only is it gluten free, low in carbohydrates, and high in fiber, but it contains healthy omega-3 fatty acids, protein, and other essential nutrients. You can't replace all the regular flour in a recipe with flaxseed meal, but you can replace up to half. And the fiber in the flaxseed meal may require some extra liquid in the recipe. It's best to look for recipes that were developed with flaxseed meal as an ingredient.
Flaxseed meal net carbs: 0 grams per 14-ounce serving (3 tablespoons)
Keto Flour FAQs
Is oat flour keto?
Oat flour is not considered keto because it contains a high amount of carbohydrates compared to other low-carb and keto flours, such as almond flour, coconut flour, and flaxseed meal. Oat flour contains around 19 grams of net carbs per ¼ cup, which is too high for the typical ketogenic diet.
Is rice flour keto?
Rice flour is not a keto-friendly food because it's high in carbohydrates. Rice flour has about 21 grams of net carbs per 26-ounce serving, and many keto dieters limit their daily carb intake to around 50 to 100 grams. It may be possible to incorporate small amounts of rice flour into your ketogenic diet, but for most people looking to stay in ketosis, it's best to stick with other flours that are lower in carbohydrates.
Is wheat flour keto friendly?
No, wheat flour is not keto because it is high in carbohydrates. Wheat flour contains approximately 70% carbohydrates, so it should be avoided when following a keto diet. There are keto flours, such as almond flour and coconut flour, that are much lower in carbohydrates, making them suitable for achieving and maintaining nutritional ketosis.
Bottom Line
Using a keto flour is a great option if you are looking to reduce your carb intake and still enjoy delicious keto-friendly treats. Whether you choose almond flour, coconut flour, flaxseed meal, or a combination of flours, you can create low-carb dishes that taste just as good as traditional recipes. With keto flour alternatives, you can still enjoy your favorite baked goods without compromising on flavor. Be sure to check the net carbs per serving on keto flours before incorporating them into your ketogenic diet.