The turkey tail mushroom is a unique variety of mushroom with a distinct flavor and texture. Not only does it add a umami element, but the polysaccharides and other compounds found in turkey tail mushrooms have impressive health benefits as well.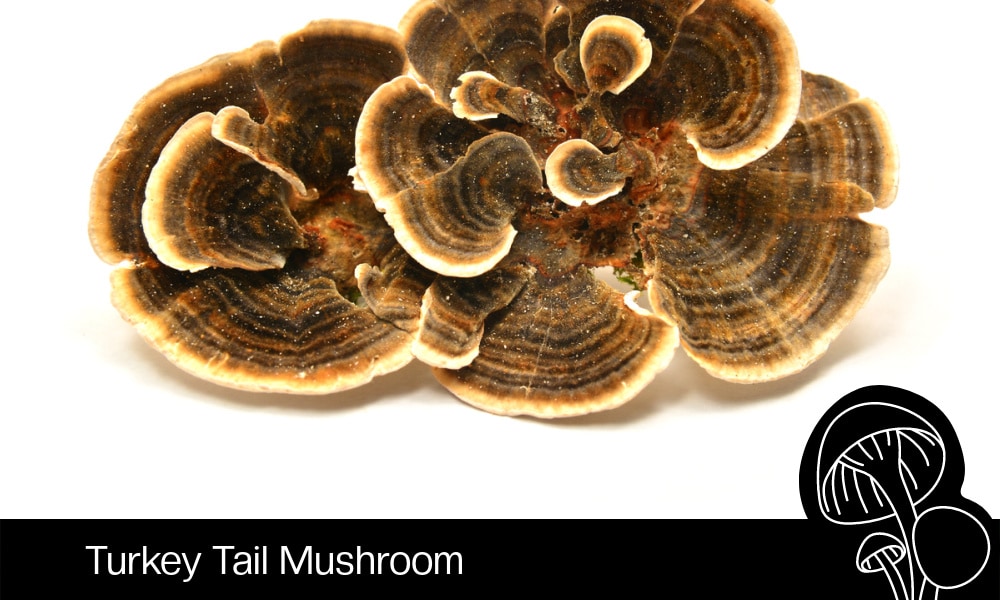 What Are Turkey Tail Mushrooms?
Turkey tail mushrooms, Coriolus versicolor or Trametes versicolor, are a type of mushroom native to North America and Asia. These mushrooms have been used in traditional Chinese medicine for centuries as a remedy for illnesses ranging from digestive problems to cancer.
Turkey tail mushrooms grow on dead or dying trees. The mushroom caps range from 1 to 4 inches wide and feature concentric rings with bright colors like yellow, white, brown and gray—hence the name "turkey tail." They have a flat shape and fan-like pattern with no stem.
They have very fine hairs on the top of the mushroom that make it feel like velvet. The underside is white with very small pores. You can forage and dry your own turkey tail mushroom, or you can find it at many specialty stores, health food stores, or online.
How to Cook with Turkey Tail Mushrooms
Turkey tail mushroom is tough and woody, so it isn't often used in cooking. It is edible because it isn't poisonous, but there are better ways of accessing the health benefits of this mushroom without having to endure its undesirable textural characteristics.
Turkey tail mushroom comes in a variety of forms, including powder, capsules, tea, tinctures, and extracts. All of these forms can provide you with the antioxidants, polysaccharides, and other compounds that make turkey tail such a valuable ingredient.
Powder form is the simplest way to take turkey tail mushroom. All you need to do is mix some of the powder into water or your favorite beverage and enjoy. Powdered mushrooms are also easy to add to smoothies or other recipes for an extra boost of nutrients.
Turkey tail mushroom tea is a popular way to enjoy this mushroom. Making turkey tail mushroom tea is easy – steep the dried mushroom in hot water for at least 15 minutes. The longer it steeps, the stronger the flavor will be. You can enjoy the tea plain or with a bit of honey or lemon juice to enhance the taste.
What Do Turkey Tail Mushrooms Taste Like?
Turkey tail mushrooms have an earthy, nutty flavor. The taste is somewhat milder than its more pungent relatives. But its tough texture makes it almost inedible.
Turkey tail mushroom tea has a unique earthy scent and flavor profile. It can range from bitter to a bit sweet depending on the blend. It tastes similar to other herbal teas but with a more woodsy taste. Many people find that they enjoy its flavor more as they become accustomed to it. You can enjoy it hot or cold, depending on your preference.
How to Store Turkey Tail Mushrooms
Turkey tail mushrooms grow on living or dead trees and not in the soil, so they aren't as dirty as other mushroom varieties. But they still need cleaning.
Inspect your turkey tail mushrooms for any signs of insects, mold, or other issues. Use a soft brush to remove the dirt and debris from the mushrooms. Cut away the edge where they were attached to the log or tree. You can give them a quick rinse under running water, but avoid submerging them in water as they will absorb it.
You can chop the fresh turkey tail mushrooms to make a tea, or you can dry the mushrooms for later use. Dry them as soon as possible to prevent mold from developing. The best way to dry them is with a food dehydrator.
Once dried, store your mushrooms in an airtight container or plastic bag away from direct sunlight. With proper storage, your turkey tail mushrooms should last 6 months to a year.
Turkey Tail Mushroom Benefits
In addition to the nutritional benefits of turkey tail mushrooms, research has found that they may have several other health benefits, including:
Boosting your immune system
Turkey tail mushrooms contain polysaccharides that help stimulate the immune system and increase production of immune cells like lymphocytes. Turkey tail mushrooms are rich in polysaccharides that act as powerful antioxidants in the body and boost the immune system.
Some studies have found that an extract from turkey tail mushrooms may help boost the immune system's ability to fight certain types of cancer cells. But much more research is needed to confirm these potential anti-cancer effects.
Turkey tail mushrooms also contain antioxidants that may help reduce inflammation in the body.
Like other mushrooms, turkey tail mushrooms contain prebiotics that serve as food for the beneficial bacteria in the gut. Consuming turkey tail mushrooms may help promote a healthy balance of gut bacteria.
Turkey Tail Mushroom Vs. Reishi Mushroom
Both turkey tail and reishi mushrooms are popular medicinal mushrooms. They both have immune-boosting properties and contain compounds that can help fight cancer. But turkey tail mushrooms are better at stimulating the immune system while reishi mushrooms are superior at reducing fatigue and depression.
So, it depends on your specific health goals to determine which mushroom is better for you. You could also use both mushrooms to gain the benefits of each one.
Mushroom Recipes