Nothing says summer like grilled BBQ ribs! These baby back ribs on the charcoal grill are simple, delicious, and sure to please a crowd with tender, fall off the bone meat and crispy charred edges.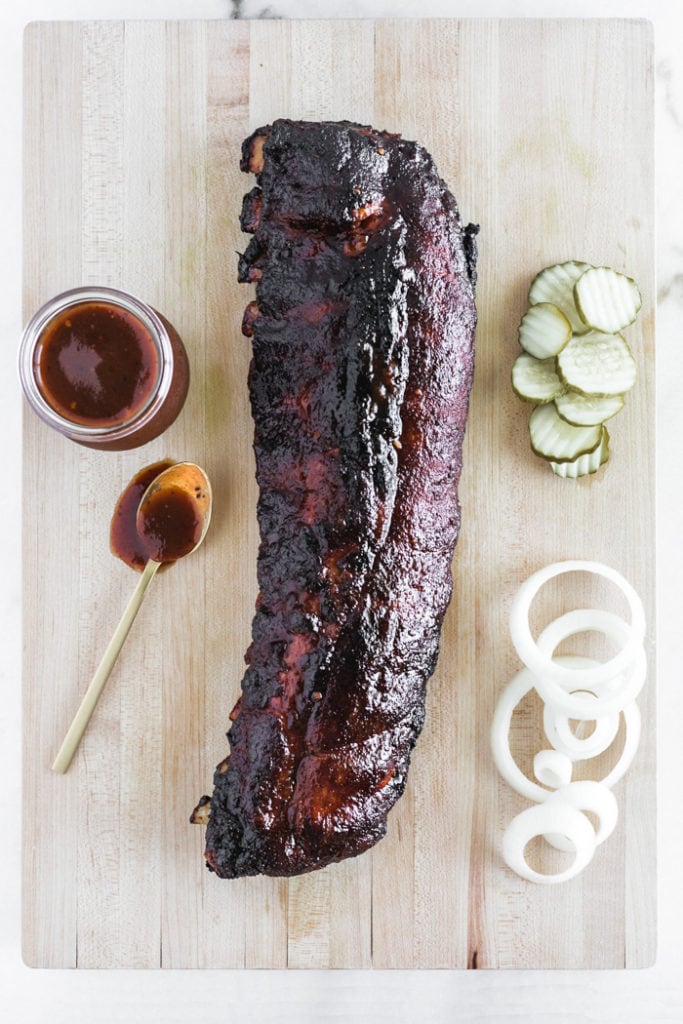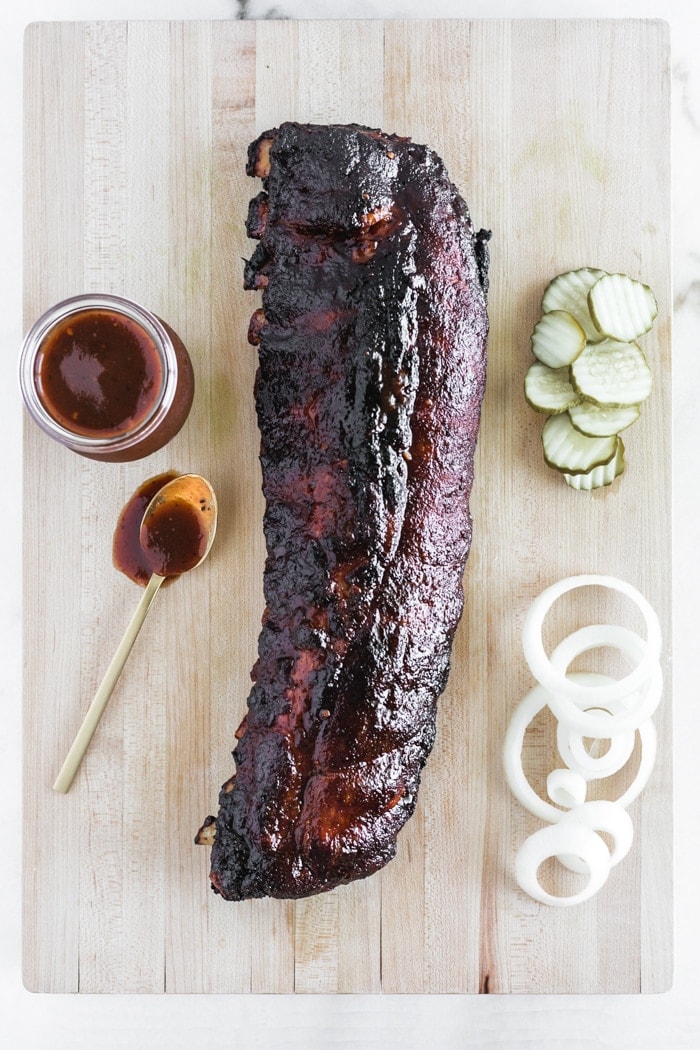 Coming from a long line of Texans, and having lived here my whole life, I like to think I know a thing or two about barbecue. I grew up on baby back ribs and brisket cooked all day long on a smoker during my childhood weekends spent at our family lake house.
Then I married another long-standing Texan who also loves his barbecue. In case you're confused, throwing some BBQ sauce on a piece of meat does not, in fact, make said meat 'barbecue'. Neither does cooking meat outdoors.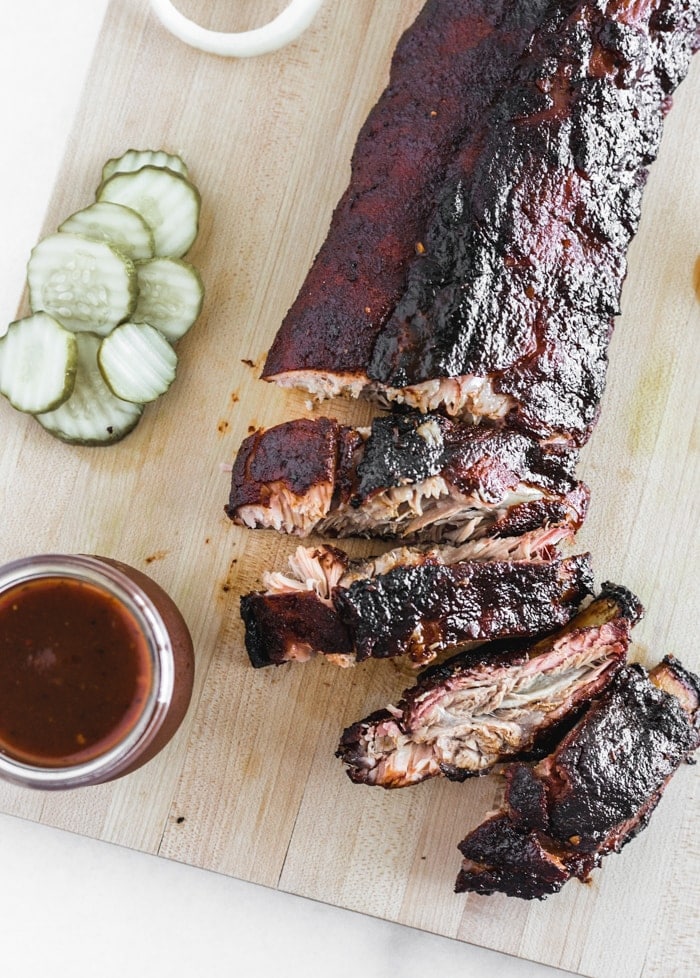 There is a distinct difference between grilling and barbecuing.
The main difference? Time. Barbecuing is a long, slow process over low heat, producing deliciously tender, juicy meat from cuts that may be tough and dry when cooked more quickly. Grilling is reserved for chicken breasts and burgers, which are cooked over high heat for a short period of time.
Now, I understand that I am lucky to live in the great state of Texas where we know good barbecue from bad and most people have the luxury of space to hold at the very least a charcoal grill. Which is what we have in our backyard, alongside the trusty gas grill.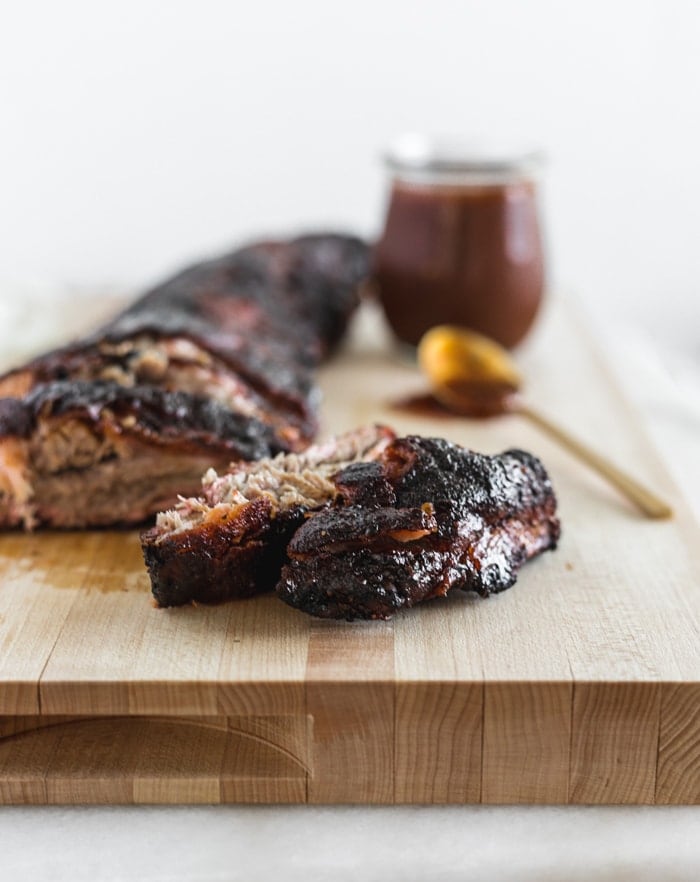 While it might be ideal to BBQ ribs in a smoker, those are a little harder to come by, even for Texans. The amount of use a smoker would get in our backyard just doesn't justify the cost or amount of space it would take up. So the charcoal grill will do just fine. And that's how we made these delicious baby back ribs.
I say 'we' because I am not the resident griller in the Table household. That job is for Mr. Table. He enjoys drinking a cold beer, manning the fire and cooking meat all day. And he's good at it. So in this case, I'm just here to prep the food and explain what's happening.
How do you make ribs on the charcoal grill?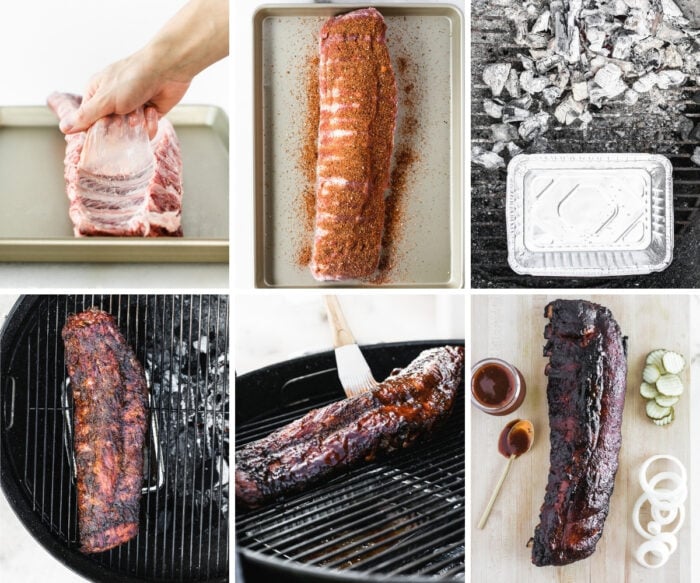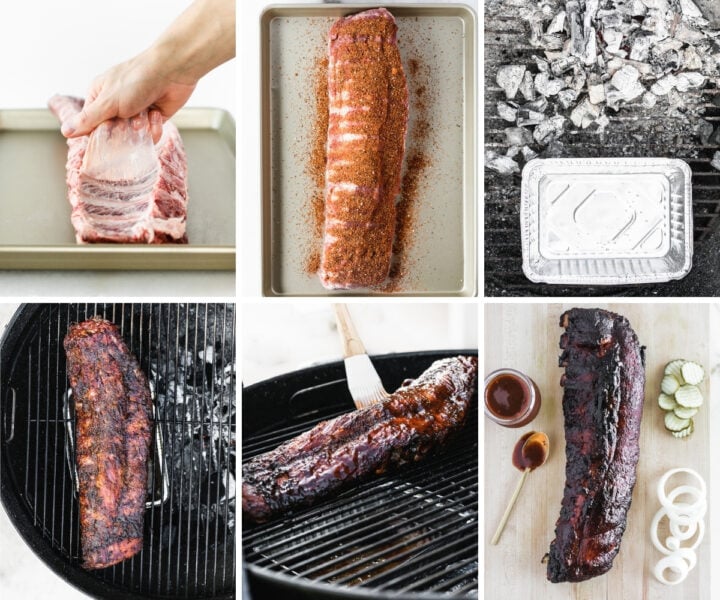 Start The Fire
First, you want to build a low-temperature fire on just one side of the grill.
Weber 22" Original Kettle - Check the price here.
Mr. Table suggests enjoying a cold beer while doing so. Remove the grates and add charcoal, and soaked wood chunks if you'd like a more smoked flavor, to one side of the grill.
On the other side, place a foil pan filled with water. This will help keep the ribs nice and moist.
Replace the grates, light the fire and let the grill get to an even temperature of about 275°F.
You'll need to monitor the fire and add more charcoal as needed throughout cooking to keep the temperature constant.
Prepare The Ribs
While the fire is coming to temperature, prepare your baby back ribs. I like to remove the membrane on the underside for more tender, flavorful ribs. You can remove it by sliding a butter knife underneath the membrane along the last rib until it comes free, then grab hold of it and pull it up along the entire rack. Then give your ribs a good, generous rubdown all over with my homemade BBQ spice rub.
Grill The Ribs
Place the ribs on the prepared grill on the side with the foil pan, over indirect heat. Cook for about 2 hours, rotating every 30 minutes or so to expose different edges to the hot side of the fire. After 1 ½ to 2 hours, wrap the ribs tightly in foil and place back on the grill to seal in the juices while you continue cooking for another 30 minutes or so.
Unwrap and Sauce
Finally, remove the foil. From here, you have a few options. You can go ahead and cut the ribs and serve if you've got an inpatient group. If you'd like a bit more char on the meat, return them to the fire without the foil, meat side down, for another 15-20 minutes. If you like your ribs saucy, place them back on the grill without the foil, meat side up, and brush them with barbecue sauce (like my homemade Texas BBQ sauce), 3-4 times, every 5 minutes or so to build a nice sticky layer of sauce.
When you've got your desired texture, remove the ribs, place them on a cutting board, slice with a large, sharp knife, and dig in!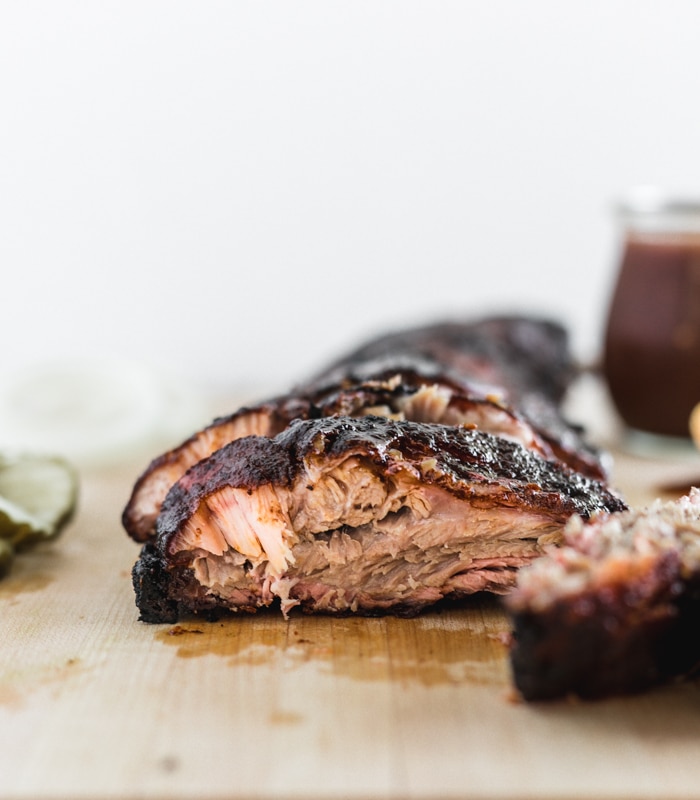 Suggested Sides
If you make this recipe, be sure to leave a star rating in the comments!
Print
BBQ Ribs on the Charcoal Grill
Nothing says summer like grilled BBQ ribs! These baby back ribs on the charcoal grill are simple, delicious, and sure to please a crowd! (gluten-free, dairy-free, nut-free)
Author: Kaleigh
Prep Time:

10 minutes

Cook Time:

150 minutes

Total Time:

160 minutes

Yield:

1

rack ribs

1

x
Category:

main dish

Method:

grilled

Cuisine:

BBQ
Instructions
Prepare fire in the charcoal grill. Remove the grates, place a pile of charcoal on one side of the grill only. On the other side, place a small foil pan filled with water. Start the fire and return the grates to the grill. Let the grill get to a low temperature (about 275°F.) You may also add pieces of wood to the charcoal for a more smoky flavor.
While the fire is heating, prepare ribs. Turn ribs over so that the bone side is facing up. Remove the membrane along the back by sliding a dull knife (such as a butter knife) under the membrane along the last bone until you get under the membrane. Hold on tight, and pull it until the whole thing is removed from the rack of ribs.
Rub ribs all over with spice rub. Once fire is ready, place the ribs on indirect heat - the side of the grill that has the foil pan. Cover and cook about 2 hours, watching to make sure the fire is maintained at a steady low temperature, adding charcoal as needed, and rotating the rack of ribs roughly every 30 minutes so that different edges of the rack are turned toward the hot side.
After 1 ½ to 2 hours, remove ribs and wrap in foil. Return to the grill for another 30 minutes or so.
When ribs are done, you can either remove them from the foil and place back on the grill, meat side down, for a little char, or place them meat side up and brush with barbecue sauce in layers, waiting about 5 minutes between layers. Or simply remove them from the grill to a cutting board, slice, and serve!
Notes
If you're adding wood chunks to the grill, be sure to soak them in water for at least 30 minutes first.
If you're feeling lazy (or if you're cooking solo) you can skip wrapping them in foil. We sometimes do and they still turn out delicious!
This recipe also works great on a Big Green Egg or Traeger grill.
Keywords: BBQ ribs, ribs on the charcoal grill