Chestnut mushrooms are a popular ingredient in many dishes around the world. These earthy-flavored fungi are prized for their nutty flavor and dense texture. Not only do chestnut mushrooms taste great, but they're packed with essential vitamins and minerals that make them nutritious too.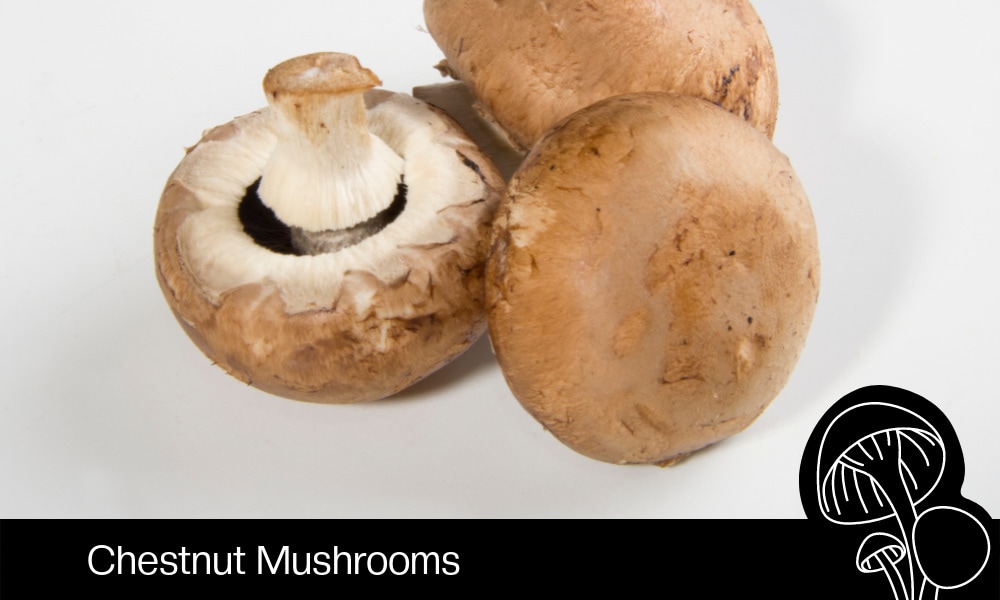 What Are Chestnut Mushrooms?
Chestnut mushrooms, or Pholiota adiposa, are sometimes called cinnamon cap mushrooms. They consist of bunches of mushrooms with a golden or chestnut brown cap and an off-white stem. They have brown gills underneath the cap.
You can find chestnut mushrooms in specialty food stores and farmers' markets. Look for ones with firm caps and dry gills. Avoid any mushrooms with slimy or dried-out surfaces.
Chestnut mushrooms are native to Europe and parts of Asia, but farmers now grow them in North America and elsewhere. These mushrooms have a pleasant nutty flavor and an earthy aroma, making them a staple ingredient in many cuisines around the world. You can enjoy chestnut mushrooms raw or cooked.
Chefs and home cooks use chestnut mushrooms to add depth and richness to dishes such as risottos, sauces, soups, omelets, and more. Chestnut mushrooms are also popular for use in vegetarian dishes, providing a meat-like texture when cooked.
How to Cook Chestnut Mushrooms
Chestnut mushrooms are a great addition to many dishes because their flavor pairs well with other ingredients. Salads, pastas, soups, stews, quiches, omelets, frittatas, and sauces benefit from the addition of chestnut mushrooms.
Here are some tips for cooking chestnut mushrooms:
Clean the mushrooms before cooking by wiping them with a damp cloth or paper towel to remove dirt and debris. Do not rinse them under running water as this can make them soggy.
You can eat the stems of chestnut mushrooms. The stems are a bit firmer than the caps, so they may require more cooking time if included in a dish.
For best results, cook chestnut mushrooms over medium heat in butter or oil until they start to turn golden brown, about 5 to 7 minutes per side. Cook them longer if you want a more caramelized texture. Avoid overcrowding the pan as this will create steam which can make the mushrooms soggy.
Add seasoning to your mushrooms once they're cooked. Some ideas include salt, pepper, and fresh herbs like parsley or thyme.
What Do Chestnut Mushrooms Taste Like?
Chestnut mushrooms are earthy and nutty in flavor with a rich umami taste and a slightly sweet finish. The flavor is like a more intense button mushroom.
They have a meaty texture that holds up well and remains firm when cooked. The caps will even crisp up a bit when sauteed.
They can absorb lots of flavor from sauces, spices, and other ingredients. With their hearty yet light taste and texture, chestnut mushrooms are a versatile ingredient for any kitchen.
How to Store Chestnut Mushrooms
To ensure that your chestnut mushrooms stay as fresh and flavorful as possible, it's important to know how to store them. Take the time to brush off any soil or debris before storing them.
Place your mushrooms in a paper bag or well-ventilated container and place it in the refrigerator. Keep them away from other fruits and vegetables as their flavor can be affected by sharing storage containers with their neighbors.
The cold temperature of the fridge will help slow down the growth of any bacteria that may be present and prevent spoilage. They can stay good for up to a week.Be sure to check on the mushrooms every day or two to make sure they are still fresh. If you detect any signs of spoilage, discard the mushrooms.
For long-term storage, freezing ensures they maintain their quality while being available whenever needed. Place the clean mushrooms in a freezer bag, label and date the bag, then place it in the freezer. When ready to thaw, let them sit in the refrigerator overnight.
Chestnut Mushroom Benefits
Chestnut mushrooms are low in calories but high in important nutrients. They have a good amount of vitamin B2 (riboflavin), vitamin B3 (niacin), vitamin B5 (pantothenic acid), copper, potassium, and selenium among many others.
In addition to providing these essential nutrients, chestnut mushrooms are also an excellent source of dietary fiber, which helps keep the digestive system healthy. And they provide antioxidants that can help protect cells from damage caused by free radicals.
Chestnut Mushrooms Vs. Portobello Mushrooms
With their earthy, woodsy flavor and meaty texture, chestnut mushrooms and portobello mushrooms are similar in many ways. Both chestnut mushrooms and portobello mushrooms are popular choices in the kitchen, but they have some key differences that set them apart.
Chestnut mushrooms are smaller and have a more delicate texture than portobello mushrooms. They also tend to be less flavorful than portobellos, so they are best if you want a milder mushroom flavor or if you plan on adding other ingredients for additional flavoring.
Portobello mushrooms are larger and have a firmer texture, making them an excellent substitute for meat in many dishes. Portobellos take longer to cook than chestnuts due to their size and have a more intense flavor.
Chestnut Mushroom Substitute
Shiitake mushrooms are a good substitute for chestnut mushrooms because they have a similar texture and mild flavor that can adapt to many recipes. Oyster mushrooms are another great substitute with their earthy, slight sweet taste and ability to absorb flavors from other ingredients.
Chestnut Mushroom Recipes