Shiitake mushrooms are edible and versatile fungi that have been eaten for centuries. Not only do shiitakes taste great, they are versatile. You can use them in a variety of dishes—from soups to stir fries to salads.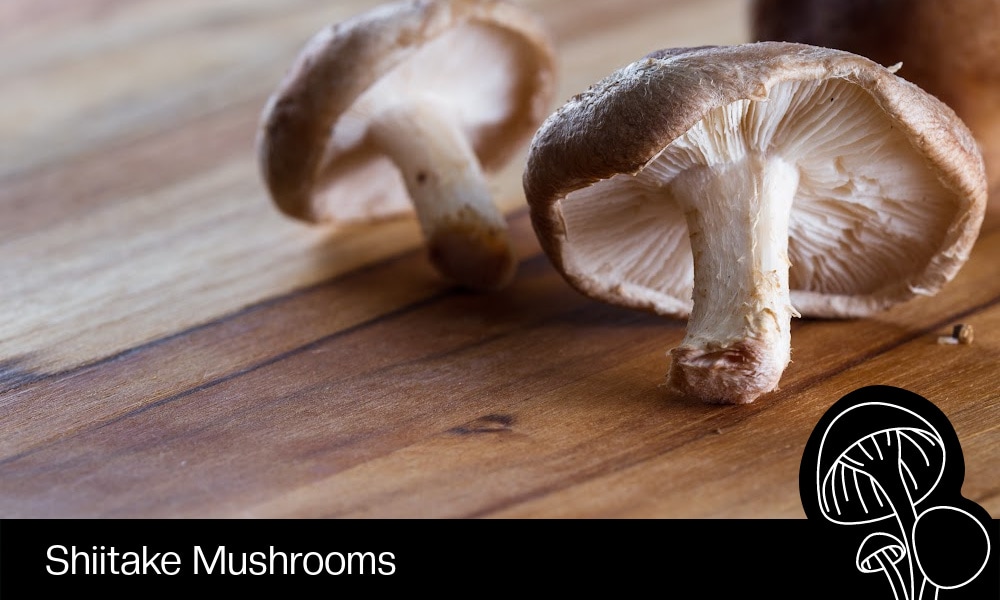 What Are Shiitake Mushrooms?
Shiitake mushrooms are native to East Asia and have been cultivated in Japan, China, and Korea for centuries. They are now available in many markets around the world. They grow on the dead or dying wood of certain trees, like hardwood oaks and chestnuts.
Shiitake mushrooms are brown in color with distinctive umbrella-shaped caps. The caps range from 2 to 10 cm in diameter and have a curved surface. The underside of the cap has light tan gills that run down its stem. The stem is usually 4 to 10 cm long and thickens toward the base.
You can buy shiitake mushrooms fresh or dried, and they are available year-round in most grocery stores. When fresh, the texture of the mushroom is firm. When dried, the texture becomes hard and brittle.
Fresh shiitake mushrooms have a firm texture and robust flavor. When cooked, they become tender but still retain their structure. Dried shiitake mushrooms have an even stronger flavor, and you can rehydrate them in warm water before cooking them with other recipe ingredients.
How to Cook with Shiitake Mushrooms
Shiitake mushrooms have a delicious, earthy flavor that makes them an excellent addition to many dishes. There are many ways to cook with shiitake mushrooms, but some of the most popular are sauteing or stir-frying, grilling, or roasting.
No matter which cooking method you choose, shiitake mushrooms will add an earthy and umami flavor to your dishes that can't be beat. Umami is one of the five basic tastes, along with sweet, sour, bitter, and salty. It is often described as a savory or meaty flavor that enhances the flavors of many foods.
Shiitakes work well in Asian dishes and are great with proteins like chicken or beef. They can add depth of flavor to salads, soups, stews, and stir-fries. Try them in dishes like ramen, miso soup, beef and broccoli stir-fry, or other Asian-inspired recipes.
What Do Shiitake Mushrooms Taste Like?
Shiitake mushrooms have a unique flavor that can be described as earthy and a bit smoky. They also have a umami flavor that can vary depending on how you prepare them. They also have a meaty texture, which makes them an ideal substitute for meat in vegan and vegetarian dishes.
When cooked, the shiitake mushroom's flavor intensifies and develops a deeper complexity. They pair well with other flavors like garlic, ginger, soy sauce, sesame oil, oyster sauce, and miso paste. So they are a common ingredient in many Asian dishes.
How to Store Shiitake Mushrooms
Here are some tips for storing shiitake mushrooms and keeping them fresher for longer:
Store uncooked, whole mushrooms in a paper bag or container lined with paper towels in the refrigerator. Make sure to check the mushrooms every few days and discard any that have become slimy or discolored. They will keep in the refrigerator for up to 5 days.
For long-term storage, you can dry your shiitake mushrooms by drying them in an electric dehydrator at low temperature until they're brittle. Once dried, store the mushrooms in an airtight container out of direct sunlight in a cool place such as the pantry.
You can freeze shiitake mushrooms by cleaning them and patting them dry with paper towels. When they are dry, place them in sealed freezer bags or containers for up to 6 months. Remove any excess air from the storage bag or container before sealing it shut.
Shiitake Mushroom Benefits
If you're looking for an easy way to add more nutrition to your diet without loading up on calories, shiitake mushrooms are a great choice. One hundred grams of shiitake mushrooms has 44 calories, 2.4 grams of protein, 8.2 grams of carbohydrate, 0.2 grams of fat, and 4 grams of fiber.
They are high in vitamins and minerals, especially B vitamins, copper, manganese, potassium, selenium, and zinc. Shiitake mushrooms also contain antioxidants that can help reduce inflammation and oxidative stress in your body.
Shiitake Mushrooms Vs. Cremini Mushrooms
Shiitake and cremini mushrooms are both popular types of edible mushrooms, but they have some differences. Shiitake mushrooms tend to be larger, heartier and more textured than cremini mushrooms. The caps of cremini mushrooms are smoother. Shiitake mushrooms have visible gills on the underside.
Shiitake mushrooms have a smoky flavor, and you can find them fresh or dried. Cremini mushrooms are mostly sold fresh and have a milder flavor than shiitake mushrooms. Both types of mushrooms are low in fat and calories and rich in vitamins, minerals, and antioxidants.
Shiitake Mushroom Recipes