Basmati rice is a long grain, aromatic rice that is popular in Indian and Pakistani cuisine. Many people consider it a healthier option than other types of white rice, but is basmati rice healthy?
What Is Basmati Rice?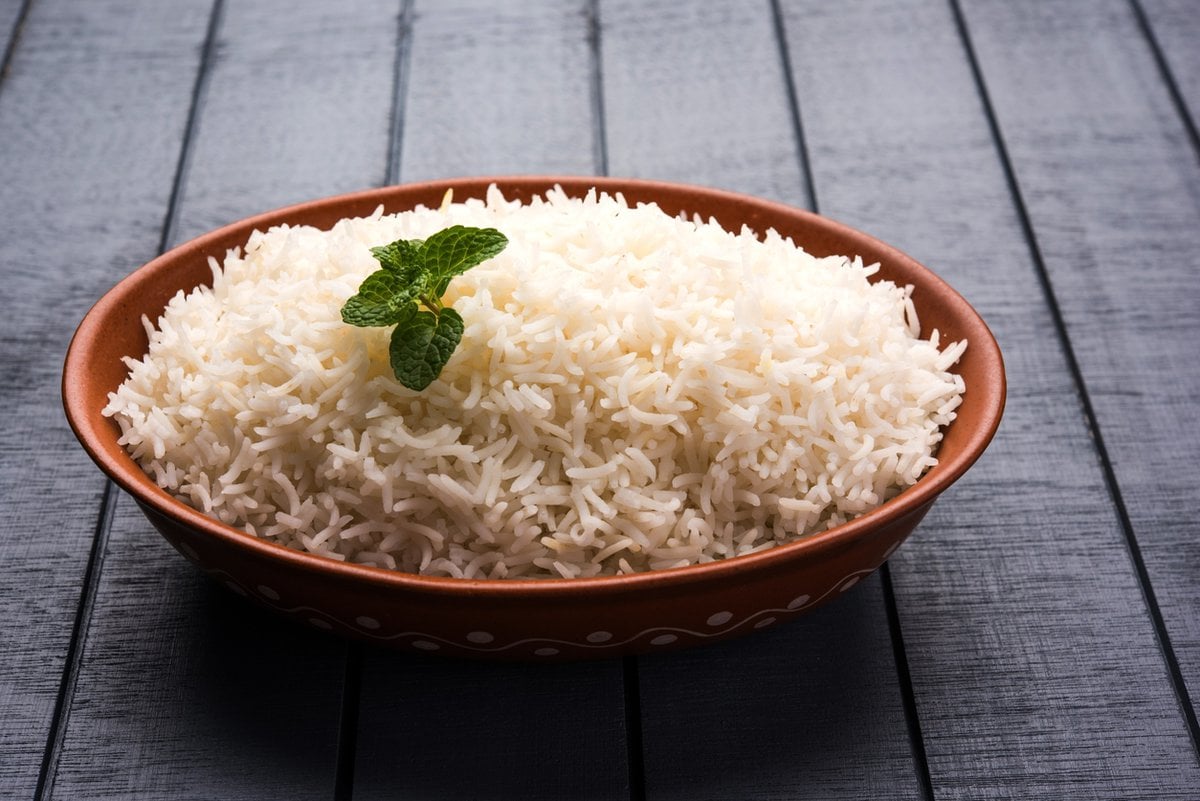 Basmati rice is long grain rice, meaning it is longer and thinner than other types of rice. It has a nutty flavor and a light and fluffy texture.
Basmati rice has a long history, dating back hundreds of years. It is believed to have originated in the Himalayan region and was brought to India by traders and missionaries. Basmati rice is now one of the most popular types of rice in India and Pakistan.
Basmati Rice Nutrition Facts
One cup (163g) of cooked white basmati rice provides the following nutrition:
210 calories
5 grams of protein
0.5 grams of fat
46 grams of carbohydrate
0.7 grams of fiber
It is a good source of folate, thiamine, selenium, niacin, copper, iron, vitamin B6, zinc, phosphorus, and magnesium. Brown basmati rice is slightly higher in calories, carbohydrates, fiber, and some vitamins and minerals.
Carbs in basmati rice
Basmati rice is high in carbohydrates with 46 grams per cup (cooked). While this may seem high, remember that not all carbohydrates are unhealthy. Your body needs carbohydrates for energy.
While basmati rice is a healthy option for most people, note that everyone's bodies are different. White basmati rice may not be the best option for those with diabetes or other conditions that require them to limit how many carbohydrates they eat. It is important to speak with a healthcare professional before making any changes to your diet.
Protein in basmati rice
Basmati rice provides 5 grams of protein per cup (cooked). Protein is an important nutrient responsible for many functions in the body. Our bodies use protein to build and repair tissues, provide energy, and support the immune system. Protein is also important for weight management as it helps you feel full and reduces hunger.
Benefits of Basmati Rice
Basmati rice, especially brown basmati rice, has some benefits over other grains.
It is aromatic rice, meaning it has a pleasant smell when cooked. Many describe it as being like the smell of cooked popcorn.
Brown basmati rice is a whole grain with more fiber and nutrients. Eating more whole grains may help reduce the risk of chronic diseases, such as heart disease, type 2 diabetes, and cancer.
Brown basmati rice has a low-to-medium glycemic index. So brown basmati rice is the better choice for people with diabetes because it is less likely to cause spikes in blood sugar levels.
Basmati Rice Vs. White Rice
Basmati rice is often compared to basic white rice because they have a similar appearance. But there are some differences between them. Basmati rice is a long grain rice and is more aromatic than white rice with a nutty flavor.
White rice is a shorter grain rice that is more starchy and has a chewy texture. It is often used in Asian cuisine. It is not as fragrant as basmati rice and has a more neutral flavor.
How to Cook Basmati Rice
Basmati rice can be cooked in a variety of ways, including on the stovetop, in a rice cooker, or in the oven. To cook basmati rice on the stovetop, you will need 1 cup of basmati rice and 1-½ cups of water. Rinse the rice under cold water to remove any excess starch. Add the rice and water to a medium saucepan. Bring to a boil over high heat. Reduce the heat to low and simmer, covered, for 20 minutes. Remove from heat and let sit for 5 minutes. Fluff with a fork and serve.
Basmati rice can be used in many different dishes. You can use it in pilaf, biryani, or fried rice dishes. Basmati rice can also be used in soups or stews and pairs well with curries, vegetables, and meats. Try this recipe of Lamb Meatballs with Jeweled Rice.
Basmati Rice FAQs
How many calories does basmati rice provide?
A one-cup serving of cooked basmati rice contains approximately 210 calories.
Is basmati rice gluten-free?
Yes, basmati rice is gluten-free, making it a good option for people with Celiac disease or gluten sensitivities.
Is basmati rice a whole grain?
White basmati rice is not a whole grain because it has been stripped of the bran and germ. Brown basmati rice is a whole grain because it has the hull, bran, and germ intact. These parts of the grain are where many of the nutrients and fiber are found.
Bottom Line
Basmati rice is a healthy option for most people and is a good alternative to basic white rice. Choose brown basmati rice over white basmati rice for the most fiber, nutrients, and health benefits.