The chanterelle mushroom is an edible species of fungus that is a popular choice for home cooks and professional chefs alike. With its bright color, distinctive flavor, and versatility in cooking, it has become one of the most sought-after mushrooms around.
What Are Chanterelle Mushrooms?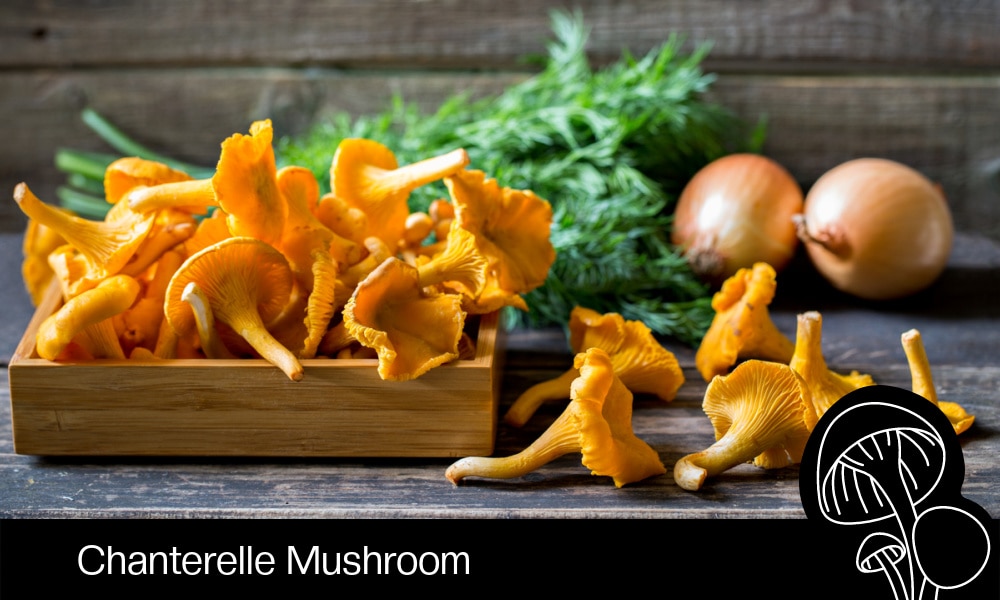 The chanterelle mushroom, also known as Cantharellus cibarius, is a type of edible mushroom that grows in the wild in temperate and tropical climates. You can find chanterelles worldwide from North America to Eurasia and Africa. They often grow near conifer trees like pine or fir in moist soil.
Chanterelles are orange-yellow in color and have a funnel-shaped cap with wavy edges. They have ridges running down the stem and false gills, rather than true gills, on the underside of the cap. Its bright yellow color sets it apart from other fungi, earning it the nickname "the golden chanterelle."
Many grocery stores carry fresh chanterelle mushrooms. Look for chanterelle mushrooms that are firm and without blemishes or signs of decay. Although you can cook fresh chanterelles, dried chanterelles maintain much more of their flavor than other dried mushrooms. Dried chanterelles are sometimes more economical than fresh ones, so it may be worth buying in bulk and storing them until ready for use.
What Do Chanterelle Mushrooms Taste Like?
Chanterelle mushrooms have a nutty, earthy flavor with hints of apricot or peach. They are also known to have a slight peppery taste. These mushrooms add an extra layer of flavor to any dish you add them to.
They are meaty in texture with a chewy consistency, and their natural aroma is woodsy and fruity. When cooked, chanterelle mushrooms become tender and silky, adding an interesting depth of texture to your meal.
How to Cook with Chanterelle Mushrooms
The chanterelle mushroom is a fun ingredient to cook with. Its unique shape, flavor, and texture make it stand out in a variety of dishes. You can use them to enhance soups, sauces, stews, sautés, risottos, omelets, and other dishes. Here are some tips on how to cook with chanterelle mushrooms:
Clean the chanterelles before cooking. Chanterelles grow in the woods, so it's important to make sure they're clean before using them in your recipes. Brush any dirt off the mushrooms then rinse them under cold running water right before cooking them.
Saute first. If adding the chanterelles to a dish that will be cooked for an extended period of time, cook the mushrooms separately before adding them to your dish. This will help prevent their flavor from being diluted by other ingredients. Saute the mushrooms in a pan over medium-high heat with some butter and garlic for about 5 minutes until they start to brown and become fragrant.
Roast or grill the chanterelles to bring out their unique flavors. Try roasting or grilling until crisp then drizzling with a bit of olive oil and lemon juice before serving.
How to Store Chanterelle Mushrooms
Once you've harvested or purchased your chanterelle mushrooms, it's important to use proper storage to keep them fresh and flavorful. Here are some steps for storing chanterelle mushrooms:
Brush away dirt and debris from the mushroom caps using a soft brush or damp paper towel. Do not wash with water before storage as this can cause the mushrooms to become soggy.
Wrap the mushrooms in paper towels and place them in a paper bag in the refrigerator. For best results, store them away from other food items to avoid cross-contamination of flavors, odors, and bacteria.
If you're not planning to use the mushrooms soon, you can freeze them for longer storage times. Place them in a single layer on a baking sheet and put it in the freezer until frozen solid. Then transfer them to an airtight bag or container and place back in the freezer. They should keep for up to 6 months.
For later use, you can also dry them. Spread the mushrooms on a baking sheet and place in a dehydrator or an oven set to its lowest temperature. Leave until the mushrooms are dry, which could take up to 12 hours. Store them in airtight containers or bags away from direct light and moisture.
Chanterelle Mushroom Benefits
In addition to being delicious, chanterelle mushrooms are also a good source of B vitamins, vitamin D, copper, iron, manganese, and potassium. They also provide antioxidants that neutralize harmful free radicals and may help protect against chronic illnesses, such as heart disease, cancer, and diabetes.
Chanterelle Mushrooms Vs. Oyster Mushrooms
Both chanterelle mushrooms and oyster mushrooms (Pleurotus ostreatus) are edible mushrooms that grow in various parts of the world, but they are different in many ways. Chanterelles are golden, funnel-shaped mushrooms, while oyster mushrooms grow in an oyster or fan shape in shades of white, gray, or brown.
Chanterelles tend to be smaller than oyster mushrooms and have ridges running down the stem instead of gills underneath the cap. They also often have a more pronounced aroma and flavor with hints of apricot or peach. Oyster mushrooms are milder and lack the distinctive flavor of chanterelles.
Mushroom Recipes