Quinoa flour is a type of gluten-free flour that is made from quinoa. Quinoa is a grain-like crop that is grown primarily in South America. Quinoa flour has become popular in recent years because it is a healthy and versatile gluten-free alternative to wheat flour.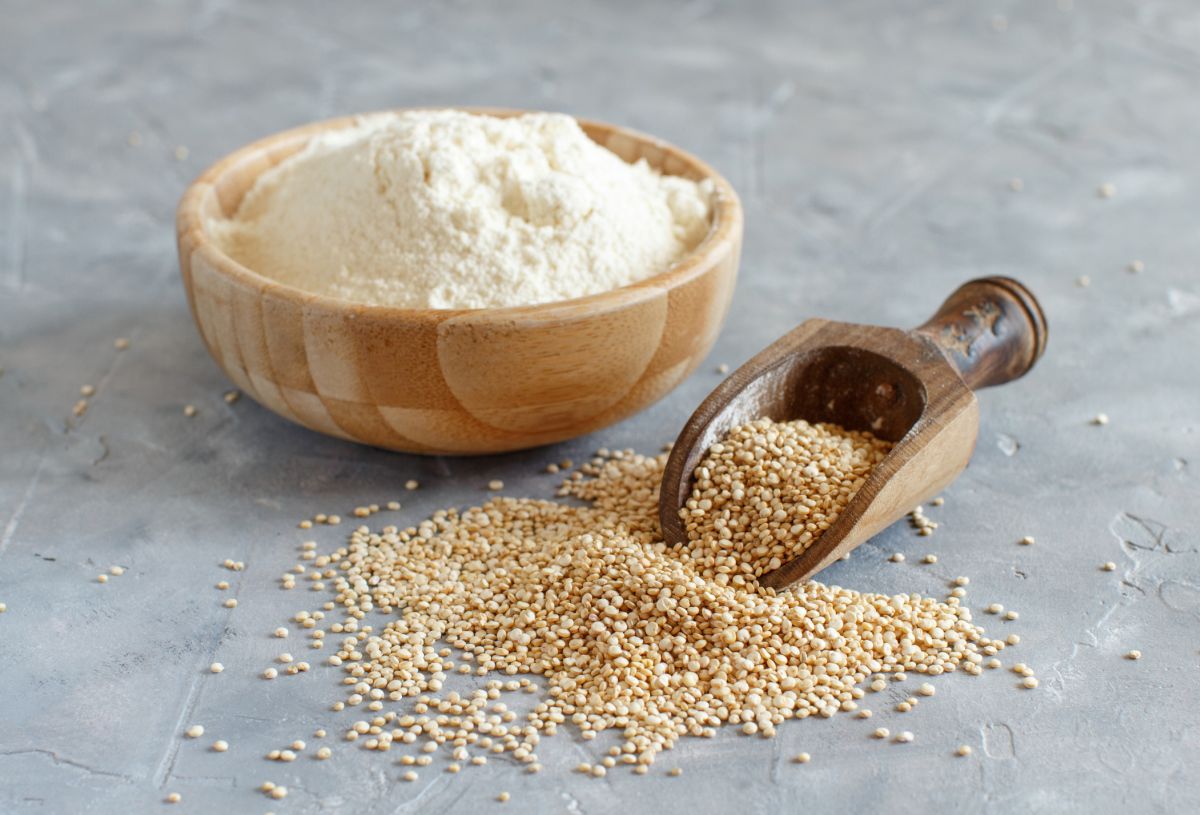 What Is Quinoa Flour?
Quinoa flour is a type of gluten-free flour made from dried and ground quinoa seeds. Quinoa falls under the category of seeds but is often classified as a whole grain. It gets its name from the Quechua people of South America, who used it as a staple food in their diets. The Incas referred to quinoa as "the mother of all grains."
You can use quinoa flour in baking and cooking and to make pastas, cereals, granolas, and more. Quinoa flour has a slight nutty flavor that works well in both sweet and savory dishes.
There are several different types of quinoa flour available on the market, each with their own unique properties. White quinoa flour, red quinoa flour, black quinoa flour, and sprouted quinoa flour are all available, but white quinoa flour is by far the most common.
Quinoa Flour Nutrition
One of the main benefits of using quinoa flour in your cooking and baking is its nutritional value. Because it is made from a grain-like crop that is high in protein, fiber, vitamins, and minerals, quinoa flour can be an excellent way to boost the nutrient content of your diet.
Quinoa contains all 9 essential amino acids, which are sometimes difficult to come by through other plant sources. This means quinoa is a complete protein. It also provides essential vitamins and minerals, such as B vitamins, folate, magnesium, manganese, phosphorus, and zinc.
People who are sensitive to gluten or have Celiac disease cannot tolerate traditional wheat flours. Quinoa flour provides a healthy substitute for wheat flour that can be used in baked goods, such as muffins, pancakes, and breads.
If you're looking for an easy way to add protein, fiber, and other nutrients to your baked goods or meals without having to use eggs or dairy products, then try quinoa flour.
How to Make Quinoa Flour
You can buy quinoa flour in health food stores or online. But it is also easy to make at home.
If your quinoa isn't prewashed, rinse it, spread it out on a cooking sheet, and allow it to dry.
Once dry, add the quinoa to a skillet (without any oil or butter). Dry roast the quinoa on medium heat for 5 to 6 minutes, stirring constantly. The quinoa will start to turn golden brown, but be careful not to burn it.
Remove the quinoa from the skillet and allow it to cool.
Blend the cooled quinoa in a blender or food processor until it turns into a fine powder.
Sift the powder to remove any large particles.
Store the flour in an airtight container at room temperature for around 1 month or in the refrigerator for around 6 months.
How to Use Quinoa Flour & Baking with Quinoa Flour
Quinoa flour is a versatile ingredient that can be used in a wide variety of cooking and baking applications. You can use quinoa flour to make gluten-free pastas, tortillas, or crepes or add it to soups and broths for an extra boost of nutrition. If you're interested in trying quinoa flour for yourself, there are many recipes online that can help you get started.
When it comes to substituting quinoa flour for all-purpose flour in baked goods, there are a few things you should keep in mind. First, quinoa flour has a slight nutty flavor that can overpower the flavors of some baked goods, so you may want to start with smaller amounts and work your way up until you find the right balance.
Another important thing to consider is texture. Because quinoa flour is denser than traditional all-purpose flour, your baked goods may turn out chewier or crumbly when you use it as a substitute.
Quinoa Flour FAQs
Is quinoa flour healthy?
Yes, quinoa flour is healthy. It contains a good amount of protein (including all 9 essential amino acids), fiber, and many vitamins and minerals. The high protein content makes it great for vegetarians and others who want more protein in their diets without adding meat products.
Is quinoa flour gluten free?
Yes, quinoa flour is gluten free. Quinoa is a seed and not a gluten-containing grain like wheat. So it doesn't contain any gluten. If you have Celiac disease or are gluten intolerant, you can eat quinoa flour.
What is a good quinoa flour substitute?
A good substitute for quinoa flour is almond flour, which can be used either alone or blended with other flours. Almond flour is a good source of protein and is gluten free like quinoa flour. But people with nut allergies should not use almond flour.
Bottom Line
If you are looking for a healthy and versatile alternative to traditional flour, quinoa flour is a great option. You can buy this nutrient-dense flour or make it at home, and you can use it in many different cooking and baking applications. Whether you want to add more protein or nutrients to your diet or you need a gluten-free alternative to wheat flour, quinoa flour is worth trying. Give it a try today and let me know what you think in the comments.