Almond flour is a gluten-free, nutrient-rich flour to add to your pantry. It's made from ground almonds, and it has a rich texture and nutty flavor. It is perfect for baking cakes, cookies, and other desserts. Almond flour is also high in fiber, protein, and healthy fats.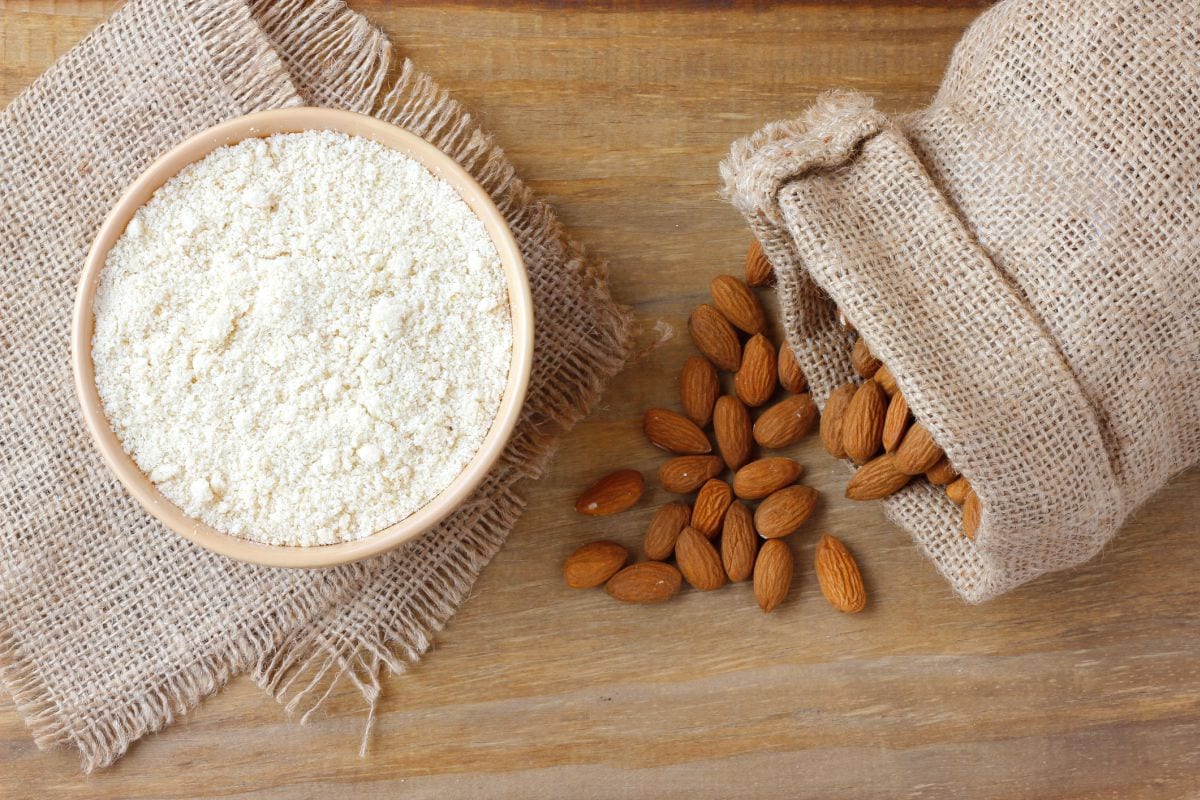 What Is Almond Flour?
Almond flour is a kind of high-protein, gluten-free flour that is made from ground almonds. Almond flour is made by grinding almonds into a fine powder. The almonds are then sifted, and the coarse parts of the almond meal are removed.
There are several different ways to make almond flour, including using blanched or unblanched almonds as well as roasted or raw almonds. You can use almond flour in a variety of cooking applications from baking desserts like cakes and cookies to making savory meals like meatballs and pasta dishes.
There are many different brands of almond flour available on the market today, so it is important to read the labels when shopping for almond flour. Some brands may contain ingredients like added sweeteners or preservatives while others only contain blanched and ground almonds.
Almond Flour Nutrition Facts
According to the USDA, 28 grams of almond flour (about ¼ cup) provides the following:
Calories 180
Carbohydrates 5 grams
Protein 6 grams
Fat 15 grams
Fiber 3 grams
Vitamin E 20% DV
Is Almond Flour Healthy?
Unless you are allergic to nuts, almond flour is healthy. It is rich in fiber and protein. Fiber helps to keep you feeling full for longer periods of time and can help control your weight by regulating calorie intake. Protein helps your body repair itself after injuries or workouts and make new tissue that keeps you healthy.
Most of the fat in almond flour is monounsaturated fat, a healthy fat. Monounsaturated fats can help reduce levels of "bad" LDL cholesterol and increase levels of "good" HDL cholesterol. This can lower your risk for heart disease.
Almond flour is also high in vitamin E, an antioxidant that reduces free radicals throughout the body that cause inflammation and diseases.
Almond Flour Uses
The most popular use for almond flour is for cooking baked goods, such as muffins, cookies, and cakes. Chefs often use almond flour in baking to add moisture and texture to baked goods. Due to its nutty flavor and rich texture, you can substitute almond flour for all-purpose flour in many recipes with great results.
You can also use almond flour in savory dishes, such as quiches and frittatas, or as a coating for meat and fish. Use almond flour to thicken sauces and gravies or to give an extra boost of nutrition and flavor to smoothies or hot cereals.
Almond Flour Vs All-Purpose Flour
Almond flour and all-purpose flour are both common baking ingredients, but they have some important differences.
All-purpose flour is made from wheat and almond flour is made from almonds. This means that almond flour is gluten free while all-purpose flour is not. Some people cannot tolerate gluten products because they have Celiac disease or experience bloating, diarrhea, or other adverse side effects. Almond flour is a great alternative for those people because it still provides the same amount of flavor and texture without any gluten.
All-purpose flour is lower in calories and fat than almond flour but is also lower in protein and fiber. It also doesn't have vitamin E like almond flour does.
Almond flour has a rich and nutty flavor while all-purpose flour has a more neutral flavor. You can use both types of flour in sweet and savory recipes.
Almond flour tends to be more expensive than all-purpose flour.
Almond Flour FAQs
What is blanched almond flour?
Blanched almond flour is made from blanched almonds. Blanched almonds are soaked in hot water, then their skins are removed using blanching machines or by hand. Blanched and unblanched almond flour have different textures. Most cooks prefer to use blanched almond flour because it gives baked goods a lighter texture.
Is almond flour gluten free?
Yes, almond flour is gluten free. It is made from ground almonds, so it does not contain any gluten. If you have Celiac disease, you can use it in both sweet and savory recipes without having to worry about any adverse side effects.
Does almond flour have carbs?
Almond flour has 5 grams of carbs in ¼ cup. This is much less than all-purpose flour that has 23 grams of carbs per ¼ cup.
Bottom Line
If you are looking for a healthy and versatile baking ingredient, almond flour is a great option. It can be used in both sweet and savory recipes, provides plenty of protein and fiber, and has a nutty flavor that makes your food taste delicious. Whether you are gluten free or looking for a new variety of flour to try in your kitchen, almond flour should definitely be on your radar. Go ahead and start experimenting with this tasty ingredient today.