It can be confusing to convert grams to teaspoons because they measure two different things and are units in two different systems of measurement. But you can learn how to convert grams to teaspoons for several staple ingredients.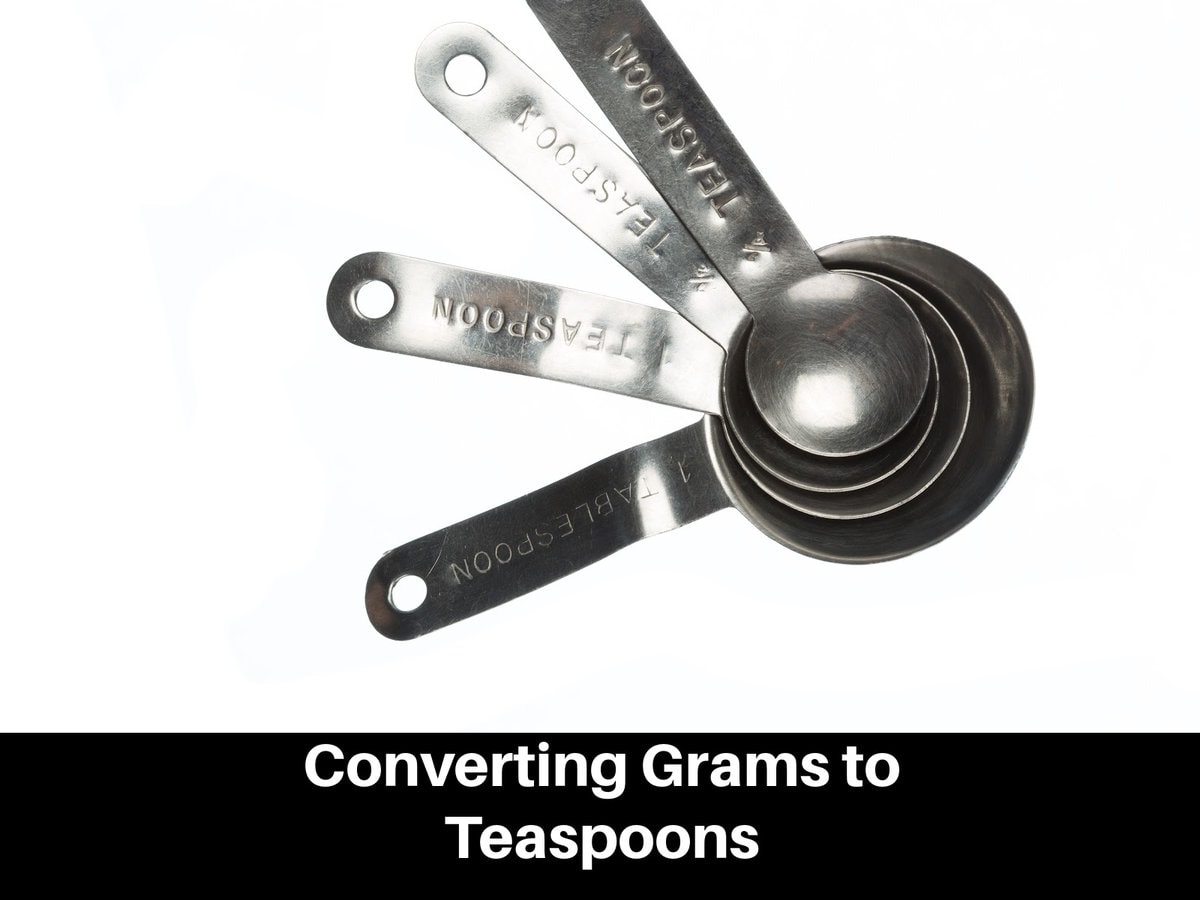 What Is a Gram?
A gram is a unit of weight or mass in the metric system. It is abbreviated as g and is equal to about 0.035 ounces (oz). Grams are used for measuring food ingredients, such as sugar and flour, among other things. There are 1,000 milligrams (mg) in 1 gram, and there are 1,000 grams in 1 kilogram (kg).
What Is a Teaspoon?
A teaspoon is a unit of volume in the imperial system. It is abbreviated as teaspoon and is equal to about 5 milliliters (mL). There are 3 teaspoons in 1 tablespoon. Teaspoon measurements are often used in recipes for spices and herbs and some liquid ingredients.
Grams Vs. Teaspoons
A gram is a unit of measurement in the metric system, while a teaspoon is a unit of measurement in the imperial system. Also, a gram measures weight while a teaspoon measures volume. To convert grams to teaspoons with accuracy, you would need to know the density of the ingredient.
Different ingredients have different densities and weight, so 1 teaspoon of one ingredient may not weigh the same as 1 teaspoon of a different ingredient. For example, 1 teaspoon of sugar weighs about 4 grams while 1 teaspoon of salt weighs about 6 grams. So if you are converting between teaspoons and grams for baking or cooking purposes, it's important to be aware of these variations in density to ensure accurate measurements.
How Many Grams in a Teaspoon?
Grams to Teaspoons converter: water, flour, sugar, salt, butter (g to tsp)
Type a value in the input field to convert the value to teaspoons:
For thin liquids, such as water, milk, juice, and vanilla extract, 1 teaspoon equals about 5 grams. Since there is not a simple conversion for grams to teaspoons for solid ingredients, you can rely on conversion tables for the most common recipe ingredients.
Ingredient Grams in 1 Teaspoon Teaspoons in 1 gram
Flour 2.61 g 0.38 teaspoon Granulated sugar 4.18 g 0.24 tsp
Powdered sugar 2.52 g 0.4 tsp
Brown sugar (packed) 4.06 g 0.25 tsp
Salt 5.92 g 0.17 tsp
Oil 4.53 g 0.22 tsp
Butter 4.73 g 0.21 tsp
Baking soda 3.4 g 0.29 tsp
Baking powder 4.44 g 0.23 tsp
Cocoa powder 3.16 g 0.32 tsp
Bottom Line
Converting grams to teaspoons and teaspoons to grams can be tricky, but with the right information you can make the conversion. Depending on the ingredient, 1 teaspoon may weigh anywhere from 2 grams to 6 grams.
To ensure accuracy in your measurements, it is best to use a kitchen scale instead of relying on conversion tables. Doing so will help you create delicious recipes for all your baking projects.