This easy grilled chipotle flank steak with pineapple salsa is a fun and flavorful weeknight meal that you can have ready and on your table in under 30 minutes! (gluten-free, nut-free, dairy-free)
In a post last week, I wrote about how we speak to our spouses and how it relates to the way we speak to ourselves. I shared just how much power our words have when it comes to the way we speak to others, but just as importantly, to ourselves.
I left you with the notion that words are very powerful, so we need to be mindful of how we speak to ourselves since the people we speak to most on a daily basis are probably ourselves. So how exactly do we need to be speaking to ourselves?
In the sermon I was talking about in my post last week, our pastor pointed us to Proverbs 15:4, which says "A gentle tongue is a tree of life, but perverseness in it breaks the spirit." He was talking about speaking to our spouses in a gentle manner in order to make communication more effective, to feel less like an attack and more caring and genuine. This is the same way we should strive to talk to ourselves. Even if you aren't religious, I still think the message applies.
Just as harshness is our words can break the spirit of those we care about, speaking harshly to ourselves can break our own spirits. Using a gentle tone toward yourself, showing yourself some grace, is a much more effective way of communicating, giving yourself life instead of breaking yourself down. I urge you to think about the way you speak to yourself. Are you constantly making harsh judgments about yourself, or do you speak to yourself in gentle, soothing ways? What effect does it have on your everyday life? Just some food for thought.
No onto the actual food, this grilled chipotle flank steak with pineapple salsa. This is one of the easiest meals you will ever make, just in time for grilling season!
I seriously love this chipotle flank steak. You only need about 5 ingredients and 5 minutes to get it ready for the grill, and it is so flavorful, especially with the delicious pineapple salsa! Since it's cooked on the grill, you have less to clean up after dinner (one of the many reasons I love grilling season)! You can either make the fresh pineapple salsa while the grill is heating or in the 10 minutes that the steak is resting after it is cooked. It's a refreshing topper for the spicy steak, and tastes delicious with tortilla chips, too!
If you'd like to serve this steak with tortillas to make tacos (highly recommended), I suggest wrapping them in foil and throwing them right on the grill to heat up while the steak cooks. You can also grill some veggies alongside the steak for a quick, balanced meal with minimal effort and minimal cleanup.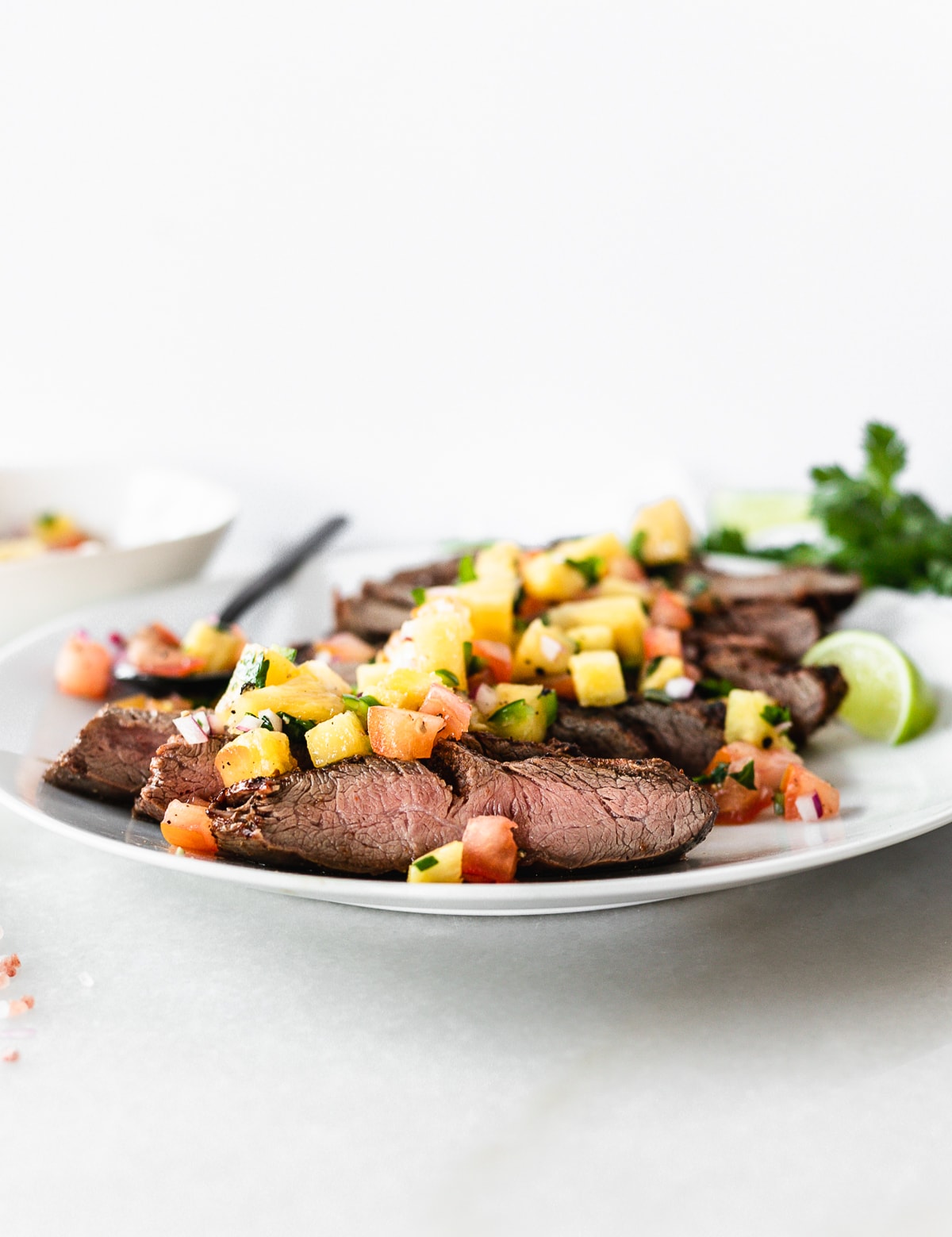 If you choose to forgo the tortilla route, try serving this yummy chipotle flank steak with some canned black beans for another fiber-filled side. This meal is just perfect for weeknight meals, or it can be a delicious, super easy recipe for Cinco de Mayo!
If you made this recipe, please leave a star rating in the comments!
Print
Easy Chipotle Flank Steak with Pineapple Salsa
This easy grilled chipotle flank steak with pineapple salsa is a fun and flavorful weeknight meal that you can have ready and on your table in under 30 minutes! (gluten-free, nut-free, dairy-free)
Author: Kaleigh
Prep Time:

5 minutes

Cook Time:

10 minutes

Total Time:

15 minutes

Yield:

2

-

3

servings

1

x
Category:

main dish

Method:

grilled

Cuisine:

Mexican
1

lb flank steak
Juice from

1

lime

1 teaspoon

chipotle powder

1 teaspoon

garlic powder

1 teaspoon

ground cumin

½ teaspoon

freshly cracked black pepper
Pinch salt

1 tablespoon

olive oil
For Pineapple Salsa:
½ cup

fresh pineapple, diced

⅓ cup

fresh tomato, diced

¼ cup

onion, diced

1

jalapeno, seeded and diced

¼ cup

cilantro, roughly chopped

1 teaspoon

apple cider vinegar
Pinch salt
Pinch freshly cracked black pepper
Instructions
Prepare salsa. Combine all salsa ingredients in a small bowl and stir. Refrigerate until ready to serve.
Heat a grill or grill pan over medium-high heat. Trim any excess fat or silvery looking pieces from steak.
Squeeze lime over both sides of steak. In a small bowl, combine spices. Rub spice mixture evenly over both sides of steak. Rub evenly with olive oil.
Grill steak over medium-high heat 3-4 minutes per side, depending on thickness. Remove from heat, cover and let rest 10 minutes before slicing against the grain.
Serve steak with pineapple salsa and warm tortillas (optional).
Keywords: chipotle flank steak, homemade pineapple salsa, easy flank steak