Mushrooms are nutritional powerhouses, rich in vitamins, minerals, and antioxidants. There are numerous health benefits of mushroom when consumed as part of a balanced diet. From boosting immunity to promoting gut health, eating mushrooms can improve your wellbeing.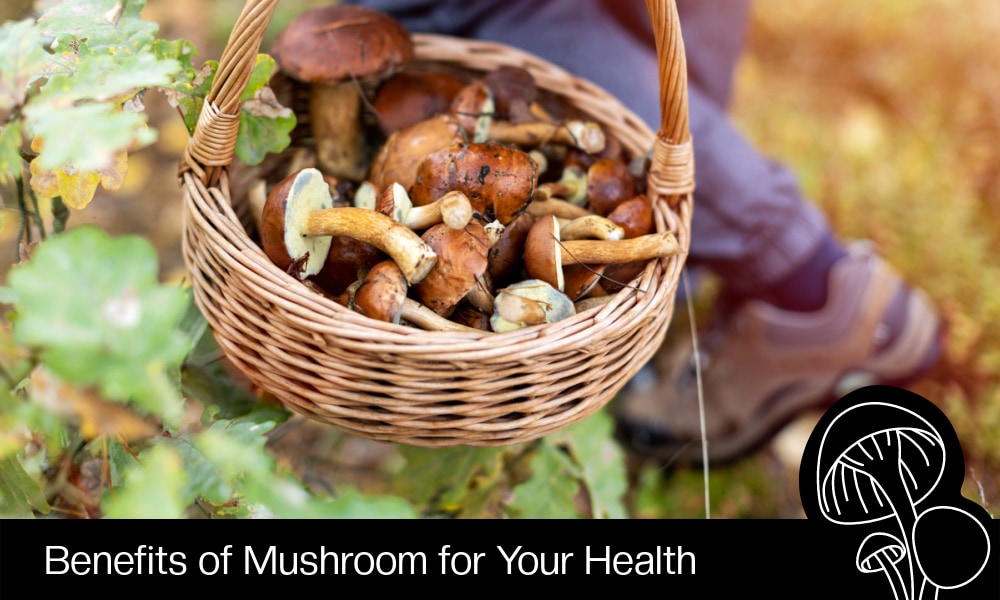 Mushrooms Nutrition Facts
The nutritional value of mushrooms is impressive as seen below:
Mushroom calories
One hundred grams of white button mushrooms has around 31 calories, so mushrooms are a nutrient-dense, low-calorie food. Nutrient-dense foods contain a high concentration of vitamins, minerals, and other nutrients in a small amount of calories. These foods provide the most bang for your buck in nutrition.
Mushroom protein
There are around 2.89 grams of protein in 100 grams of mushrooms. And this protein is plant-based protein that provides many of the essential amino acids.
Mushroom carbs
A 100 gram serving of mushrooms has around 4.08 grams of carbohydrate. Dietary fiber makes up 1.7 grams of the carbohydrate content of mushrooms, including beta glucan, a specific form of soluble fiber. Mushrooms are suitable for those following a low-carb diet because 100 grams has 3.1 grams of net carbs.
Mushroom fat
There are around 0.37 grams of fat in 100 grams of mushrooms, so they are a low-fat food. They contain very little fat, and most of the fat is polyunsaturated fat, not saturated fat.
Mushroom nutrients (vitamins and minerals)
Mushrooms are good sources of many vitamins and minerals, especially vitamin B2 (riboflavin), vitamin B3 (niacin), vitamin B5 (pantothenic acid), copper, potassium, and selenium.
Are Mushrooms Good for You?
Yes, mushrooms are an excellent source of nutrients and are good for your overall health. They are low in calories and fat to help you maintain a healthy weight. Mushrooms contain some protein, which is needed for building and repairing muscles and regulating hormones. They are an important source of plant-based protein for vegetarians and vegans.
The dietary fiber in mushrooms is good for your digestive system and works as a prebiotic for the good bacteria in your gut.
The B vitamins in mushrooms are essential for many processes in the body, including energy production and the maintenance of healthy cells. Copper helps to form connective tissue and red blood cells, as well as aiding in iron absorption.
Potassium plays an important role in nerve conduction and muscle contraction, maintaining normal blood pressure, and regulating water balance. Selenium is a trace mineral that acts as an antioxidant to help protect cells from free radical damage caused by environmental toxins.
Mushrooms Health Benefits
In addition to the nutrients they provide, mushrooms are a great addition to any diet due to their many health benefits.
The antioxidants in mushrooms fight against oxidative stress and have anti-inflammatory properties. Oxidative stress and chronic inflammation contribute to the development of many chronic diseases, such as heart disease and cancer. And beta-glucan polysaccharides can also lower inflammation.
The fiber content in mushrooms helps to improve digestion, promote regularity, and help you feel full longer. And mushrooms contain prebiotic fiber. Prebiotics "feed" and help support the good bacteria (probiotics) that live in the digestive tract. The good bacteria can crowd out the bad bacteria, resulting in a healthier gut. Having a healthy gut is essential for your overall health.
Mushrooms are rich in polysaccharides, such as beta-glucans, that can boost your immune system and are being studied in the treatment of cancer. Beta-glucans activate the production of white blood cells that help fight off infection. Consuming mushrooms on a regular basis is an easy way to ensure your body has all it needs to maintain a healthy immune system.
Mushrooms contain compounds that can reduce inflammation in the brain and body, which can impact mental health by reducing stress levels and improving moods. Including more mushrooms in your diet may lower your risk of depression. And research has shown that Lion's Mane mushroom may reduce depression and anxiety.
Benefits of Mushroom FAQ
Do mushrooms have protein?
Yes, mushrooms have protein. Different kinds of mushrooms can vary in the amount of protein they contain. But in general, 100 grams of mushrooms has about 2.89 grams of protein. Mushrooms are an excellent source of plant-based protein for vegan or vegetarian diets.
What are mushrooms good for?
Mushrooms are a versatile ingredient that is good for adding flavor and texture to many dishes. You can saute them, roast them, or grill them as a stand-alone side dish. You can add mushrooms to your favorite stir-fry, pasta dish, soup, or quesadilla recipe. They make a great topping for pizza or as a topping for salads or grain bowls. Cook them in risotto, soup, or stew. Large mushrooms, such as portobello mushrooms, can be stuffed with your favorite ingredients and baked for an easy dinner
Are mushrooms high in fiber?
A 100 gram serving of mushrooms has about 1.7 grams of dietary fiber. This is a good source of fiber toward the recommendation of 28 grams per day.
You can add mushrooms to a variety of dishes to add flavor, texture, and nutrition. They are rich in vitamins, minerals, fiber, antioxidants, and polysaccharides that can provide many health benefits. With their vast array of nutrients and potential benefits, mushrooms are worth adding to your diet.