The straw mushroom, Volvariella volvacea, is an edible mushroom species found throughout Southeast Asia. It is a popular ingredient in regional cuisine due to its unique flavor and texture. You can cook straw mushroom in a variety of ways, making it a favorite among chefs and food lovers.
What Is Volvariella Volvacea (Straw Mushroom)?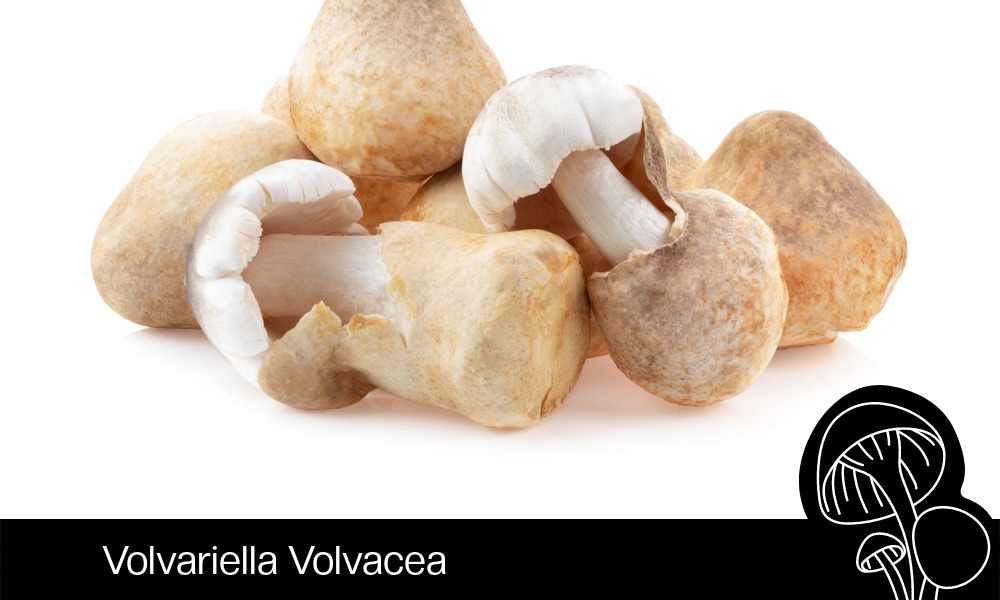 Volvariella volvacea is also known as straw mushroom or paddy straw mushroom. It is native to tropical and subtropical areas of Asia but can grow with success in other regions, such as Europe and North America. It is cultivated and consumed in many parts of the world today.
Straw mushrooms have a white cap with a small black knob or "volva" at its base. The stem is short and thick, often covered in fine hairs. Volvariella volvacea is easy to cultivate on a large scale compared to other mushroom species, so it is popular among commercial farmers. With proper care, you can harvest straw mushrooms multiple times each season.
Farmers often harvest straw mushrooms when they are still in the egg stages before the cap has emerged. These mushrooms are called "unpeeled" and have a more intense flavor compared to those harvested with their caps open, which are referred to as "peeled."
What Do Straw Mushrooms Taste Like?
Straw mushrooms have a light and delicate flavor with a soft but chewy texture. The flavor is mild and sweet with notes of anise that is unique to the species. They are tender and juicy when cooked and have an earthy umami quality.
Its texture is almost sponge-like when cooked, absorbing flavors from surrounding ingredients while still retaining its unique flavor. Peeled straw mushrooms have a more delicate flavor compared to unpeeled ones.
Depending on how you prepare them, straw mushrooms can also take on slight hints of garlic or ginger. When grilled or stir-fried, straw mushrooms develop a smoky flavor that adds depth to any dish.
How to Cook with Straw Mushrooms
You can eat straw mushrooms raw or cooked in a variety of dishes. Raw straw mushrooms offer a crunchy texture with a mild flavor. Try them raw in salads or sandwiches; their subtle sweetness pairs well with other fresh vegetables.
When cooked, straw mushrooms become more tender and their delicate mushroom flavor intensifies. You can use them in soups, stir-fries, curries, and noodle dishes. Saute them with garlic and herbs for a simple side dish. For an extra touch of flavor, try adding some soy sauce or fish sauce to the pan when cooking the mushrooms.
Rinse off the mushrooms before using them. This will help remove any dirt or debris. Trim away any tough parts of the stems, then slice or dice them as desired for your recipe. To preserve flavor and texture, cook straw mushrooms quickly over high heat or simmer in liquid.
If stir-frying, add the mushrooms at the beginning of cooking. This will give them some time to soften and release their flavor. If adding to soups or stews, wait until near the end of cooking so they don't become too soft and mushy.
How to Store Straw Mushrooms
These delicate mushrooms don't keep for very long and can become mushy and sour if not stored in the proper way. Here are some tips on how to store straw mushrooms so they stay fresh and flavorful:
Store your fresh straw mushrooms in a paper bag in the refrigerator to allow air flow.
Avoid washing your straw mushrooms before storing them as this will make them spoil faster. Instead, brush off any dirt before storage.
If you need to store the mushrooms for longer than a few days, consider freezing them.
Most of the straw mushrooms in the United States are canned. Store canned straw mushrooms in a cool, dry place away from direct sunlight and heat sources. Canned straw mushrooms can last up to 2 years.
Straw Mushroom Benefits
Straw mushrooms are a source of several essential nutrients. They contain protein, fiber, and antioxidants. They are a good source of folate, copper, iron, and selenium. And they are low in calories and fat. The antioxidants in straw mushrooms help protect cells from damage caused by free radicals.
Straw Mushrooms Vs. Death Cap Mushrooms
Straw mushrooms and death cap mushrooms are often mistaken for one another due to their similar appearance. It's important to learn the difference because death cap mushrooms are toxic wild fungi that can cause severe illness or death if eaten.
Both have an off-white or grayish color with white flesh underneath. The main distinguishing factor between these two mushrooms is their spore print color. The death cap produces a white spore print when spores are released onto paper or foil. The spore print of the straw mushroom is pink.
Another difference is where they grow. Straw mushrooms grow in open fields, but you will always find death cap mushrooms in wooded areas near trees.
Mushroom Recipes