Button mushrooms, also called white mushrooms, are a popular type of mushroom with a mild flavor and meaty texture that make them ideal for cooking. They are a versatile ingredient that you can use in many different types of cooking.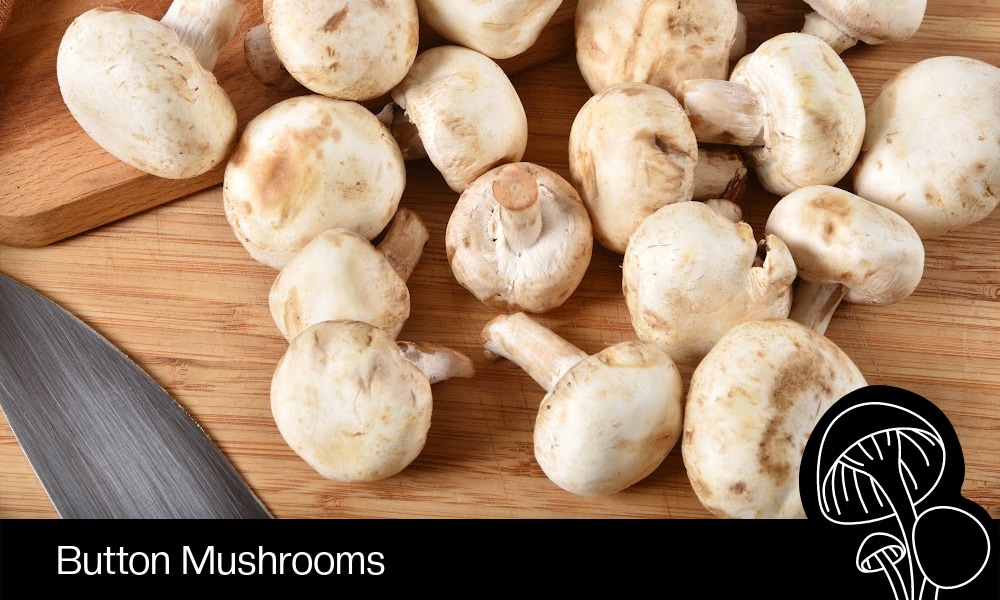 What Are White Button Mushrooms?
Button mushrooms, also known as Agaricus bisporus, are a type of mushroom native to North America. These mushrooms range in size from small to large with the most common being about the size of a penny. They have an earthy flavor, and their color depends on their maturity. Button mushrooms are popular in cooking since they have a mild taste that can take on other flavors when cooked with them.
Button mushrooms are great for adding texture to dishes and making them heartier without overpowering the rest of the meal's flavors. They pair well with savory ingredients, such as onions, garlic, and herbs like thyme or oregano. And they make excellent substitutes for meat in vegetarian dishes or soups.
These mushrooms are versatile, so you can cook them in a variety of methods, including sauteing, roasting, baking, grilling, or even pickling. They also make an excellent addition to sauces, salads, and pizza toppings. In general, it's best to cook them quickly on high heat since this will give you the most flavor and texture. No matter how you prepare button mushrooms, they add an element of umami flavor to your dish.
How to Cook with White Button Mushrooms
White button mushrooms are a versatile ingredient to add to almost any meal. You can use them in all sorts of recipes from salads to soups to pasta dishes. Here are some tips for cooking with white button mushrooms:
Wipe off any dirt or debris with a damp paper towel. You can also rinse them under cold water but make sure not to soak them because the mushrooms can become soggy and lose flavor.
Sauteing is one of the most popular ways to cook with button mushrooms. Start by heating some olive oil in a skillet over medium heat. Add chopped button mushrooms and cook, stirring from time to time, until they are golden brown and tender.
Grill button mushrooms with other vegetables or proteins for an easy meal. Use a basting brush to coat the mushrooms with olive oil before grilling them. Grill over medium-high heat for 3 to 5 minutes on each side.
Toss whole button mushrooms in some olive oil and seasonings if desired. Spread onto a baking sheet lined with parchment paper and roast at 400 degrees F for 15 to 20 minutes or until golden and tender.
What Do White Button Mushrooms Taste Like?
White button mushrooms have a mild, earthy flavor and a firm but tender texture. They add a depth of flavor and texture to any dish. When cooked in butter or oil, they develop a nutty flavor with a hint of bitterness. Grilling or roasting white button mushrooms adds smoky notes.
The mushroom's intense umami taste makes it versatile because of its ability to absorb flavors from other ingredients like garlic and herbs while still retaining its own unique character. So button mushrooms are ideal to use in many different recipes where they will bring both richness and complexity to the dish.
How to Store Button Mushrooms
You can store white button mushrooms in the fridge for up to a week. Place them in a paper bag and store them in the crisper drawer of your refrigerator. Keep them away from direct sunlight and moisture.
Mushrooms are very sensitive to temperature changes, so keep them at a consistent temperature by storing them in the coldest part of the refrigerator. If you have a lot of mushrooms, separate them into small batches for better storage and prevent spoilage.
You can also freeze button mushrooms for later use. Clean and trim the mushrooms. Place them on a parchment-lined baking sheet and freeze until solid before transferring to an airtight container or freezer bag. Frozen button mushrooms will keep for up to six months. Thaw overnight in the refrigerator before using.
White Button Mushroom Benefits
White button mushrooms are a great source of many vitamins and minerals. They are rich in B vitamins, copper, potassium, and selenium. They also have significant amounts of dietary fiber which helps improve digestive health.
Button mushrooms contain antioxidants that help protect cells from damage caused by free radicals. Button mushrooms are low in calories and fat, making them a healthy addition to any diet.
Button Mushrooms Vs. Cremini Mushrooms
White button, cremini, and portabella mushrooms are all Agaricus bisporus mushrooms. The difference is that white button mushrooms are harvested at a younger age. As they mature, these mushrooms become creminis (baby bellas) or large, brown portobellos.
White button mushrooms are small in size and have a mild flavor. Cremini mushrooms are larger and darker in color than white button mushrooms and have a more intense flavor. They each have their own flavor profile, so they will enhance different dishes depending on what you're looking for.
White Button Mushroom Recipes