The giant puffball mushroom is a large edible fungus that can grow to significant sizes. Despite its impressive size and appearance, the giant puffball mushroom is prized as an ingredient in cooking and offers a unique taste and texture.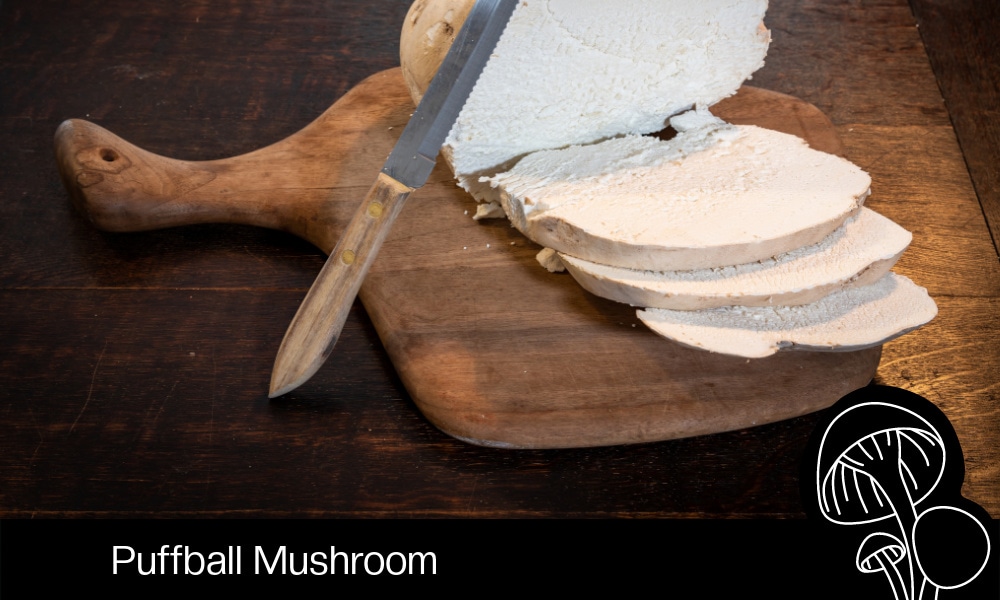 What Is a Giant Puffball Mushroom?
The giant puffball mushroom, Calvatia gigantea, is a type of edible wild mushroom that can grow large in size. It has a round shape and a white exterior that stays firm as the mushroom matures. Unlike many mushrooms that have gills on the underside of the cap, the giant puffball has a smooth inner surface.
As the mushroom ages, it develops a yellowish and then brownish tint, and the interior turns into a powdery spore mass. When young and white inside, the giant puffball mushroom is considered a delicacy by many cooks and mushroom foragers.
Giant puffball mushrooms grow in open fields, parks, and wooded areas with plenty of light and well-drained soil. Slice the mushroom in half to check that the inside is solid white before harvesting.
How to Cook Giant Puffball Mushrooms.
Giant puffballs are a versatile mushroom that you can enjoy in many different ways. First, cut the puffball in half horizontally. The inside should be solid white and firm, not yellow, brown, or spotty, which indicates it is overripe and may be toxic.
You can saute, grill, or bake the halves or slices of giant puffball mushrooms. Their mild flavor pairs well with garlic and herbs. You can also bread and fry slices of puffball or add them to stir fries.
It is okay to eat giant puffball mushrooms raw also, so you can add it to salads or other fresh dishes. The flavor will be a unique addition.
What Do Giant Puffball Mushrooms Taste Like?
Giant puffball mushrooms have a mild, savory flavor that is similar to portobello mushrooms. They don't have an overpowering taste, but they do have a pleasant earthy flavor that pairs well with herbs and spices.
The texture of the mushroom is spongy and chewy. Depending on how mature the mushroom is, it may be more crumbly than chewy. Raw mushrooms have a crunchier texture compared to when they are cooked.
How to Store a Giant Puffball Mushroom
Giant puffball mushrooms have delicate skin, so you should store them carefully. Brush off any dirt with a soft cloth or paper towel and make sure it is dry. Do not wash it as this will make the mushroom soggy and cause it to spoil faster.
Place the mushroom in a paper bag or well-ventilated container. Be sure to leave some room around the mushroom so it can breathe while in storage. Store in a cool, dark place, such as the refrigerator or a root cellar.
Store it away from other fruits and vegetables as well as foods with strong odors as the mushroom can absorb unwanted flavors or odors. Giant puffball mushrooms should remain safe and edible for up to two weeks.
If you plan to keep your giant puffball longer than two weeks, it is best to freeze it. When consuming frozen mushrooms, check for any off odors or discoloration that could indicate spoilage.
Giant Puffball Mushroom Benefits
Giant puffball mushrooms offer an array of minerals, vitamins, and other nutrients that can help boost your overall health. They are low in calories but rich in various nutrients, such as potassium, selenium, and B vitamins. They provide dietary fiber that is important for digestion and gut health.
Research shows that giant puffball mushrooms have phenolic compounds that are beneficial to your health due to their antioxidant activity. Antioxidants help prevent cell damage from free radicals. Phenolic compounds also decrease inflammation in your body.
Giant Puffball Mushrooms Vs. Baby Bella Mushrooms.
Giant puffball mushrooms and baby bella mushrooms are both edible mushrooms that work in many recipes. You can eat both raw or cooked.
Giant puffball mushrooms are large, pale-colored mushrooms with a dense, spongy texture. They have an earthy flavor and can grow up to two feet in diameter.
Baby bella mushrooms, also known as cremini or crimini mushrooms, are brownish-gray in color and have a firmer texture than giant puffballs. They are much smaller than giant puffball mushrooms.
Mushroom Recipes