Mushrooms are a delicious addition to many meals, but they do require proper cleaning before eating or cooking. It's important to know how to clean mushrooms the proper way and two things you should never do when cleaning them.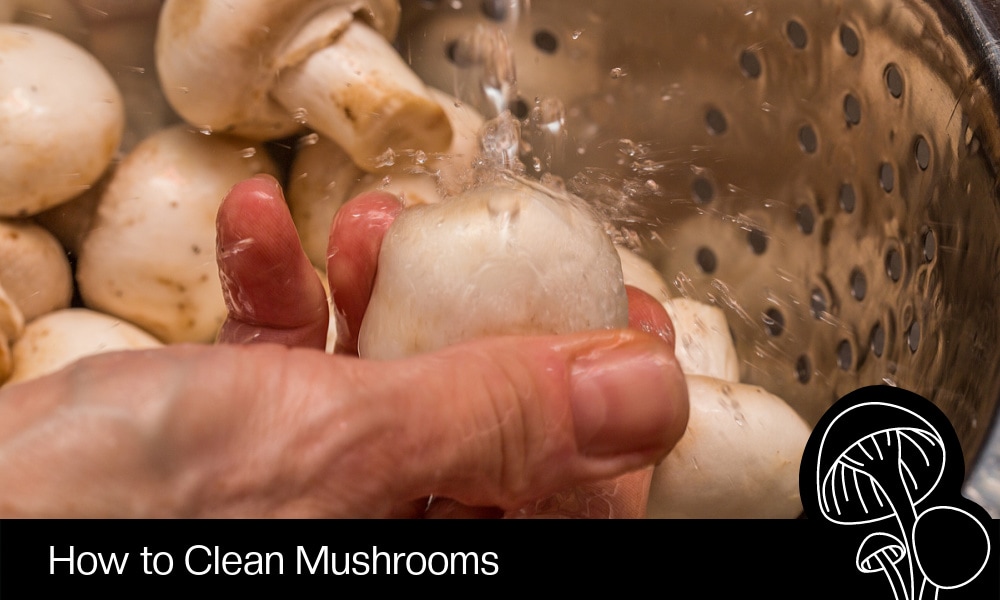 Why Should You Clean Mushrooms?
Cleaning your mushrooms before use is a quick and simple step that results in mushrooms that taste cleaner and fresher and are safe for cooking and eating. Cleaning mushrooms before cooking them is important for several reasons:
Mushrooms are porous and can absorb dirt and debris as they grow. Cleaning them helps remove any dirt, soil, or sand that may be clinging to the caps and stems.
Some mushrooms may have some slimy film on their surface. Cleaning them washes away this film and any bacteria that could be present.
Some mushrooms have gills and tough stems. Cleaning helps remove any grit or sand trapped in the gills or at the base of the stem. Snapping or cutting off the stems is another option if the stems are tough.
Cleaning your mushrooms removes dirt and debris as well as any insects or their eggs that may be clinging to the mushroom. By removing these things, you reduce the risk of ingesting harmful bacteria or other microorganisms that could make you sick.
Rinsing Mushrooms Under Running Water
The best method for cleaning mushrooms is to rinse them under cool running water. Place the mushrooms in a colander or strainer. For mushrooms with tough or woody stems, such as shiitake or oyster mushrooms, twist or cut off the stems and rinse the caps and stems separately.
Hold the colander under running cool water. Use your hands to rub off any dirt or debris from the mushroom caps and stems. Then rub your fingers over the gills to remove any trapped dirt or grit.
Check the mushrooms for any remaining dirt and rinse again if needed. The mushrooms are clean when no dirt remains and the water running off is clear.
Wiping Mushrooms with a Damp Cloth
Another effective method of cleaning mushrooms is by wiping them with a damp cloth. If the mushrooms are not too dirty, you can use this method. Make sure to use a soft cloth so you don't damage the cap's delicate surface. Be gentle when rubbing the caps and stems because too much pressure can damage them.
Rub your fingers over the gills to remove any dirt trapped there. If you are cleaning shiitake or oyster mushrooms, twist off the stem and wipe it apart from the cap.
Trimming Your Mushrooms
After rinsing or wiping the mushrooms, you can trim away any tough parts or woody stems. If the mushroom has a thick stem, twist it off and discard it before continuing with the trimming process.
If the whole stem isn't tough, use a paring knife or kitchen shears to trim about ¼ inch off the bottom of the mushroom stems. The stems can be dirty or dry, so trimming them will result in cleaner mushrooms.
You can remove the gills from your portobello mushrooms if you desire. When trimming mushrooms, it is important to be gentle so as not to damage the caps.
Drying Your Mushrooms
Once your mushrooms are clean, it is important to dry them. Drying the mushrooms removes any remaining moisture that can cause the mushrooms to become soggy and slimy.
Use paper towels or a clean kitchen towel to blot the mushrooms. If they're still damp, switch out the paper towels and repeat until the mushrooms are completely dry. You can also allow them to air dry.
What Not to Do
You can ruin your mushrooms if you don't follow these 2 rules:
Do not soak your mushrooms even for a short time. They can absorb the water and become soggy and mushy.
Do not wash the mushrooms ahead of time. Only rinse when you are ready to cook them.
Bottom Line
Knowing how to clean mushrooms is important in preparing them for cooking. Rinse or wipe with a damp cloth to remove dirt, debris, and bacteria. Then trim the stems and dry the mushrooms. Following these steps will ensure you get the most out of your mushrooms.