Tapioca flour is a gluten-free, grain-free flour that is popular in many recipes. It has a unique texture and flavor that can be difficult to replicate with other flours. But it is possible to find a tapioca flour substitute if you cannot find tapioca flour or do not want to use it.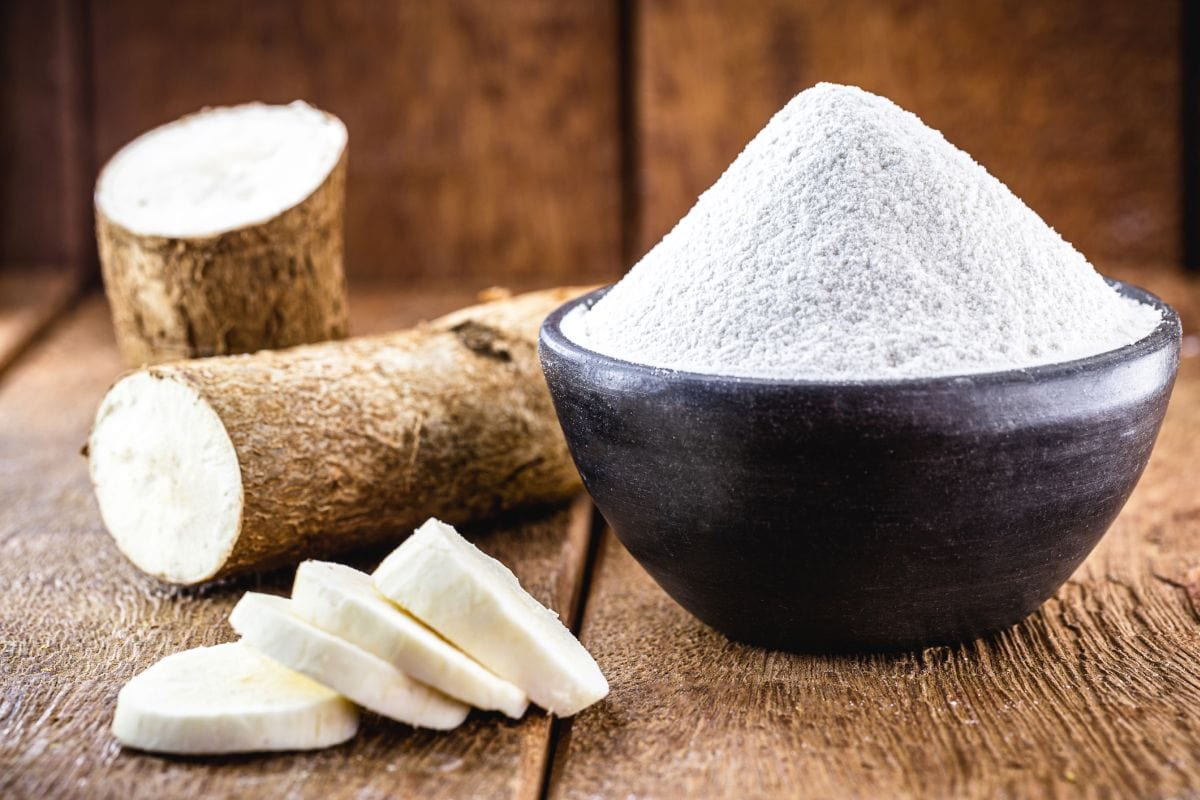 What Is Tapioca Flour?
Tapioca flour, sometimes called tapioca starch, is made from the cassava root. The root is peeled and grated before it's boiled and dried out to form tapioca flour. It has a white color and a mild sweet flavor that makes it ideal for baking recipes like cakes, muffins, and other desserts. You can also use tapioca flour in some savory dishes and as a thickener or binder.
Because tapioca flour doesn't have gluten, it is often used as a gluten-free substitute for wheat flours to make baked goods. But tapioca flour can be difficult to work with since it has little protein content and produces a different texture from traditional wheat flours. That's why tapioca flour is often mixed with other flours to make a gluten-free blend.
What Is a Good Tapioca Flour Substitute?
Tapioca flour is a unique ingredient that can be hard to replace. But if you find yourself without tapioca flour or do not want to use it, you can find a good tapioca flour substitute to achieve similar results in your recipes. While you cannot substitute for tapioca flour one-to-one in some recipes, there are several ingredients you can try.
Arrowroot powder (arrowroot starch)
One tapioca flour substitute (or tapioca starch substitute) that you may want to try is arrowroot powder. This starchy white powder is made from the roots of the tropical plant, Maranta arundinacea. It is available in health food stores or online. When using arrowroot powder as a tapioca flour substitute, keep in mind that it absorbs liquid more quickly than tapioca, so you may need to use less of it.
Potato starch
Another tapioca flour substitute is potato starch. Unlike tapioca flour, which comes from the cassava plant, potato starch is made from milled potatoes. Manufacturers mash the potatoes, remove the starch particles from the potato pulp, and dry the starch to turn it into powder. Like tapioca flour, it is gluten-free, and you can use it to thicken sauces or add texture to baked goods.
Cornstarch
You may want to consider cornstarch as a tapioca flour substitute. It has a similar texture to tapioca flour and is a good substitute when you need to thicken a sauce. To substitute cornstarch for tapioca flour, use 1 tablespoon of cornstarch for every 2 tablespoons of tapioca flour.
Cassava flour
You can turn to cassava flour as a tapioca flour substitute. This starchy gluten-free flour is made from the same plant as tapioca and has a similar flavor and texture. While cassava flour is made from the whole root, tapioca flour is made from only the starchy pulp. You can use cassava flour in place of tapioca flour for thickening sauces and soups or as an all-purpose baking flour.
Rice flour
Rice flour is another substitute option. This gluten-free alternative is a good choice for those who are sensitive to wheat or other grains. Manufacturers make rice flour by grinding dried rice into a fine powder. You can use rice flour in many baked goods, such as muffins, cakes, pizza doughs, and breads, or as a thickening agent for gravies, stews, and soups.
Each tapioca flour substitute has its own unique texture and flavor. So it's important to experiment with different options until you find one that works best for your recipe. These tapioca starch substitutes may not produce the exact same results as tapioca flour, but you can still use them to achieve similar textures and flavors. With a bit of experimentation, you should be able to find the perfect tapioca flour substitute for your recipe.
Tapioca Flour Substitute FAQs
Is tapioca starch the same as tapioca flour?
Yes, tapioca starch and tapioca flour are the same product. Both tapioca starch and tapioca flour come from the dried root of the cassava plant, which is a tropical shrub native to South America.
Is tapioca flour gluten free?
Yes, tapioca flour is gluten free. So it is a good alternative to wheat flour if you have Celiac disease or other dietary restrictions.
Can I substitute tapioca flour for all-purpose flour?
You can substitute tapioca flour for all-purpose flour as a thickening agent, but it may change the appearance and cooking time of the recipe. All-purpose flour contains gluten, while tapioca flour does not. This means that tapioca flour can't provide the same structure to baked goods as all-purpose flour can.
Bottom Line
There are several tapioca flour substitutes available if you need an alternative ingredient. Arrowroot powder, potato starch, cornstarch, cassava flour, and rice flour are all good options that will add structure to your recipes while also giving them flavor and texture. With these tapioca alternatives on hand, you will always have the ingredients necessary to make delicious gluten-free treats.