The maitake mushroom is a culinary delicacy found in many cuisines around the world. This nutritious mushroom has been used for centuries in traditional medicine to treat various ailments and is now becoming popular in the United States due to its health benefits.
What Are Maitake Mushrooms?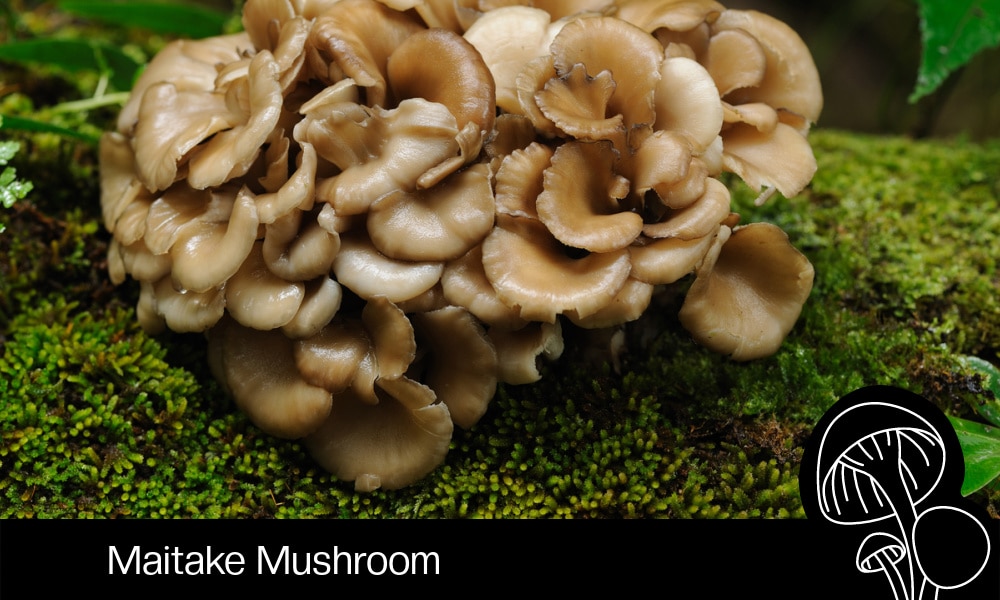 Maitake mushrooms, Grifola frondosa, are an edible mushroom native to North America and parts of Asia. They grow at the bottom of trees, often oak and maple trees. The mushroom is most often used in Asian cuisine, but you can find them in dishes all over the world. The Japanese name maitake translates to "dancing mushroom" because people were said to dance for joy upon discovering them in the wild.
Maitake mushrooms are also known as hen of the woods mushrooms. The name hen of the woods comes from its resemblance to a hen's plump body and feathered wings when the mushroom is growing in clusters on tree stumps or logs. Maitake mushrooms have large, fan-shaped caps that can grow up to 4 inches wide. The broad caps range in color from light tan to dark brown. The underside of the mushroom has small ridges or furrows on it, which can help you identify maitakes from other species.
You can find maitake mushrooms fresh at some farmers' markets or specialty grocery stores, but they're often available dried or powdered. Whether you incorporate them into your cooking or take a supplement, adding maitake mushrooms into your diet is an excellent way to improve your overall health and wellbeing.
What Do Maitake Mushrooms Taste Like?
Maitake mushrooms taste earthy with a mild spicy, peppery flavor. They have a rich umami flavor with hints of anise or garlic. The flavor of maitake mushrooms can range from mild to strong depending on how they are cooked.
Maitake mushrooms have a firm meaty texture. As they cook, the mushroom's flesh develops a tender and chewy texture that is similar to the texture of chicken or beef.
How to Cook with Maitake Mushrooms
You can prepare maitake mushrooms in a variety of ways, such as baking, grilling, sauteing, or frying. They also make a great addition to risotto, omelets, and soups. You can cook the whole cluster of mushrooms or slice them into smaller pieces.
Maitake mushrooms do not require much seasoning. A simple drizzle of olive oil and sprinkling of salt and pepper should suffice for most dishes. For added flavor, try adding garlic, herbs, or Parmesan cheese while cooking.
If grilling maitake mushrooms, brush them with oil before placing them on the grill over medium heat. Cook for about 4 minutes per side, flipping once halfway through. If sauteing or stir-frying them, heat some oil in a skillet over medium-high heat and add the mushrooms to the pan along with any other desired ingredients. Saute until tender, stirring often.
When serving maitake mushrooms as part of a main course, try pairing them with fish or poultry and a side dish, such as roasted potatoes or vegetables. Maitake mushrooms also make a great addition to salads. Add them raw to your favorite greens and dress with vinaigrette.
You can use maitake mushrooms as a substitute for other types of mushrooms in many recipes. Vegans and vegetarians can also use them as a meat substitute.
How to Store Maitake Mushrooms
You can store maitake mushrooms in a number of ways. By following these simple tips, you will be able to enjoy your maitake mushrooms for days or months:
Wrap the mushrooms in a paper towel and place them in a paper bag before refrigerating. To maximize freshness, store the mushrooms in the coldest part of your refrigerator away from other produce. Fresh maitake mushrooms will last up to a week with proper storage.
To freeze maitake mushrooms, brush off any dirt and trim them to your desired size. Place the mushrooms on a baking sheet and freeze until solid. Transfer the mushrooms to a freezer bag and press out as much air as possible before sealing. Store in the freezer for up to 6 months.
Store dried maitake mushrooms in an airtight container away from direct sunlight and humidity as these can cause the mushrooms to spoil or become moldy. Always check the package instructions for any specific storage tips.
Maitake Mushroom Benefits
Maitake mushrooms are known for being a great source of nutrition. They contain a variety of vitamins and minerals, including vitamin D, B vitamins, copper, phosphorus, potassium, and zinc. Maitake mushrooms also have some protein and fiber content.
In addition to these essential nutrients, maitake mushrooms have many beneficial medicinal properties due to their high concentration of polysaccharides and antioxidants. These compounds may help reduce inflammation and strengthen the immune system.
Maitake Mushrooms Vs. Shiitake Mushrooms
Maitake mushrooms are fan-shaped and resemble a cluster of small leaves or petals. Shiitake mushrooms have a more traditional mushroom shape that is umbrella-like with a large cap and thick stem.
Both mushrooms have an earthy taste that can be enhanced by cooking. Maitake mushrooms have a peppery flavor while shiitakes have an intense umami taste with notes of smokiness. Maitake mushrooms have a dense meaty texture. The texture of shiitakes is more tender and becomes quite soft when cooked.
Mushroom Recipes