Mushrooms add flavor and nutrients to many recipes, but you may have more than you can use at one time. Learning how to freeze mushrooms is a great way to preserve them for when you need them.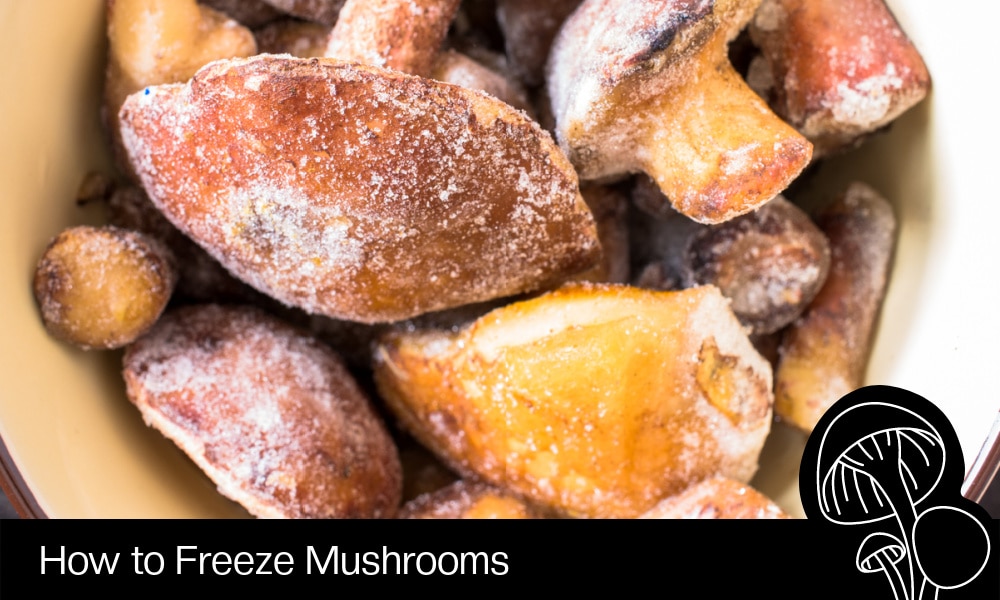 Cleaning
Before freezing mushrooms, it's important to clean them. Begin by wiping off any dirt or debris with a soft brush, damp cloth, or paper towel. You can also rinse the mushrooms with cold water. Be careful not to soak them in the water, or they will become soggy.
Blot the mushrooms dry with a paper towel before freezing. The more moisture you remove from the mushrooms before freezing, the better your results will be when you cook with them later.
Prepping
After cleaning your mushrooms, the next step is to trim and prep them for cooking. Depending on what type of mushroom you are using (e.g., button, shiitake, portobello), there may be some specific techniques for prepping them for a dish.
For some mushrooms, you should remove the stem because it can cause a bitter or woody flavor. To do so, twist off or cut the stem from the cap with a sharp knife. You may also want to remove any excess dirt or debris from around the mushroom's gills at this time.
Even if you don't remove the entire stem, cut off any woody sections at the bottom of the stem that don't have a soft texture. If using portobello mushrooms, scrape away the gills on the underside before freezing, if desired.
Once trimmed, you can cut your mushrooms to your desired size and shape depending on how you plan to use them. Once you have prepped your mushrooms, they are ready to be frozen.
How to Freeze Mushrooms
There are several different ways to freeze mushrooms: cooking before freezing, freezing raw, flash freezing, and going straight to the freezer bag.
Cooking Before Freezing
Cooking mushrooms before freezing them is a great way to preserve their flavor and texture. Slice the mushrooms into pieces that are of similar size and thickness. Heat some oil in a pan over medium-high heat and add the sliced mushrooms to the pan. Cook the mushrooms until they begin to brown and soften, stirring from time to time so they don't stick together. Once cooked, let the mushrooms cool before freezing them.
Freezing Raw
Freezing raw mushrooms is an easy way to preserve them for future use. It is important to remember that freezing does not kill any existing bacteria, so it is vital to start with mushrooms that you have cleaned.
Flash Freezing
Whether they are cooked or raw, flash freezing mushrooms is the best way to preserve them and enjoy them at a later time. Flash freezing involves cooling the mushrooms to below-freezing temperatures as fast as possible. This process stops enzymatic activity in the mushrooms which would otherwise degrade their quality.
Place the mushrooms on a parchment-lined baking sheet in a single layer. Place the pan in the freezer until frozen solid, about two hours. Transfer the frozen mushrooms into an airtight container or freezer bag and store in the freezer for up to six months.
Going Straight to the Freezer Bag
Although flash freezing is the preferred method for preserving mushrooms, it's not always necessary. To freeze raw mushrooms without flash freezing, place the cleaned, dry mushrooms into an airtight freezer bag or container. Store them in the freezer for up to six months.
Using the Frozen Mushrooms
When you are ready to use your frozen mushrooms, thaw them in the refrigerator overnight then pat dry before cooking. Or you can add the frozen mushrooms directly into soups or other similar recipes. The water that is released as they defrost will contribute extra liquid to your recipe, so you may have to adjust the amount of broth or other liquids.
When using frozen mushrooms in casseroles or pasta dishes, stir them in during the last few minutes of cooking so that their flavor isn't lost during baking. It's best not to refreeze mushrooms once they have been thawed as this may cause their texture and flavor to be compromised.
Mushroom Recipes
Freezing mushrooms is an easy and convenient way to preserve them while maintaining their flavor and texture.