Whether you're looking for a gluten-free alternative, health benefits, or something different, flour substitutes offer a wide variety of possibilities. From flour made from nuts and seeds to flour made from beans and starches, the options are endless. It's helpful to learn more about each type to choose the best flour substitute for your needs.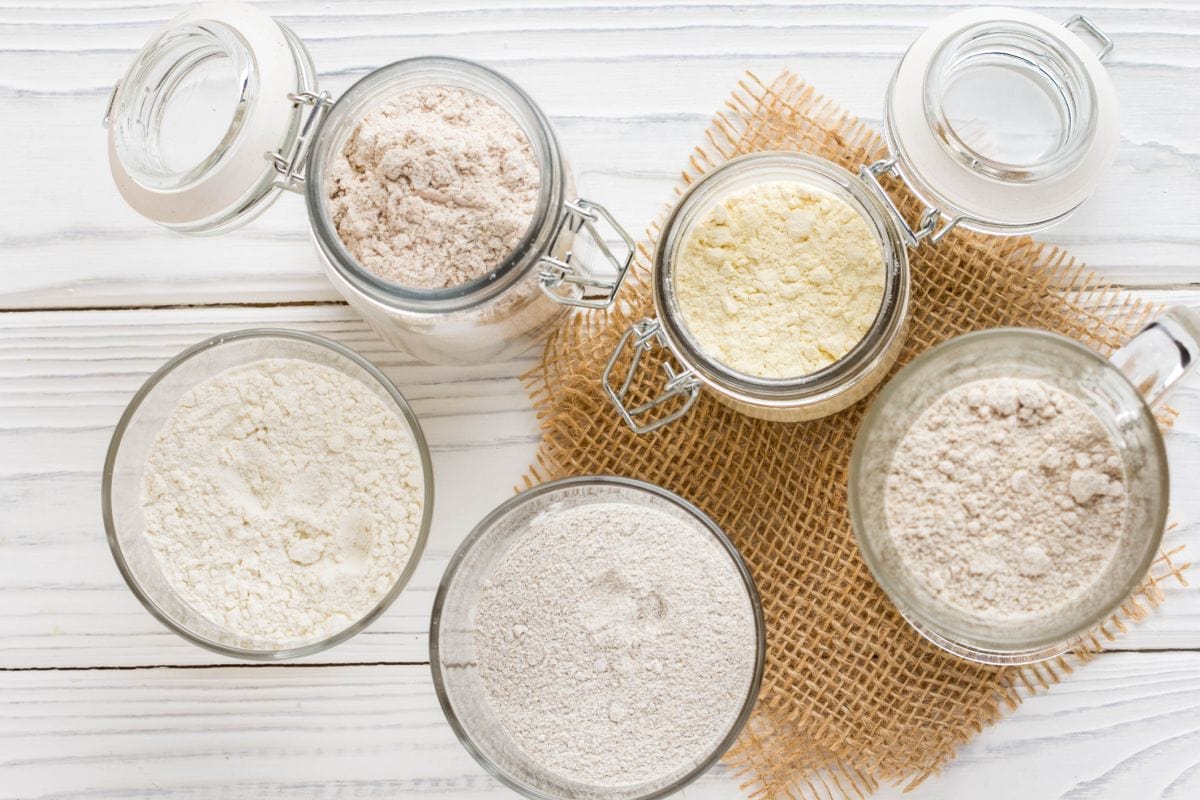 Types of Regular Flour
Flour is one of the most important ingredients used in baking. Regular flour is a powder made from grinding wheat grains. But there are several types of regular wheat flour:
All-purpose flour is a combination of hard and soft wheat, making it an ideal choice for cakes, cookies, biscuits, muffins, quick breads, and many other baked goods. All-purpose flour is often bleached and enriched with vitamins and minerals.
Self-rising flour has added salt and baking powder to create a product that you can use to make biscuits or other quick breads without having to add additional leavening agents.
Bread flour contains more protein than all-purpose flour and is used for yeast products, such as rolls, buns, pizza crusts, and artisan breads.
Pastry flour, or cake flour, is milled from soft wheat that has a lower protein content than all-purpose or bread flour. This makes it ideal for delicate pastries, such as cakes, pie crust, and tarts.
Whole wheat flour is milled from the entire wheat kernel, so it contains more fiber and nutrients than white flour. It also has a coarser texture than white flour. It often requires additional liquid while baking to create a desirable texture.
Types of Flour Substitute
You may be looking for a flour substitute for a variety of reasons. If you have Celiac disease or a gluten intolerance, you may need a flour alternative that is gluten free. Or you may wish to reduce the amount of carbohydrates you consume, making low-carb alternatives useful.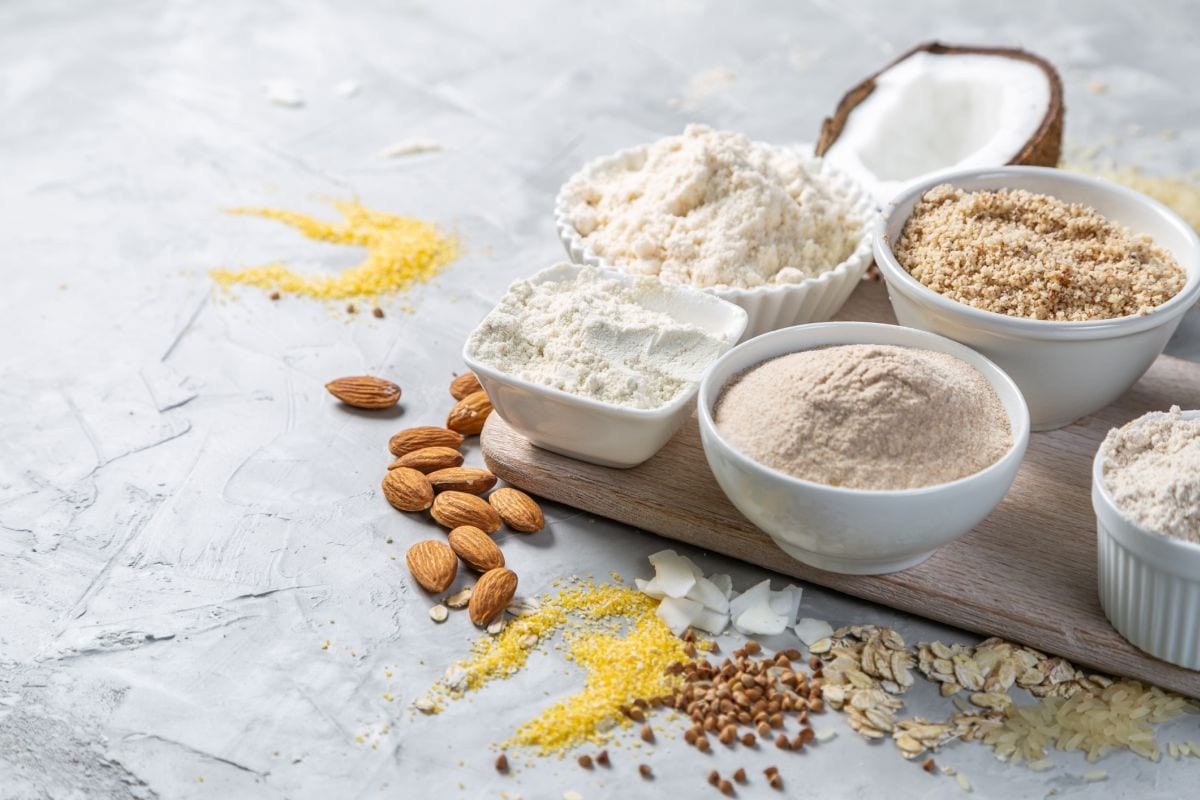 You may like the higher levels of protein and fiber in some flour substitutes as compared to traditional wheat flours. Or you may want to try different alternatives for a variety of tastes and textures. Whatever your reason, there are many different flour substitutes available:
Almond flour is a popular flour substitute because of its health benefits and unique flavor. Made from ground almonds, this flour is a good choice for gluten-free baking. It adds a nutty flavor to recipes and is high in protein, fiber, vitamin E, and healthy fats. You can use almond flour as a one-to-one replacement for regular flour when baking cakes, cookies, muffins, and other treats, but the texture will be more dense. You can also use it in savory dishes or for breading.
Coconut flour is another popular flour substitute. It's made from dried coconut and is also gluten-free. It has a mild sweet flavor and can absorb a lot of moisture, so you need to combine it with other ingredients for baking. Coconut flour is high in dietary fiber, which helps keep you full longer and aids with digestion.
Also known as garbanzo flour, this flour is made from ground chickpeas. It has a mild nutty flavor and is high in fiber and protein. It is another great choice for gluten-free baking.
Oat flour is made from ground rolled oats and can be used as an all-purpose flour substitute. It's gluten-free but does have a slight sweet flavor that you may not enjoy in all your cooking.
Made from ground quinoa, this flour is high in protein and fiber, making it an excellent flour substitute for gluten-free baking. It has an earthy, nutty flavor that is off-putting to some but that you may enjoy.
Millet flour is made from ground millet and has a slight sweet flavor. It's high in protein, fiber, and some other important vitamins and minerals. You can use millet flour to make bread and other baked goods, but you need to combine it with other types of flour for the best results.
Made from ground white or brown rice, this is another popular gluten-free alternative for baking. It has a mild flavor that works well with other ingredients. Rice flour doesn't rise like wheat flours do, so it's best for making flatbreads, pancakes, and wafers.
Buckwheat flour is made from ground buckwheat and has a nutty, earthy flavor. Although wheat is in the name, buckwheat flour is gluten-free and high in fiber and protein. You can use buckwheat flour as a one-to-one replacement for wheat flour when making pancakes or waffles.
Potato flour is made from ground and dried potatoes. It has a mild flavor, is gluten-free, and is high in carbohydrates. You can use potato flour to thicken sauces or to make recipes developed for potato flour.
Bottom Line
No matter which flour substitute you choose, it's important to understand how each one works and its flavor profile before using it in baking. While flour substitutes can provide health benefits or a new twist on traditional recipes, they will not always work exactly the same as regular flour. Experimenting with different flour substitutes can be fun and rewarding, so don't be afraid to try something new.