What do you do when you're pregnant or nursing and you get a cold? What cold medicine is safe for nursing moms or moms to be? Here's a look at safe, natural cold and flu relief when you're nursing or pregnant.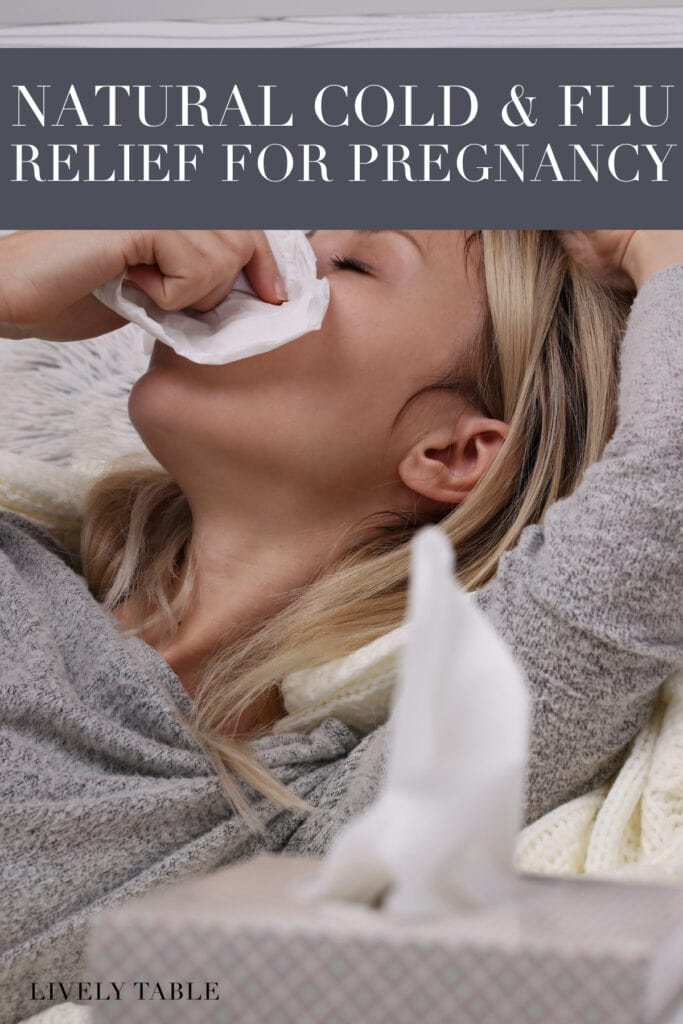 I don't know about you, but this cold and flu season has been relentless in our house. With Queen C starting parent's day out for the first time this past fall and the germs that come home with her, the cold-hot-cold weather this season here in Texas, and just the general illness going around this cold and flu season, we have not been able to stay well! I kid you not, my toddler has had a runny nose since October. So. Not. Fun.
What's worse, is that because I'm nursing, I can't really take any cold medicines. The active ingredients in most cold medicines (both prescription and over-the-counter) are either unsafe as they pass through breastmilk, or they drastically reduce milk supply, which I don't need any help with. So I'm left to ride out the viruses without much help. Ugh.
There are a few natural remedies and treatments, however, that can help you stay well by supporting your immune system, or help you feel a little better if you do get a cold.
Here are my top tips for fighting colds while nursing or pregnant:
Wash Your Hands
I know, the simplest of rules for preventing illness. But the truth is, most of us don't wash our hands as often as we should. Wash your hands thoroughly and often, especially during flu season. At a very minimum, wash with soap and water as soon as you get home from going anywhere and before eating.
Get Your Vitamin C
Vitamin C helps to support the immune system by protecting your body's cells and by increasing the production of illness-fighting white blood cells. Vitamin C can also help lessen the severity and duration of cold symptoms. It's not necessary to take a supplement as long as you're meeting your daily vitamin C needs, which is easy to do with a glass of orange juice, eating citrus fruits, strawberries, kiwi, or bell peppers.
Try my Honey Turmeric Vitamin C Shot for an extra boost!
Take a Probiotic
The good bacteria in your gut are responsible for a lot of things, one of them being fighting off bad bacteria and strengthening your immune system. Give yourself a little boost by regularly consuming probiotic-rich foods, like Greek yogurt (look for 'live active cultures' in the ingredients list), kombucha, fermented foods like sauerkraut and kimchi, or a probiotic supplement.
Hydrate!
It's always a good idea to stay well hydrated to help your body function at it's best, but especially when you're sick, it's important to drink fluids in order to help your kidneys eliminate waste and to help replace any fluids that may have been lost with a fever or upper respiratory infection. It's also especially important for pregnant and nursing mamas, whose fluid needs are higher, so drink up!
Hot Tea
Drinking hot tea when you're sick is not only a way to hydrate (even caffeine-containing teas count towards fluid intake), but it's also a great way to soothe a sore throat and break up congestion. The antioxidants in green tea could also have antiviral properties. Just be sure to keep the caffeine in check if you're pregnant, and ask your doctor about any herbal teas to make sure they are pregnancy safe, as not all herbs are safe for pregnancy. I've been doing a lot of this Mother's Milk tea to both boost my milk supply and help soothe my throat!
Honey
I make my tea work extra hard for me by adding honey, which has antibacterial properties, and has also been shown to reduce duration and severity of coughs. Since nursing mamas can't take cough medicine, this is the next best thing. Manuka honey is even more potent in antibacterial and antioxidant activity. (I like Comvita Manuka Honey.)
Steam
I've been using a lot of steam to help loosen up all the mucus. I love the Franklin and Whitman Botanical Steams for both a little TLC for my face and congestion help. Some of them do contain herbs, though, so if you're pregnant, you may just stand in the shower and breathe in the steam.
Menthol-Free Chest Rub
Most traditional chest rubs aren't great for nursing moms because they contain menthol, which can decrease milk supply. I started using my daughter's Tubby Todd Chest Rub, which is menthol free and made with only safe ingredients when I really needed help breathing with a cold. (Use code GOODCLEANFUN10 for 10% off your Tubby Todd order!)
Saline
Saline is safe for both pregnant and nursing moms. I've been using a simple saline nasal spray, but if you're very congested, you can also use a neti pot to help clear your sinuses.
Chicken Noodle Soup
It's more than an old wives' tale. Besides the warm liquid soothing your throat, chicken soup could have anti-inflammatory activity that can actually help ease cold symptoms. My go-to Chicken Noodle Soup recipe has been on repeat around here lately.
What About Supplements?
Honestly, I'd save your money. Supplements like elderberry can be expensive and since they aren't actually food, they aren't tightly regulated, meaning there is no guarantee they contain what the label says. It's best not to take risks with a possible contaminated supplement when you're taking care of another tiny human! If you're considering an herbal supplement, always talk to your doctor, since many aren't pregnancy or nursing safe.
Resources: