Enjoy these delicious and healthy green recipes for St. Patrick's Day! Over 50 green breakfasts, lunches, dinners, sides and snacks, all made with wholesome ingredients, are both festive and nutritious.
Green Breakfast Dishes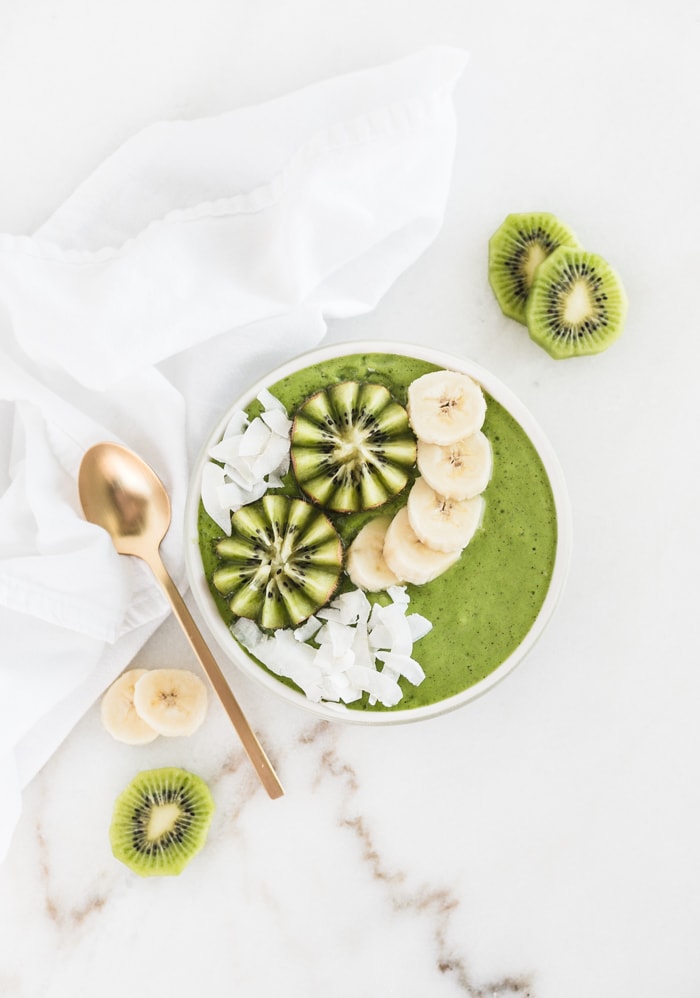 Pineapple Kiwi Green Smoothie Bowl - Start your day with a refreshing pineapple kiwi green smoothie bowl!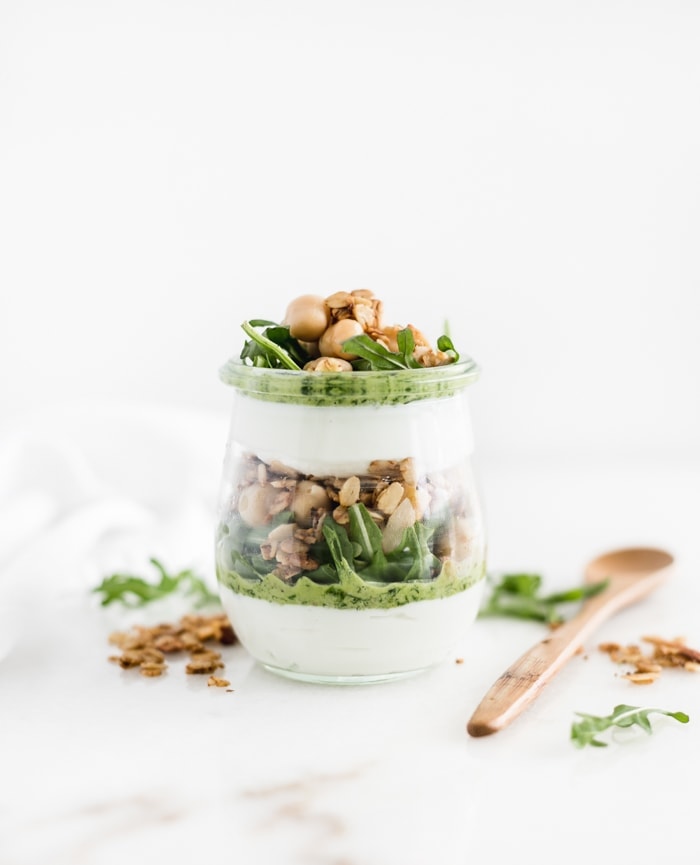 Savory Pesto Chickpea Yogurt Parfait - A healthy and delicious savory arugula chickpea yogurt parfait that packs 17 grams of filling protein for a lower sugar breakfast or snack!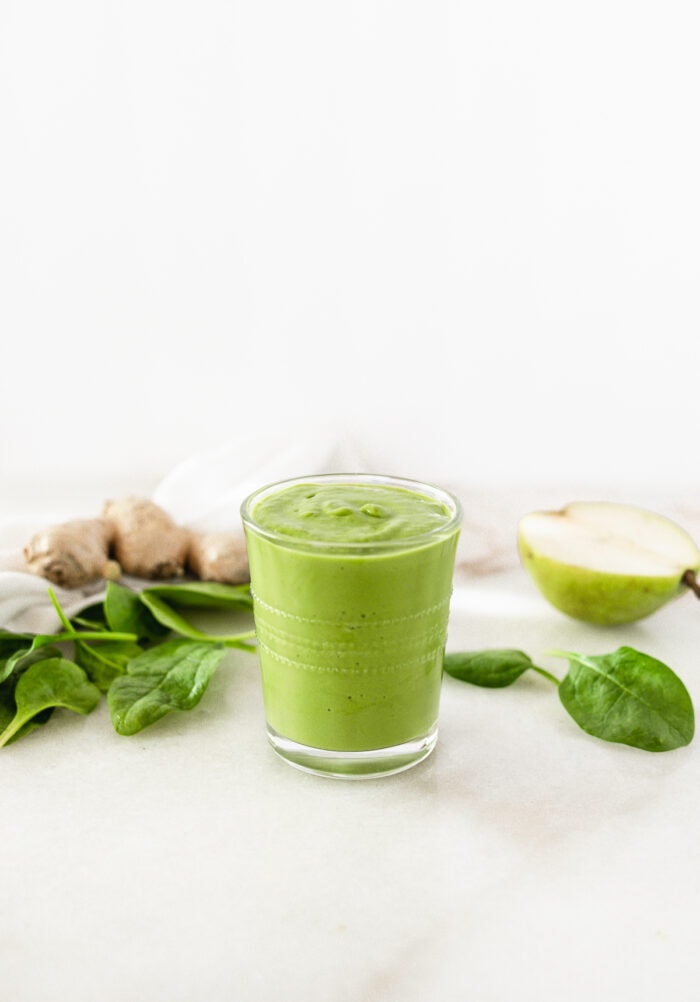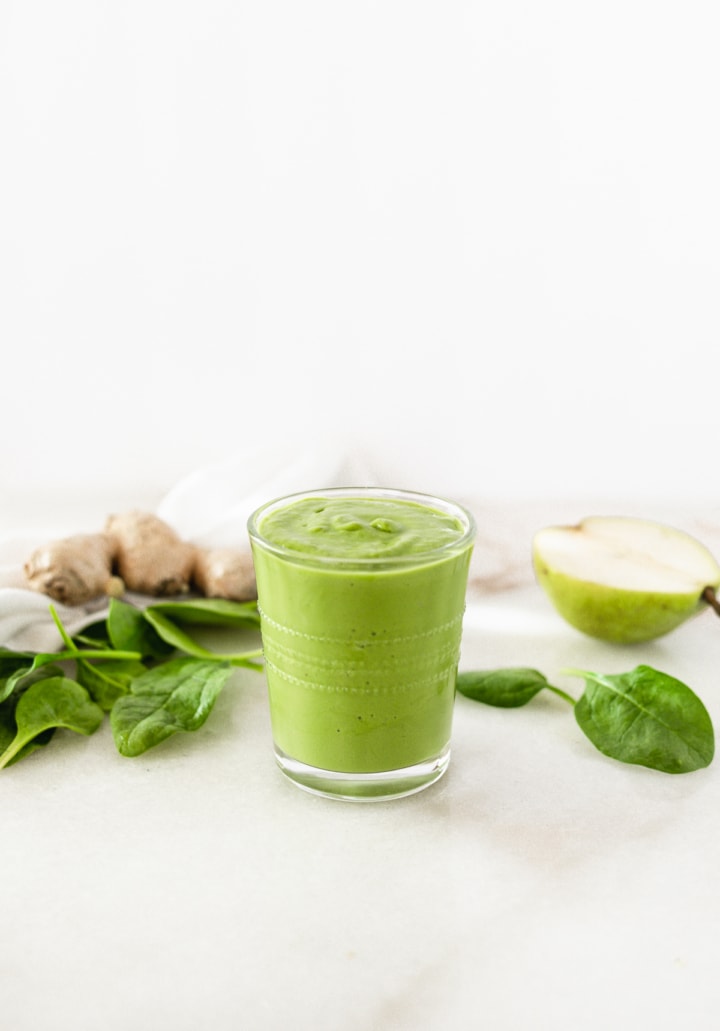 Matcha Pear Green Smoothie - With the refreshing flavors of ginger and pear, this matcha smoothie has a healthy dose of greens and tons of antioxidants.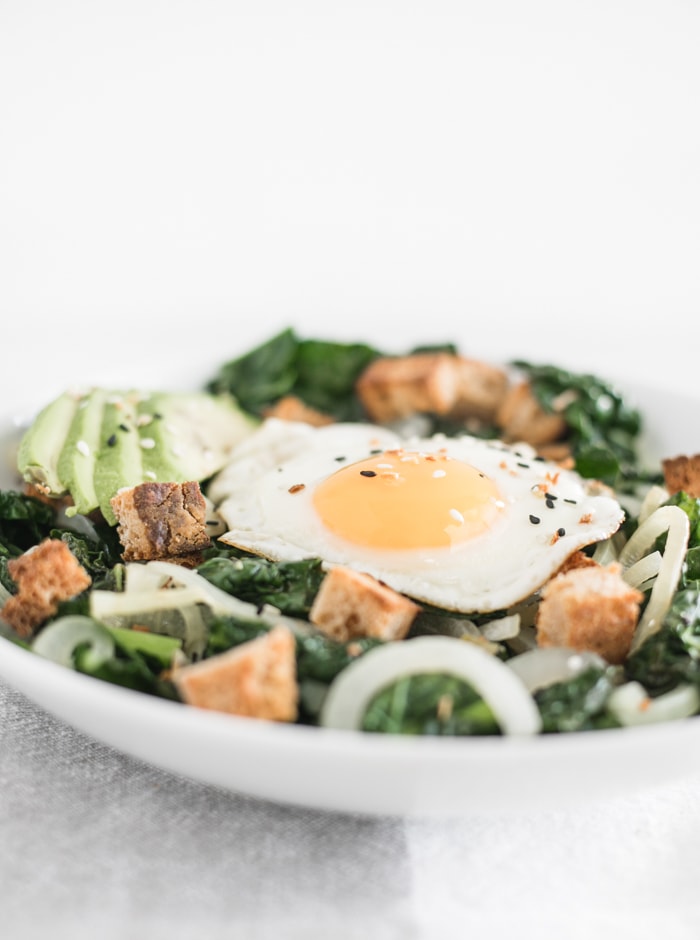 Warm Kale Breakfast Salad - This simple warm kale breakfast salad with caramelized onions, sourdough croutons, and everything bagel seasoning is a delicious way to get veggies in at breakfast or any time of day!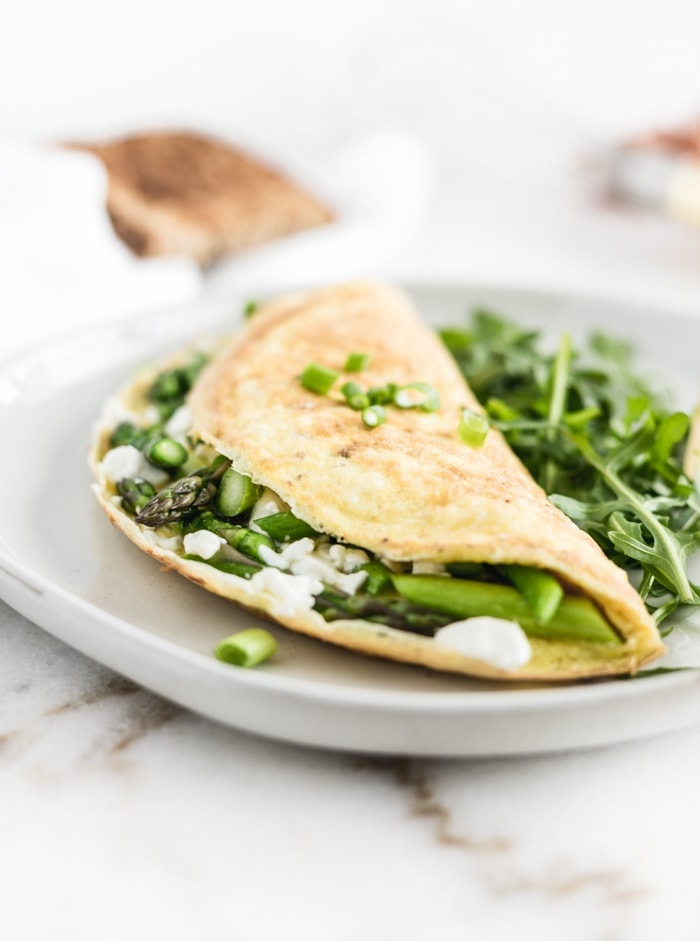 Easy Asparagus and Goat Cheese Omelet - A quick and easy asparagus goat cheese omelet that's both healthy and delicious to whip up for breakfast or for dinner!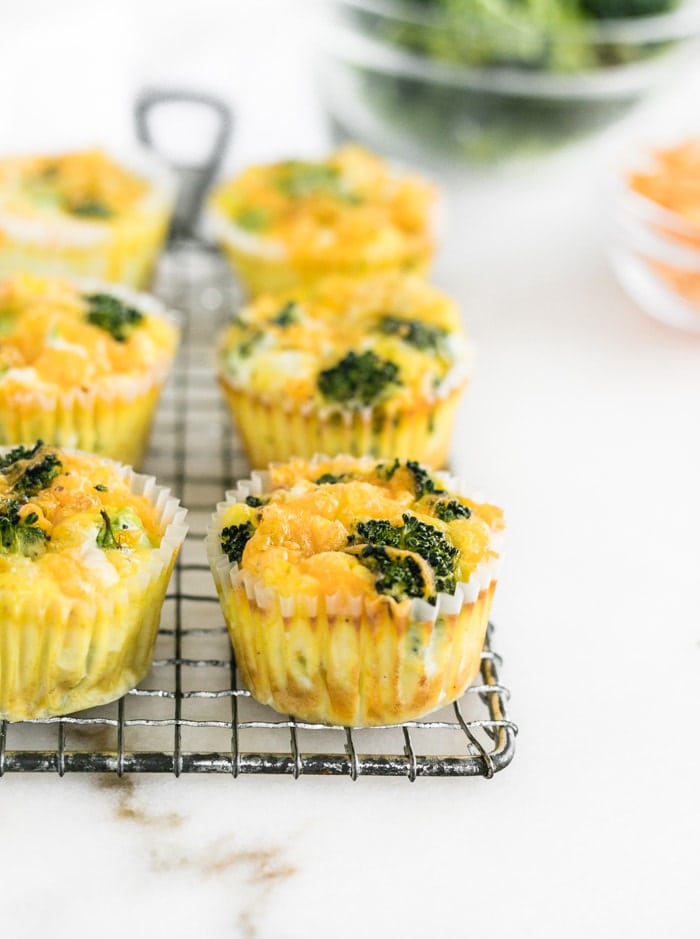 Make-Ahead Broccoli Cheddar Egg Muffins - Easy Make-Ahead Broccoli Cheddar Egg Muffins are full of veggies and protein for a healthy breakfast on busy mornings. This recipe is perfect for weekend meal prep!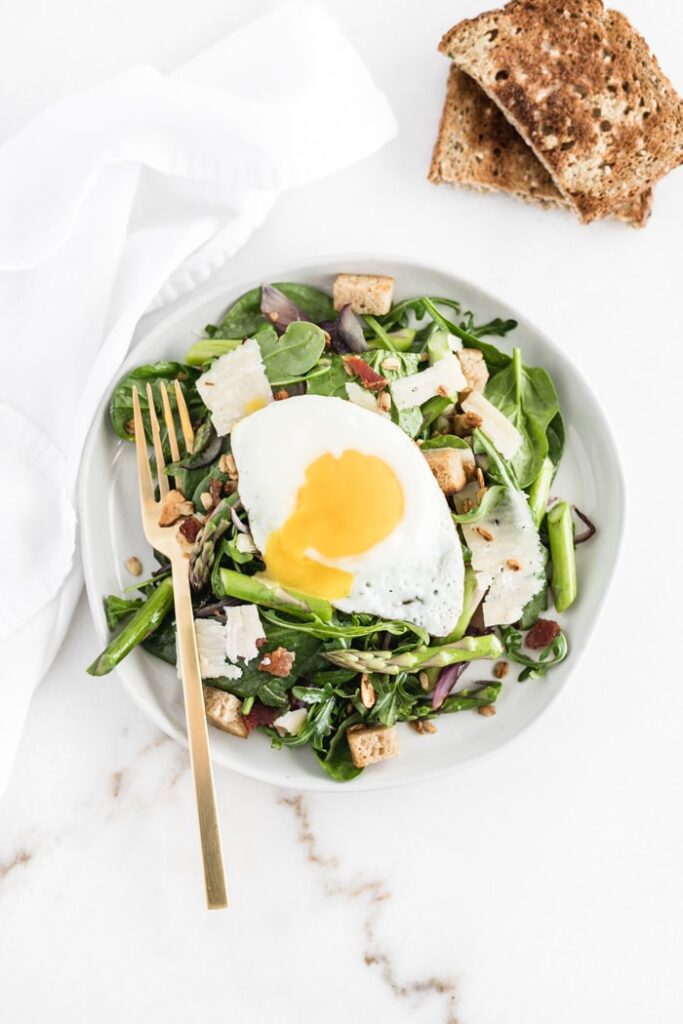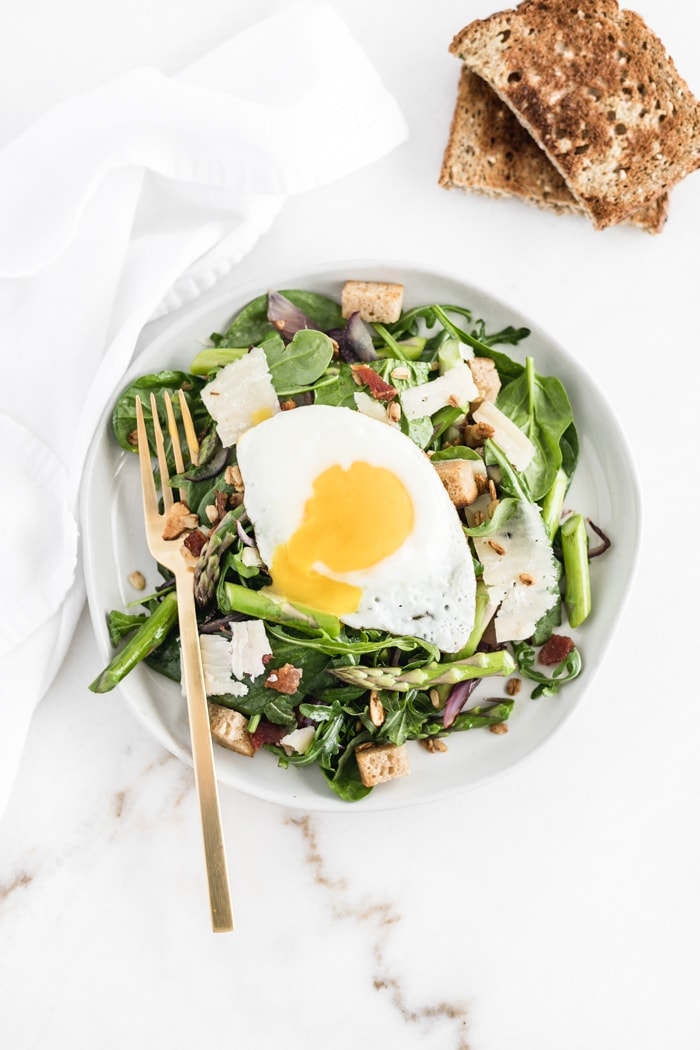 Spring Breakfast Salad - Get your veggies in first thing in the morning with a healthy and delicious spring breakfast salad topped with maple vinaigrette and a runny fried egg.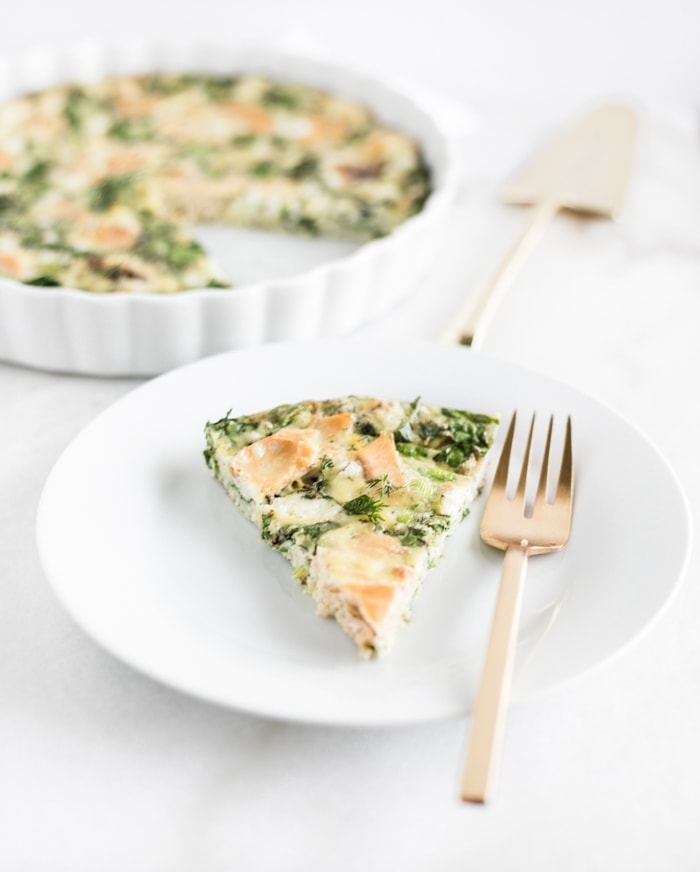 Smoked Salmon and Kale Frittata - Smoked salmon, kale, leeks, fresh herbs, and goat cheese come together in a beautiful, delicious, and easy smoked salmon and kale frittata that makes a wonderful spring brunch dish to feed a crowd!
Green Lunch and Dinner Recipes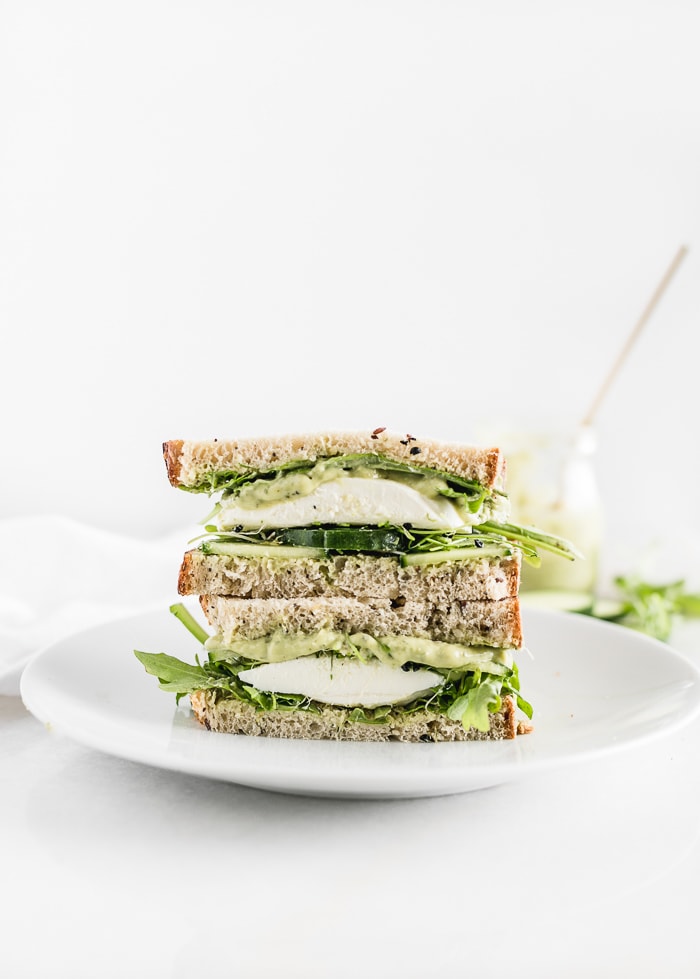 Vegetarian Green Goddess Sandwich - This fresh green goddess sandwich loaded with avocado green goddess dressing, leafy greens, crunchy cucumbers, and fresh mozzarella will be your new go-to for a simple, healthy vegetarian lunch!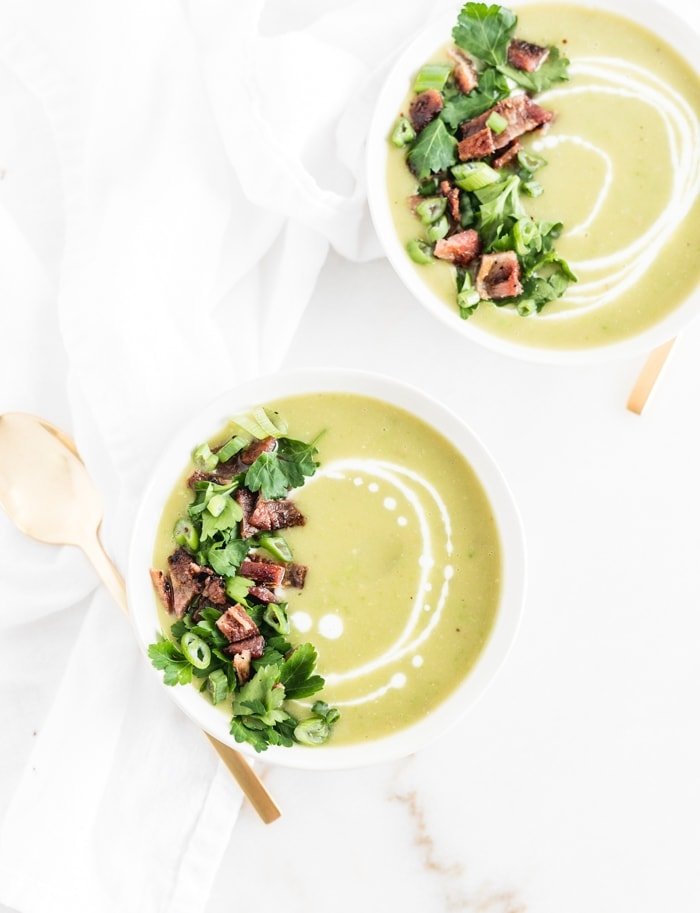 (Dairy-Free) Creamy Potato Split Pea Soup - This smooth and creamy potato split pea soup will keep you warm all the way through spring! Includes Instant Pot instructions.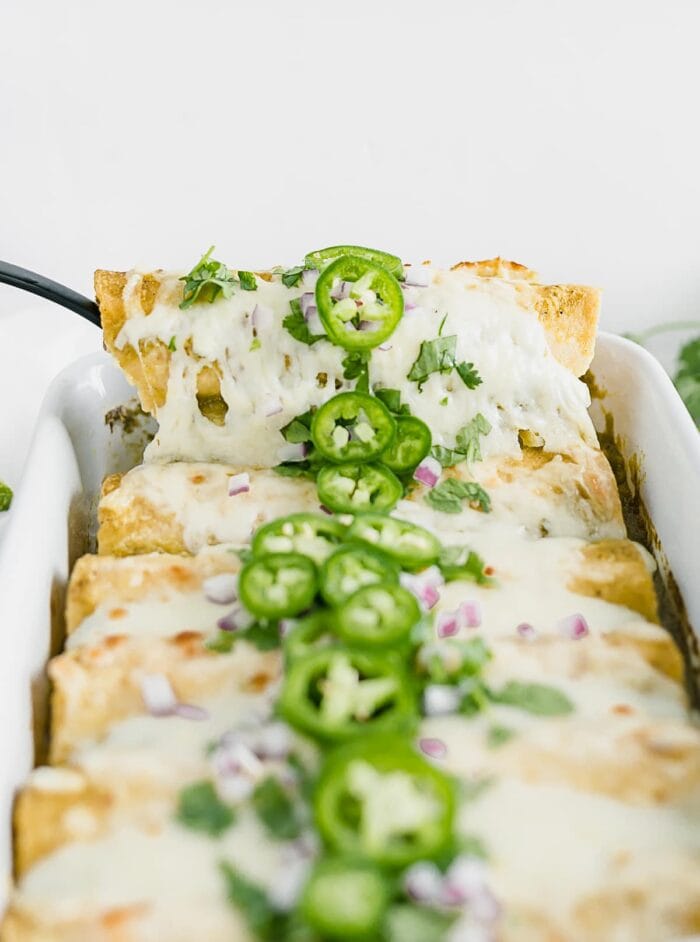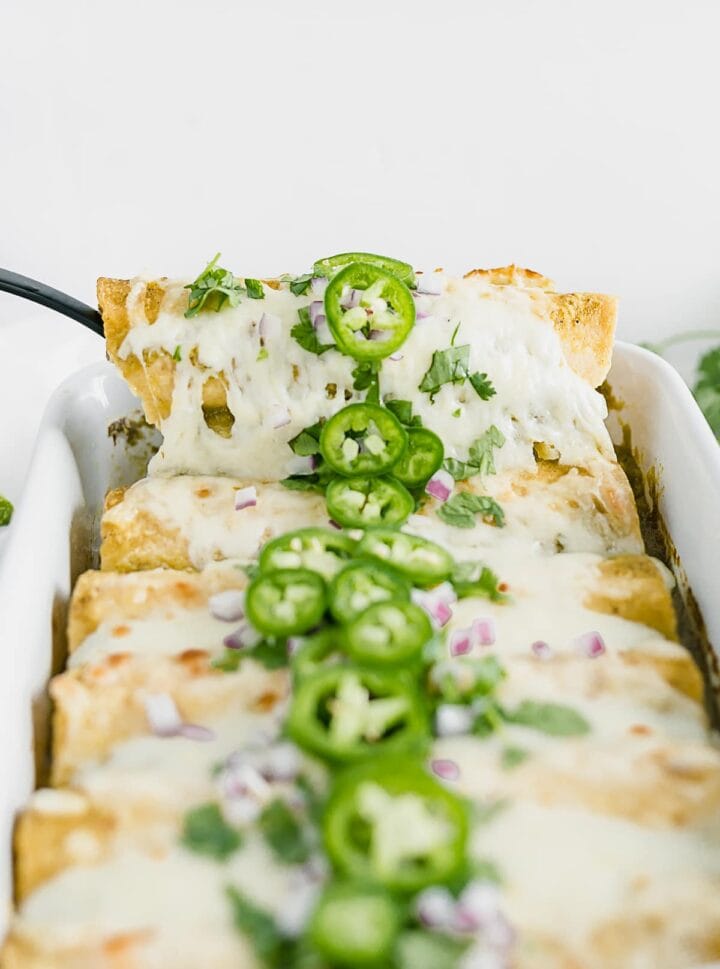 Hatch Green Chile Chicken Enchiladas - Homemade Hatch green chile chicken enchiladas with healthy homemade green enchilada sauce are the cheesy, spicy Tex-Mex dinner of your dreams! They're perfect for using leftover chicken and roasted green chiles.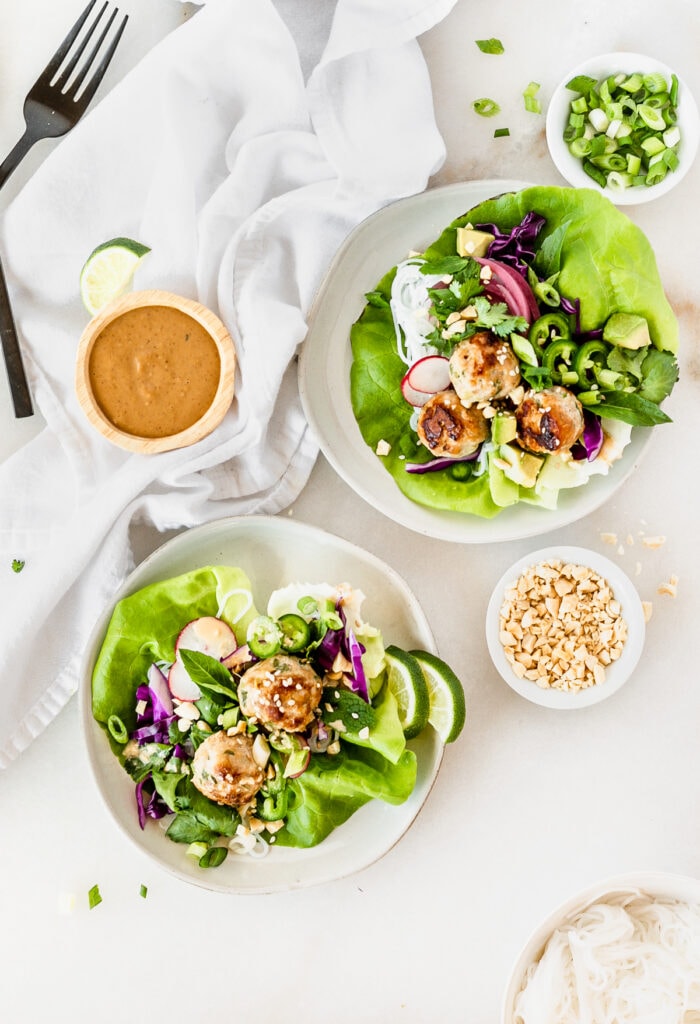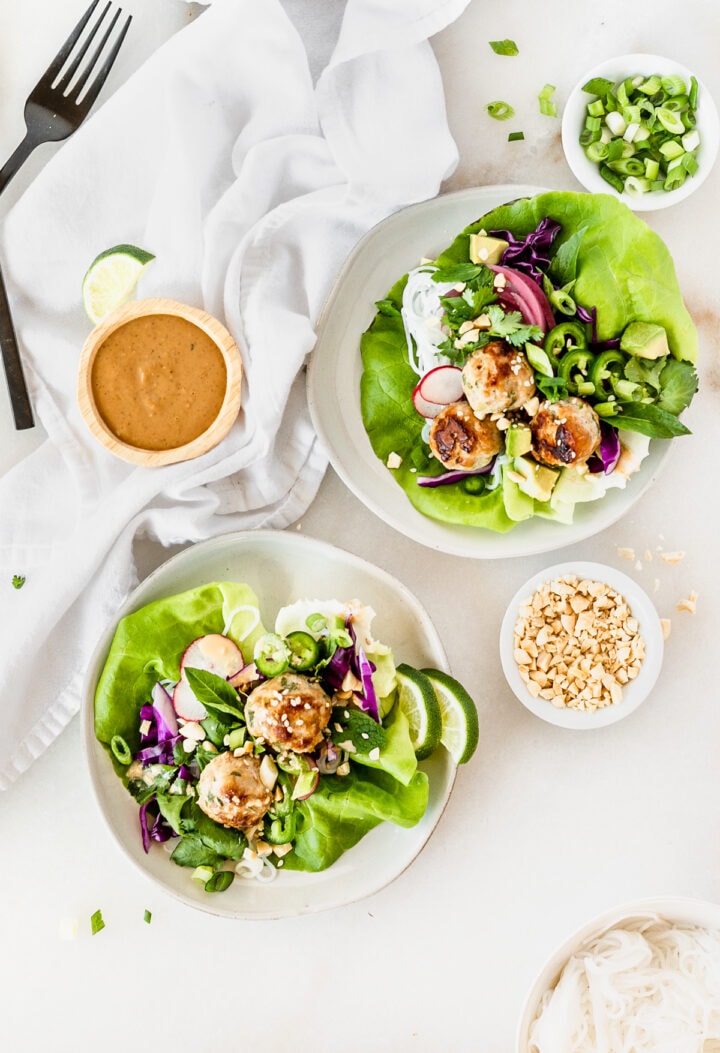 Asian Pork Meatball Lettuce Wraps - Asian inspired pork meatball lettuce wraps make a fun, fresh, and nutritious family dinner in just 30 minutes! With easy Asian meatballs and a delicious peanut sauce, they're a fun change-up from everyday meals.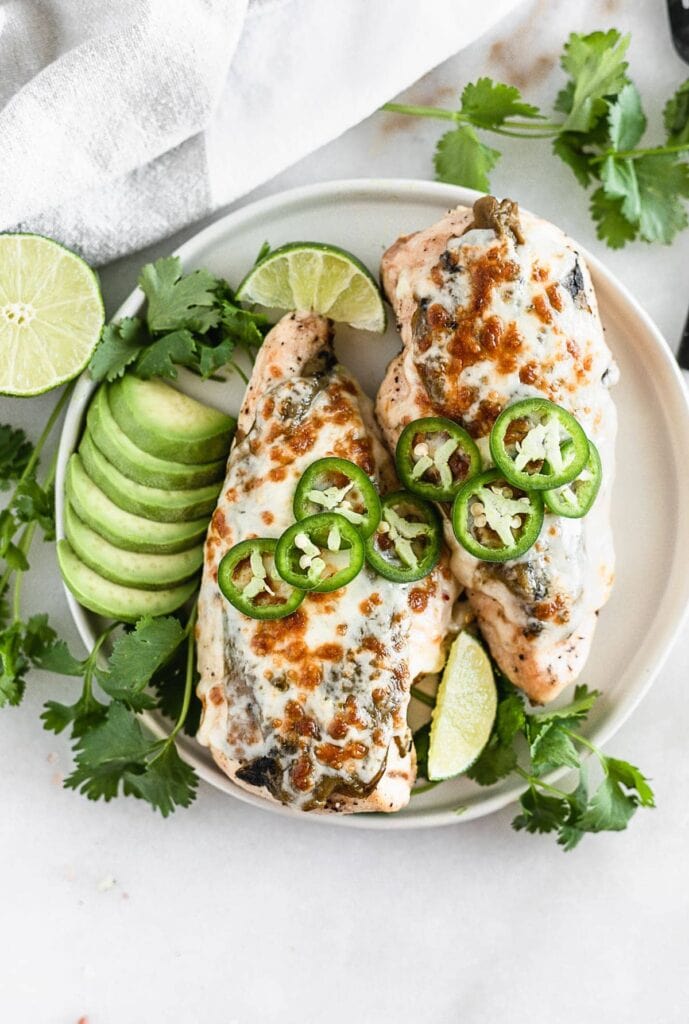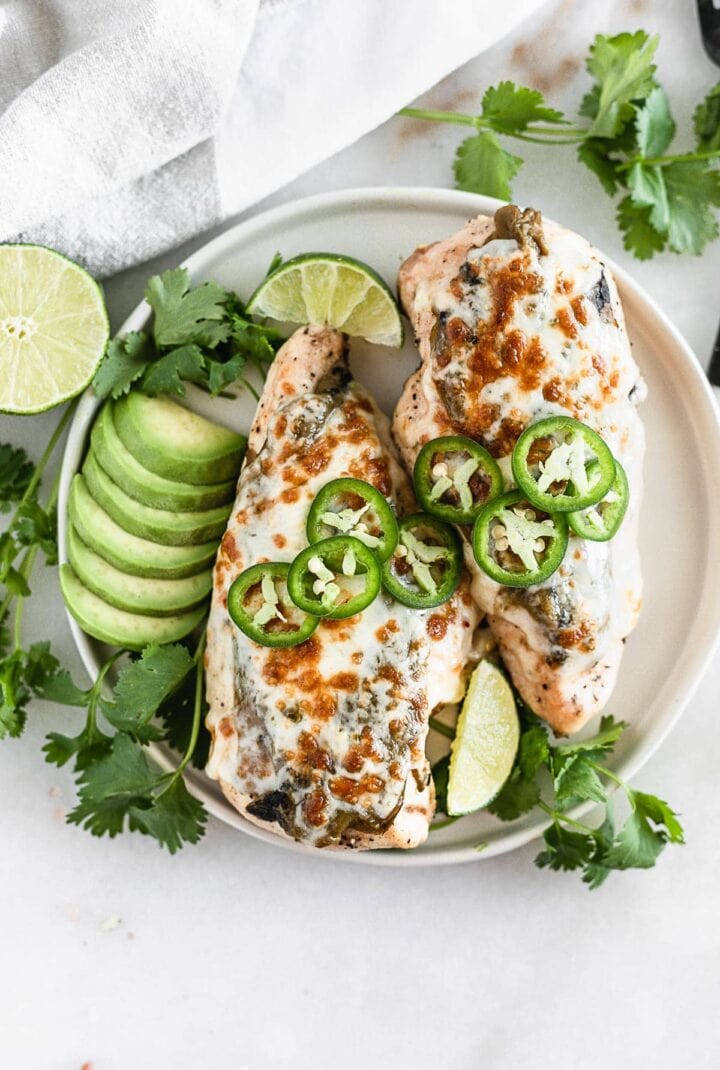 Grilled Green Chile Chicken - This flavorful grilled green chile chicken topped with roasted Hatch chiles and melted cheese is a healthy chicken recipe to spice up your weeknight dinner routine!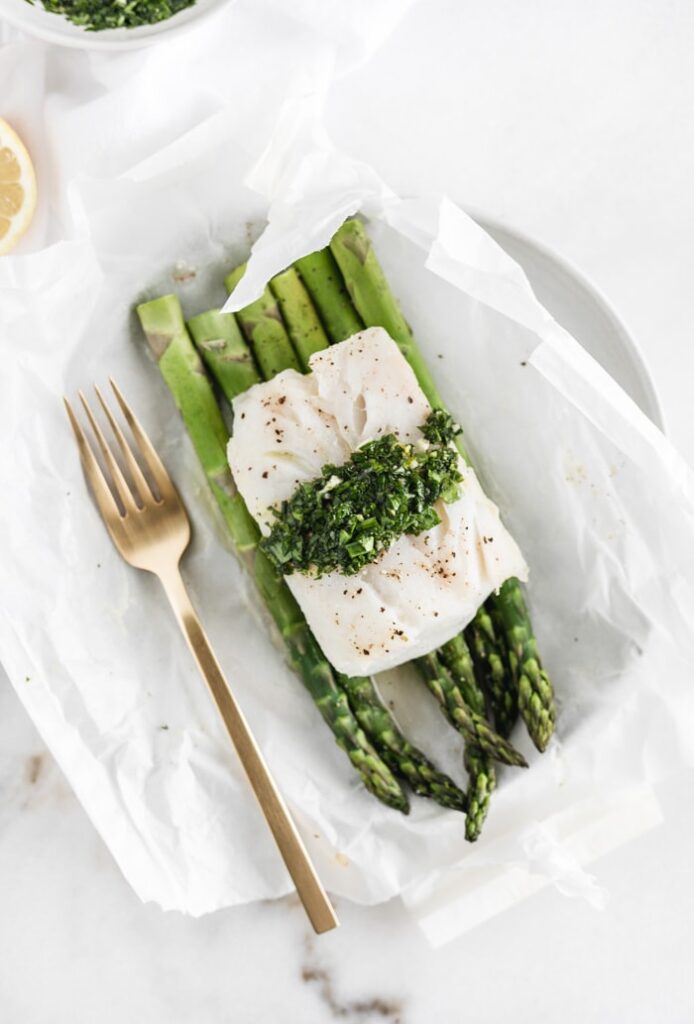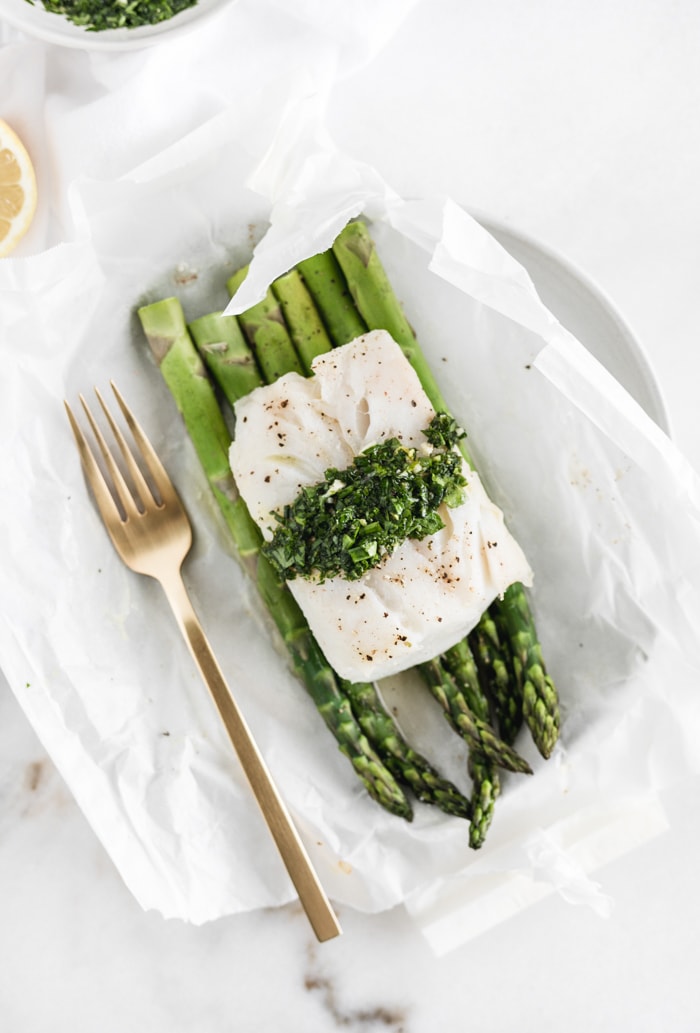 Lemon Asparagus Fish En Papillote - This lemon and asparagus fish en papillote (or fish in parchment) served with a bright lemon herb sauce is a fresh, healthy dinner that's both easy and delicious!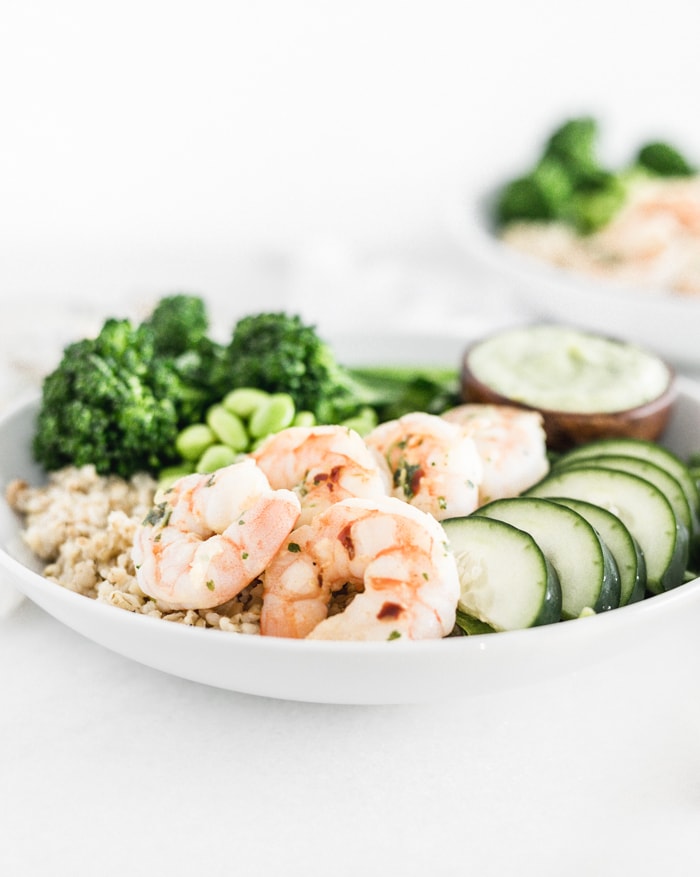 Meal Prep Shrimp Green Goddess Grain Bowls - Meal prep shrimp green goddess grain bowls are delicious, nourishing bowls that are easy to make ahead or eat right away for healthy meals at any time!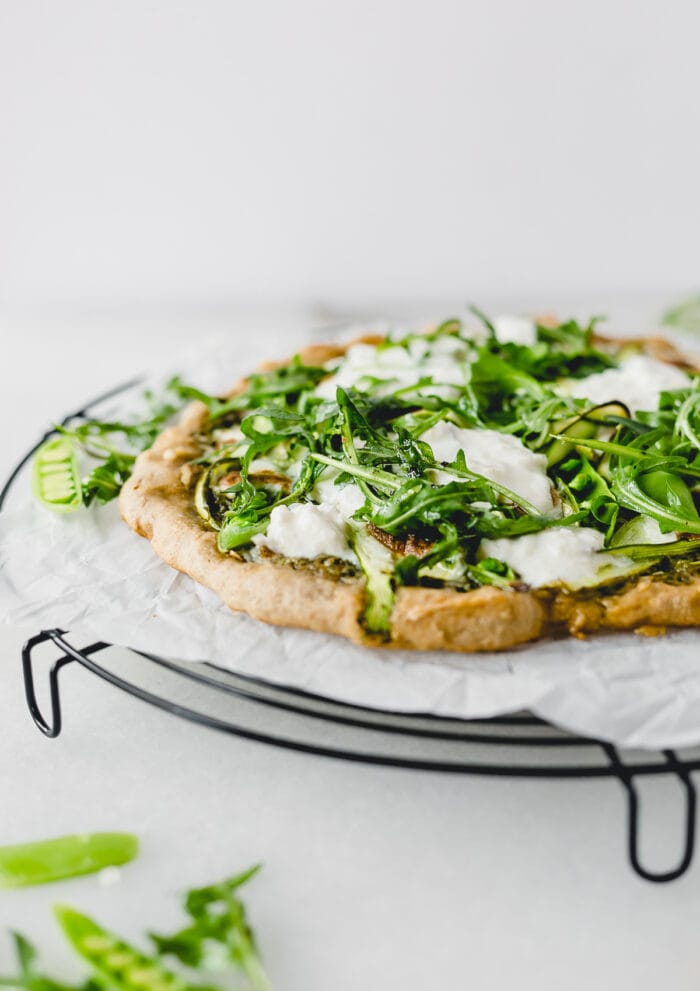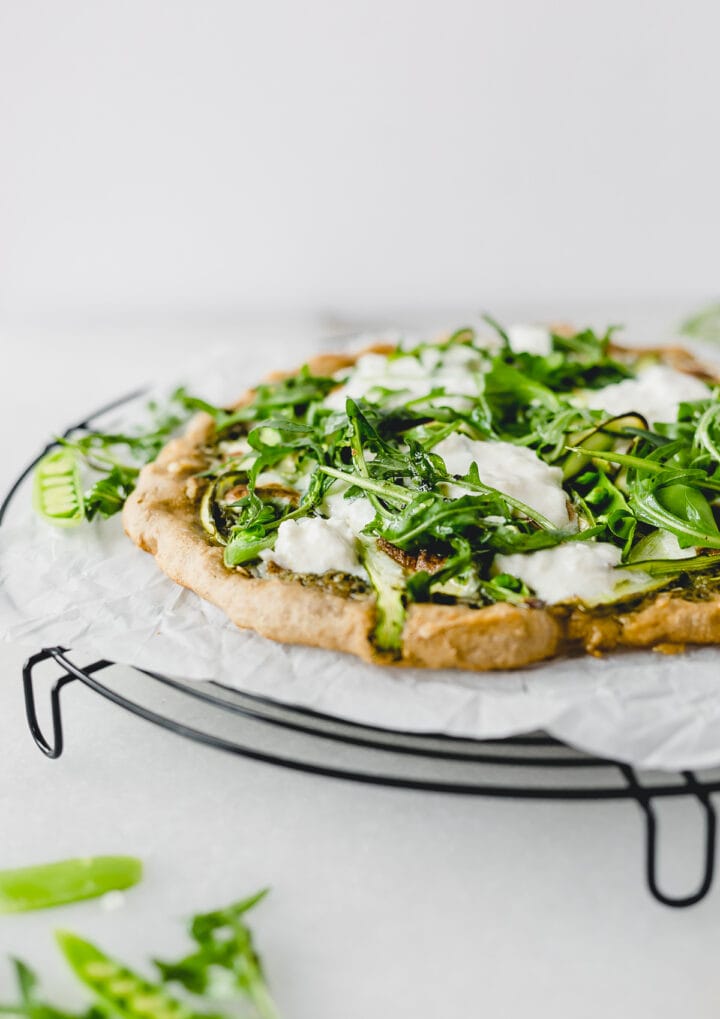 Healthy Spring Greens Pizza - A healthy Spring Greens Pizza with a crispy thin crust, fresh spring vegetables, and ooey-gooey cheese that's perfect for a good-for-you pizza night!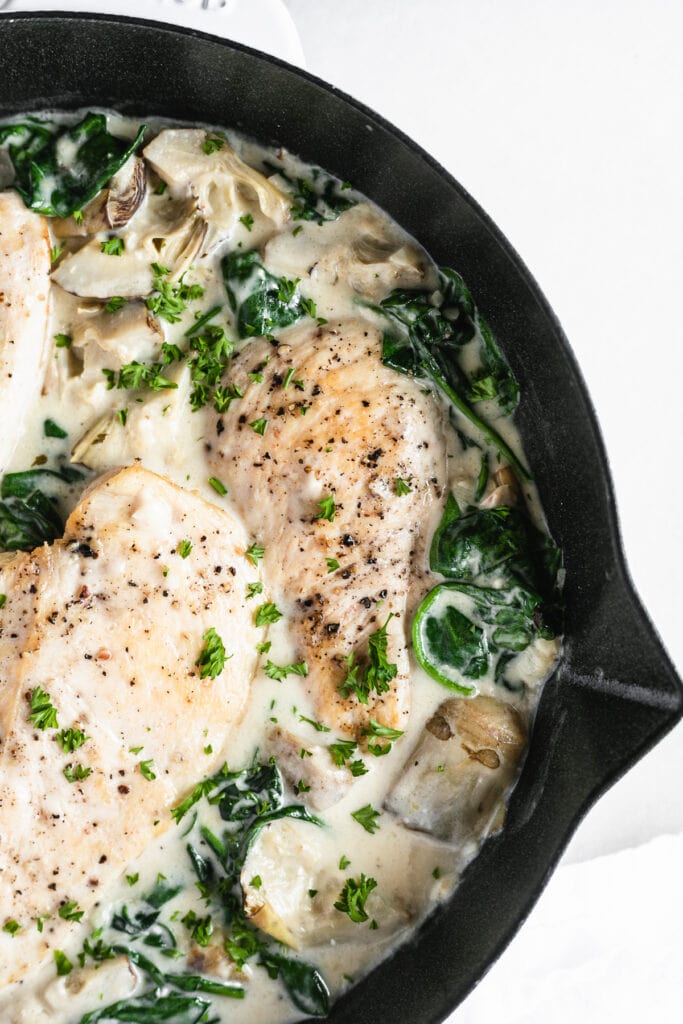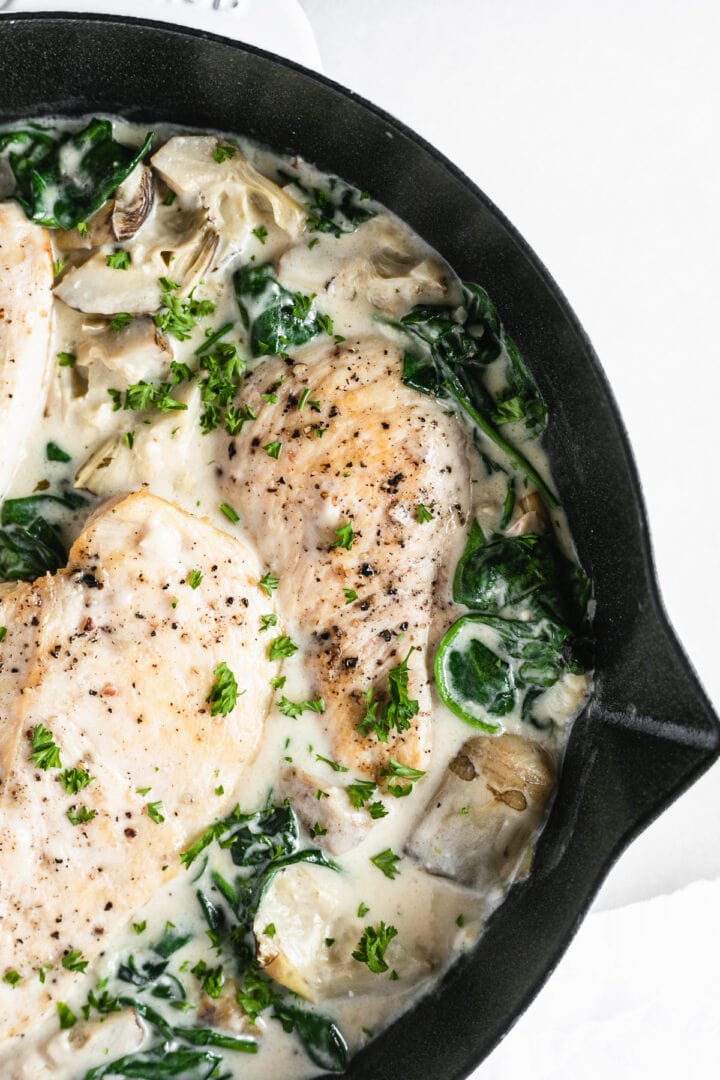 One Skillet Spinach Artichoke Chicken - This one skillet creamy spinach artichoke chicken will be your family's new favorite dinner! Pan-seared chicken breasts in a healthier spinach and artichoke sauce that takes only 30 minutes is high in protein and flavor.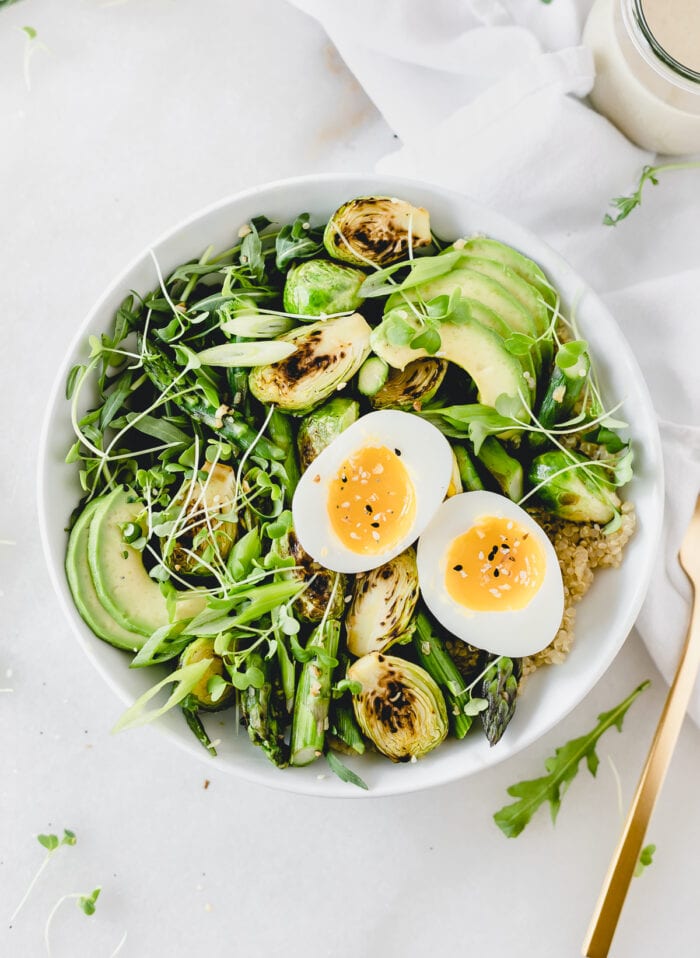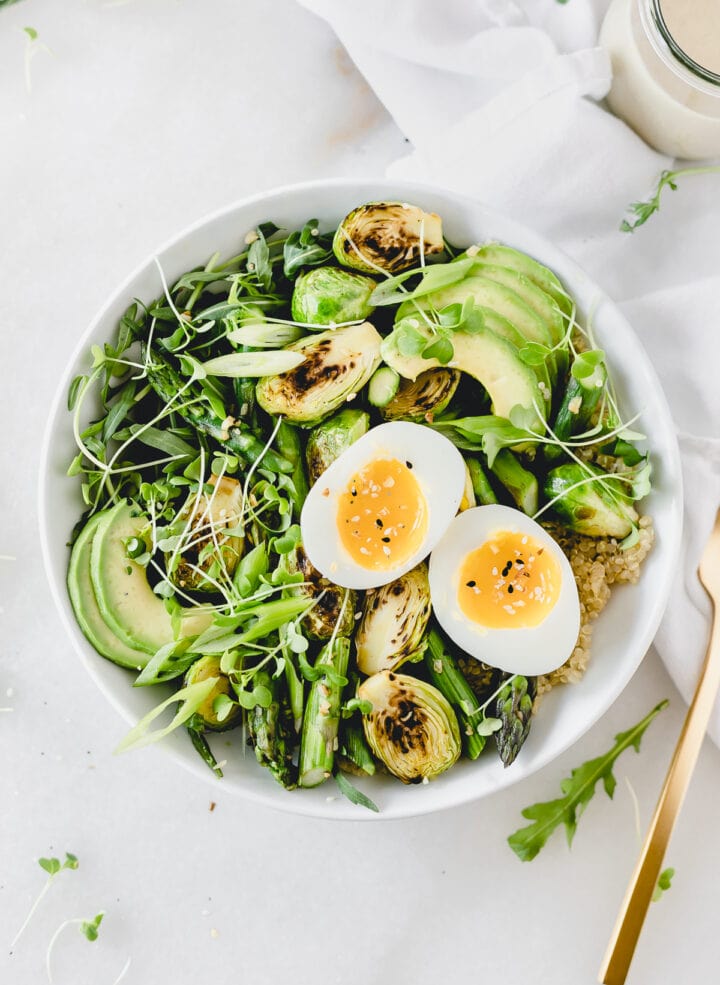 Spring Green Quinoa Bowl - Say hello to spring with a healthy Spring Green Quinoa Bowl filled with nourishing green vegetables, quinoa, avocado and an oozing poached egg!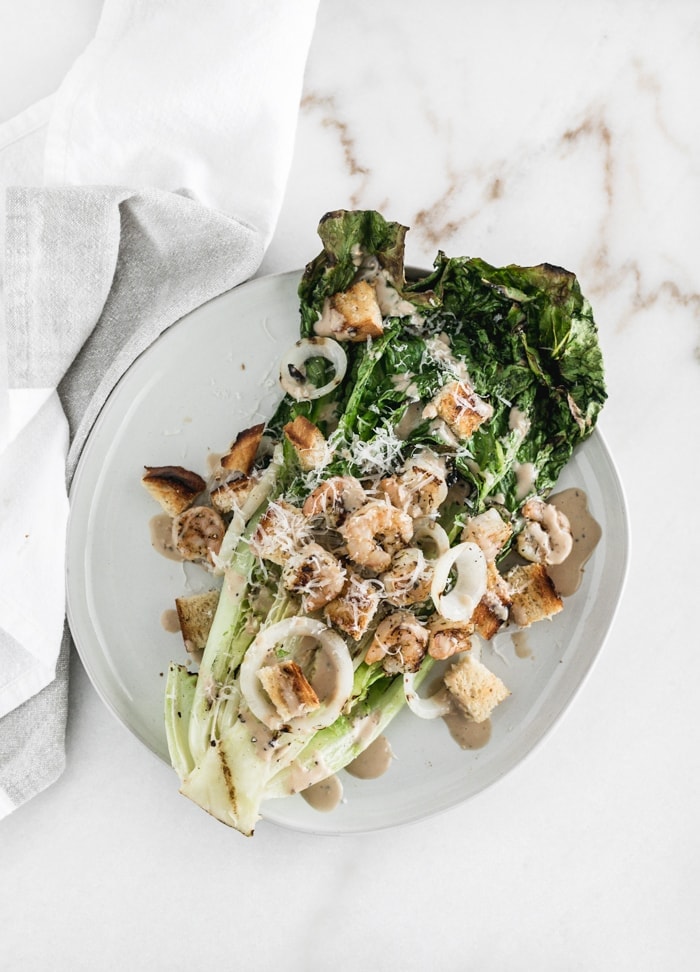 Grilled Caesar Salad with Shrimp - This grilled Caesar salad with shrimp is a delicious way to enjoy a healthy salad! Grilled romaine is topped with grilled shrimp, grilled onions, and grilled sourdough croutons for a delicious, light meal that is made entirely outside.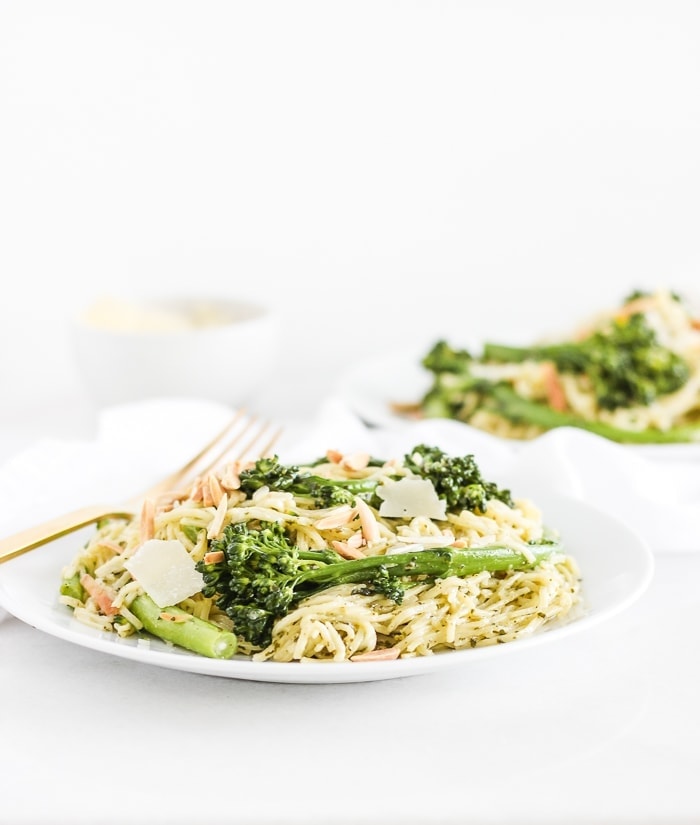 Broccoli Pesto Pasta Almondine - Broccoli pesto pasta almondine is an easy, delicious dinner the whole family will love! With just 5 ingredients, you're only 15 minutes away from having a tasty balanced meal on the table.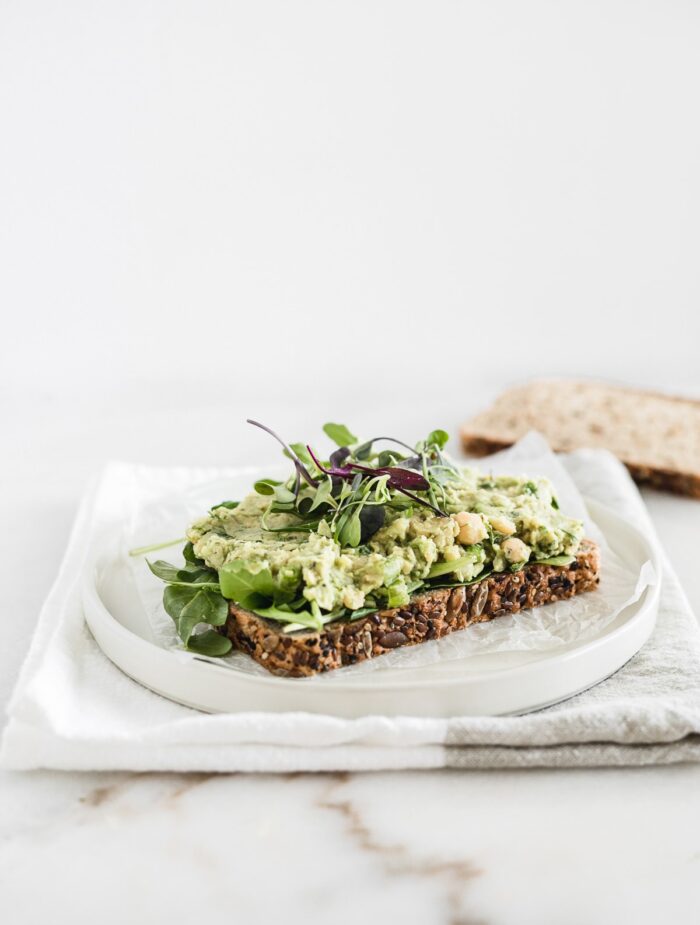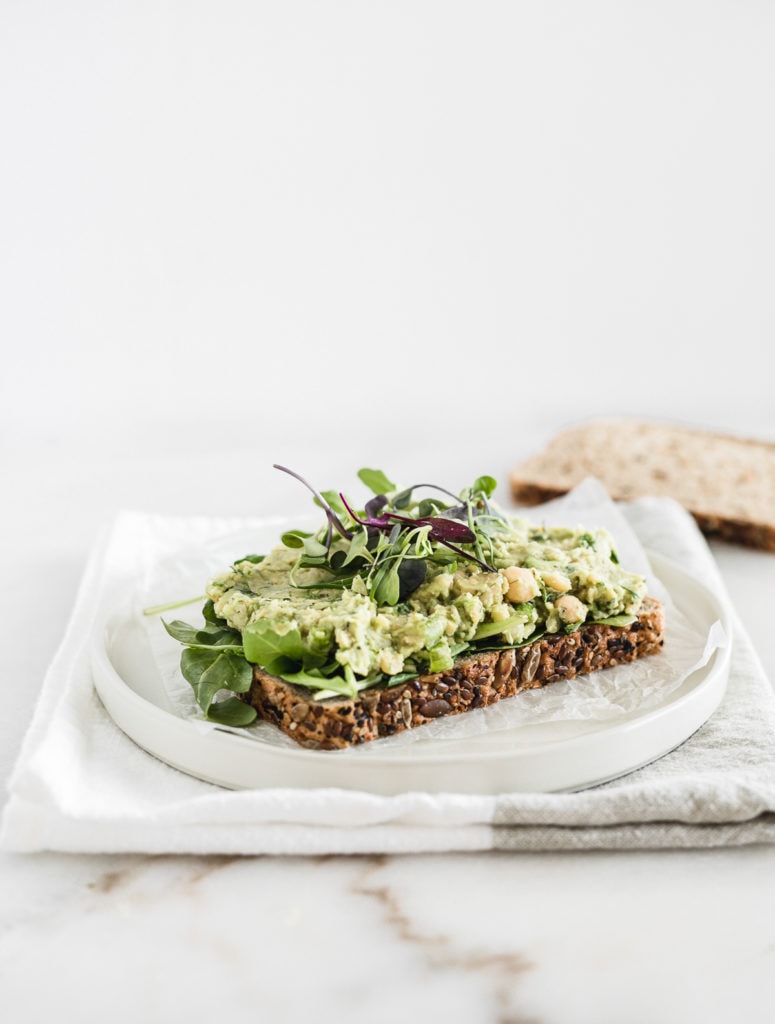 Vegan Smashed Avocado Chickpea Salad - This easy 5-ingredient smashed chickpea and avocado salad is just like tuna salad, but plant based and full of creamy, herby goodness! It's perfect for meal prep or spreading on a sandwich.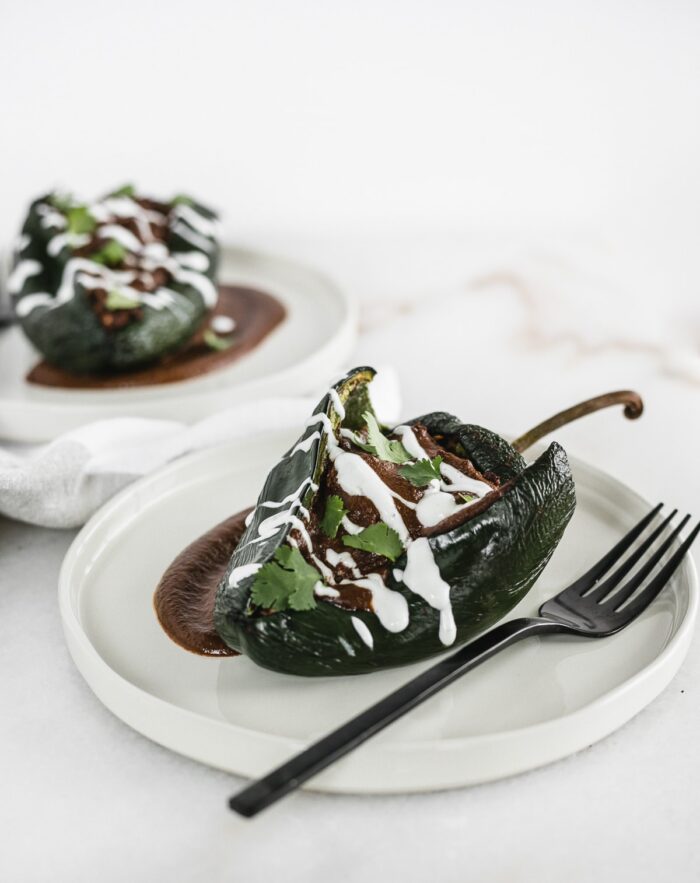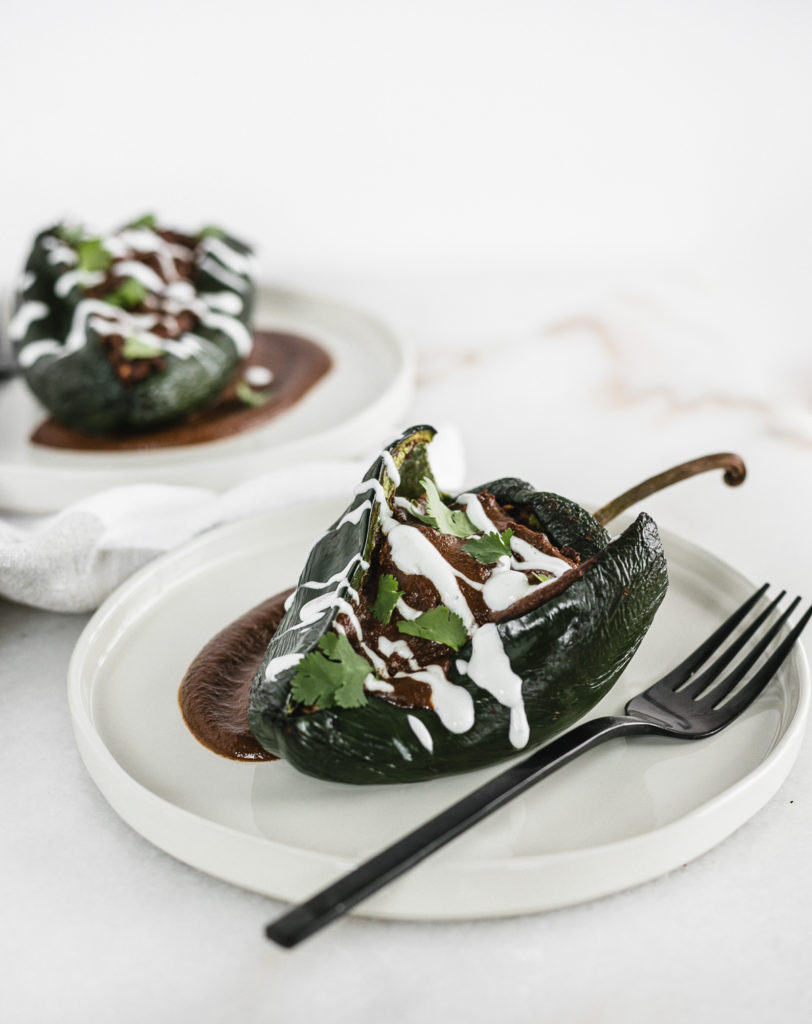 Mole Chicken Stuffed Poblano Peppers - These healthy baked Mole Chicken Stuffed Poblano Peppers filled with mole-covered shredded chicken are a delicious and healthy Mexican-inspired dinner to use leftover chicken.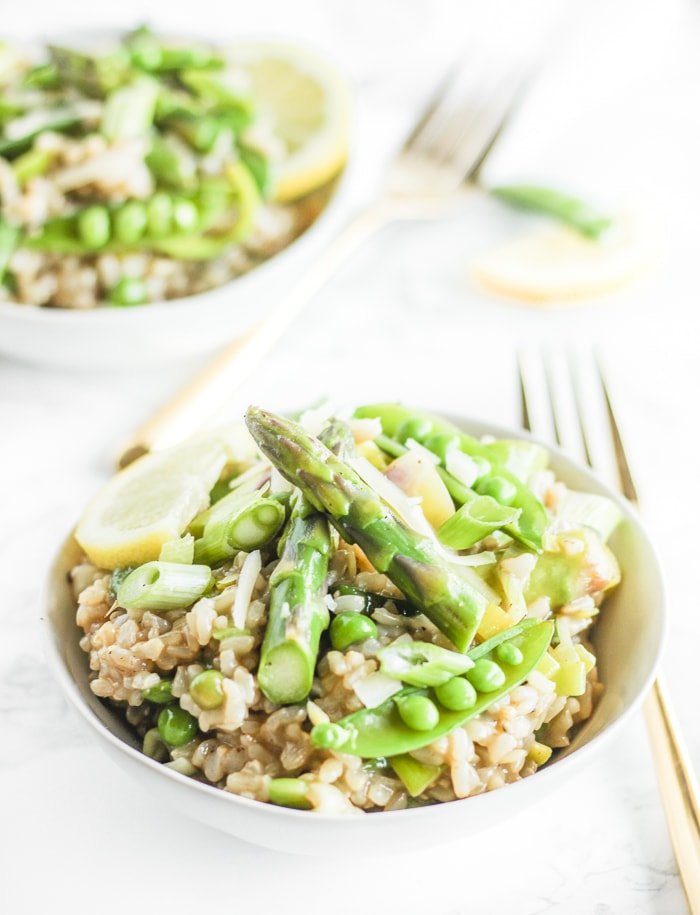 Spring Vegetable Instant Pot Brown Rice Risotto - This spring vegetable Instant Pot brown rice risotto makes risotto an easy and delicious weeknight meal! Spring veggies and brown rice make this dish extra nutritious.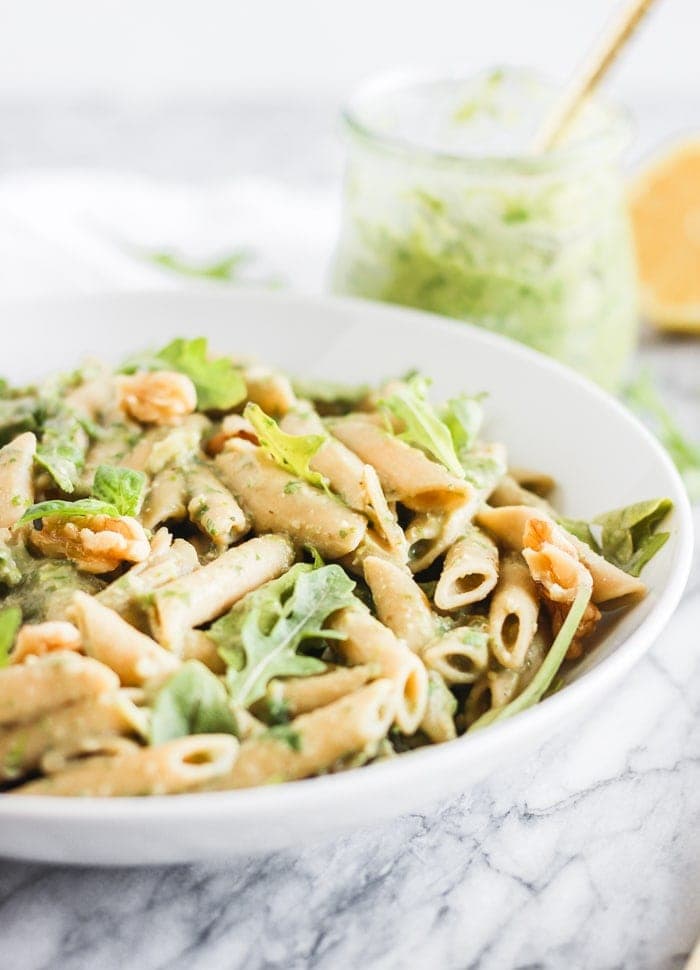 Vegan Arugula Avocado Pesto Pasta - Fuel up with a plant-powered pasta in under 20 minutes with this vegan arugula avocado pesto pasta filled with healthy fats and fiber!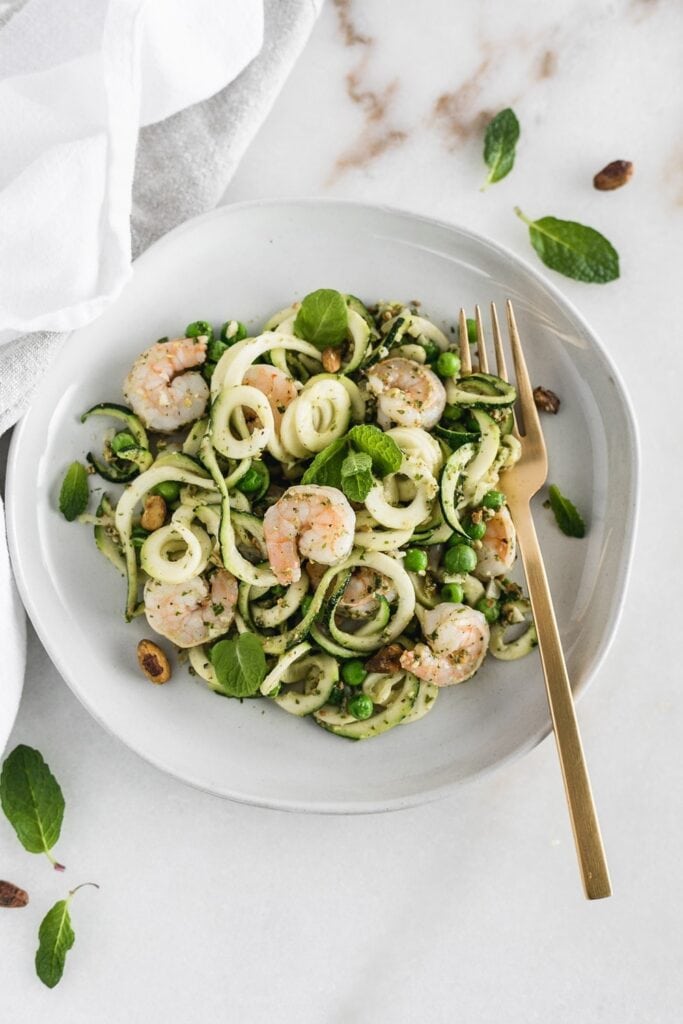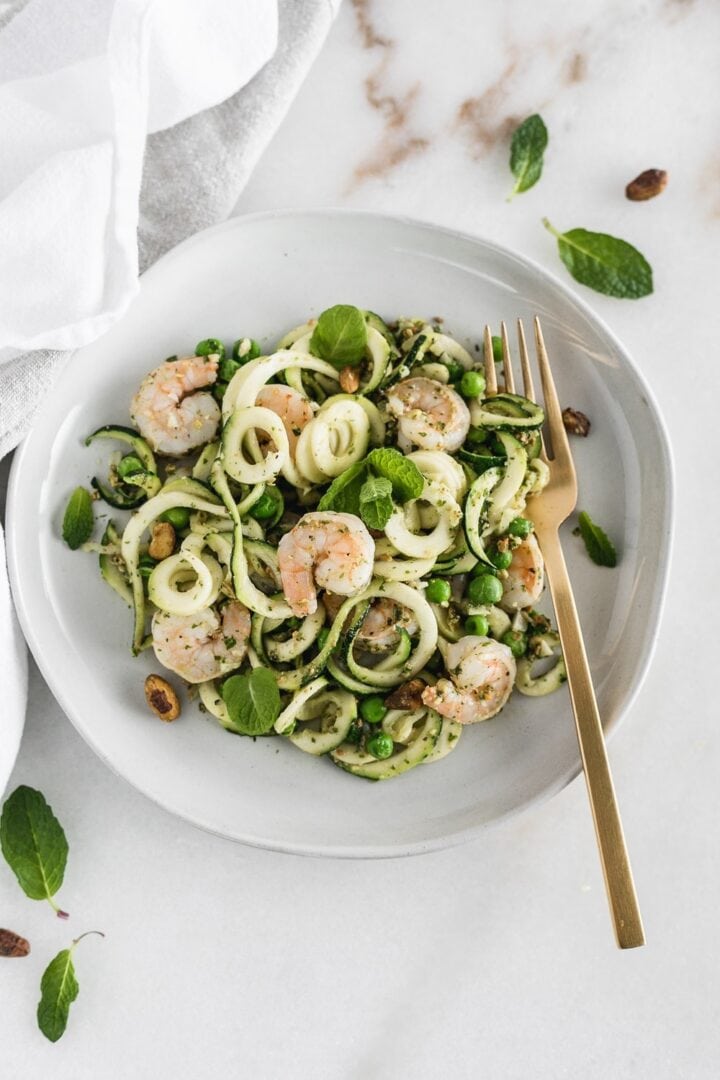 Zucchini Noodles with Mint Pesto and Shrimp - These easy, healthy zucchini noodles with shrimp and mint pesto are a light, fresh dinner perfect for spring! With just a few simple ingredients, they can be on your table in under 20 minutes.
Green Side Dishes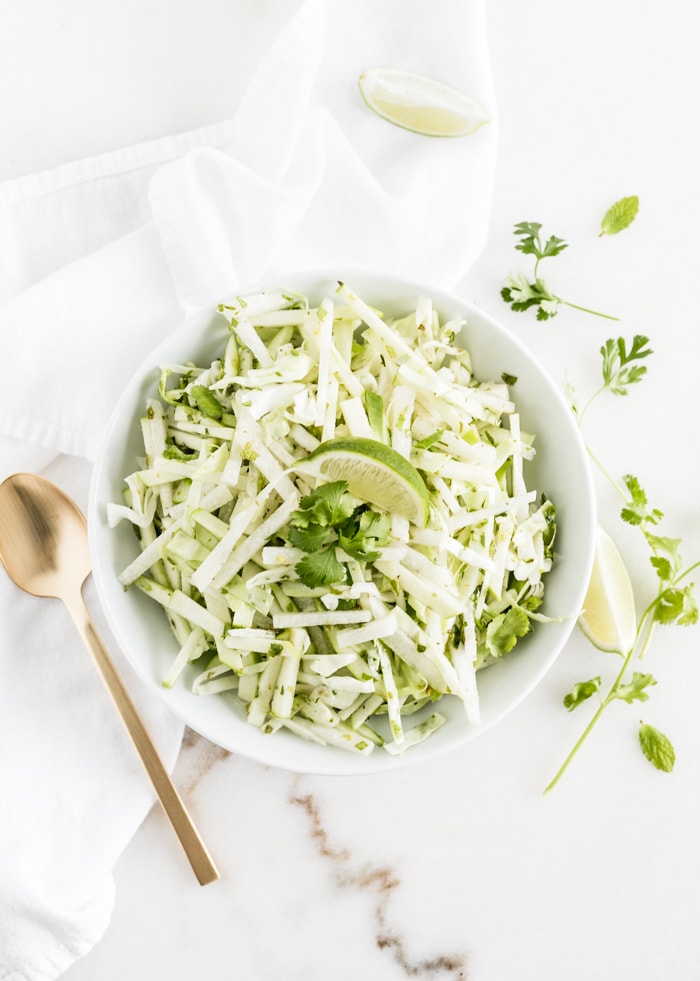 Green Apple Jicama Slaw with Cilantro Lime Vinaigrette - This light, crunchy, tangy green apple jicama slaw with cilantro mint vinaigrette is a healthy side dish or taco topper that's both easy to make and fun to eat!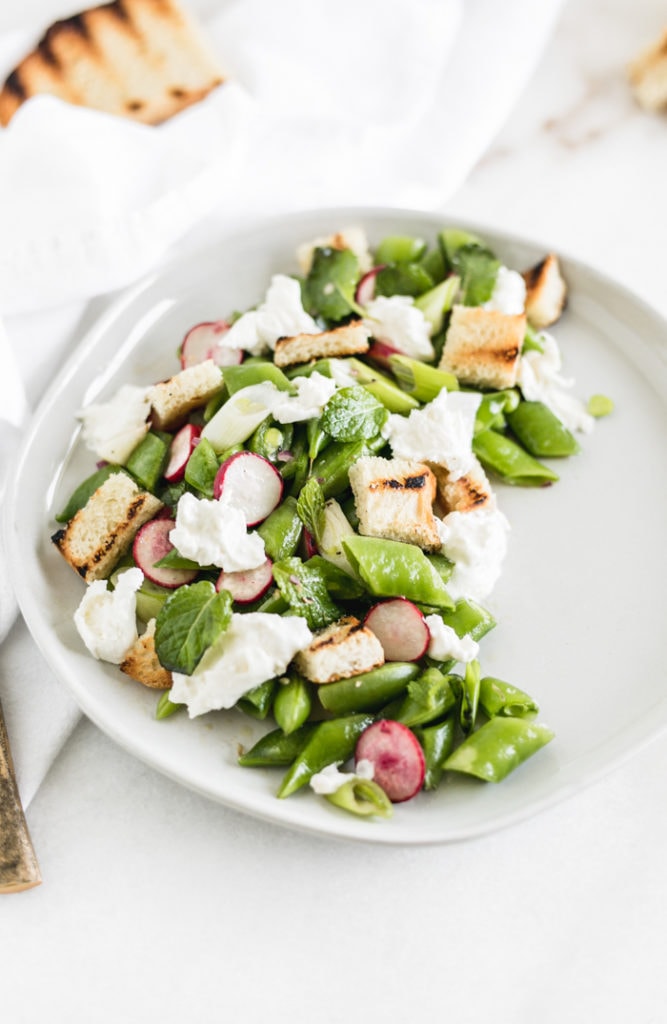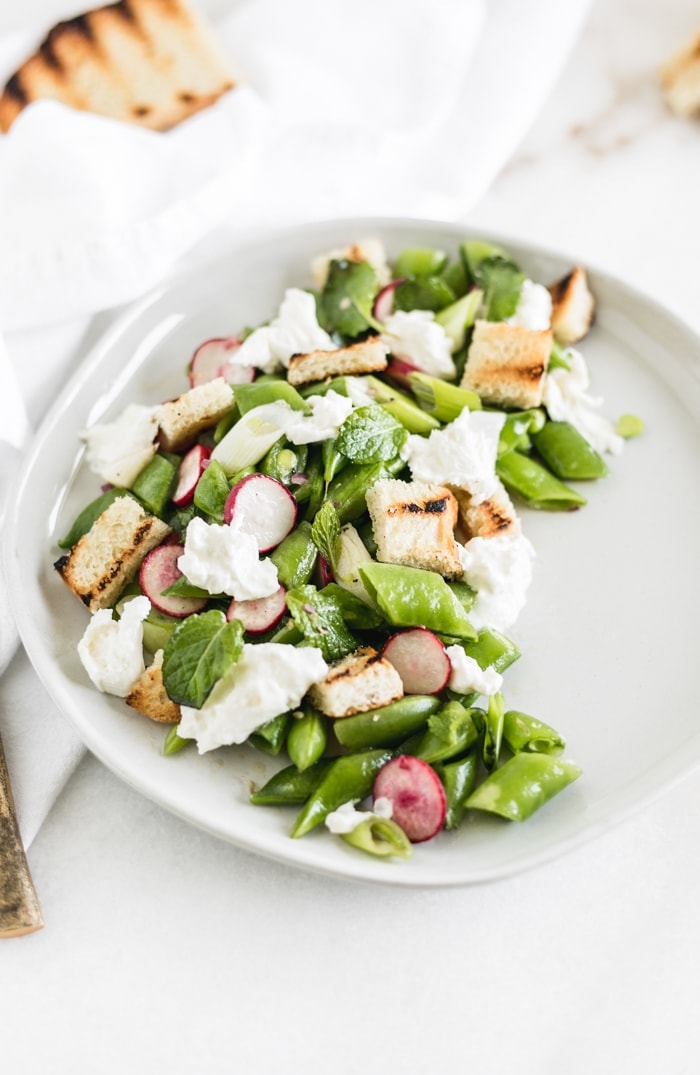 Snap Pea Salad with Burrata and Lemon Vinaigrette - This fresh snap pea salad with burrata, lemon vinaigrette, and sourdough croutons will be your new go-to for a delicious spring salad!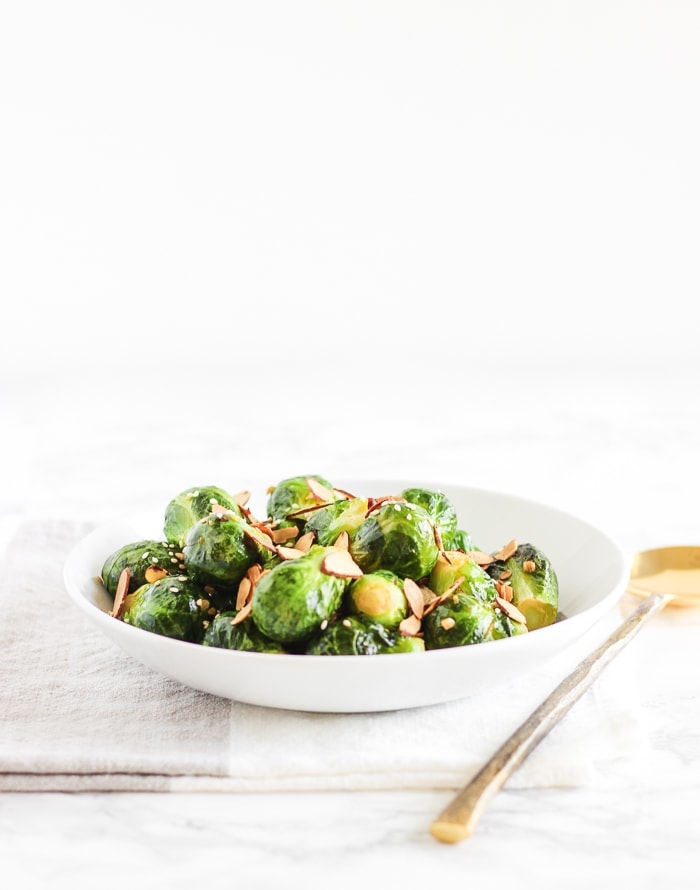 Quick and Easy Sesame Almond Brussels Sprouts - For a fun and flavorful side dish, these Sesame Almond Brussels Sprouts could not be any easier! You're only 5 minutes and 6 ingredients from a delicious veggie side.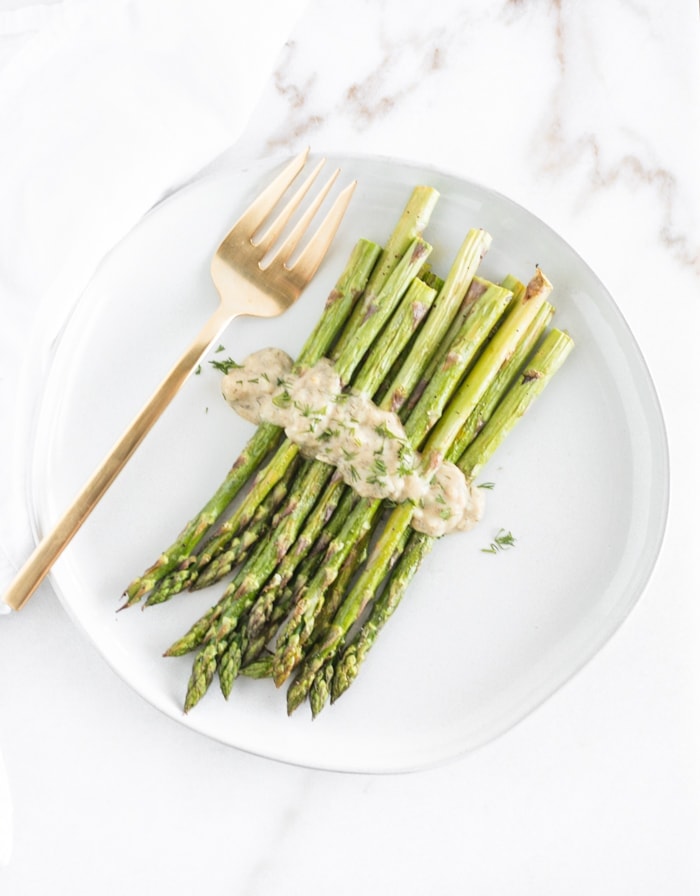 Roasted Asparagus with Dijon Dill Sauce - Roasted Asparagus with Dijon Dill Sauce is a delicious spring vegetable side dish perfect for entertaining or to go with your favorite spring dinner!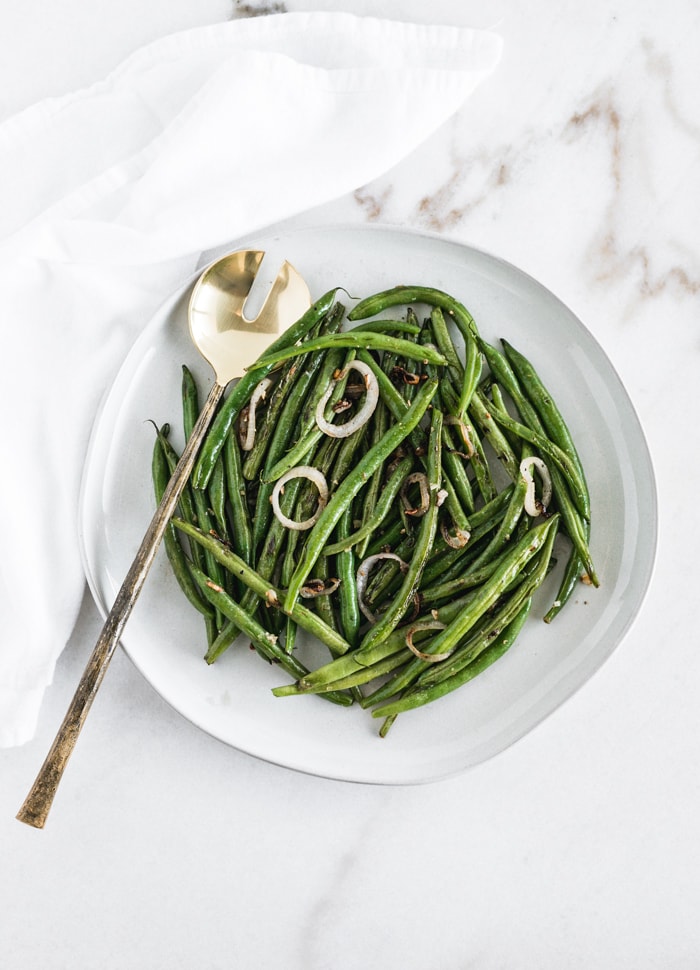 Simple Sautéed Green Beans - These simple sautéed green beans make a delicious, easy side dish for weeknight meals and holidays alike!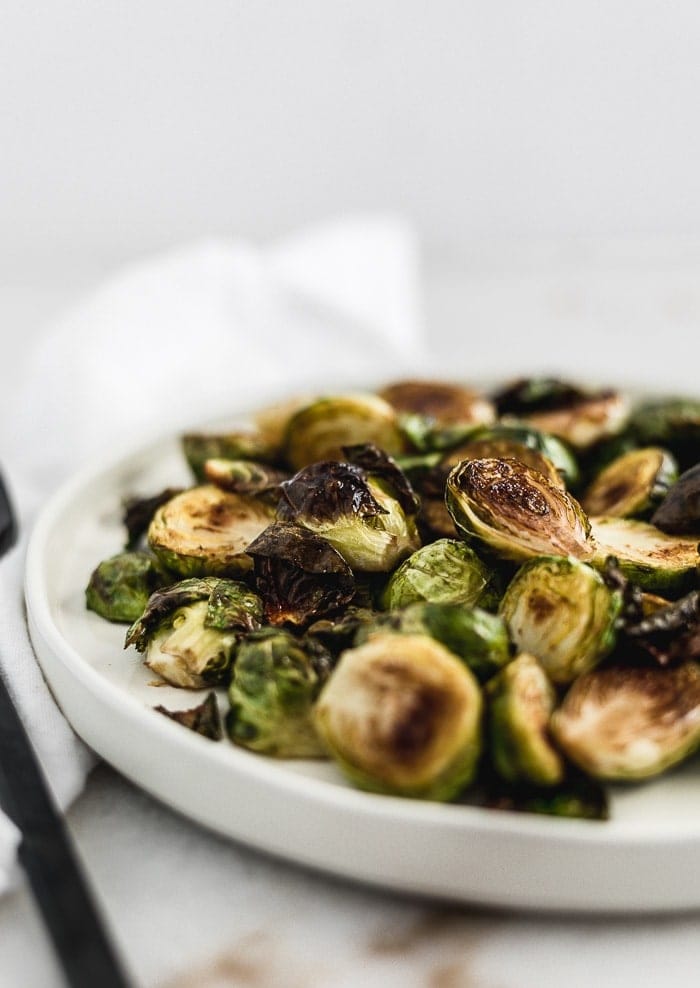 Crispy Balsamic Roasted Brussels Sprouts - Simple, crispy balsamic roasted brussels sprouts made with just 3 ingredients are a delicious and healthy veggie side dish to go with all of your favorite weeknight meals!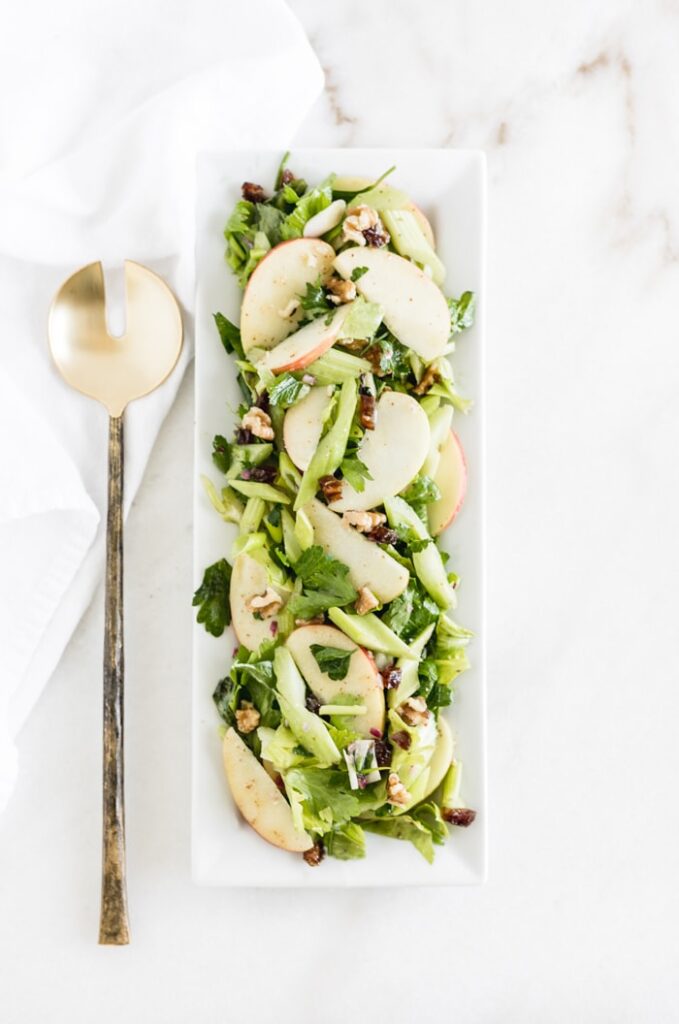 Celery Apple Salad with Walnuts and Dates - This crunchy celery apple salad with walnuts, dates, and a maple shallot vinaigrette is a quick, healthy, and delicious side dish for transitioning into fall - when it's still hot but you want all the apple flavors!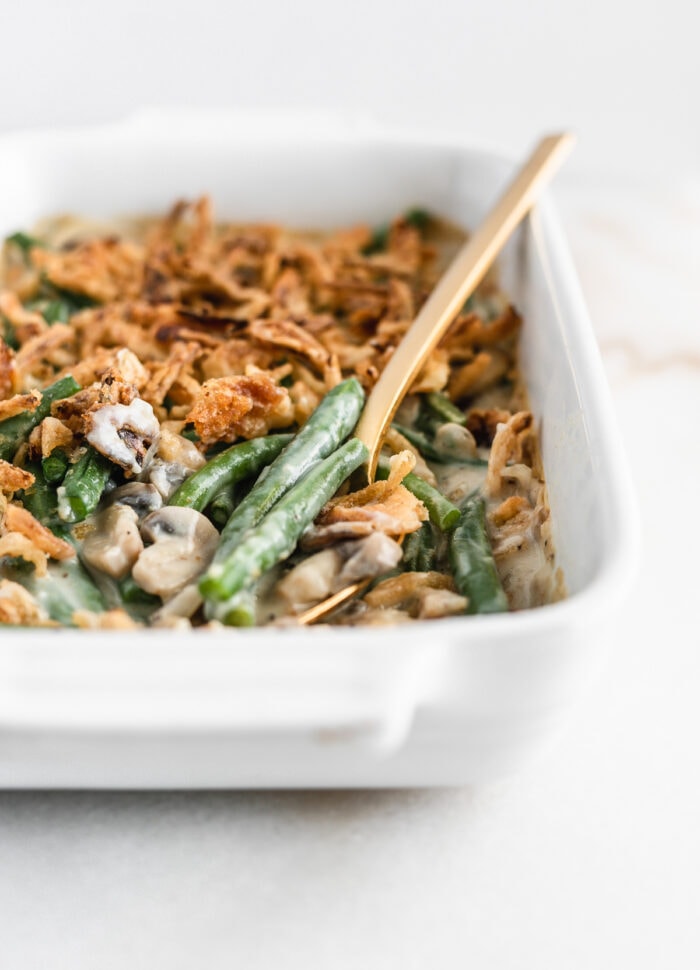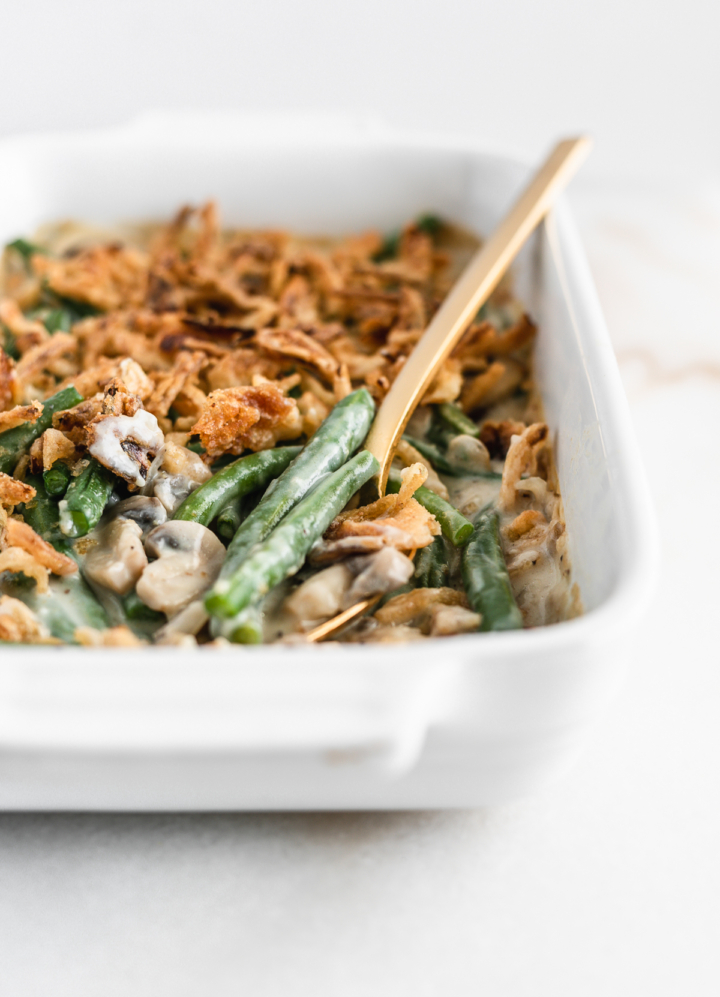 Healthy Green Bean Casserole from Scratch - This healthy green bean casserole from scratch made with fresh green beans and mushrooms is simply delicious and way better than the canned version.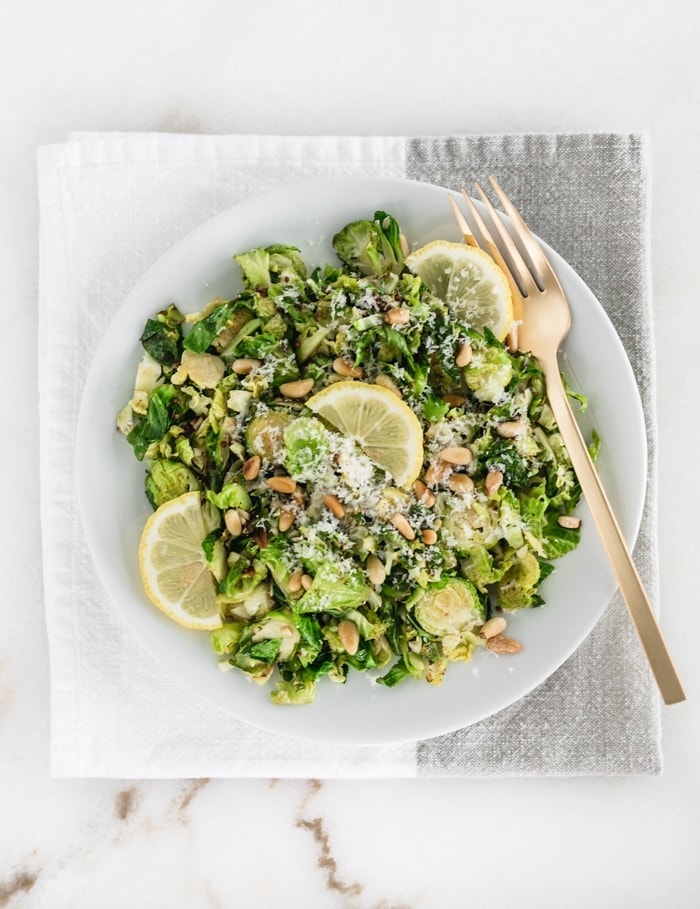 Lemon Parmesan Shaved Brussels Sprouts - These warm Lemon Parmesan Shaved Brussels Sprouts make a bright and flavorful side dish that is perfect for any meal!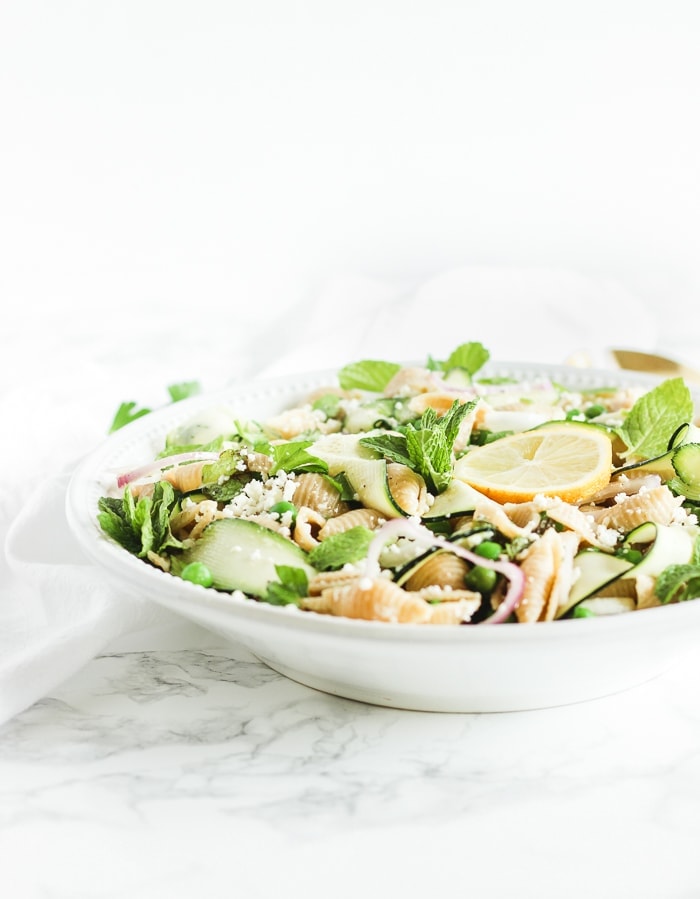 Spring Pea and Zucchini Pasta Salad - This light and fresh spring pea and zucchini pasta salad is just the side dish to brighten things up! Full of delicious spring flavors, this healthy pasta salad is great with any of your favorite spring and summer dishes.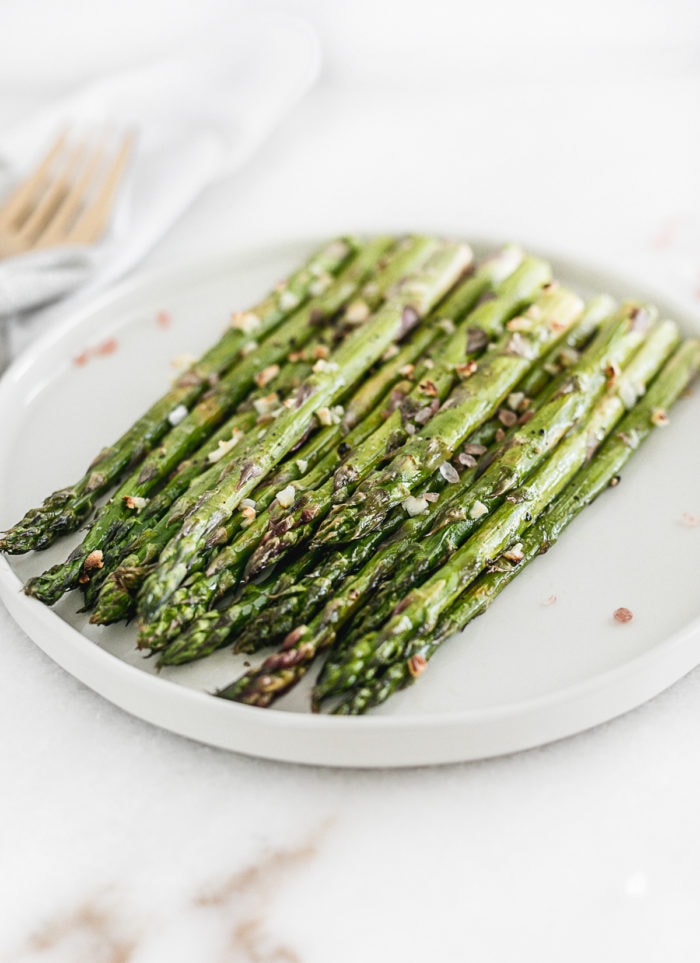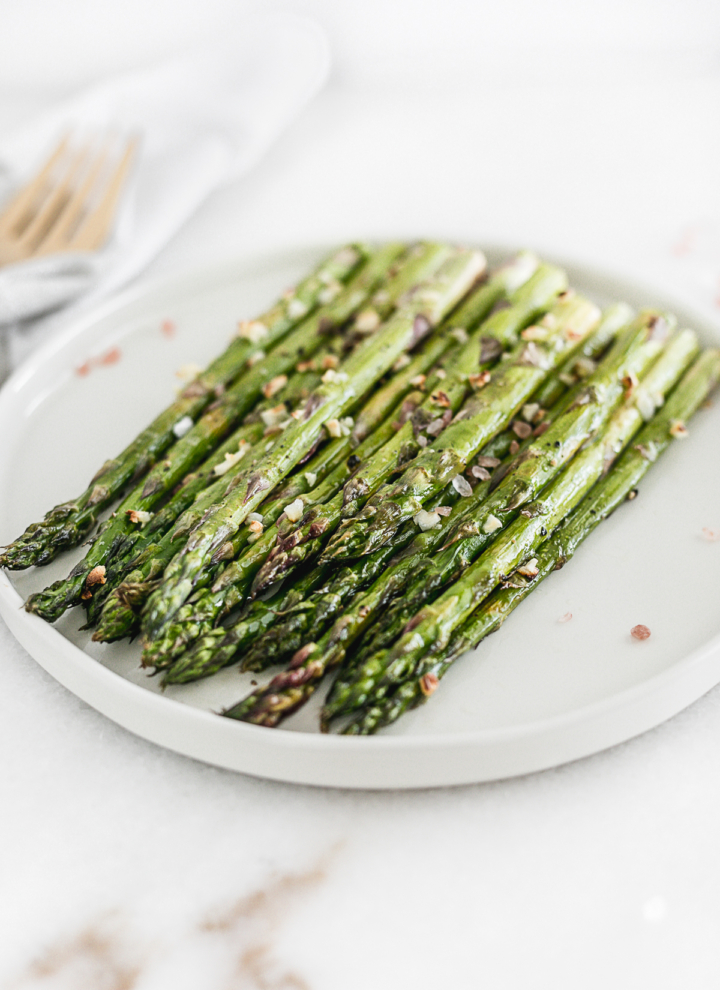 Easy Oven Broiled Asparagus - If you're looking for a healthy, quick and easy weeknight veggie, this oven broiled asparagus with garlic is it! Just a few simple ingredients and 10 minutes is all it takes for delicious asparagus that are perfectly cooked.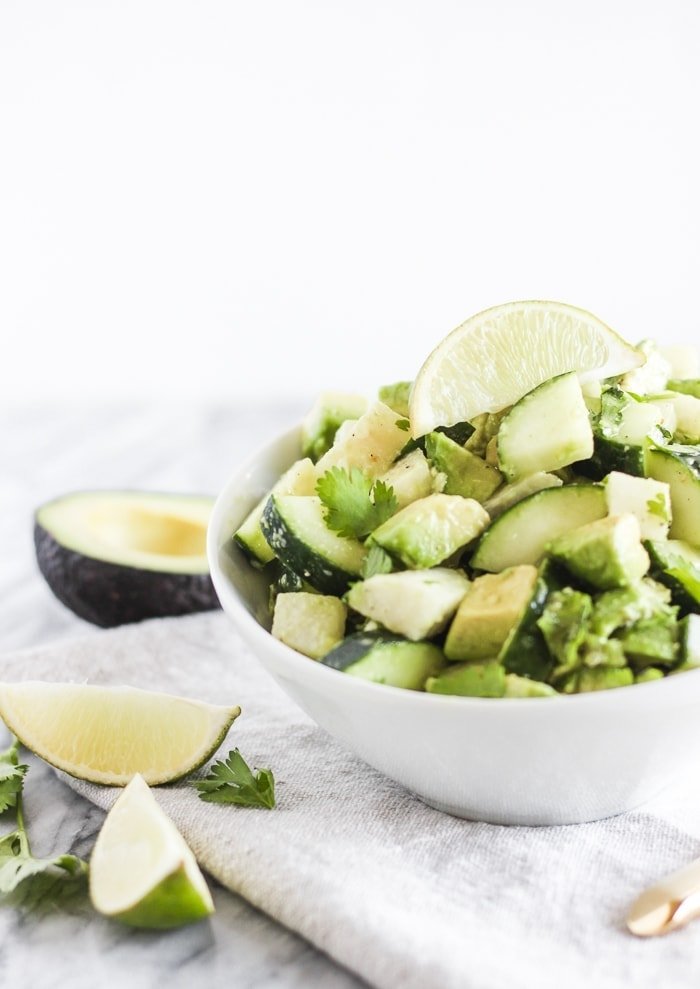 Avocado Jicama Cucumber Salad - Creamy avocado, crunchy jicama, and cucumber combine to make a deliciously simple salad that is sure to satisfy! This Avocado Jicama Cucumber Salad is so easy to make and makes the perfect summer side dish loaded with healthy fats and fiber.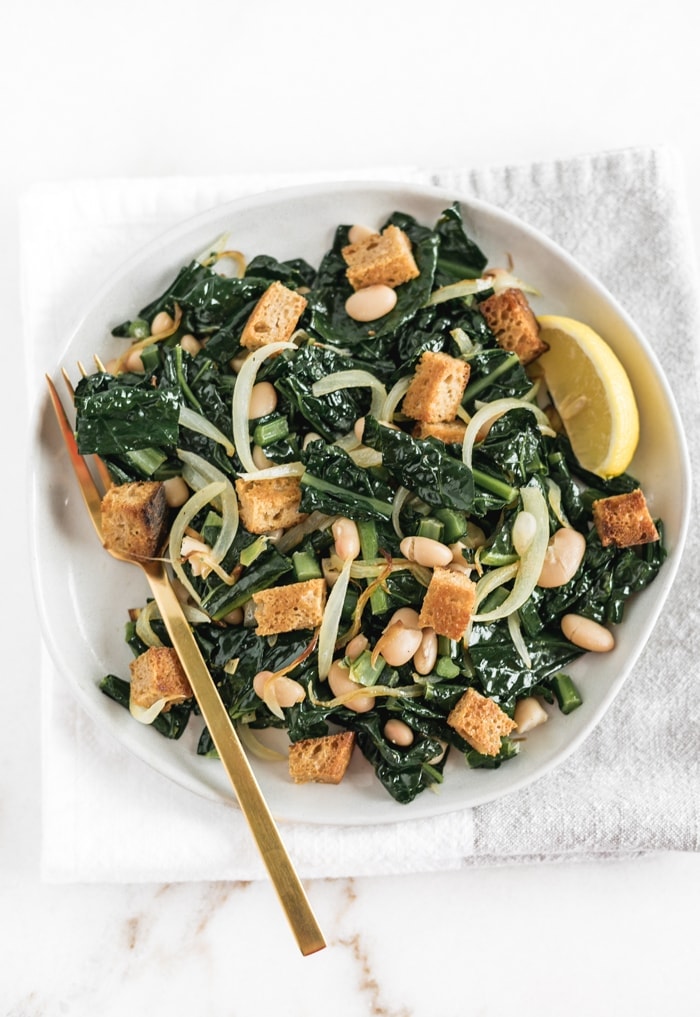 Warm White Bean Kale Salad - This delicious warm kale white bean salad is a healthy, easy side dish or vegan lunch that's perfect for winter!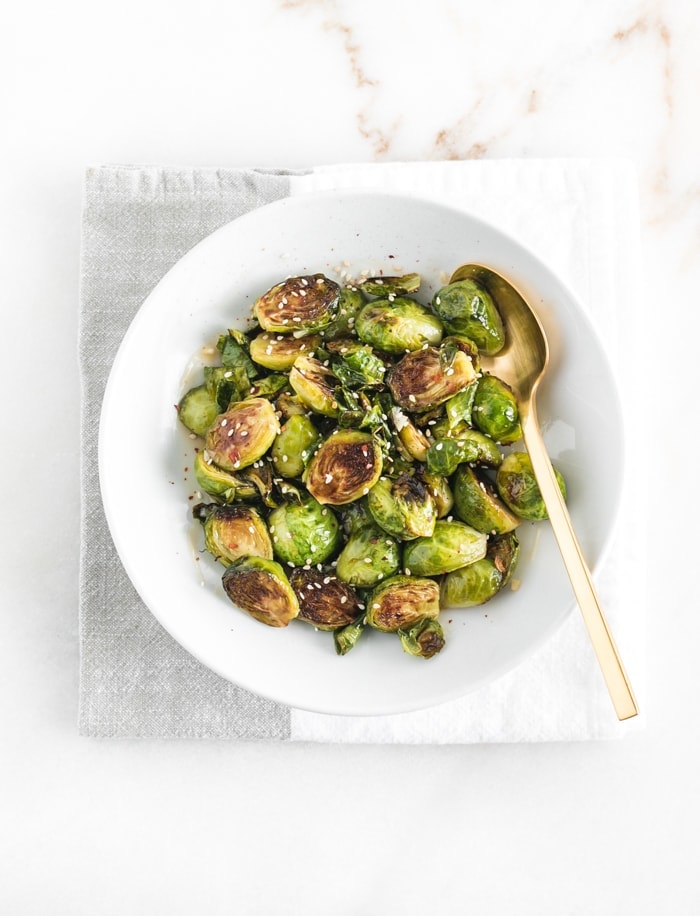 Sweet Chili Brussels Sprouts - Crispy roasted sweet chili brussels sprouts with a homemade sweet Thai chili sauce are a fun, delicious way to cook brussels sprouts!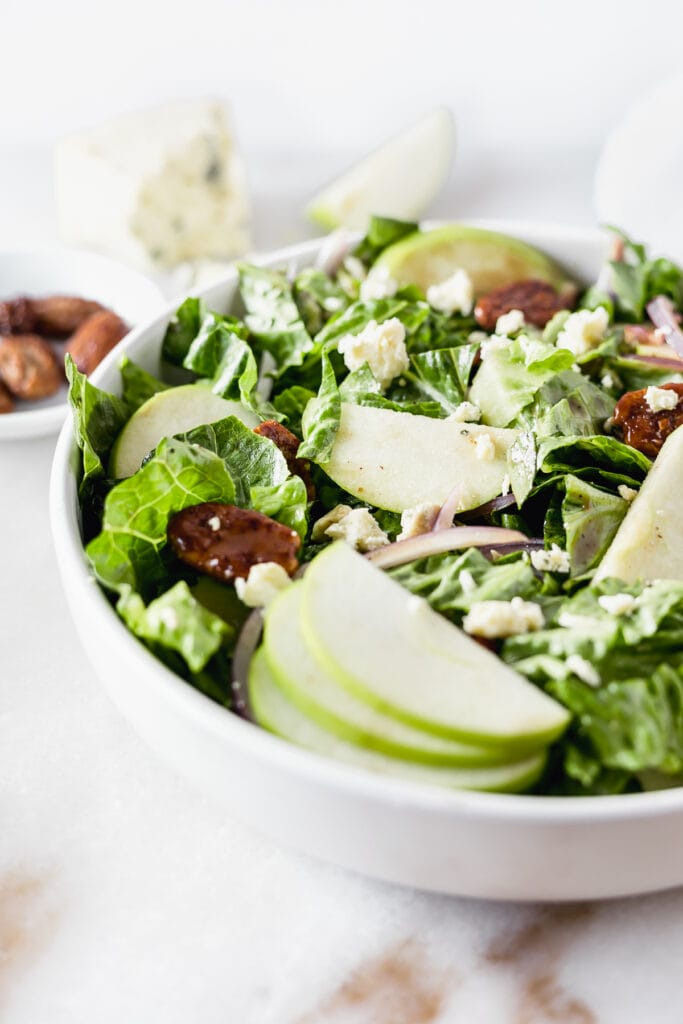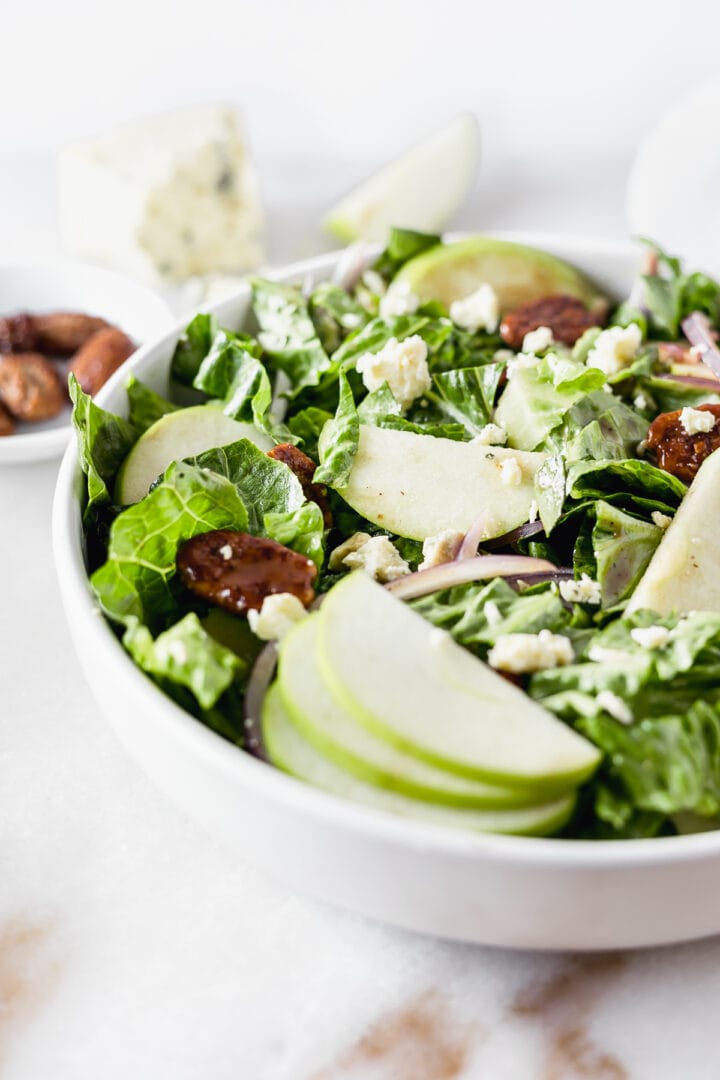 Granny Smith Salad With Blue Cheese and Pecans - This sweet and savory salad with granny smith apples, blue cheese, and candied pecans is a delicious salad that's great as a side dish or for a vegetarian lunch!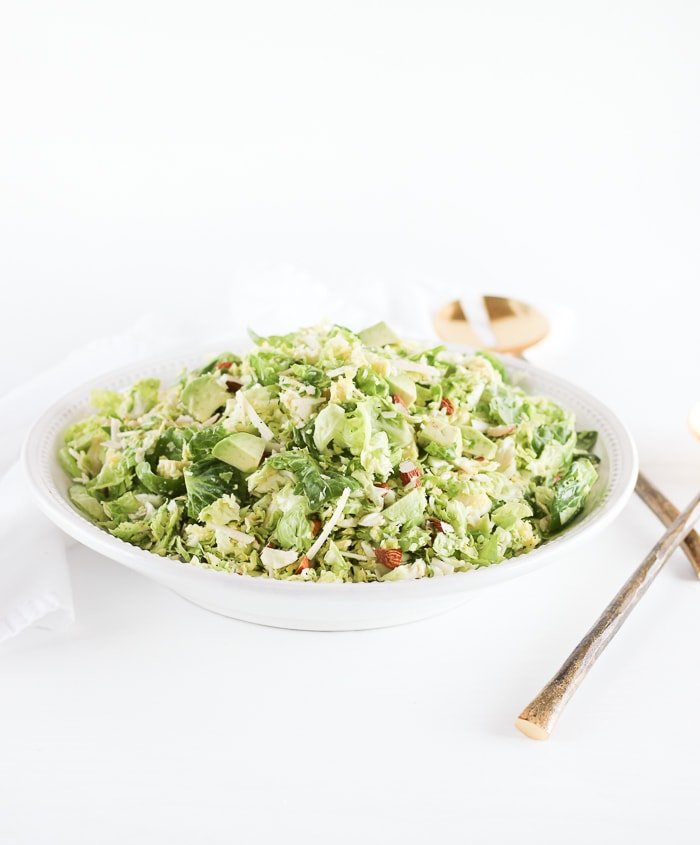 Shaved Brussels Sprout Salad with Citrus Shallot Vinaigrette - This healthy shaved brussels sprout salad with parmesan, almonds, avocado and a citrus shallot vinaigrette is the perfect hearty winter salad to go with all of your meals!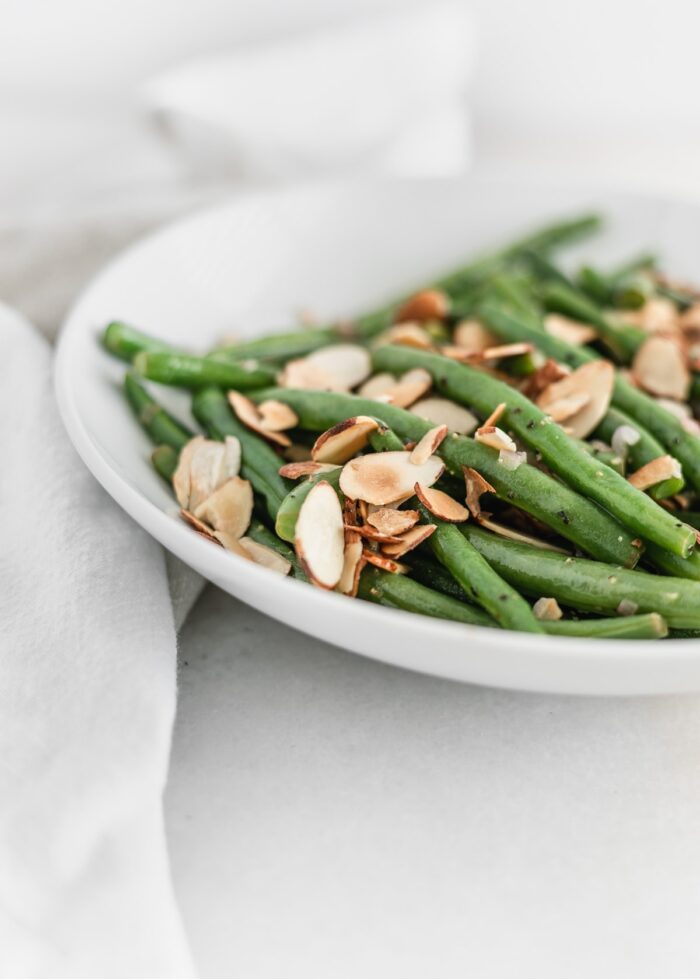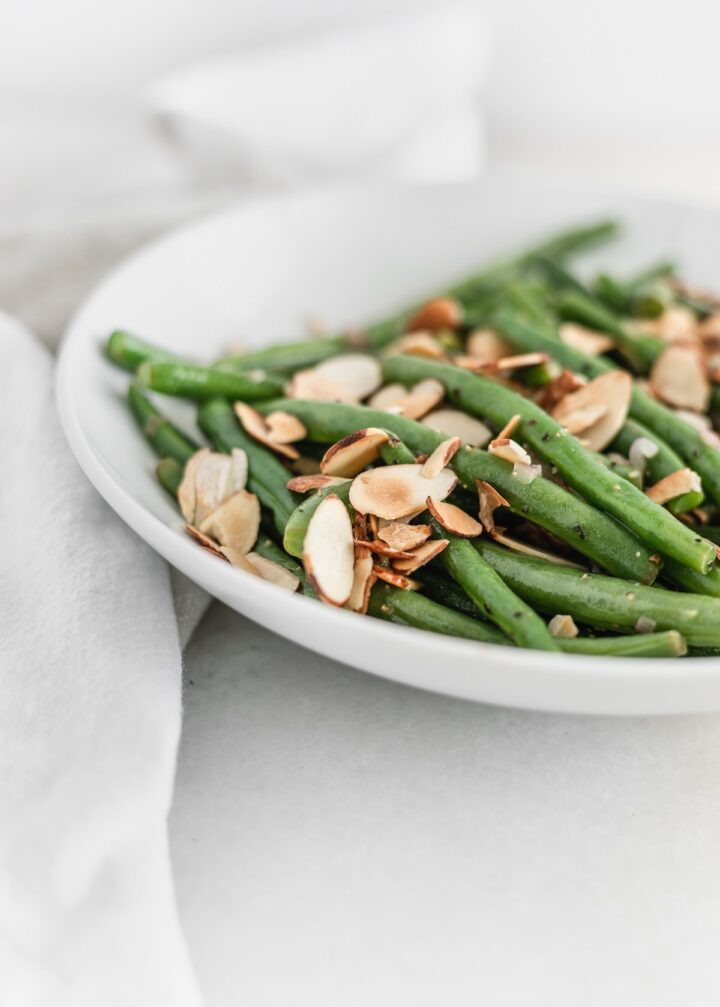 Easy Green Beans Almondine - This easy and flavorful recipe for green beans almondine made with just 6 simple ingredients is a healthy and delicious side dish for Thanksgiving or for any meal of the year!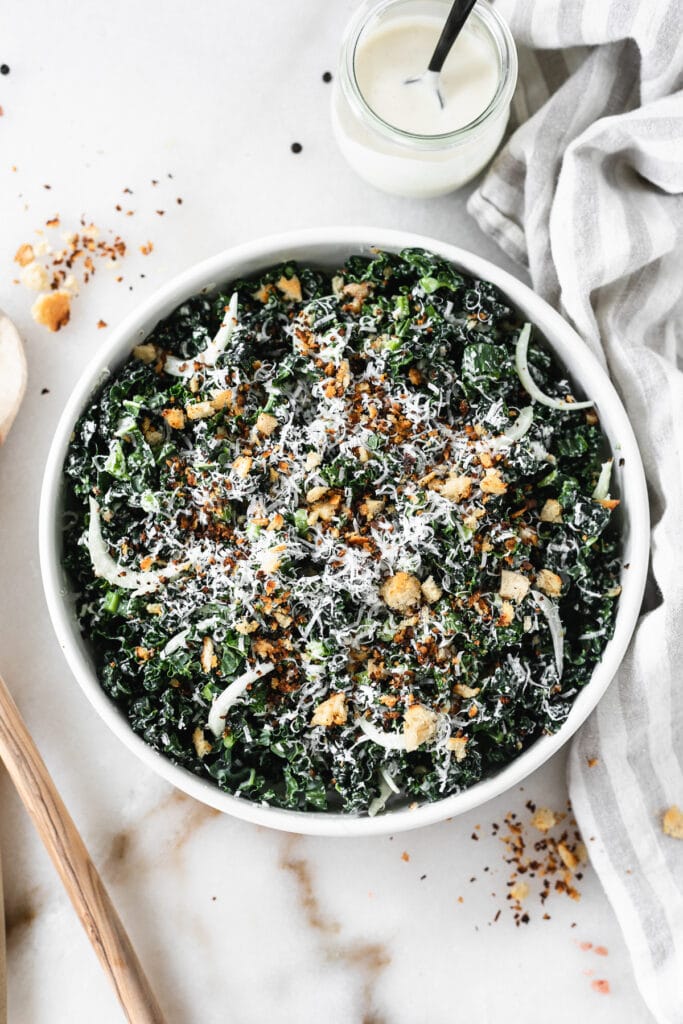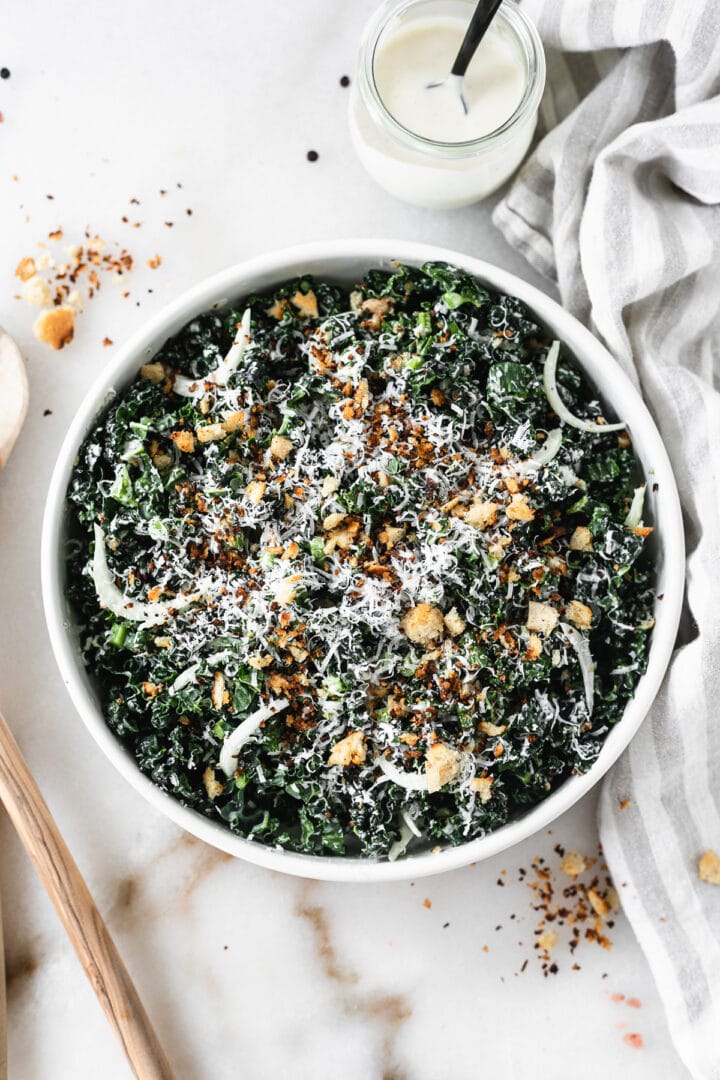 Healthy Kale Caesar Salad with Homemade Dressing - This is not just any old Caesar salad! This kale Caesar salad features thin kale ribbons with healthy homemade creamy Caesar dressing and toasted breadcrumb croutons. You'll never look back after trying it!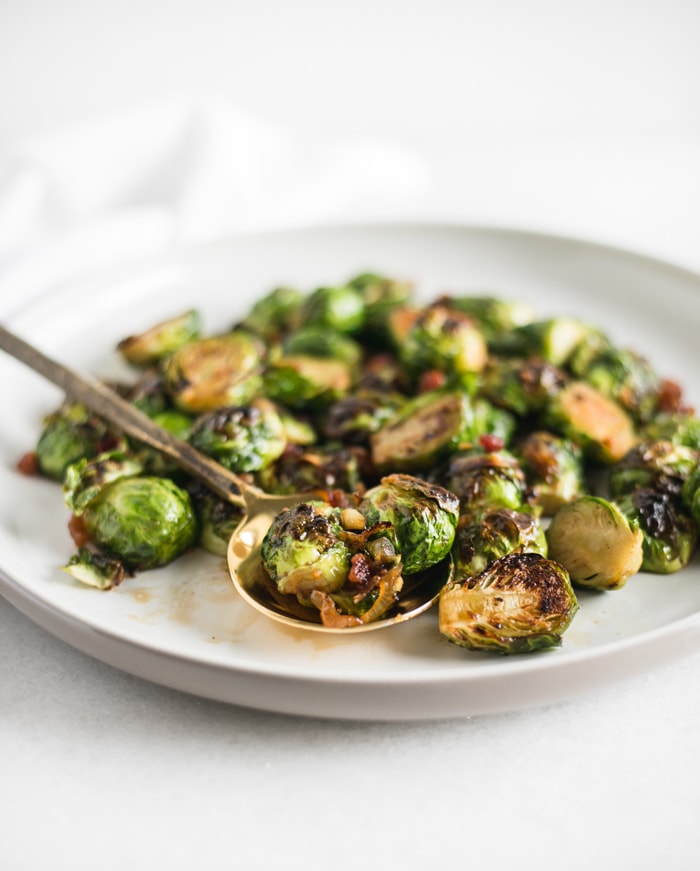 Crispy Bourbon Brown Sugar Roasted Brussels Sprouts with Bacon - Step up your side dish game with crispy bourbon brown sugar roasted brussels sprouts with bacon! They're the most delicious brussels sprout recipe, and they turn even the pickiest eater into a brussels sprout fan.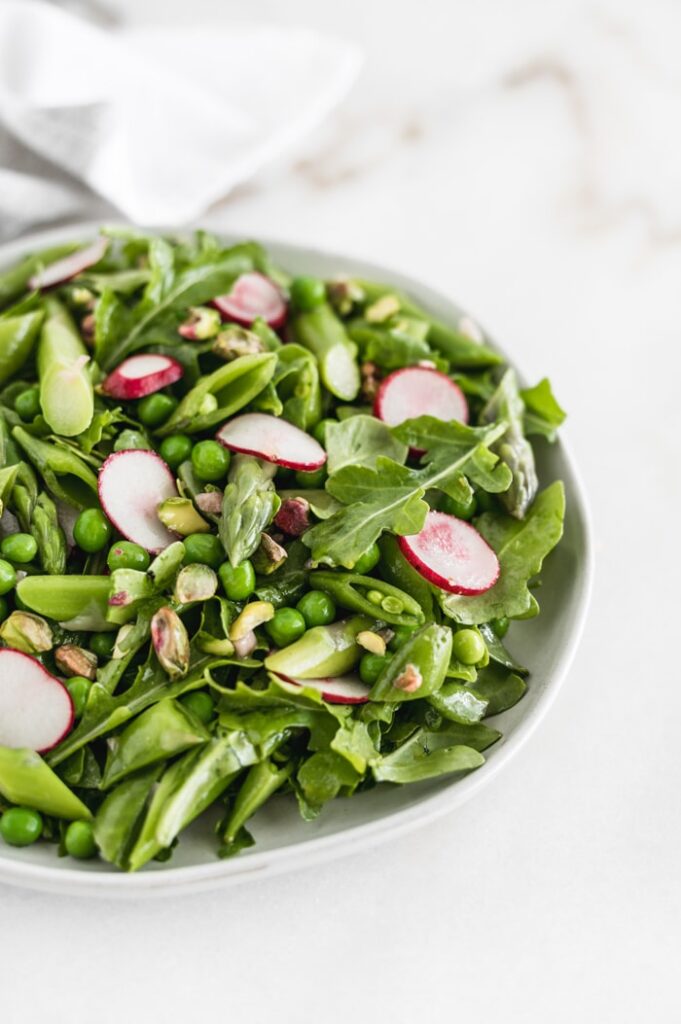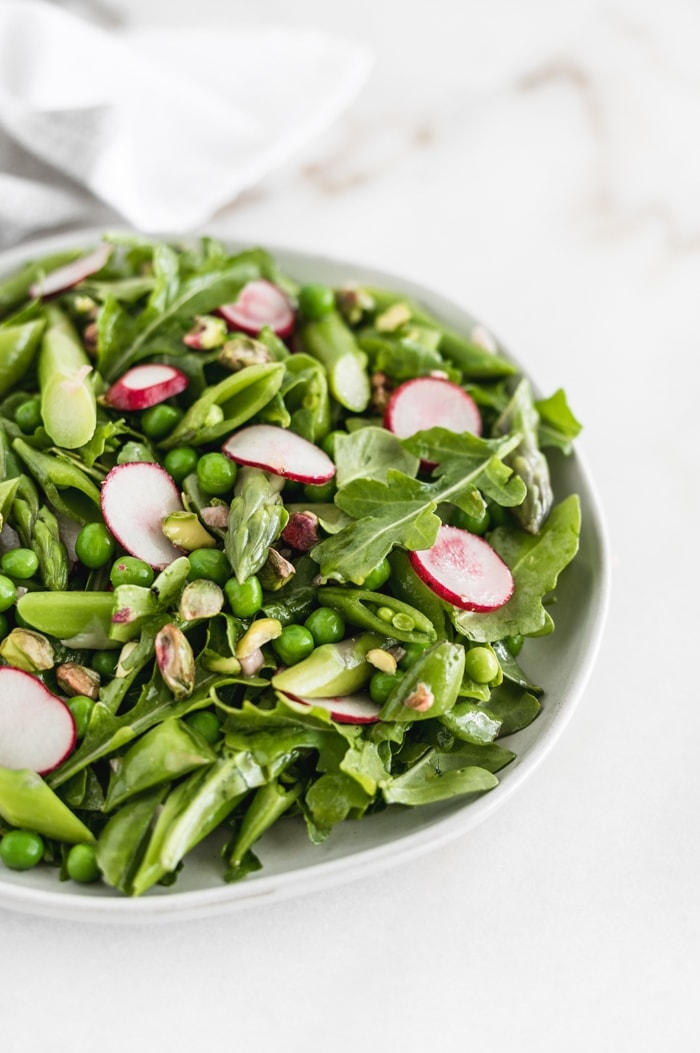 Arugula Spring Salad - Celebrate the flavors of spring with this beautiful, fresh arugula Spring salad featuring peas, asparagus, radishes, mint, and a simple lemon dressing.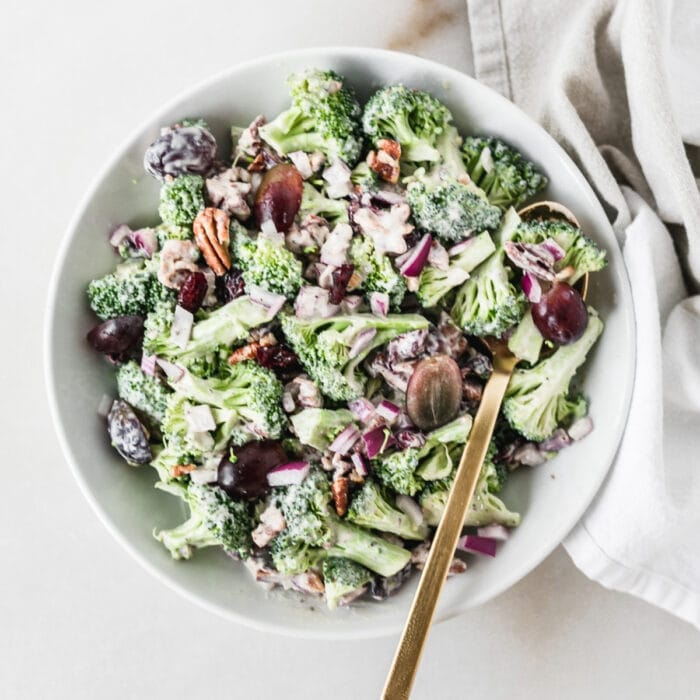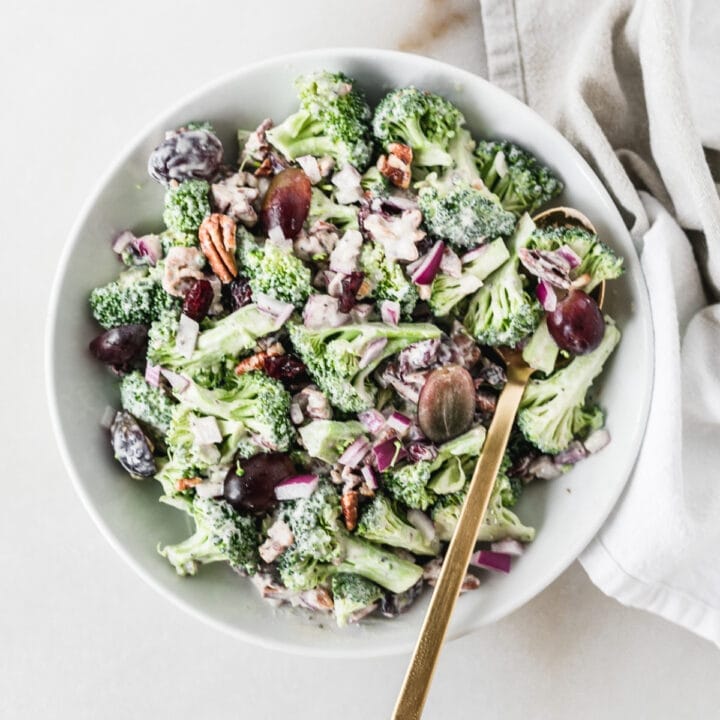 Healthy Broccoli Salad - This no-mayo broccoli salad is a delicious and healthy version of the classic summer broccoli salad but made with Greek yogurt-based dressing instead of mayonnaise. It's the perfect side dish for summer BBQs and cookouts!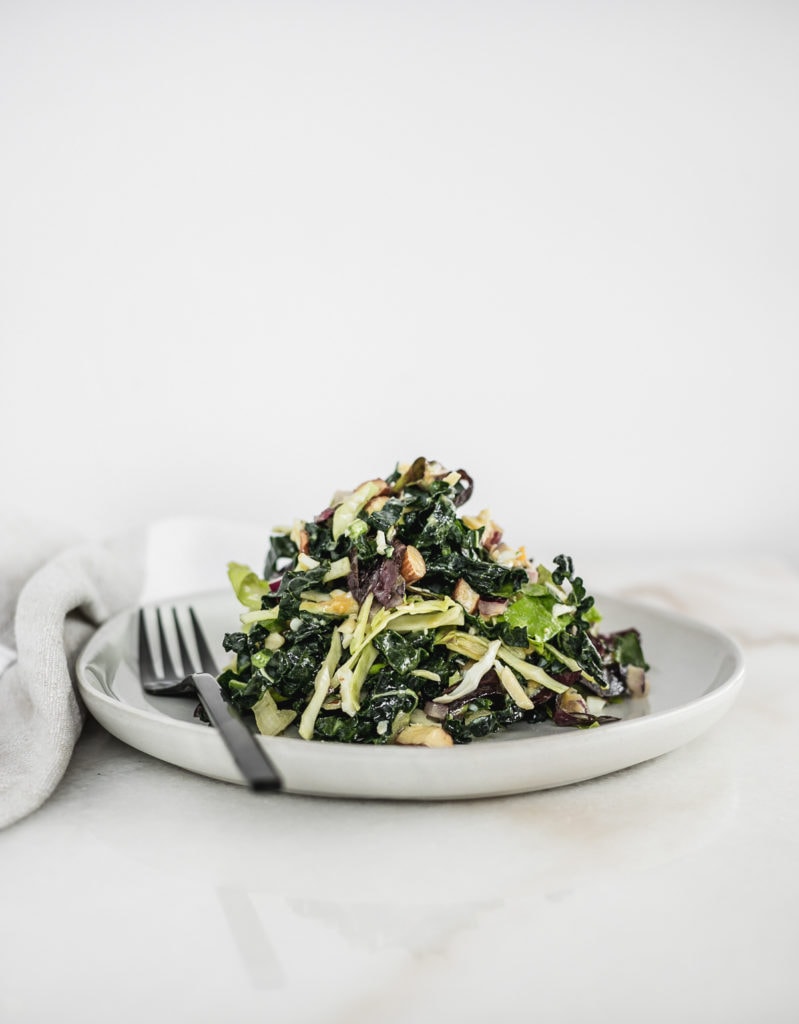 Copycat R&D Pine Room Salad - Love the Pine Room Salad from R&D Kitchen? Me too. Here's my closest copycat recipe for the deliciously crunchy chopped kale and lettuce salad with toasted almonds, boiled egg, and a bacony mustard dressing.
Green Snacks, Dips, and Sauces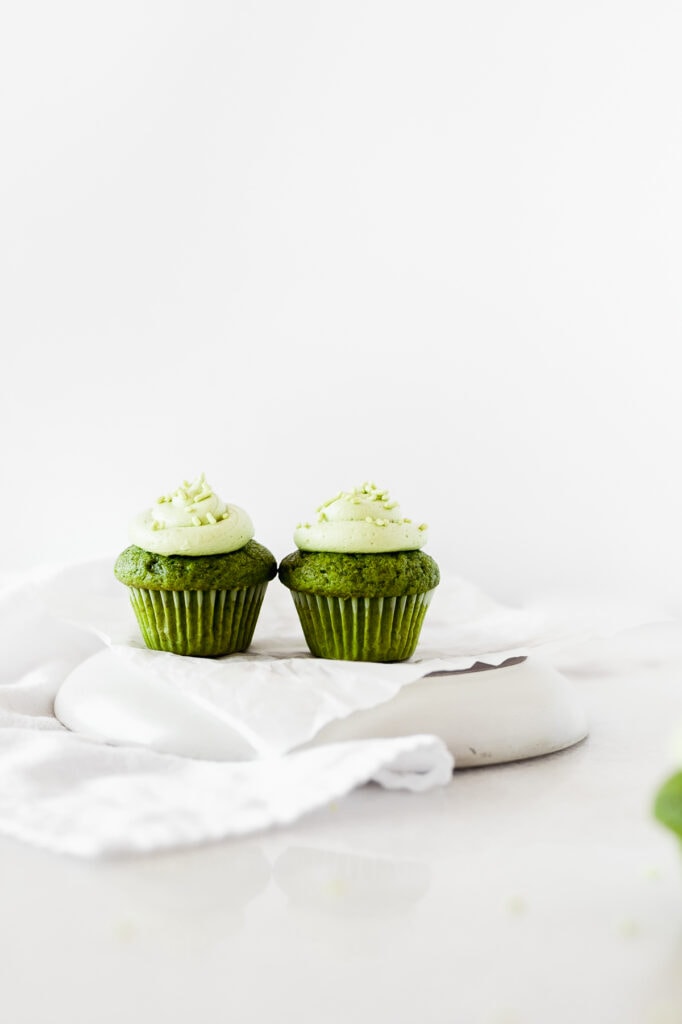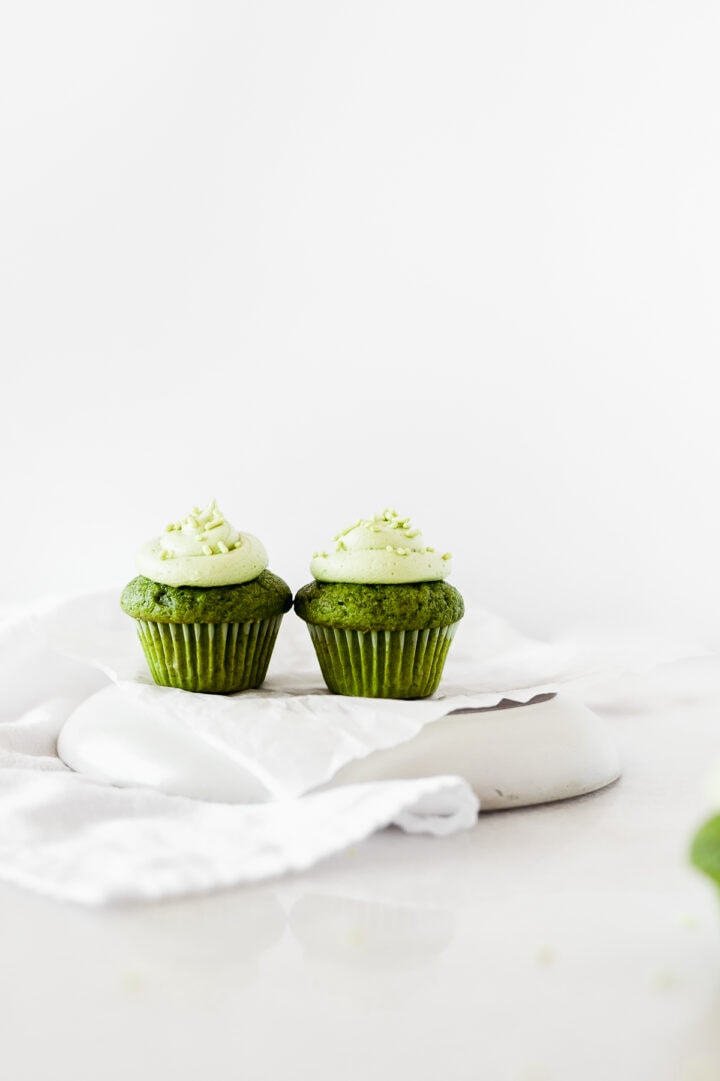 Mini Matcha Cupcakes - Mini matcha cupcakes with honey matcha frosting easy to make and loaded with antioxidant-rich matcha for a delicious, adorable spring treat! The green color is perfect for St. Patrick's Day!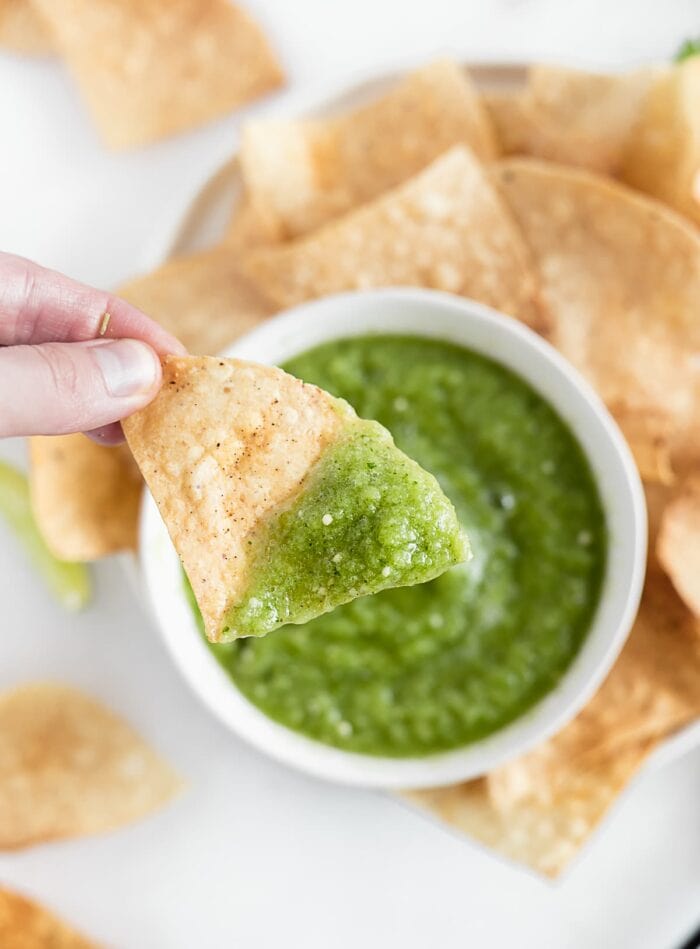 Hatch Chile Salsa Verde - This easy Hatch chile salsa verde with tomatillos is a delicious way to use roasted hatch chiles. It's perfect for snacking on with chips or for topping your favorite Mexican dish.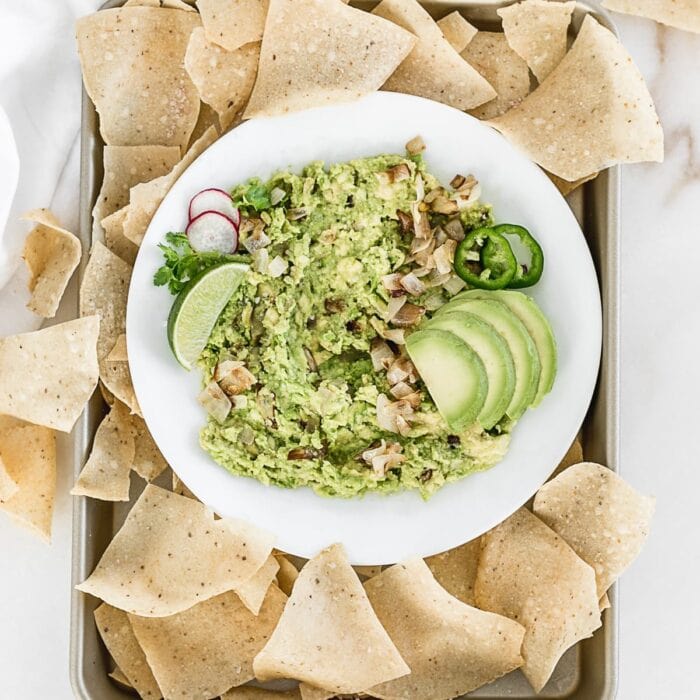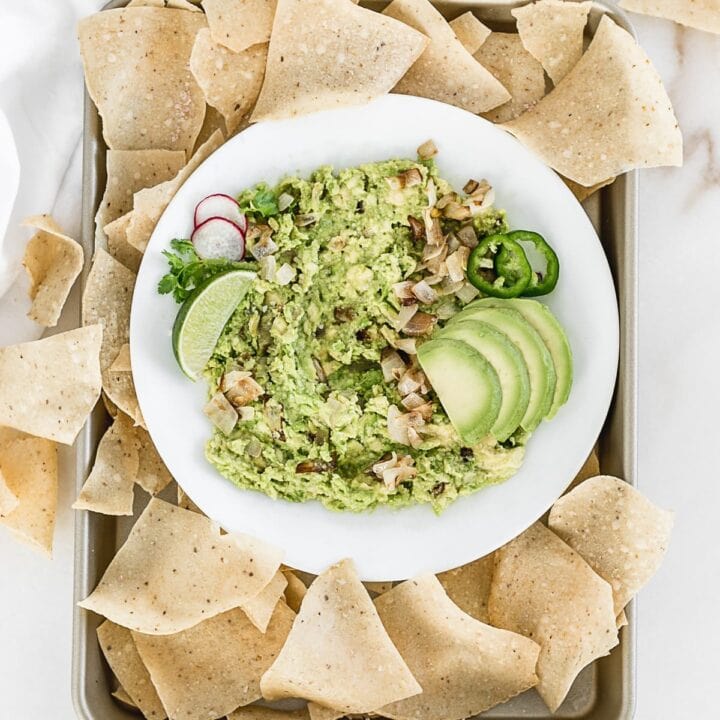 Easy Caramelized Onion Guacamole - Upgrade your basic guacamole with this easy recipe for caramelized onion guacamole! It's the perfect Mexican snack or appetizer!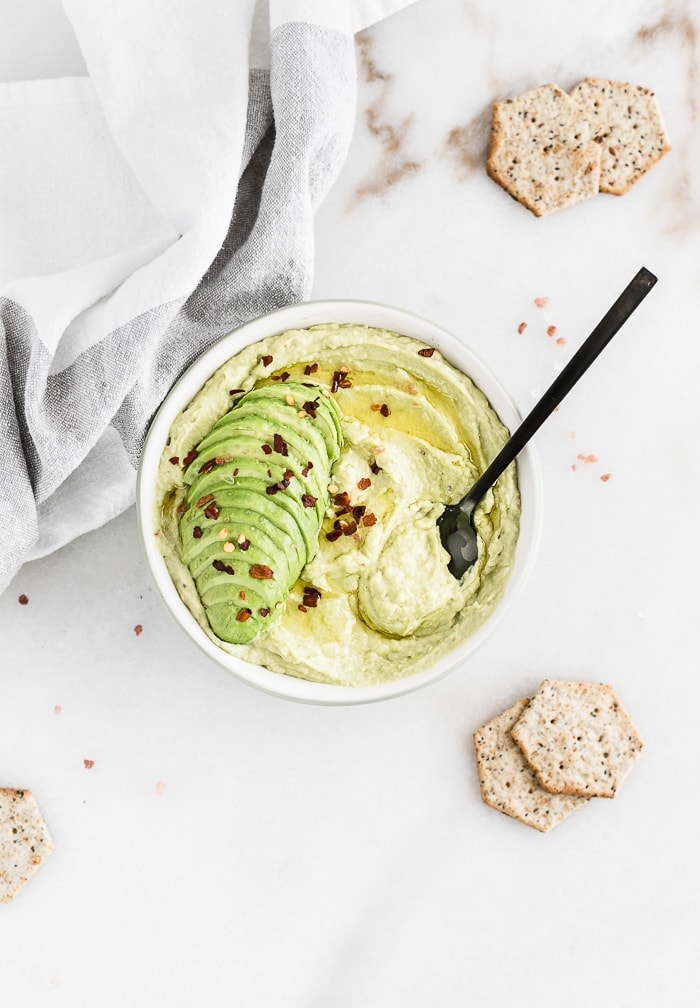 Avocado Hummus - This super easy, healthy avocado hummus recipe with only 6 simple ingredients is a delicious snack that can be made in minutes!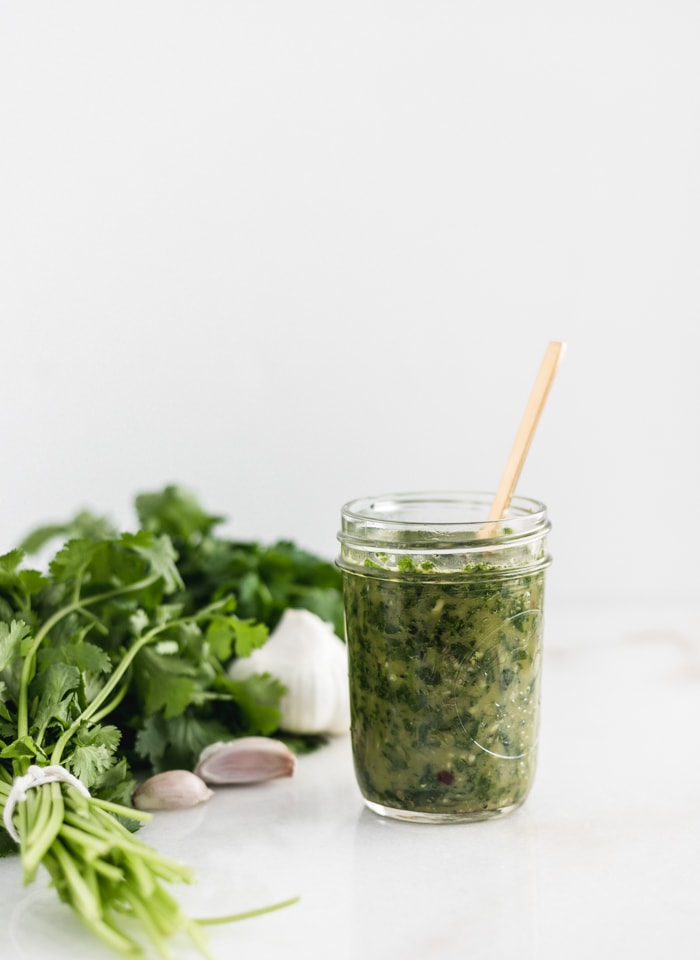 Easy Chimichurri Sauce Recipe - This easy chimichurri sauce recipe is the best way to use up extra fresh herbs, and it makes a delicious, flavorful topper for steak, chicken, shrimp, and vegetables!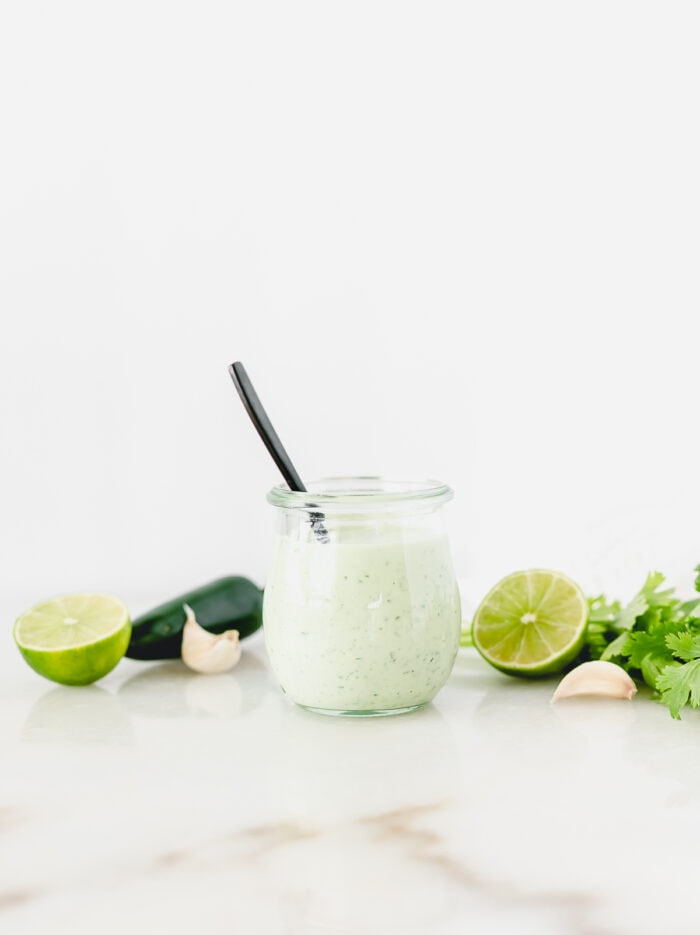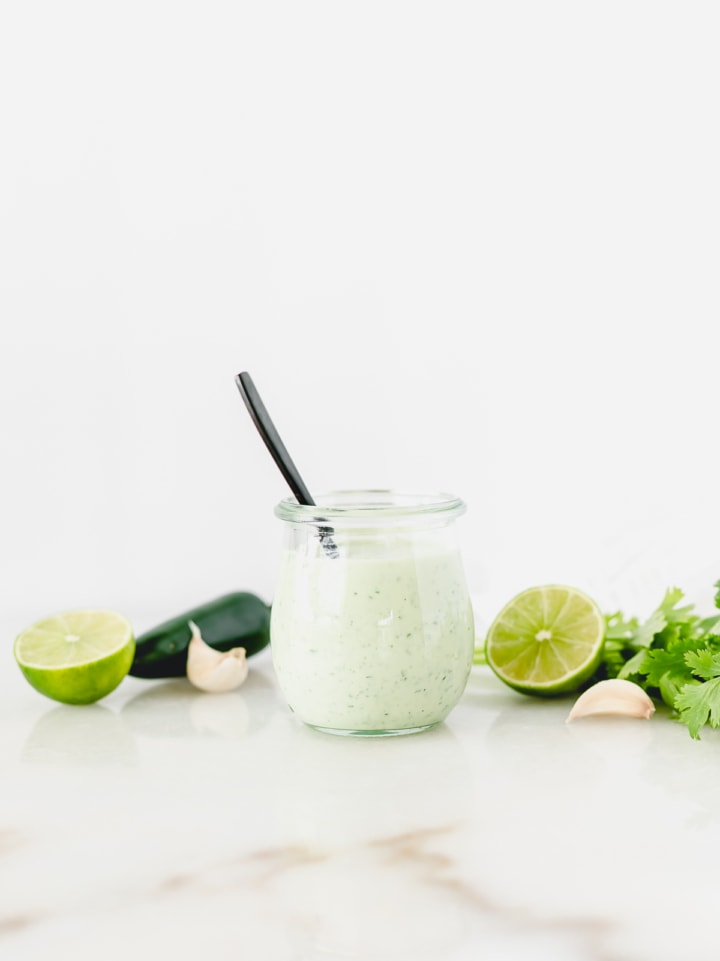 Creamy Greek Yogurt Jalapeño Lime Dressing - This creamy jalapeño lime dressing made with Greek yogurt, cilantro and garlic is super simple to make with just a few ingredients. Slather on everything from salads to tacos for a flavorful upgrade!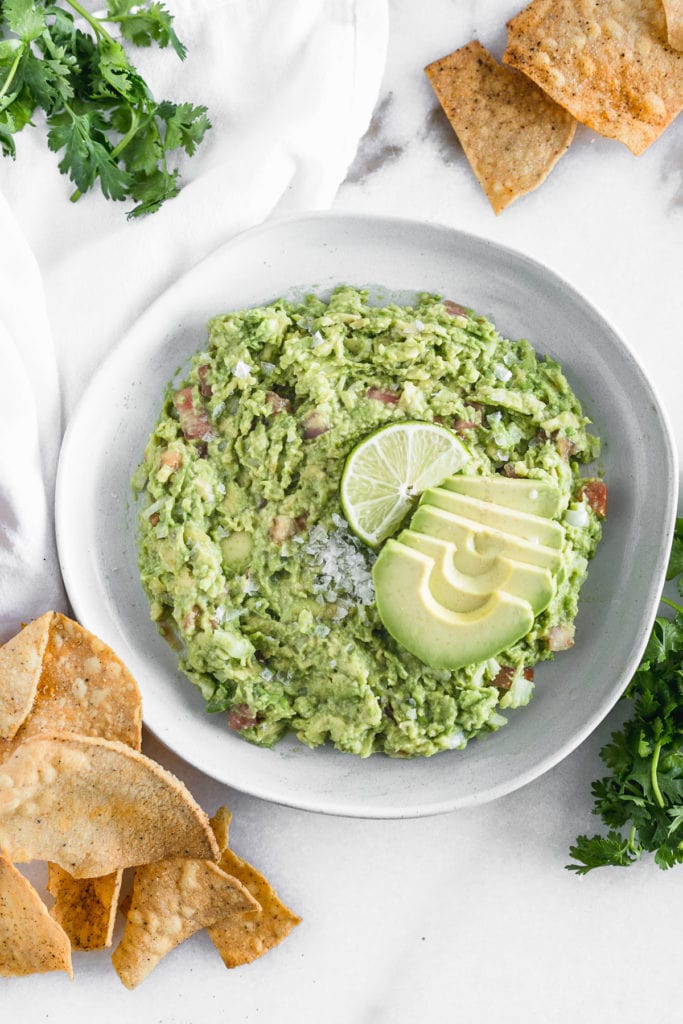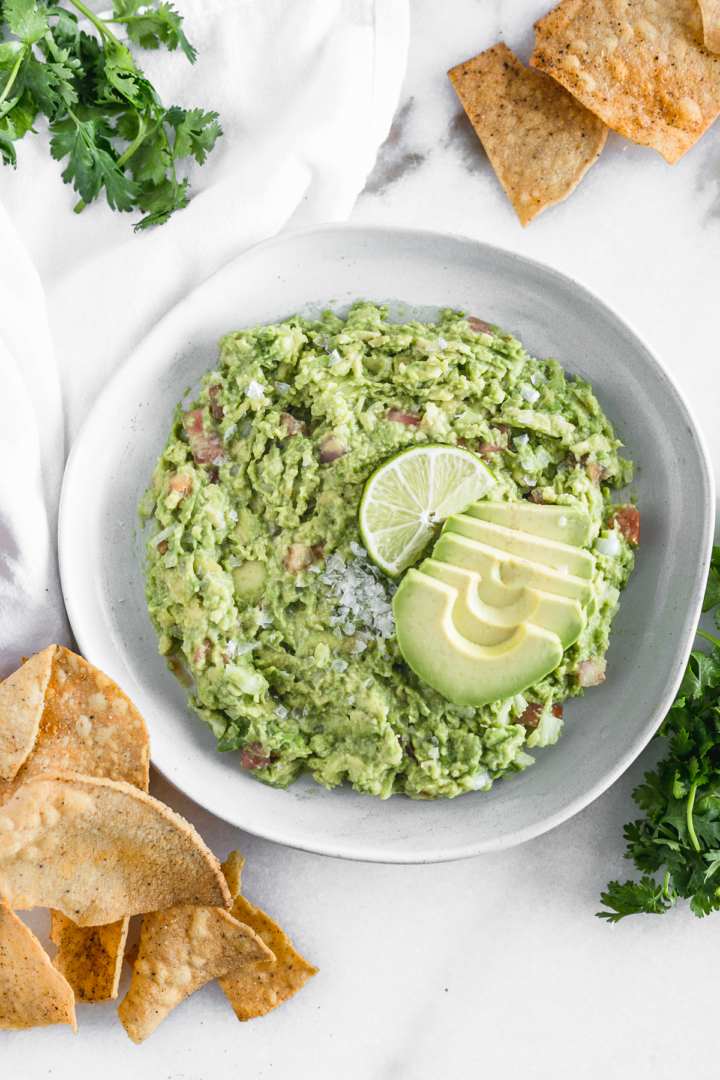 Basic Guacamole - This basic guacamole recipe has just a few simple ingredients and is the perfect classic, easy guacamole to accompany any Tex-Mex dish!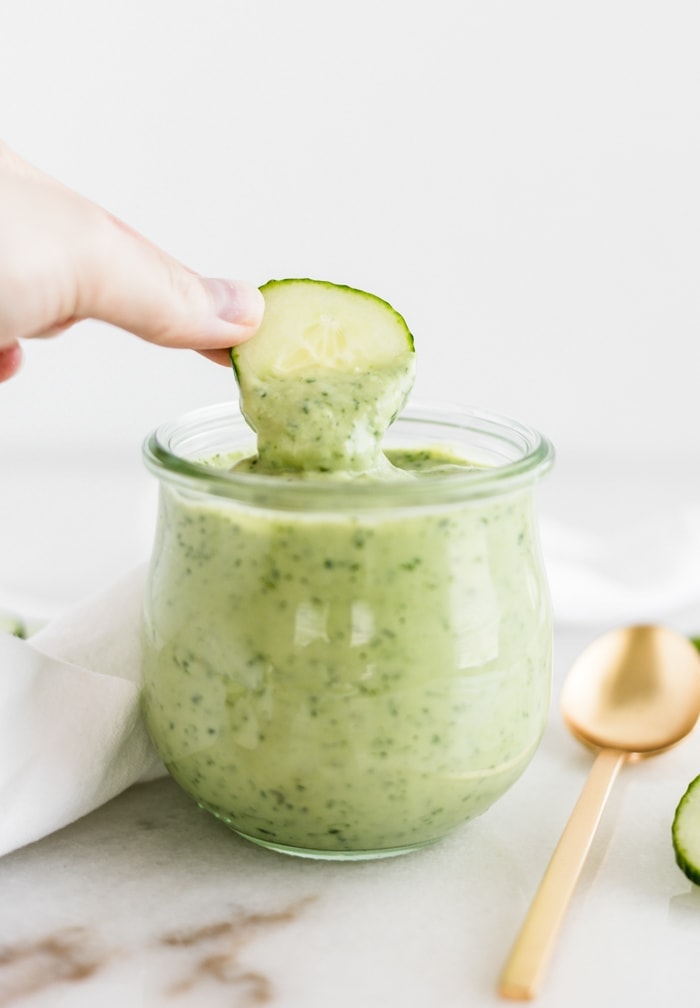 Healthy Green Goddess Dressing with Avocado and Greek Yogurt - This healthy green goddess dressing with avocado and Greek yogurt is a delicious dip or dressing that is so easy to make in just 5 minutes and goes well on everything from salads, to sandwiches, to crudité platters!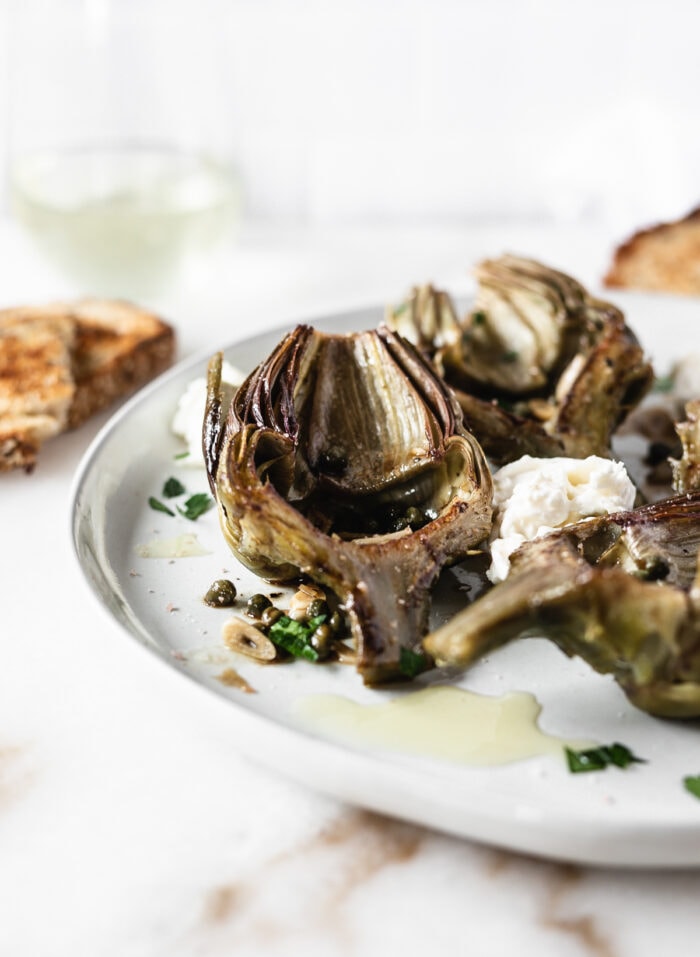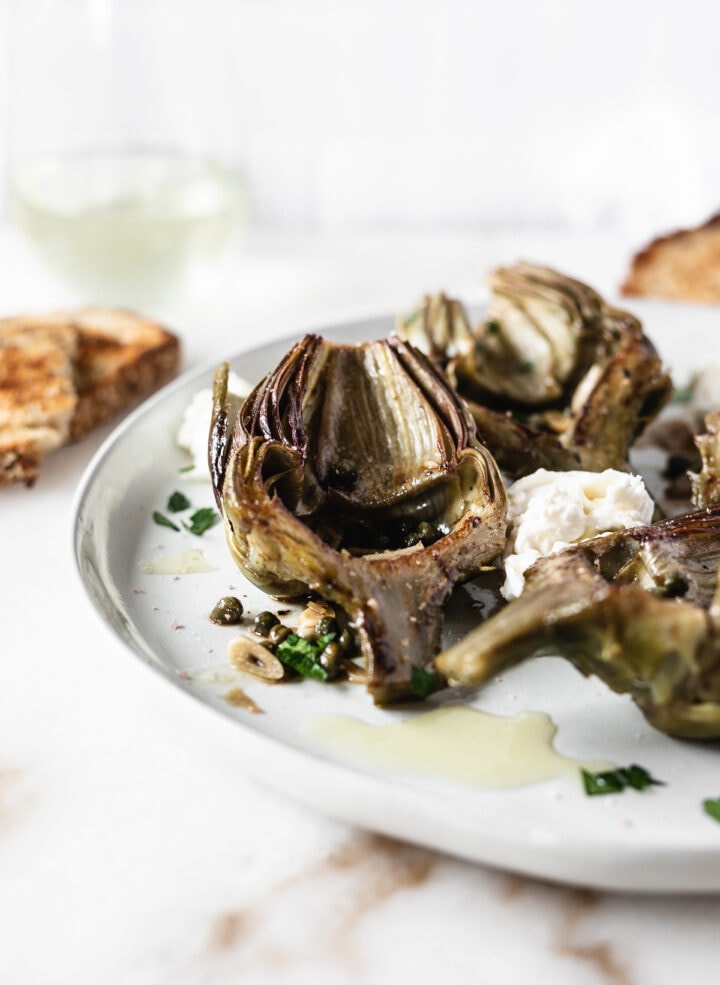 Instant Pot Artichokes with White Wine, Capers, and Burrata - Instant Pot Artichokes with White Wine, Capers, and Burrata make a delicious appetizer or topper for pasta, made super quick in the Instant Pot!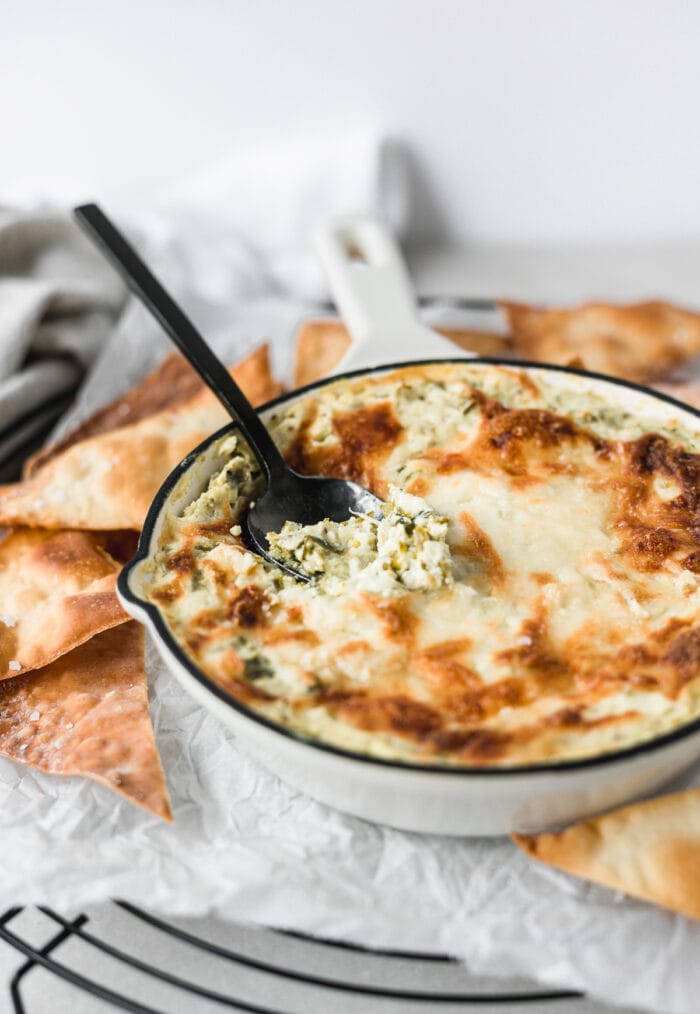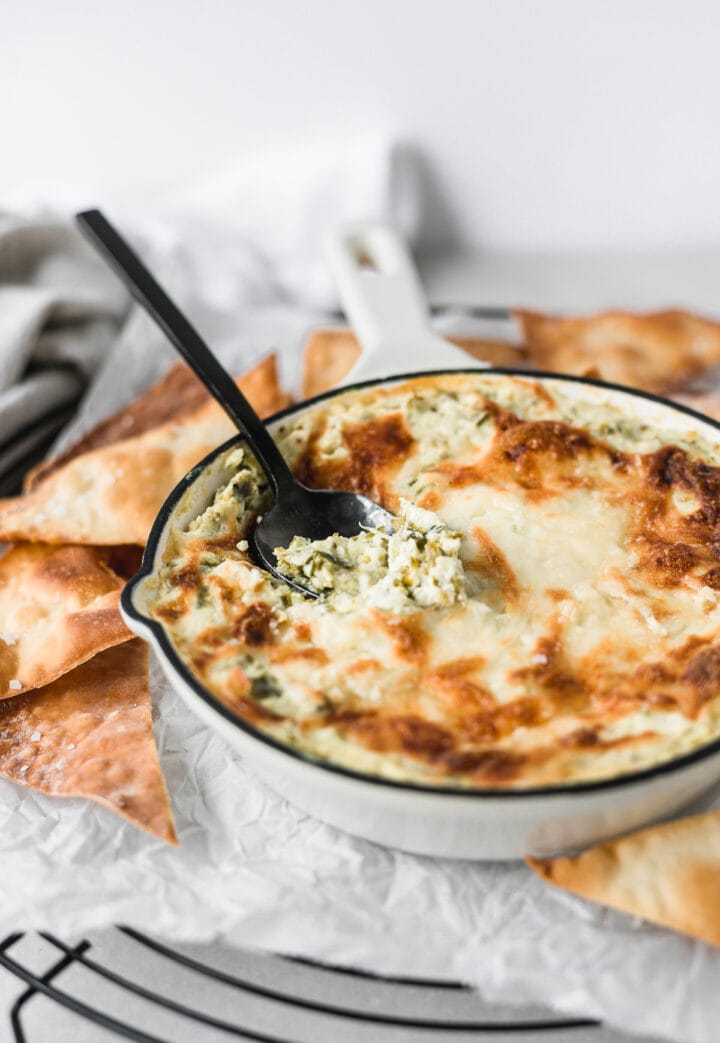 Lightened Up Kale Artichoke Dip - Lightened up kale artichoke dip is a healthier twist on spinach artichoke dip. Hot and cheesy, and served with crispy baked wonton chips, this dip is a tasty snack or appetizer with plenty of greens!