This easy 5-ingredient smashed chickpea and avocado salad is just like tuna salad, but plant based and full of creamy, herby goodness! It's perfect for meal prep or spreading on a sandwich for a spring Earth Day picnic.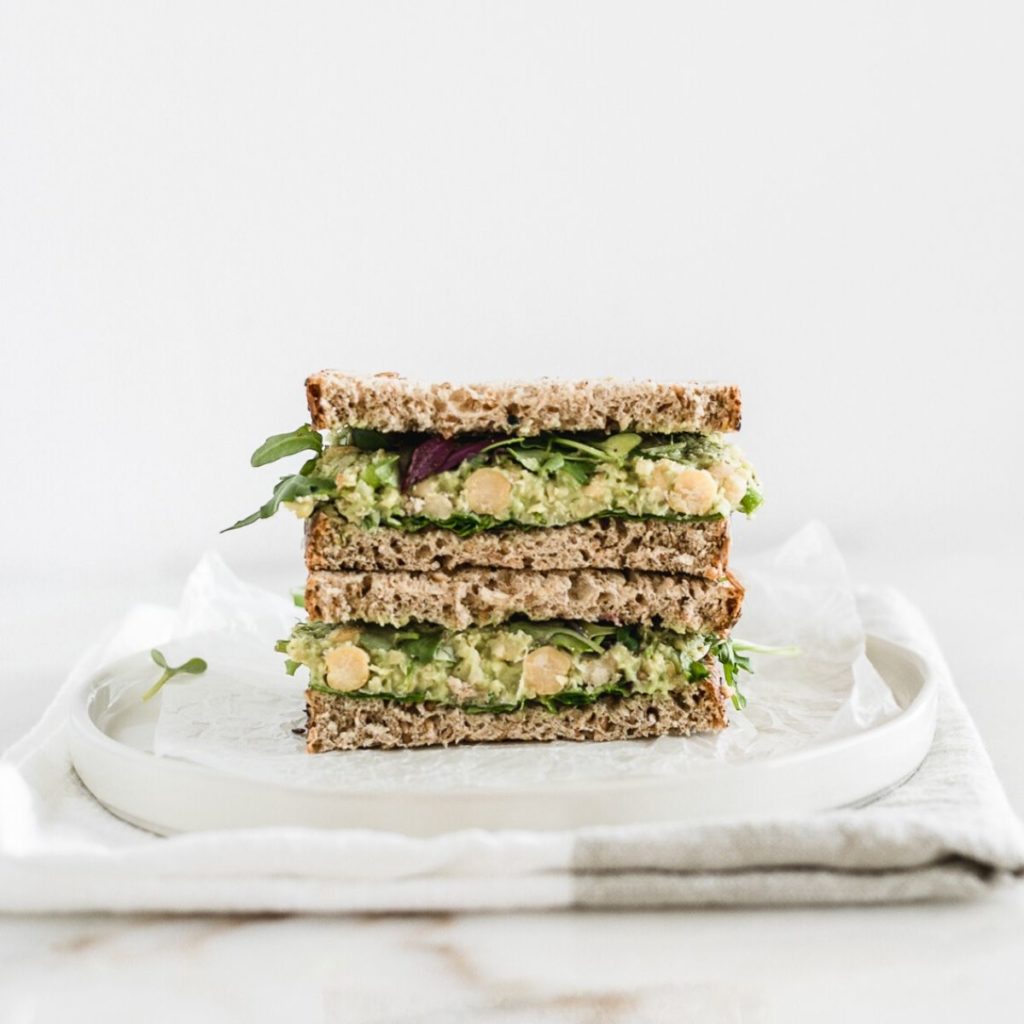 The term 'plant-based' has become trendy lately, and as with any term, companies are slapping the label on everything as a marketing ploy. And while I'm not a vegan by any means (hi, Texas BBQ!), I do think we can all stand to eat more plants! I'm not really into meat alternatives, so instead I like to make tasty, satisfying dishes using plant-based whole foods, like this smashed chickpea and avocado salad. It's a plant-based lunch, snack or spread that's perfect for celebrating Earth Day!

Why You'll Love This Smashed Chickpea Avocado Salad
It's healthy. This smashed salad hits the nutrition trifecta of plant protein, fiber and healthy fat thanks to avocado and chickpeas!
It's super easy to make. All you need are 5 easy ingredients: chickpeas, avocado, lemon juice, dill, and green onion. You also don't need any special equipment, just a bowl and a fork or potato masher.
It's great for meal prep! I love making this chickpea avocado salad for a few days worth of healthy lunches.
It's delicious! If you like tuna salad, you'll love this plant-based alternative. If you don't love tuna salad, you'll still love it, because it's full of creamy avocado, a nice bite from chunky chickpeas, and brightness from fresh herbs and lemon!

How To Make Healthy Smashed Chickpea Avocado Salad
Drain a can of chickpeas and add to a bowl with a large avocado.
Smash the avocado and chickpeas together, leaving it a bit chunky. I like to use a potato masher, but a fork works, too.
Stir in lemon juice, chopped fresh dill and green onions, and season to taste with salt and pepper.
Cover and refrigerate until you're ready to eat.
How Long Will This Chickpea Avocado Salad Last In The Fridge?
This salad is great for meal prep, as it will last a good 3-4 days in the fridge. That said, it does have avocado, so it won't be as bright green in the days after you make it. Squeeze a bit of lemon juice on the top before storing to help with browning.

In the Spirit of Earth Day, Here are More Environmentally-Friendly Foods:
Local produce - The closer food is grown, the fewer resources it takes to get to you.
Seasonal produce - Just like local produce, seasonal produce tends to be grown closer, so it takes fewer resources. It also tends to be fresher and tastier!
Peanuts - They require the least amount of water of all the nuts and are nitrogen-fixing plants.
Potatoes - They don't require much water or fertilizer, and they have a high yield. Keep the skins on for no waste and more fiber!
Any kind of beans - They're a great vegetarian protein source, don't require a lot of water to grow, and have a long shelf life, which means less waste.
Less common grains and produce - increasing the variety of foods you buy increases the types grown, which is better for the soil and can make our food system more resilient. Try incorporating more foods from the Knorr Future 50 List!
Have an Earth Day Picnic!
Pack up your smashed chickpea avocado salad and some of these other eco-friendly foods and head outdoors for a fun spring activity:
Roasted In-Shell Peanuts
Hummus and Crudités
Caprese Skewers
Local Cubed Watermelon
Citrus Infused Water
If you made this recipe, please leave a star rating in the comments!
Print
Vegan Smashed Chickpea Avocado Salad
This easy 5-ingredient smashed chickpea and avocado salad is just like tuna salad, but plant based and full of creamy, herby goodness! It's perfect for meal prep or spreading on a sandwich for a spring Earth Day picnic.
Author: Kaleigh
Prep Time:

10 min

Cook Time:

0 min

Total Time:

10 min

Yield:

6

servings

1

x
Category:

lunch

Method:

no cook

Cuisine:

vegan
1

can chickpeas, drained and rinsed

1

large avocado
Juice of

1

lemon

2

green onions, chopped

2 tbsp

chopped fresh dill
Coarse sea salt
Freshly cracked black pepper
whole grain bread, for serving (optional)
Instructions
In a large bowl, mash chickpeas and avocado together with a potato masher or fork. I like to leave it a little bit chunky, but you can make it as smooth as you like.
Add lemon juice, green onion, dill. Season with salt and pepper to taste. Stir to combine.
Store in the refrigerator, covered, until ready to serve.
Serve on whole grain bread or with your favorite crackers.
Notes
Smashed chickpea avocado salad can be made in advance. Squeeze fresh lemon over the top before covering and storing to prevent avocado from browning.
Keywords: chickpea avocado salad, vegan smashed chickpea and avocado salad, vegan tuna salad