Looking to get a healthy dinner on the table without a lot of effort? Who isn't? Try one of these healthy, easy dinner recipes with 7 ingredients (or less!) tonight to make cooking a meal for your family a little easier.

No matter how simple a recipe can be, if you look at the ingredients list and it's super long, it can be intimidating, tiring, and even off-putting. I get that. Even if those ingredients are just spices, it takes time to round them all up when you're busy and tired at the end of a long day and you just need to get something on the table for your family. That's why I'm sharing these delicious, healthy and easy dinner recipes with 7 ingredients or less - so you can cook a simple meal that still tastes amazing! (For these purposes, I don't count everyday ingredients like oil, salt, pepper, and water.)
Some of these recipes are for main dishes only, so to make the full meal simple, serve them with leftover cooked grains, canned beans, or ready-to-eat pouches (such as Uncle Ben's rice), and a simple veggie that you can steam, sauté, grill, or roast alongside whatever you're cooking. Or pick up a salad kit to toss together while dinner is cooking. There is no shame in convenience when you're trying to feed your family! Now, on to the recipes.
Easy Dinner Recipes With 7 Ingredients or Less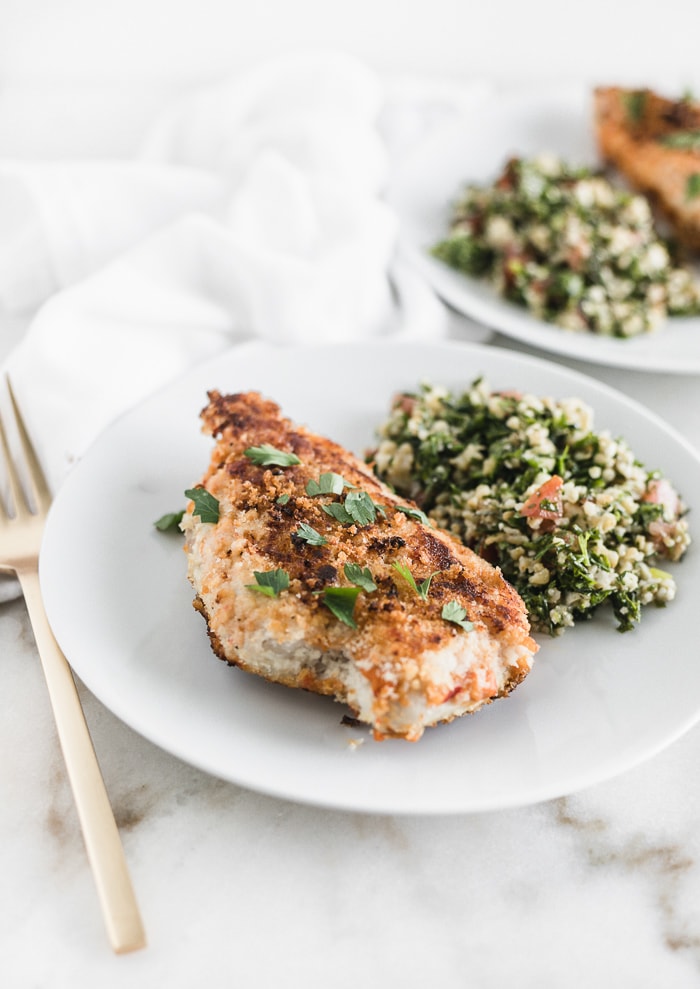 Easy 3 Ingredient Hummus Chicken
If you've got chicken and hummus, you've got dinner! This super easy, crispy on the outside, juicy on the inside, 3 ingredient hummus chicken is healthy, delicious, and ready in just 20 minutes!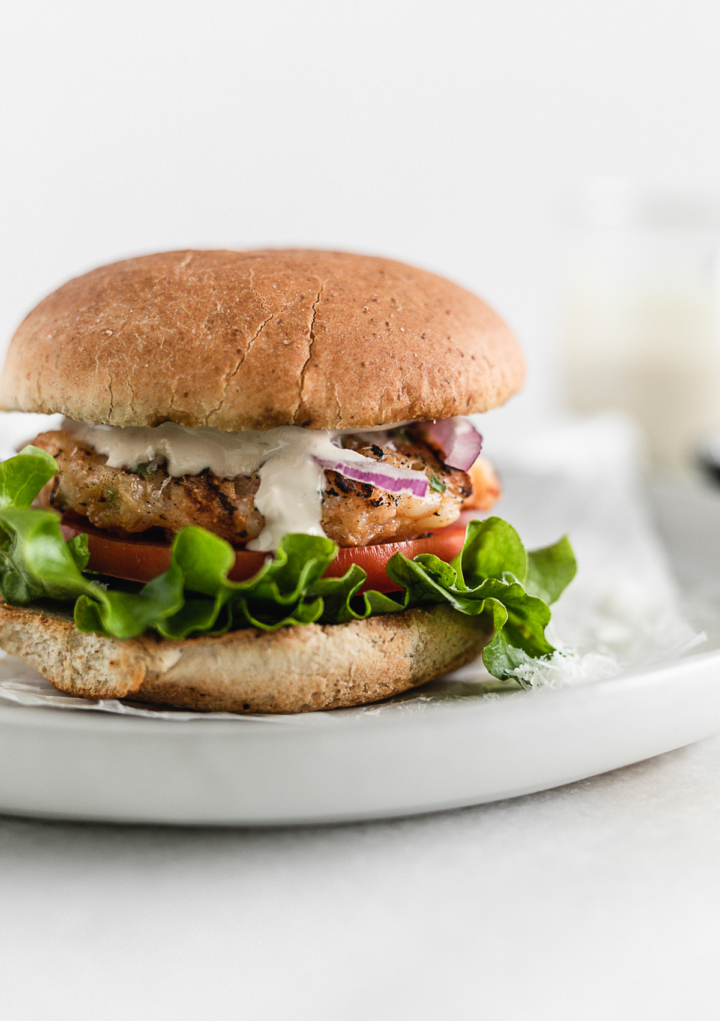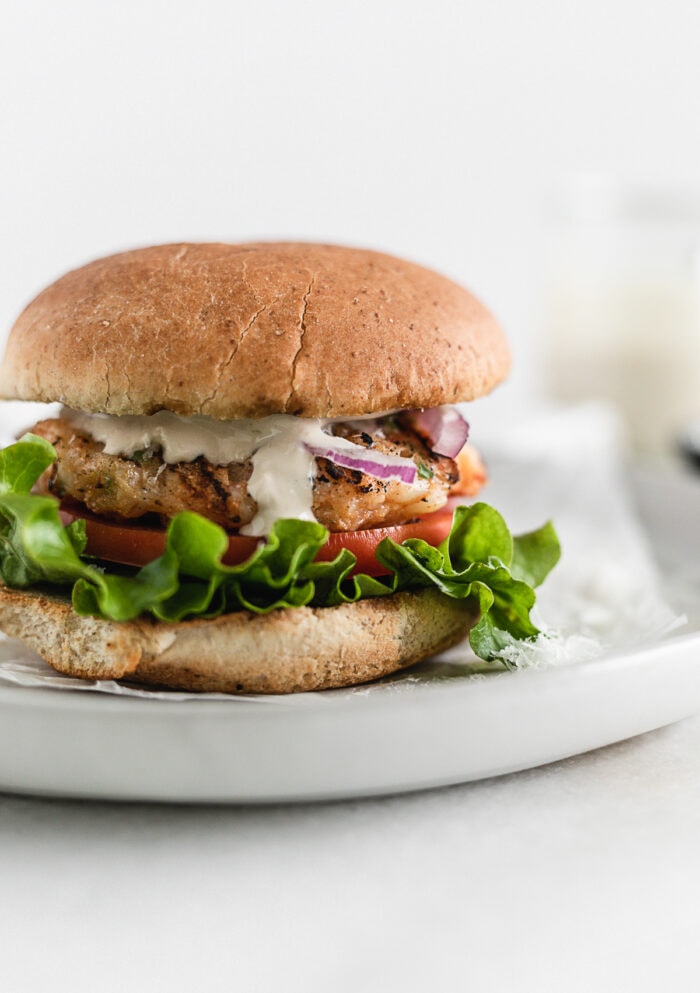 Easy Grilled Caesar Shrimp Burgers
Mix up your dinner routine with healthy grilled Caesar shrimp burgers! 5-Ingredient shrimp patties are so simple to make, taste great on the grill, and make a delicious burger topped with homemade Greek yogurt Caesar dressing and shaved parmesan. (gluten-free)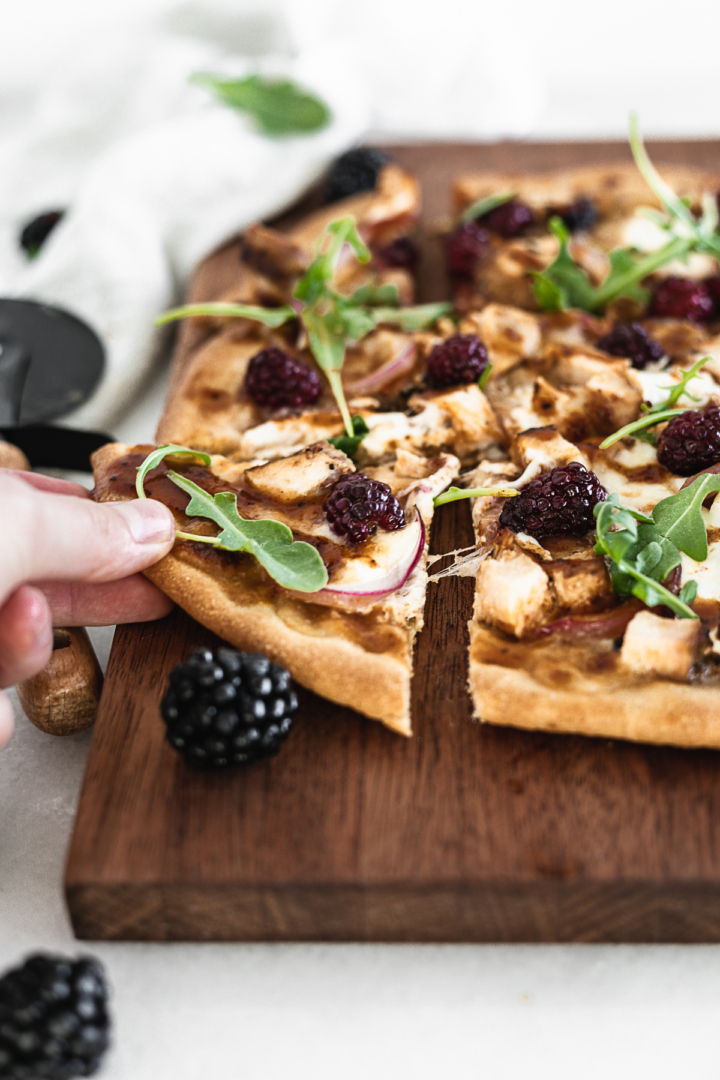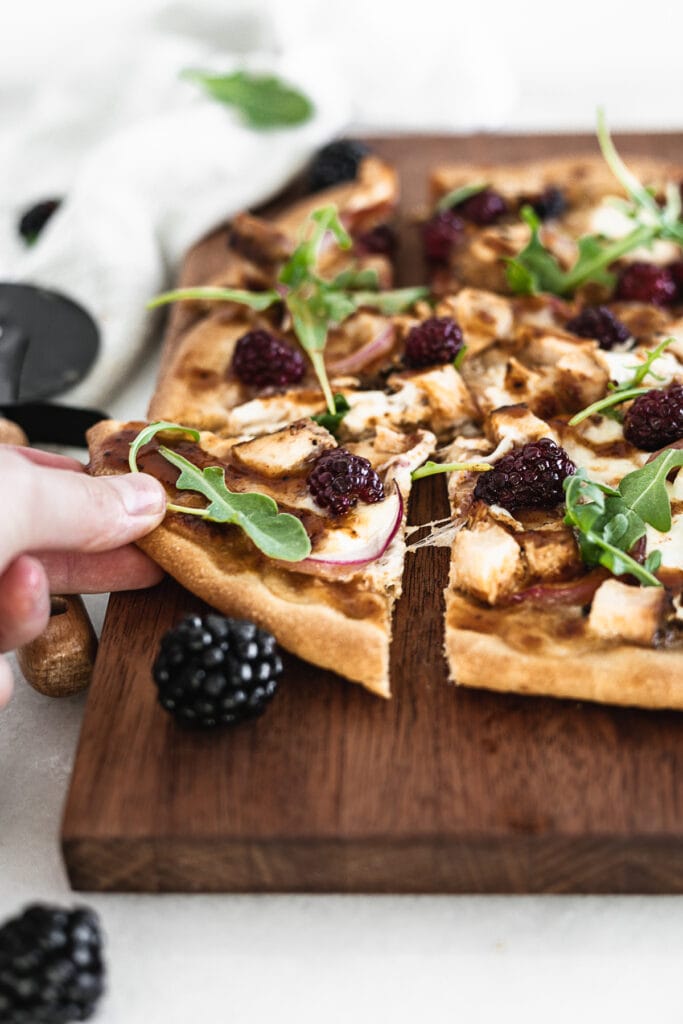 Blackberry BBQ Chicken Flatbread
Change up pizza night and use up leftover chicken with this sweet and savory blackberry BBQ chicken flatbread! Make it on the grill or bake it in a hot oven for a quick and delicious summer dinner or appetizer in under 30 minutes.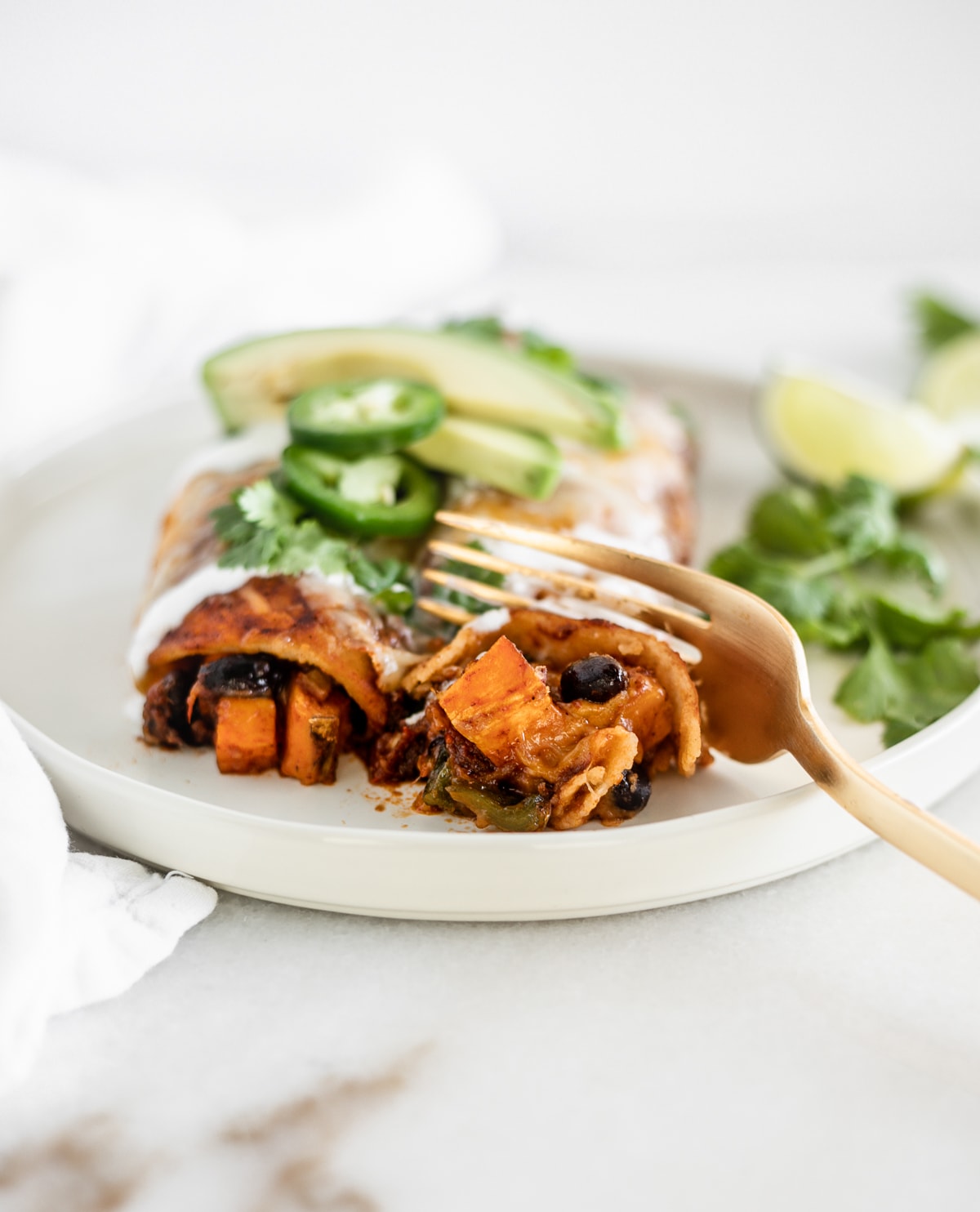 Healthy Sweet Potato Black Bean Enchiladas
These healthy sweet potato black bean enchiladas with roasted poblanos are smoky, savory, and so delicious! Make them vegan if you like, or add plenty of cheese for a healthy, cheesy, Mexican dinner. The easy homemade red sauce takes these sweet potato enchiladas over the top.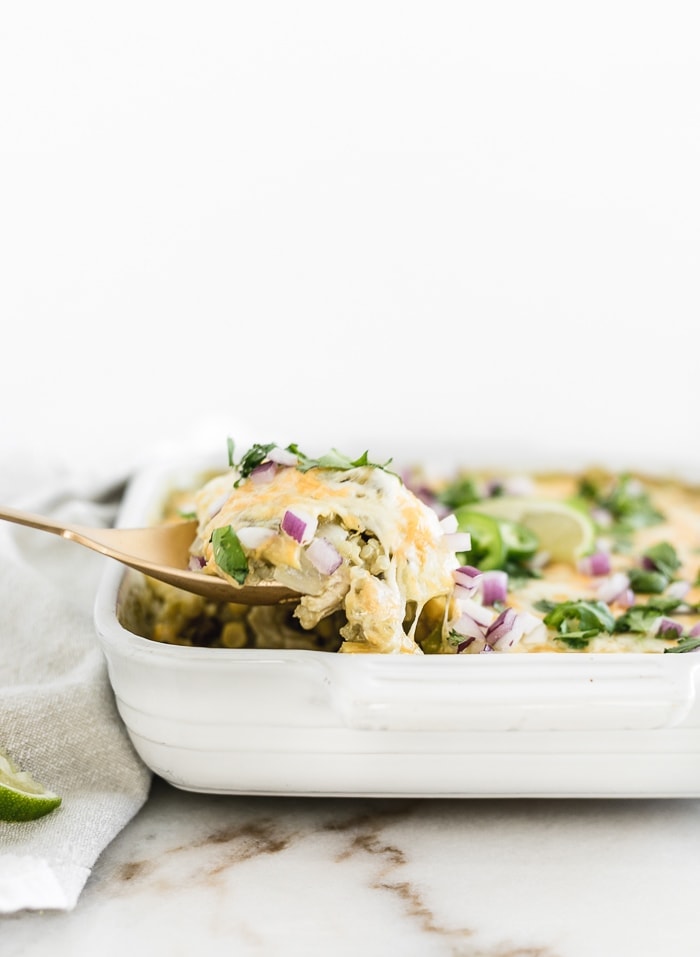 One Dish Chicken Enchilada Quinoa Casserole
This one-dish chicken enchilada quinoa casserole is an easy, healthy meal that leans on pantry staples for a delicious dinner with Southwestern flair! Use leftover chicken and quinoa to make this 7-ingredient dish even easier for a busy weeknight.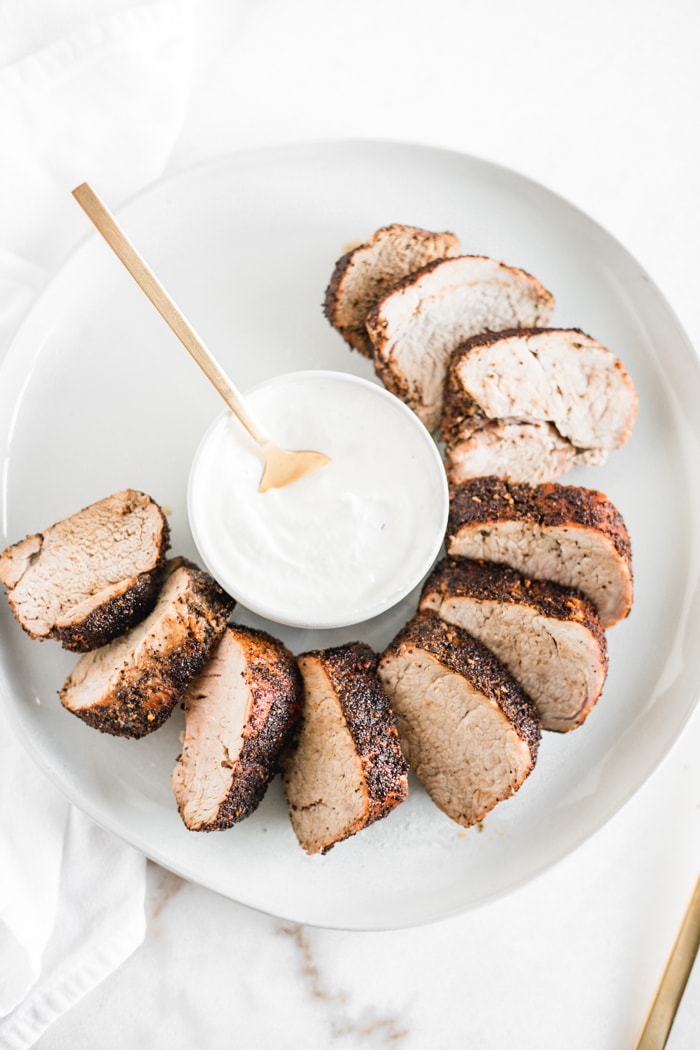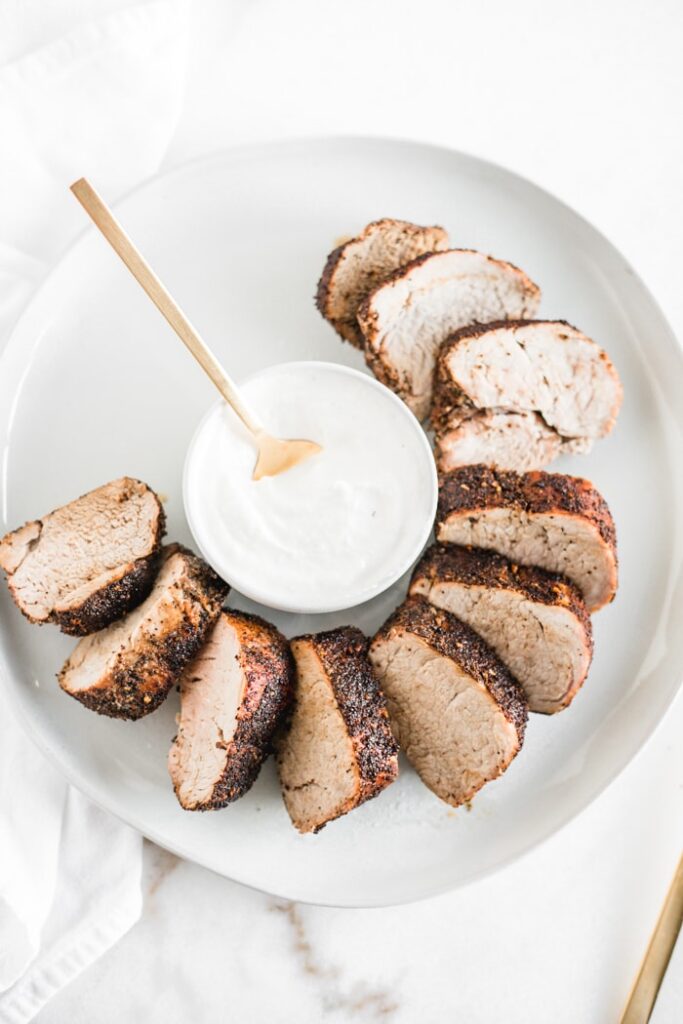 Coffee Rubbed Pork Tenderloin with Horseradish Cream Sauce
Delicious, subtly spiced coffee-rubbed pork tenderloin with creamy horseradish sauce is a quick and easy weeknight meal ready in under 45 minutes that tastes much more complex than it actually is!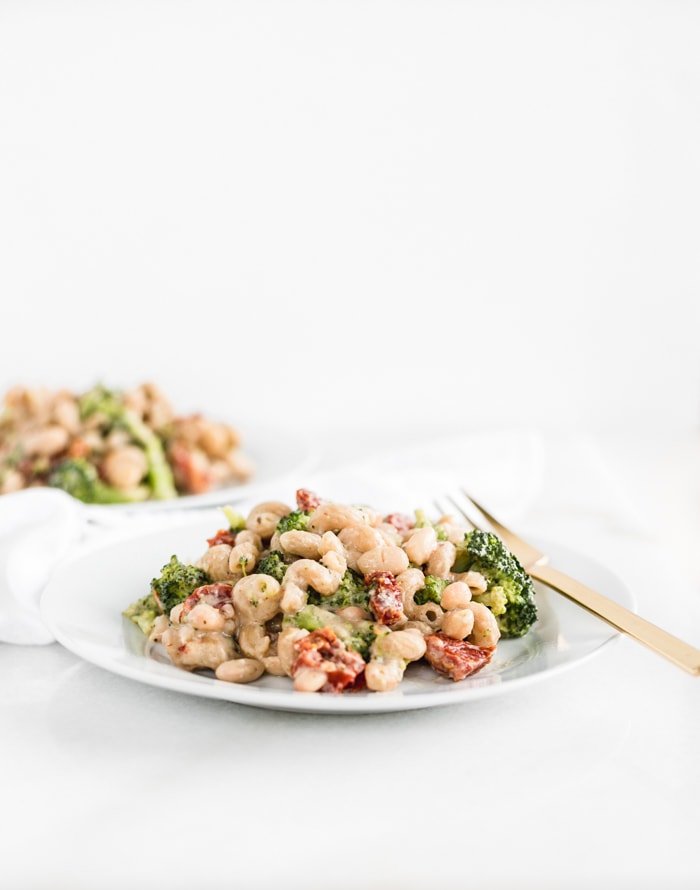 Broccoli Sundried Tomato White Bean Pasta
Getting a tasty and nutritious family meal on the table has never been easier than this 15-minute, one-pan broccoli, sundried tomato, and white bean pasta! This is a balanced meal made up of whole wheat pasta, vegetables, and plant-based protein.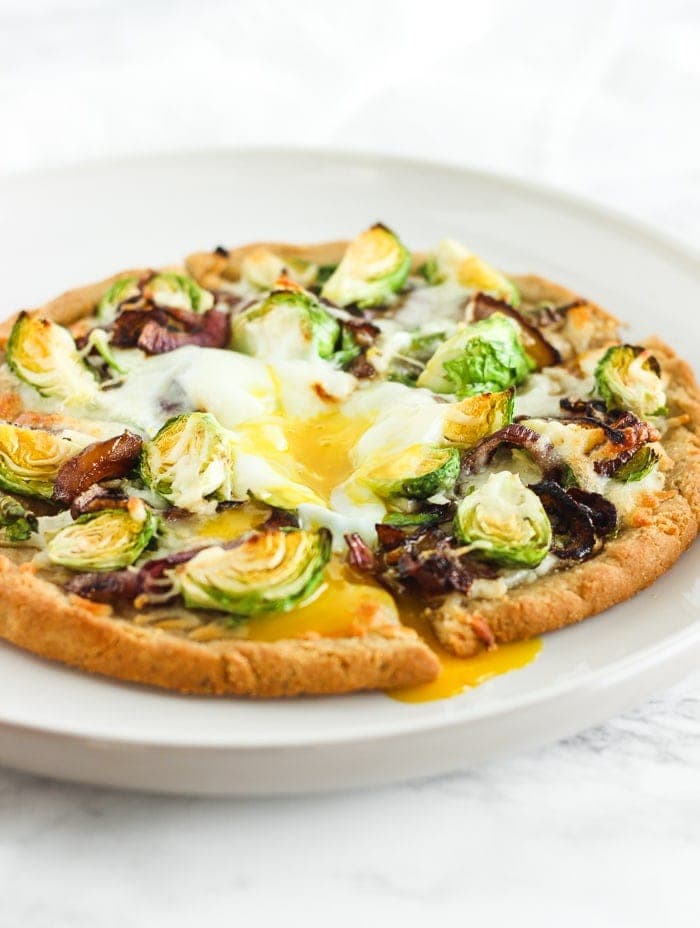 Gluten-Free Caramelized Onion Brussels Sprout Pizza
Enjoy a simple, nutritious meal with this easy gluten-free caramelized onion brussels sprout pizza! It's delicious for breakfast, lunch, or dinner! Homemade pizza is a great way to add plenty of nutritious toppings while still enjoying a delicious pizza night at home.
This sweet and savory honey pecan salmon is a simple and delicious way to include more heart-healthy seafood in your weeknight meals!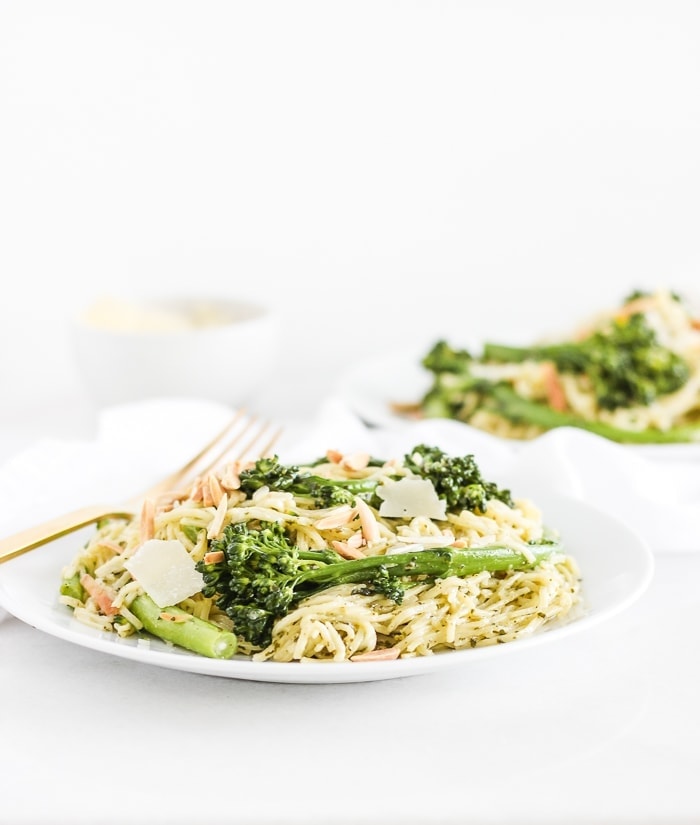 Easy Broccoli Pesto Pasta Almondine
Broccoli pesto pasta almondine is an easy, delicious dinner the whole family will love! With just 5 ingredients, you're only 15 minutes away from having a tasty balanced meal on the table.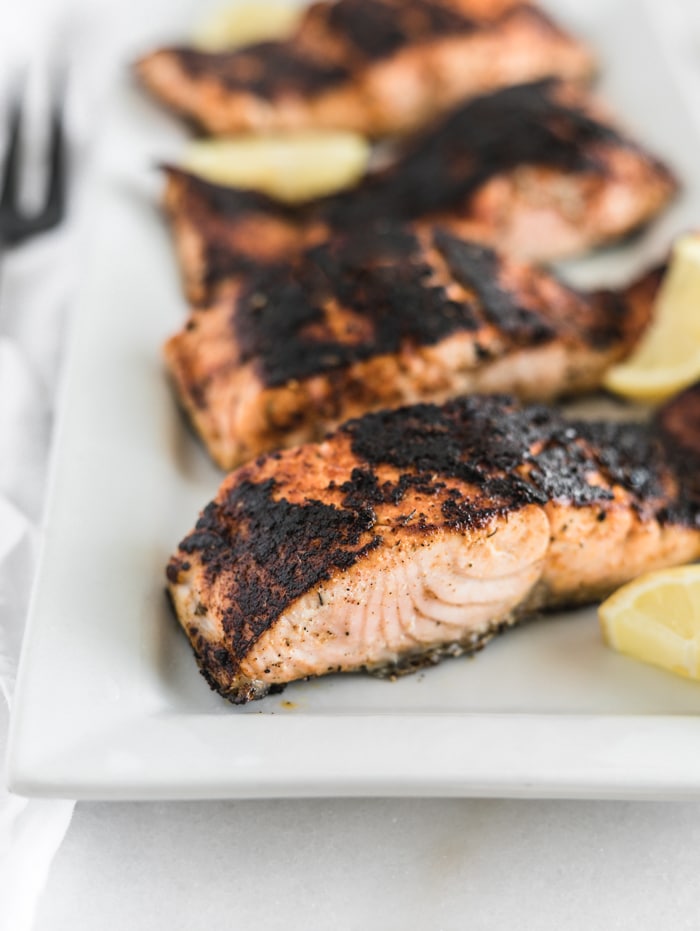 This simple pan-seared blackened salmon with an easy homemade blackening seasoning is a healthy, delicious dinner that you'll want to add to your regular rotation. Made in less than 20 minutes, it's a great weeknight dinner recipe!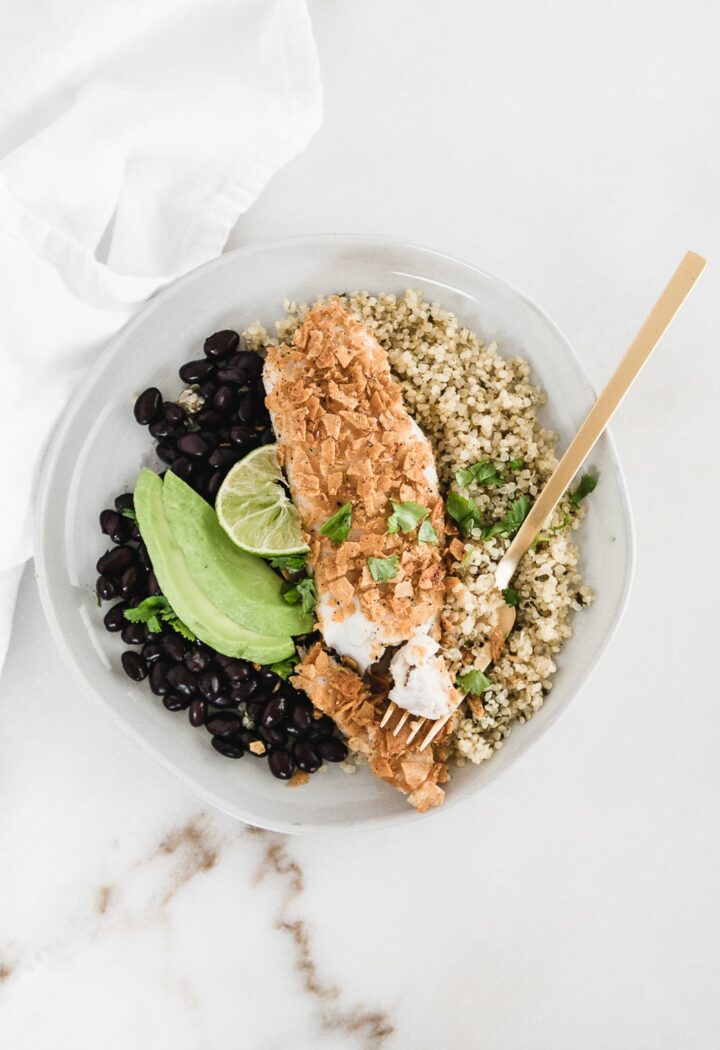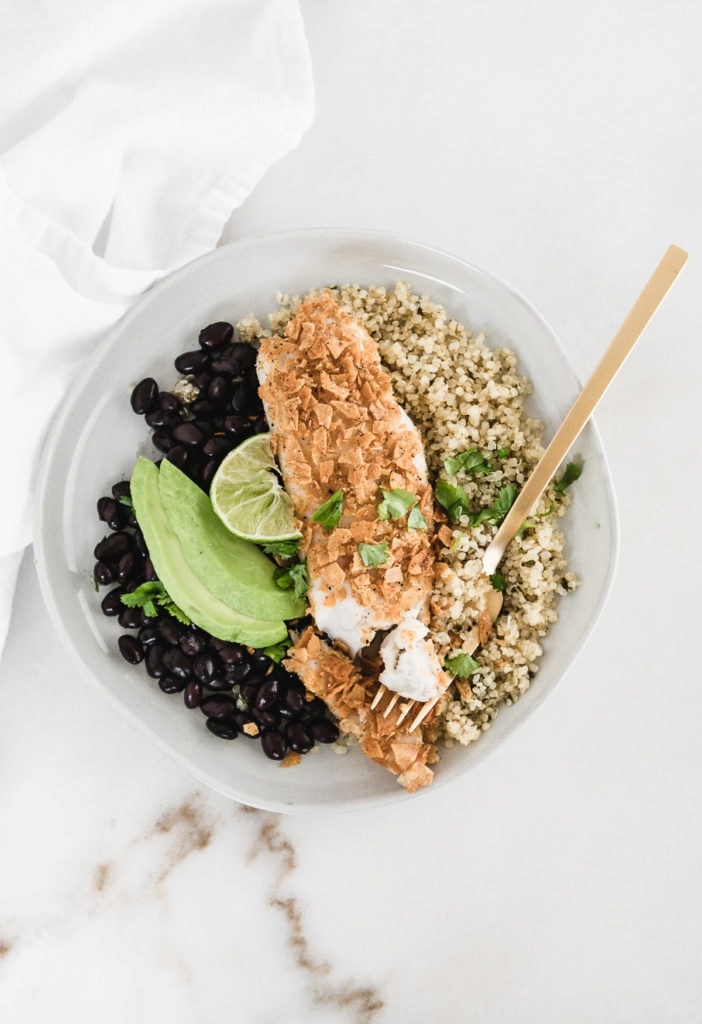 6-Ingredient Baked Tortilla Crusted Tilapia
A quick and easy, 6-ingredient recipe for crispy baked tortilla crusted tilapia is a healthy, delicious, and economical weeknight meal.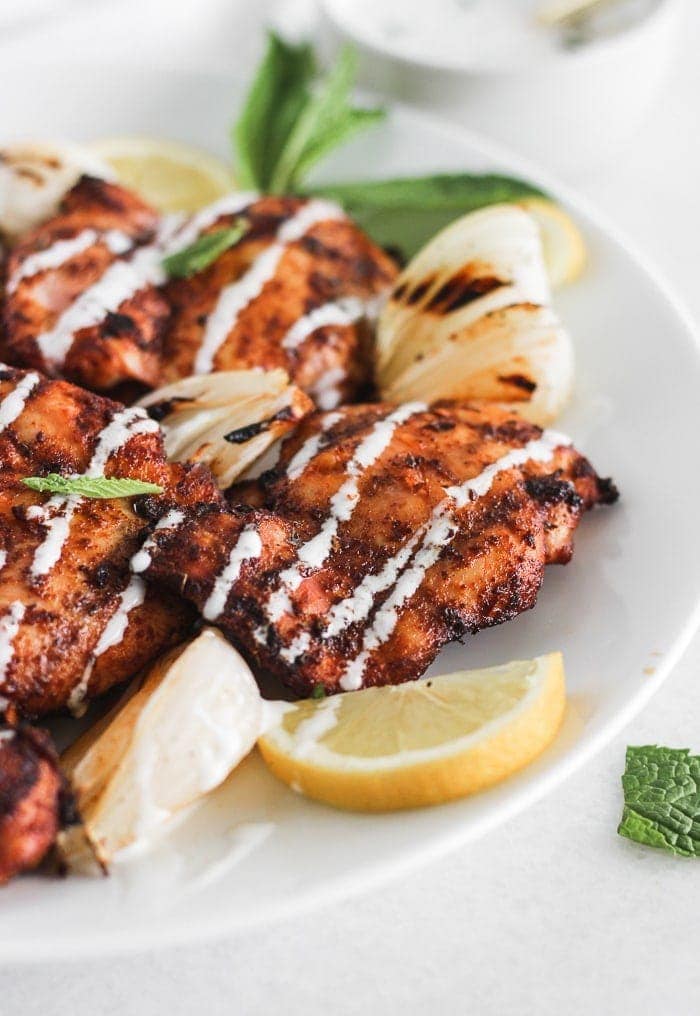 Harissa Grilled Chicken Highs with Lemon Mint Yogurt Sauce
Spicy grilled harissa chicken thighs with a creamy lemon mint yogurt sauce made with just a few simple ingredients are an easy and delicious dinner option for busy weeknights.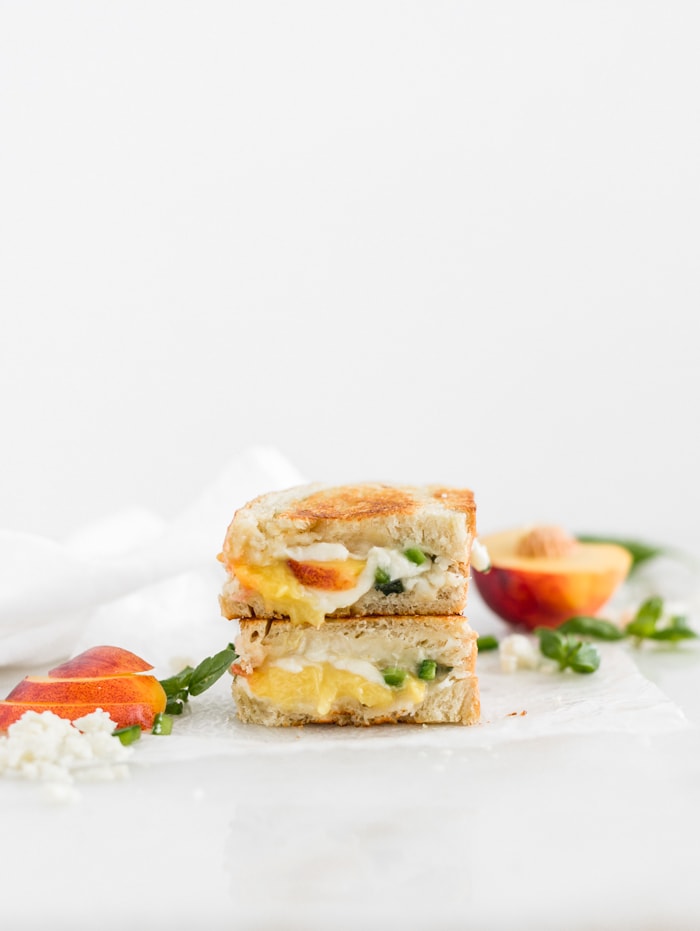 Jalapeño Nectarine Grilled Cheese
This isn't your typical grilled cheese sandwich! Treat yourself to a seasonal nectarine jalapeño grilled cheese with queso fresco and basil for a sweet, spicy, melty, summery meal.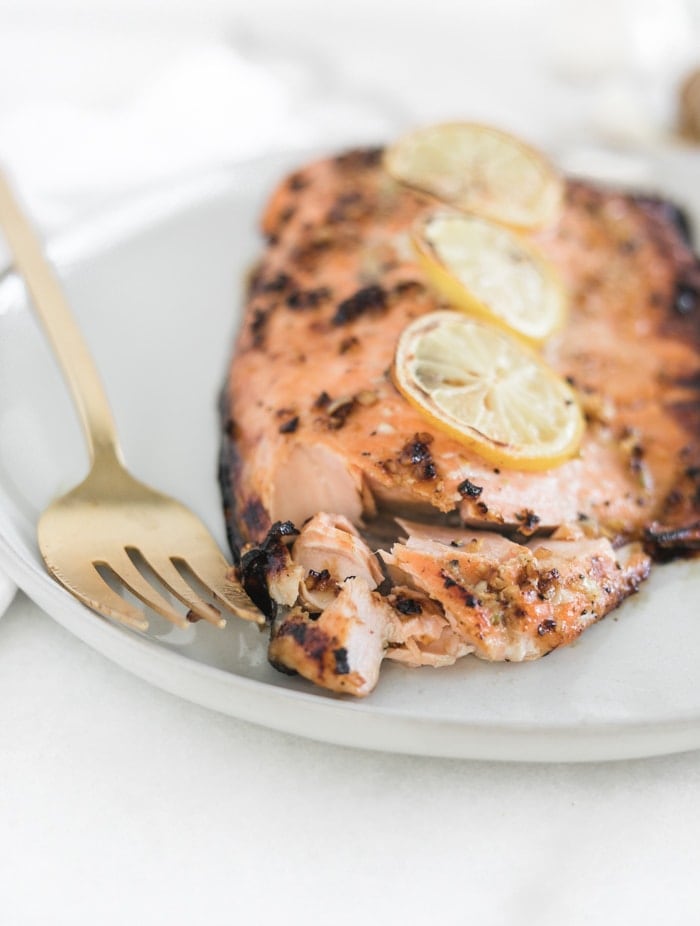 The Easiest Honey Garlic Salmon
This quick and easy 3 ingredient honey garlic salmon is a healthy and delicious salmon recipe that will turn anybody into a salmon lover! It's a great weeknight dinner option.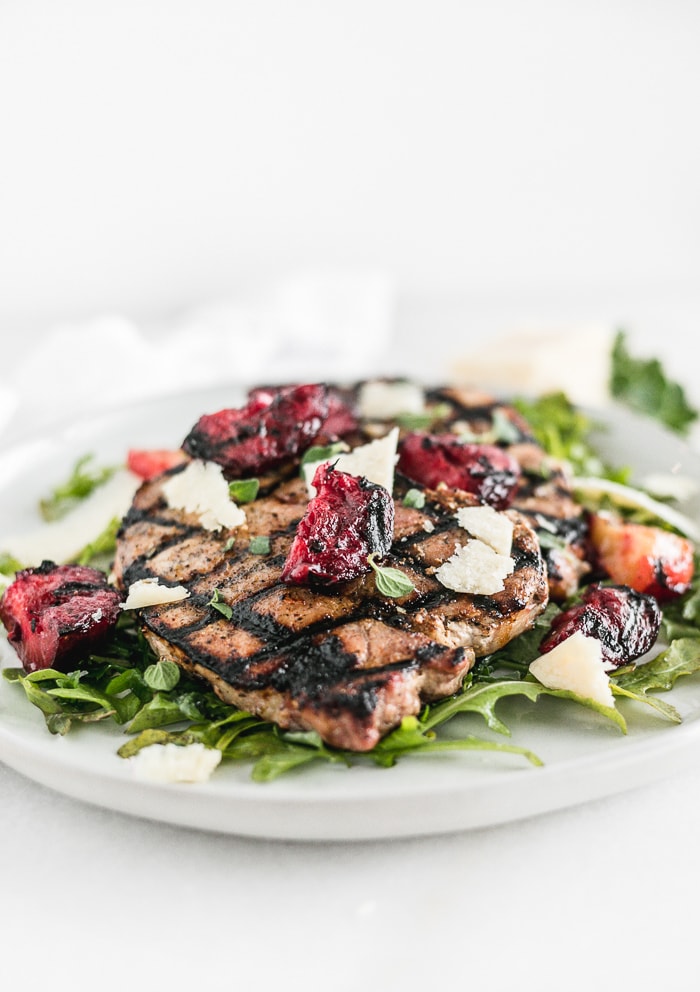 Honey Grilled Pork Chops with Grilled Plums
These honey grilled pork chops with grilled plums are easy enough for a weeknight, yet impressive and delicious! Enjoy summer stone fruit on the grill with this simple 20-minute recipe.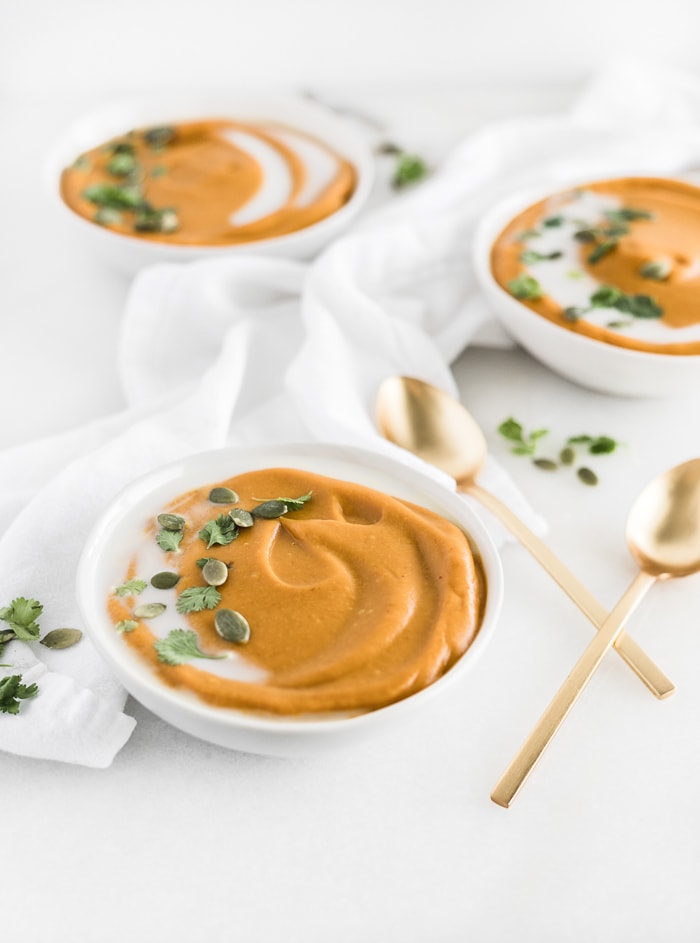 Thai Pumpkin Coconut Curry Soup
Spice things up with a super simple Thai Coconut Pumpkin Curry Soup that's easy to make but big on flavor! With only 7 ingredients and ready in 30 minutes or less, this vegan soup is great for meal prep or a quick weeknight dinner.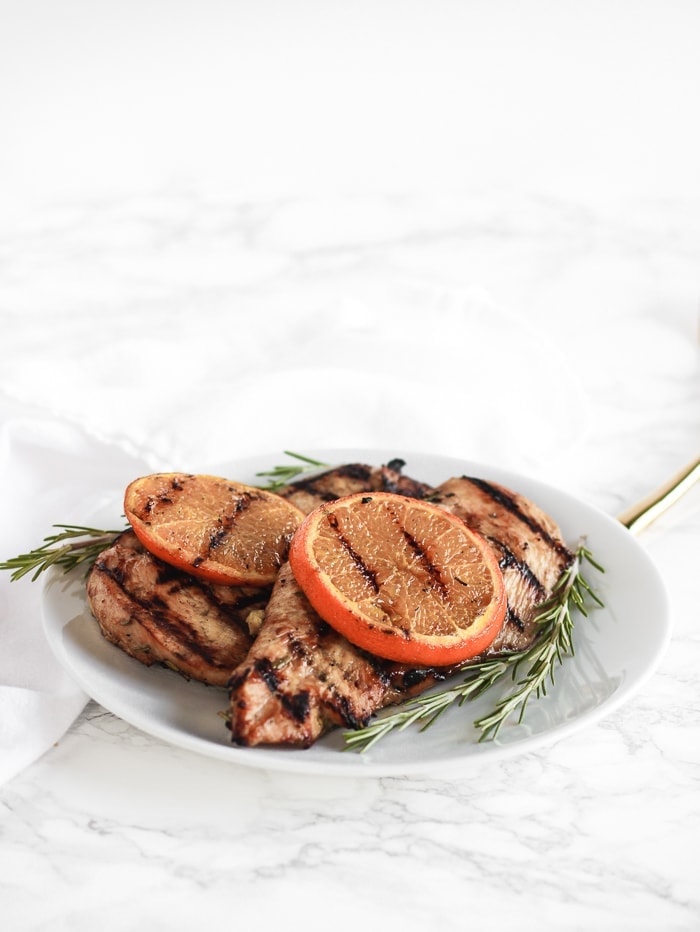 Easy Rosemary Orange Grilled Chicken
Easy rosemary orange grilled chicken is a simple, healthy, and flavorful solution for weeknight dinners. You're only 6 ingredients away from having dinner on the table!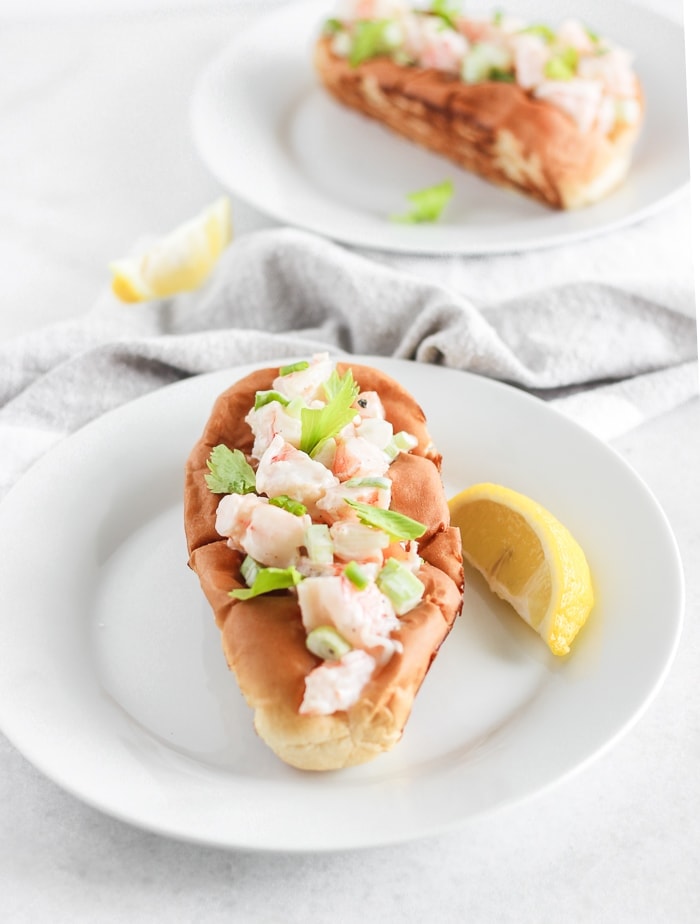 Easy New England Style Shrimp Rolls
These easy, delicious New England Style Shrimp Rolls are sure to be a hit with your family and friends! Similar to a lobster roll, but without the hassle of lobster, these shrimp rolls are a summer favorite.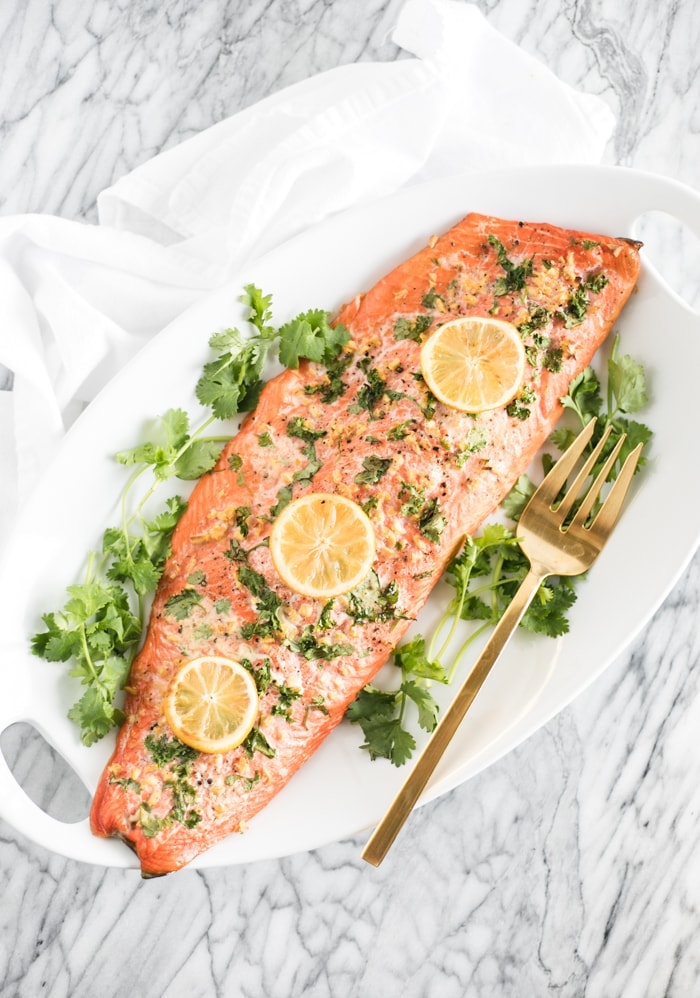 The Best Garlic Cilantro Salmon
Garlic cilantro salmon is a delicious and easy salmon that makes a great healthy weeknight dinner with only 5 simple ingredients! Since the weather isn't always great for grilling, I've found a good way to cook it in the oven that leaves it with a crispy outside and a perfect medium-rare, tender inside and delicious garlic and herb flavor!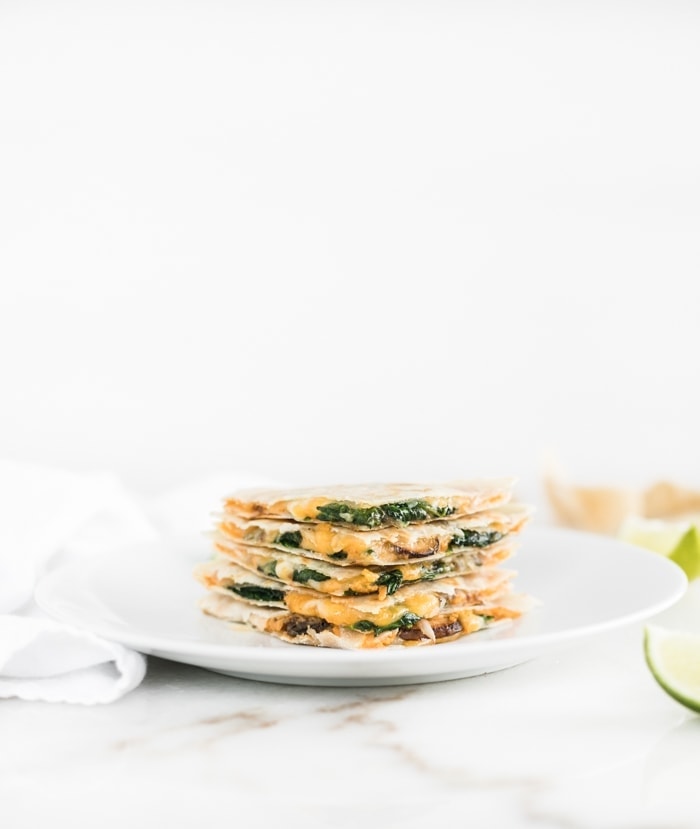 Spinach Mushroom Hummus Quesadilla
This easy Spinach Mushroom Hummus Quesadilla makes a healthy and delicious lunch or dinner that can be made in just 15 minutes.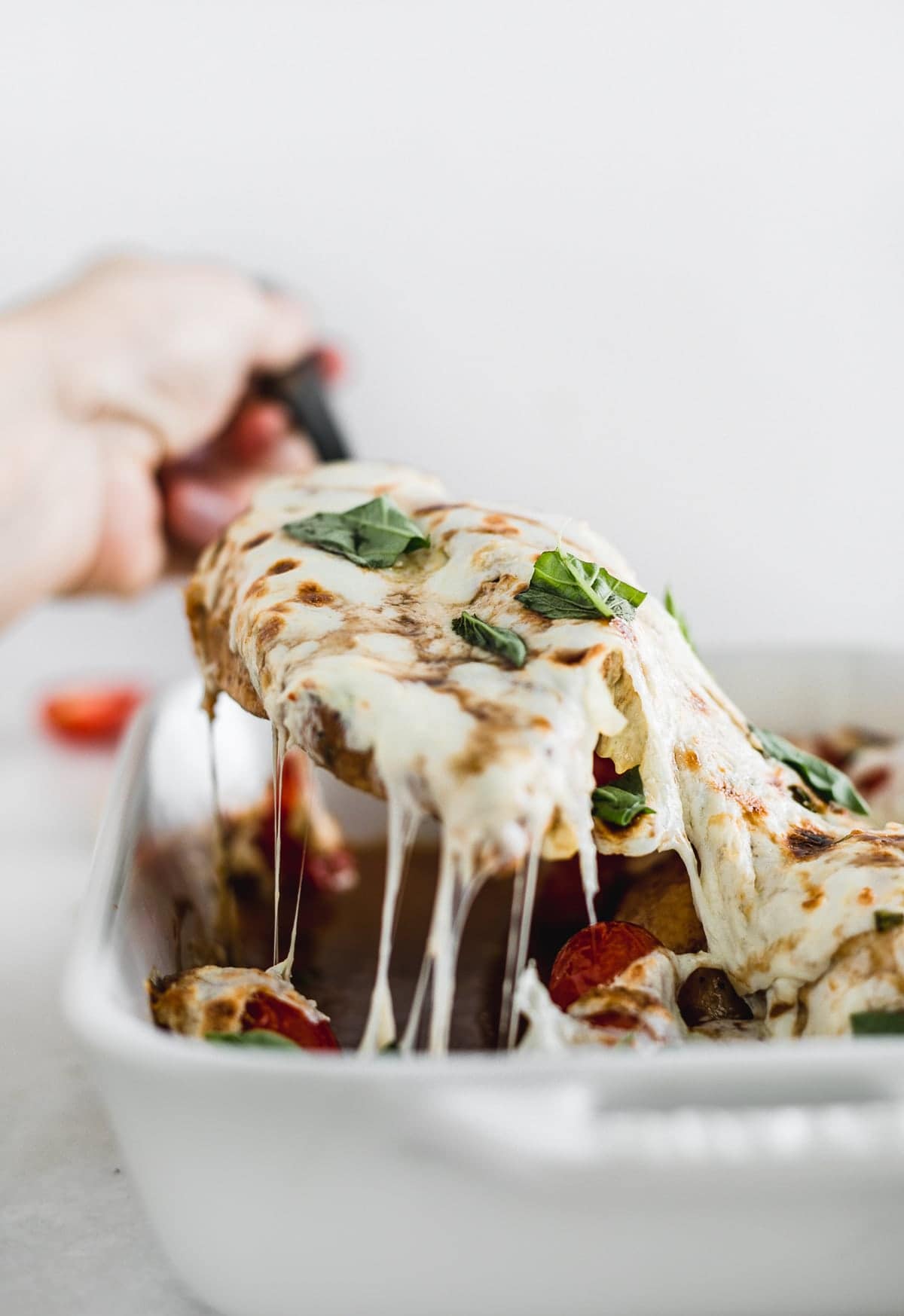 Use your summer tomatoes and basil in this delicious Baked Chicken Caprese! It's a simple, flavorful, easy weeknight dinner the whole family will love!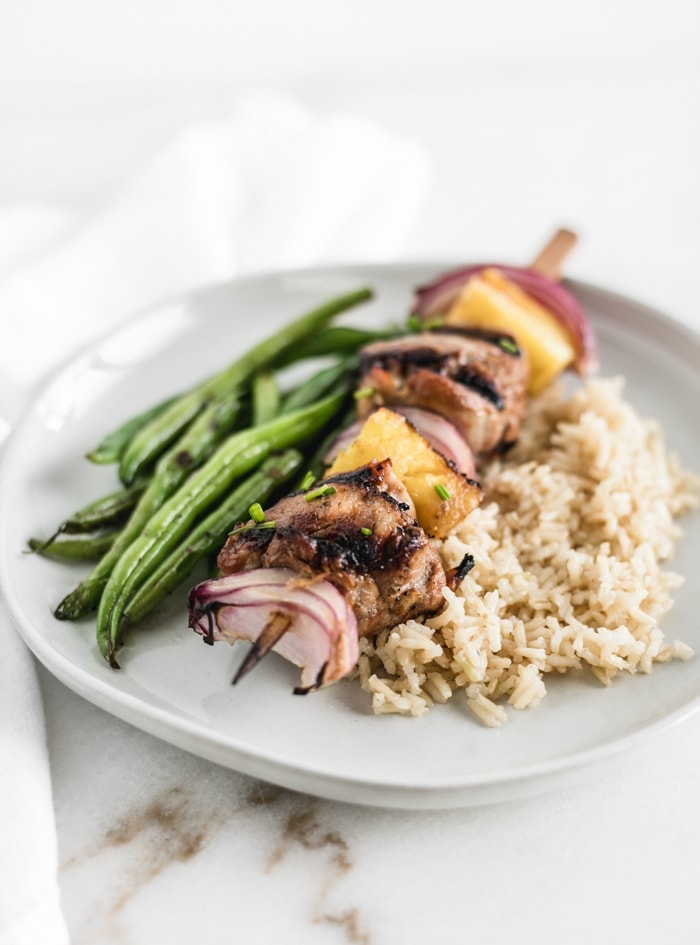 Grilled Pineapple Teriyaki Pork Kabobs
These easy and delicious Grilled Pineapple Teriyaki Pork Kabobs make a quick, flavorful meal that is perfect for any night of the week!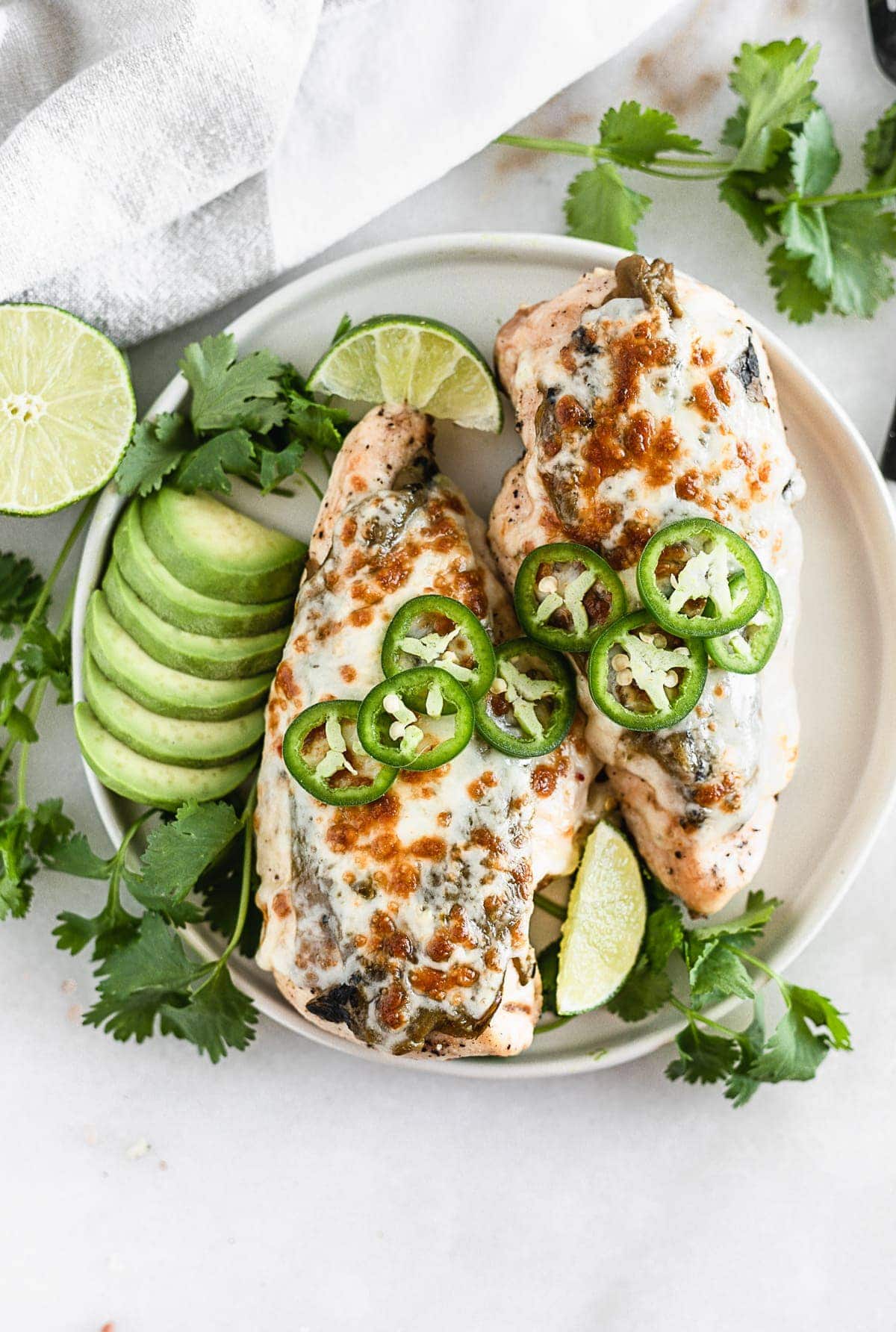 Flavorful Hatch Green Chile Chicken is the perfect easy and healthy chicken dish to spice up dinner time!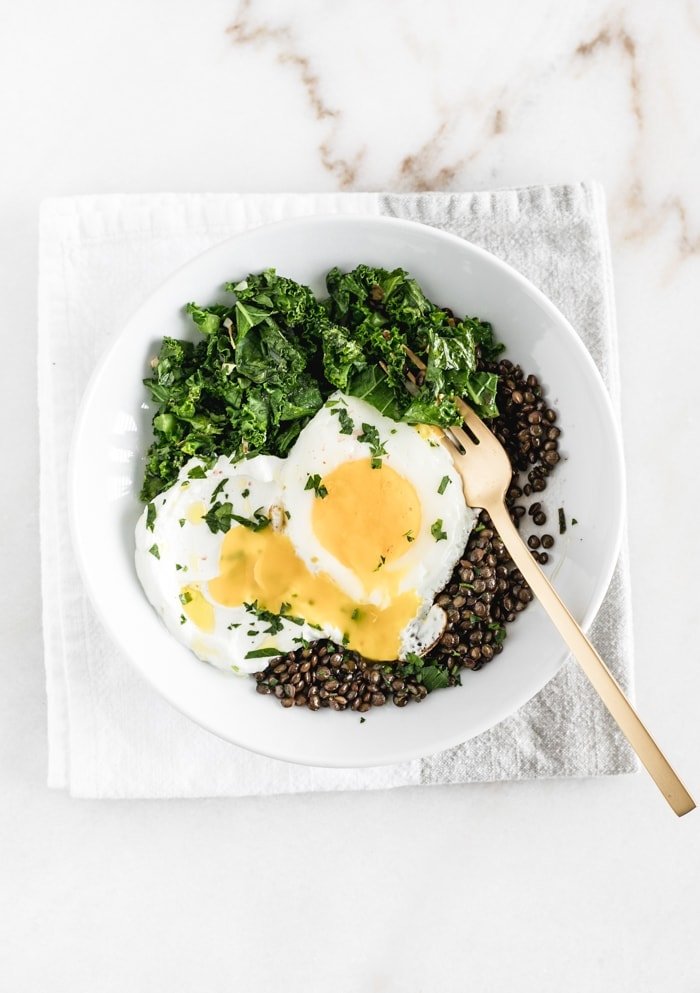 Kale, lentils, yogurt, and eggs come together to make a healthy, delicious, and savory bowl with ingredients you probably already have in your kitchen. Don't let the name fool you, it's delicious any time of day!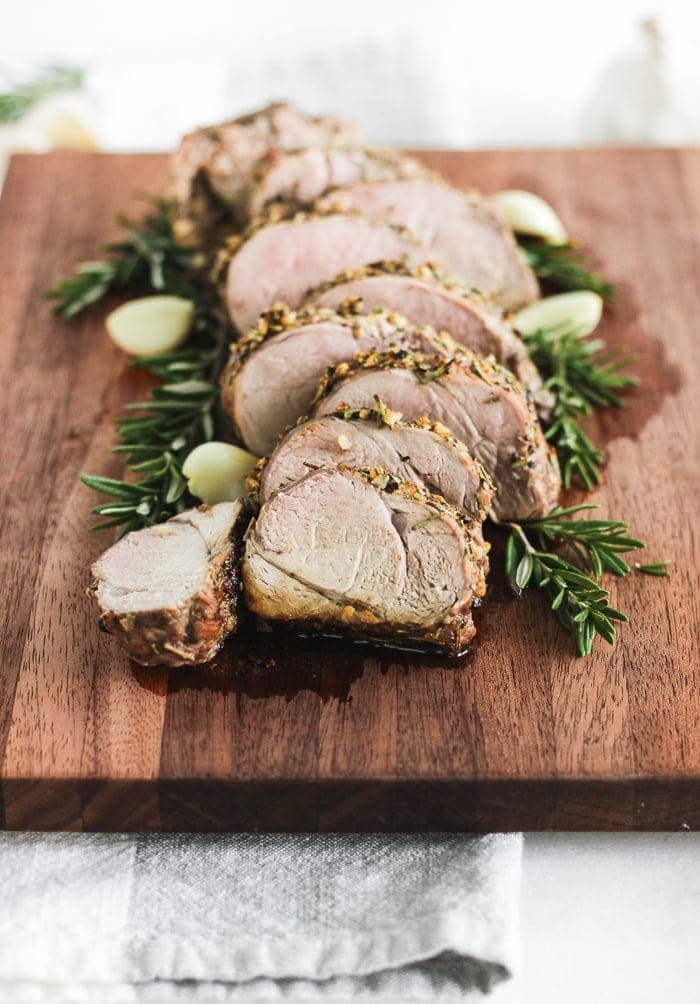 Perfect Garlic Rosemary Pork Tenderloin
Easy, tender, and flavorful garlic rosemary pork loin that's a simple yet impressive dinner.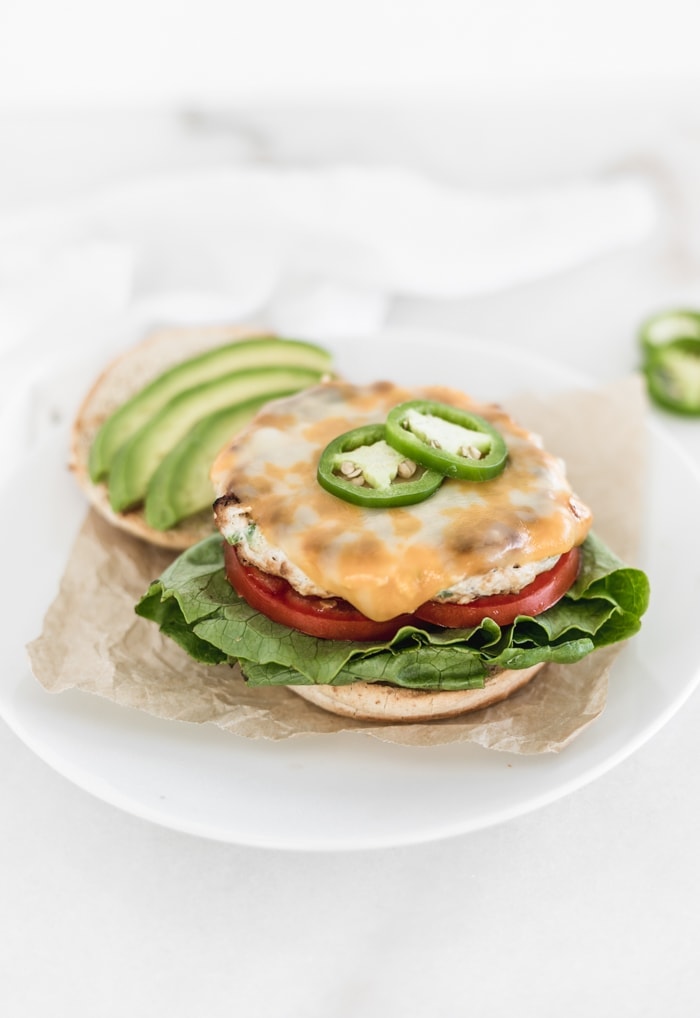 Healthy Jalapeño Chicken Burgers
Delicious and healthy jalapeno chicken burgers with avocado are perfect for summer cookouts this season. They are a healthier burger alternative with just as much flavor as traditional burgers – and they are husband approved!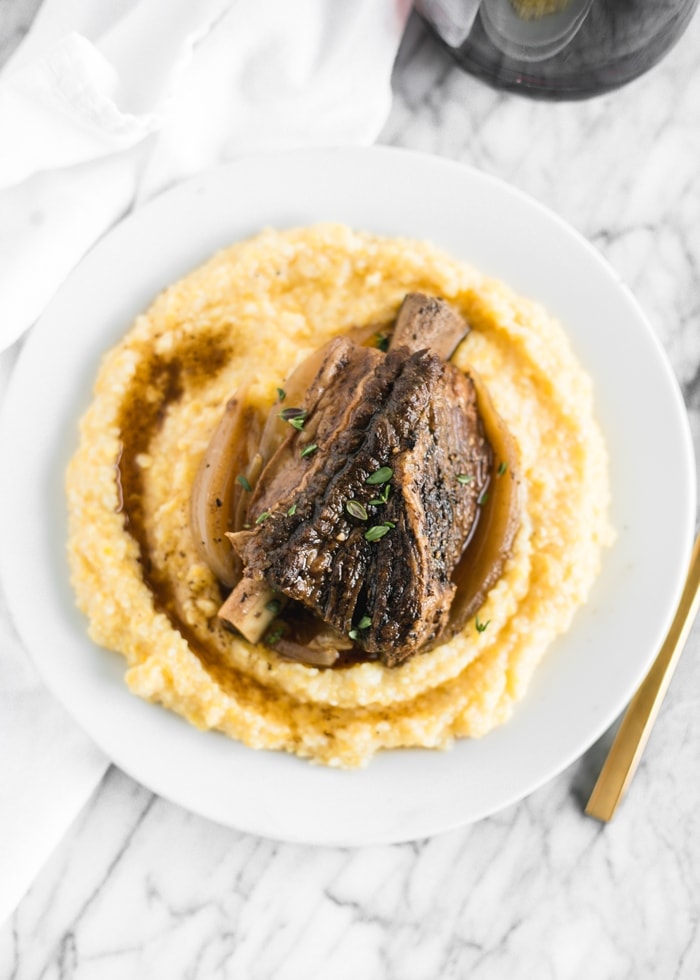 Slow Cooker Balsamic Braised Short Ribs
Incredibly tender and flavorful slow cooker balsamic braised short ribs are easy to make yet delicious enough for a date night or dinner party! They're cozy, comforting, cold-weather food at it's finest.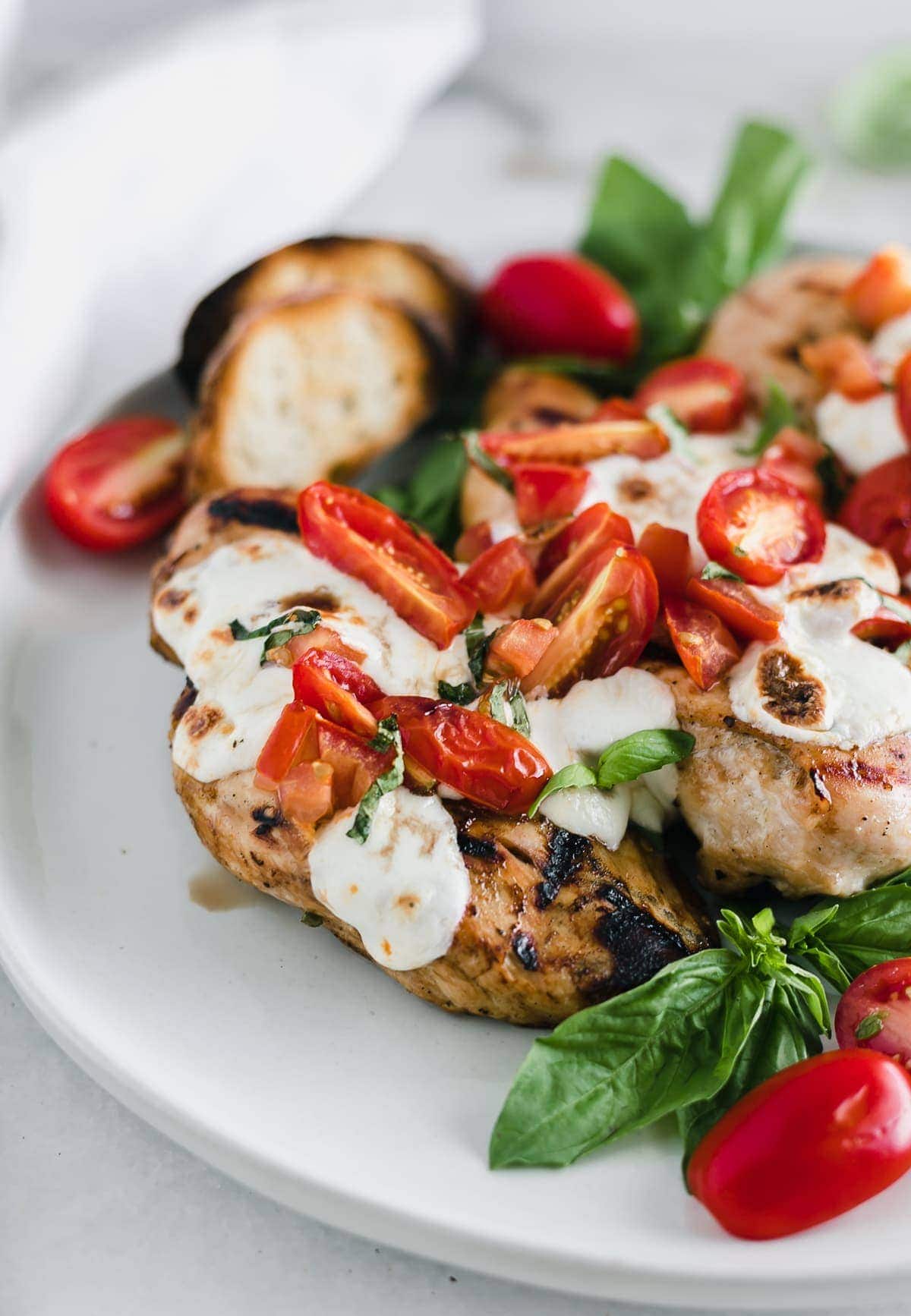 For a quick and healthy dinner, you can't beat tomato basil bruschetta chicken! Fresh tomatoes, basil, and mozzarella cheese on the tender balsamic marinated chicken are perfect for weeknights.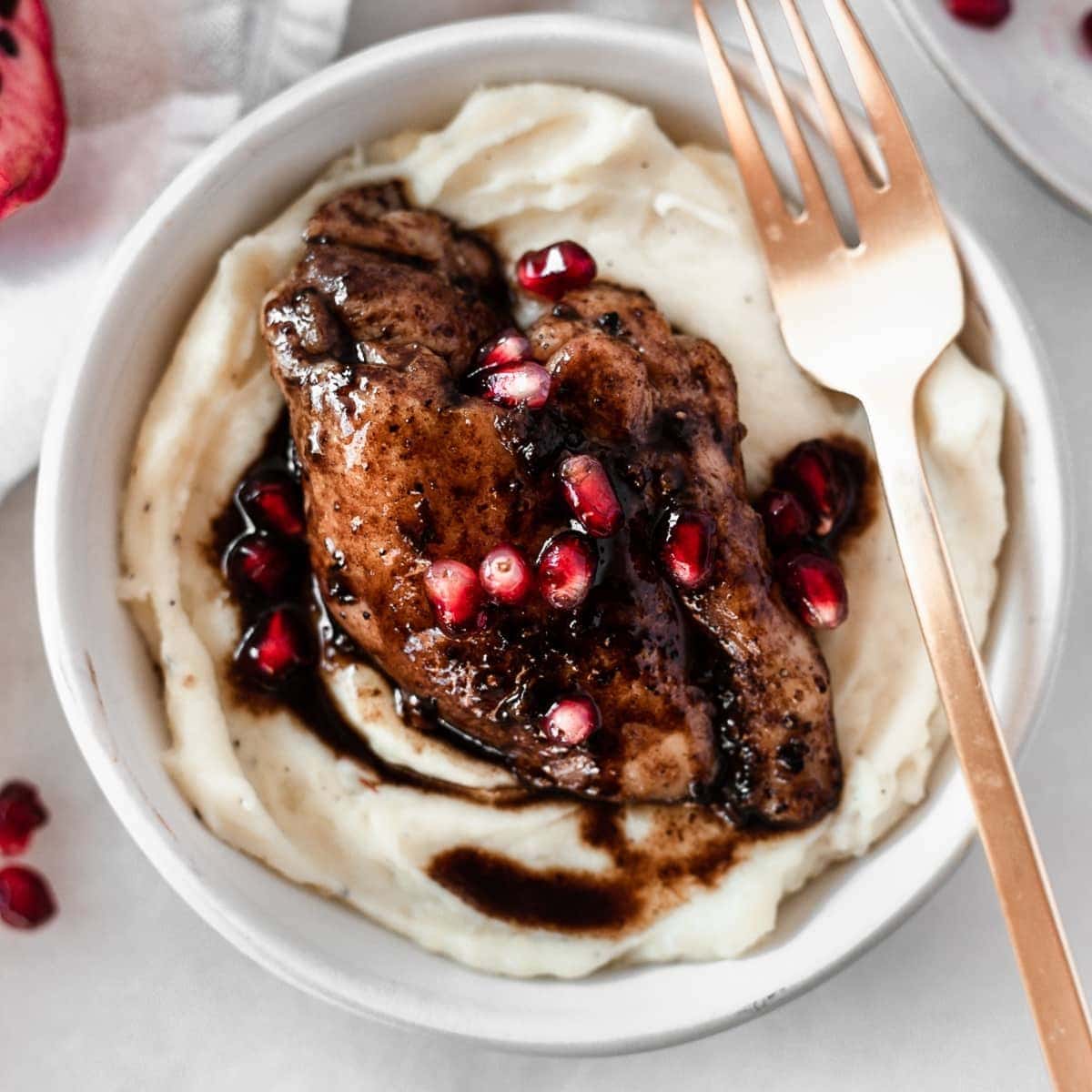 Pomegranate Balsamic Chicken Thighs
These 3 ingredient pomegranate balsamic chicken thighs couldn't be easier to make. They're the perfect quick and healthy weeknight dinner paired with a side of veggies!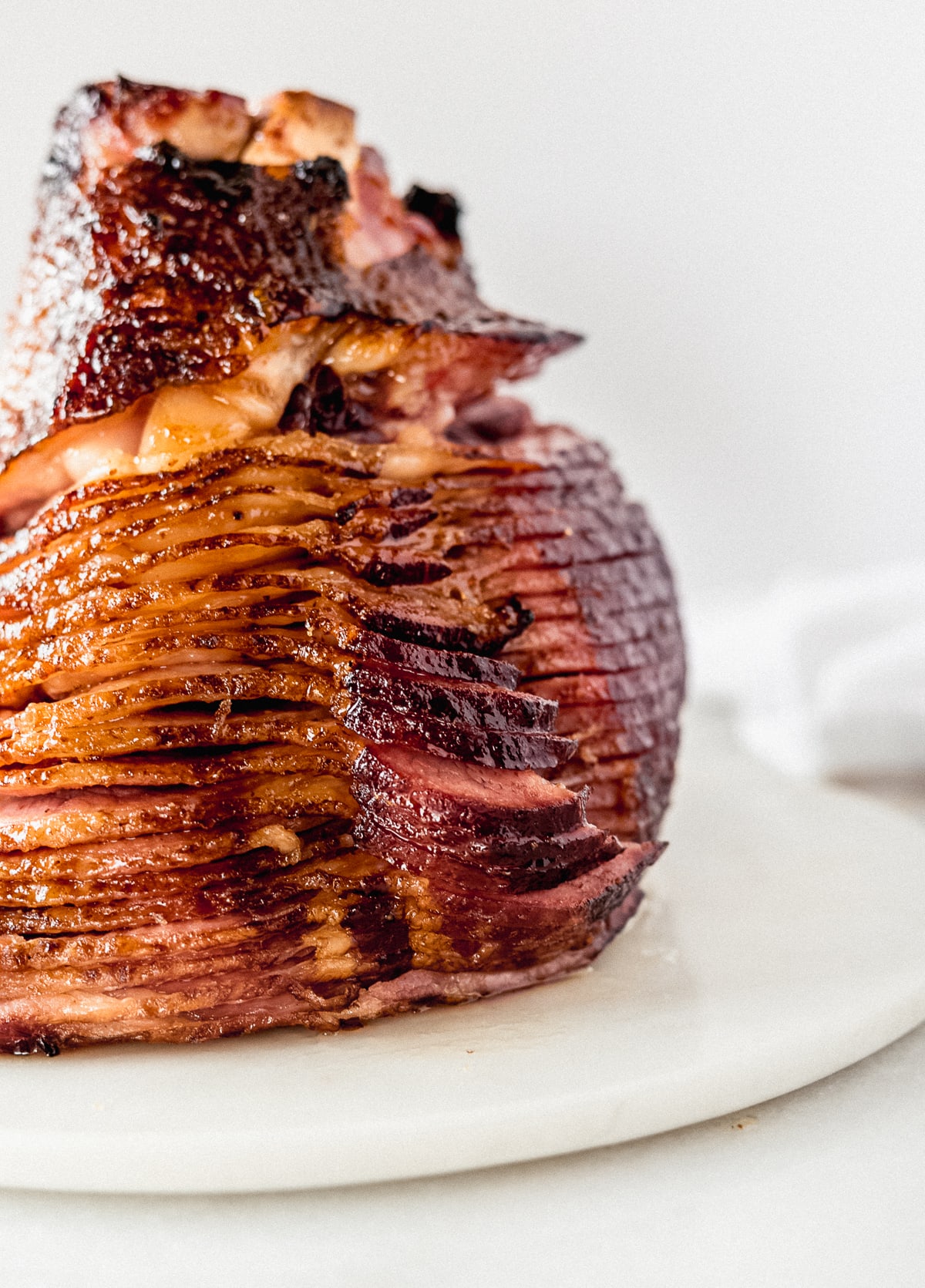 Making your own holiday ham is much easier than you think! Bonus - you get leftovers to eat for days!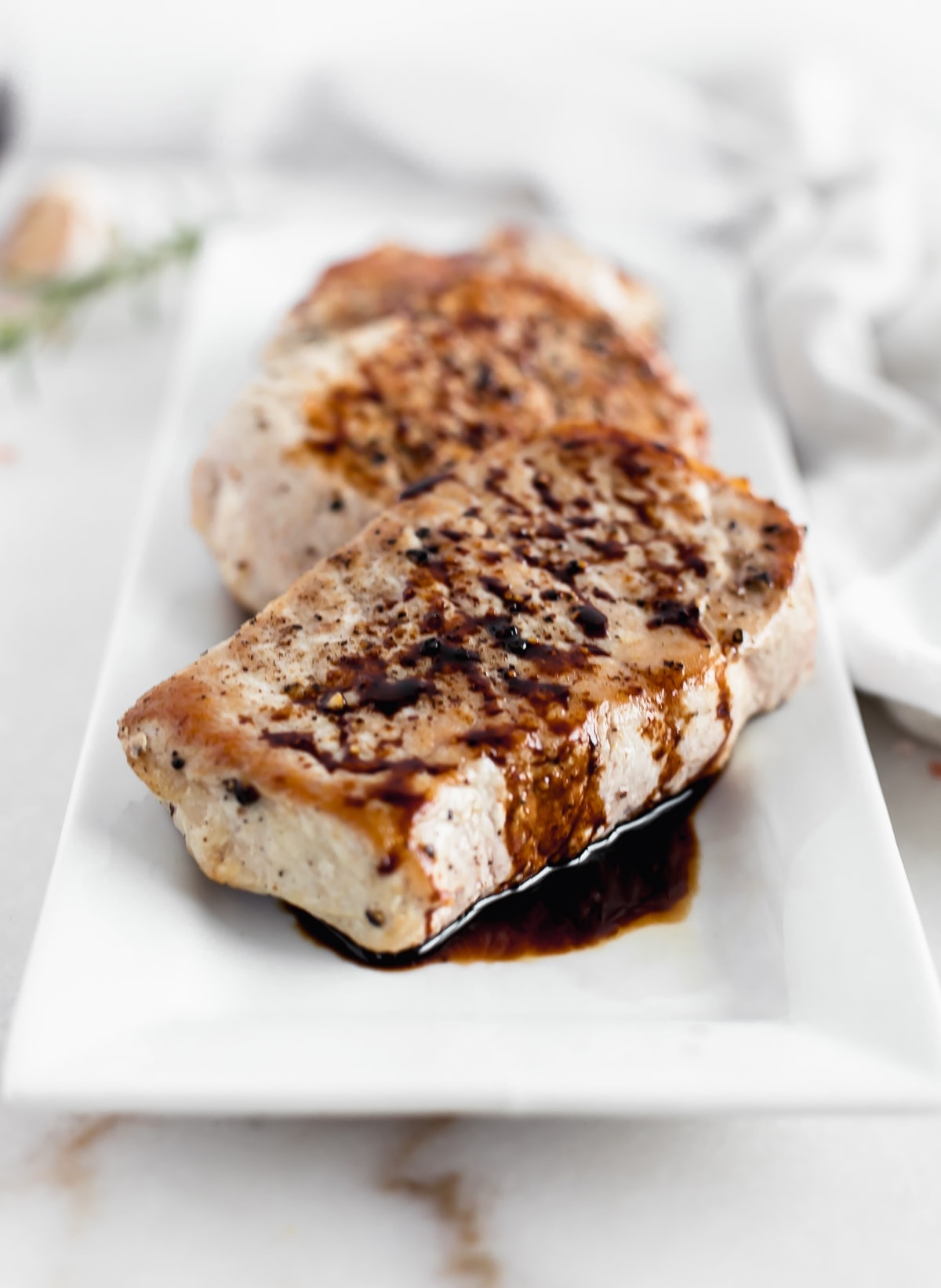 Easy Skillet Pork Chops with Balsamic Glaze
Easy Skillet Pork Chops with Balsamic Glaze are a quick and tasty way to cook pork chops at home! You only need 6 ingredients and 15 minutes to make this healthy weeknight dinner.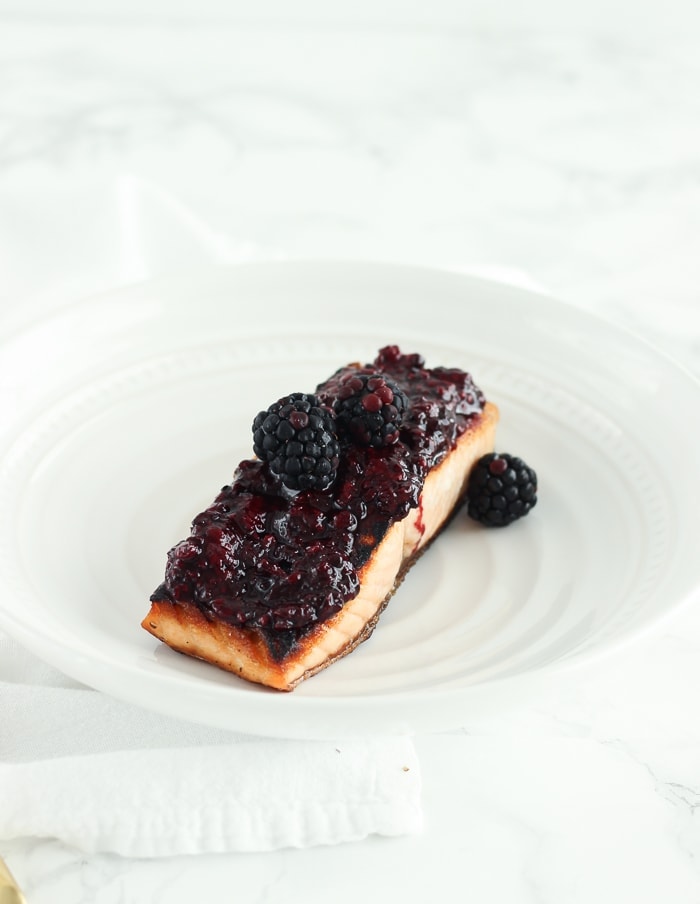 This easy blackberry glazed salmon is a quick and delicious way to get in more heart-healthy omega-3s and antioxidants. Made with only 6 ingredients and in 15 minutes, you can get a healthy dinner on the table quickly!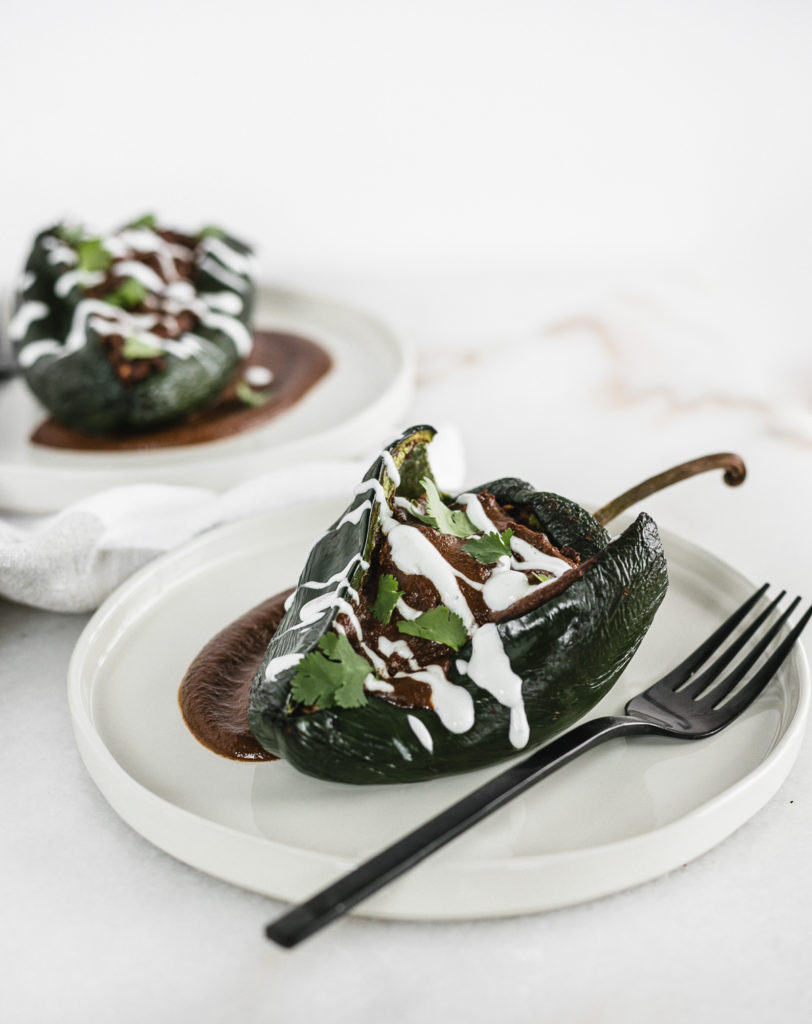 Mole Chicken Stuffed Poblano Peppers
These healthy baked Mole Chicken Stuffed Poblano Peppers filled with mole-covered shredded chicken are a delicious and healthy Mexican-inspired dinner to use leftover chicken.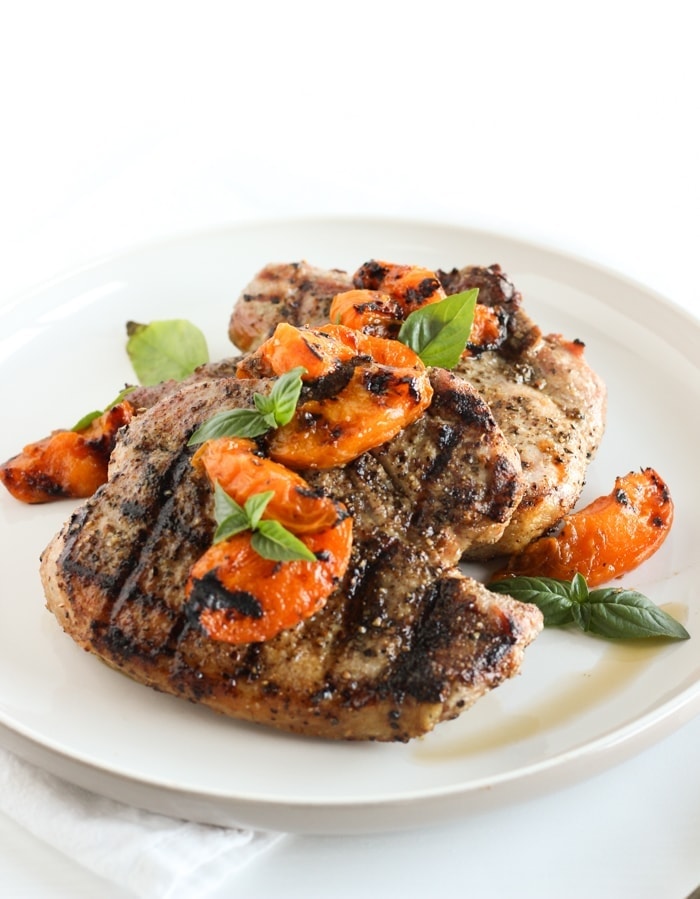 Summer Grilled Apricot Pork Chops
With just 6 ingredients and all cooked on the grill, these easy grilled apricot pork chops make a healthy and delicious summer dinner for any weeknight!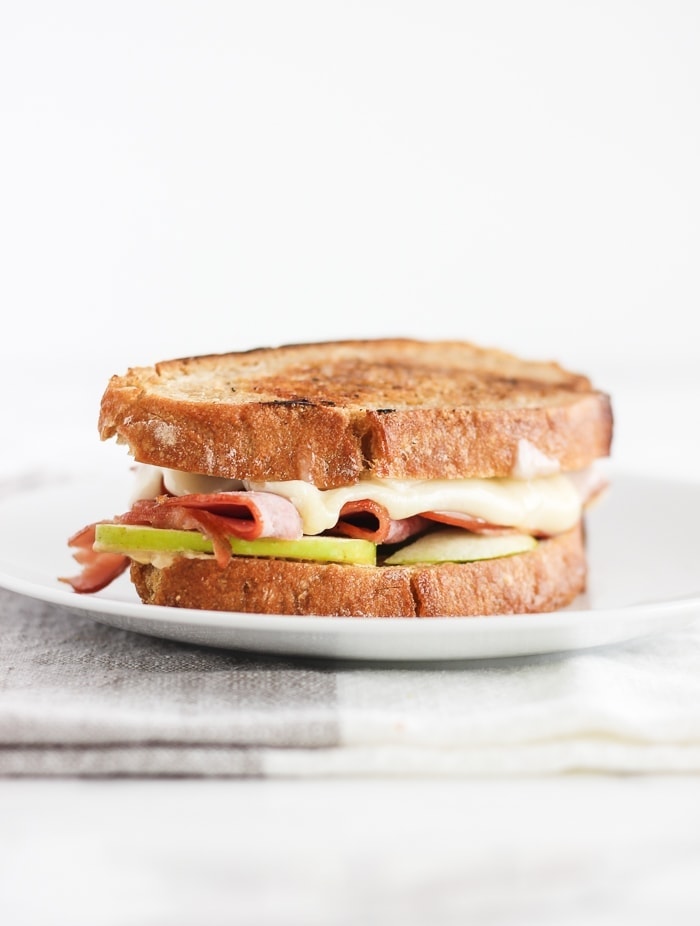 Apple White Cheddar Hot Ham and Cheese Sandwich
The ham and cheese sandwich gets a delicious upgrade with granny smith apples, white cheddar, and honey mustard!