Kale, lentils, yogurt, and eggs come together to make a delicious and healthy Kale Lentil Breakfast Bowl with ingredients you probably already have in your kitchen!
I'm so excited for this month's Recipe ReDux theme. It's all about using what you already have in your kitchen to put together a healthy meal. I am a huge advocate for making meals this way. Not only does it help me save money, but it's also a great way to keep food from going bad.
One of the easiest ways to make healthy eating a little less of a pain is to always be prepared. If you don't have anything healthy in your kitchen to fix, it's much easier to reach for a frozen dinner or order takeout. But if you have a kitchen stocked with healthy staples, you can easily whip up something nutritious, even if it seems like you don't have much. If you have a basic protein source like lentils or eggs, you can almost always create a balanced meal with whatever fruits and veggies you have on hand.
Keeping a stocked kitchen also helps me to save money, because I can use up the produce I need to, and piece together a meal like this Kale Lentil Breakfast Bowl, without having to run out to the store to buy more ingredients, where I will inevitably spend more money than I intended to.

This delicious Kale Lentil Breakfast Bowl is made up of all of my favorite staples that I always keep around. It's a great example of how you can prepare a healthy and delicious meal without having to try too hard or run out to buy more ingredients. Lentils are great to keep in your pantry as a quick protein and fiber source to put in any meal – even breakfast! I also always keep plain Siggi's yogurt and eggs in my refrigerator because they are great protein sources and so versatile. Combining all of these staples with some garlicky kale and parsley make this meal a nutritious, delicious and inexpensive way to clean out your produce drawer!

Some other pantry staples I always keep around include nut butter, canned black beans and chickpeas, oats, and quinoa. I always keep lots of different flavors of yogurt in my fridge along with almond milk, some homemade whole grain sourdough, and homemade chicken stock. All of these staples make it super easy for me to use whatever fruit, vegetables, herbs and meat or fish that I buy to create a healthy and delicious meal or snack on short notice.

What staples do you keep on hand in your kitchen? To see what all of the other ReDuxers created from what was in their kitchen, click the link below!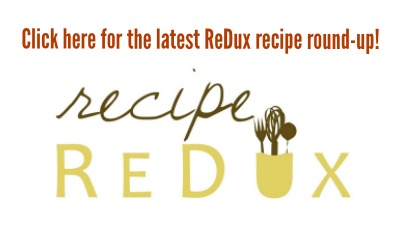 Kale Lentil Breakfast Bowl
Kale, lentils, yogurt, and eggs come together to make a delicious and healthy Kale Lentil Breakfast Bowl with ingredients you probably already have in your kitchen!
Ingredients
2 tsp olive oil, divided
2 cloves garlic, minced
4 leaves lacinato kale, cut into thin strips
1 cup cooked lentils
2 large eggs
1/4 cup nonfat plain Greek yogurt
2 tbsp flat leaf parsley, chopped
Coarse salt
Freshly cracked black pepper
Instructions
In a small nonstick skillet, heat 1 tsp of the olive oil over medium low heat. Add garlic and kale and cook, stirring, until kale is wilted, about 2 minutes. Add lentils and continue cooking until warmed through. Divide mixture between 2 bowls.
Wipe skillet clean and add remaining tsp of olive oil. Heat over low heat and crack eggs gently into skillet, one at a time. Cover and cook until whites are set but yolks are still runny, 1-2 minutes, or continue cooking for firmer yolks.
Remove eggs from heat and place one into each bowl with the lentil and kale mixture.
Serve each bowl with 2 tbsp yogurt and sprinkled with parsley, salt and pepper.
https://livelytable.com/kale-lentil-breakfast-bowl/
Recipe copyrighted by Lively Table. Thanks!
Love this recipe? PIN it!