Easy, tender and flavorful garlic rosemary pork loin that's a simple yet impressive dinner! (gluten-free, dairy-free, nut-free)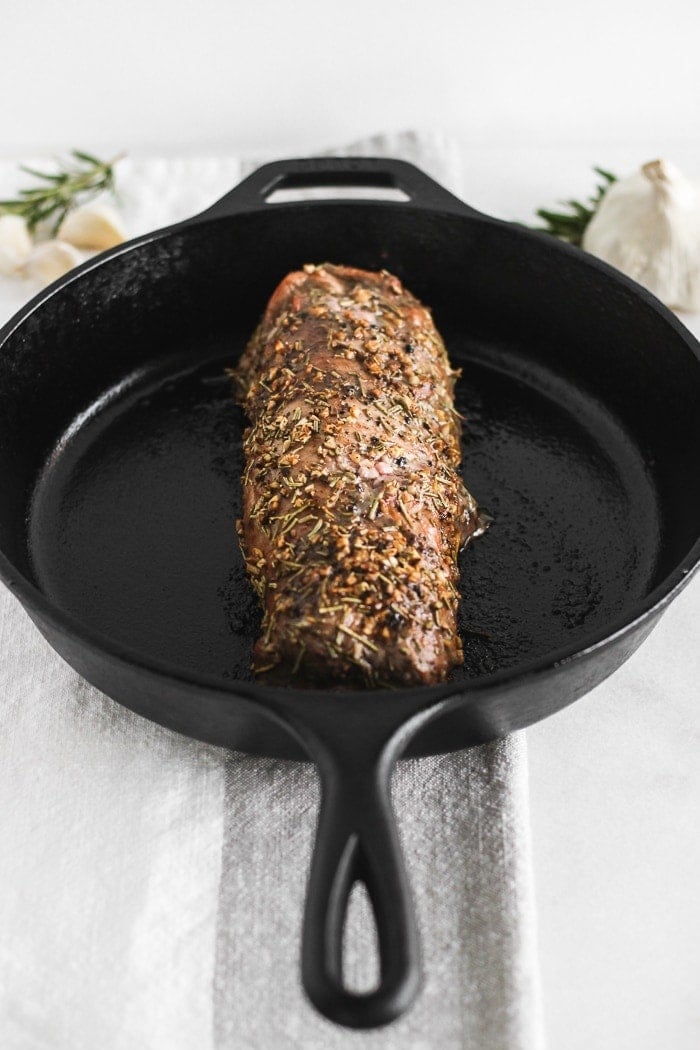 Does anyone else tend to forget about pork? I always do, and I don't know why, because it is so dang good! And so easy to make. And actually pretty healthy.
A lot of young women tend to be intimidated by cooking something like a pork loin, but it really is so simple! But there is one critical thing you must do. GET A THERMOMETER!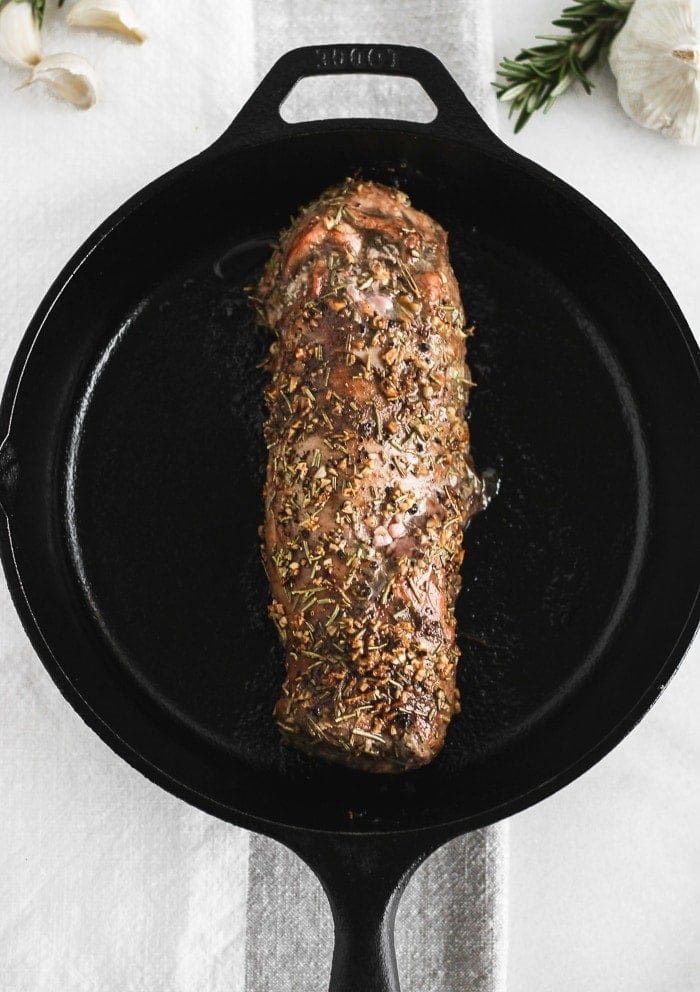 Seriously, they are like, $10 and your food will turn out 100 times better!
Ever since my husband and I started using one, we have yet to dry out a piece of meat.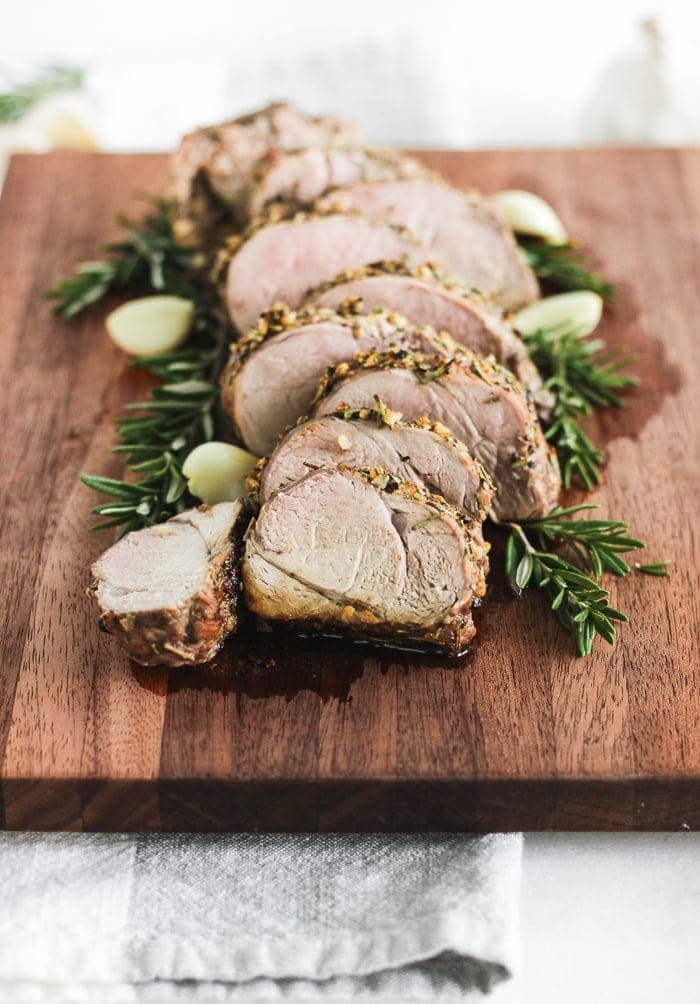 To use a food thermometer
, you simply insert it into the center of the thickest area of your pork (or chicken, or whatever), but don't go all the way through to the bottom. That will give you an inaccurate reading. Then wait until it tells you the temperature. If it's below the minimum safe temperature, keep cooking it! Easy!
Most thermometers now will come with the correct temperature to cook meat to, but just in case, you can always find the correct temperatures on the USDA website.
I like to cook mine to about 5° below and then pull it from the oven and let it rest for about 10 minutes to finish cooking. That always ensures we get tender, perfectly cooked meat every time.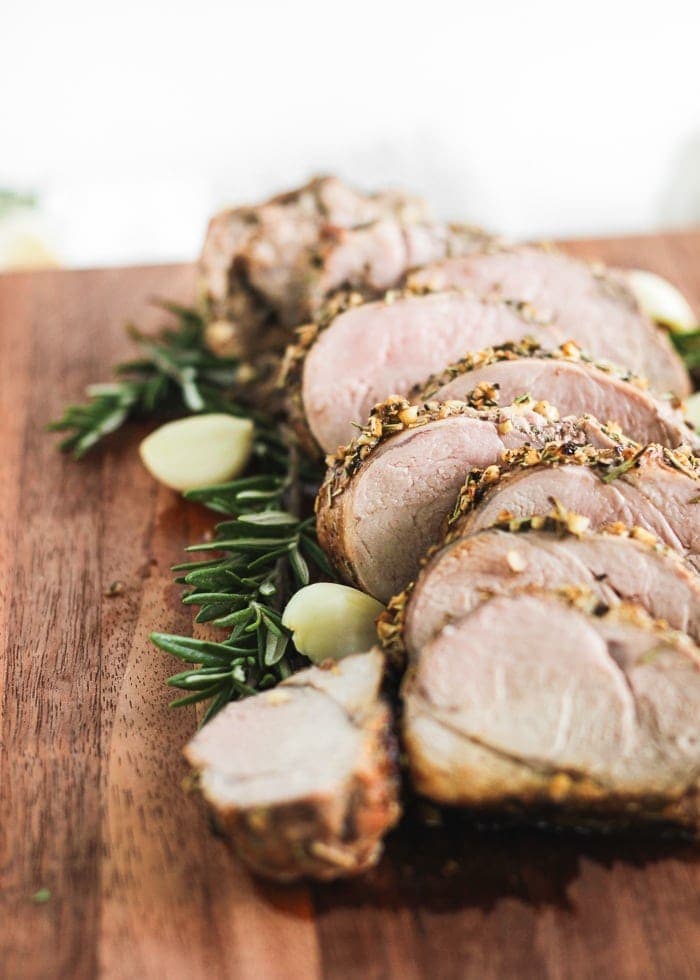 Now, the recipe for this garlic rosemary pork loin couldn't get any simpler. It's just a few simple ingredients, letting it marinate, and then cooking it to perfection! And by checking the internal temperature, you can rest assured you won't give anyone food poisoning without drying out any more pieces of meat. That's a win-win my friends!
Did you make this recipe? Please leave a star rating in the comments!
Print
Perfect Garlic Rosemary Pork Loin
Easy, tender and flavorful garlic rosemary pork loin that's a simple yet impressive dinner! (gluten-free, dairy-free, nut-free)
Author: Kaleigh
Prep Time:

15 minutes

Cook Time:

30 minutes

Total Time:

90 minutes, including marinating

Yield:

Varies

Category:

entree

Method:

baked

Cuisine:

American
1

pork tenderloin, 1-2 lb

3

cloves garlic

2

sprigs rosemary, leaves removed

1 teaspoon

coarse salt

2 teaspoon

fresh cracked black pepper

¼ cup

balsamic vinegar

¼ cup

Worcestershire sauce

2 tablespoon

olive oil
Instructions
In a food processor, combine garlic and rosemary and pulse until finely chopped. (Or chop finely by hand.)
Rub pork loin with garlic mixture, salt and pepper. Set in a large bowl and cover with balsamic, Worcestershire sauce and oil. Let pork marinate for 1-2 hours in the refrigerator. Pull 30 minutes before cooking and let it come to room temperature.
Preheat oven to 400° F. Put pork in a greased baking dish or cast-iron skillet and bake until it reaches an internal temperature of 140° F, turning once halfway in between. The time it takes will vary, depending on size, but ours usually take around 30 minutes. Start checking around 20 minutes.
Pull pork from oven and cover. Let rest 10 to 15 minutes before carving. Enjoy!
Notes
This recipe is for a small tenderloin. To make a larger pork loin, Turn oven temperature down to 375° F after 20 minutes and continue to cook until the center reaches 140° F. It will take a bit longer, about an hour.
Keywords: garlic rosemary park loin, rosemary pork loin, garlic pork loin
Recommended Tools
[show_shopthepost_widget id="3100777"]