Spicy grilled harissa chicken thighs with a creamy lemon mint yogurt sauce made with just a few simple ingredients are an easy and delicious dinner option for busy weeknights. (gluten-free, nut-free)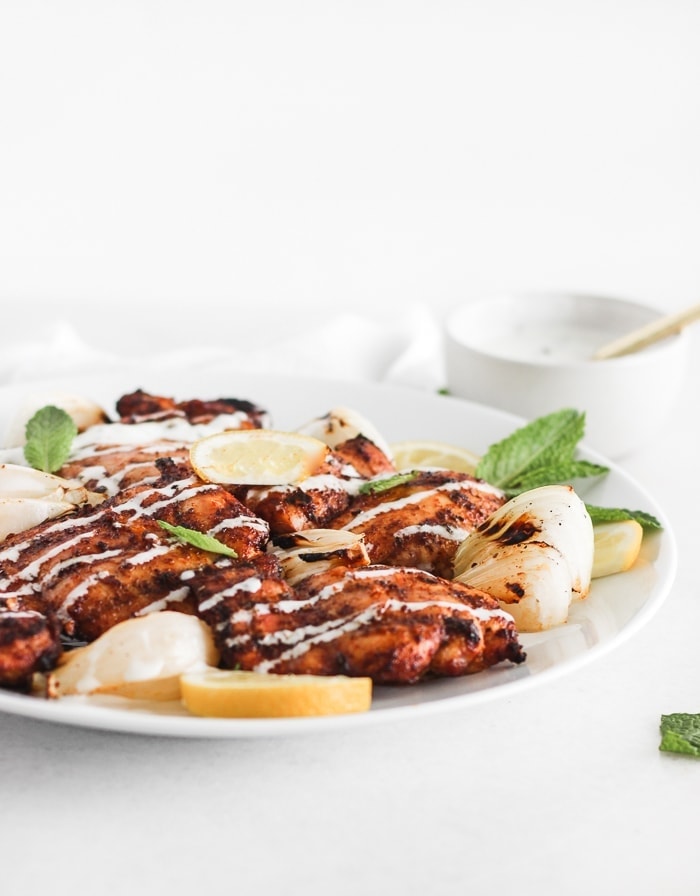 I might have underestimated just a little how hard it would be trying to take care of a baby and do just about anything else. Just like many first time moms (I'm guessing), I have already found out very quickly that by the time you wake up, feed baby, feed yourself, clean up baby, and clean up yourself, it's time to do it all over again until bed time. How does anyone in the world get anything done with a newborn?
Not to mention the mom brain. It is so real right now, y'all. I feel like I just completely don't have any functioning brain at all. It must be the sleep deprivation.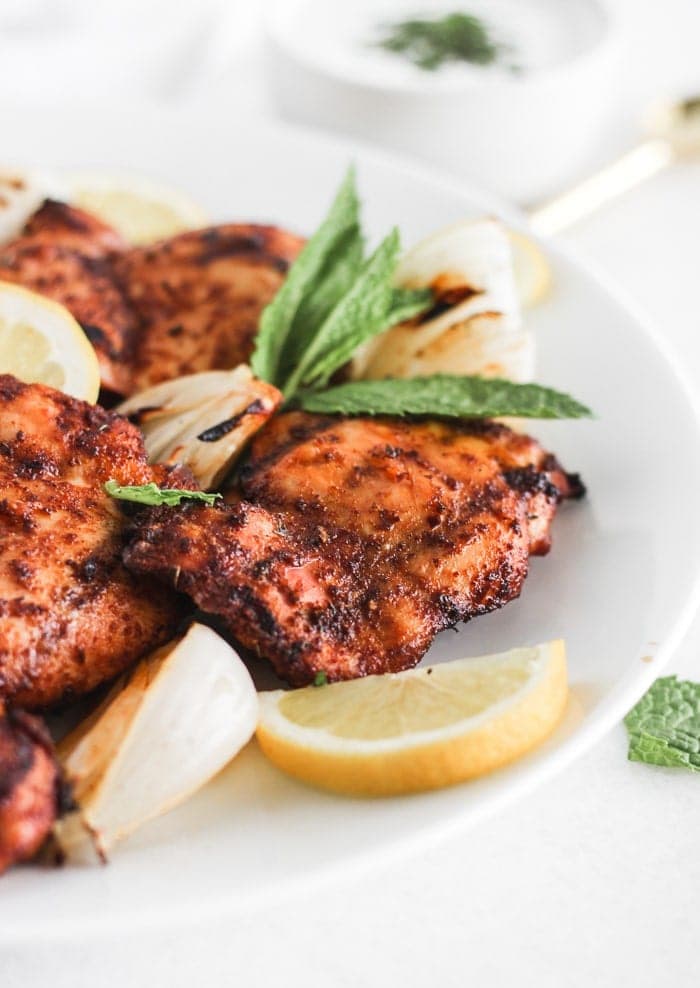 Although if you're already a mom, you know all of this already. And way to go for just making it through a day! I now understand why people need as many easy dinner recipes as possible. And why people eat cereal for dinner.
For easy dinners, I love chicken thighs. They cook super quick, take on flavors easily, and are delicious. And since the fat content is a bit higher, it's almost impossible to dry them out. Perfect for if you have mom brain too and forget about them for a few minutes. Oops!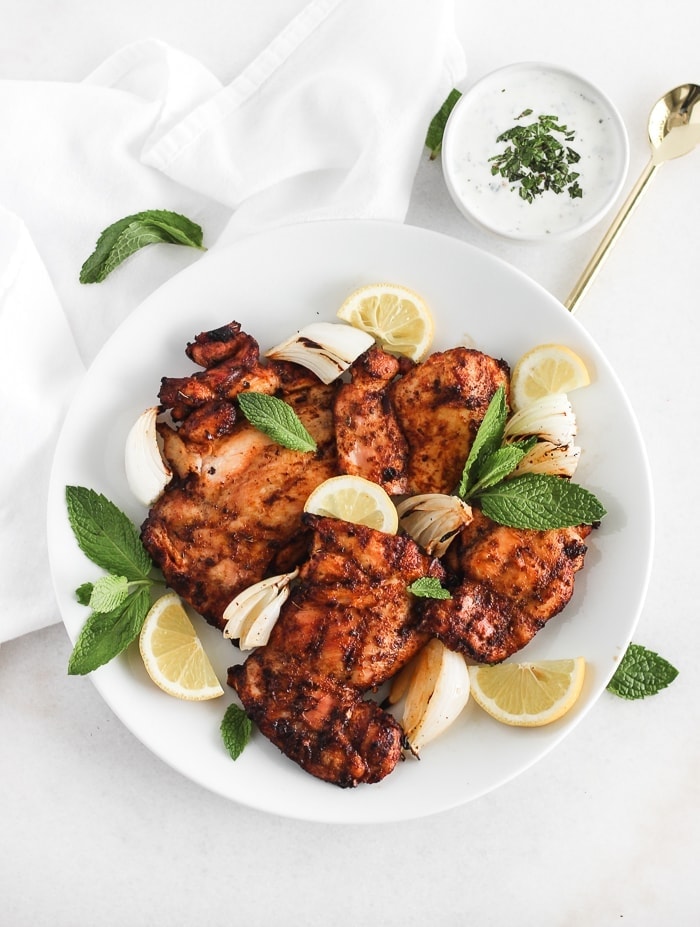 These harissa grilled chicken thighs make a super delicious meal in almost no time. The chicken itself requires only 3 ingredients. And the sauce contains just a few more simple ingredients that you probably have on hand, so you can get dinner on the table in 30 minutes or less!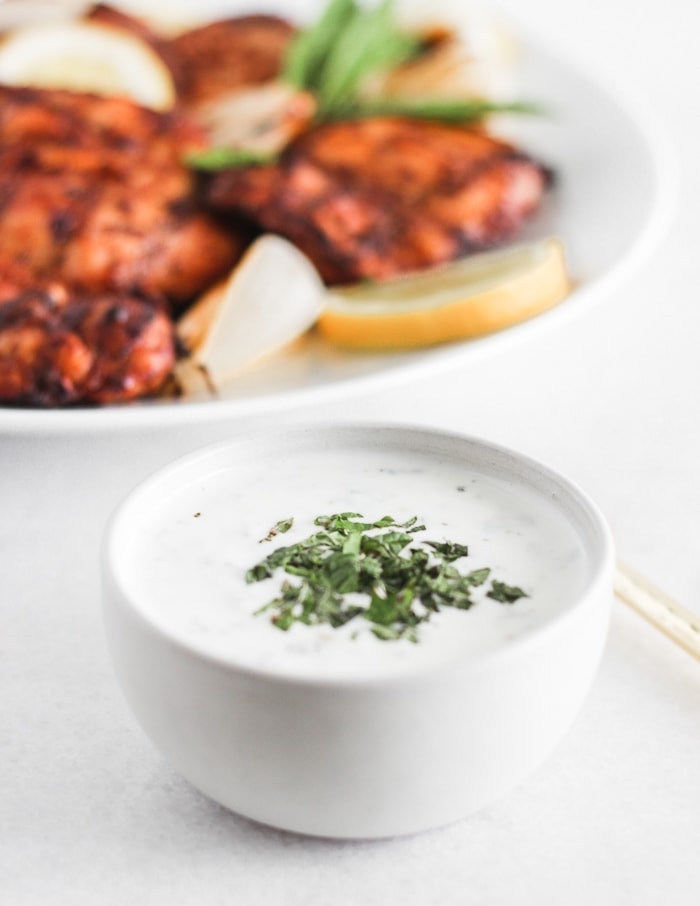 The lemon mint yogurt sauce might be my favorite part of this recipe. The tang and freshness cools down the spicy chicken thighs very well. And it tastes so good, I could eat it by itself.
For easy side dishes, try some canned chickpeas, grilling your favorite vegetable (zucchini and squash are super easy!), or a simple green salad. I like to grill some onions to go along with the harissa chicken thighs, but they are completely optional if you aren't an onion person. Or if, like me, you're a new mom and forgot to get onions at the store among 18 other things.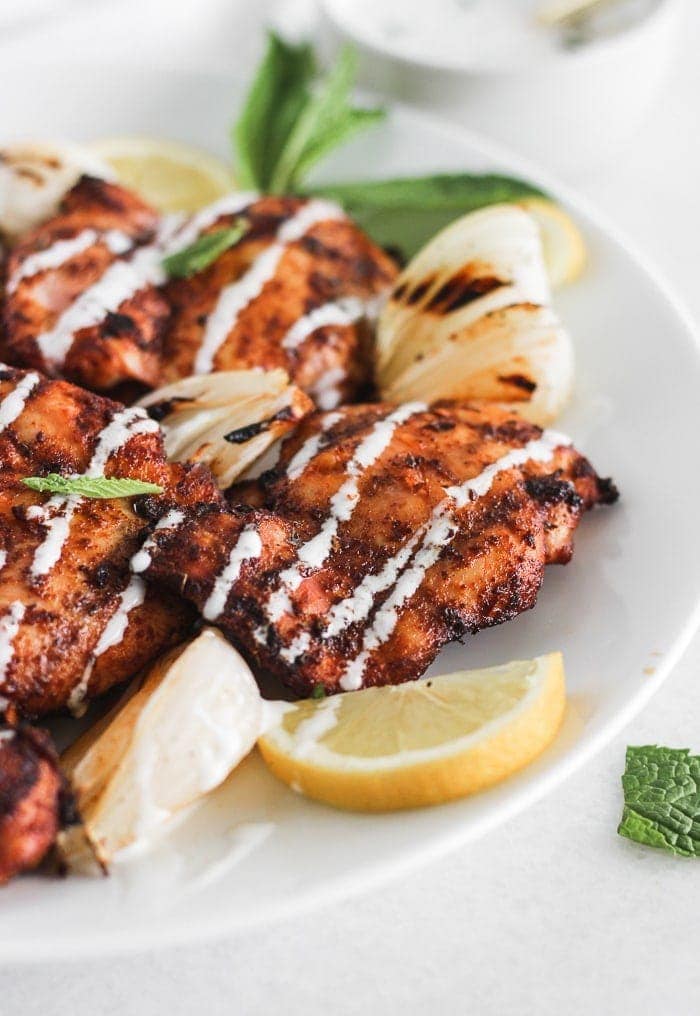 I hope you'll all be patient with me as I transition into my new role as a mom who is also a functioning human being. In the meantime, enjoy this easy recipe for harissa grilled chicken thighs with lemon mint yogurt sauce. You can look forward to many more easy recipes in the future, because #momlife.
Recipe copyrighted by Lively Table. Thanks!
Love this recipe? PIN it!