In this month's installment of Fridge Foraging, I made a quick pita pizza, refreshing mango melon smoothie, summer corn chicken pesto gnocchi, and a veggie frittata!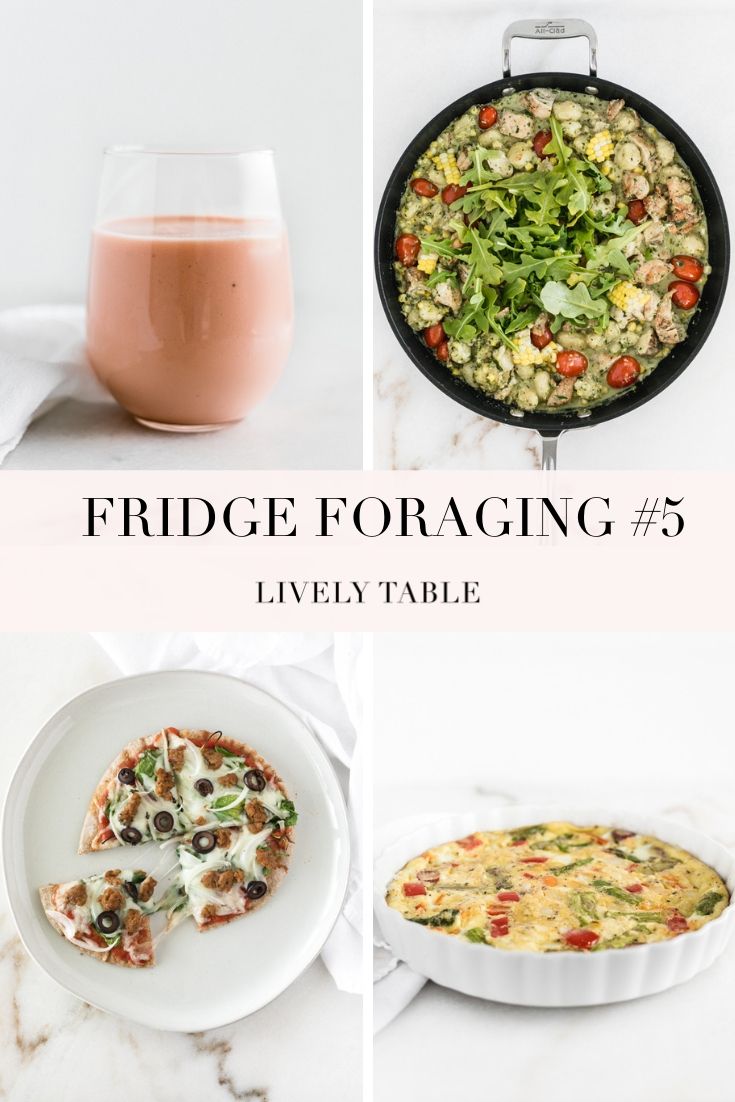 We've been doing a lot of fridge foraging this month. Between having lots of leftovers from Queen C's birthday and making three trips out of town this month, I haven't been doing a lot of grocery shopping. Instead, I've tried to make the most of leftovers and play fridge cleanout so that we didn't have a lot of fresh food go bad while we were gone.
Here's what I made this month while fridge foraging: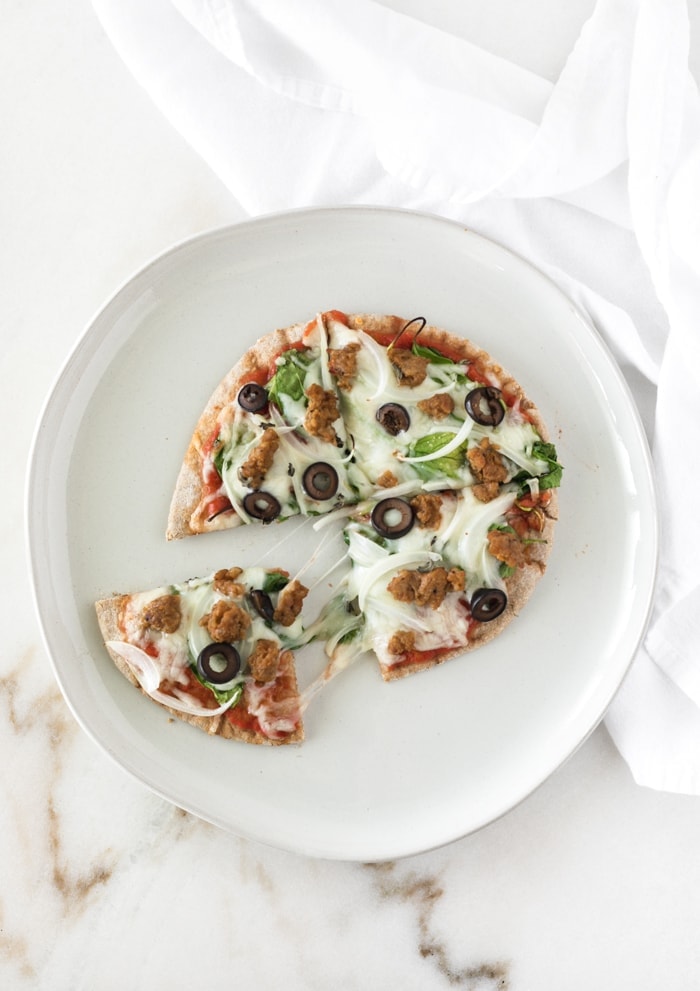 Easy Pita Pizza
It's hard for us to eat a whole package of bread (whether it's sandwich bread, buns, or English muffins) before it goes bad, so I tend to put a LOT of it in the freezer. One day we didn't have much to make for lunch, so I pulled a couple of whole wheat pitas out of the freezer, along with some cooked Italian sausage, and made pita pizzas for me and Mr. Table. It was the perfect use for a bit of tomato sauce and some fresh spinach that were hanging out in the fridge. Here's what was on them:
Whole wheat pita bread

Tomato Sauce

Cooked turkey Italian sausage crumbles

Baby spinach

Sliced black olives

Sliced onion

Shredded mozzarella

Fresh oregano (from my garden out front)
I just spread the sauce on the pitas, topped with spinach, cheese, and the rest of the toppings, and baked at 400°F for about 10 minutes.

Mango Melon Smoothie
I made a melon ball salad for Queen C's birthday party, leaving me with a lot of melon scraps - perfect for a refreshing smoothie! Here's what was in the smoothie:
1 frozen banana

½ cup frozen mango

1 cup melon (watermelon and cantaloupe)

½ cup plain Greek yogurt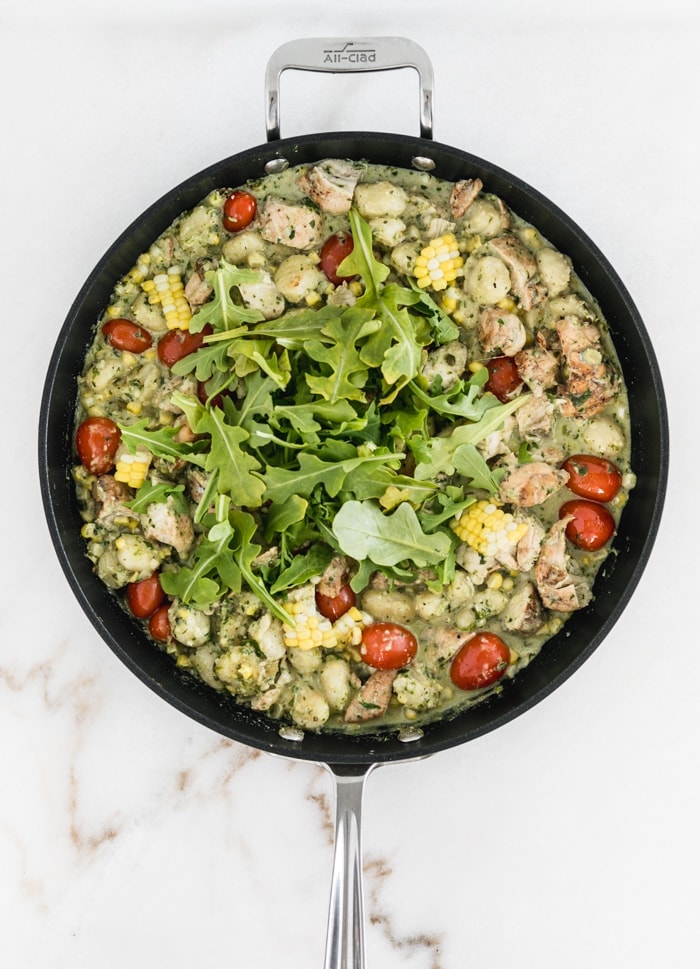 Chicken Pesto Gnocchi
This one was really a 'throw together anything and everything we have' dinner. I pulled some chicken tenderloins and gnocchi out of the freezer, threw together some pesto with the last of the arugula and parsley in the fridge and some fresh herbs from out front, and added some fresh corn and tomatoes for a summery vibe!
Here's what I did:
Marinate chicken tenderloins in balsamic vinegar, salt, and pepper.
Make pesto: In a food processor, blend a big handful of fresh herbs (basil, arugula, oregano, parsley) juice of 1 lemon, 1 clove garlic, a few walnuts, a couple of tablespoons of freshly shaved parmesan, and a drizzle of olive oil.
Cook the gnocchi according to package directions, reserving some of the cooking liquid.
In a large skillet, cook the chicken until done. Cut it into chunks, then return it to the skillet with the gnocchi, pesto, corn, and tomatoes. Cook until everything is warmed through, adding reserved liquid as needed to form a sauce. Add a handful of arugula and extra parmesan cheese on top before serving!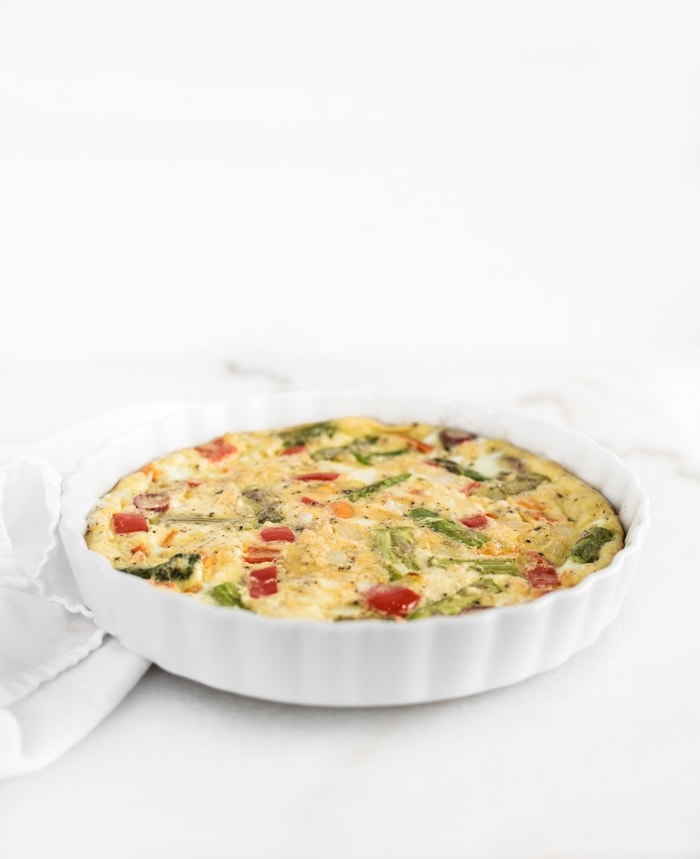 Veggie Frittata
Frittatas are the ultimate food to use up any vegetables you have on hand. This one was made from a few spare stalks of asparagus, a couple of rogue radishes and some mini bell peppers that had seen their better days. Here's how to make it:
In a nonstick skillet, sauté pieces of asparagus, sliced radishes, diced pepper, and diced onion in a bit of olive oil until just barely soft.
Spread the veggies in the bottom of an oiled baking dish. You can also just use the skillet if it's oven-proof. Add some feta or other cheese on top of the veggies (if you want).
Whisk together 6 eggs (I used 5 eggs and some egg whites that needed to be used), a splash of milk, salt and pepper. Pour over the veggies.
Bake at 350°F for 25 minutes or until eggs are set.
Do you like to play the fridge cleanout game before you go out of town? What do you usually make?