An easy, healthy breakfast doesn't have to be boring! Make your mornings more delicious with one of these simple, healthy breakfast recipes with 7 ingredients or less, from overnight oats and baked oatmeal to breakfast bowls and tacos!

You all know how much I love breakfast. Before I had kids, I loved taking my time in the morning with a healthy, elaborate breakfast. Fast forward 2 years and 2 kids, and making breakfast is a much more rushed affair. But eating a healthy breakfast is still non-negotiable. So I turn to easier options, like these breakfast recipes with 7 ingredients or less. Whether you like to whip up quick smoothies, meal prep with overnight oats, or enjoy an easy egg breakfast, these healthy breakfast recipes will help you start your day off on the right foot.
Easy Breakfast Recipes With 7 Ingredients or Less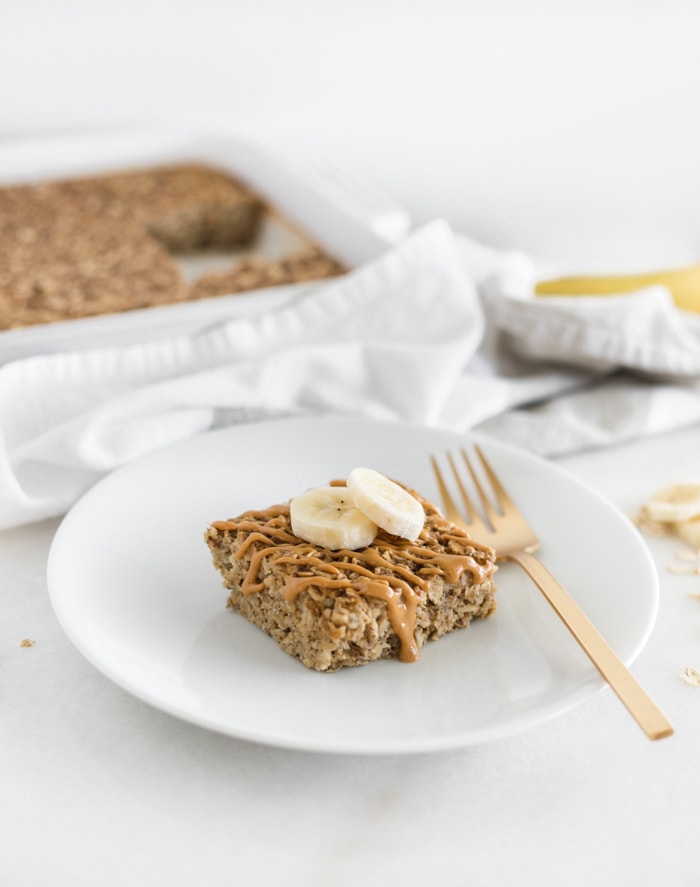 Peanut Butter Banana Baked Oatmeal
Peanut butter banana baked oatmeal is a delicious, healthy make-ahead breakfast with no added sugar that you can feel good about feeding your whole family! With less than 10 minutes of active prep time, this easy recipe is a great way to save you time in the mornings!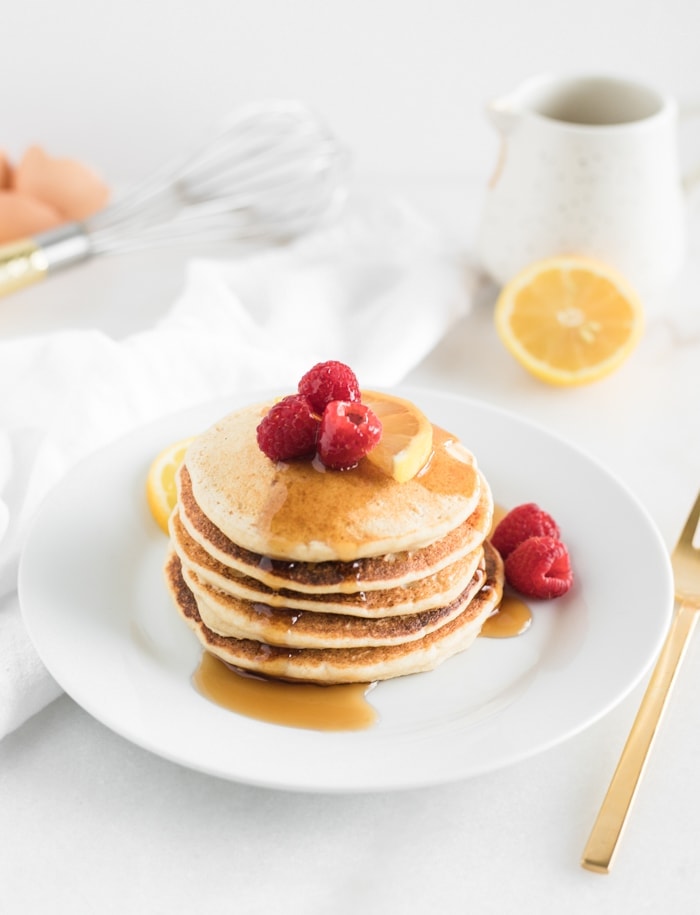 Healthy lemon ricotta pancakes are rich, moist, and creamy, yet light and barely sweet – they're the perfect breakfast!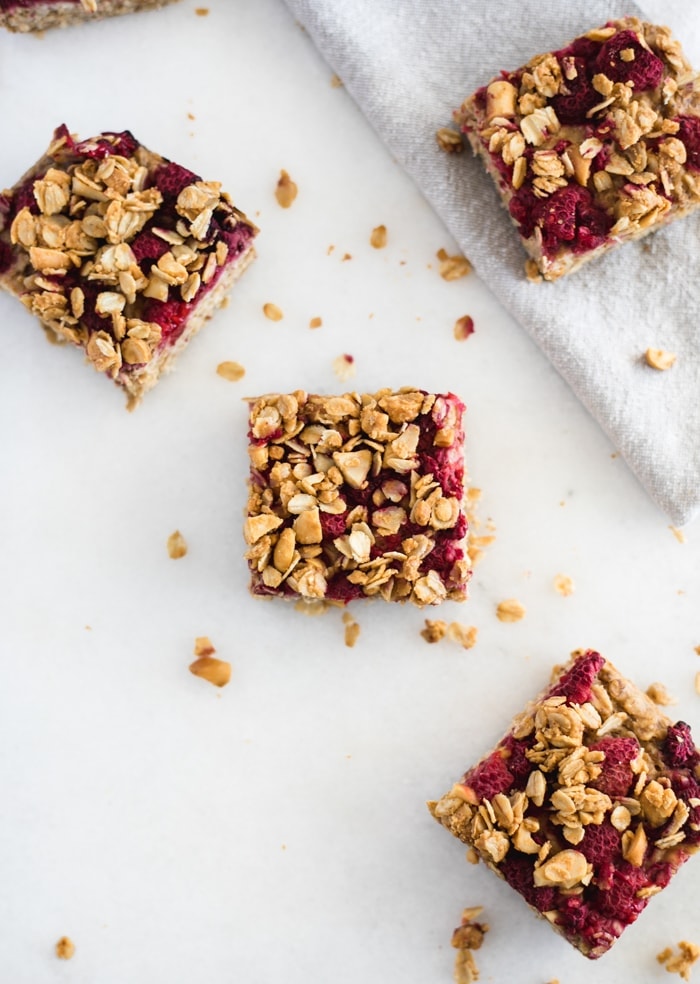 No added sugar PB&J baked oatmeal bars are the perfect heart-healthy breakfast to start your day or afternoon snack!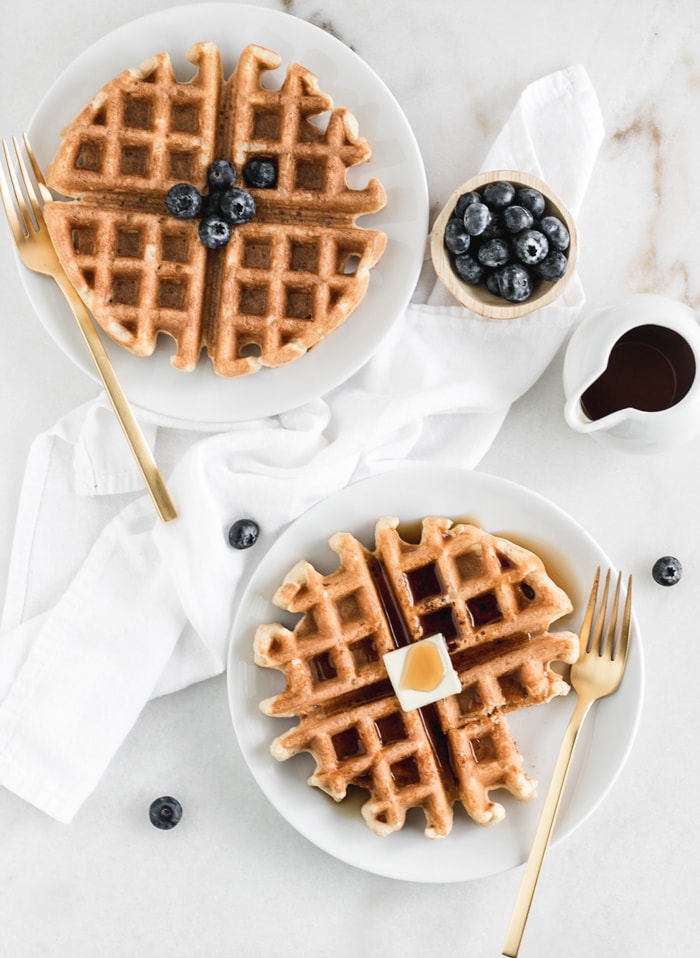 One Bowl Whole Wheat Buttermilk Waffles
Simple, healthy one-bowl whole wheat waffles are a great weekend breakfast that won't leave you hungry an hour later. Tasty, fluffy, and easy to make, this will become your go-to healthy waffle recipe!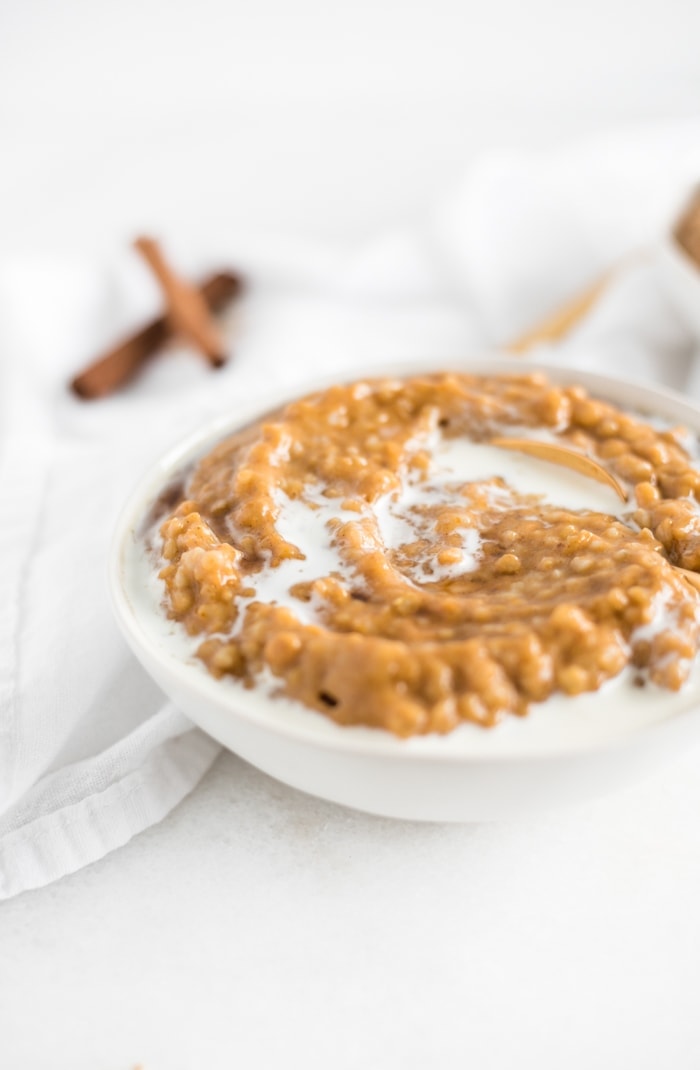 Instant Pot Maple Pumpkin Spice Oatmeal
Cozy up with a bowl of this super simple and delicious Instant Pot maple pumpkin spice oatmeal. It's just the fall breakfast to warm you up on cold mornings! Includes slow cooker instructions.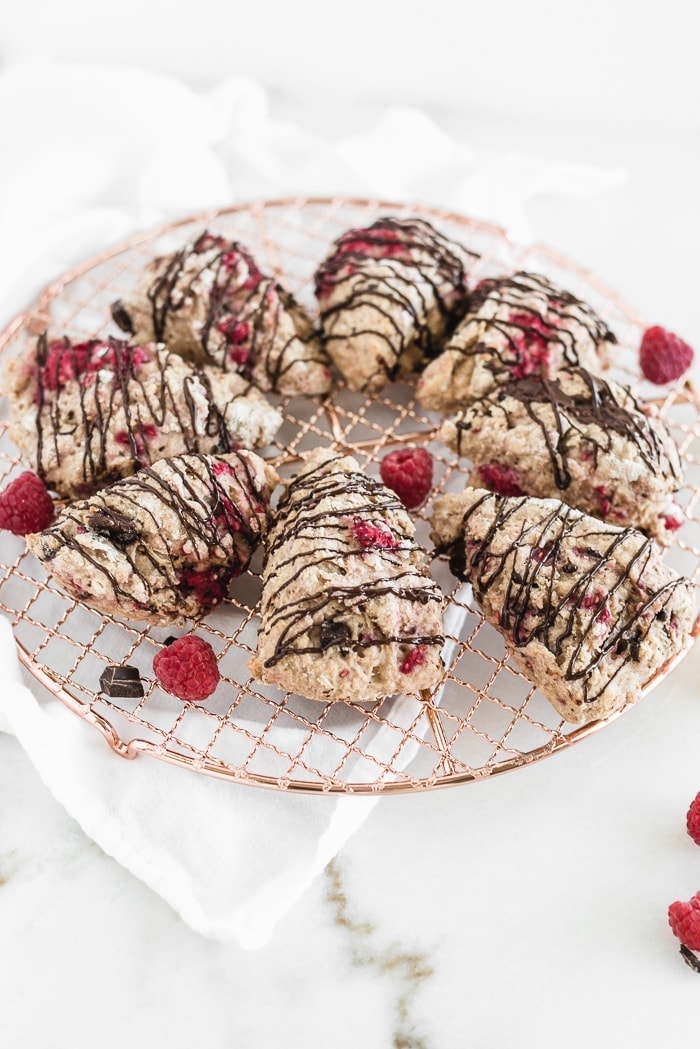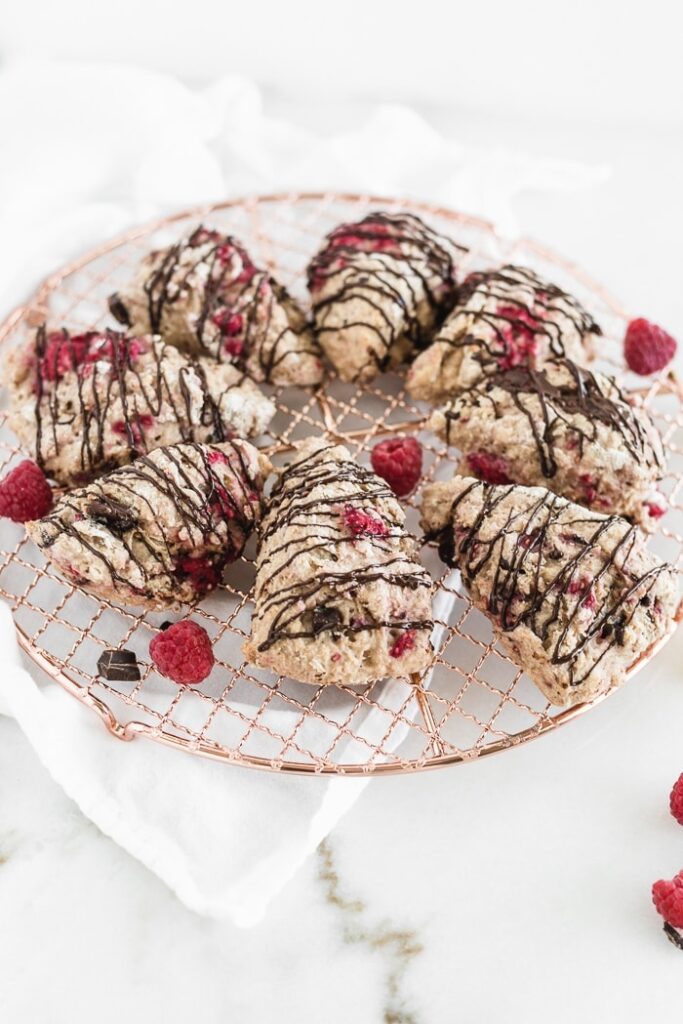 Dark Chocolate Raspberry Greek Yogurt Scones
These healthy Dark Chocolate Raspberry Scones with Greek yogurt whole grain flour are soft, fluffy, and full of raspberries and chunk of dark chocolate. They make the perfect snack or brunch treat! These healthy Dark Chocolate Raspberry Scones with Greek yogurt whole grain flour are soft, fluffy, and full of raspberries and chunk of dark chocolate. They make the perfect snack or brunch treat!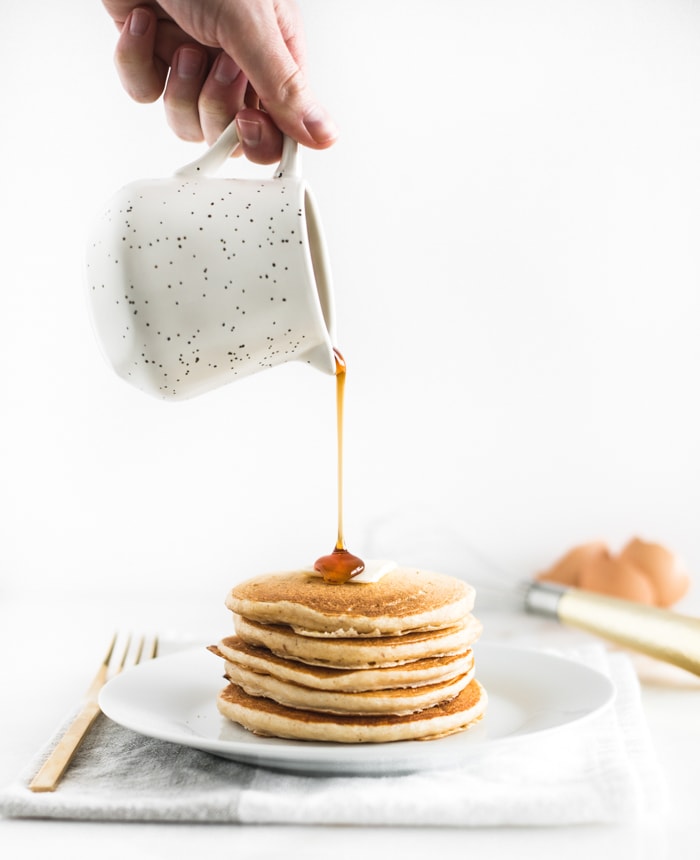 Healthy Whole Wheat Buttermilk Pancakes
These healthy whole wheat buttermilk pancakes are fluffy, delicious, and so easy to make with only 5 simple ingredients and one bowl. They will become your new favorite weekend breakfast!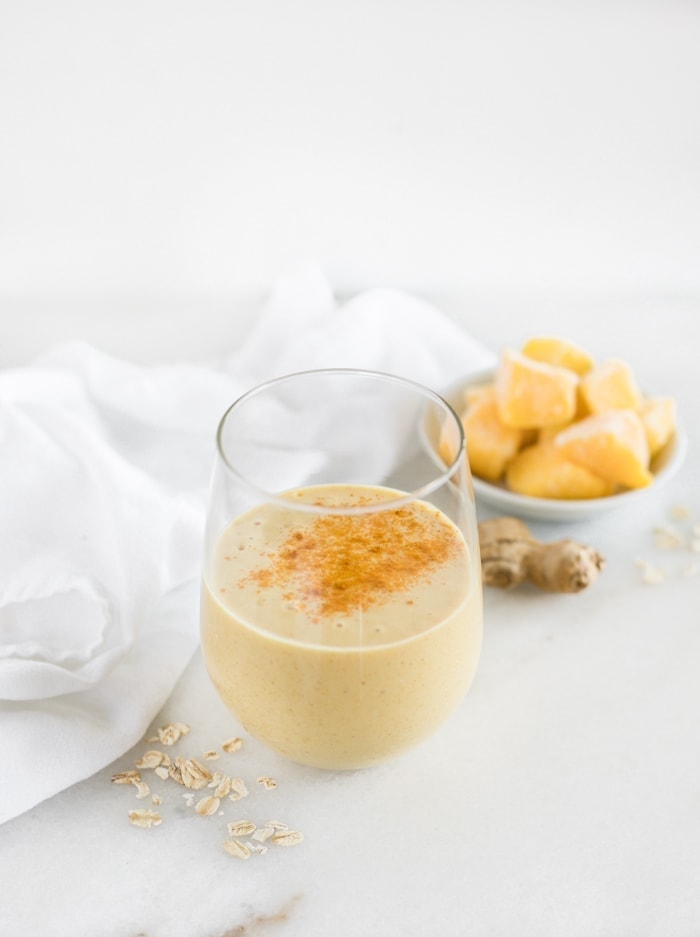 Mango Ginger Turmeric Smoothie
This mango ginger turmeric smoothie is a delicious, antioxidant, and nutrient-packed smoothie filled with mango, oats, ginger, and turmeric. It makes the perfect quick breakfast!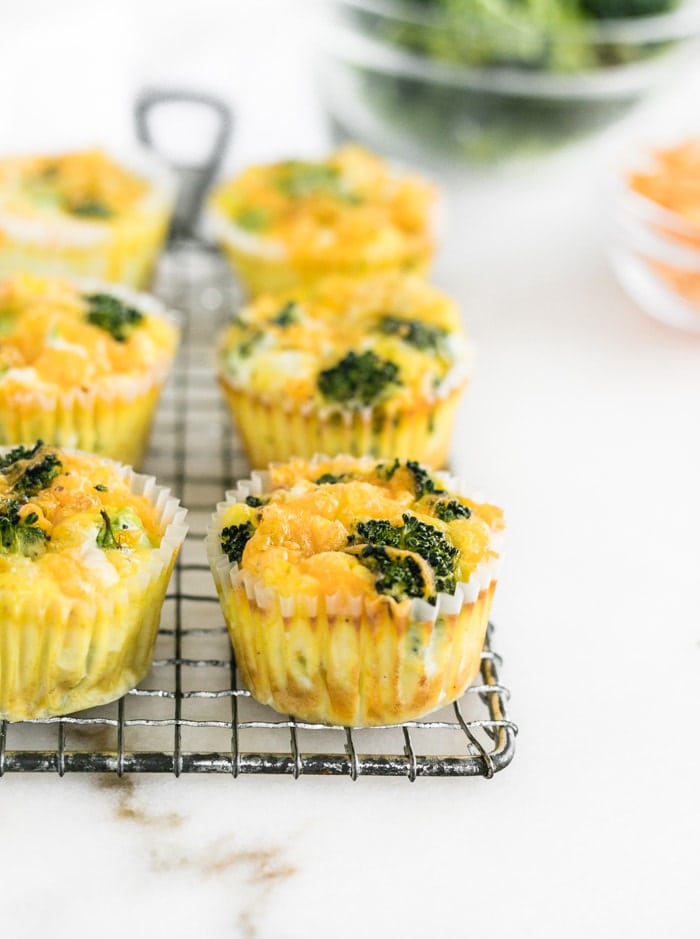 Make Ahead Broccoli Cheddar Egg Muffins
Broccoli and cheddar filled egg muffins are full of veggies and protein for a healthy breakfast on busy mornings. This recipe is perfect for weekend meal prep!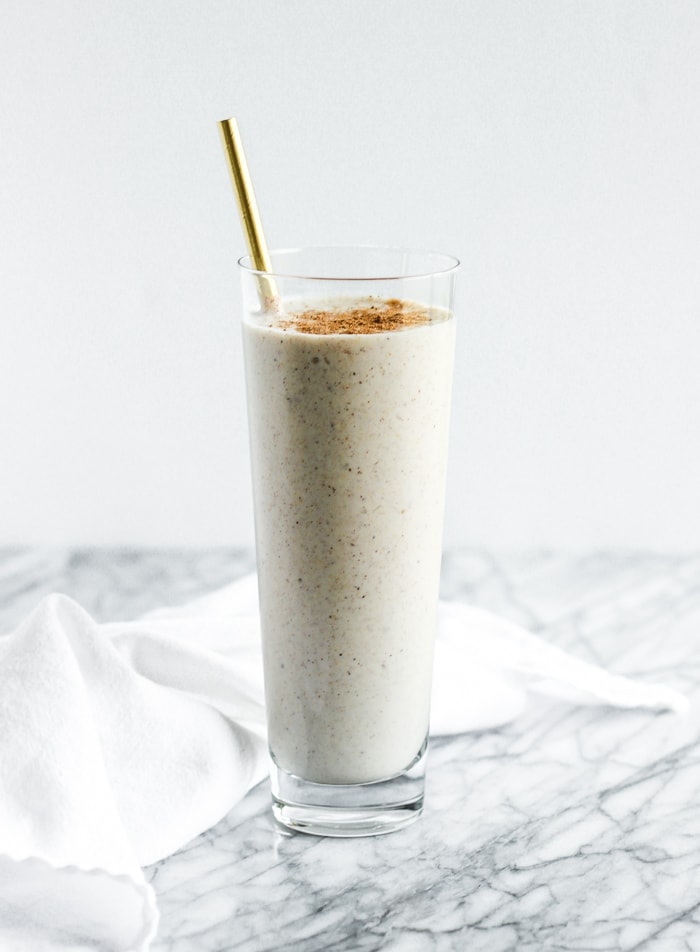 Healthy Gut Vanilla Chai Smoothie
Keep your immune system strong by improving your gut health. This Healthy Gut Vanilla Chai Smoothie is an easy and delicious way to pack prebiotics and probiotics into your daily routine!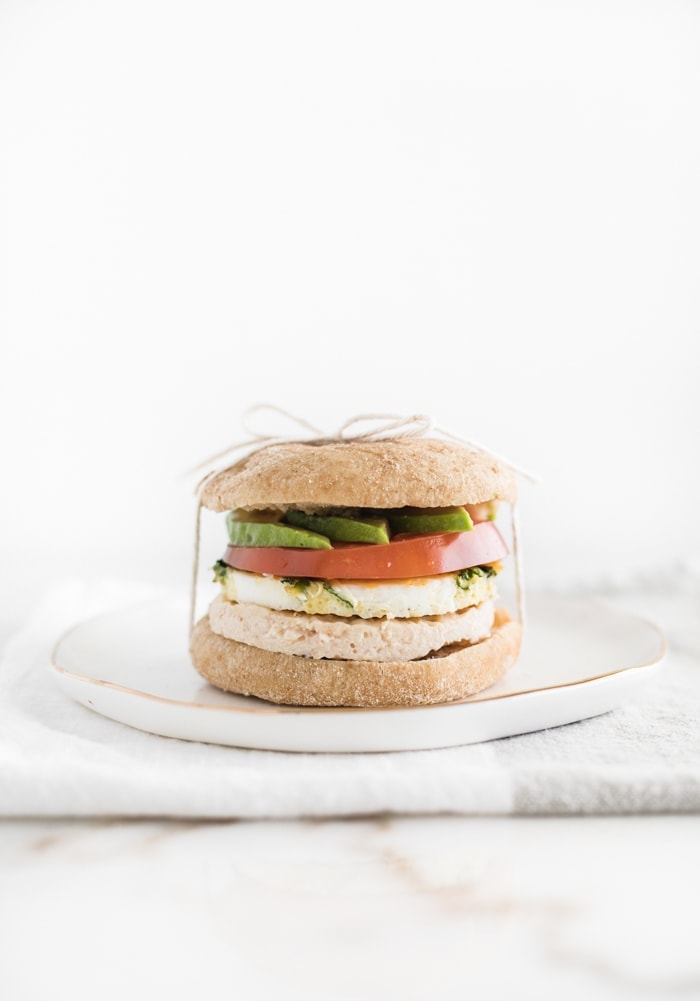 Healthy Meal Prep Breakfast Sandwiches
These healthy meal prep breakfast sandwiches with spinach, eggs, turkey sausage, and whole-grain English muffins are the perfect quick, easy, and nutritious breakfast to fuel your busy mornings!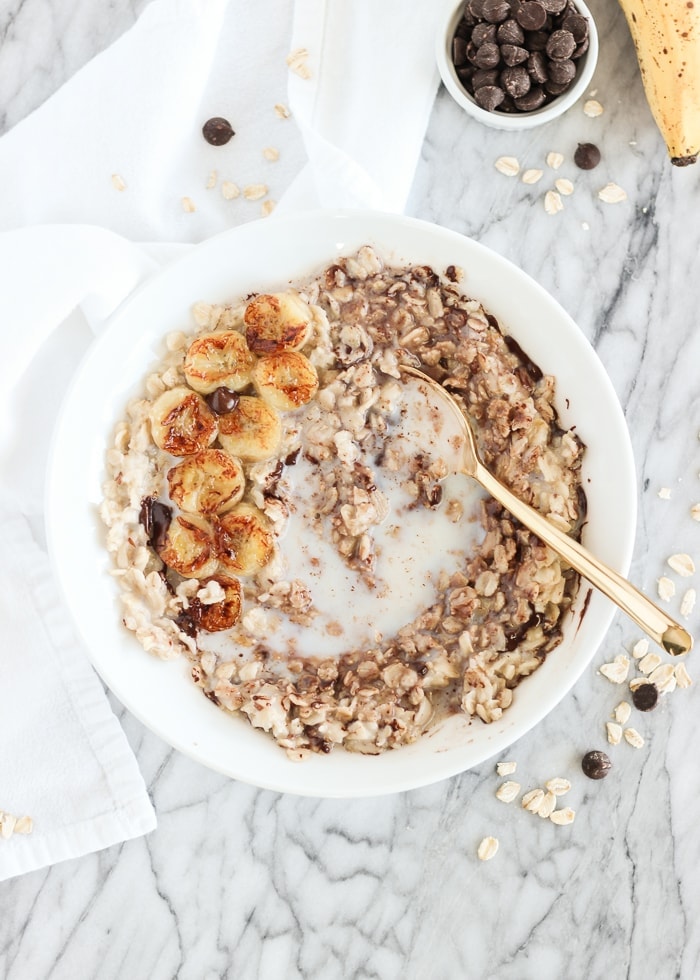 Caramelized Banana Dark Chocolate Oatmeal
Sweet caramelized bananas and smooth dark chocolate chips make this caramelized banana dark chocolate oatmeal feel more like a luxurious dessert than a healthy breakfast! With a flavor this sweet and delicious, you'd think this recipe takes much longer.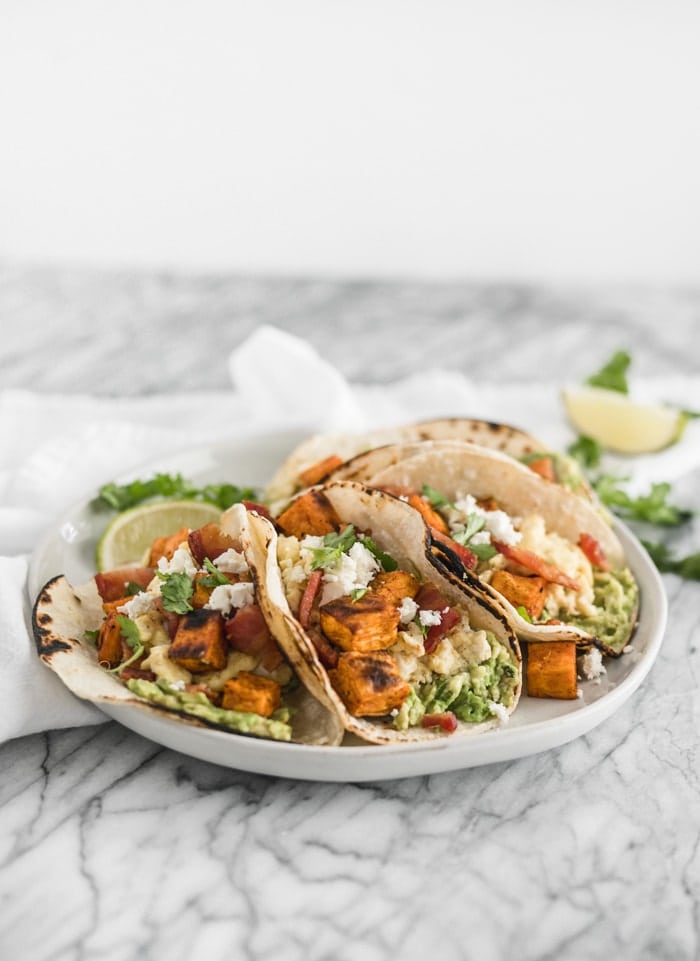 Sweet Potato Bacon Breakfast Tacos
These sweet potato bacon breakfast tacos with guacamole are a delicious weekend breakfast to wake up to! Use leftover sweet potatoes and bacon to make them even easier to prepare.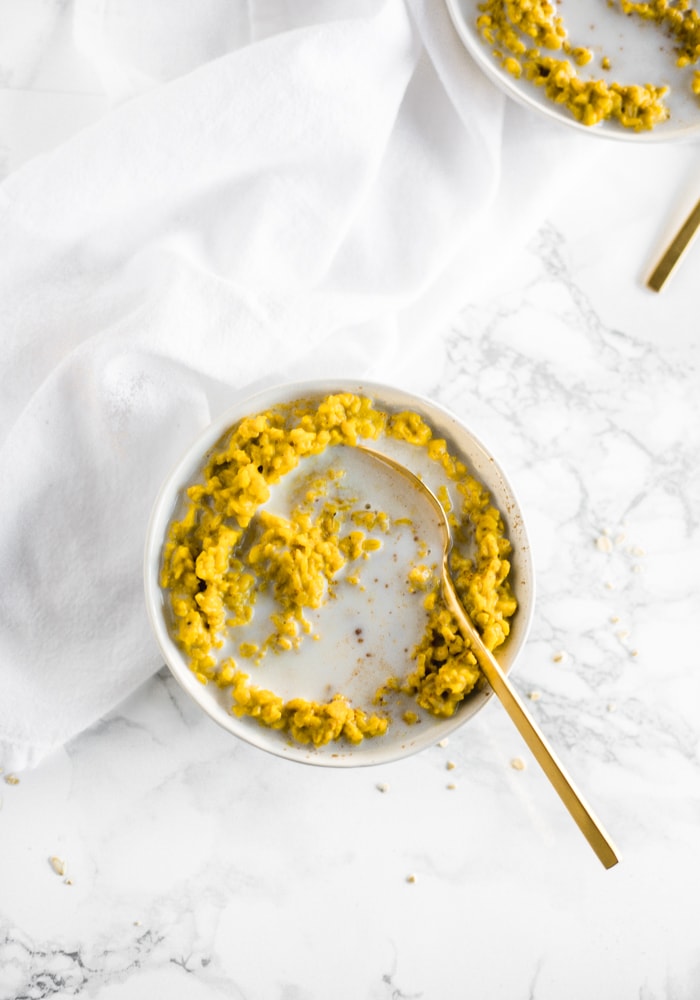 Start your day with a delicious anti-inflammatory breakfast with this healthy turmeric golden milk oatmeal. You're only 10 minutes away from a warm, nourishing, and filling breakfast!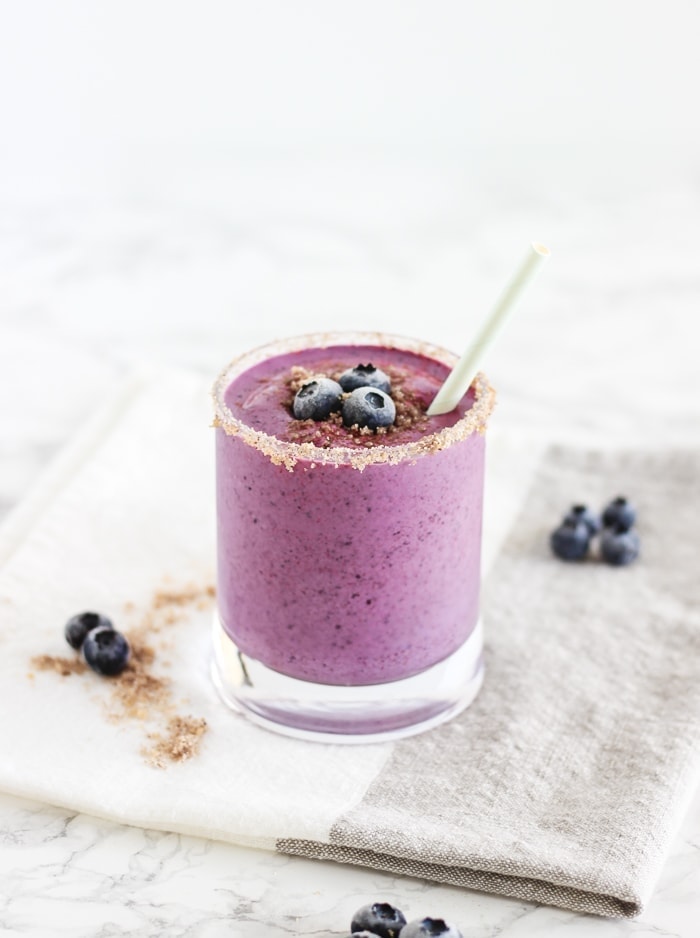 This easy and healthy blueberry muffin smoothie with no added sugar and no protein powder is a delicious way to start your day!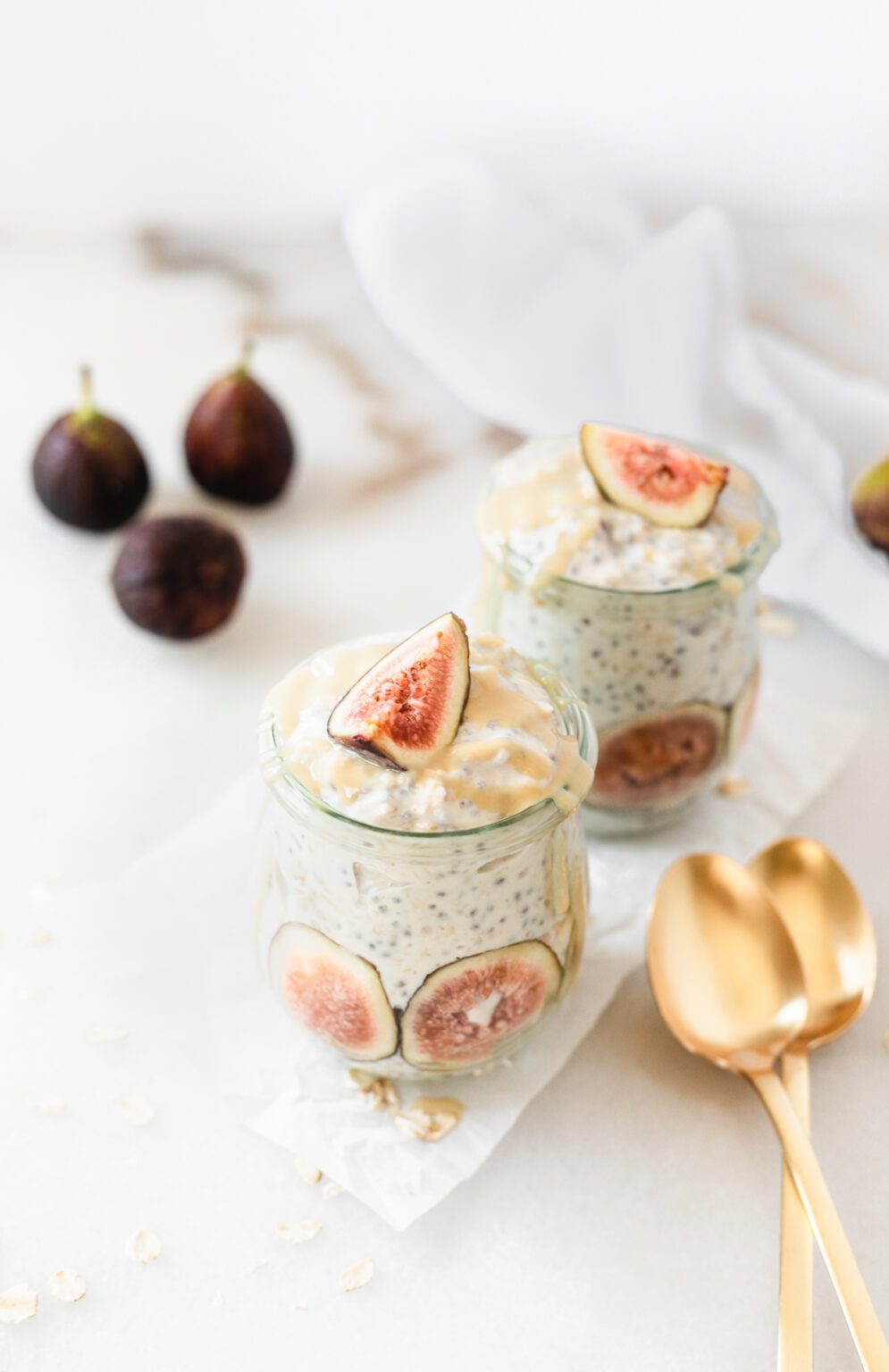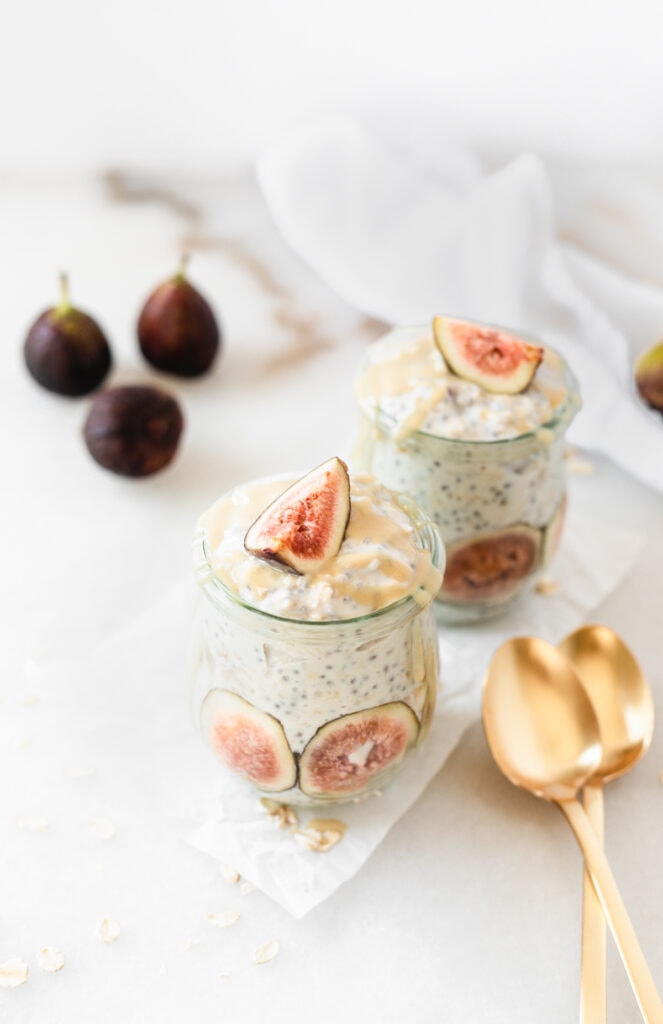 Maple Tahini Fig Overnight Oats
Step up your overnight oats with this delicious early fall combination! Maple tahini fig overnight oats are the perfect combination of sweet, savory, nutty, and fruity. They're a great healthy, filling, make-ahead breakfast for busy mornings!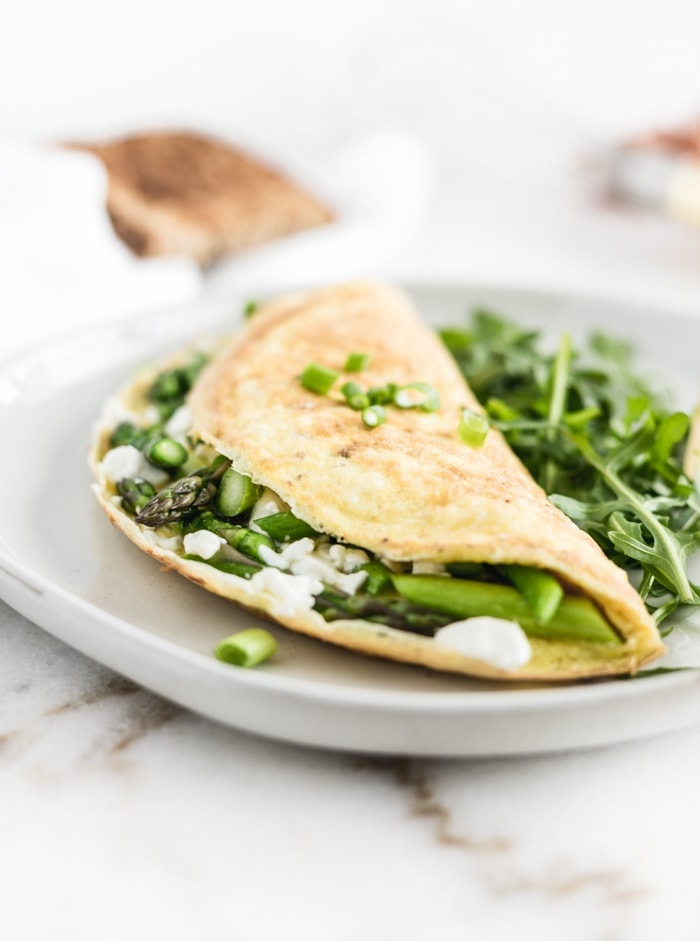 A quick and easy asparagus goat cheese omelet that's both healthy and delicious to whip up for breakfast or for dinner!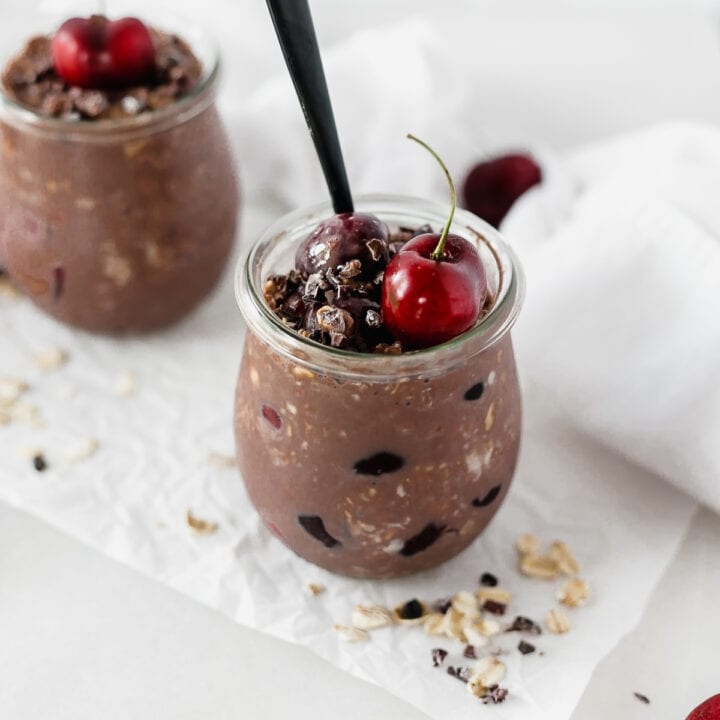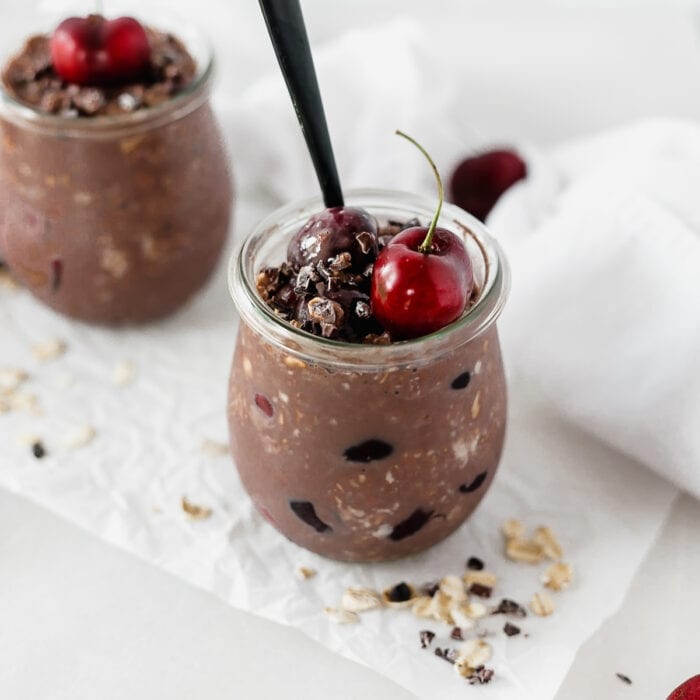 Healthy Black Forest Overnight Oats
Black forest overnight oats with creamy dark chocolate oatmeal and dark sweet cherries are an easy, healthy make-ahead breakfast that tastes like dessert!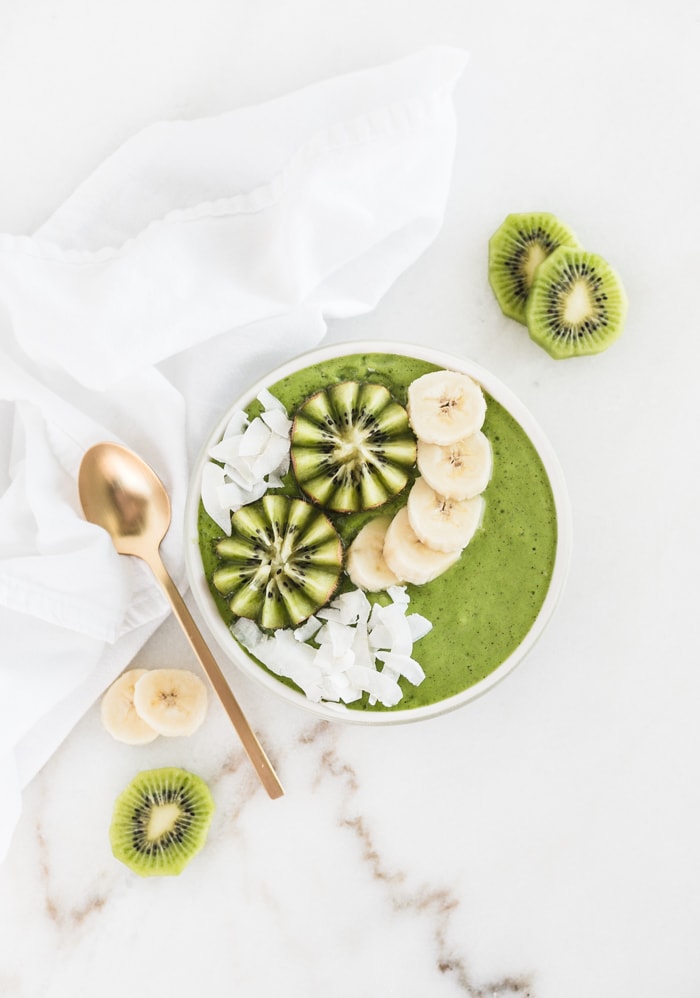 This pineapple kiwi green smoothie bowl is a delicious and refreshing way to start your day!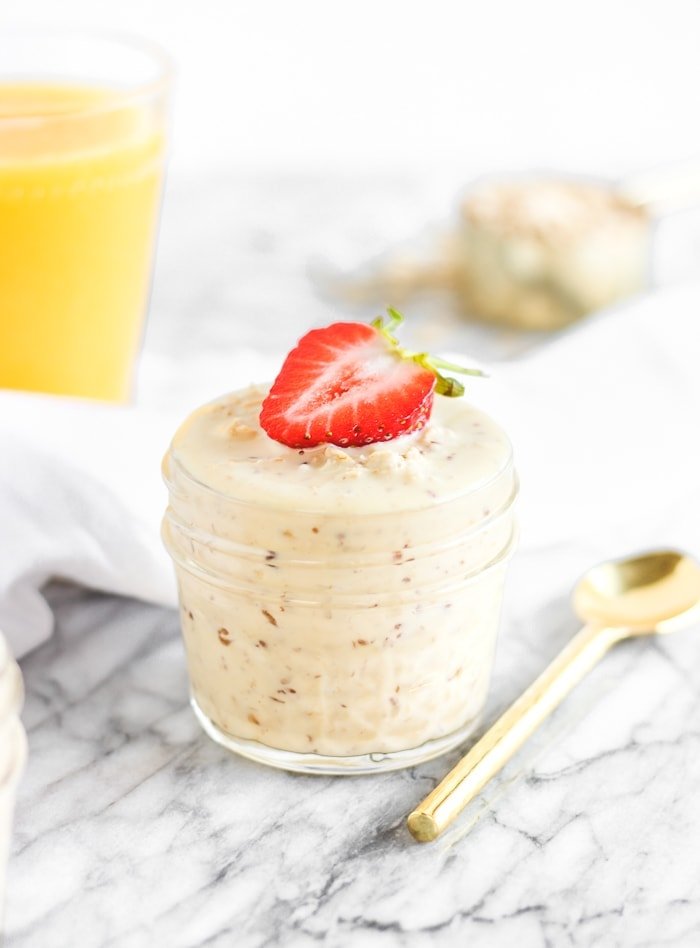 The Easiest No Added Sugar Orange Creamsicle Overnight Oats
These easy 5-ingredient, no added sugar orange creamsicle overnight oats are a nutrient-rich, healthy make-ahead breakfast to help you start your day with a balanced meal, even when you're in a hurry! And the best part is, you can make them at night before you go to bed, and wake up to a filling, tasty breakfast that's ready when you are.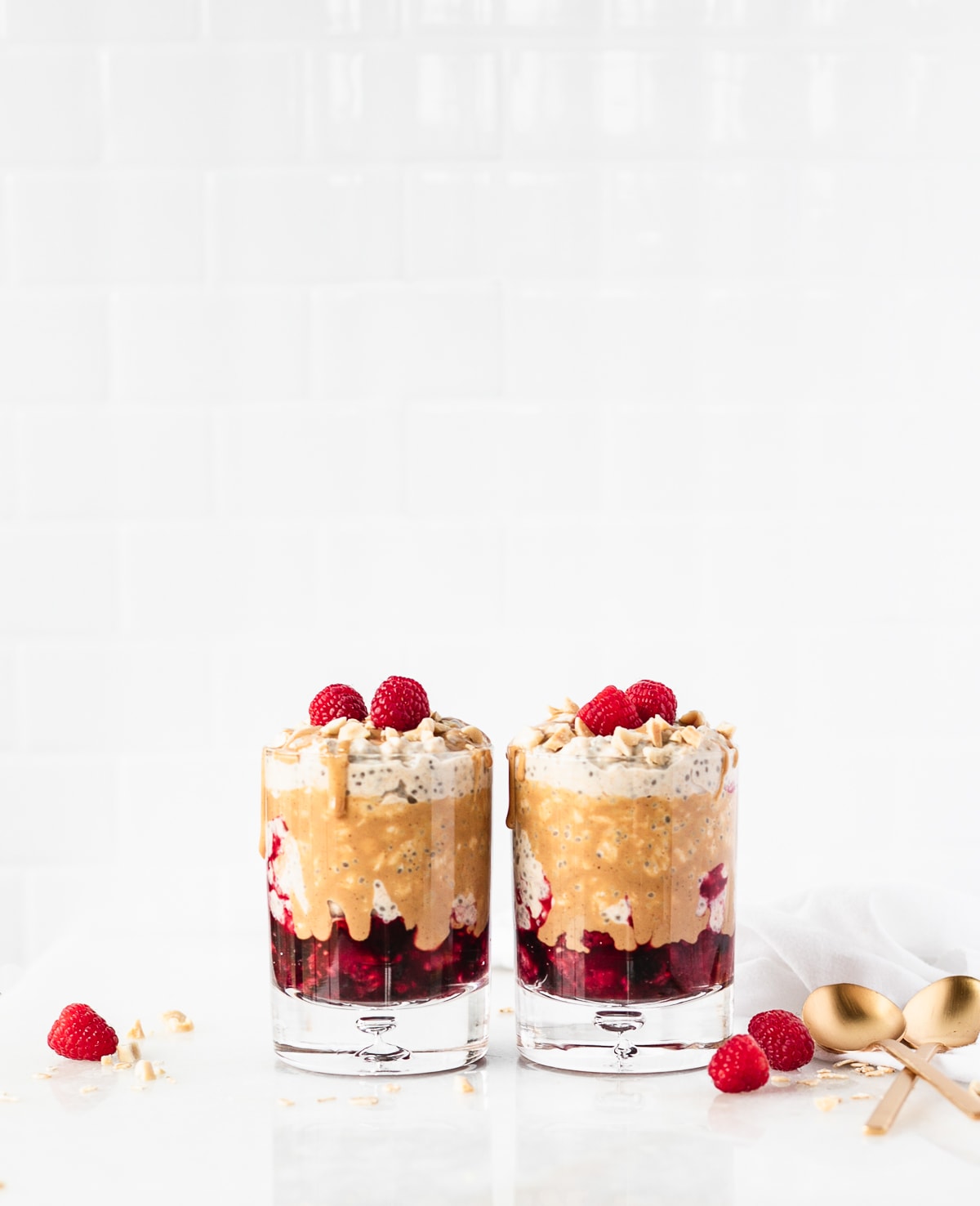 Wake up to a healthy, delicious favorite with these PB&J overnight oats! Made with hearty steel cut oats and no added sugar, this breakfast will leave you full and energized all morning!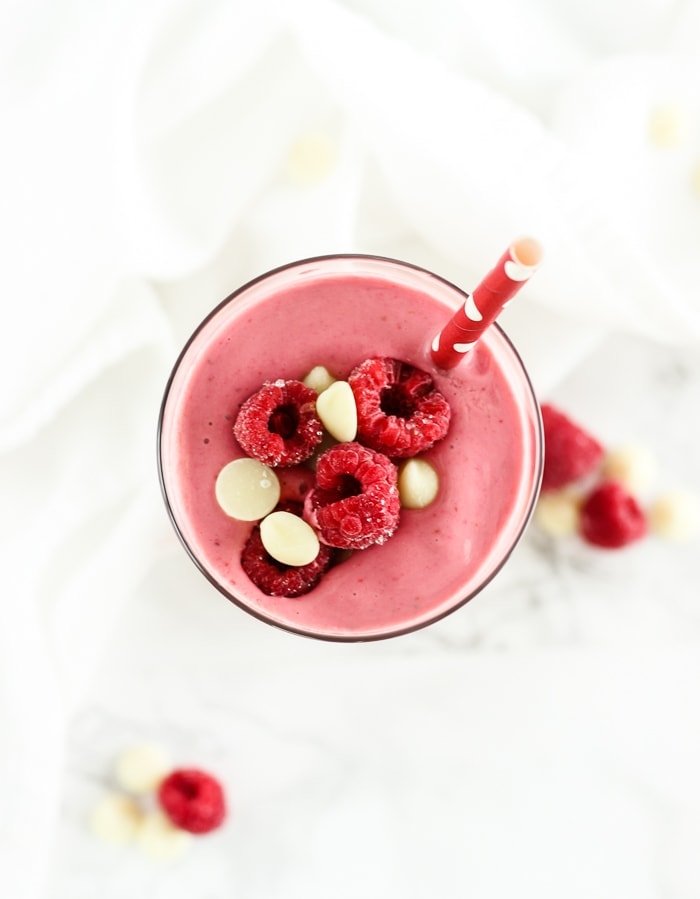 Raspberry White Chocolate Smoothie
This secretly healthy white chocolate raspberry smoothie is the perfect sweet treat!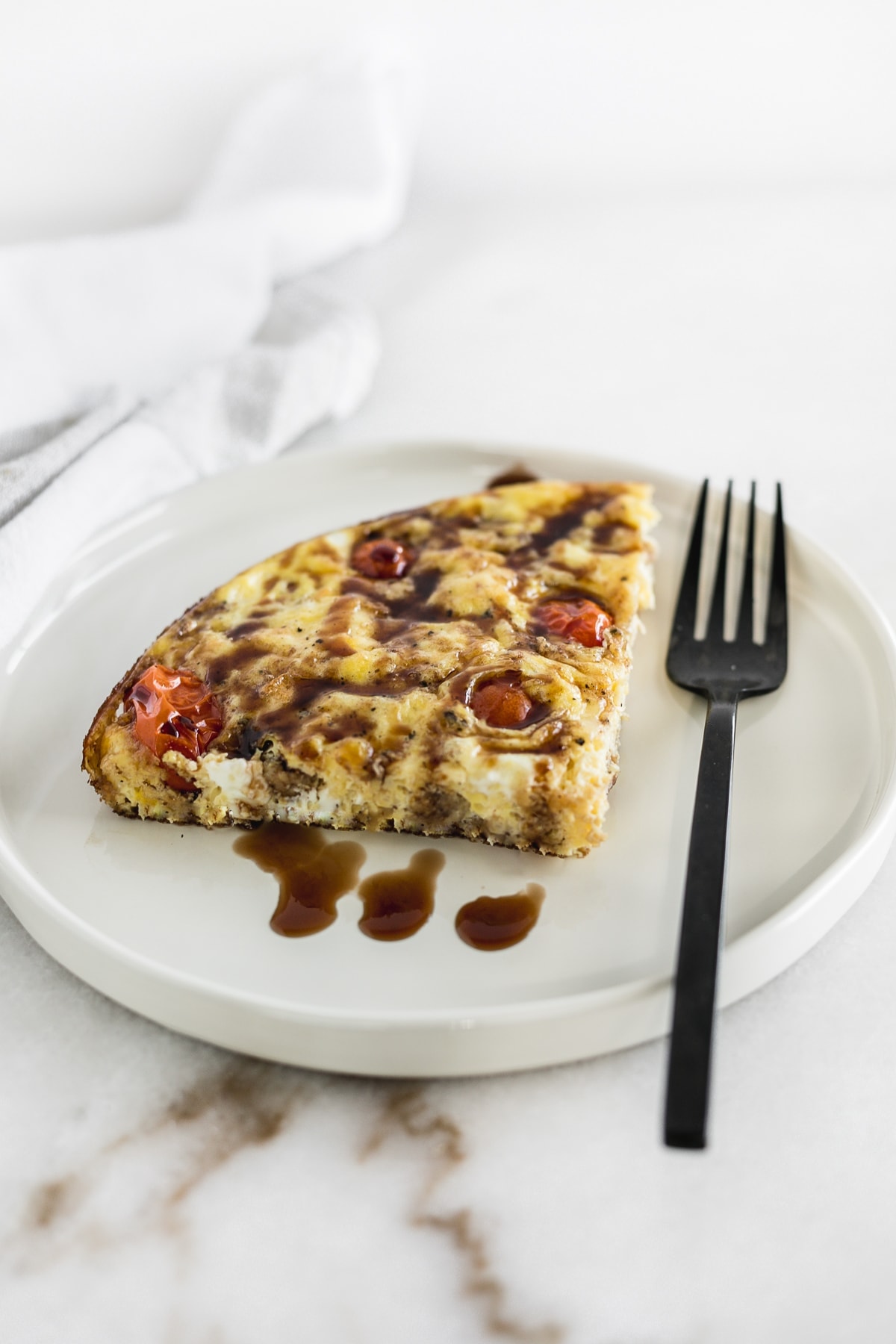 This easy and delicious Italian sausage frittata with tomatoes, basil, and mozzarella is a quick and healthy brunch or dinner!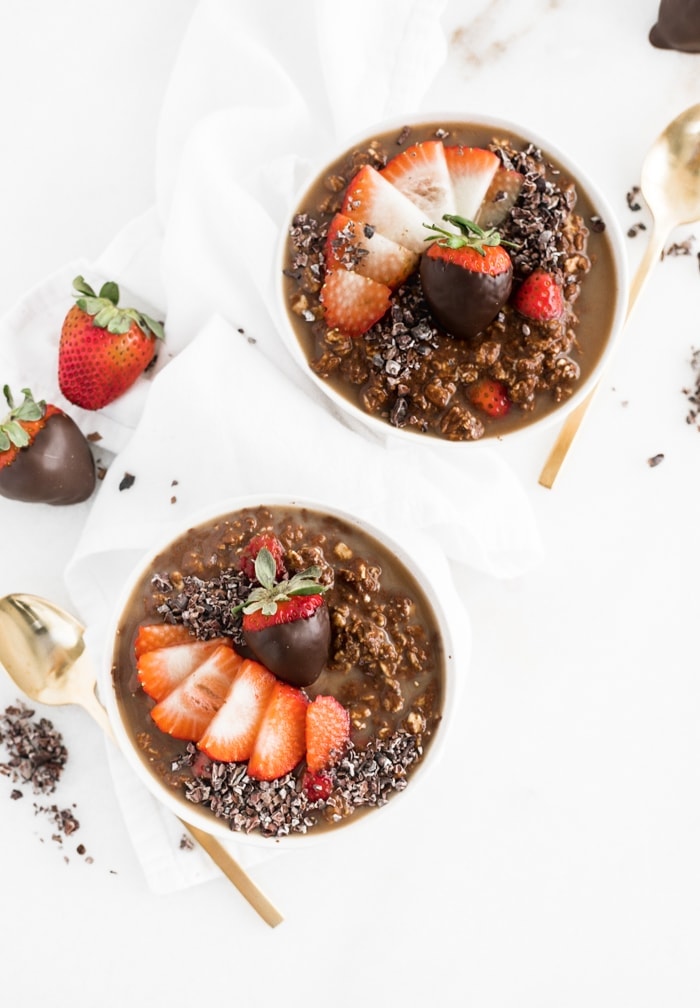 Chocolate Covered Strawberry Overnight Oats
Chocolate covered strawberry overnight oats are a healthy and delicious breakfast to start the day. They're the perfect morning treat, snack, or dessert!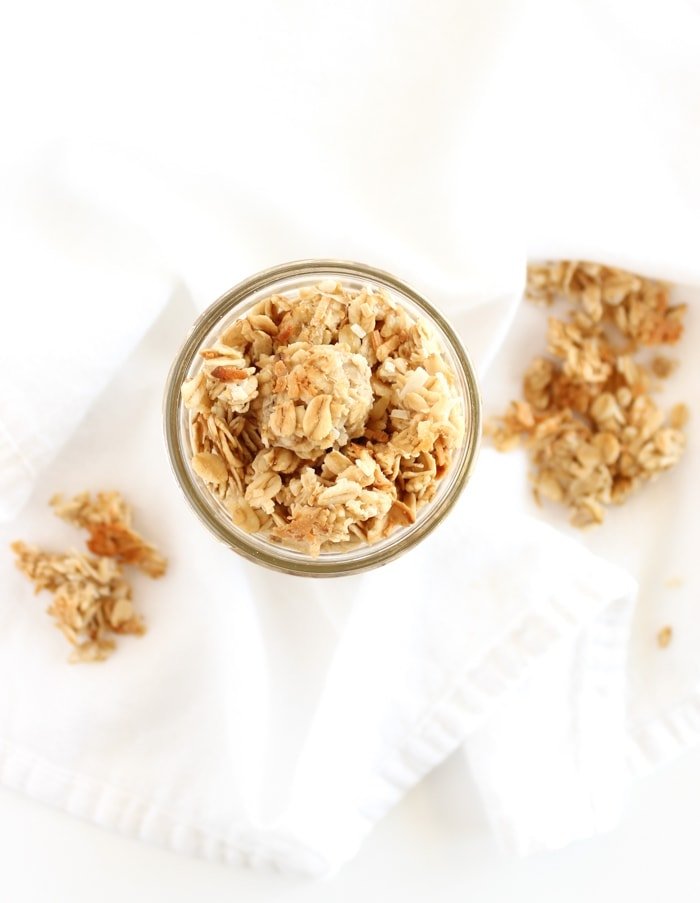 Healthy and delicious vegan Coconut Tahini Granola with big, crunchy clusters and a slightly sweet flavor is perfect for topping yogurt or snacking on by the handful!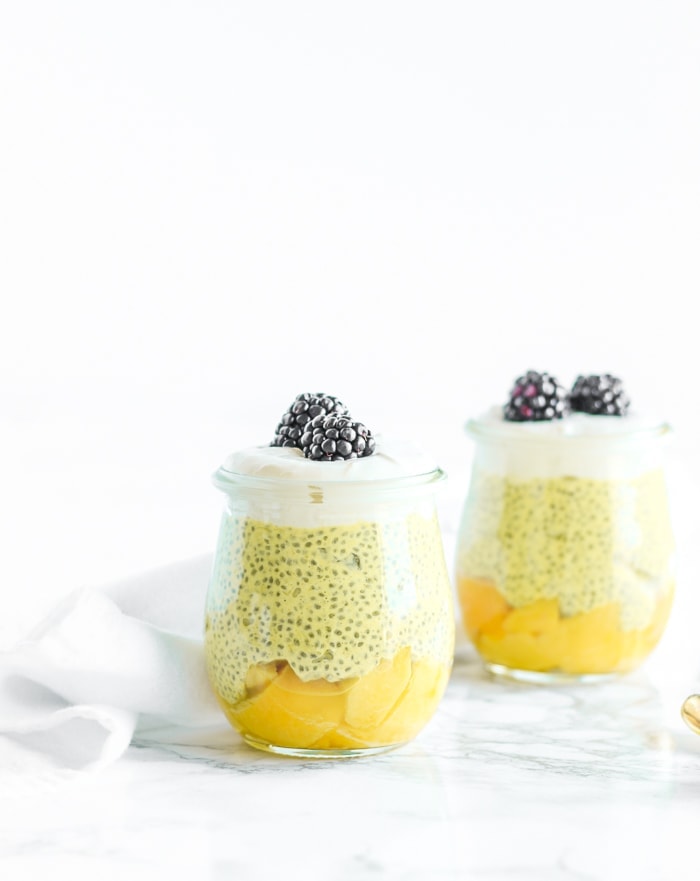 No Sugar Added Mango Turmeric Chia Pudding
Start your morning on the right foot with high protein, no added sugar mango turmeric chia pudding. It's made with simple, delicious ingredients for an easy breakfast that's ready when you are!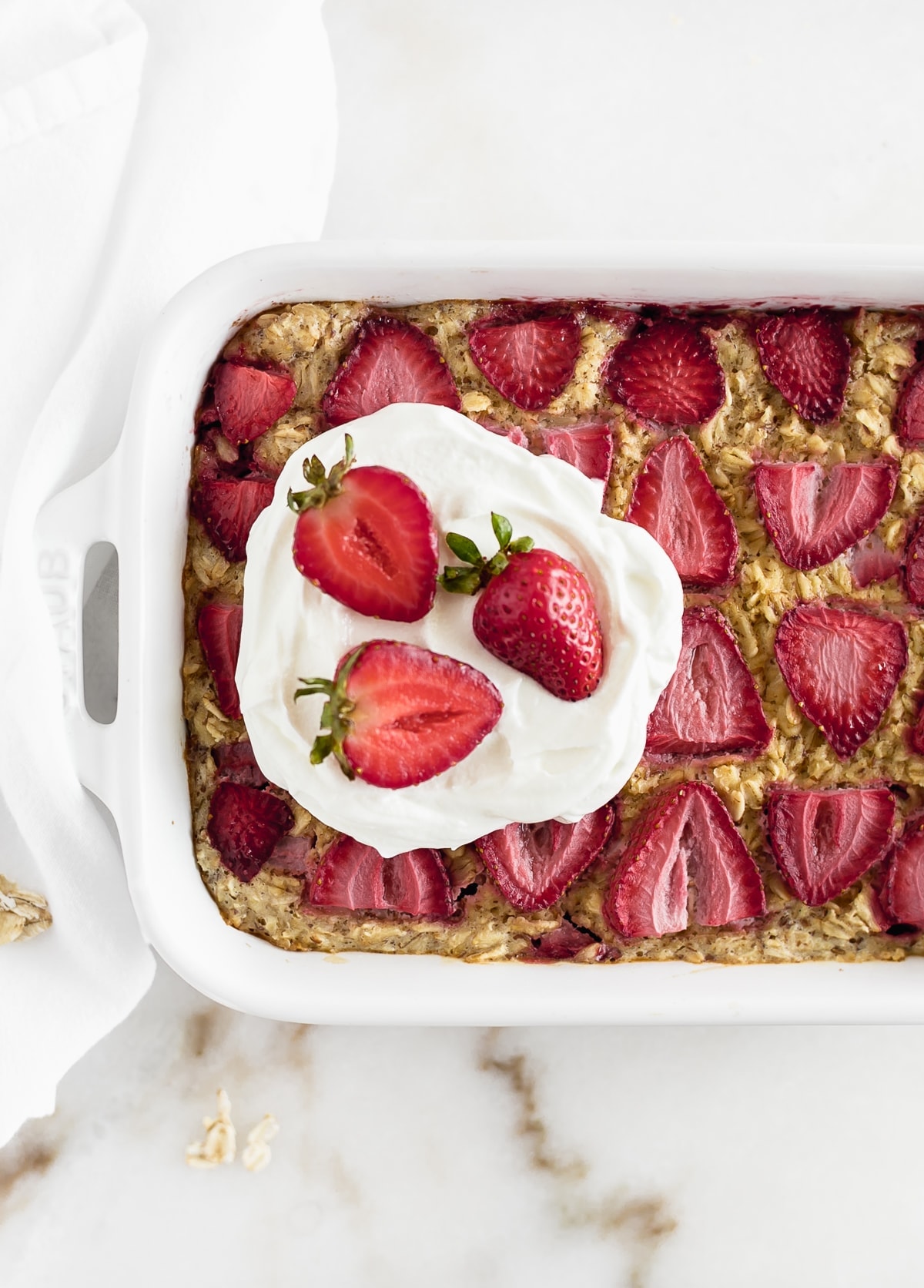 Celebrate strawberry season with this nutritious, lower-sugar strawberry baked oatmeal made with simple ingredients and bursting with strawberries! It's a delicious make-ahead breakfast for busy summer mornings.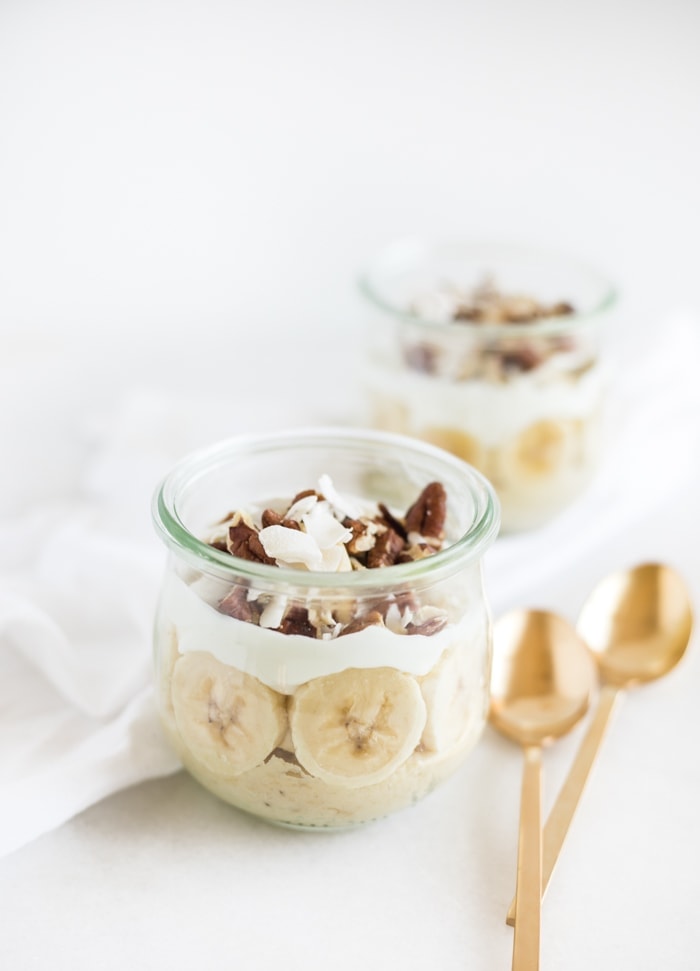 Banana Coconut Breakfast Pudding
Start your day on a healthy note with this easy banana coconut breakfast pudding! It's quick enough that you can whip it up in the morning, or make it ahead the night before if you prefer.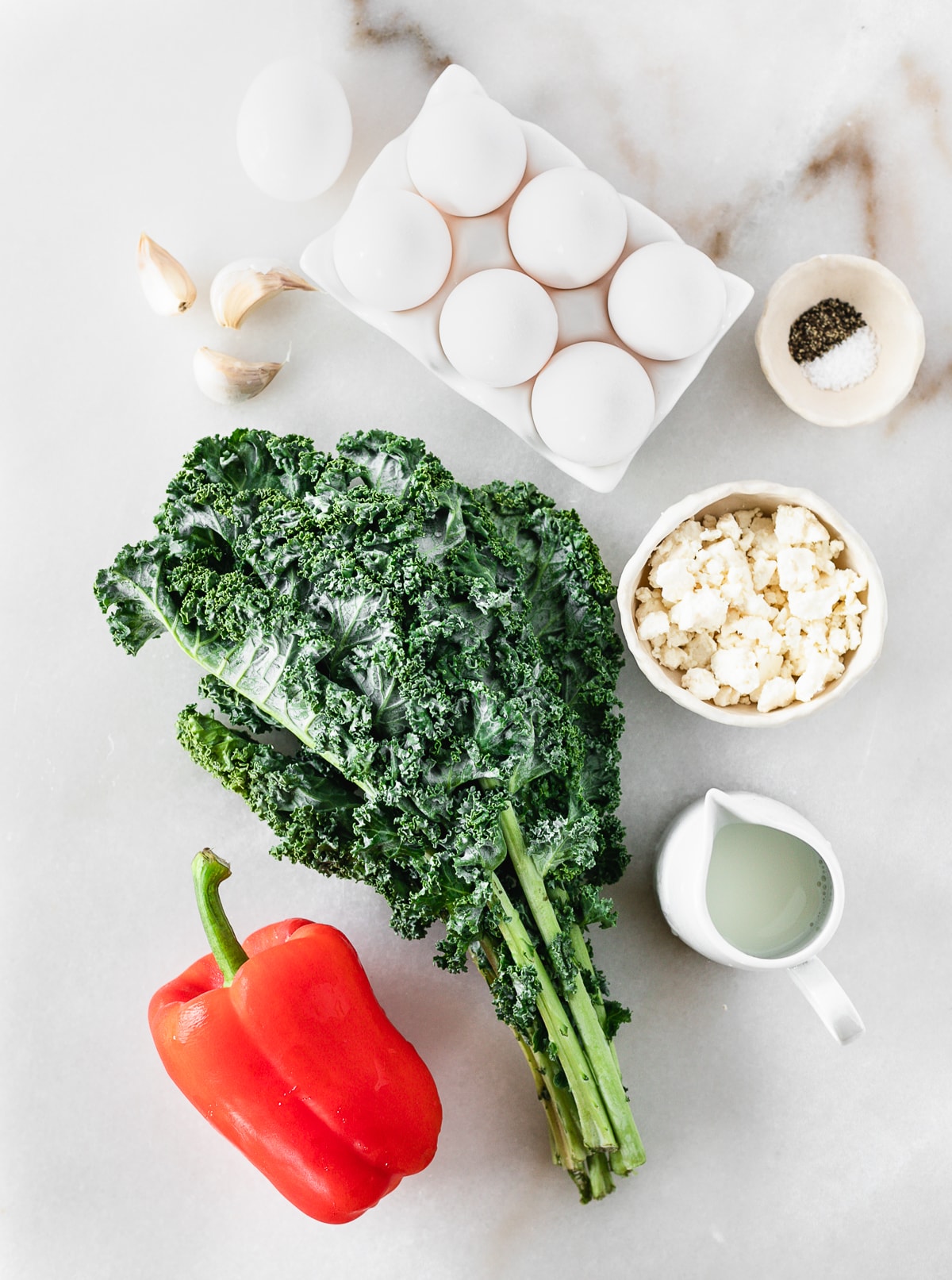 Red Pepper Kale and Feta Frittata
This red pepper, kale and feta frittata is a healthy, delicious brunch dish that also doubles as an easy make-ahead breakfast for the week.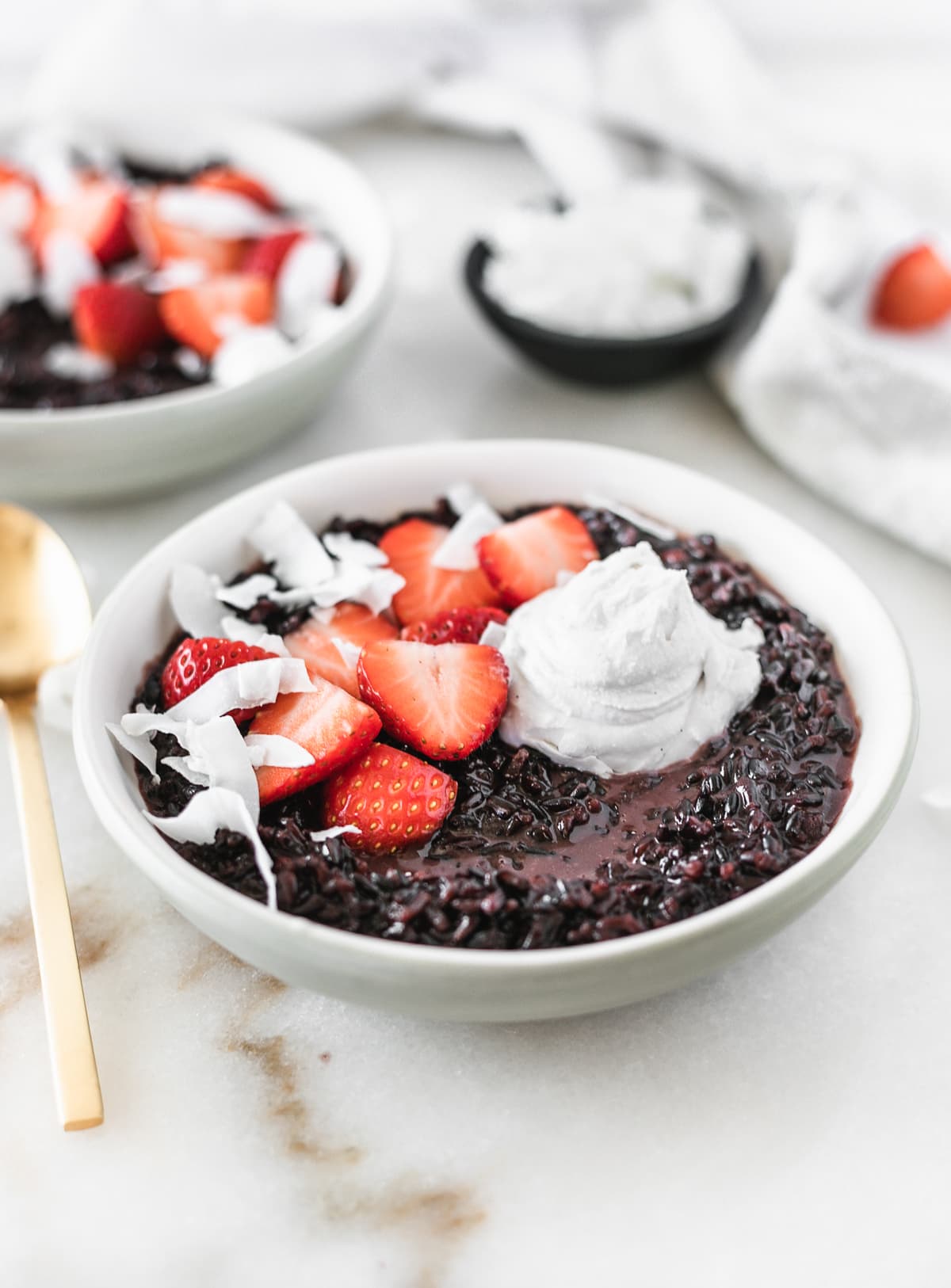 SunGold Kiwi Black Rice Breakfast Porridge
Sweet SunGold Kiwi, 'forbidden' black rice, and whipped coconut cream make this black rice breakfast porridge extra special and nutritious! This is a winning combo that just makes breakfast more fun and exciting!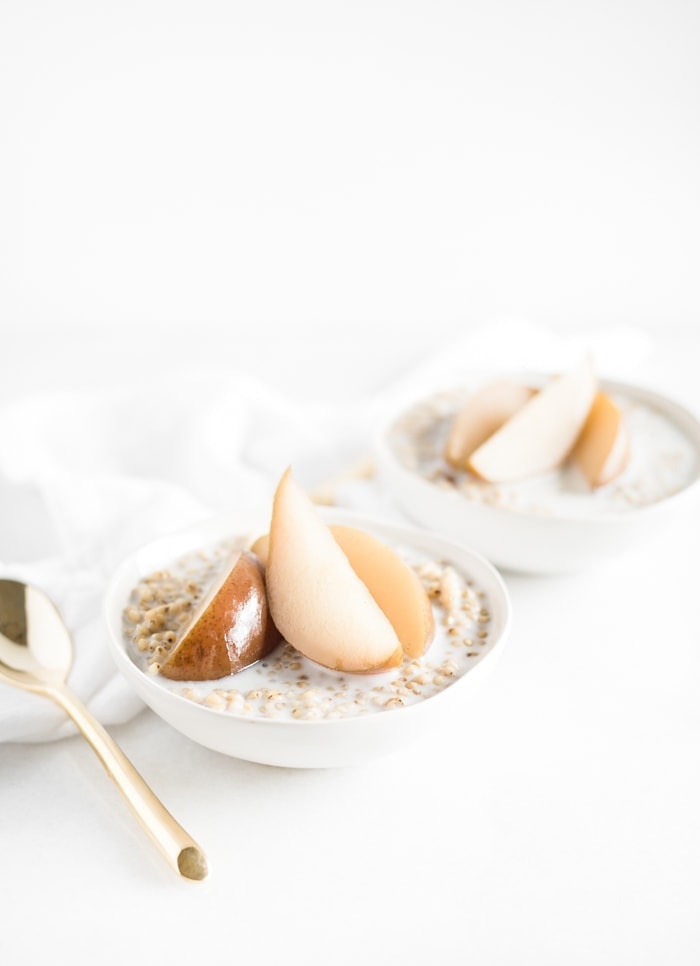 Maple Poached Pears and Sorghum Porridge
Creamy whole grain breakfast sorghum porridge with vanilla bean maple poached pears is a comforting and healthy fall breakfast! It's cozy and sweet and makes your kitchen smell delicious with the aroma of maple syrup, vanilla, and sweet autumn pears.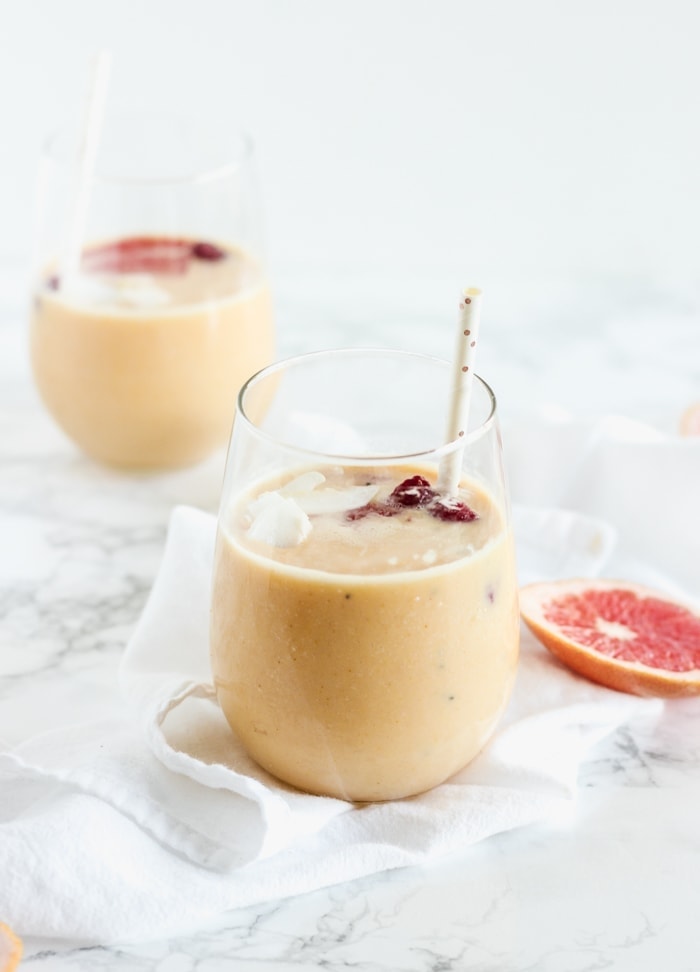 Give your immune system a little boost this winter with this nutrient-packed immune-boosting grapefruit mango smoothie with turmeric. Great for a quick breakfast or snack!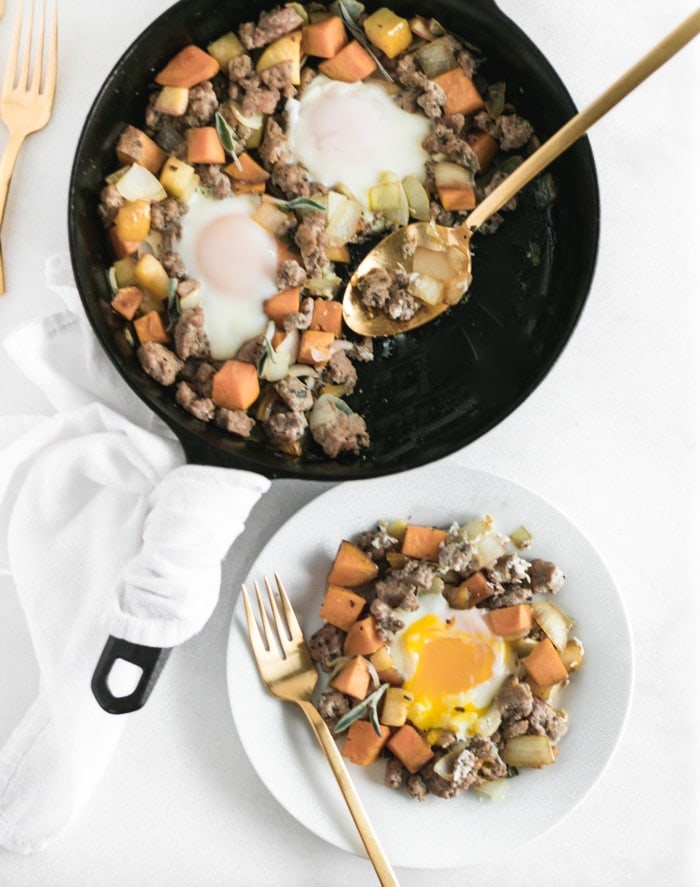 This chicken sausage apple sweet potato hash makes a delicious and easy breakfast, brunch, or dinner! it's a super nutritious way to start the day thanks to the fiber and complex carbs in the sweet potato and apple, and the lean protein from the chicken sausage and egg.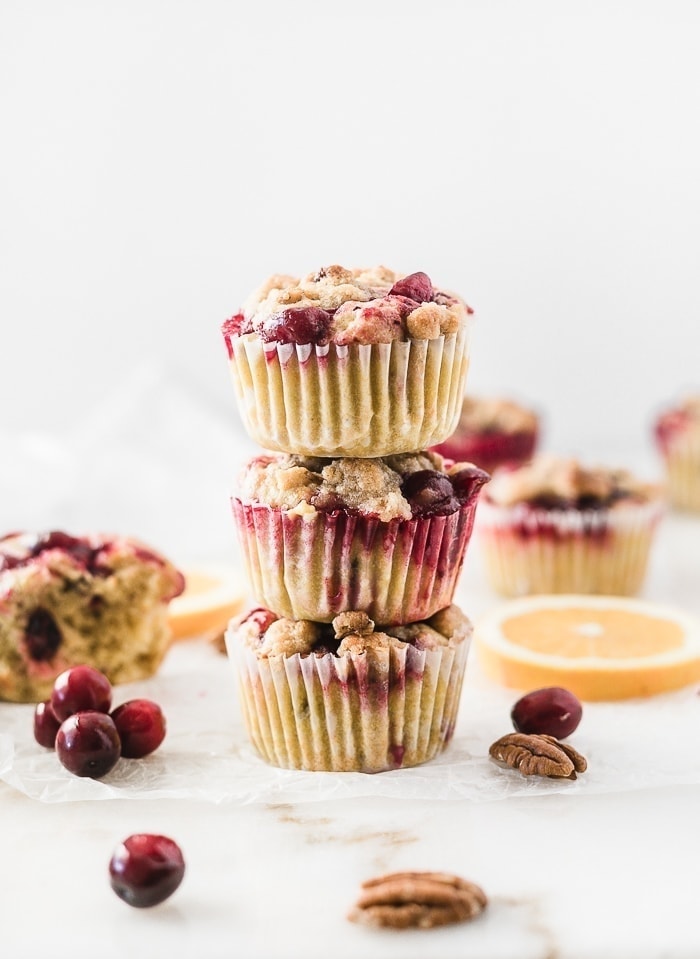 Whole Grain Cranberry Orange Streusel Muffins with Pecans
Tender cranberry-orange streusel muffins with pecans are made with whole wheat flour and are moist, flavorful, and secretly healthy. They make the perfect holiday breakfast and are a great way to use leftover cranberry sauce!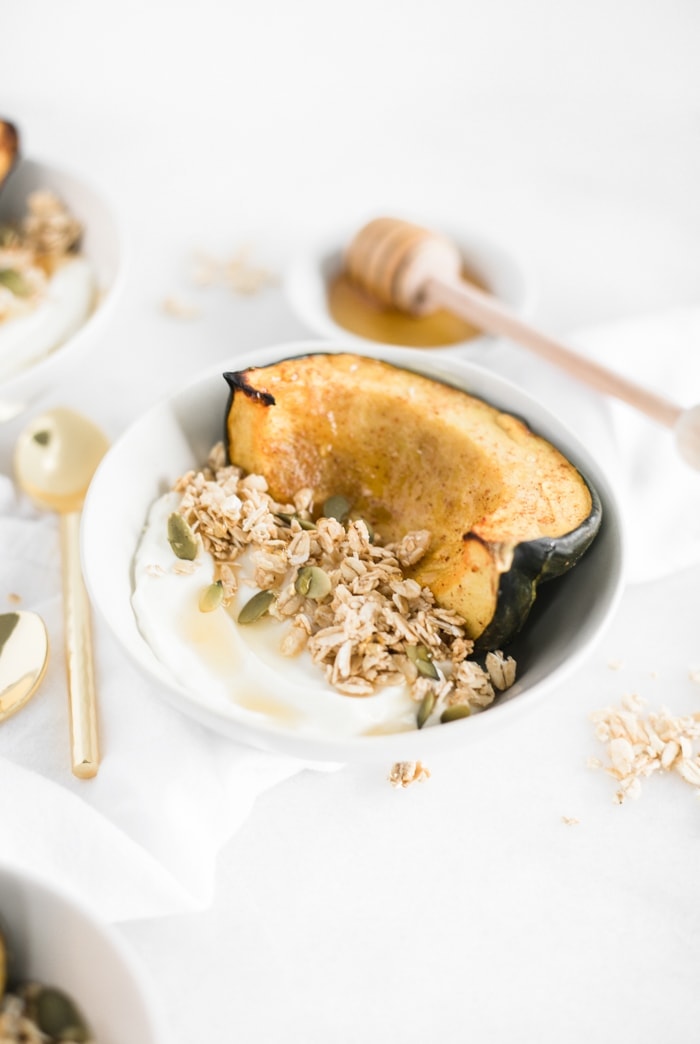 Honey Roasted Acorn Squash Breakfast Bowls
Get a delicious serving of sweet fall veggies first thing in the morning with this honey roasted acorn squash breakfast bowl! With a healthy dose of probiotics and prebiotics, it's a great way to naturally support your gut health.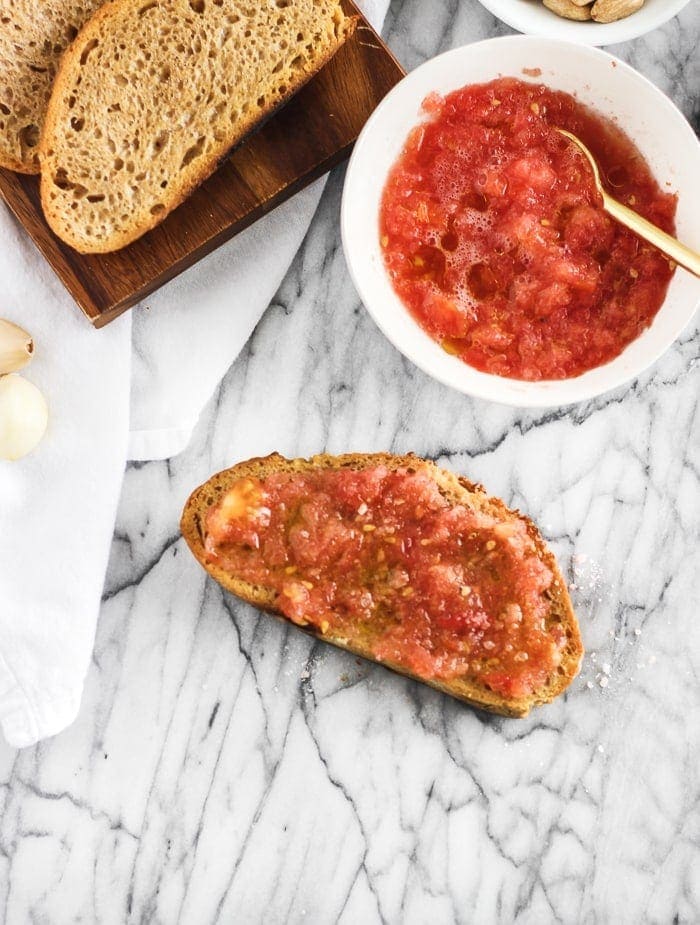 An easy and delicious recipe for Pan con Tomate, a Catalan-inspired snack or breakfast of ripe tomatoes on toast that's so simple yet tastes so amazing!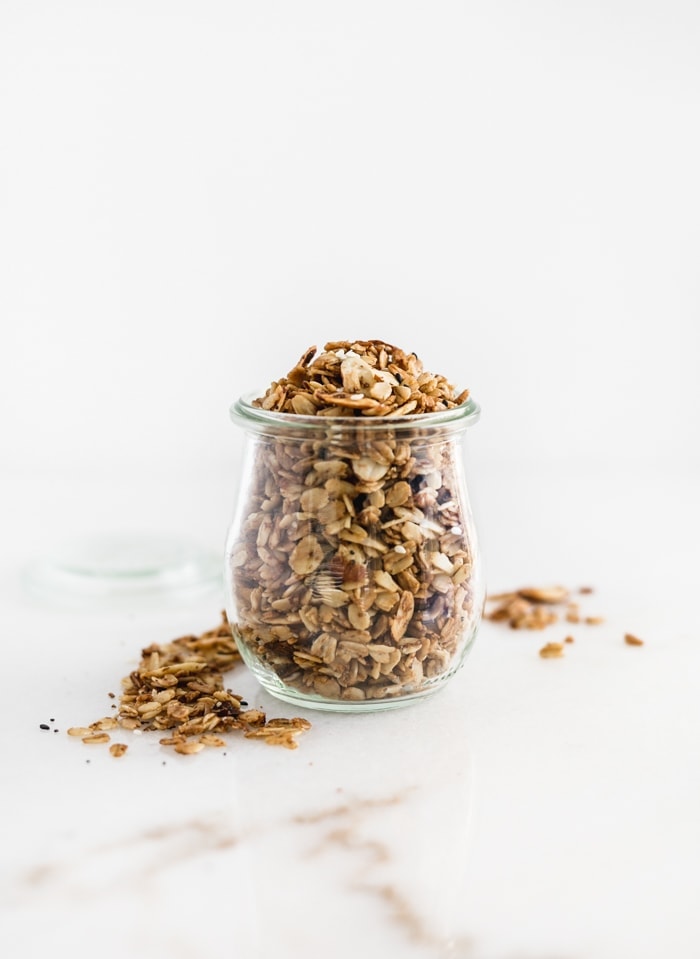 This easy savory granola is a delicious gluten-free granola without all of the sugar of regular store-bought granola! Use it to top plain yogurt or salads, or eat it as a snack by itself!
Healthy 6-Ingredient Quinoa Granola is a healthier version of granola with crunchy clusters that's delicious for a snack or on top of yogurt for breakfast.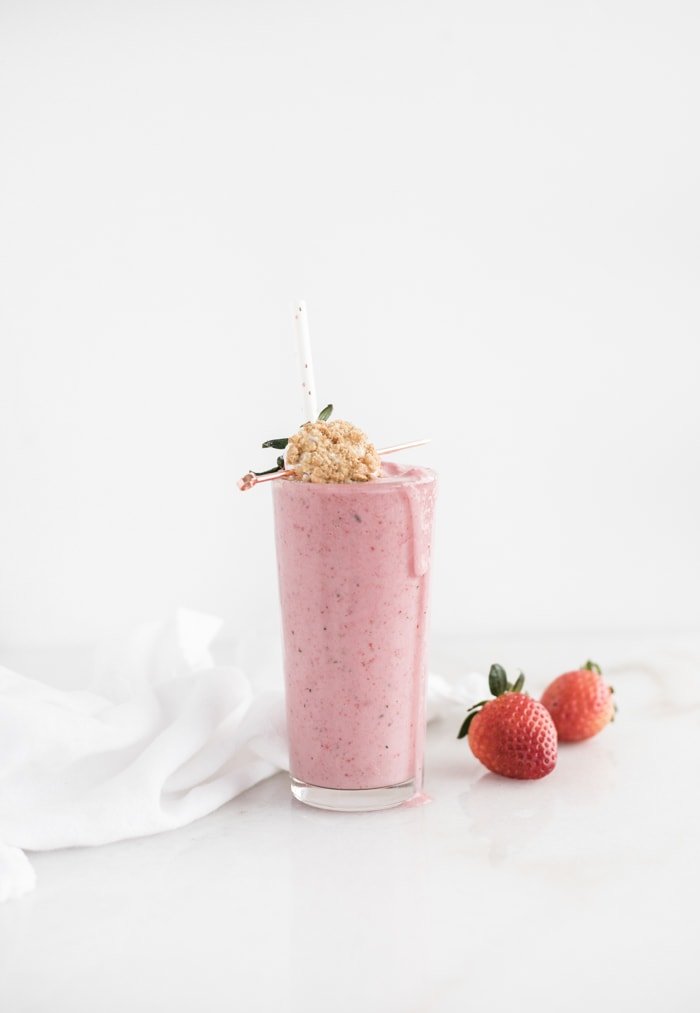 Strawberry Cheesecake Smoothie
Sweeten up your day with this lower sugar, naturally high protein, 5-ingredient strawberry cheesecake smoothie!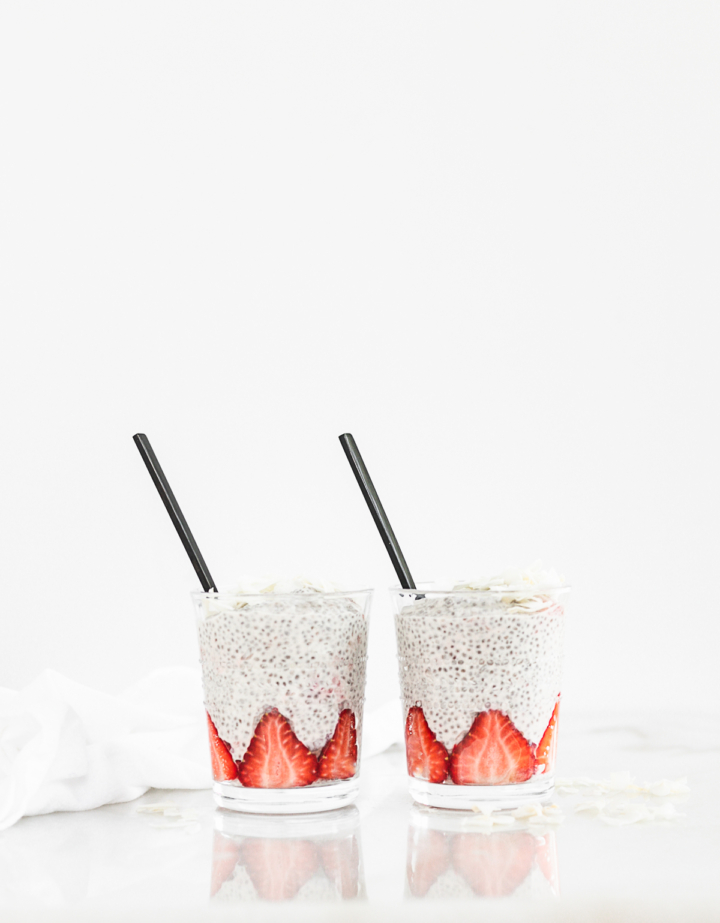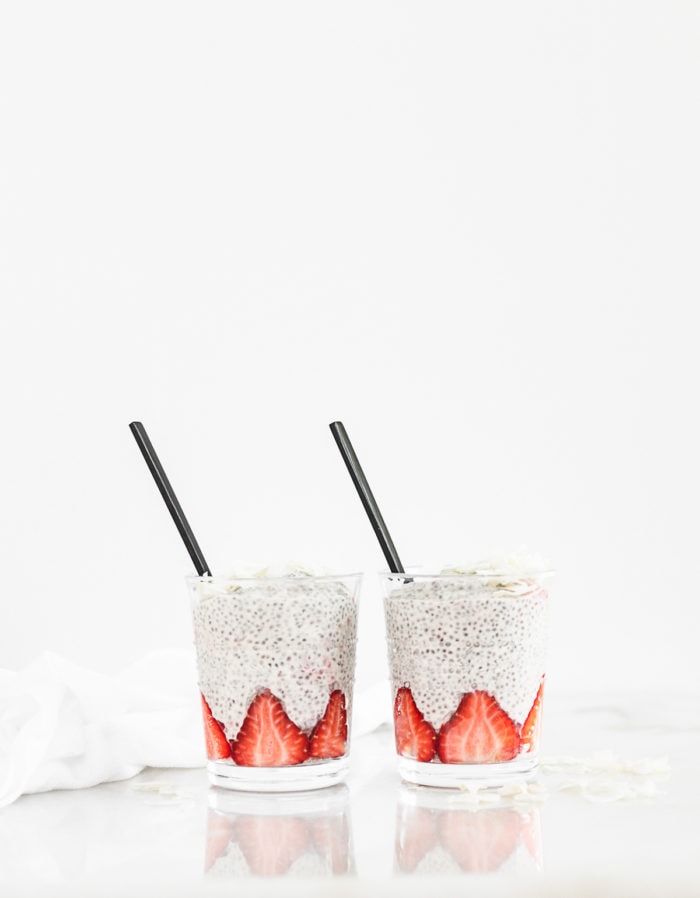 Strawberry Orange Coconut Chia Pudding
This sunny orange juice strawberry coconut chia pudding made with just a few simple ingredients, including 100% orange juice, is a nutritious make-ahead breakfast or snack that's just perfect for summer!