Tender cranberry orange pecan streusel muffins made with whole wheat flour are moist, flavorful and secretly healthy. They make the perfect holiday breakfast!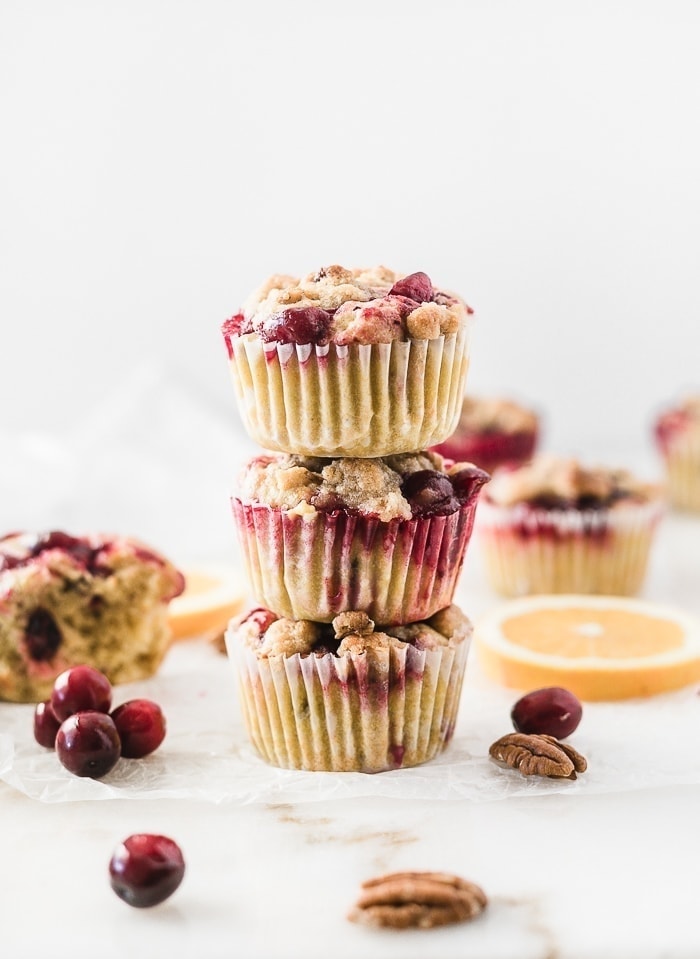 I'm loving all things cranberry this season! I made so much cranberry sauce around thanksgiving that I had two extra jars that I stashed in the freezer for anytime the mood for something sweet and tart and cranberry-y strikes. Like these delicious cranberry orange pecan streusel muffins!
Y'all, these muffins are so. good. I mean, my other muffin recipes are good, but these muffins? These muffins are really good. Mr. Table told me they are the best muffins I've ever made. We even finished the whole batch – which is rare in our house of 2!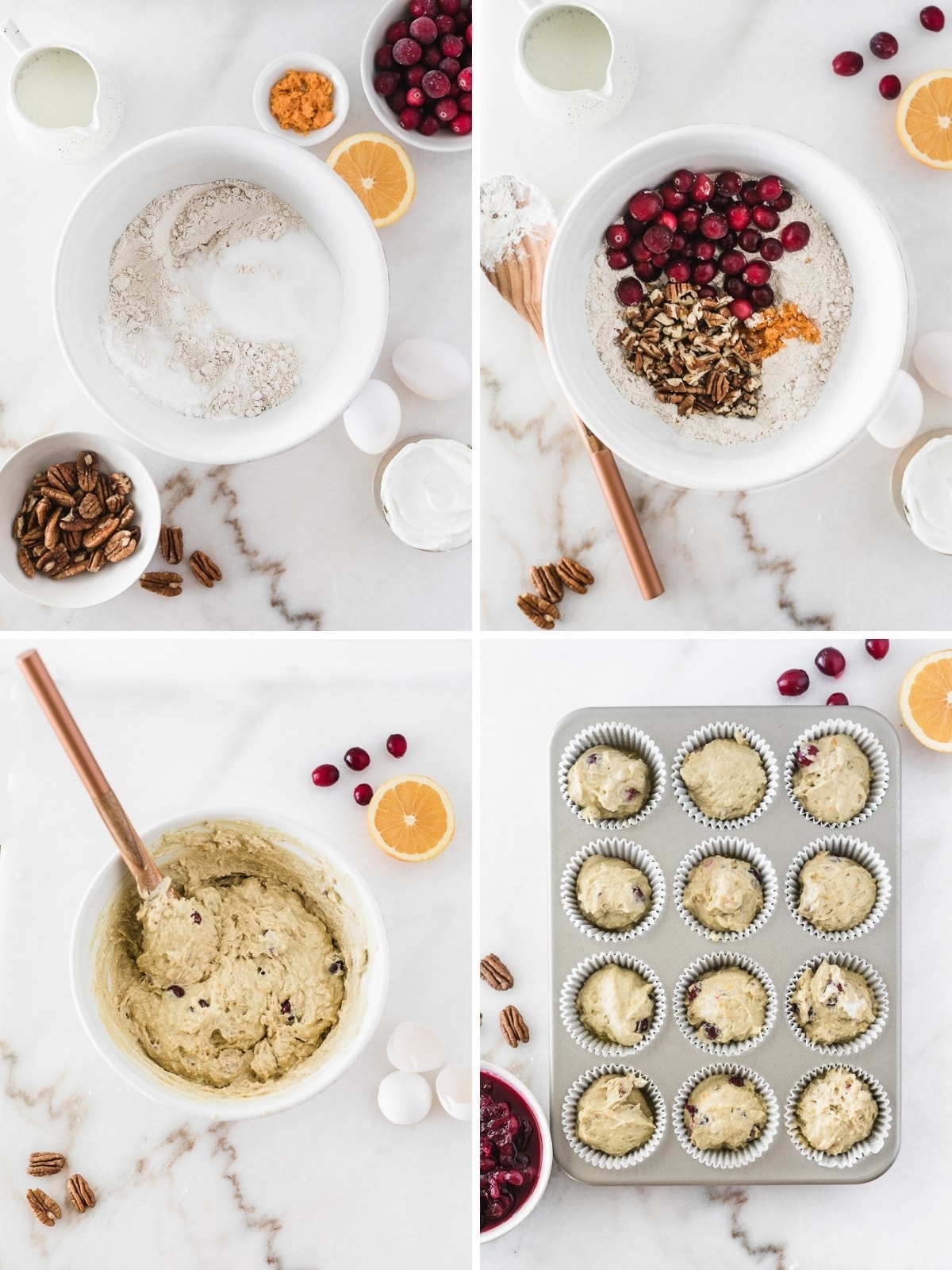 These cranberry orange pecan streusel muffins are so good, in fact, that you wouldn't even know that they are secretly healthy! They're so tender and moist with the most delicious streusel topping (I'm a sucker for anything with streusel topping).
These cranberry orange muffins are also made with whole wheat flour (buy white whole wheat for the best results), Greek yogurt, and tons of cranberry goodness! Sure, they've got a bit of sugar and a touch of butter for that glorious crumb topping, but that's what makes them taste so yummy instead of like cardboard, and they're meant to be a healthier holiday breakfast treat!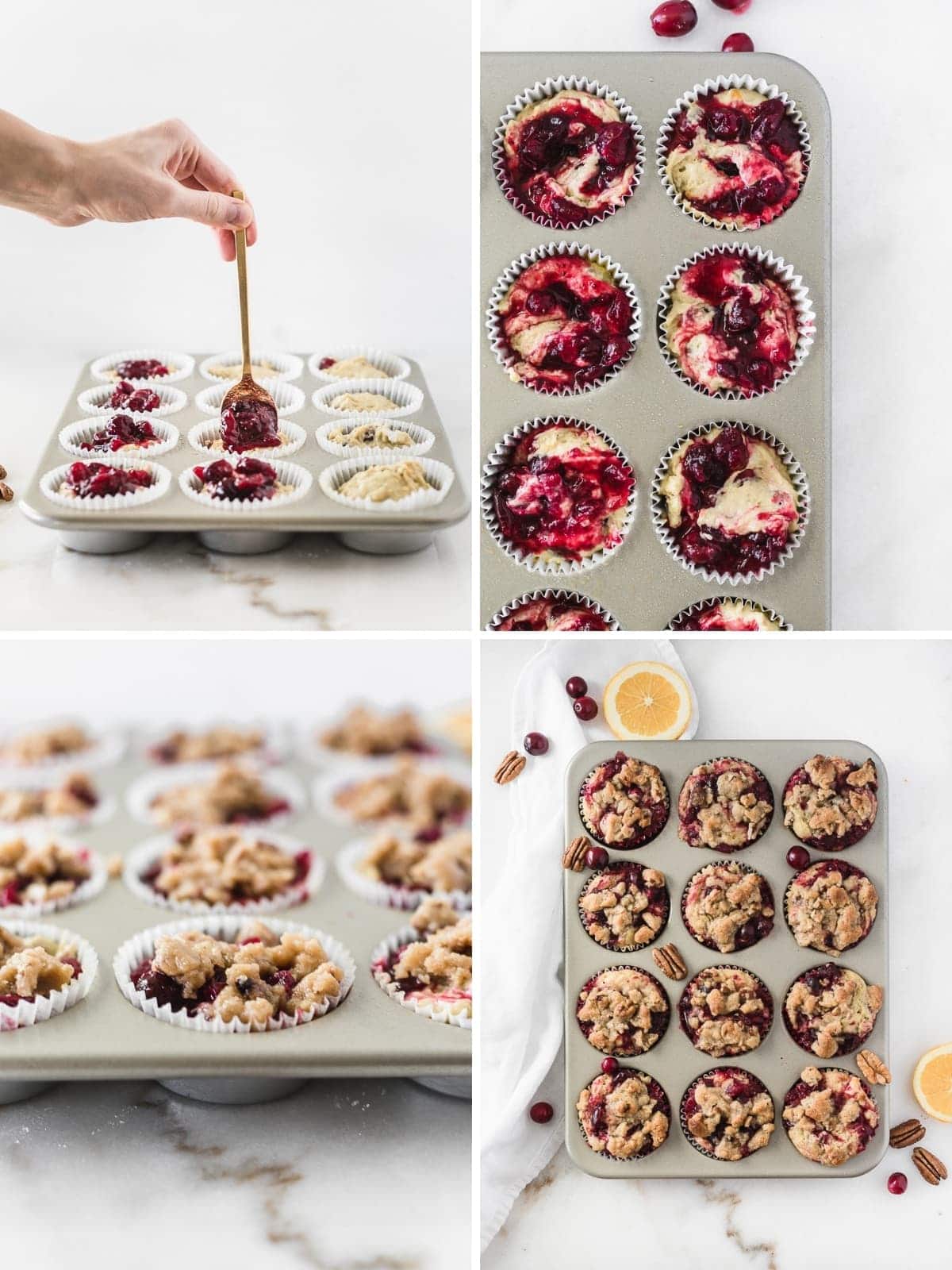 Also, let's address the added sugar thing. My philosophy is this: you've got to pick your battles. I eat generally healthy most of the time and don't consume a lot of added sugars. But if I want a treat, I want something made with real sugar. Honestly, it doesn't matter whether it's honey, maple syrup, coconut sugar or cane sugar. Sugar is sugar. And used conservatively in otherwise nutritious (or even not-so-nutritious) foods every once in a while, sugar is fine. It's not going to kill you. It's your overall dietary pattern that matters in the long run. So if you're getting plenty of fruits and veggies, fiber, healthy fats and lean protein in your diet regularly, a little sugar in moderation is not going to hurt you.
That being said, I like to make sure when I am eating added sugar, it's mostly in homemade things, and that it's worth it! So yeah, the sugar in these delicious muffins is totally worth it!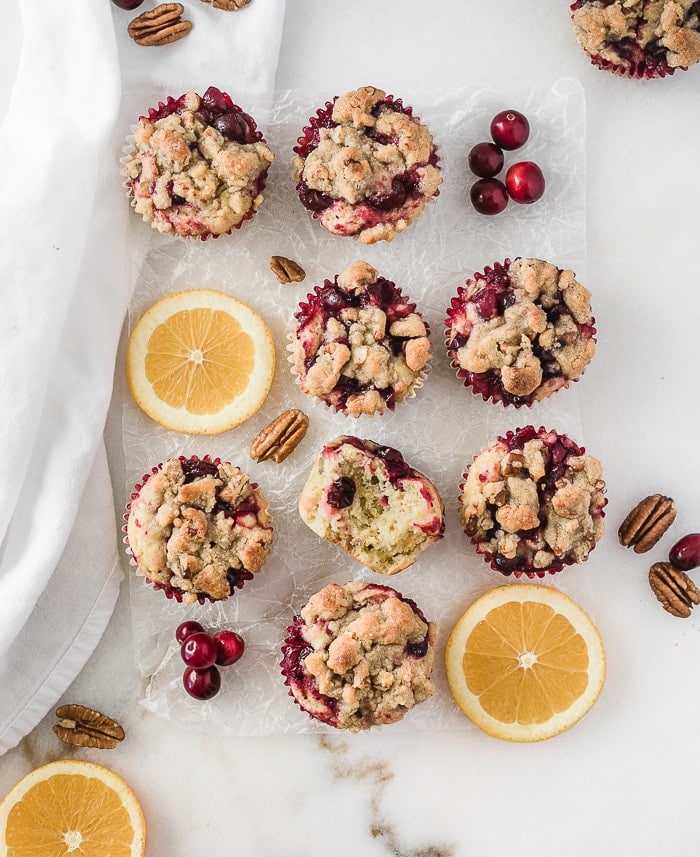 These muffins are a great use for any extra cranberry sauce you may have floating around, or they're a great excuse to make more cranberry sauce! I love the pecans in them for added crunch and holiday festivity, but if nuts aren't your thing, leave them out. They will still taste delicious. Whip up a batch for your family this holiday to add to your Christmas brunch, or just to have around for snacking in between meals. Cheers!
Whole Grain Cranberry Orange Pecan Streusel Muffins
Tender cranberry orange pecan streusel muffins made with whole wheat flour are moist, flavorful and secretly healthy. They make the perfect holiday breakfast!
Ingredients
2 1/2 cups white whole wheat flour
3/4 cup granulated sugar
2 1/2 tsp baking powder
1/2 tsp salt
1 cup fresh cranberries
1/2 cup chopped pecans
2 tbsp orange zest
2 large eggs
3/4 cup buttermilk
1 cup nonfat plain greek yogurt
1/4 cup vegetable oil
1 tsp vanilla extract
1 cup homemade cranberry sauce
For streusel topping:

3 tbsp granulated sugar
3 tbsp turbinado sugar (or brown sugar)
Pinch salt
1/3 cup white whole wheat flour
1/4 cup chopped pecans
1/4 cup butter, melted
Instructions
Heat oven to 425°F. Line muffin tins with paper muffin liners or spray with oil spray.
In a large bowl, whisk together flour, sugar, baking powder and salt.
Stir in cranberries, pecans, and orange zest.
In another bowl, whisk together eggs, buttermilk, yogurt, oil, and vanilla. Gently stir into dry ingredients until just combined, careful not to overmix.
Scoop batter into muffin tins, filling 2/3 full. Scoop about 1 tbsp cranberry sauce over each cup of batter and use a knife or toothpick to gently swirl.
To make streusel, combine sugars, salt, flour and pecans. Pour melted butter over mixture and stir until you get a consistency similar to wet sand. Sprinkle over the tops of muffins.
Bake 14-18 minutes, or until a toothpick in the center comes out with no batter on it. Cool in the pans for 5 minutes before removing to a cooling rack.
https://livelytable.com/cranberry-orange-pecan-streusel-muffins/
Recipe copyrighted by Lively Table. Thanks!
Love this recipe? PIN it!