Cooking at home doesn't have to be a chore! Make weeknight dinner delicious and easy with this roundup of easy and healthy one-dish meals, with everything from sheet pan meals to Instant Pot and slow cooker dinners.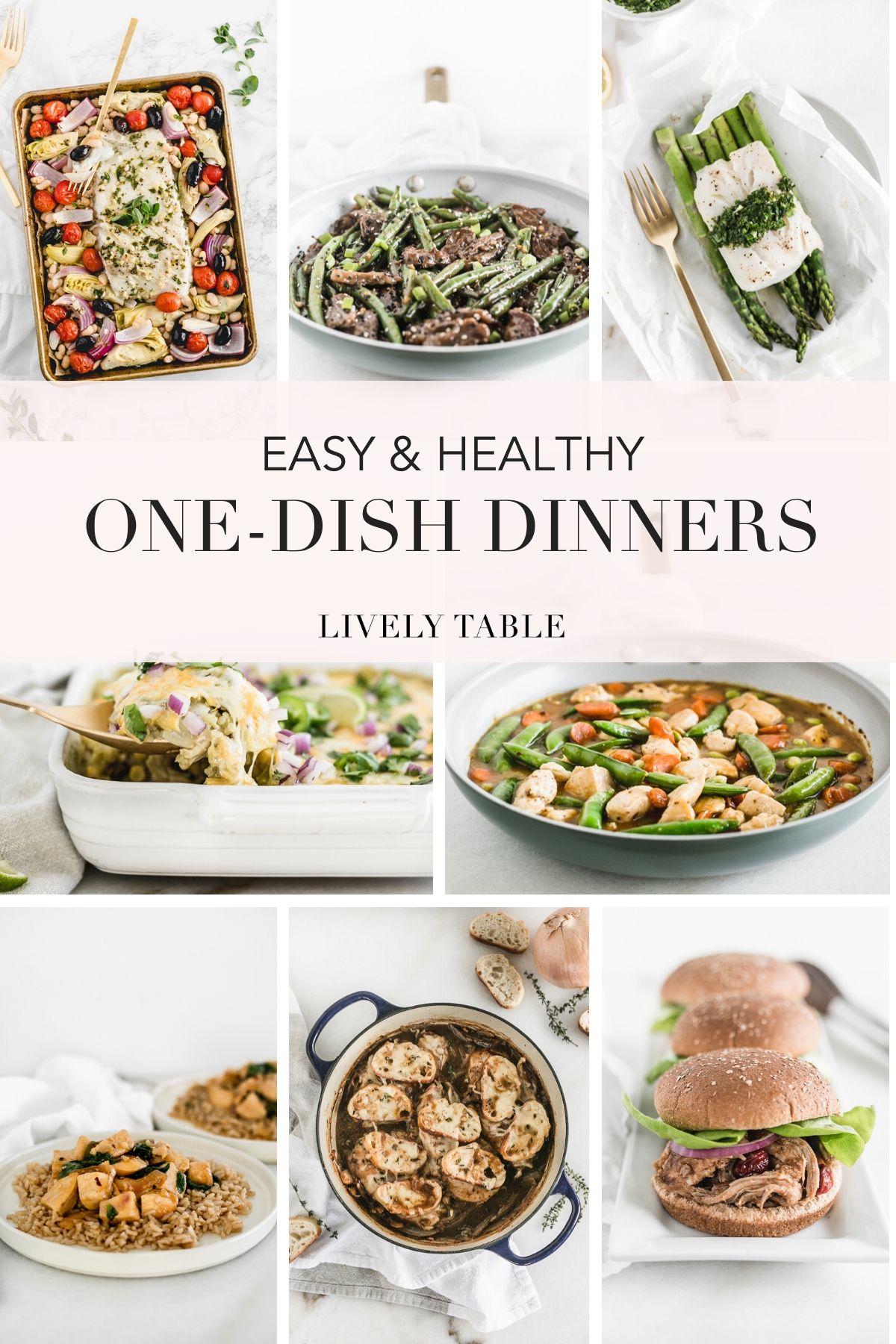 If the thought of cooking dinner and cleaning up after a long day makes you want to pick up the phone and order takeout, you're not alone. Doing the dishes is probably the worst part of cooking. But a delicious dinner doesn't have to mean dirtying up a ton of pots and pans! To make your life easier, I've rounded up my favorite one-dish dinners for you, with everything from simple sheet pan meals, to one-dish stove top wonders, to easy Instant Pot dinners. With fewer dishes to clean, you get to spend more time with your family, and less time standing over the sink. So get cooking!
Easy, Healthy One-Dish Meals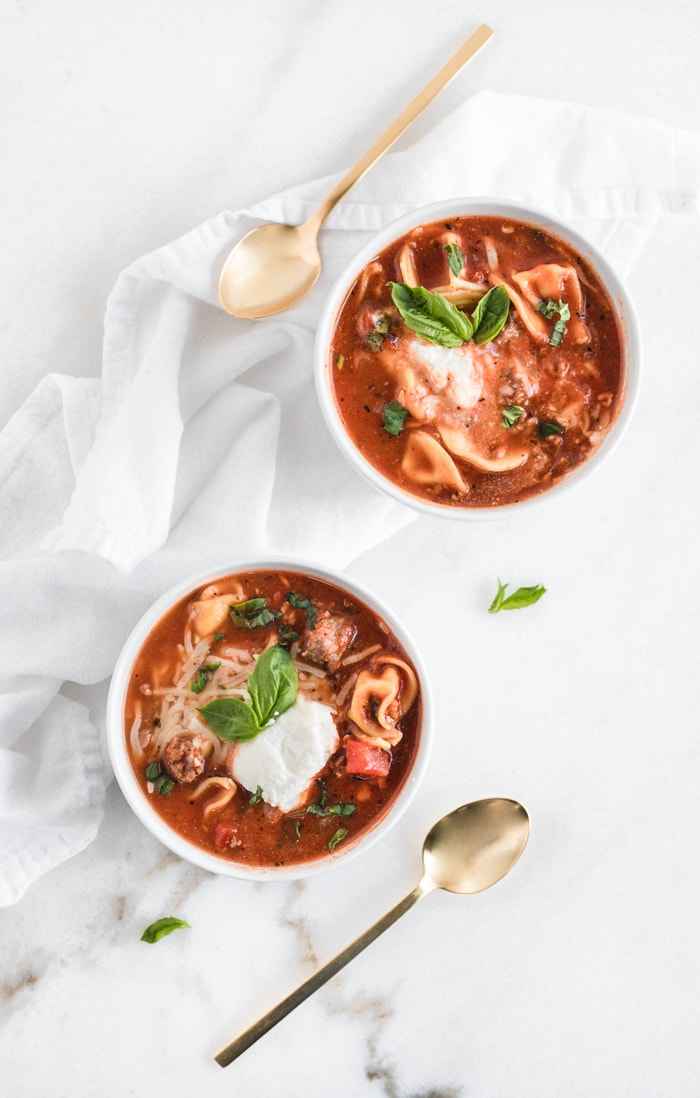 One-Dish Soups, Stews, and Chilis
There is nothing more comforting than a big pot of soup made in one dish. Especially when it makes enough for leftovers, meaning no cooking again tomorrow night!
Easy One-Pot Tortellini Lasagna Soup
Homemade Chicken Noodle Soup
Sausage, Kale, and Butternut Squash Soup
Healthy Chicken or Turkey Pot Pie Soup
Ginger Lemongrass Chicken Noodle Soup
Vegan Pumpkin Lentil Chili with Quinoa
The Best Easy Pinto Beans
Creamy Cheater's Pumpkin Risotto
Thai Pumpkin Coconut Curry Soup
Creamy Potato Split Pea Soup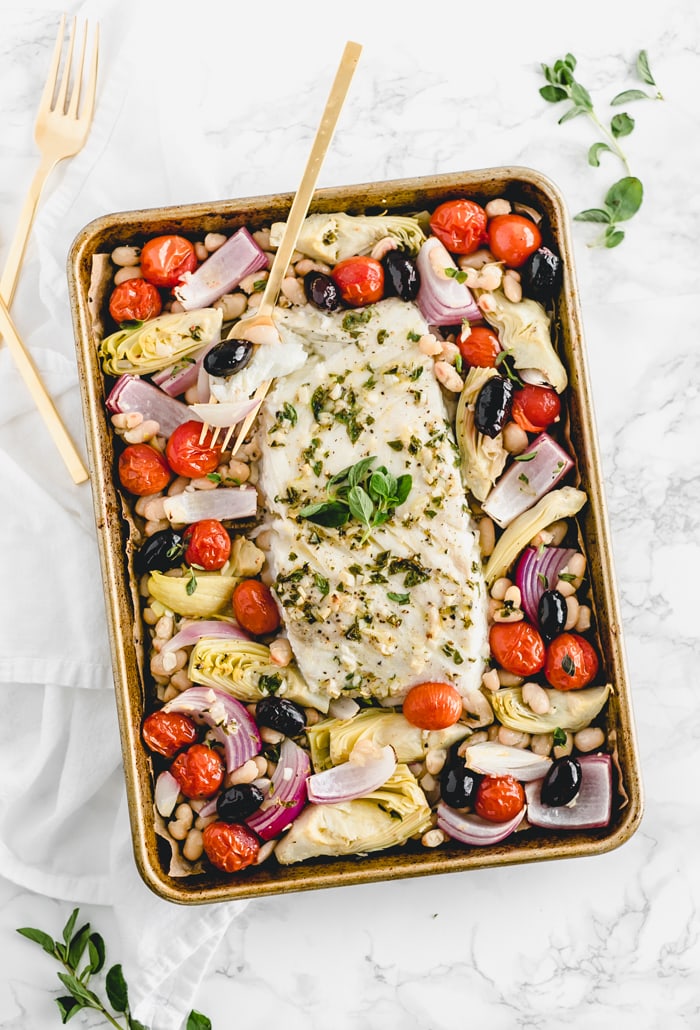 Easy Sheet Pan Meals
Sheet Pan Meals are the ultimate no-fuss dinners that leave you with minimal cleanup! Line your sheet pan with parchment for even easier cleaning.
Easy Sheet Pan Mediterranean Baked Alaska Whitefish
Sheet Pan Honey Turmeric Chicken Thighs with Cauliflower and Roasted Grapes
Sheet Pan Maple Dijon Salmon with Brussels Sprouts and Sweet Potatoes
Meal Prep Sheet Pan Lemon Chicken
Lemon Asparagus Fish En Papillote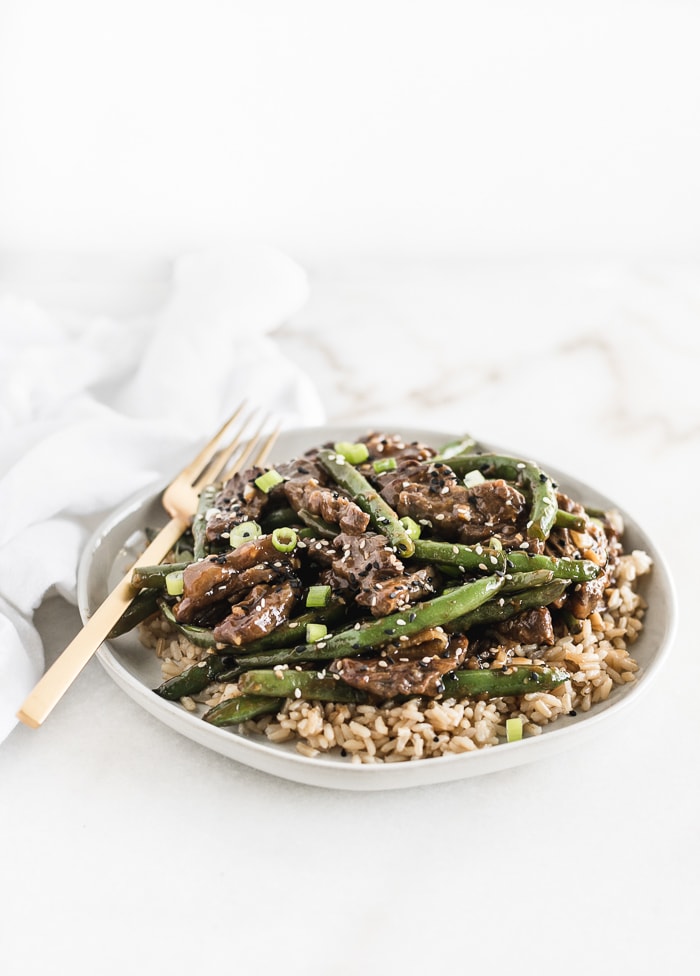 One-Skillet Meals
I love dinners that cook in the same skillet. Less mess and fewer things that require your attention! These one skillet meals are some of my favorites for weeknights. For the meals that aren't already complete with a starch, serve them with leftover cooked whole grains or microwave ready pouches (such as Uncle Ben's) for super easy dinners.
Sesame Ginger Beef and Green Beans
Healthy Orange Chicken
One Pan BBQ Mushroom Chicken
Thai Orange Basil Chicken
One Pan Broccoli, Sundried Tomato and White Bean Pasta
One Skillet Spinach Artichoke Chicken
Alaska Cod with Moroccan Stewed Tomatoes and Chickpeas
Apple Sweet Potato Hash

Casseroles and Baked Dishes
There is nothing better than an easy dinner that you can throw in the oven and forget until dinner time. Try one of these delicious baked one-pan dinners for easy weeknights!
One Dish Chicken Enchilada Quinoa Casserole
The BEST One-Pot French Onion Chicken
Red Pepper Kale & Feta Frittata
Perfect Roasted Chicken and Root Vegetables
Pork Loin With Braised Apples, Onions & Fennel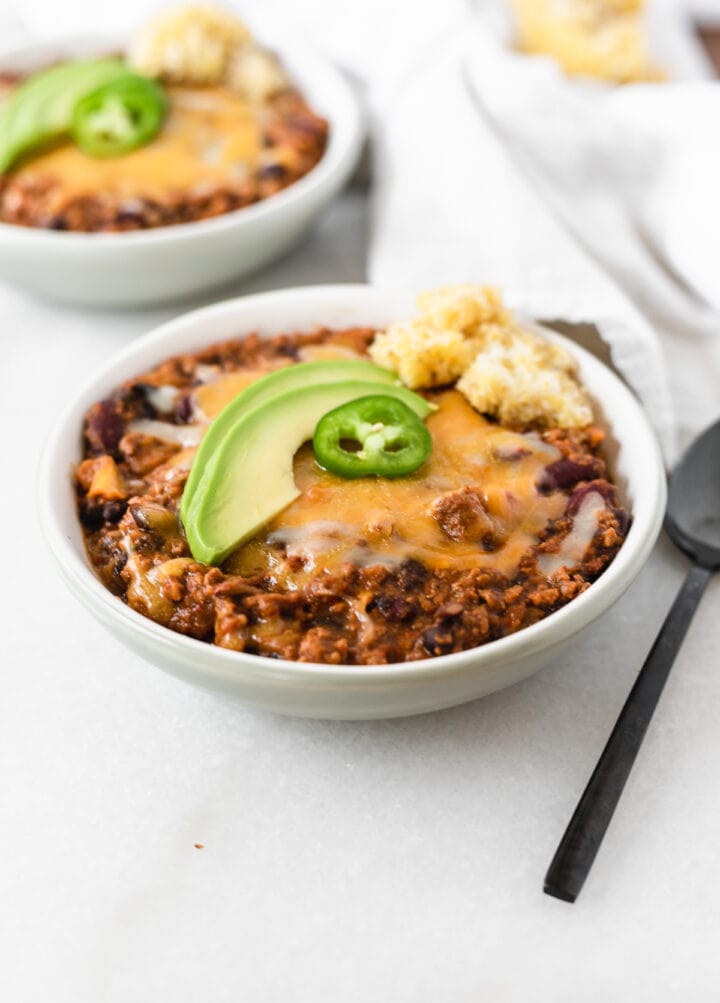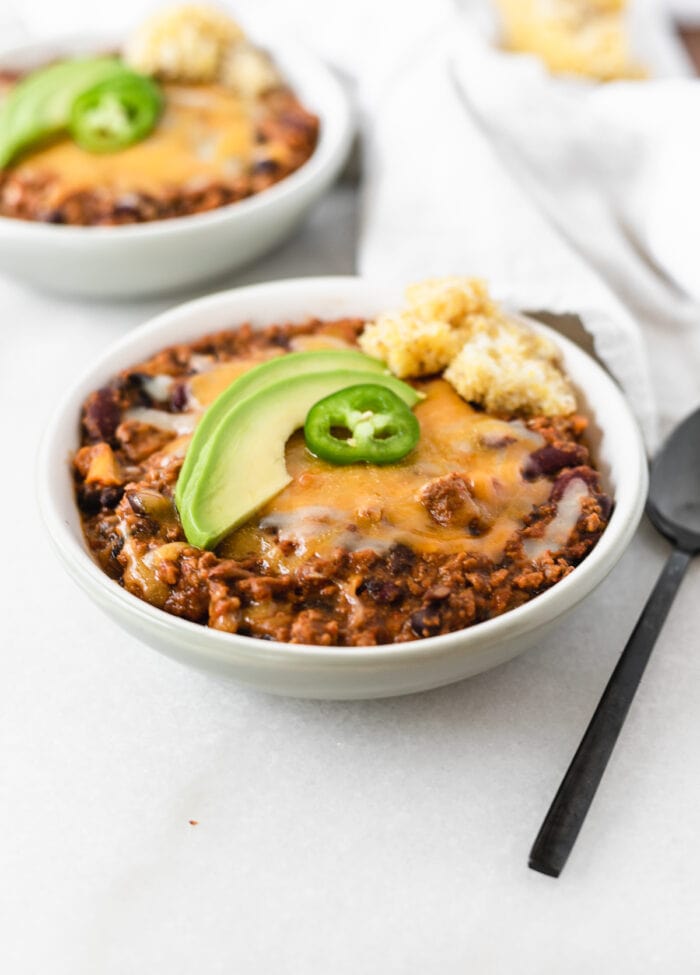 Easy Instant Pot Meals
The Instant Pot is practically synonymous with one-dish. The holy grail of multitaskers makes getting dinner on the table (and cleaned up) a breeze.
Instant Pot Chipotle Turkey Chili with Apples
Easy Instant Pot Barbacoa Beef
Instant Pot Mexican Black Bean Soup
Instant Pot Rosemary Mushroom Beef Stew
Instant Pot Mushroom Risotto
Instant Pot Spring Vegetable Brown Rice Risotto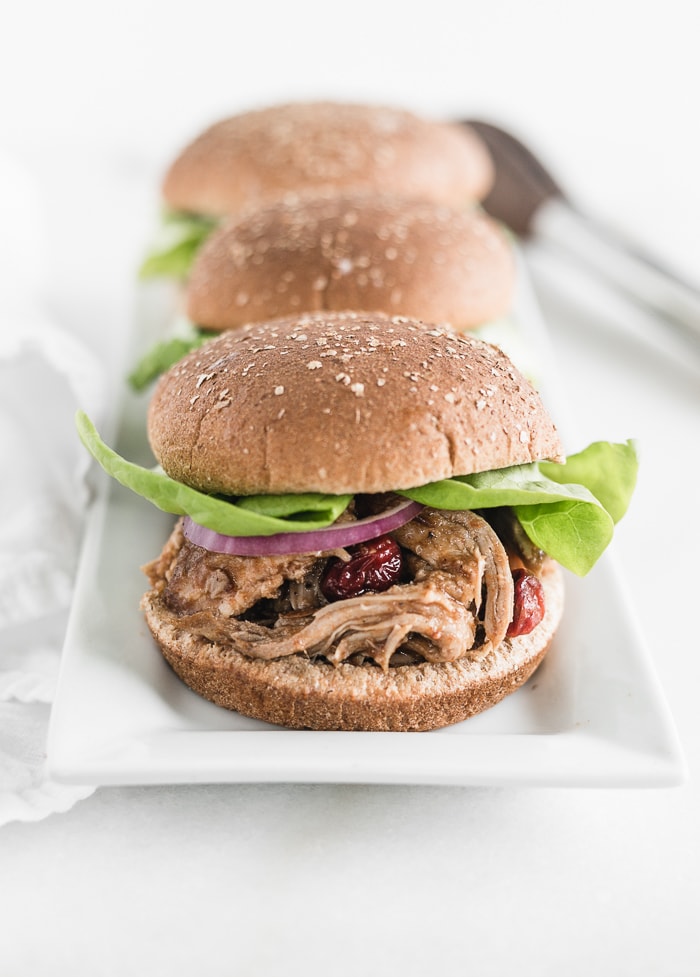 Easy Slow Cooker Meals
The slow cooker can be your best friend when it comes to minimal mess. Here are some of my favorite easy slow cooker dinners.
Slow Cooker Cranberry Chipotle Pulled Pork Sandwiches
Slow Cooker Carnitas
Easy Crock Pot Pulled Pork Sliders
Crockpot Vegetable Loaded Tortilla-less Chicken Tortilla Soup