Need inspiration for how to cook fish or seafood? Look no further! I've got you covered with these 37 healthy seafood recipes that you'll love whether you're pescatarian, it's the lenten season, or you're just looking to add more seafood to your diet.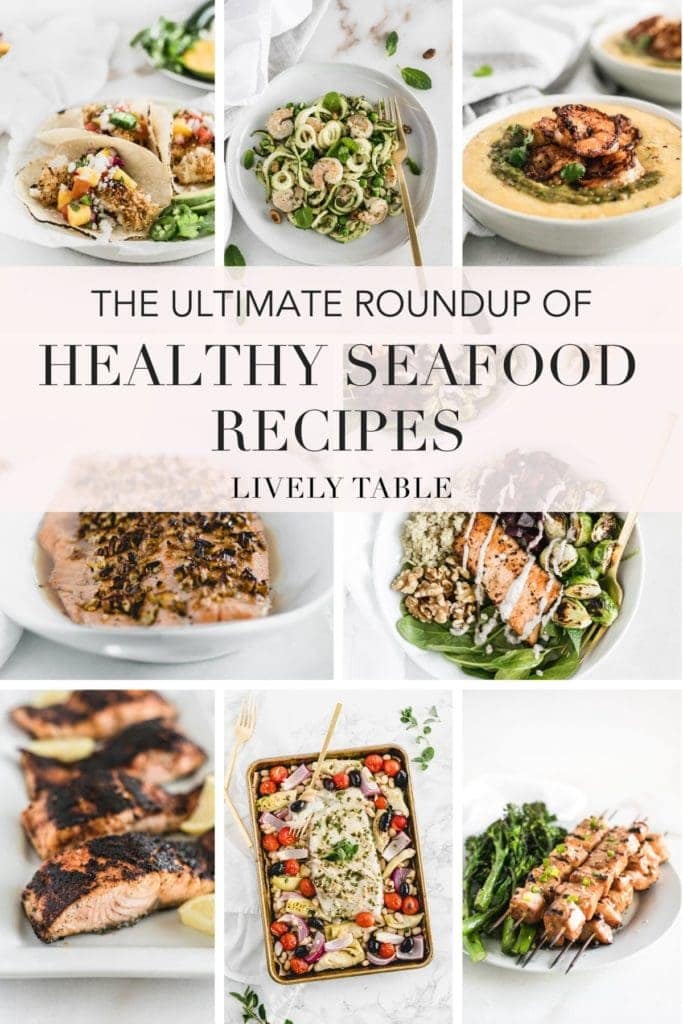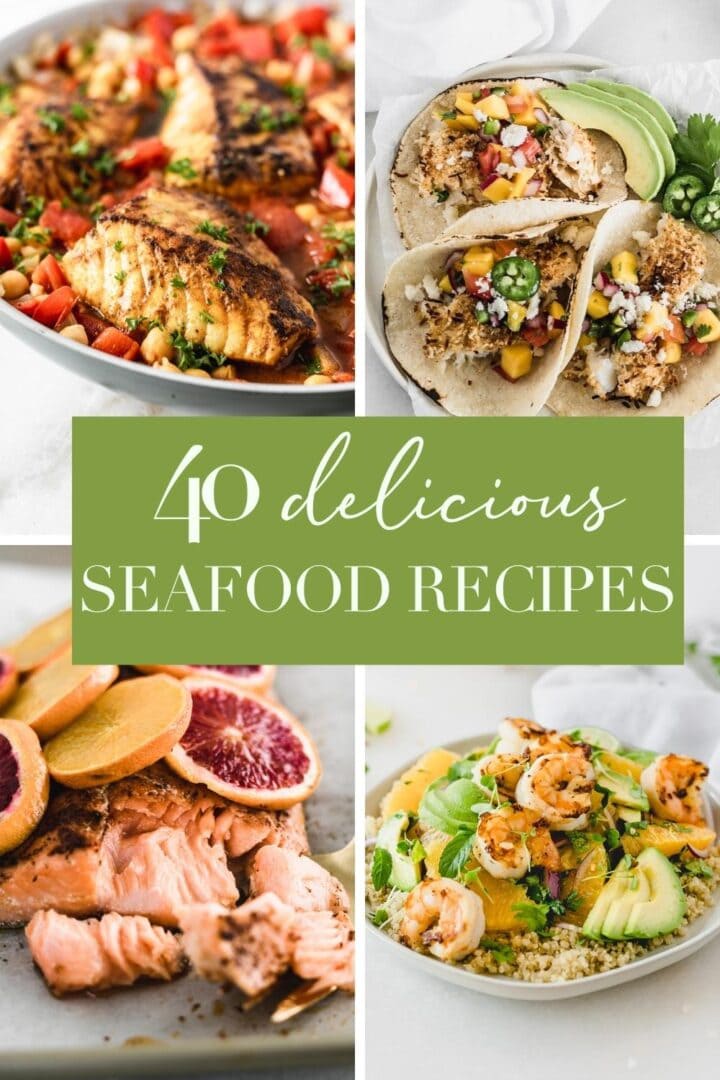 I think we can all agree that we need to be eating more seafood. It's a healthy, delicious source of high-quality protein and healthy fats, and according to the American Heart Association, eating two servings per week of fish can reduce the risk of heart attack and stroke. Seafood is also a key component of the Mediterranean Diet, which has been proven beneficial for overall health as well as a number of specific areas of health, including cancer prevention, brain health, fertility, and heart health.
Getting more seafood can be easier said than done if you're not used to cooking with it. But I'm here to change that! Seafood is actually quite easy to prepare and is so versatile with the ability to take on so many different flavors. I also love that it's usually super quick to thaw out, so I always keep a stash of shrimp, salmon, and whitefish in the freezer. I've rounded up some amazing, healthy seafood recipes to help you get your 2 servings of fish per week, whether you're pescatarian, it's the lenten season, or you just want to include more seafood in your diet. Most of these recipes are gluten-free and dairy-free, too. Just look for the symbols GF and DF.
Tips For Buying and Storing Seafood
Seafood comes in a variety of formats, from fresh to frozen to canned. Buy whatever fits your budget and tastes!
When buying fresh seafood, make sure it's really fresh. Fresh fish fillets should be firm and vibrant in color, not dull, milky, or mushy. It should not have an overly 'fishy' smell. If the fish is whole, the eyes should be clear, the scales tightly intact and the gills bright red.
When buying shellfish, make sure there is no milky liquid, and try to buy shrimp that is not precooked. Shrimp is almost always previously frozen, which is good because it goes bad quickly.
If your budget is a little tighter, try frozen or canned fish. Frozen fish may have a bit stronger of a fish taste, however. Canned fish is a great budget option that stores really well and is great for salads, burgers, etc.
If you aren't going to cook fresh fish within 1-2 days of buying it, store it in the freezer in vacuum-sealed bags until ready to cook.
Fish should always be removed from the bags while thawing.
Healthy Salmon Recipes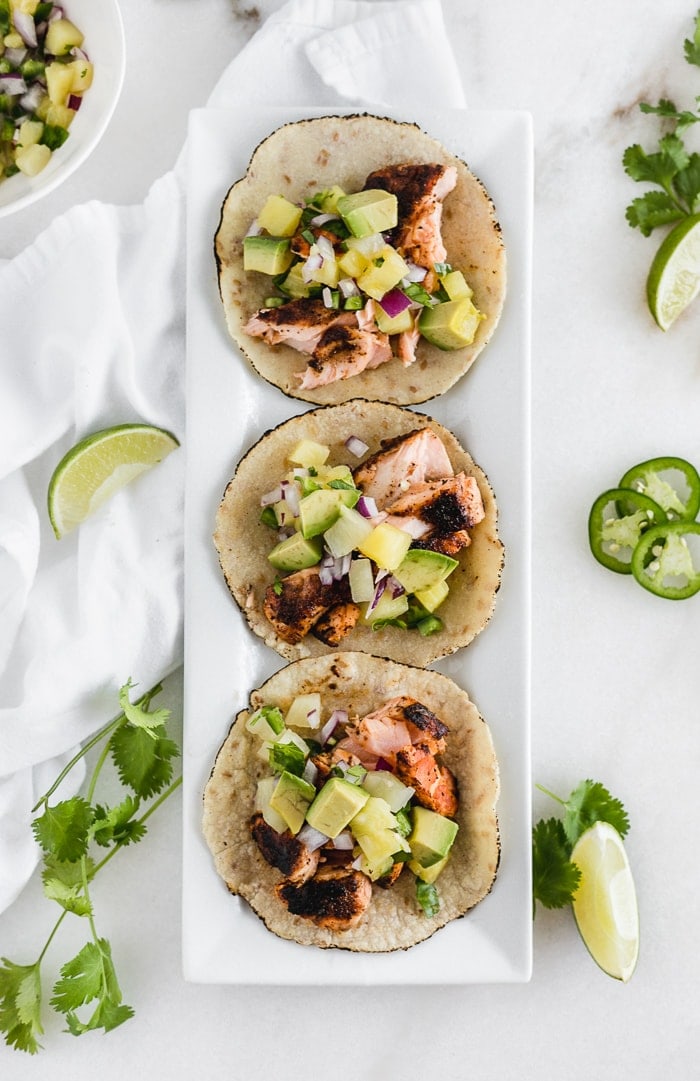 Blackened Salmon Tacos with Pineapple Salsa Taco Tuesday has never been so easy or delicious! Blackened salmon tacos with pineapple salsa make a healthy, delicious, and easy dinner that you will want to make every week! (GF, DF)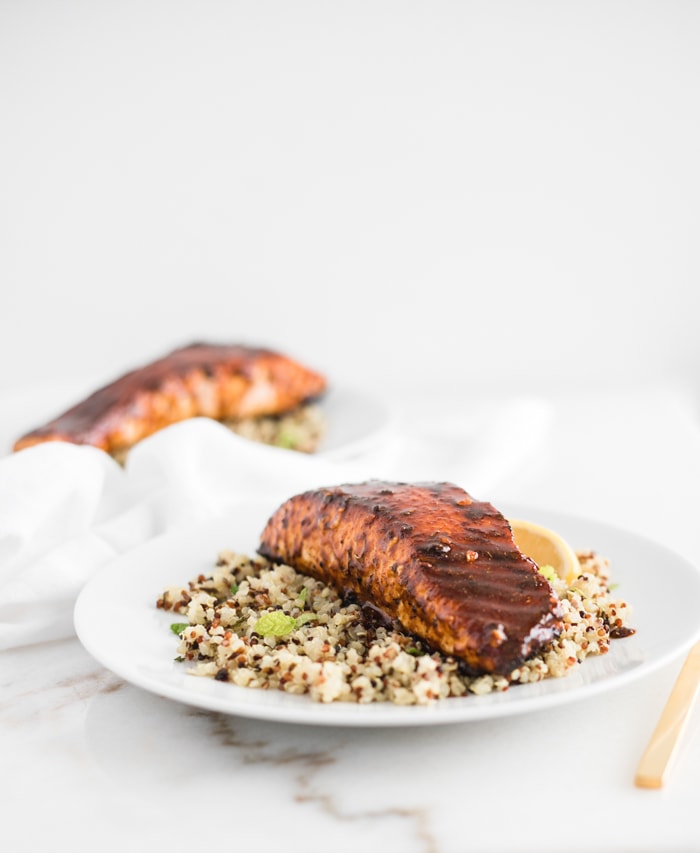 Harissa Glazed Salmon with Lemon Mint Quinoa This heart-healthy harissa glazed salmon with lemon-mint quinoa is a delicious, healthy way to switch up your weeknight dinner routine! It's full of flavor and ready in less than 30 minutes. (GF, DF)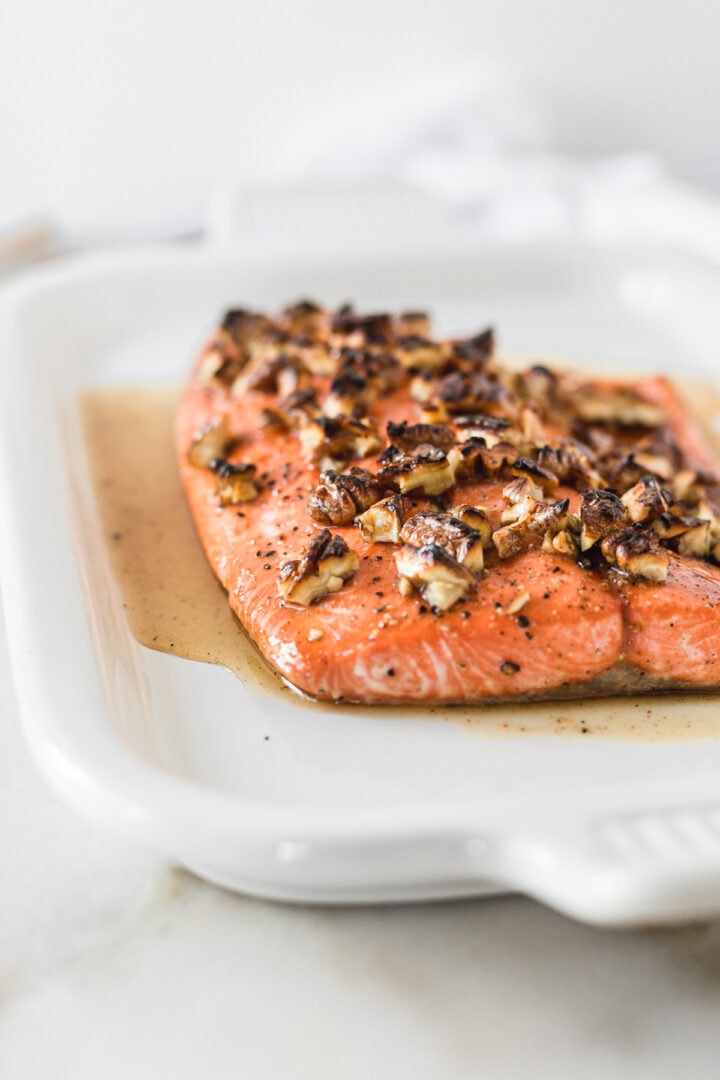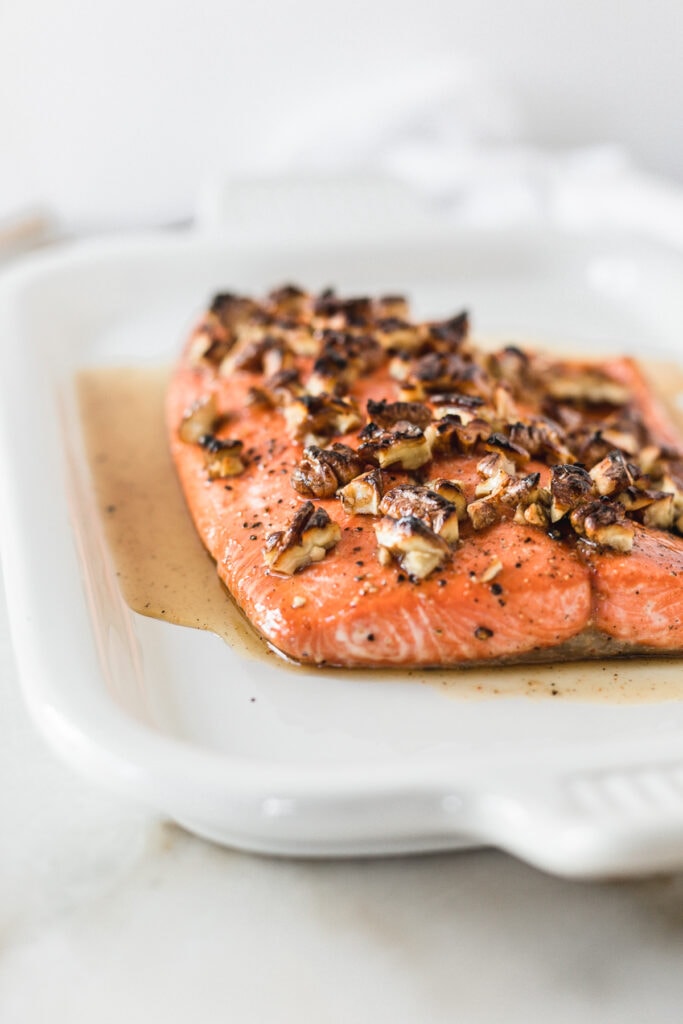 Honey Pecan Salmon This sweet and savory honey pecan salmon is a simple and delicious way to include more heart-healthy seafood in your weeknight meals! It's so easy to prepare with just a few ingredients, and the perfectly cooked salmon with a crunchy pecan topping is hard to resist. (GF, DF)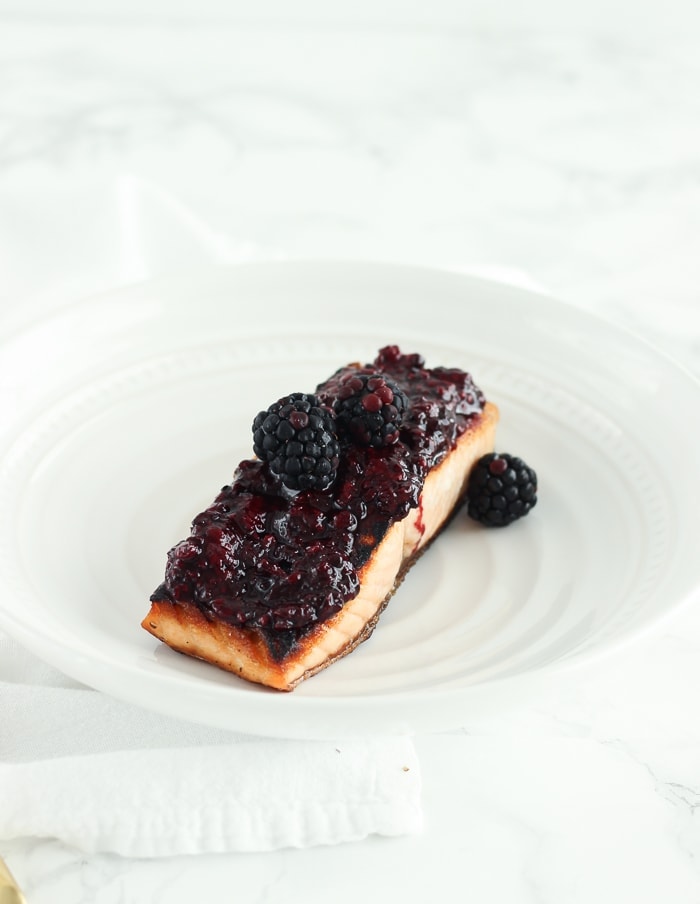 Blackberry Glazed Salmon This easy blackberry glazed salmon is a quick and delicious way to get in more heart-healthy omega-3s and antioxidants. Made with only 6 ingredients and in 15 minutes, you can get a healthy dinner on the table quickly! (GF, DF)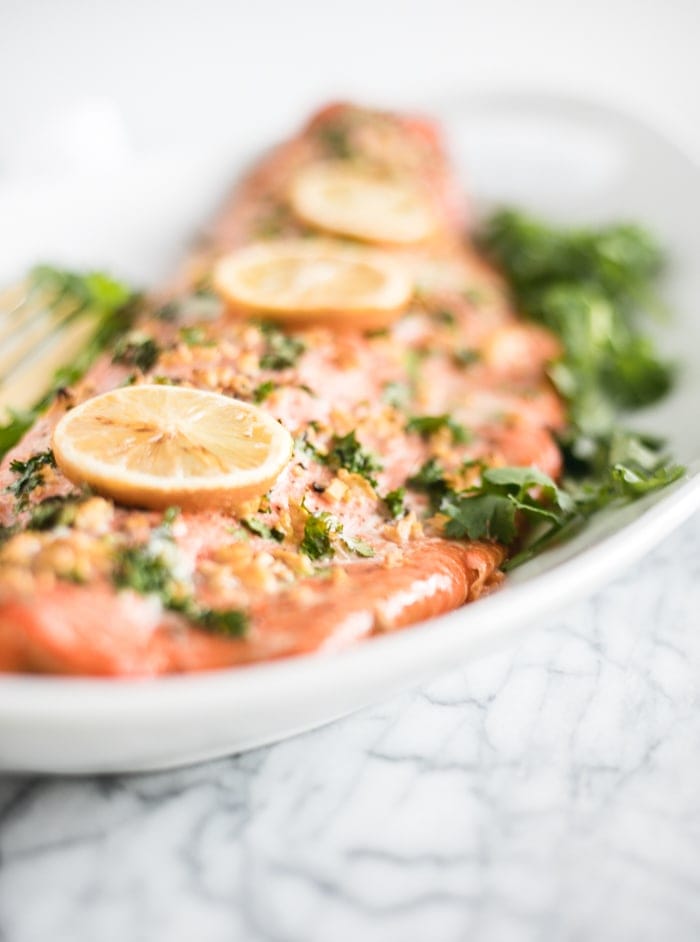 The Best Garlic Cilantro Salmon This salmon is a delicious and easy salmon that makes a great healthy weeknight dinner with only 5 simple ingredients! This simple cooking method in the oven yields a crispy outside and a perfect medium-rare, tender inside. (GF)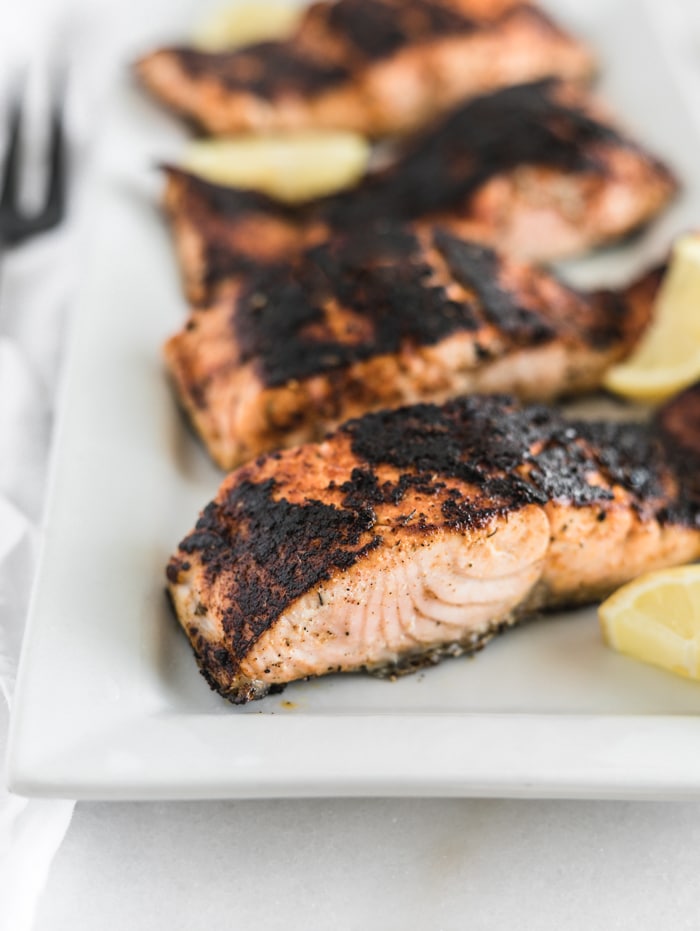 Easy Blackened Salmon This simple pan-seared blackened salmon with an easy homemade blackening seasoning is a healthy, delicious dinner that you'll want to add to your regular rotation. Made in less than 20 minutes, it's a great weeknight dinner recipe! (GF, DF)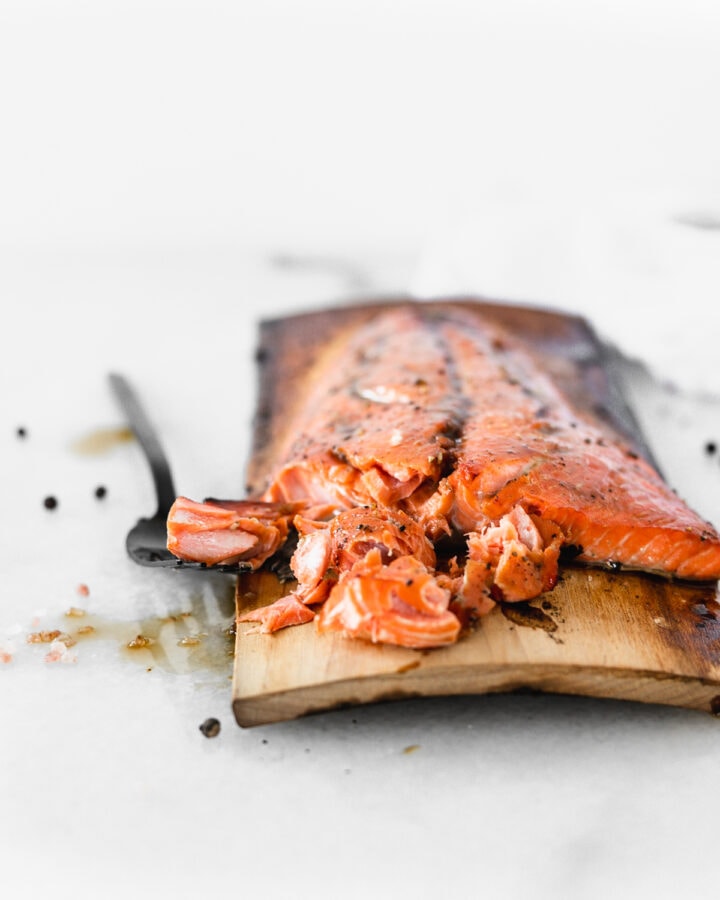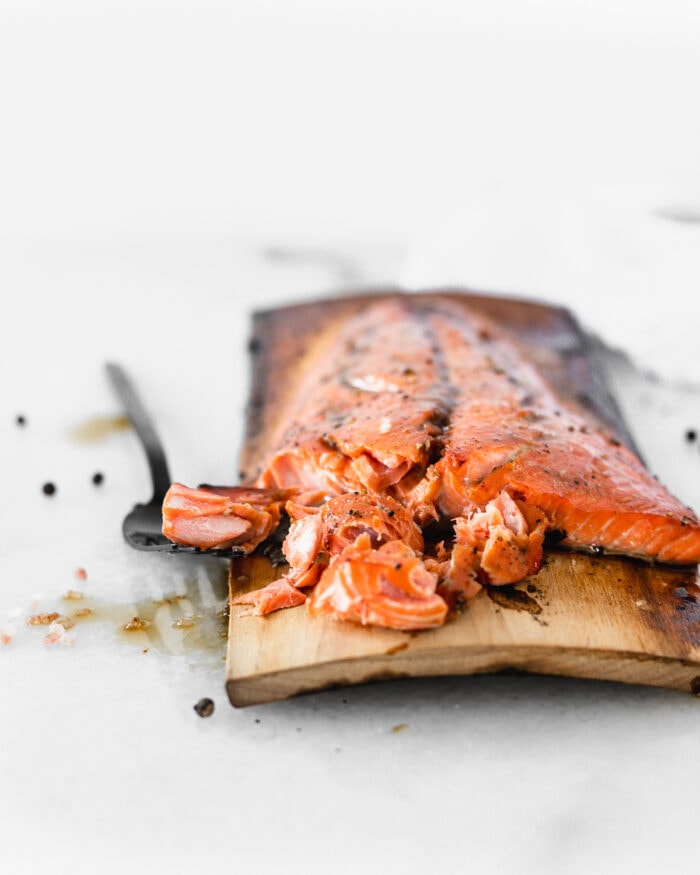 Grilled Bourbon Glazed Cedar Plank Salmon Grilled bourbon-glazed cedar plank salmon is a delicious, easy recipe to help you add more heart-healthy fish to your diet. This 5-ingredient recipe is perfect for any season! (GF, DF)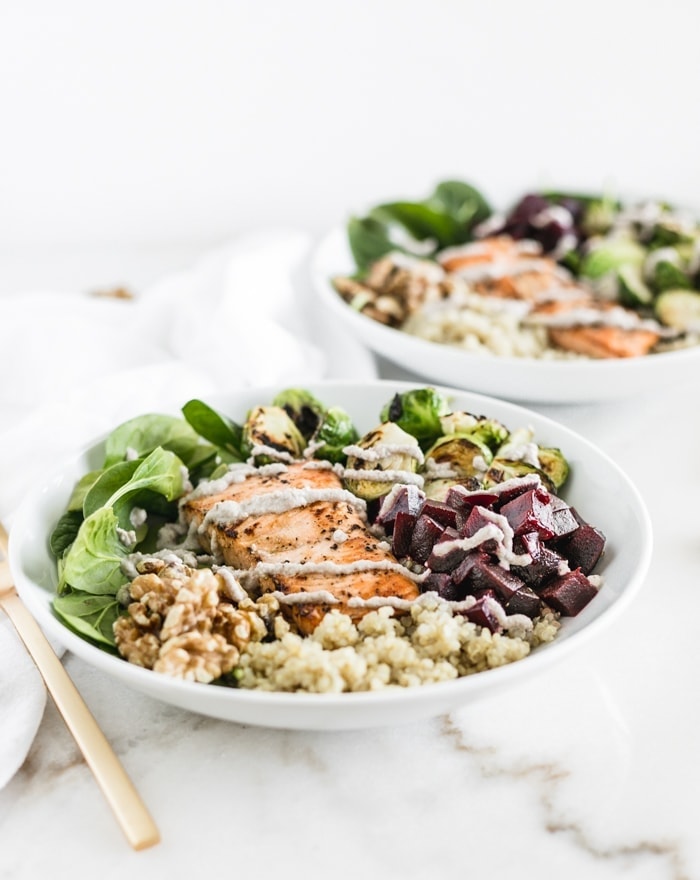 Salmon Walnut Quinoa Bowls These nutritious salmon walnut quinoa bowls with brussels sprouts, beets, and a tangy walnut cream sauce make a delicious and satisfying meal that includes lots of superfoods with cancer-protective nutrients! (GF, DF)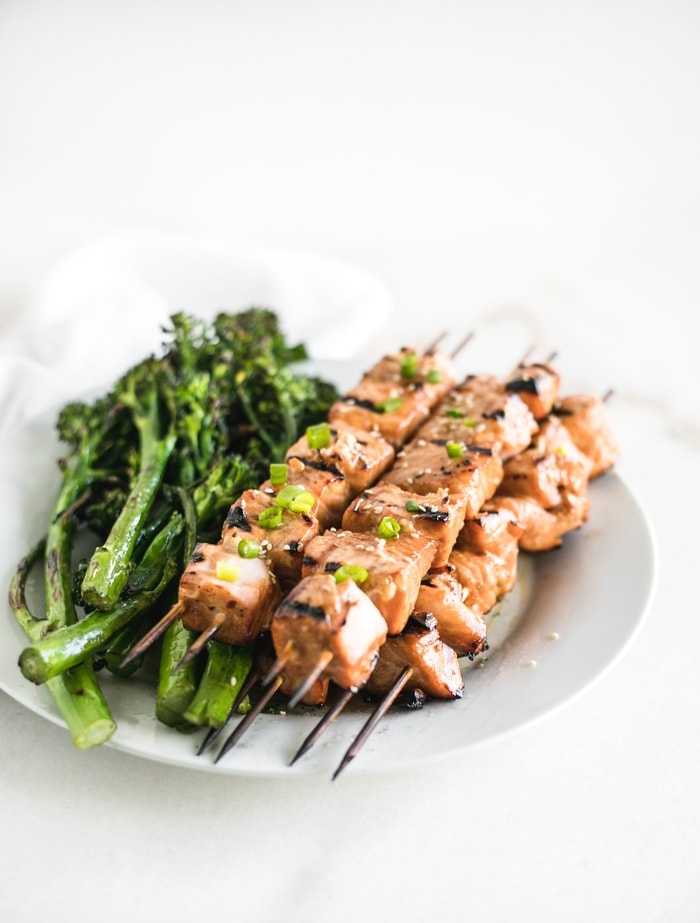 Asian Grilled Salmon Kabobs Get ready for grilling season with these easy and healthy Asian grilled salmon kabobs. They're light, delicious, and perfect for summer. (DF, GF option)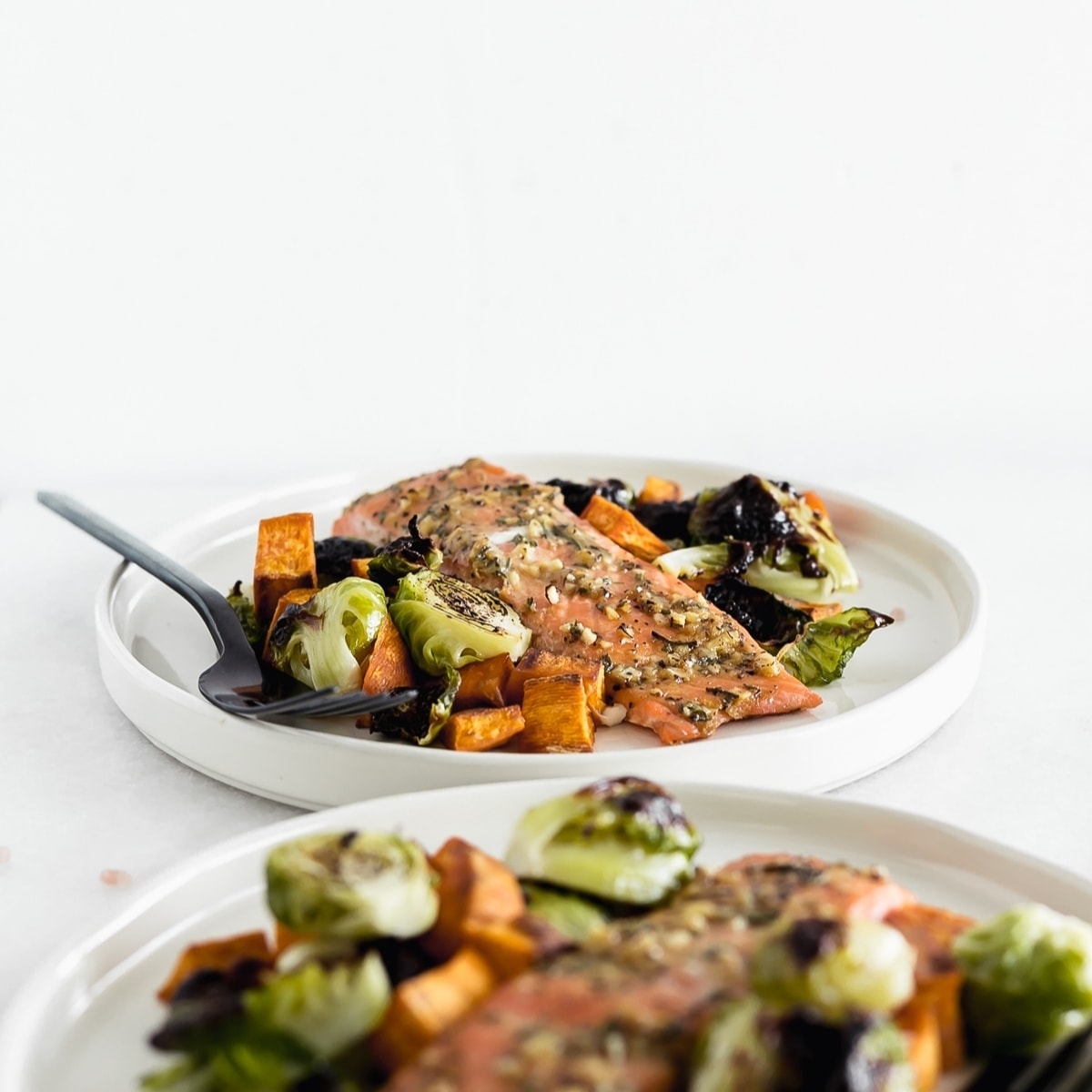 Sheet Pan Maple Dijon Salmon with Brussels Sprouts and Sweet Potatoes Sheet pan maple dijon salmon with brussels sprouts and sweet potatoes is an easy, healthy dinner with minimal cleanup, perfect for busy weeknights. (GF, DF)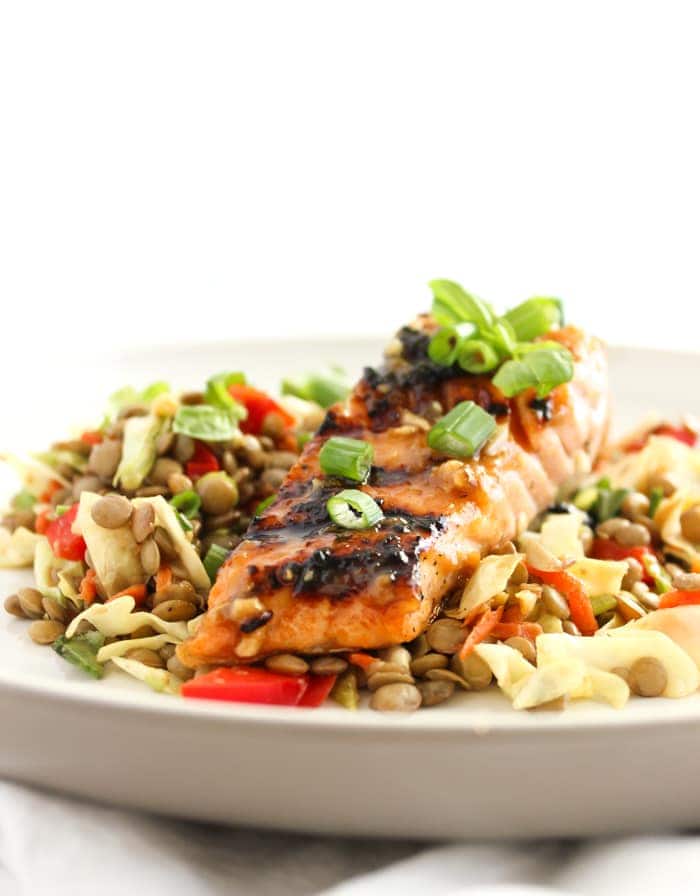 Thai Lentil Salad with Miso Salmon Flavorful miso salmon on top of a healthy, Thai-inspired crunchy cabbage and lentil salad is a healthy, delicious, meal prep-friendly meal that can be made in under 30 minutes. (DF, GF option)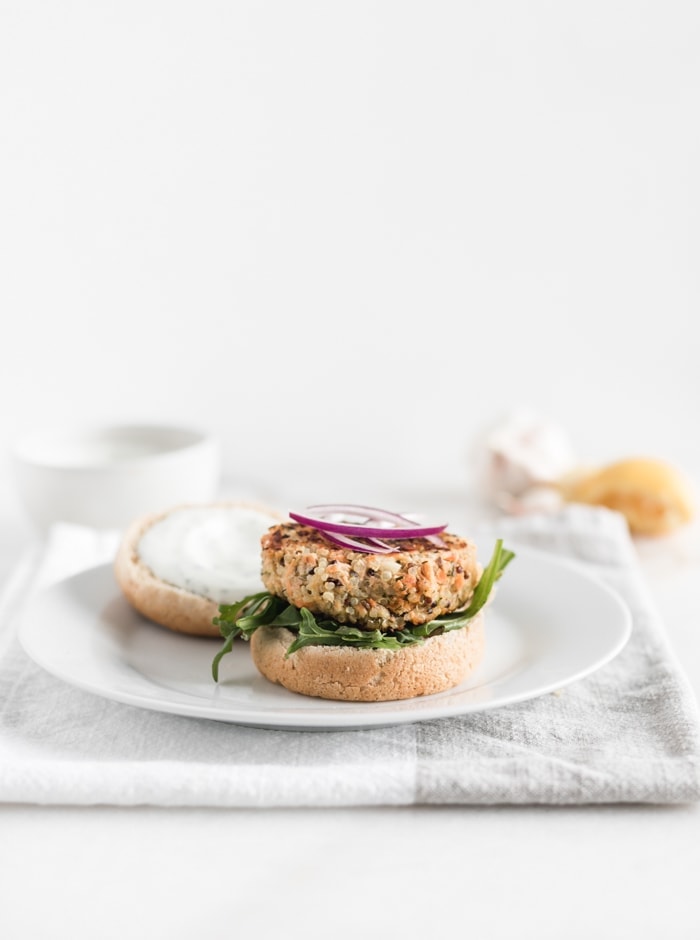 Easy Salmon Quinoa Burgers Healthy and delicious salmon quinoa burgers made with fresh or canned salmon and quinoa, topped with a yogurt dill sauce are a nutritious and irresistible.
Healthy White Fish Recipes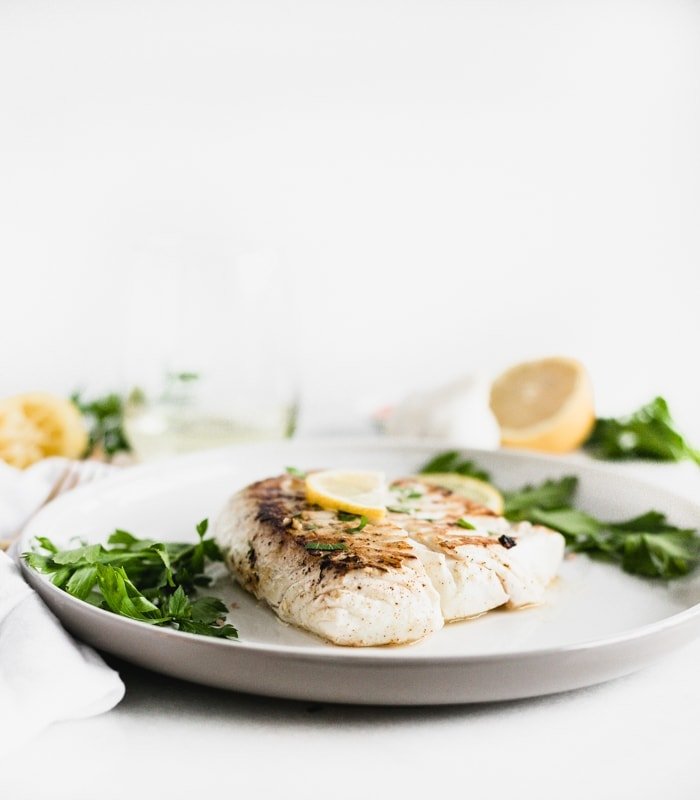 Simple Pan-Seared Halibut If you're new to cooking fish, this delicious halibut recipe with lemon and white wine is a great place to start. It's super easy to make, with just a few ingredients you probably already have in your kitchen. (GF)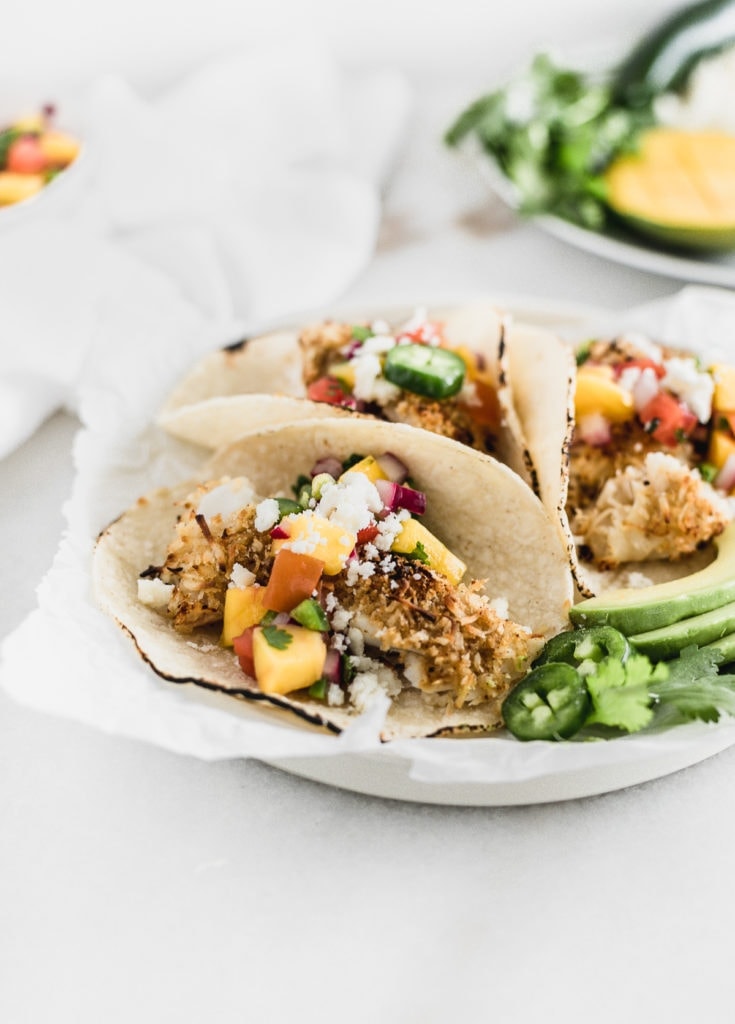 Healthy Coconut Crusted Fish Tacos Healthy coconut fish tacos with mango salsa with a crunchy baked coconut breading are easy to make, super delicious, and perfect for weeknight dinners or celebrating with friends.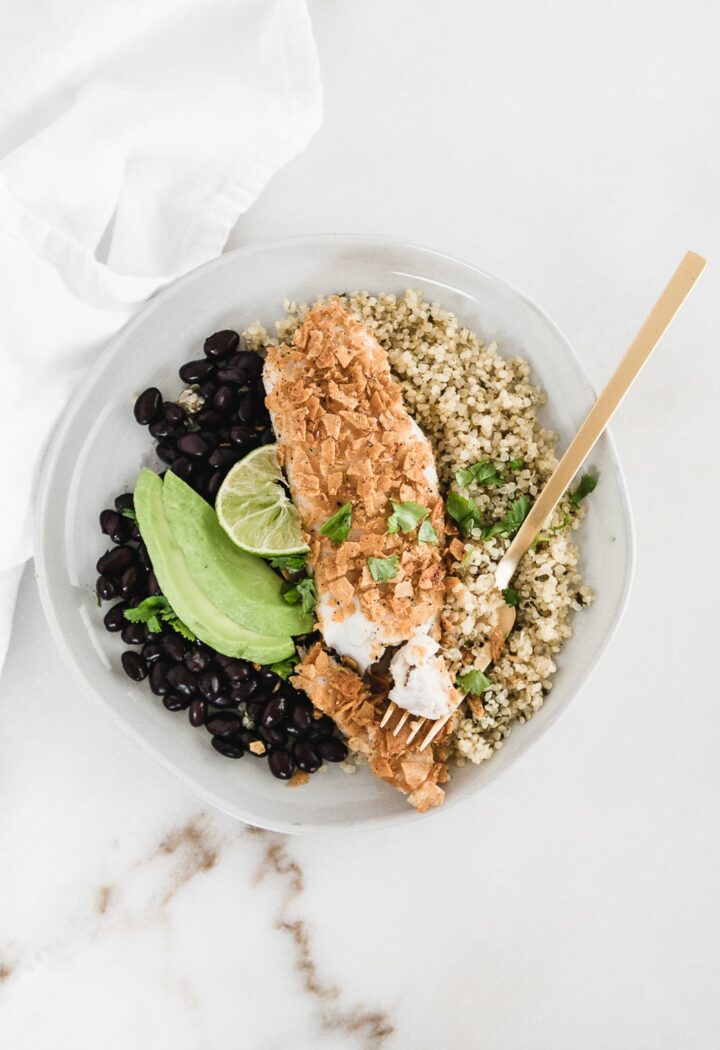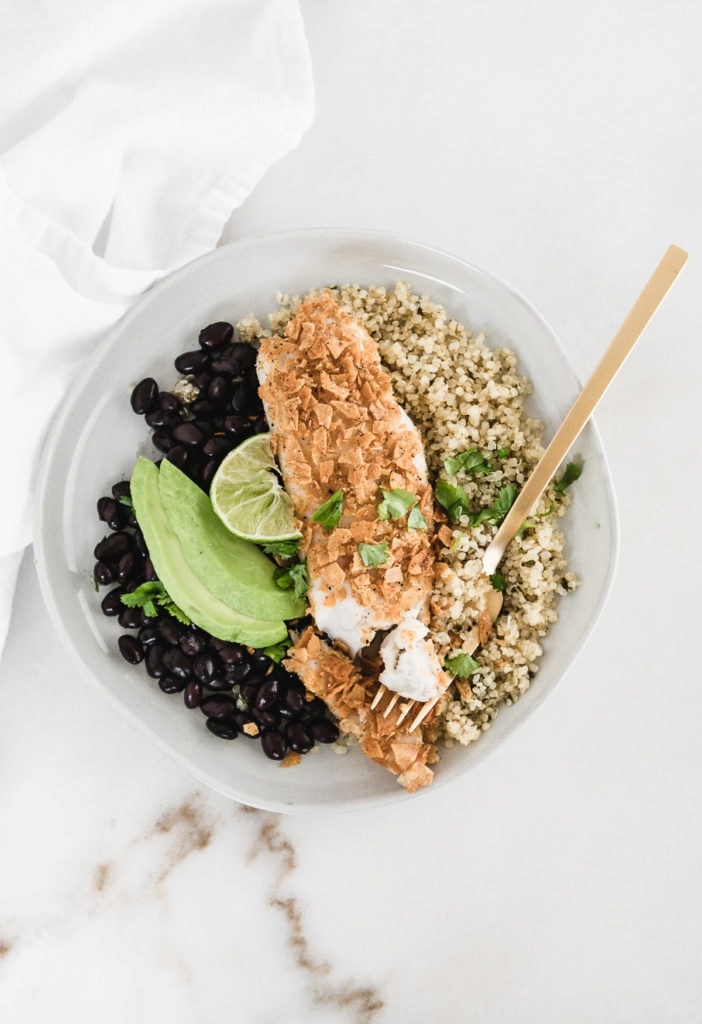 6-Ingredient Tortilla Crusted Tilapia A quick and easy, 6-ingredient recipe for crispy baked tortilla crusted tilapia is a healthy, delicious, and economical weeknight meal. (GF, DF)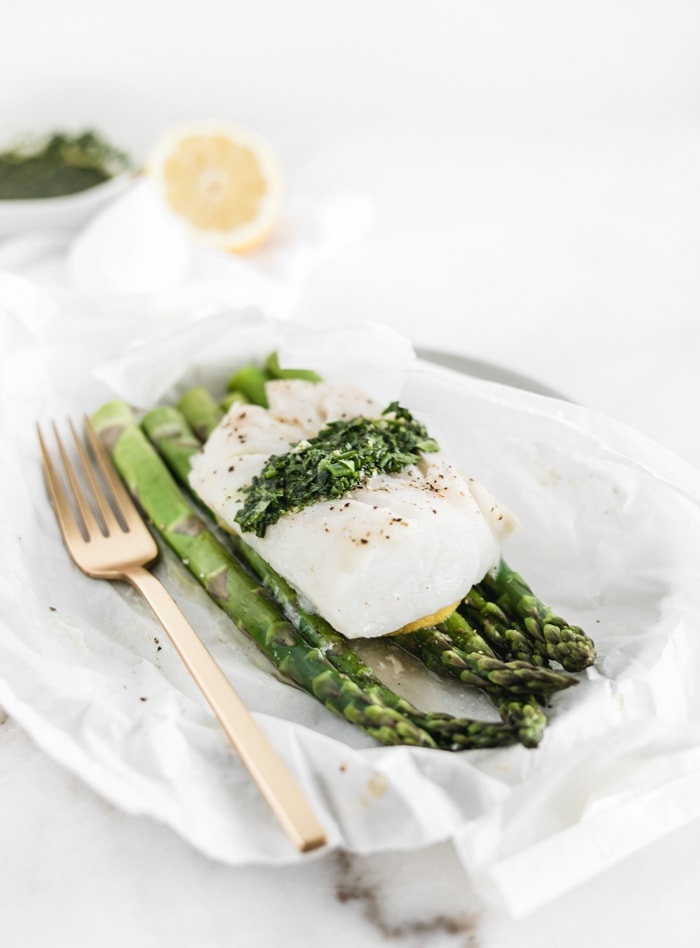 Lemon Asparagus Fish En Papillote This lemon and asparagus fish en papillote (or fish in parchment) served with a bright lemon herb sauce is a fresh, healthy dinner that's both easy and delicious! I love the simplicity of fish en papillote for easy weeknight dinners that are healthy and easy to clean up. (GF, DF)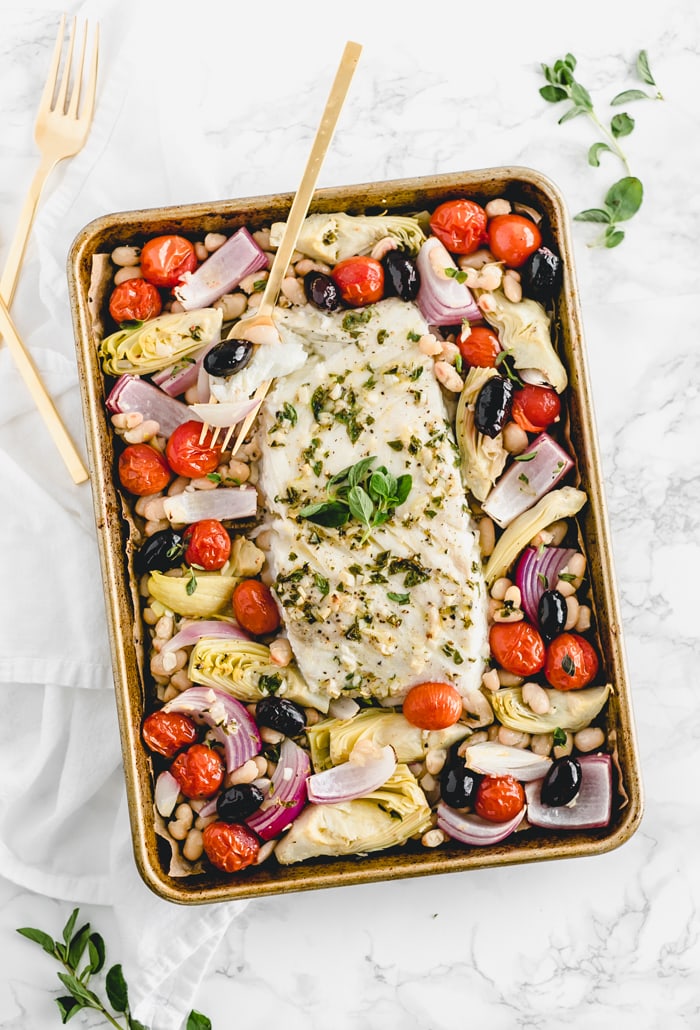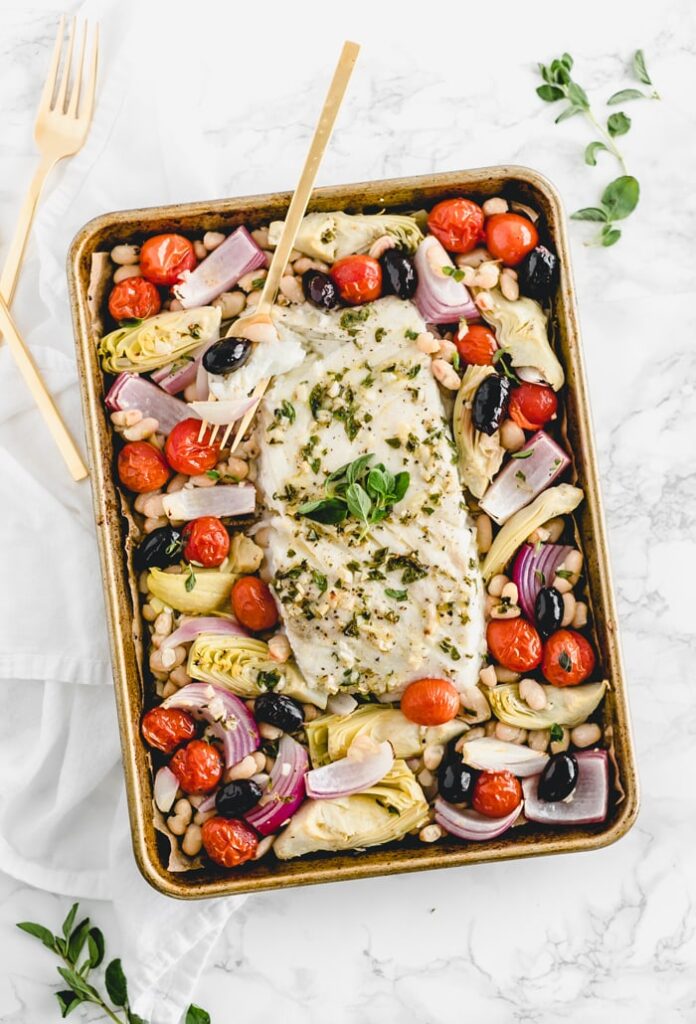 Easy Sheet Pan Mediterranean Baked Whitefish Make a flavorful dinner in no time with this sheet pan Mediterranean baked whitefish! All it takes is one easy marinade and a few pantry staples to create a healthy, delicious dinner that goes from fridge to table in under 30 minutes. (GF, DF)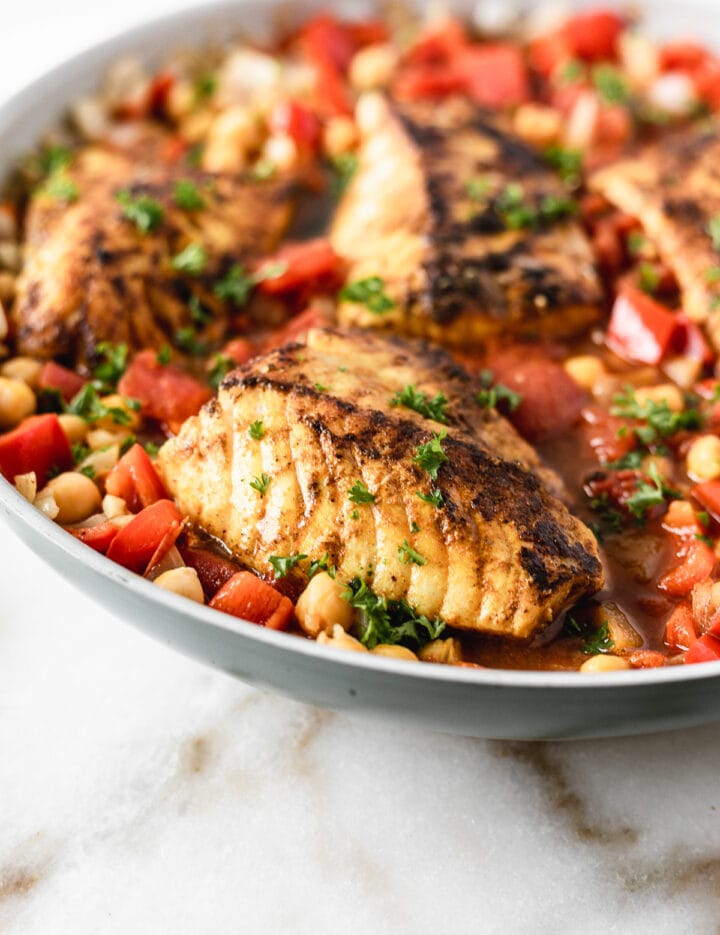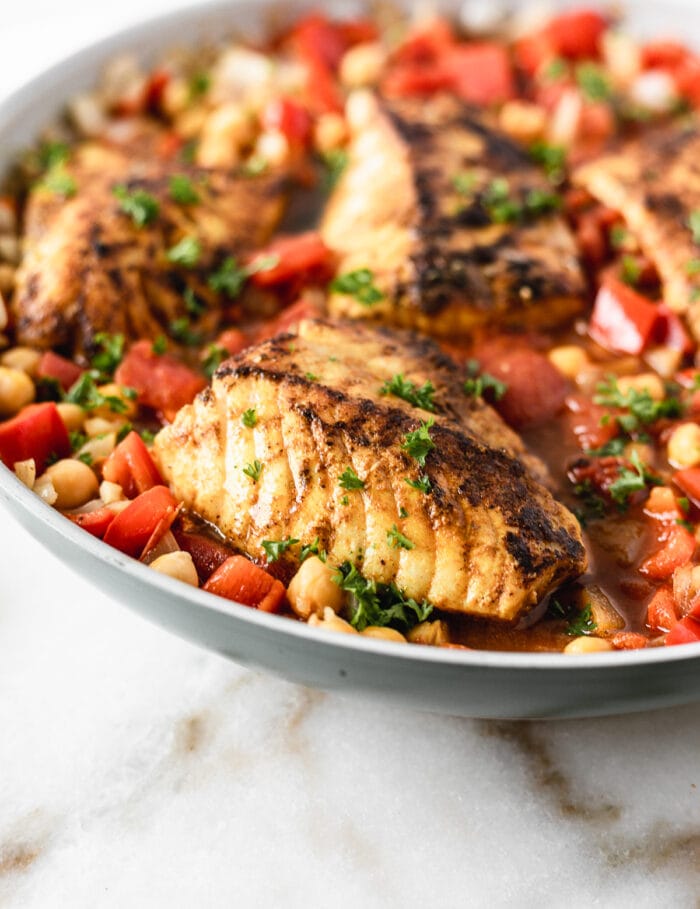 Cod with Moroccan Stewed Tomatoes and Chickpeas Eating fish doesn't have to be boring! Spice up dinner with this Alaska cod with Moroccan stewed tomatoes and chickpeas for a simple, delicious and healthy weeknight meal. (GF, DF)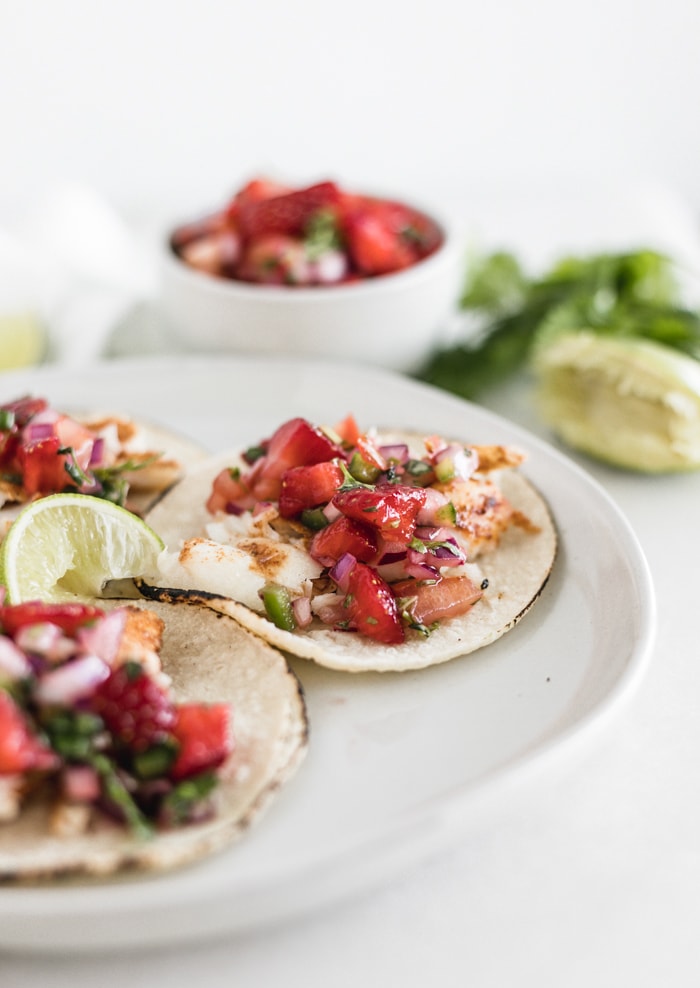 Grilled Fish Tacos with Strawberry Salsa Grilled fish tacos with strawberry salsa is a delicious and healthy weeknight dinner that's easy to make in under 30 minutes and perfect for using summer strawberries! (GF, DF)
Healthy Shrimp Recipes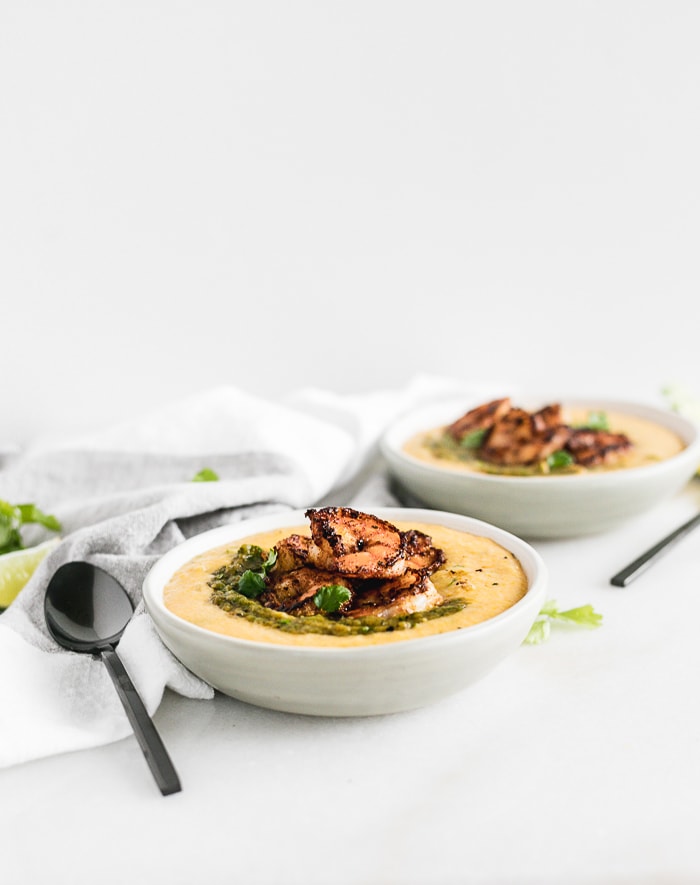 Green Chile Cheddar Shrimp and Grits Classic shrimp and grits gets a spicy southwest upgrade with this easy Green Chile Cheddar Shrimp and Grits! This healthier version of the southern comfort food favorite comes together in just over 30 minutes, making it great for a quick weeknight dinner. (GF)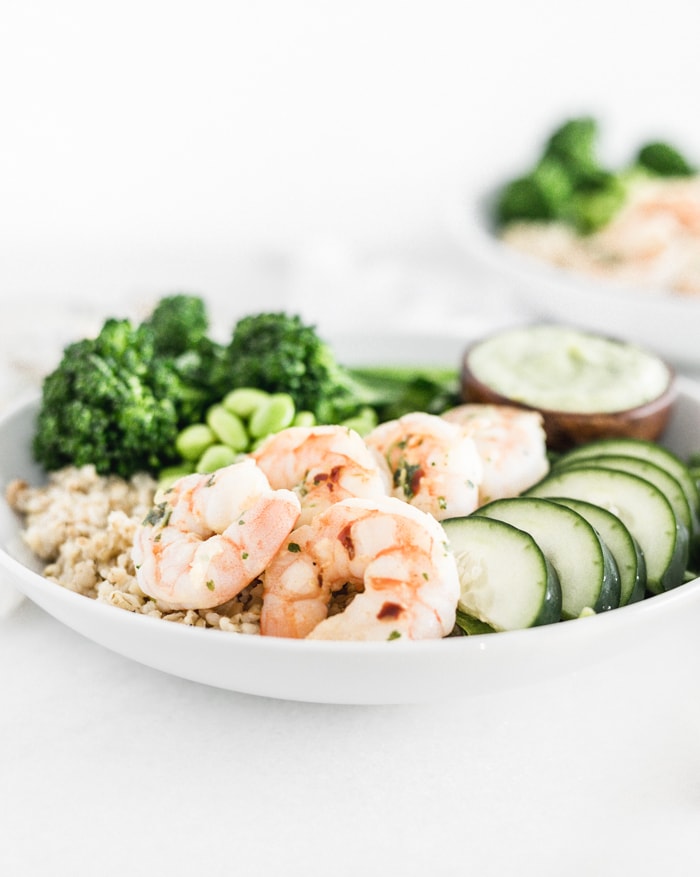 Green Goddess Shrimp Grain Bowls Meal prep shrimp green goddess grain bowls are delicious, nourishing bowls that are easy to make ahead or eat right away for healthy meals at any time. (GF, DF option)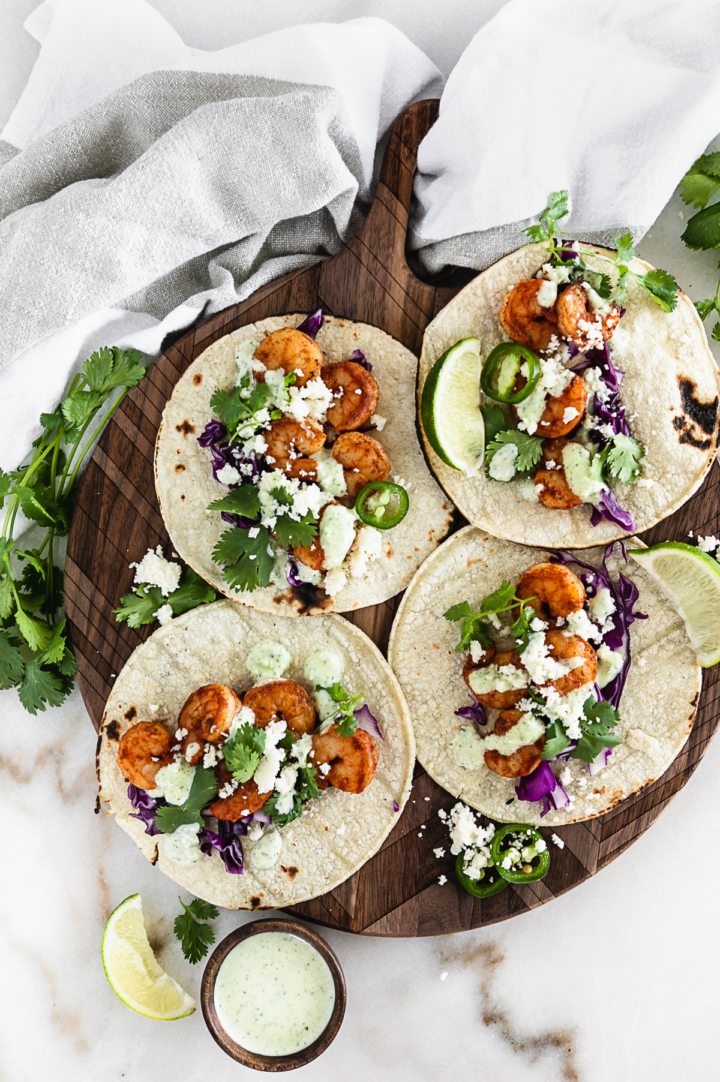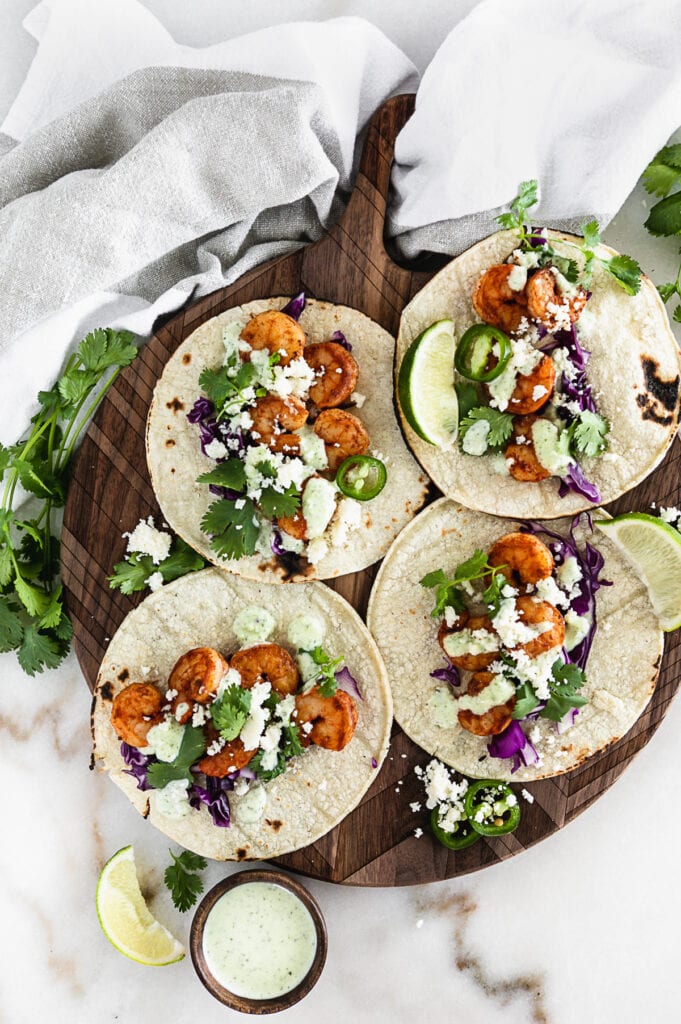 Easy Chipotle Shrimp Tacos Easy chipotle shrimp tacos with cilantro jalapeño sauce are flavorful, healthy and quick enough to make on a weeknight. These tacos are so flavorful with just enough spice to make things interesting without making you sweat. (GF, DF option)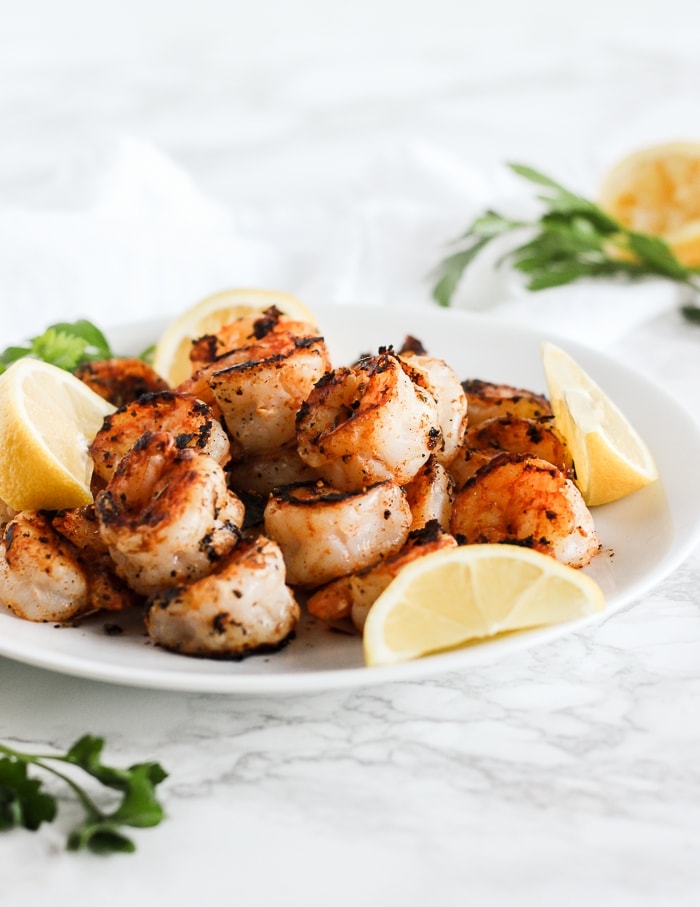 Easy Blackened Shrimp A simple recipe for delicious blackened shrimp for a quick protein-packed meal! They are so easy to pull out of the freezer and thaw quickly, and they only take about 5 minutes to cook. (GF, DF)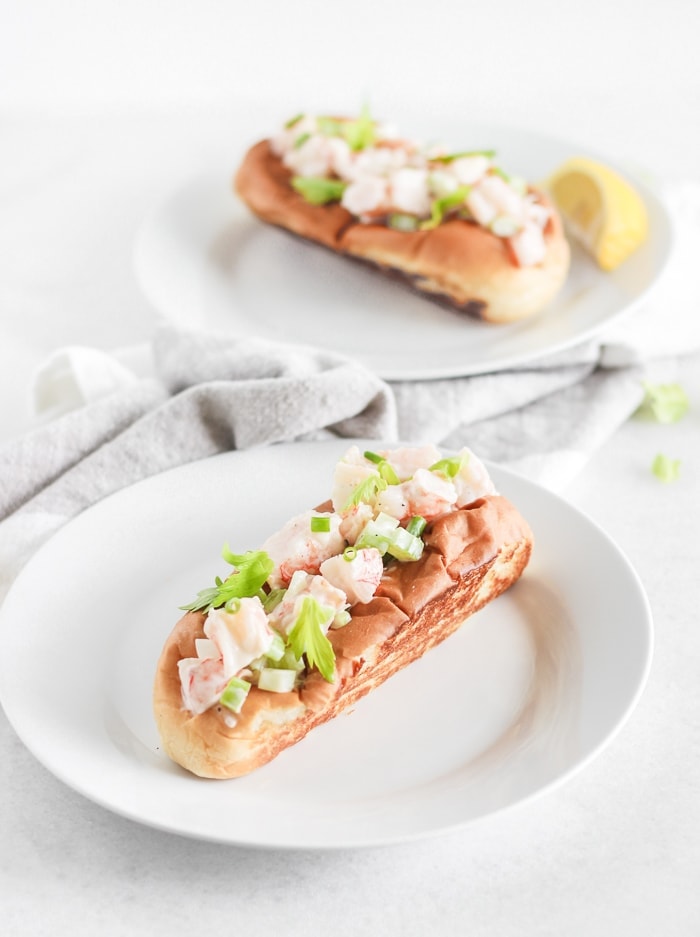 Easy New England Style Shrimp Rolls These easy, delicious shrimp rolls are sure to be a hit with your family and friends. Similar to a lobster roll, but without the hassle of lobster, these shrimp rolls are a favorite.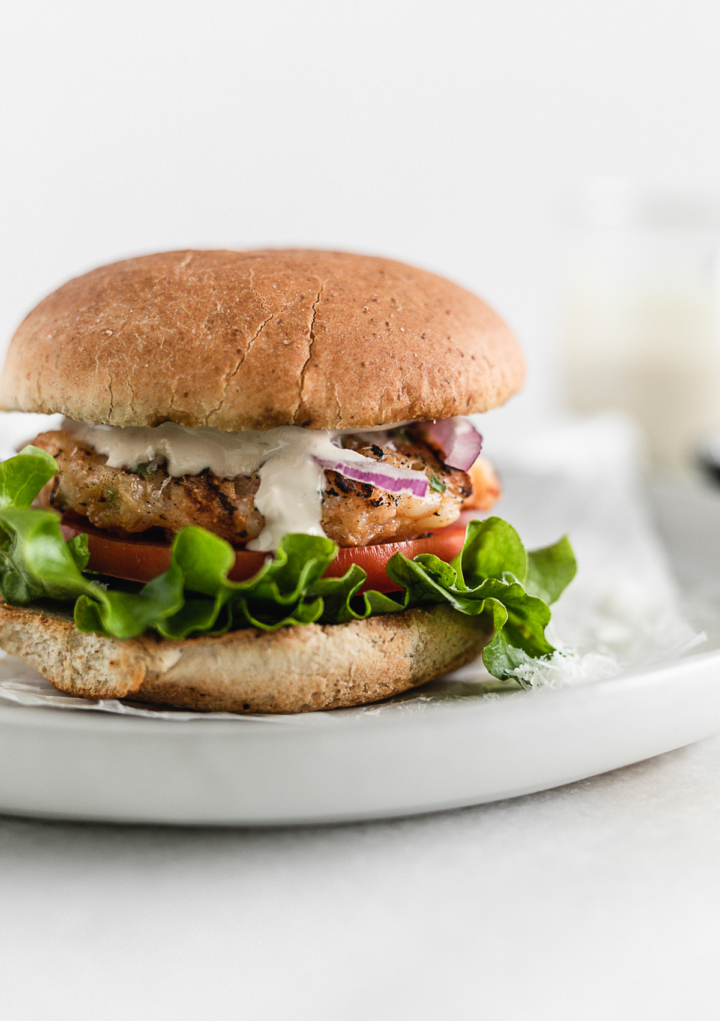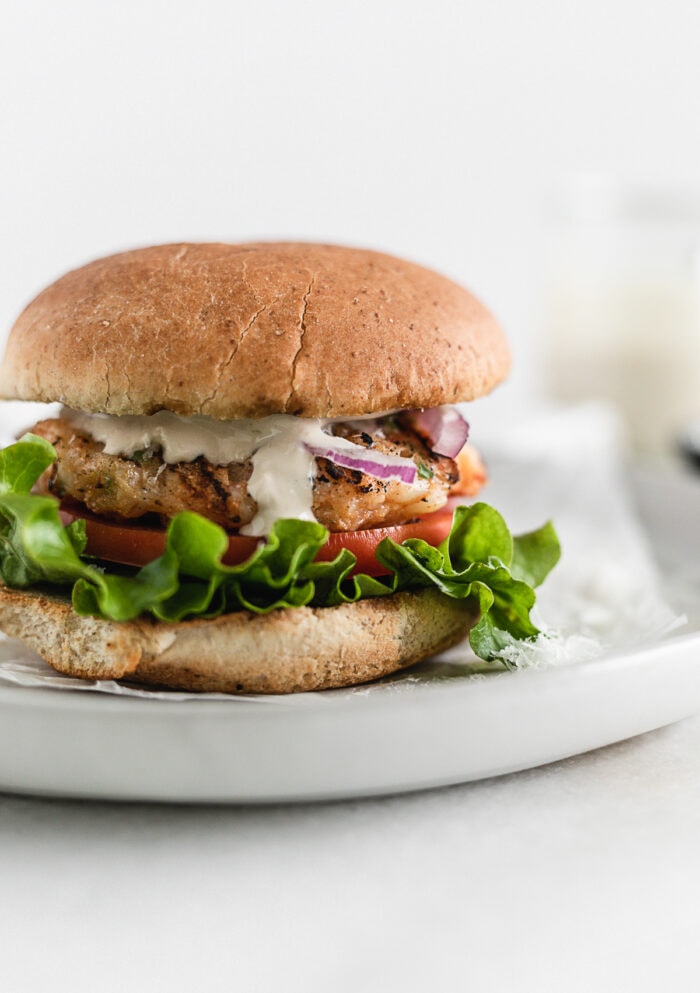 Easy Grilled Caesar Shrimp Burgers Mix up your dinner routine with healthy grilled Caesar shrimp burgers! 5-Ingredient shrimp patties are so simple to make, taste great on the grill, and make a delicious burger topped with homemade Greek yogurt Caesar dressing and shaved parmesan. (GF)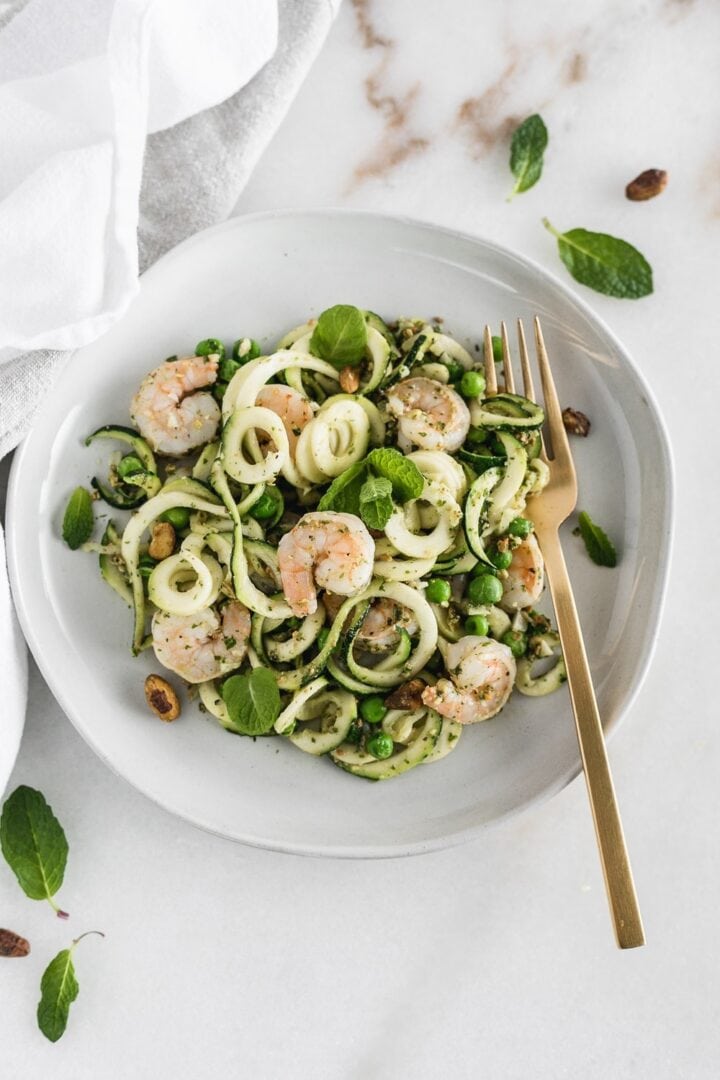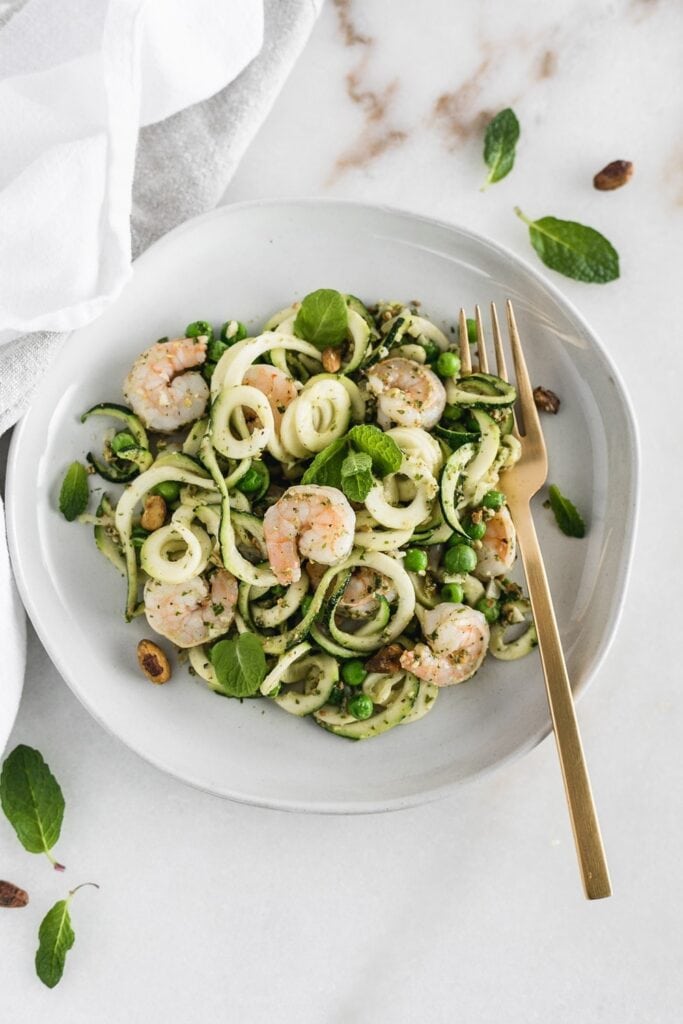 Zucchini Noodles with Shrimp and Mint Pesto These easy, healthy zucchini noodles with shrimp and mint pesto are a light, fresh dinner perfect for spring! With just a few simple ingredients, they can be on your table in under 20 minutes. (GF, DF)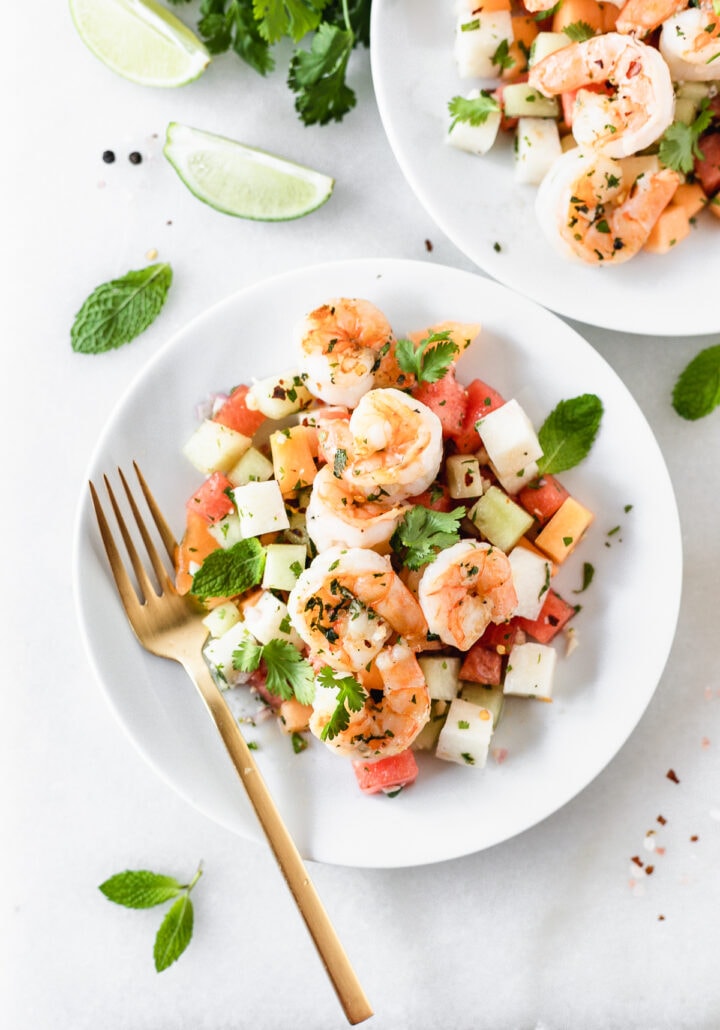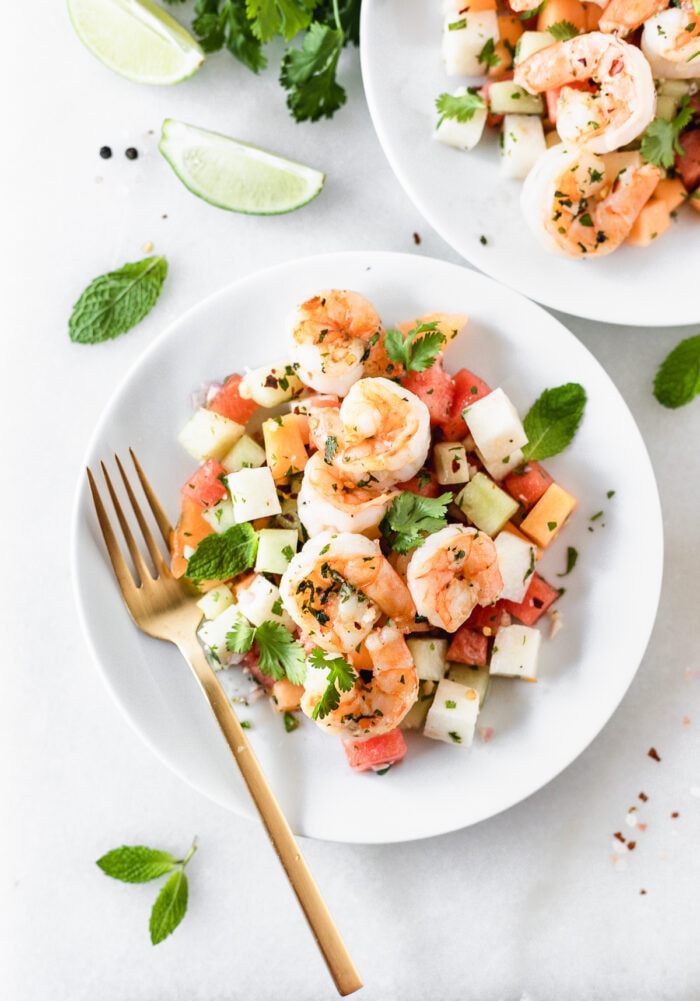 Grilled Shrimp and Mango Melon Salad This fresh herb grilled shrimp with mango melon salad is a light and easy dinner that you'll want to enjoy all the summer. (GF, DF)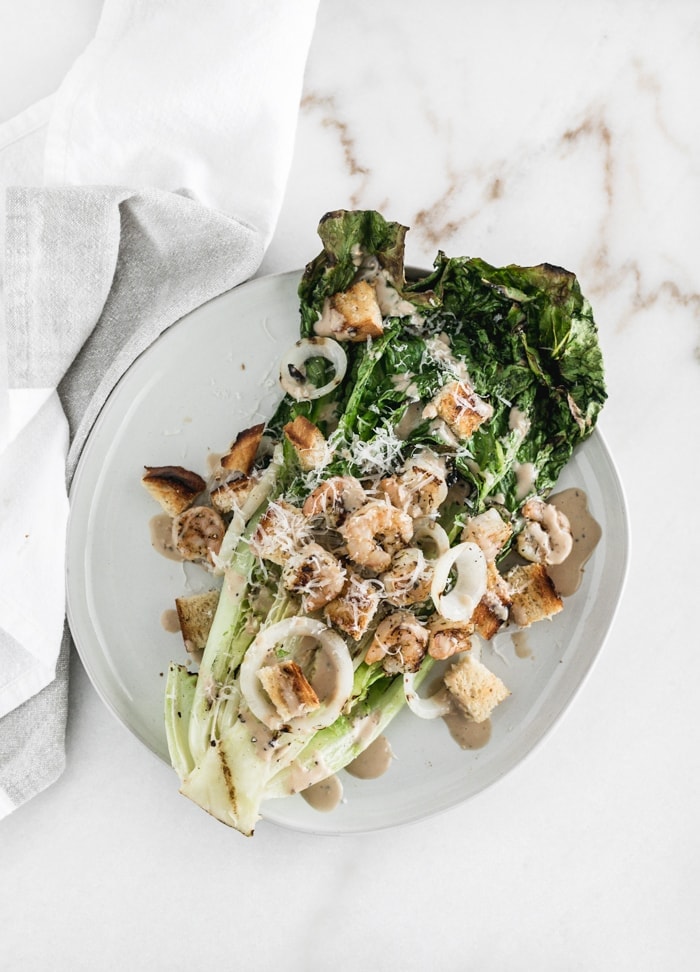 Grilled Caesar Salad with Shrimp This grilled Caesar salad with shrimp is a delicious way to enjoy a healthy salad! Grilled romaine is topped with grilled shrimp, grilled onions, and grilled sourdough croutons for a delicious, light meal that is made entirely outside.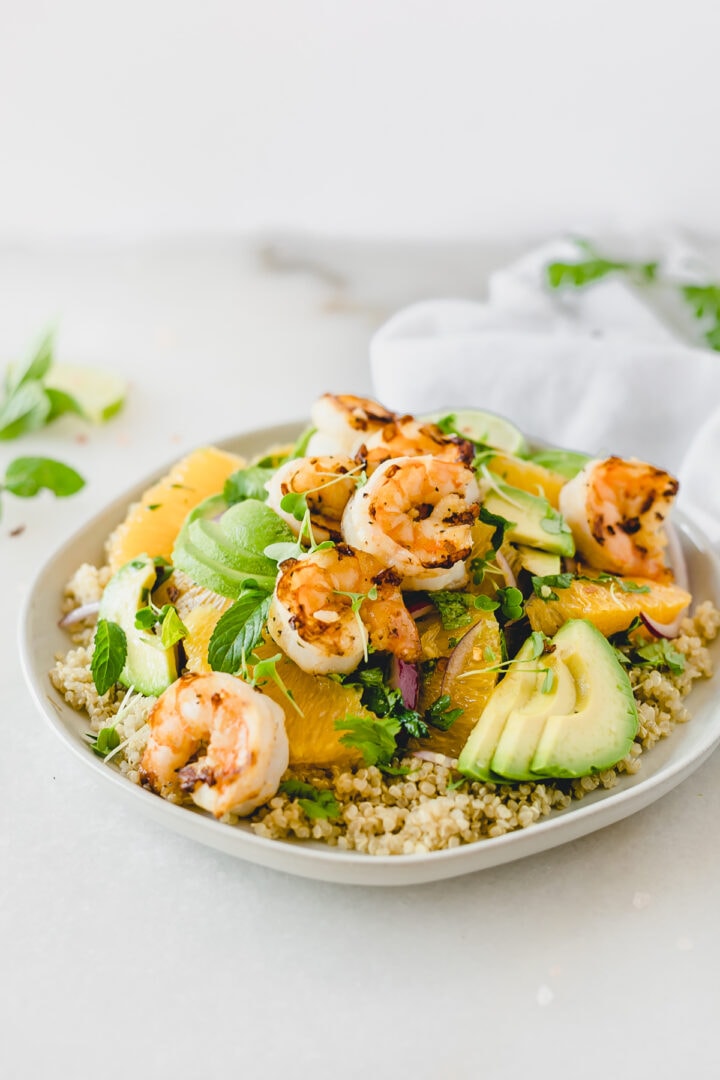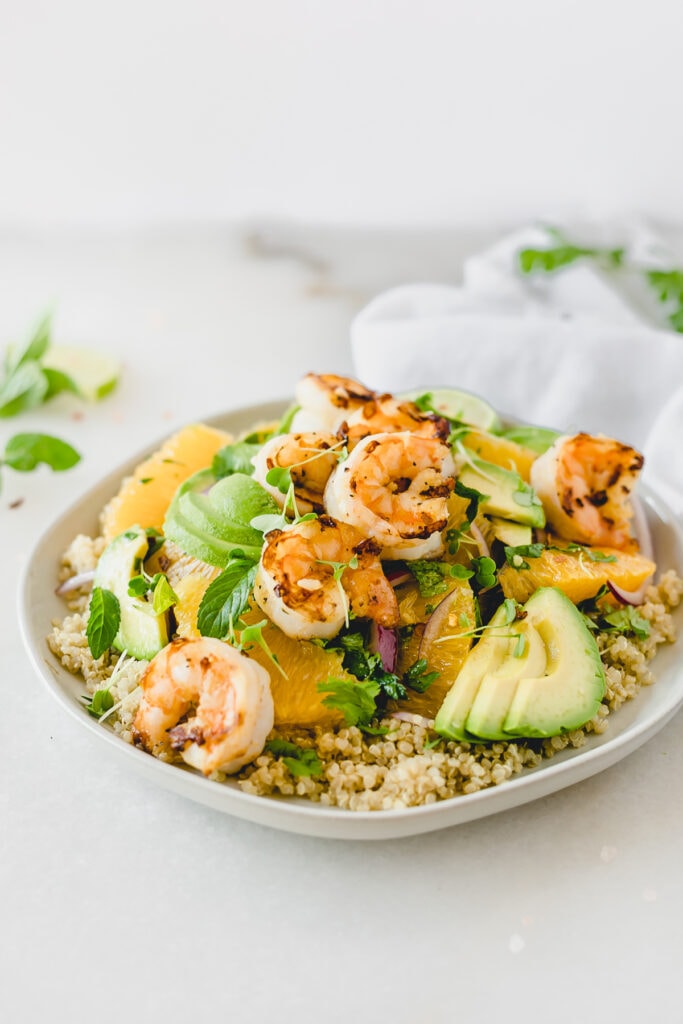 Shrimp, Orange and Avocado Quinoa Salad This fresh, citrusy shrimp, orange and avocado quinoa salad is a delicious dish bursting with flavor. Make it ahead for an easy lunch, or serve warm on a bed of greens for a light spring dinner. (GF, DF)
Brown Rice Shrimp and Leek Risotto Brown rice shrimp and leek risotto is creamy, delicious comfort food that's perfect for early spring. (GF)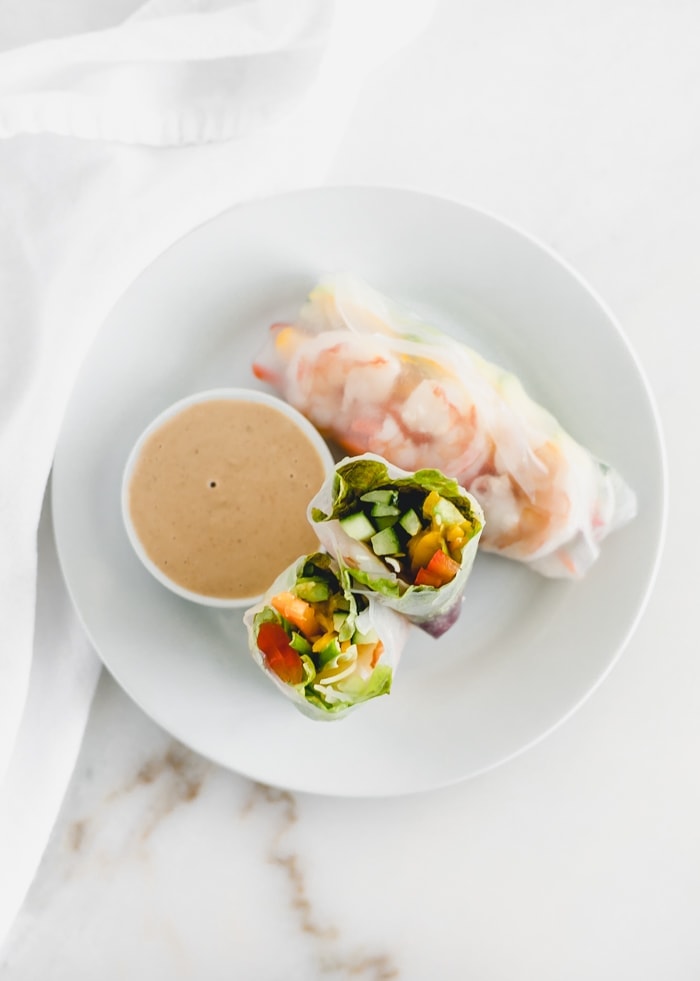 Mango Shrimp Spring Rolls Healthy and delicious mango shrimp spring rolls with a delicious peanut dipping sauce are easy to make and perfect for a snack, appetizer or light lunch! (DF)
Healthy Crab Recipes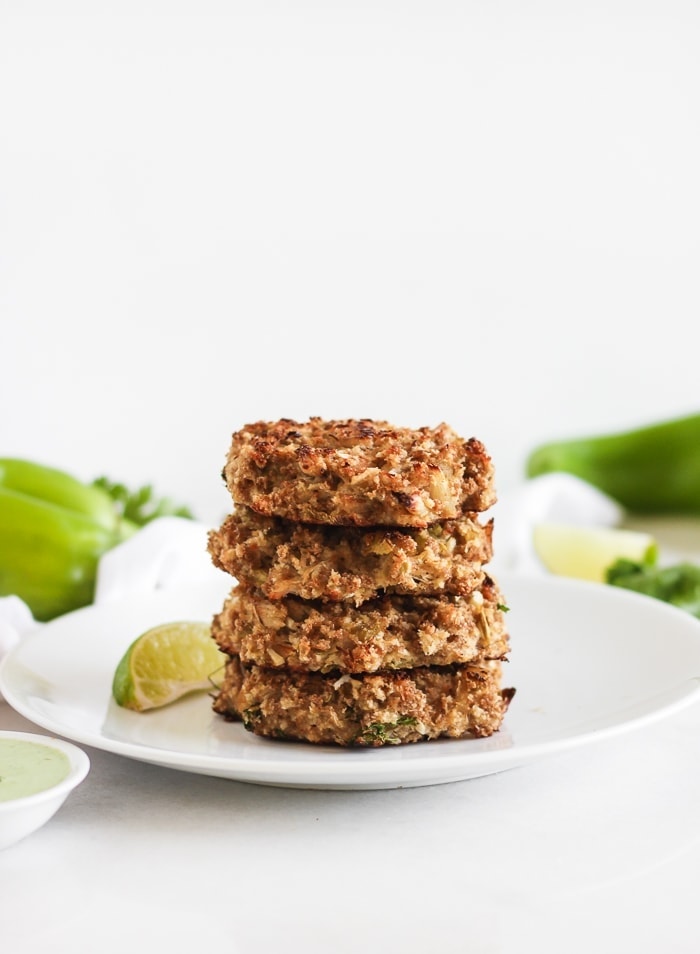 Healthier Hatch Chile Crab Cakes Easy, lightened up hatch chile crab cakes filled with jumbo lump crab and served with an avocado green chile sauce are brimming with tons of luscious crab left on big chunks for the ultimate spin on crab cakes.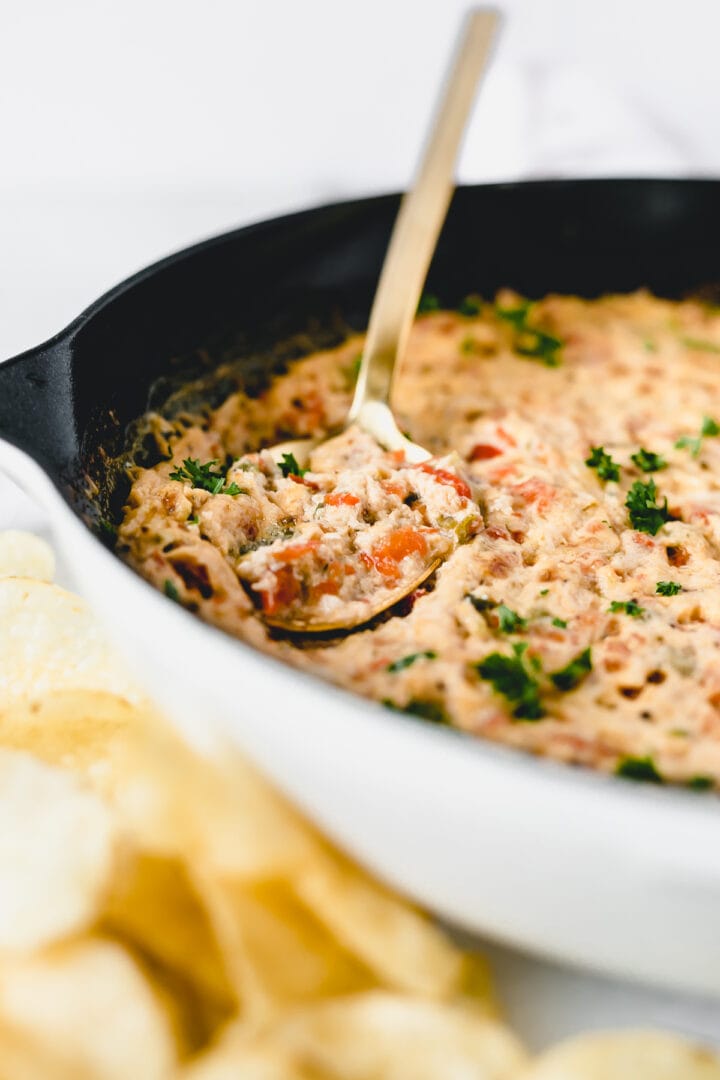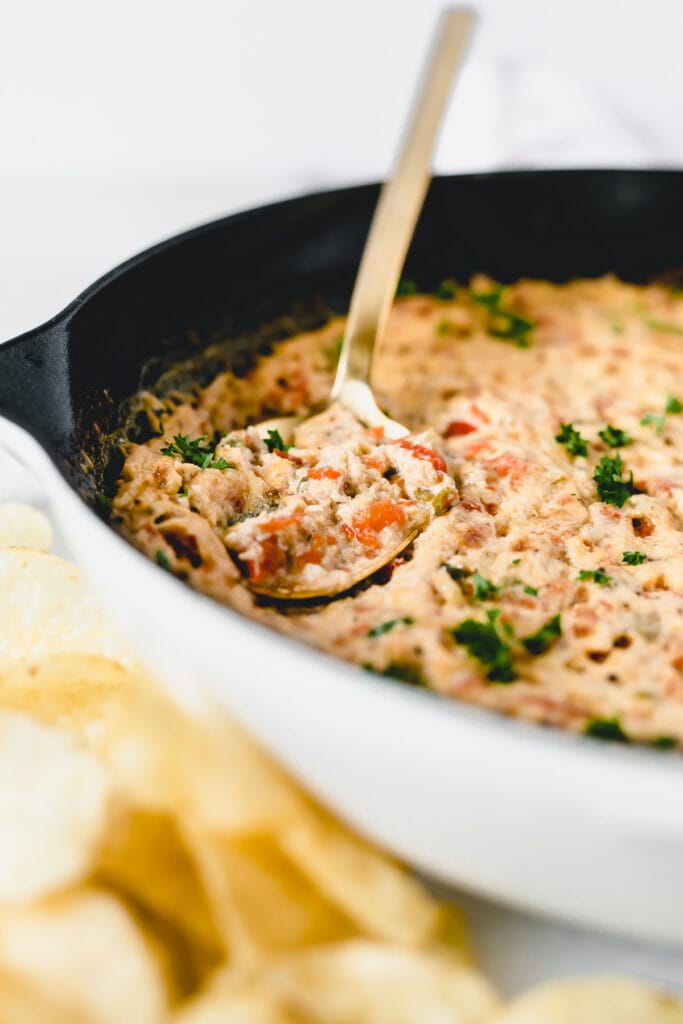 Healthy Red Pepper Crab Dip A hot, cheesy, healthy red pepper crab dip that's perfect a perfect appetizer for parties and tailgating. (GF)
Other Healthy Seafood Recipes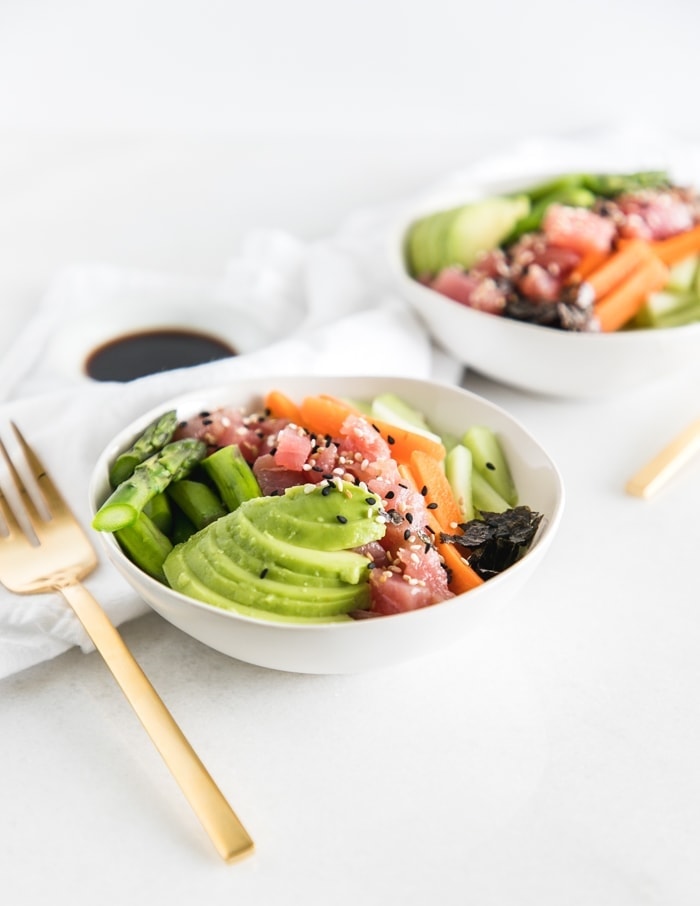 Brown Rice Sushi Bowls Easy and delicious brown rice sushi bowls are customizable so you can create a healthy meal to satisfy your sushi cravings at home! The great thing about a sushi bowl is that you can totally customize it the way you want. (DF, GF option)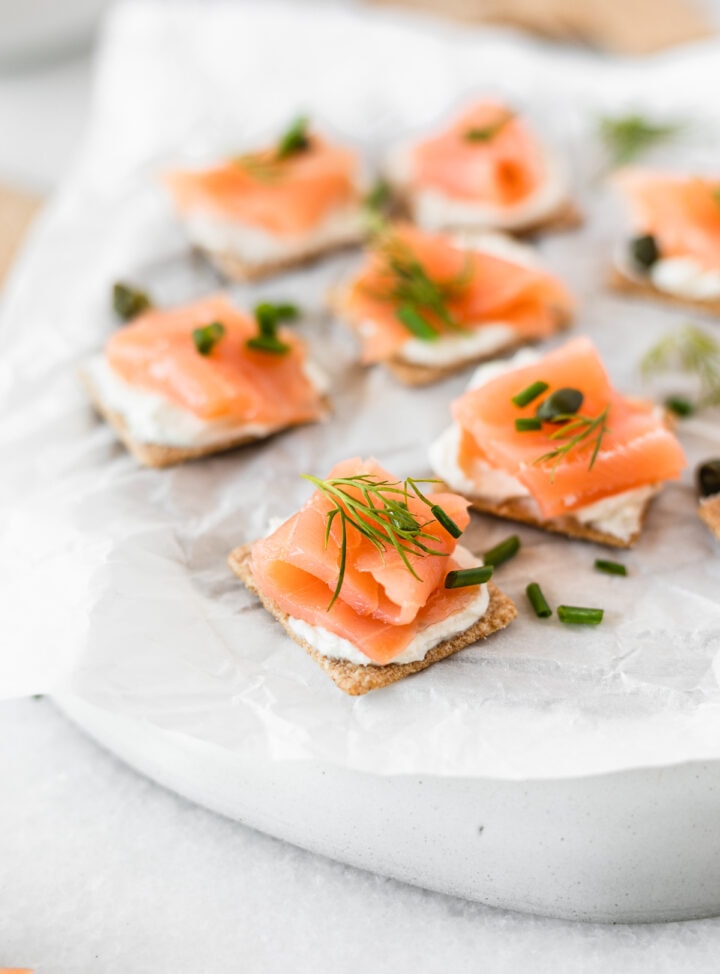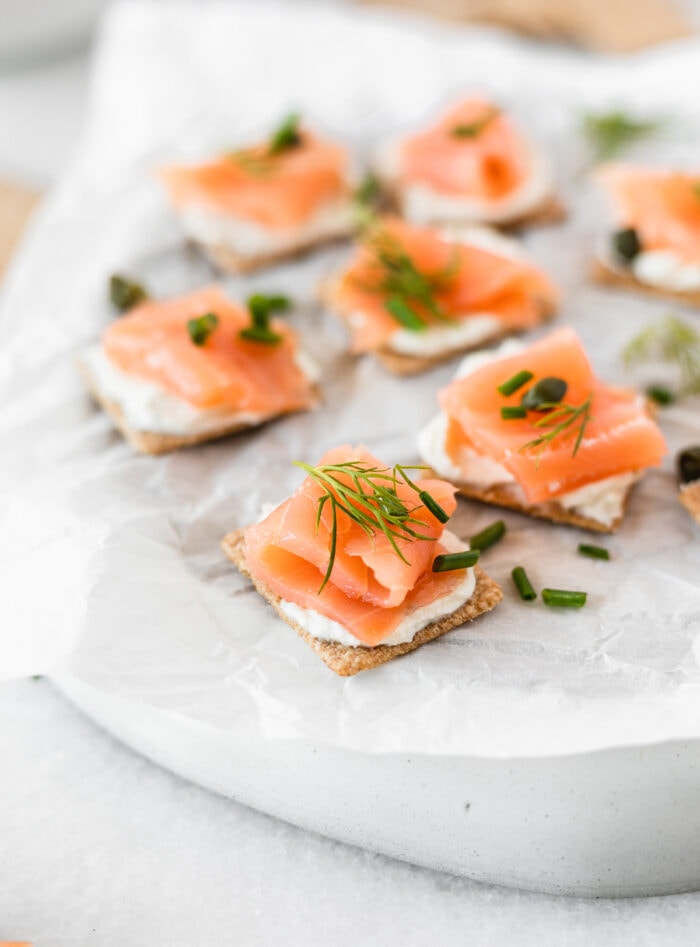 Easy 5 ingredient Smoked Salmon Bites These easy 5 ingredient smoked salmon bites are easy to make for your next party and taste amazing! Your guests will love these crackers topped with a flavorful garlic herb spread and smoked salmon. (GF option)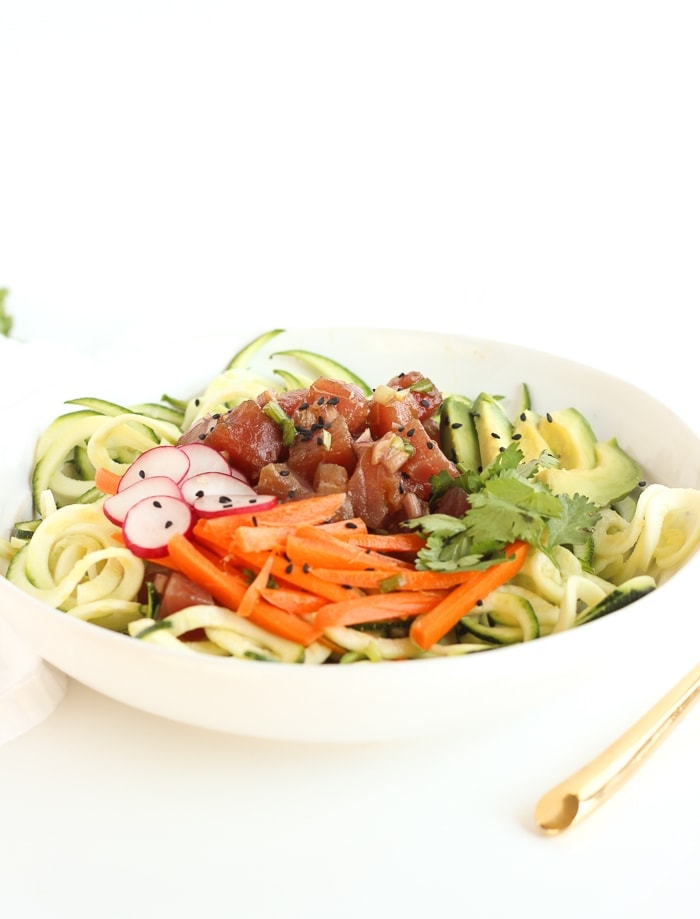 Zucchini Noodle Poke Bowl If you love poke or sushi, you'll love this zucchini noodle poke bowl! It's a fresh and delicious meal that requires no cooking and is full of fresh vegetables. (DF, GF option)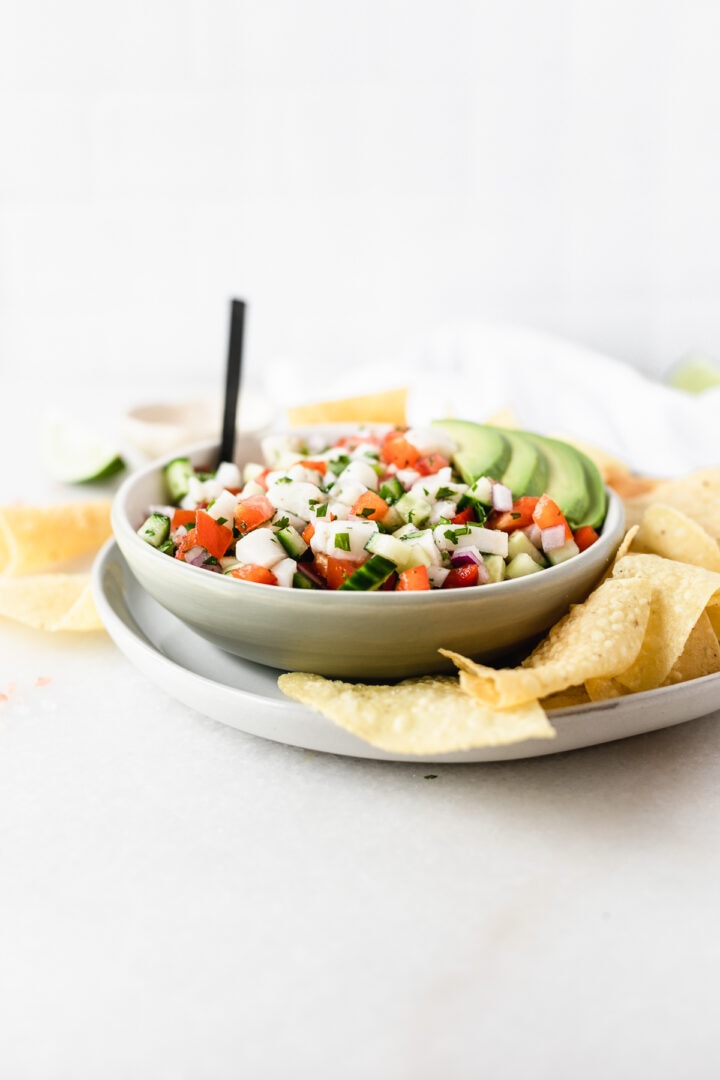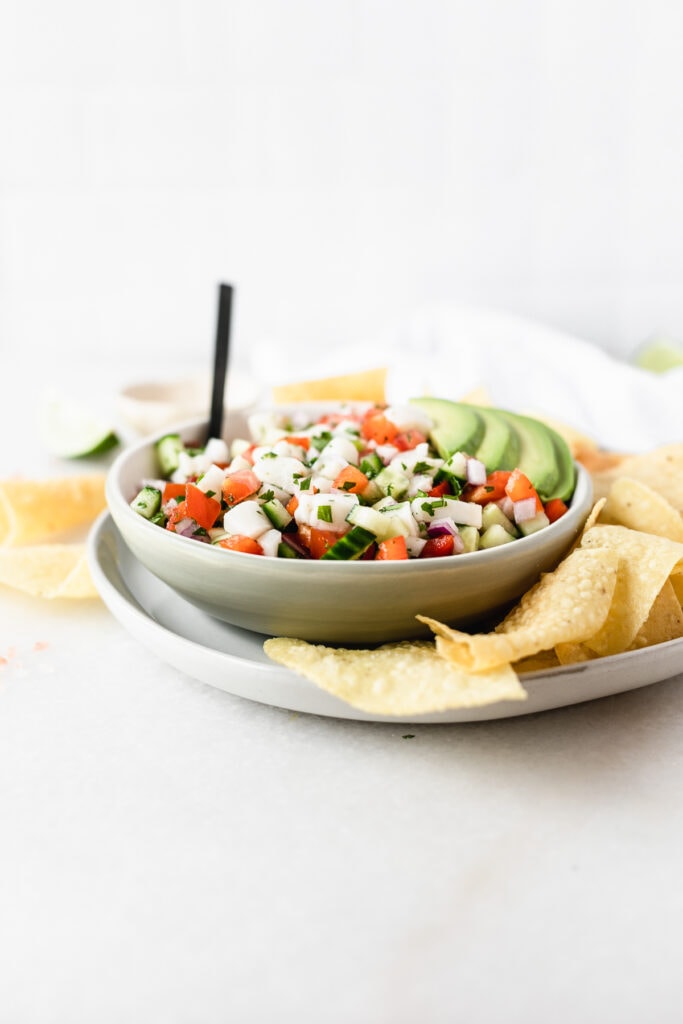 Mexican Ceviche A fresh and authentic Mexican Ceviche recipe inspired by our travels to Cabo San Lucas. It's a delicious appetizer or light dinner. (GF, DF)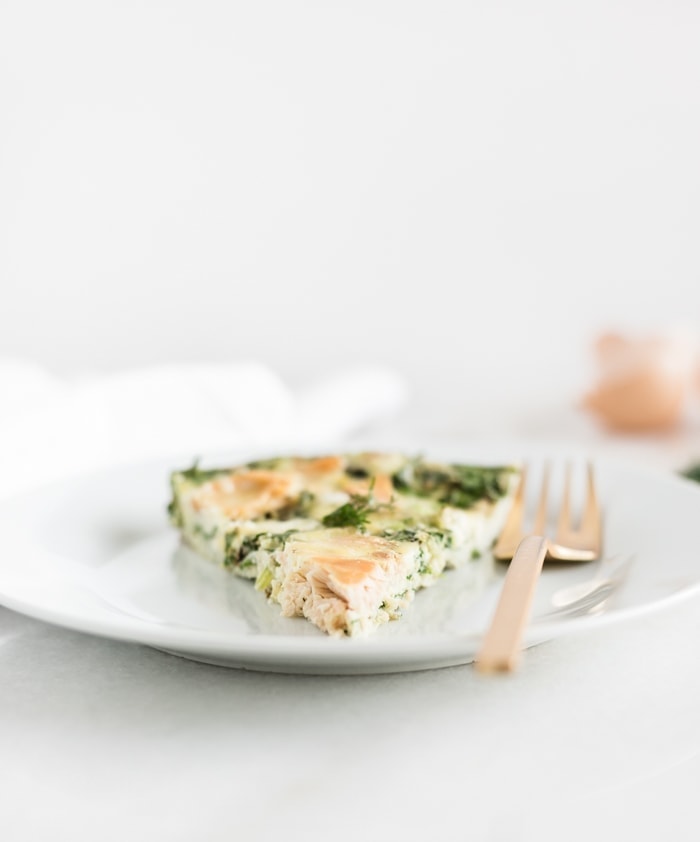 Smoked Salmon and Kale Frittata Smoked salmon, kale, leeks, fresh herbs, and goat cheese come together in a beautiful, delicious, and easy smoked salmon and kale frittata that makes a wonderful spring brunch dish to feed a crowd. (GF)