Learn what healthy fats are, why you need them, and how to get more in your diet!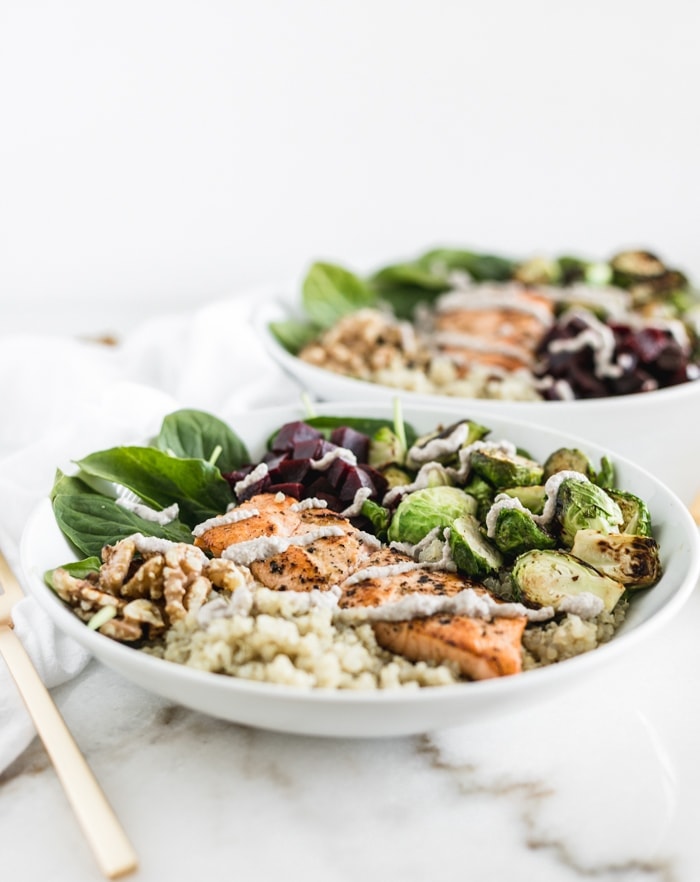 As Heart Month is coming to an end, it's time we have another nutrition talk. It's about fat. I'm not talking about your weight (which doesn't matter anyway, that's just a number!). No, I'm talking about dietary fat, the kind that comes from food. For decades you've been told fat is bad. "Stay away from fat". "Low-fat is better." So we should just keep avoiding anything with fat in it right? Wrong. Fat is actually healthy and you need it in your diet. Because science. Let me explain.
Is Fat Good or Bad?
Some kinds of fat really are unhealthy like we thought. Those include trans fat (those are created in a lab through hydrogenation) and saturated fat. These types of fats can lead to things like heart disease, high cholesterol and clogged arteries. So yes, they are harmful when consumed in excess. And yes, you actually should try to avoid trans fats at all costs because your body doesn't know how to process them and they are, in fact, damaging. (Hint: If the label has anything "hydrogenated" then it's got trans fat.)
But other kinds of fats are actually good. They help keep your heart healthy and can make your meals more satisfying and filling. These healthy fats are the unsaturated fats, in particular monounsaturated fats and omega-3 polyunsaturated fatty acids. And they can get confusing, so I'll break it down a bit for you.
Healthy Fats
Monounsaturated fats are the healthy fats found in extra-virgin olive oil, avocados, nuts, and peanut butter. They help lower your LDL or "bad cholesterol" and raise your HDL or "good cholesterol," which lowers your risk for heart disease.
Omega-3s also help your cholesterol levels and can reduce your risk of heart disease by reducing inflammation, blood pressure, and arrhythmias. Research is ongoing, but omega-3s may even decrease depression and the risk for cognitive decline in dementia. Another important thing: your body can't make these fats on it's own, so you have to get them in your diet for your body to function. Find them in include fatty fish (like salmon, tuna, trout, and mackerel), walnuts, chia seeds and flaxseed.
What Does a Serving of Healthy Fat Look Like?
Now that you know what the healthy fats are, you should know how much you need. One servings is about:
1 ounce (about ¼ cup) of nuts
2 tablespoons of nut butter
3 to 4 ounces of fatty fish
1 ounce (about ¼) of avocado
Dressing and oils: the amount you use for cooking or dressing a salad is plenty!
How To Add More Healthy Fat To Your Diet
Some good ways to add healthy fats in your diet are to cook fish at least twice a week, snack on nuts or fruit with peanut butter, add avocado or ground flaxseed to smoothies or salads, and replace butter or shortening with olive oil when cooking. Little changes like these can add up to a healthier heart for you, plus healthy fats are delicious!