Looking for some fresh summer side dish options to make with all of that beautiful summer produce? Need a killer side to bring to BBQs? Try one of these delicious, healthy side dishes that are perfect for summer!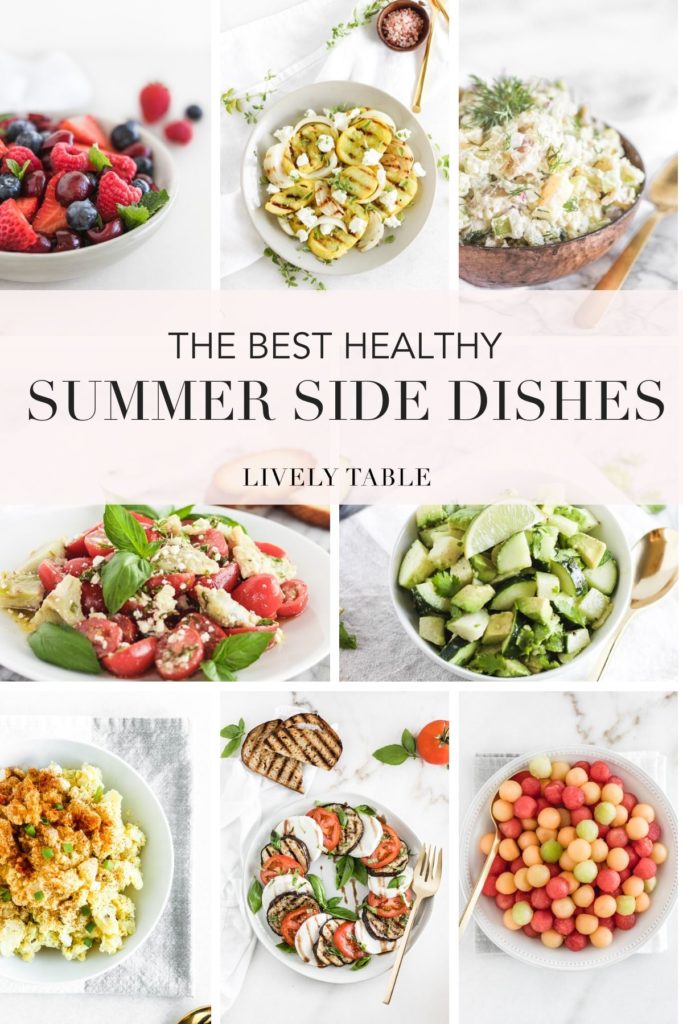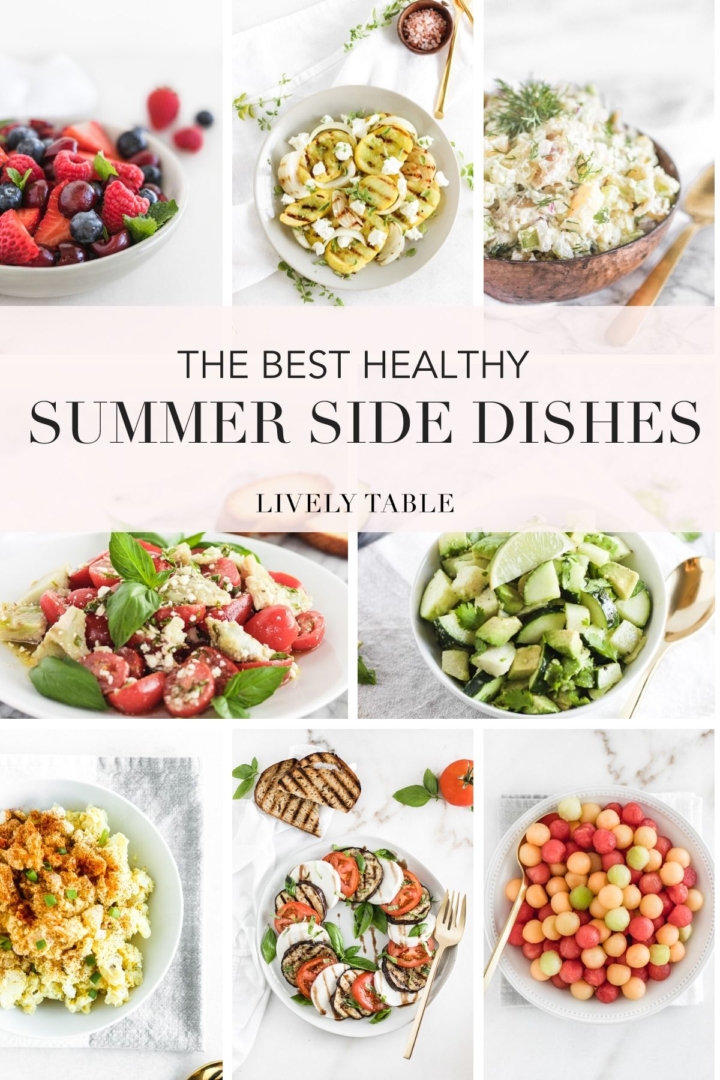 There's nothing I love more than easy, breezy summer meals. With all the gorgeous produce that's fresh and abundant this time of year, simple summer salads and produce-heavy side dishes really shine. If you're looking for some fun ideas for your new go-to side dish this summer, try one of these healthy, delicious sides! This list has everything you need, from super easy fruit salads, to fresh takes on caprese, to potato salads, pasta salads, beans, and grilled veggies. Whip up something new for your family, of try one of these recipes out on your friends at the next cookout.
The Best Healthy Summer Side Dishes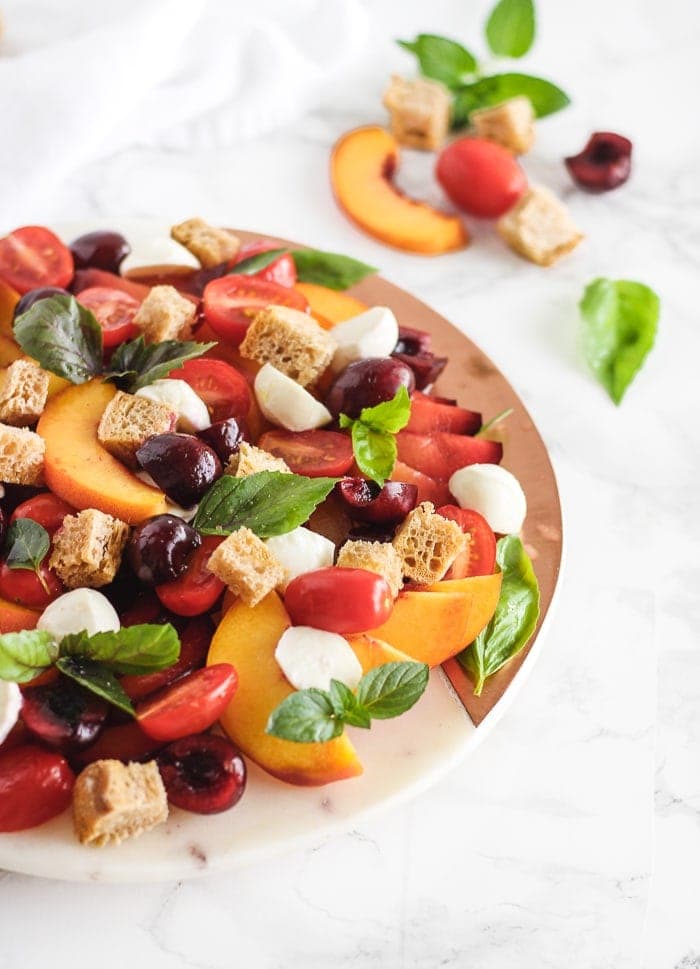 This delicious summer stone fruit Panzanella salad is hearty enough for a meal or great alongside a main course. It's a great use for day-old bread! If you've never had (or heard of) a Panzanella salad, it's basically a delicious combination of toasted bread, tomatoes, herbs, and any other deliciousness you can think of.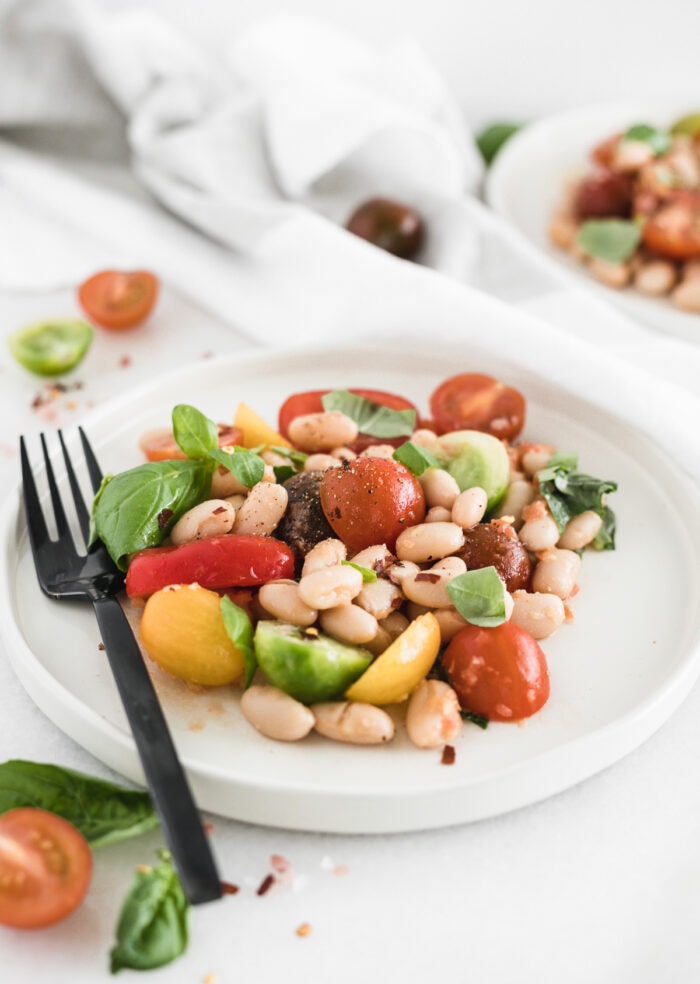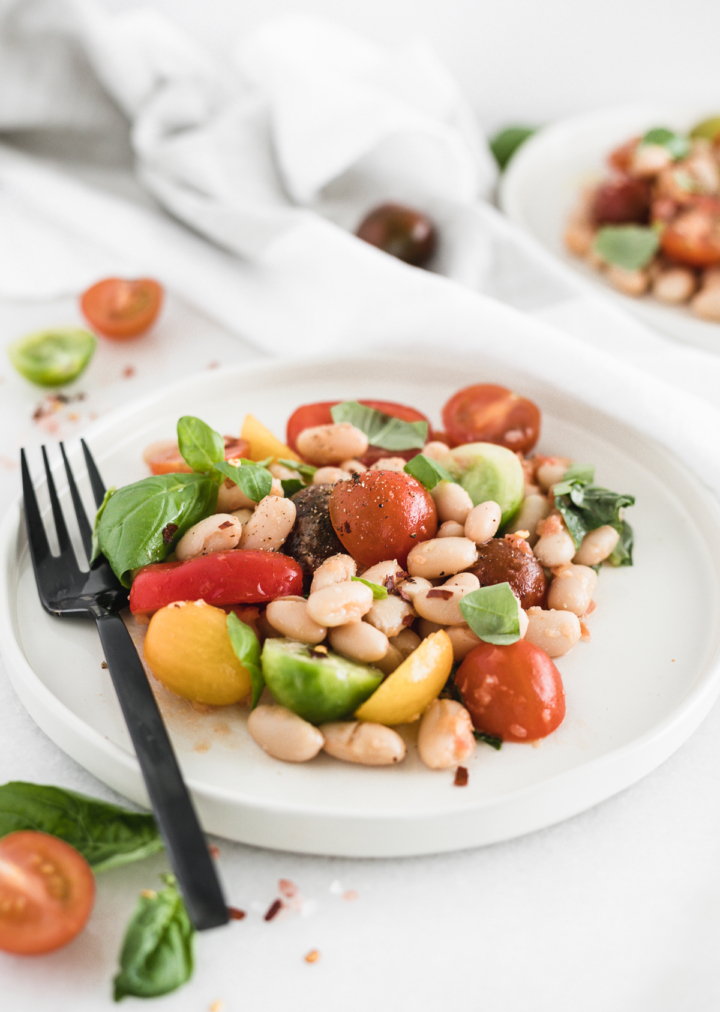 Easy Tomato Basil White Bean Salad
This super-easy tomato basil white bean salad with a flavorful tomato red wine vinaigrette is the most delicious way to use ripe summer tomatoes!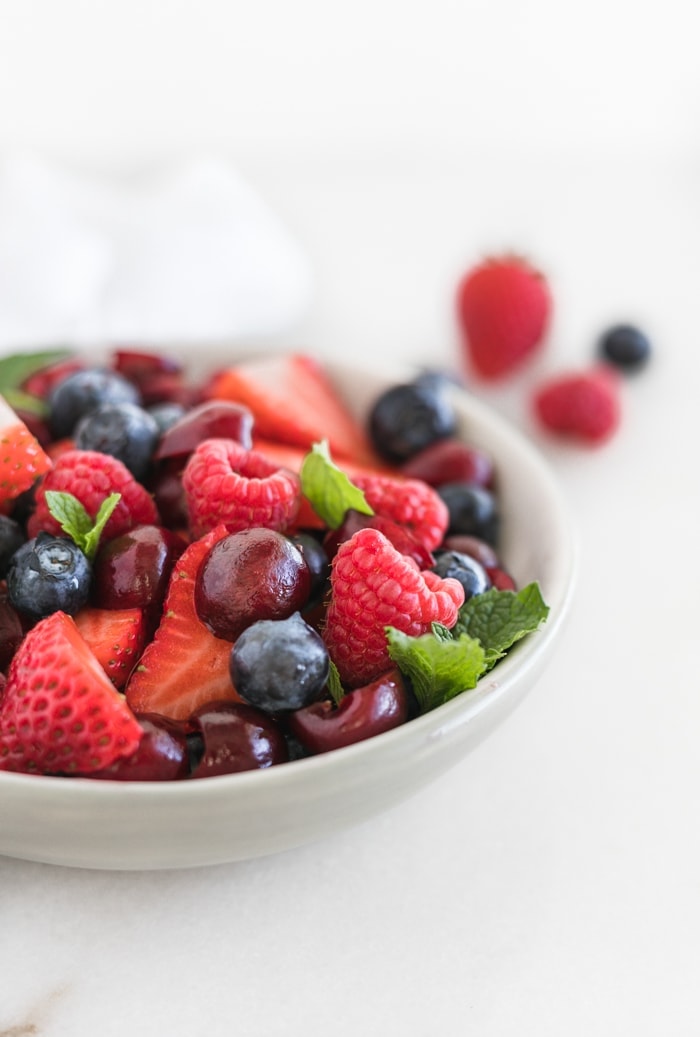 A pretty and patriotic summer fruit salad is the perfect easy summer side dish for all of your summer parties. Make it for Memorial Day, 4th of July, Labor Day, or just because!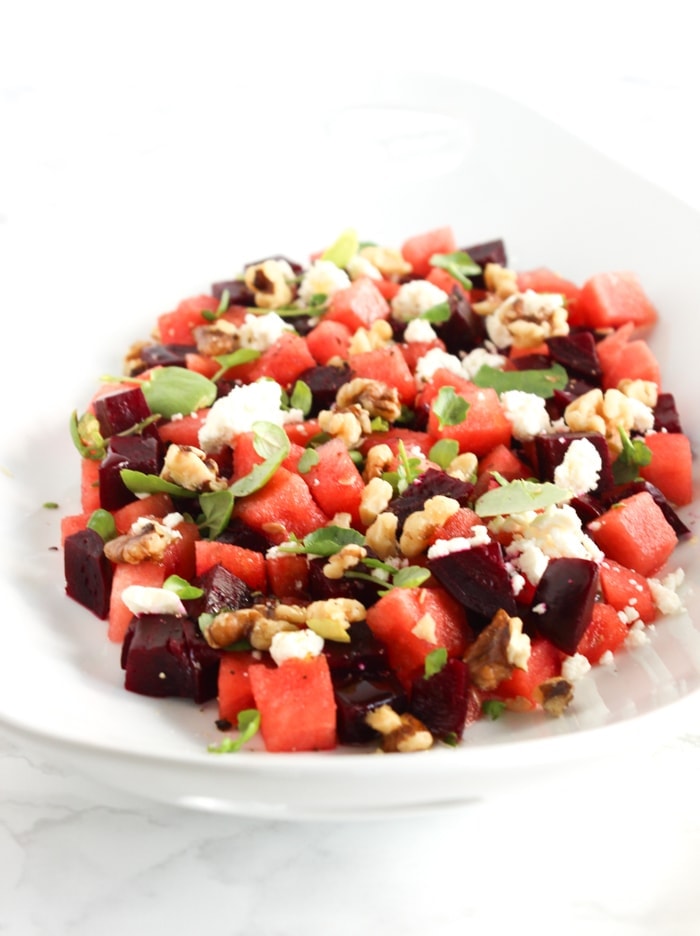 This watermelon beet salad is a beautiful and refreshing salad to go with all of your summer meals! If you're looking for a fun, healthy, and creative way to use your summer watermelon you've got to try this salad! It looks and tastes impressive, but it is so easy to make an amazing addition to any dinner.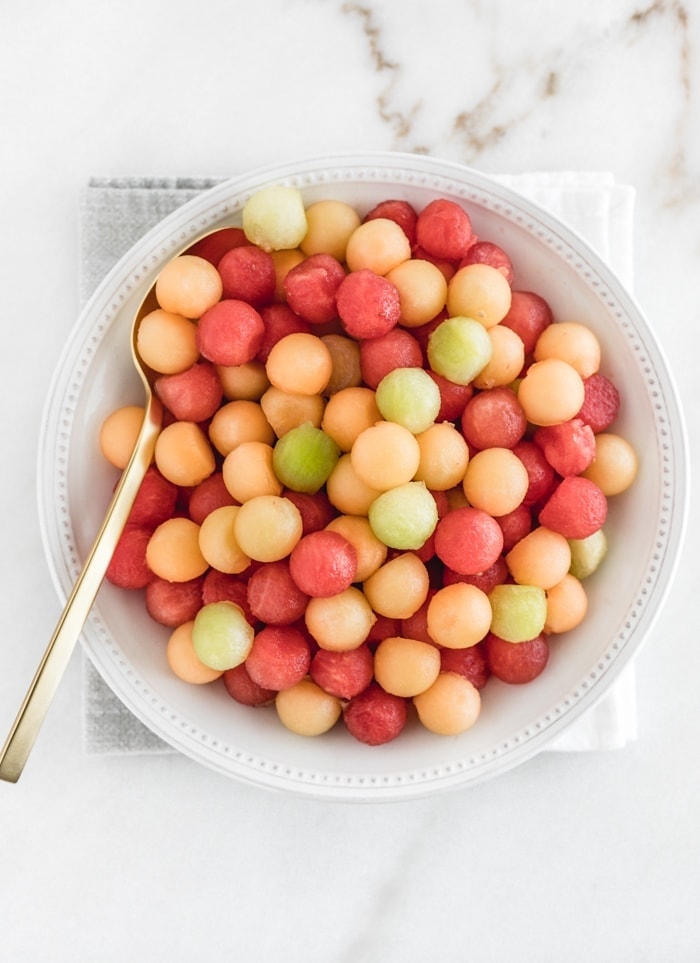 The easiest healthy summer side? A melon ball salad! It's fun for summer cookouts and great for kids! If you are in a pinch and don't know what to make for your next cookout, I guarantee this melon ball salad will be a hit!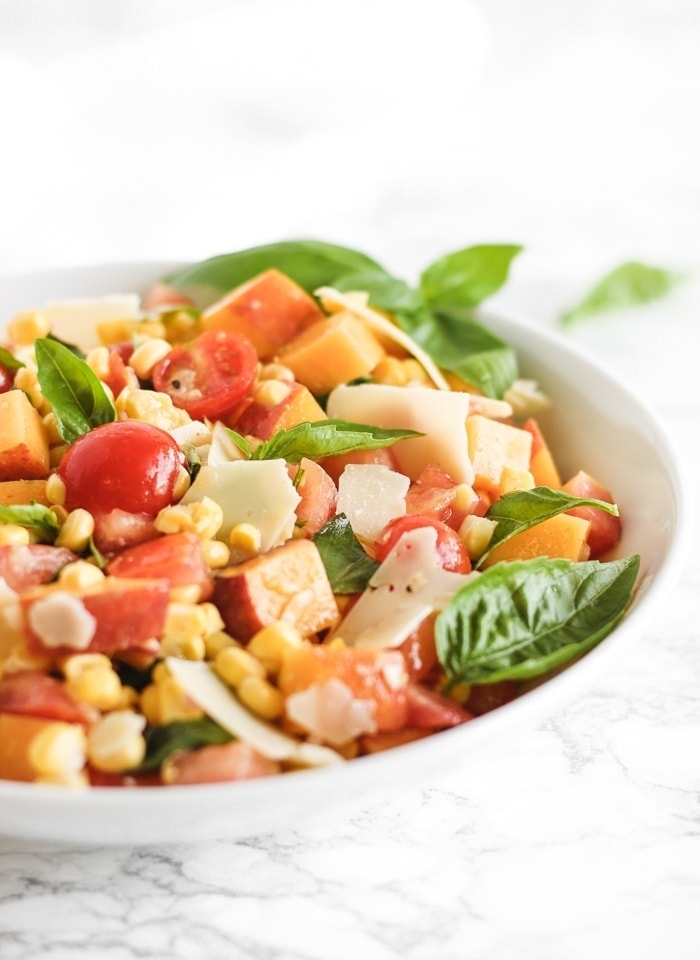 Corn, Peach, and Tomato Basil Salad
This fresh corn, peach, and tomato basil salad with parmesan a miso vinaigrette is the ultimate fresh and flavorful summer side dish! With ripe, juicy tomatoes, sweet peaches, and raw corn kernels sliced right off the cob, it's full of the best of summer produce.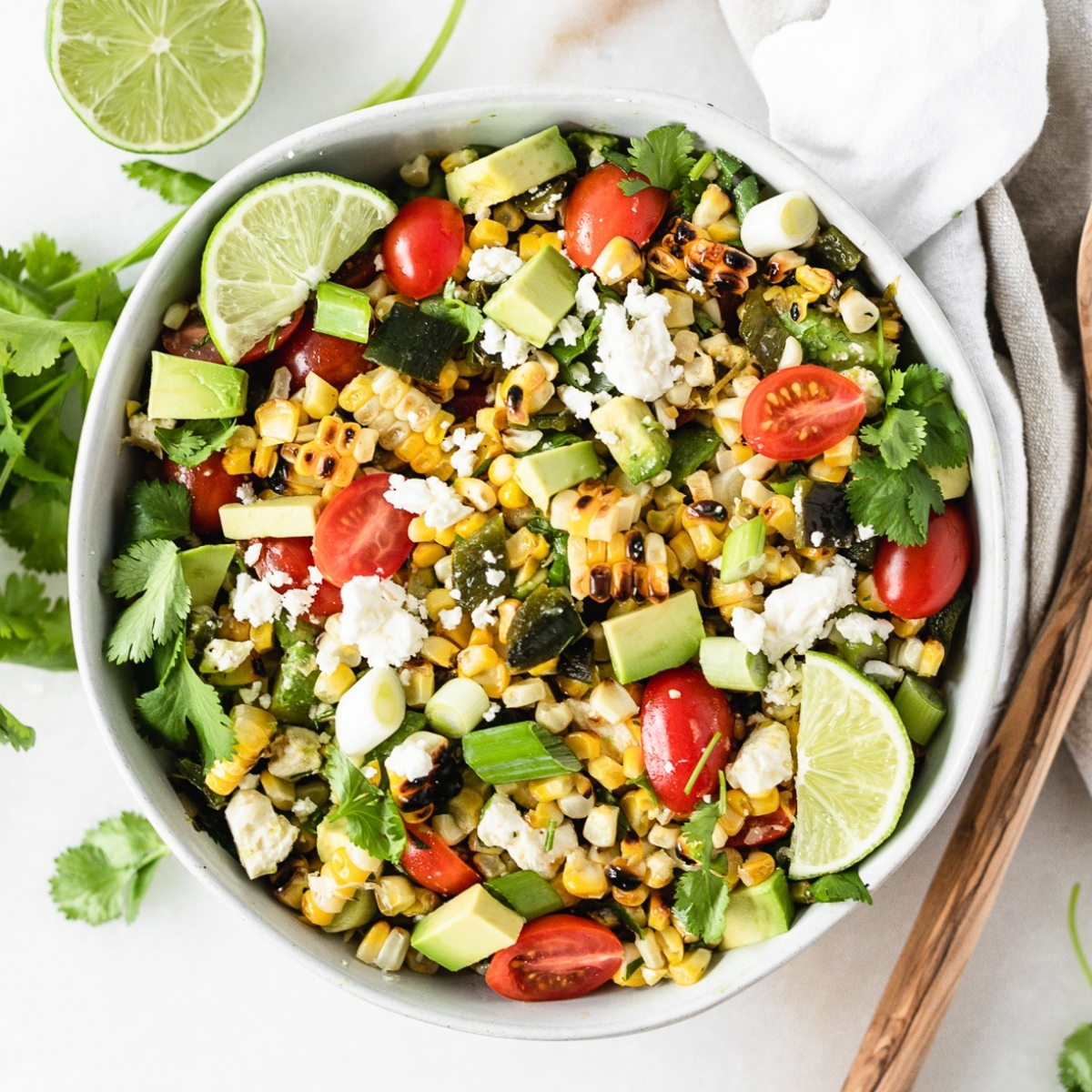 This grilled corn summer salad features grilled fresh corn and poblanos with fresh tomatoes and avocado for a delicious summer salad that's perfect for cookouts! You can make everything the day before and simply toss in the avocado before you head out the door. Or, you can enjoy it warm straight from the grill at home.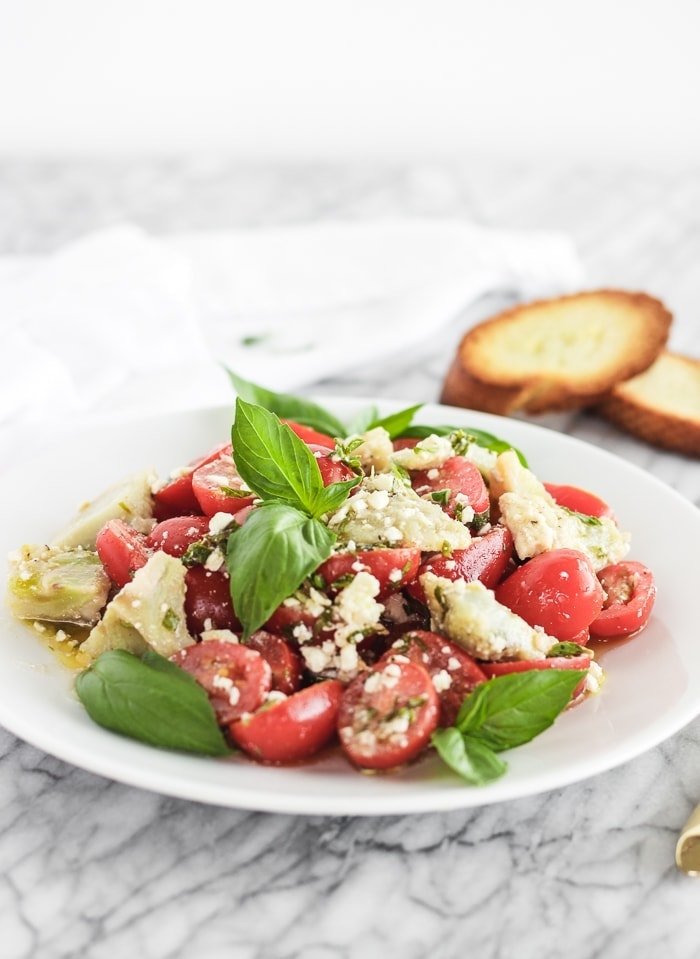 Marinated Tomato and Artichoke Salad
Take advantage of fresh summer produce with this easy marinated tomato and artichoke salad. It's a delicious summer side dish you'll want to make over and over!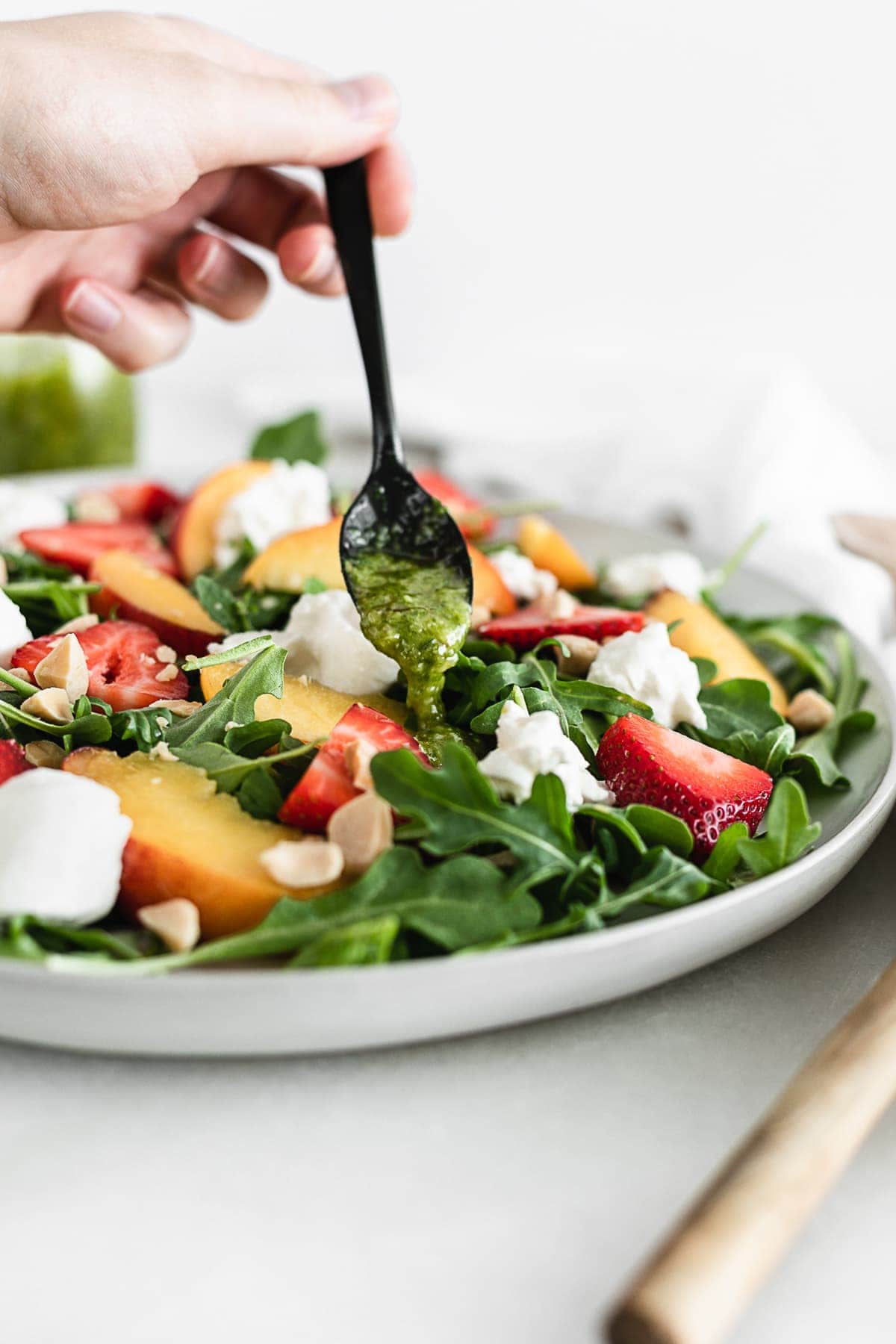 Summer Strawberry Peach Burrata Salad
Use your sweet summer peaches and strawberries in this fresh and delicious strawberry peach burrata salad! It is a super easy summer salad that pairs perfectly with your favorite grilled dish.
Grilled Summer Squash with Goat Cheese and Oregano
Easy grilled summer squash with goat cheese and oregano is a delicious summer side dish for using up that bounty of fresh summer squash! It's savory and herby, slightly smoky-sweet thanks to grilled onions, with a touch of tang from creamy goat cheese. And the best part is it's so easy to make, especially if you're already standing at the grill for something else!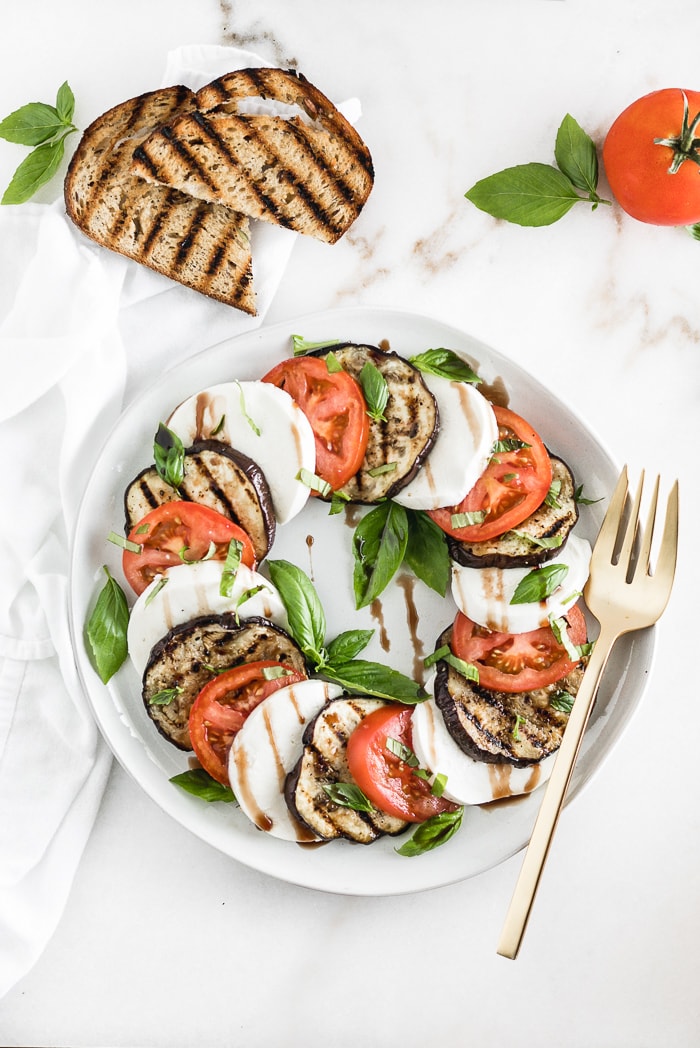 Grilled eggplant caprese features perfectly grilled eggplant, juicy summer tomatoes, fresh mozzarella, and basil. It's an easy, healthy, and delicious summer dish perfect for using seasonal eggplant!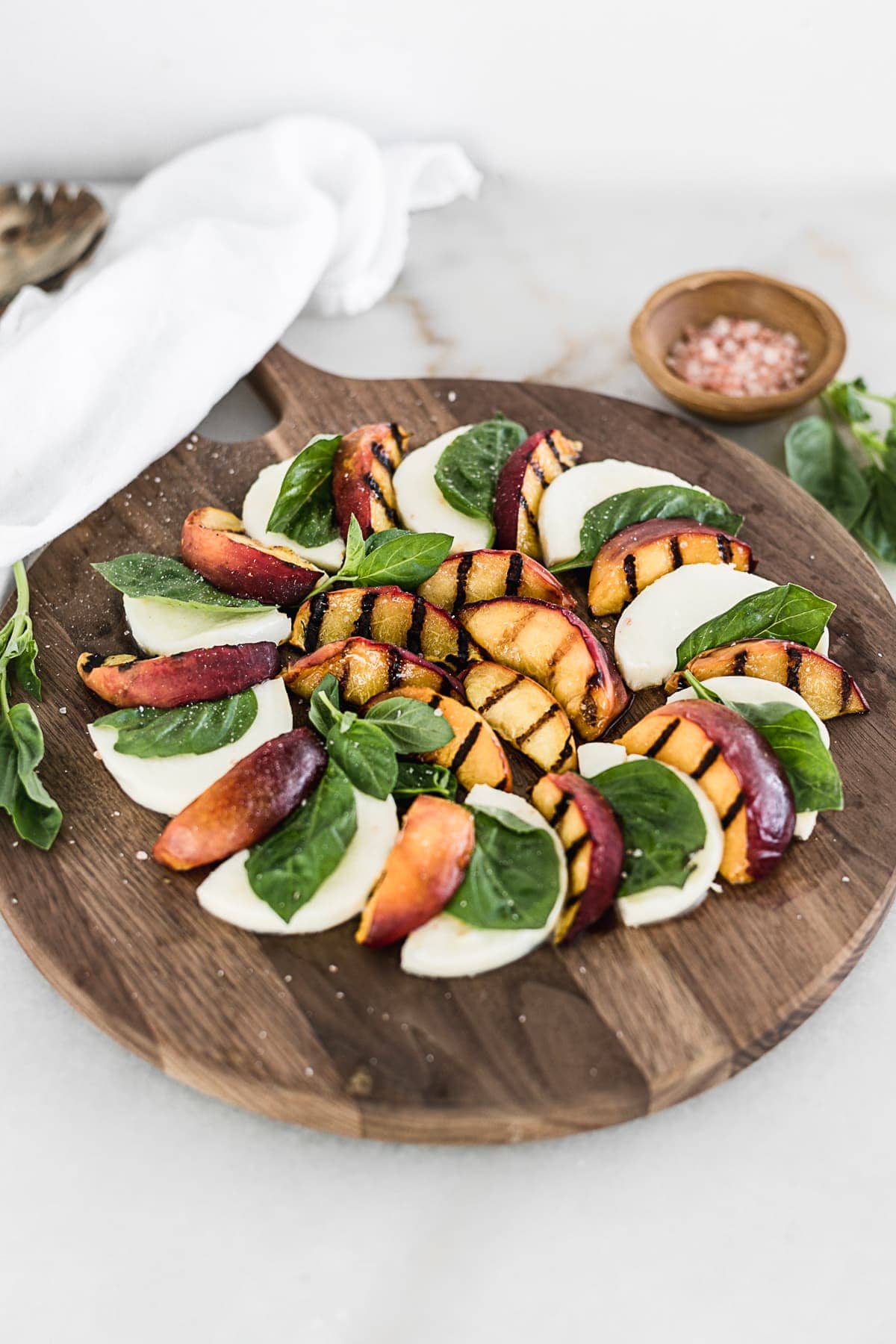 Grilled peach Caprese is a delightful way to enjoy juicy summer peaches and fresh mozzarella! It's a healthy and gluten-free summer salad that you will love. Add it to any summer meal or make it a light lunch, and you are sure to be satisfied.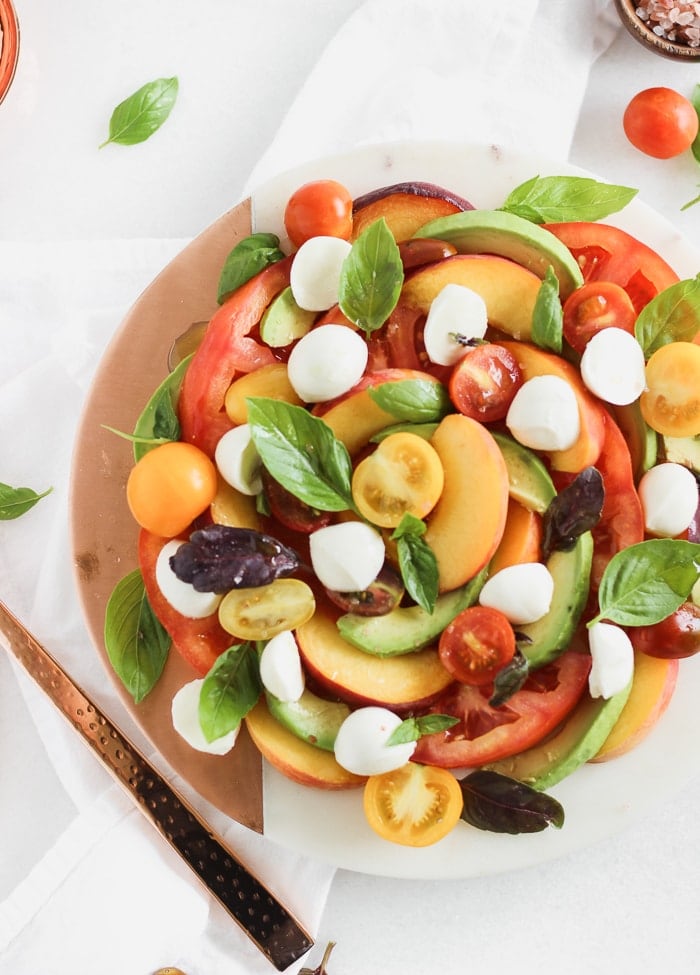 This peach avocado Caprese salad combines all the best of summer produce – tomatoes, peaches, avocado, and basil with fresh mozzarella for a loaded version of the classic summer Caprese. This gorgeous salad is the perfect summer side dish to make use of all that amazing summer produce, and an effortless yet stunning dish you can take to gatherings or enjoy on a lazy evening with a glass of wine and some crusty bread.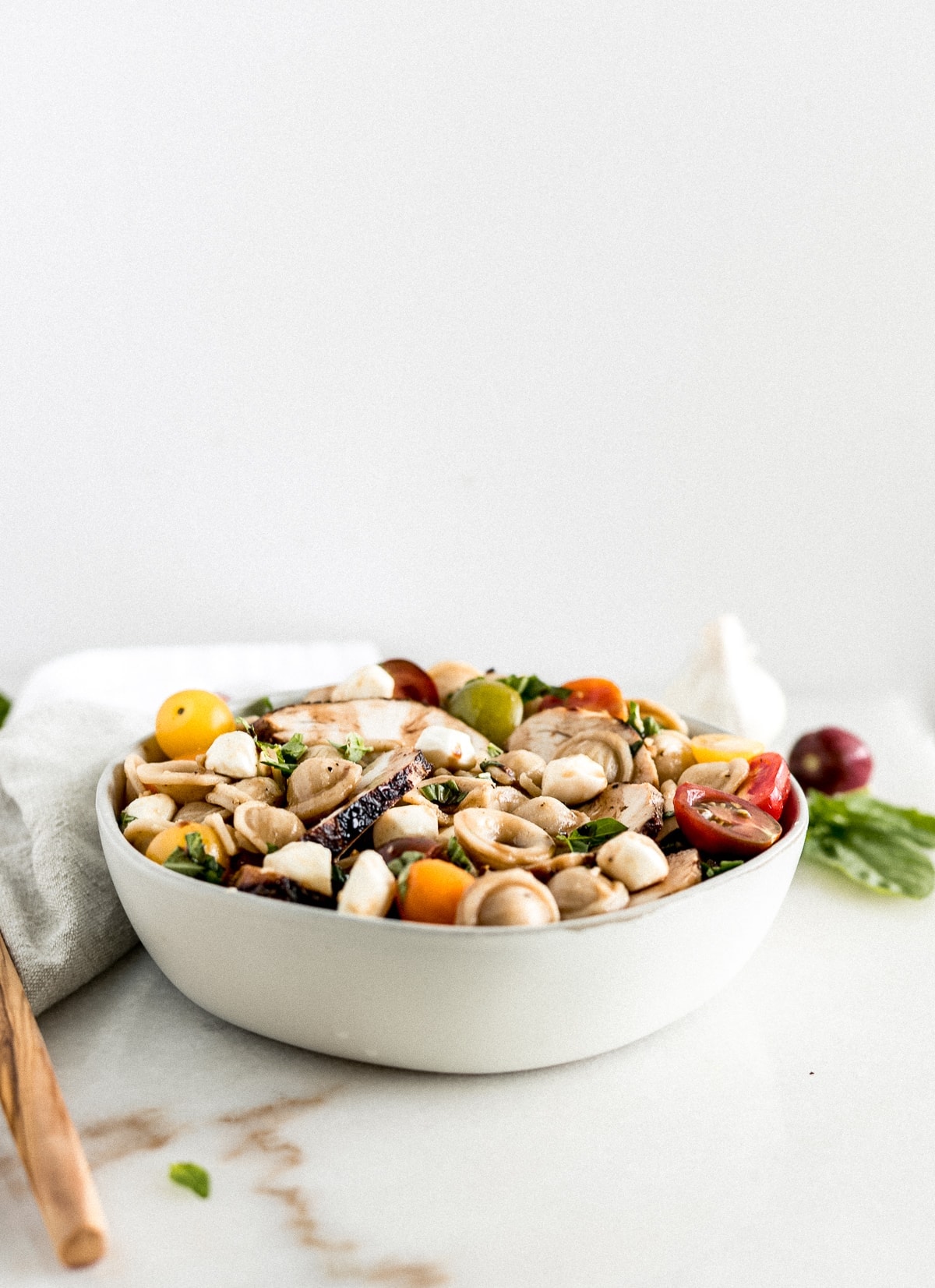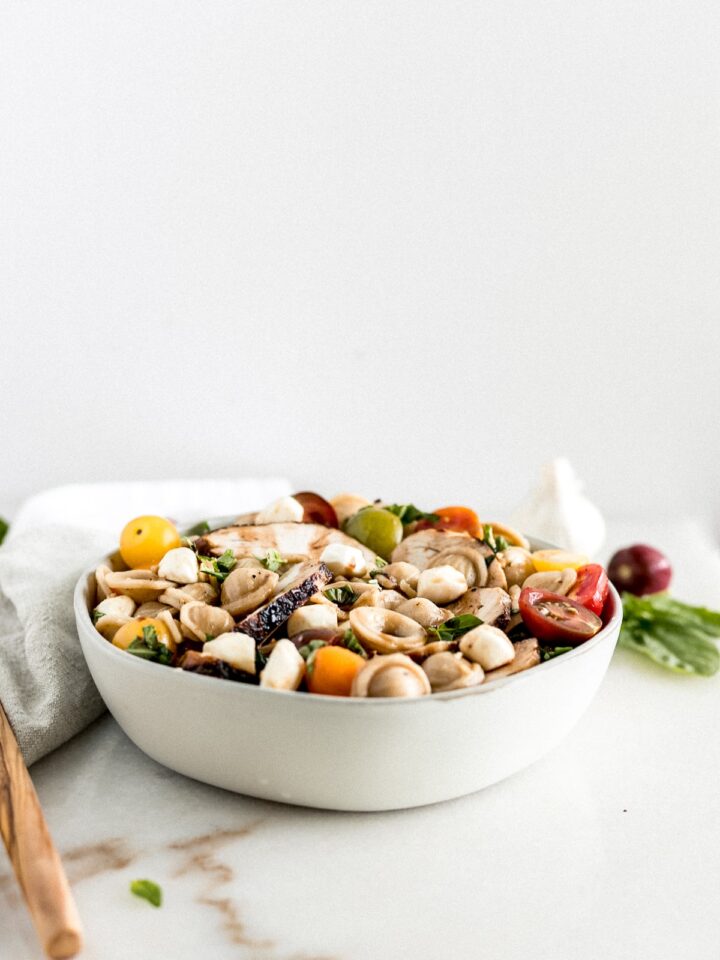 This chicken Caprese pasta salad is a delicious and healthy pasta salad made with tomatoes, basil, mozzarella, and whole-grain pasta that makes the perfect summer lunch or potluck dish! Once you make this delicious pasta salad, you'll find out just how easy it is to make a quick and healthy meal that tastes amazing and provides tons of nutrition.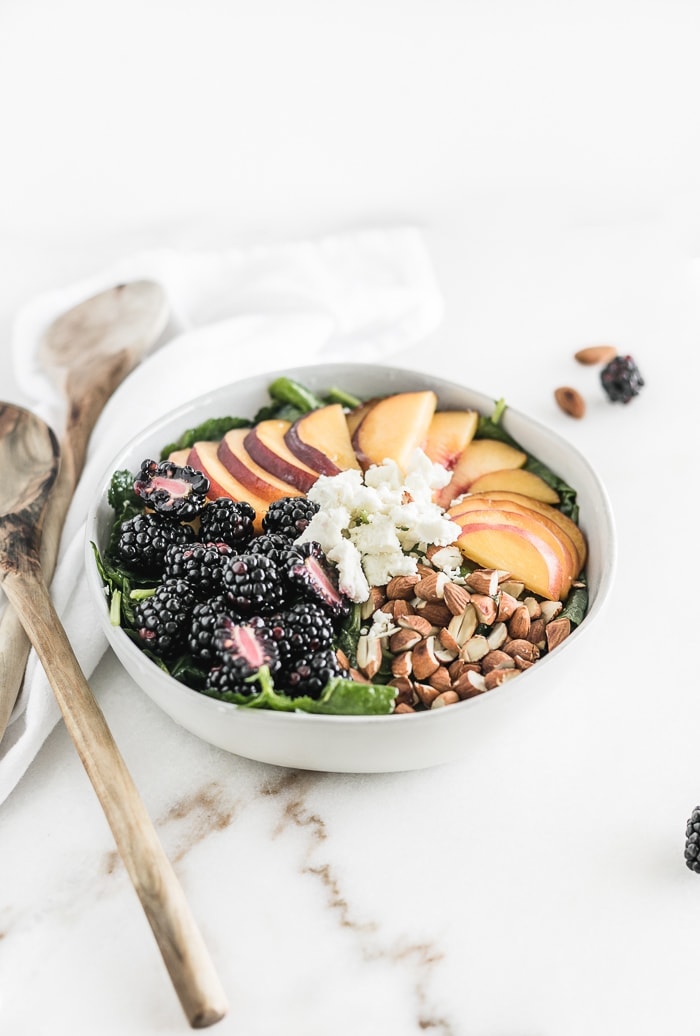 Enjoy the best of late summer fruit with this simple but delicious blackberry peach kale salad with goat cheese, toasted almonds, and a simple lemon poppy seed vinaigrette. The great thing about kale salads is that they can be made ahead of time, making them perfect for meal prep!
Watermelon Feta and Arugula Grain Salad
This delicious watermelon feta and arugula grain salad is a flavorful and healthy side dish or packable lunch that's perfect for the summer season! t also makes things super easy when I need a quick and delicious side dish to go with dinner or take to a cookout.
This watermelon feta mint salad is refreshing, super easy to make, and healthy – the perfect summer side dish for all of your cookouts this season! The best part is, it only takes a few minutes to throw together, so it's perfect for taking to any party this summer!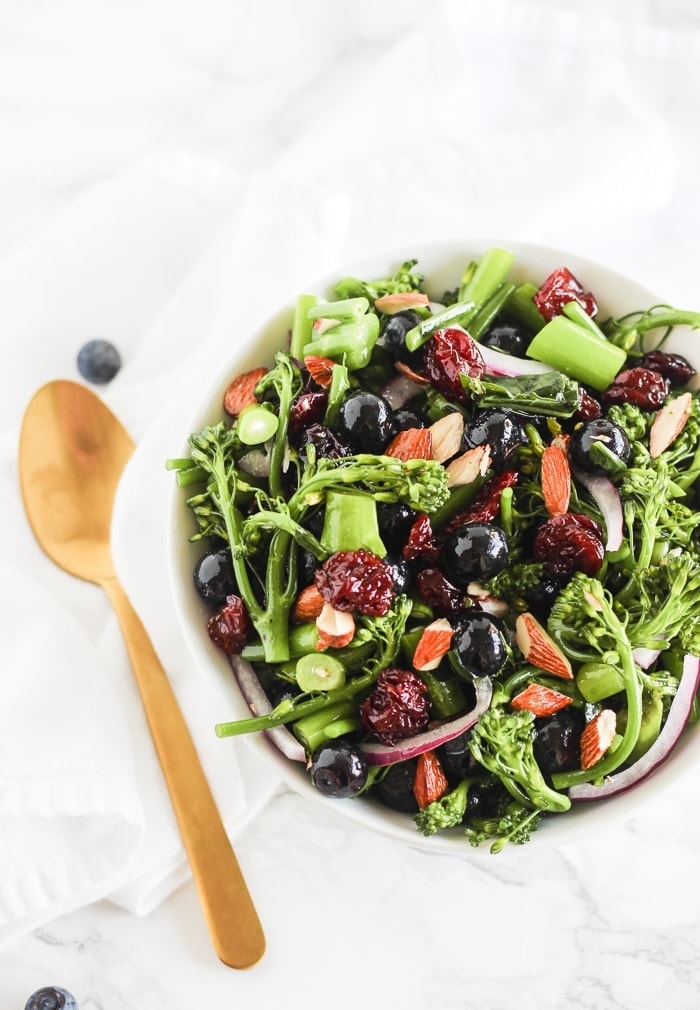 This fresh superfood broccolini salad is a delicious, antioxidant-packed side dish that is perfect for all of your summer meals and cookouts! It's easy to throw together and adds a refreshing pop of color to the buffet table at summer parties and on your table at home.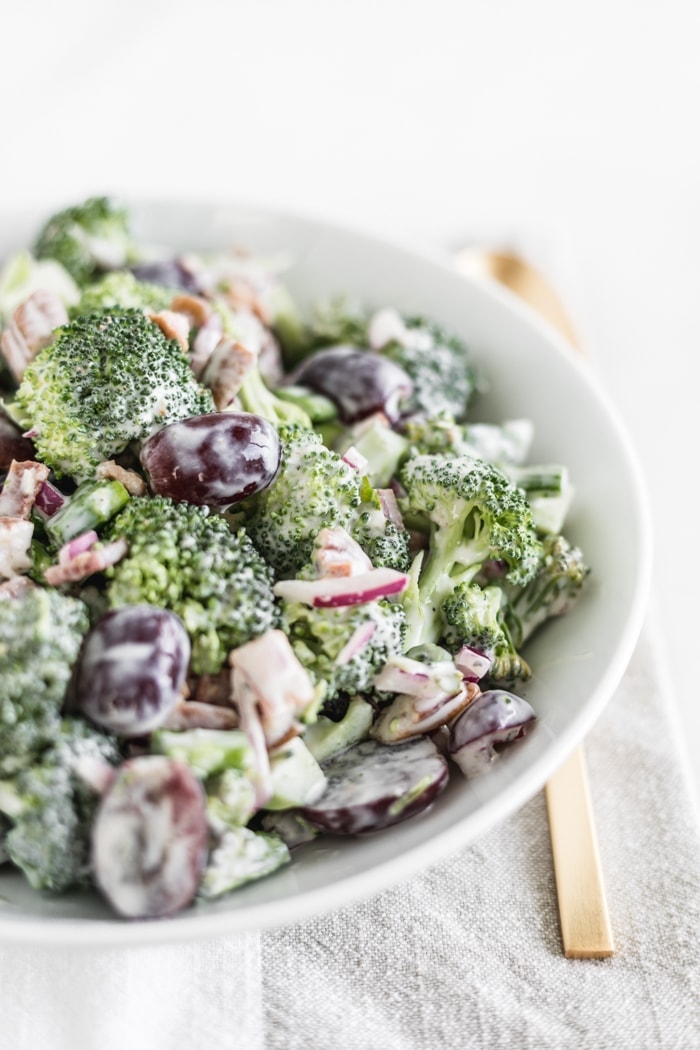 Healthy No-Mayo Broccoli Salad
This no-mayo broccoli salad is a delicious and healthy version of the classic summer broccoli salad but made with Greek yogurt-based dressing instead of mayonnaise. It's the perfect side dish for summer BBQs and cookouts!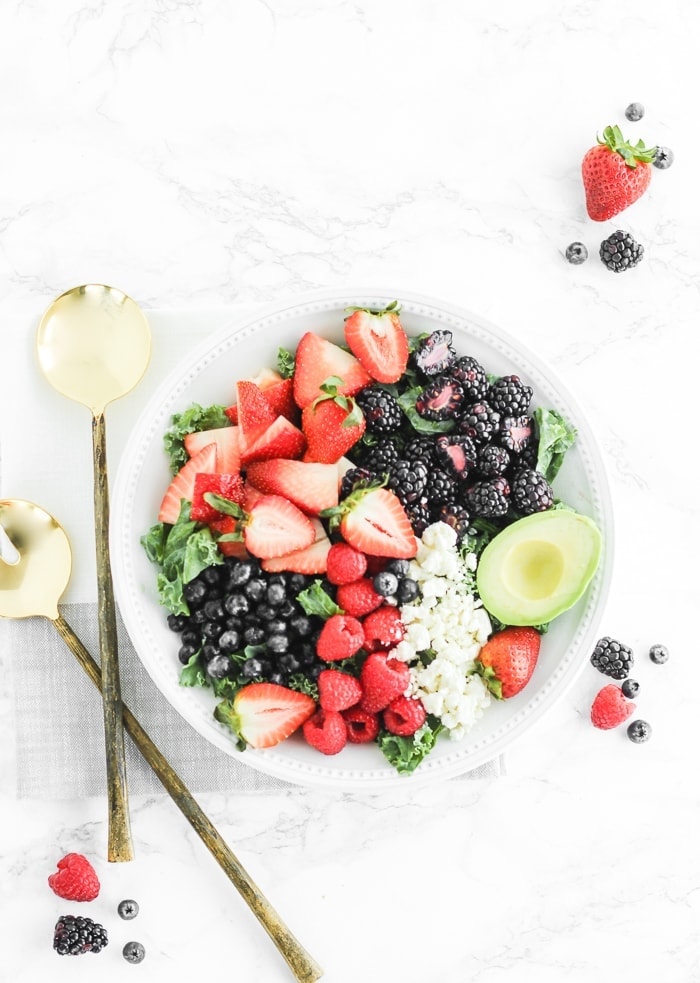 Bursting with tons of berries and creamy avocado, this fresh berry avocado kale salad makes a delicious and healthy summer side dish! It's a fresh and healthy side dish that everyone will love, and it takes only minutes to put together.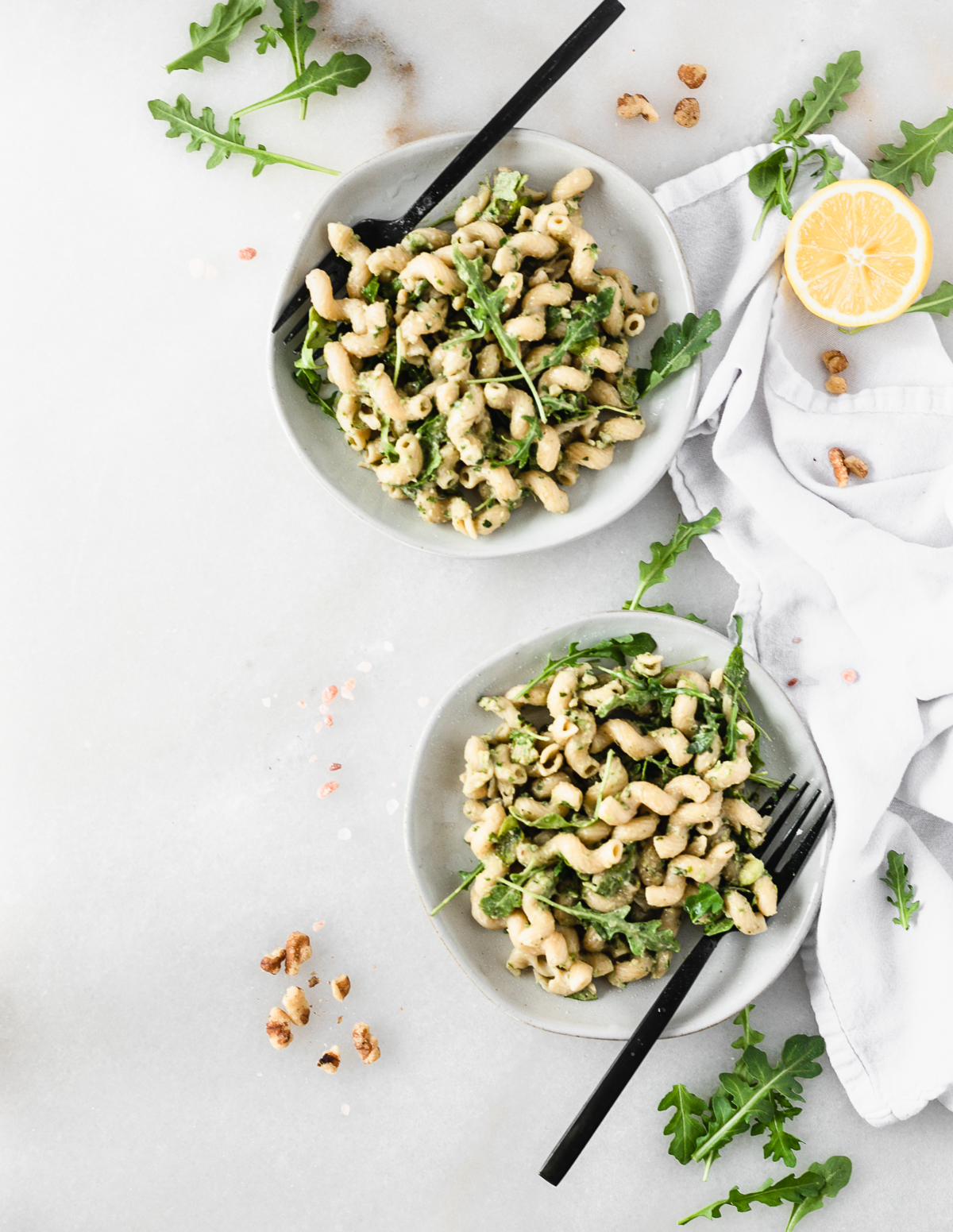 Vegan Arugula Avocado Pesto Pasta
Fuel up with a plant-powered pasta in under 20 minutes with this vegan arugula avocado pesto pasta filled with healthy fats and fiber! It's super easy to throw together, and you might already have all of the ingredients on hand, especially if you have a summer garden bursting with basil!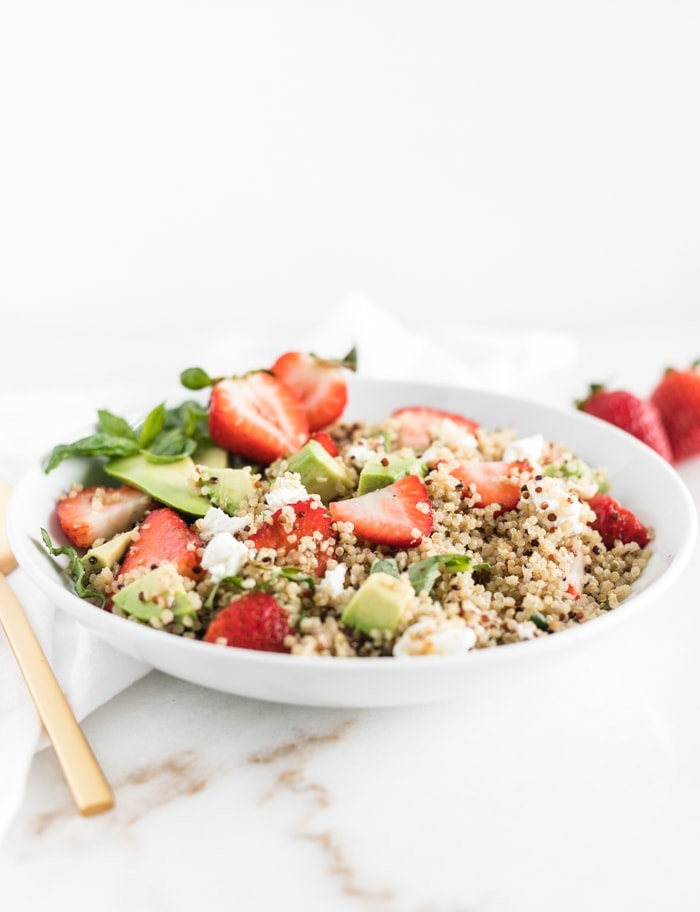 Strawberry Avocado Quinoa Salad
This strawberry avocado quinoa salad is a delicious, wholesome dish that uses the best of summer strawberries in a satisfying, vegetarian lunch or a fresh, whole-grain side dish! Besides tasting amazing, this salad is also loaded with nutrition.
Creamy avocado, crunchy jicama, and cucumber combine to make a deliciously simple salad that is sure to satisfy! This avocado jicama cucumber salad is SO EASY to make and makes the perfect summer side dish loaded with healthy fats and fiber.
Tomato, Avocado, Zucchini Noodle Salad
A delicious, refreshing, and super-simple "zoodle" or zucchini noodle salad made with avocado, feta, and tomatoes. It makes the perfect summer side dish! I make my own simple dressing for this, but any vinaigrette will do in a pinch.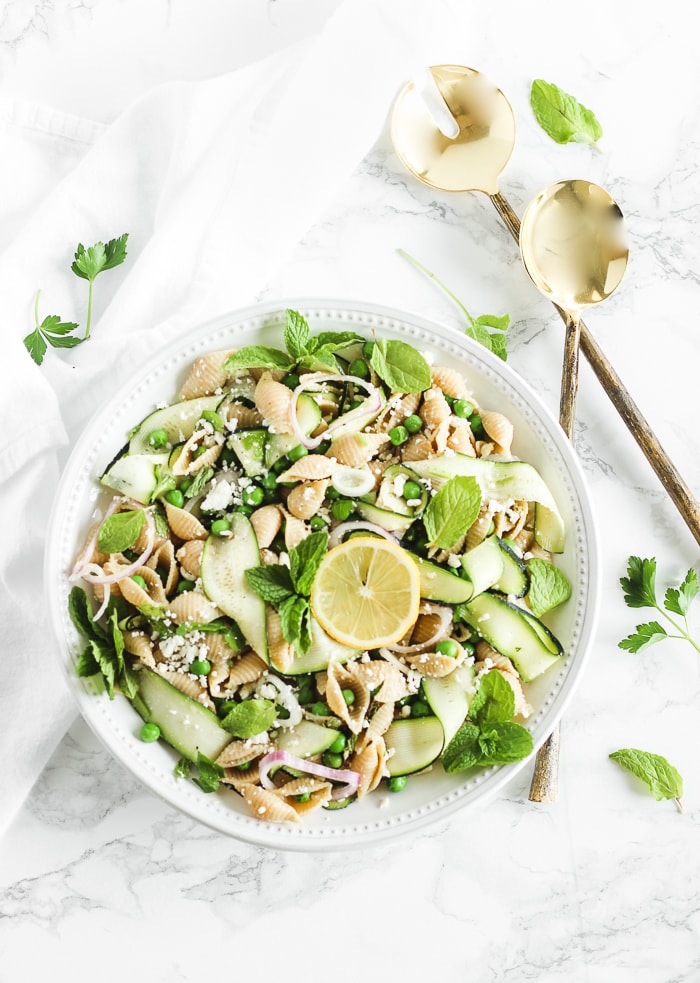 Spring Pea and Zucchini Pasta Salad
This light and fresh spring pea and zucchini pasta salad is just the side dish to brighten things up! Full of delicious spring flavors, this healthy pasta salad is great with any of your favorite summer dishes.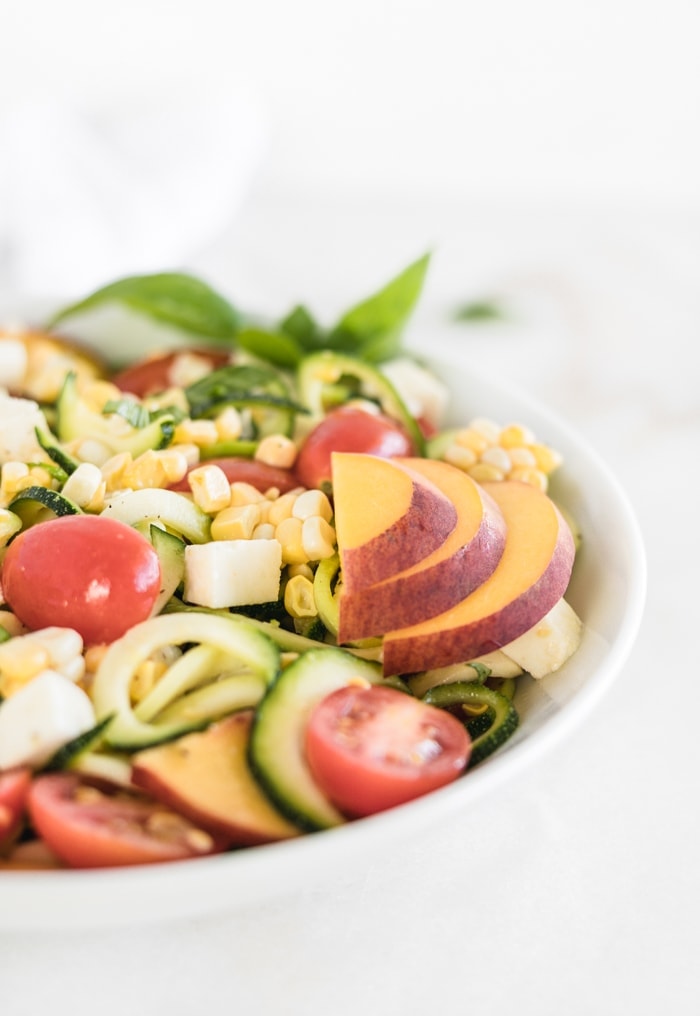 Everything Summer Caprese Zucchini Noodle Salad
This everything summer Caprese zucchini noodle salad is the best of summer produce in a bowl. With fresh sweet corn, zucchini, tomatoes, juicy peaches, and basil, it's a delicious and healthy summer salad to use all of that gorgeous summer produce!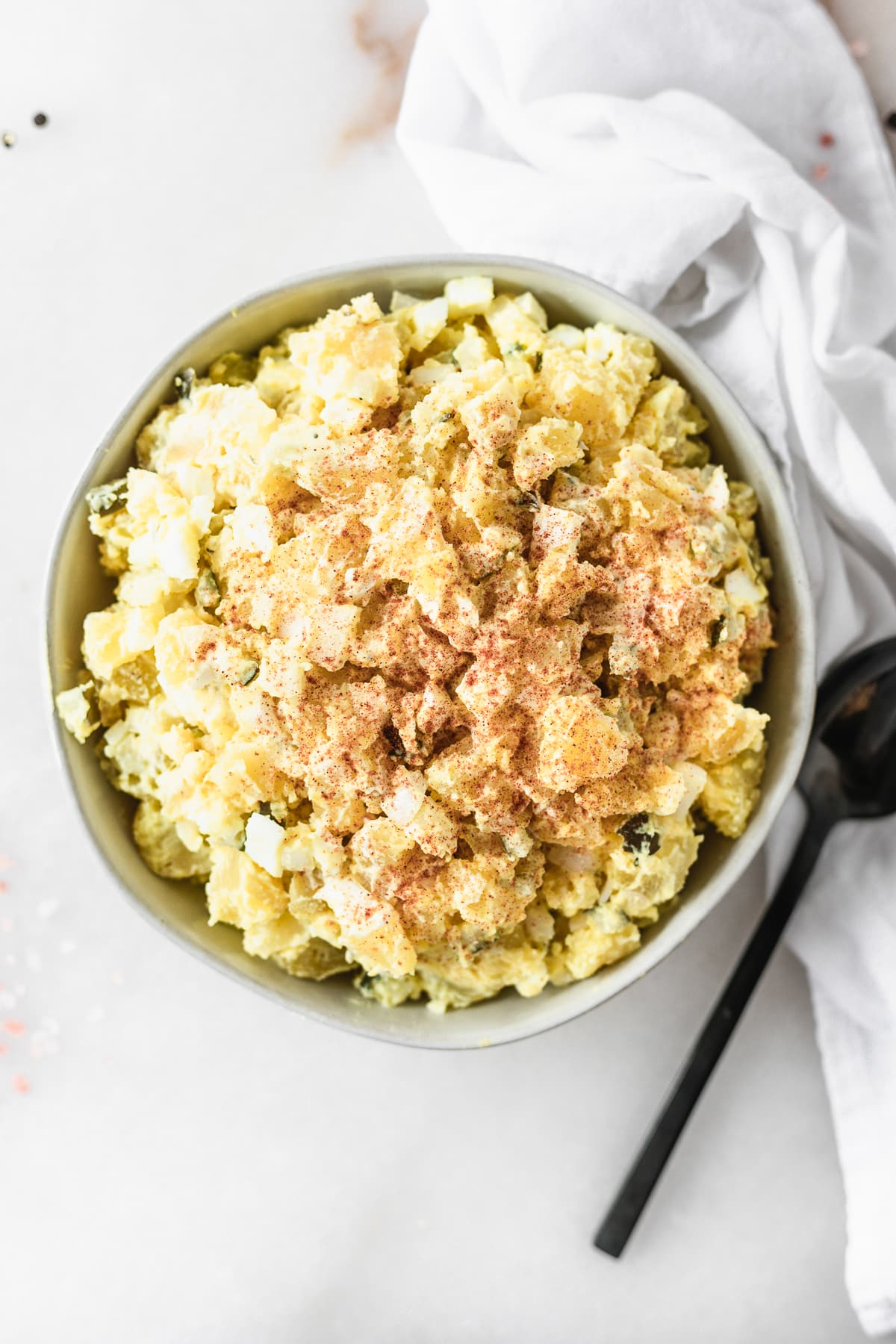 Mom's Mustard Potato Salad (Made Healthy)
Classic mustard potato salad you love with a healthy, no-mayo twist. It's a must-have side dish for backyard barbecues, burgers, and all your summer favorites!
Healthy dill potato salad is the perfect summer side dish to accompany burgers, barbecue, or any summer meal! It's great for everything from barbecues to tailgating!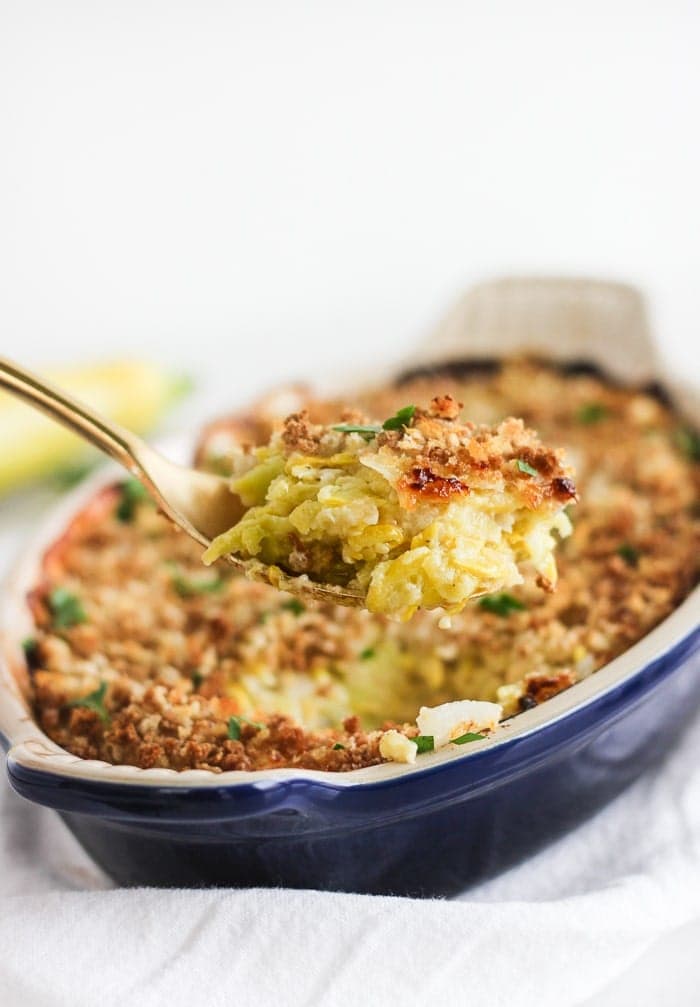 Cheesy Summer Squash Casserole
A delicious cheesy summer squash casserole recipe made just a bit healthier is the perfect summer side dish for using all of those yellow squash and zucchini!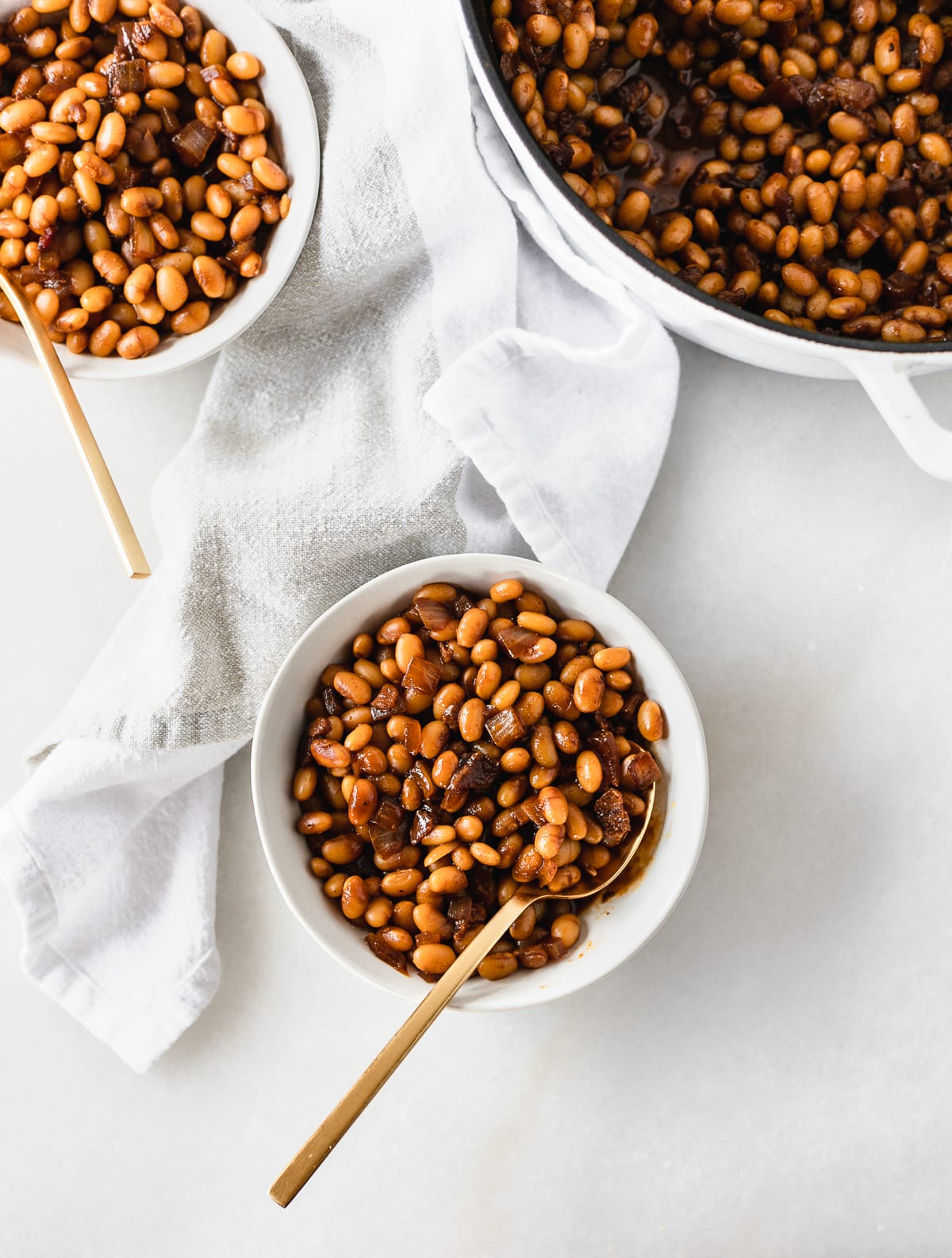 These delicious homemade baked beans are sweet, savory, smoky and the perfect side dish for all of your summer BBQs, with instructions for both dried and canned beans.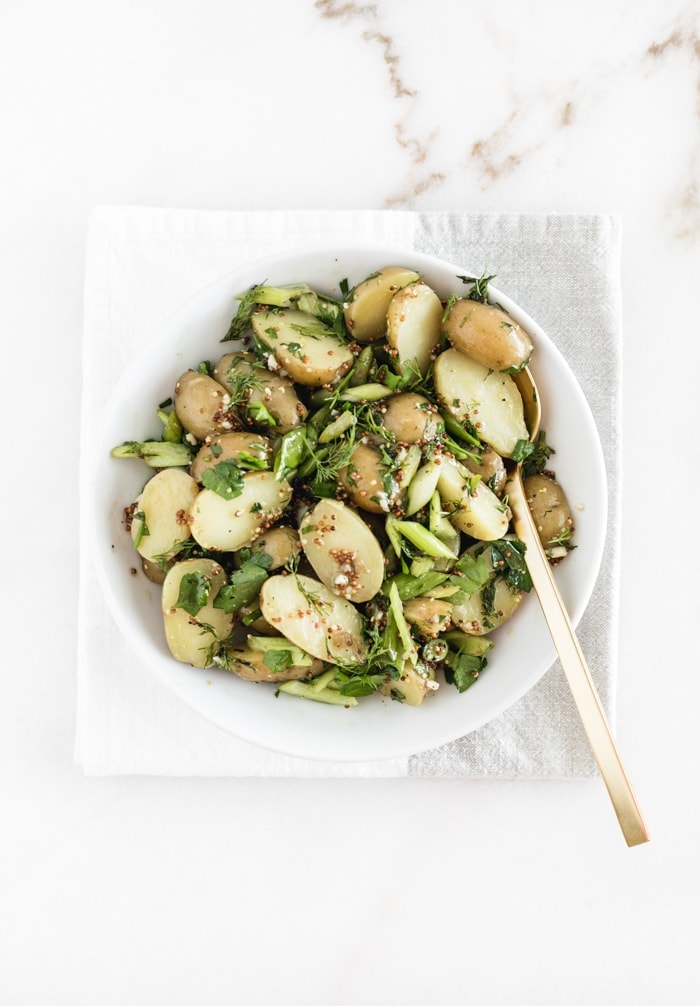 Try a new take on potato salad this summer with this healthy, vinegar, and herb-based French-style potato salad.