Looking to increase your milk supply naturally and without the use of supplements? Adding these lactogenic foods could help boost breast milk production in nursing moms. Plus get healthy, delicious recipe ideas perfect for breastfeeding!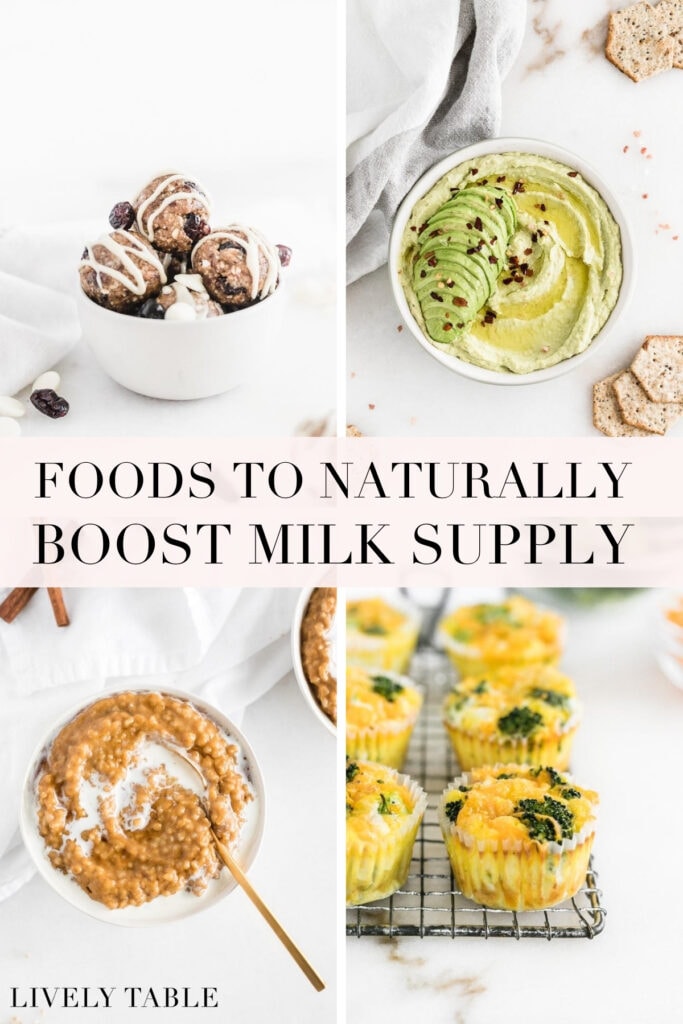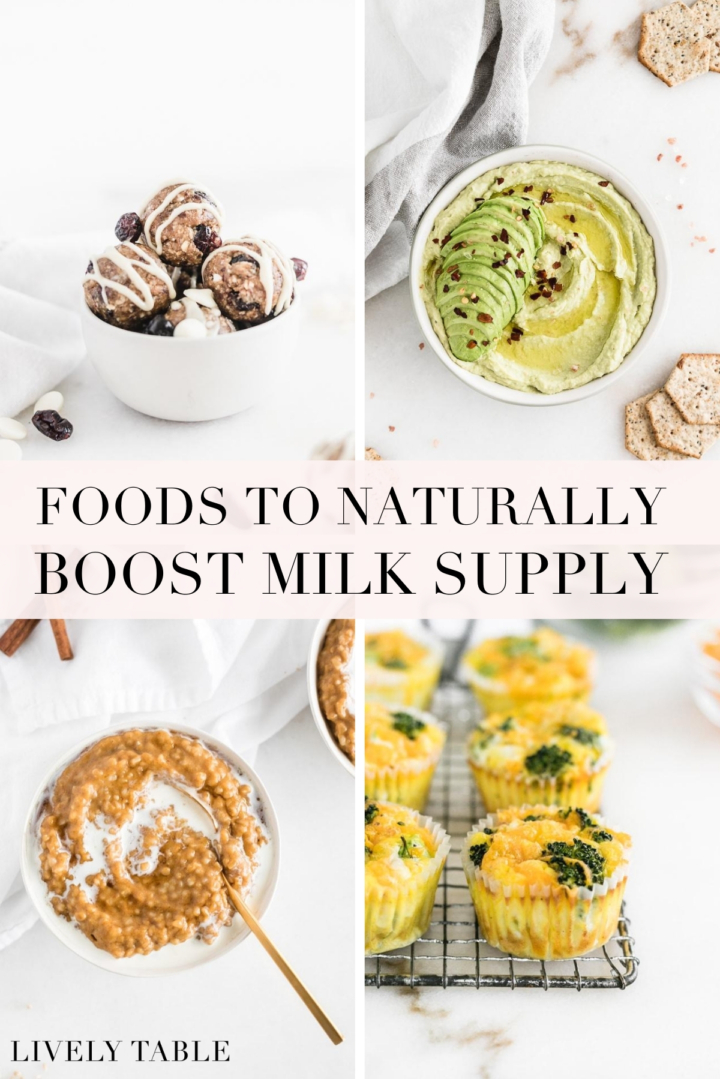 For breast feeding moms, especially first time moms, milk supply can be a constant source of anxiety. Is baby getting enough to eat? How much milk am I making? Is it enough? At least that's how I felt with my first baby. It's still a big question mark with my second, though not as anxiety-inducing.
If you're in the same boat, you've probably already turned to a Google search for ways to increase milk supply. Before you run out to purchase all the expensive teas and supplements, you may benefit from trying some commonly used foods to increase your milk supply instead!
Why Use Food To Increase Milk Supply?
As a dietitian, I always recommend a food-first approach when it comes to dietary matters. Boosting milk supply is no different. Why is food a better option?
You have to eat anyway. If you're already eating 3 meals (plus snacks) each day, why not put them to work for you by choosing to add foods that can give your milk supply a little boost?
It's less expensive. Real food is much less expensive than supplements. Have you ever bought a box of lactation tea? It's, like, $7 for one box! And you're supposed to drink multiple cups per day. And it may not even be effective. When you buy (and presumably eat) food, it's still nourishing your body whether it works to increase your milk supply or not, so you're not throwing away money.
It won't harm you. The problem with supplements is that they aren't well regulated, so you don't always know that what you're paying for is actually what you're getting. Also, even though many supplements are 'natural', that doesn't necessarily mean safe, especially if you are on certain medications. Trying a food-first approach is always a safe bet.
Food tastes better. Have you ever tried some of the lactation teas and supplements? They don't taste good. You know what tastes good? Real food. Which means you're more likely to stick with it.
Do These Foods Actually Work?
Unfortunately, there is very little evidence on which foods work to increase milk supply, how they work, and if they are effective. Most evidence we currently have to work with is anecdotal. So the answer is: maybe! All you can do is try and see what works for you. Every person is different and your body may respond in a different way than another mom's, so you'll have to experiment with what works for you.
Another thing to note is that milk production works in a 'supply and demand' style. So you must remove milk to produce more. Although I know how frustrating it is to be told to 'just pump more' or 'just nurse on demand' with no results.

Foods That Can Naturally Increase Milk Supply
Oats - Oatmeal is a common milk-boosting food that's easy to use, inexpensive, and super nutritious! I definitely notice a difference in my own supply on the days I eat oatmeal versus the days I don't. While research is lacking and the mechanism is unclear, one theory is that the beta-glucan in oats raises the breast feeding hormone prolactin, which could increase milk production. Oats also contain plant estrogens and saponins, two compounds that also have a positive effect on milk supply.
Whole Grains - While not as commonly recommended as oats, other whole grains like brown rice or barley may also be beneficial for milk supply. It's important to eat enough carbs while nursing to support a healthy supply (and energy levels!).
Protein - In addition to carbs, it's important to get enough protein to support milk production. Eating chicken, fish, eggs, and tofu has be associated with increased milk supply.
Flaxseed - Flaxseed is another food that's often recommended to increase milk supply, as they contain plant estrogens that could increase production. They're also high in healthy fats that are important for baby's development, so add them to oatmeal, smoothies, yogurt, and baked goods.
Sesame Seeds - Similar to flaxseeds, sesame seed may also increase supply. You can use them whole in recipes or to sprinkle on salads, yogurt, or eggs. My favorite way to eat them is tahini - which is basically like sesame seed butter.
Dark Green and Leafy Vegetables - These veggies also contain phytoestrogens, as well as iron, which is important to replete your stores, as well as for adequate milk supply. Kale, spinach and broccoli are just a few to add to your daily meals.
Fennel - Fennel is often an ingredient in lactation teas and is also a spice, but the actual fennel bulb can be eaten as a vegetable, too! It's delicious raw and shaved thinly into a salad, or roasted with other root vegetables.
Almonds - Almonds are another food commonly recommended to increase milk supply. Even if they don't work, almonds are full of beneficial nutrients like calcium, protein, and healthy fat. And they're a great easy snack!
Pumpkin - In one study, pumpkin was associated with an increased milk supply. Good news for all of you fall lovers!
Chickpeas - Chickpeas are another food that contain phytoestrogens. And they're also super nutritious and affordable, so they're great to add to your diet regardless of whether or not they actually increase milk supply.
Brewer's Yeast - I consider this one a supplement, really, because nobody actually eats brewer's yeast just because. And for good reason - it's disgusting. It is full of iron and B-vitamins, and many mothers say it works well for them. But in my personal experience, it didn't seem to help, so I happily stopped choking it down.
Milk-Boosting Recipes To Try
Here are some of my favorite recipes that incorporate milk-boosting foods. Work them into your everyday routine for tasty, nutritious meals that will keep you nourished and satisfied if nothing else! No expensive (and yucky) cookies or teas required!

Breastfeeding Breakfast Recipes:

Milk-Boosting Snack Recipes:

Healthy Breastfeeding Lunch & Dinner Recipes:
For the full scoop on nutrition for nursing mamas, you can head to this post about Nutrition for Breastfeeding!
Resources: