Eggs are super nutritious and delicious for breakfast. Put them to good use with these un-boring healthy egg recipes! This list has everything for a good egg breakfast, from breakfast tacos and meal prep sandwiches, to omelets and breakfast casseroles!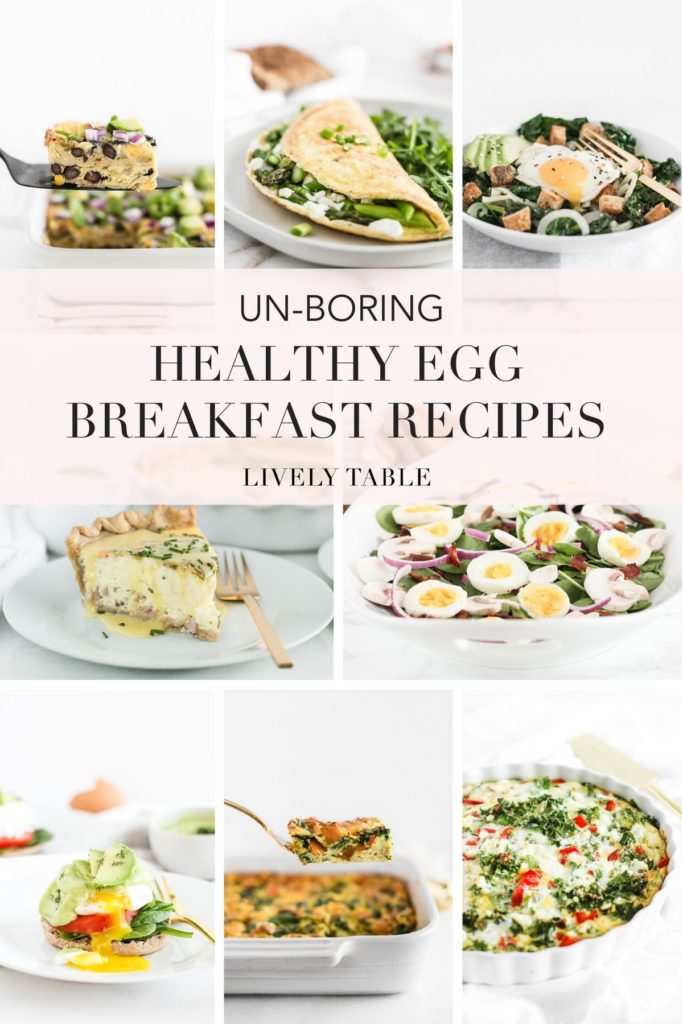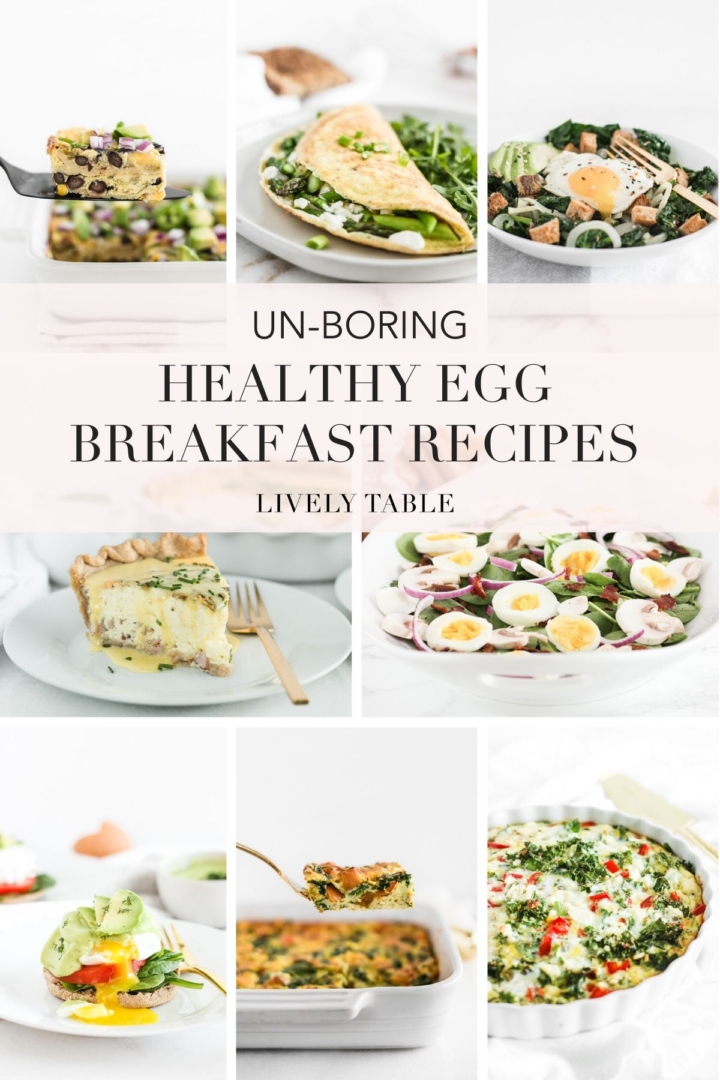 There's no doubt that eggs are a breakfast staple - and for good reason! Eggs are affordable, easy to prepare and super nutritious. Just one egg provides 6 grams of high quality protein along with 13 essential vitamins and minerals, including vitamin D, selenium, choline, lutein, and zeaxanthin. Furthermore, eggs can actually help your body absorb more of the nutrients found in plant foods, like vitamin E and carotenoids, so they're a natural pairing for veggies and other plant foods.
But eggs go way beyond scrambled and fried. They are so versatile and can make some amazing breakfast dishes with minimal effort. If you're looking to switch up your breakfast routine, try one of these delicious, healthy egg breakfast recipes!
Un-Boring Healthy Egg Breakfast Recipes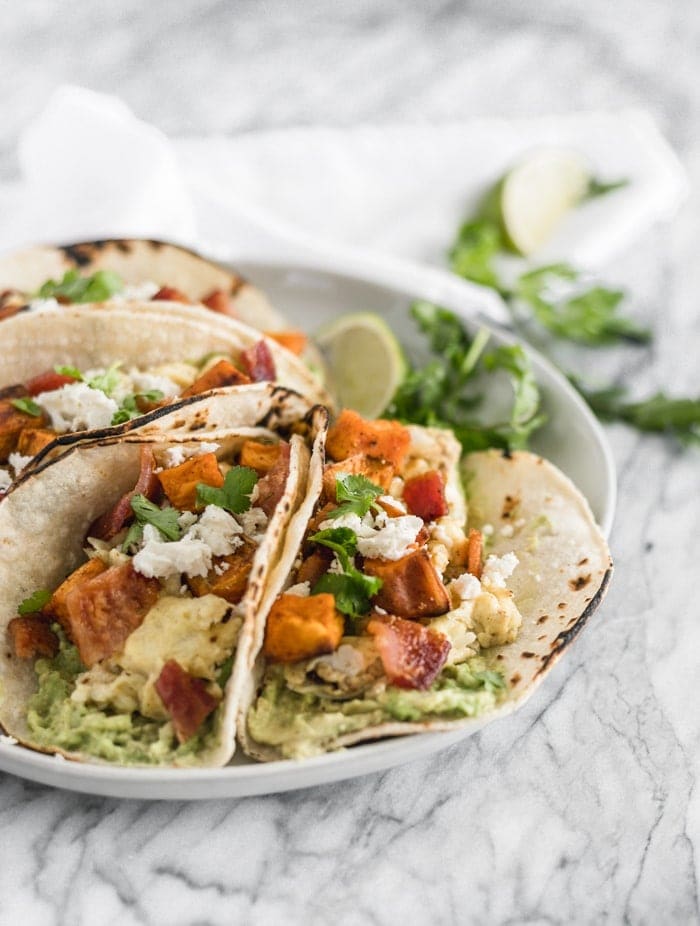 Sweet Potato Bacon Breakfast Tacos
These sweet potato bacon breakfast tacos with guacamole are a delicious weekend breakfast to wake up to! Use leftover sweet potatoes and bacon to make them even easier to prepare!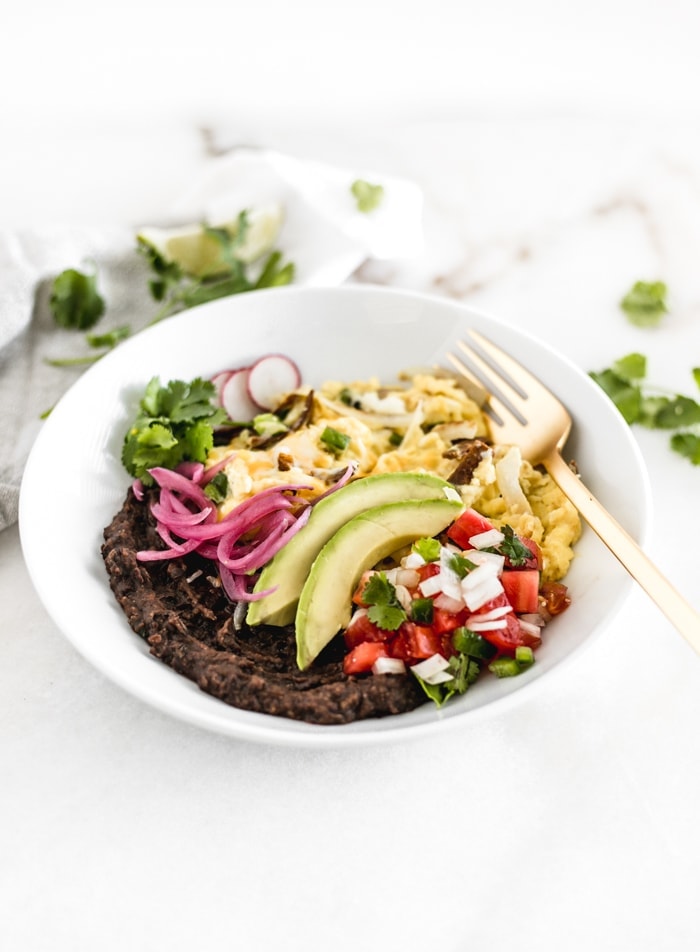 Start your day with a festive migas breakfast bowl! It's a healthier take on the Mexican brunch favorite migas that will keep you full for hours.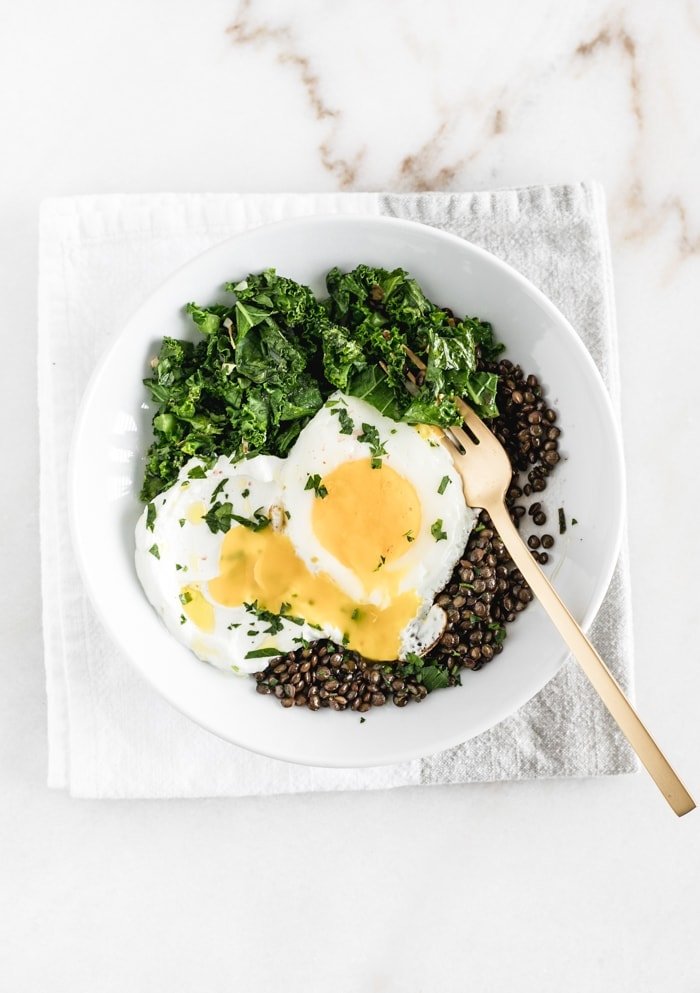 Kale, lentils, yogurt, and eggs come together to make a healthy, delicious, and savory breakfast with ingredients you probably already have in your kitchen!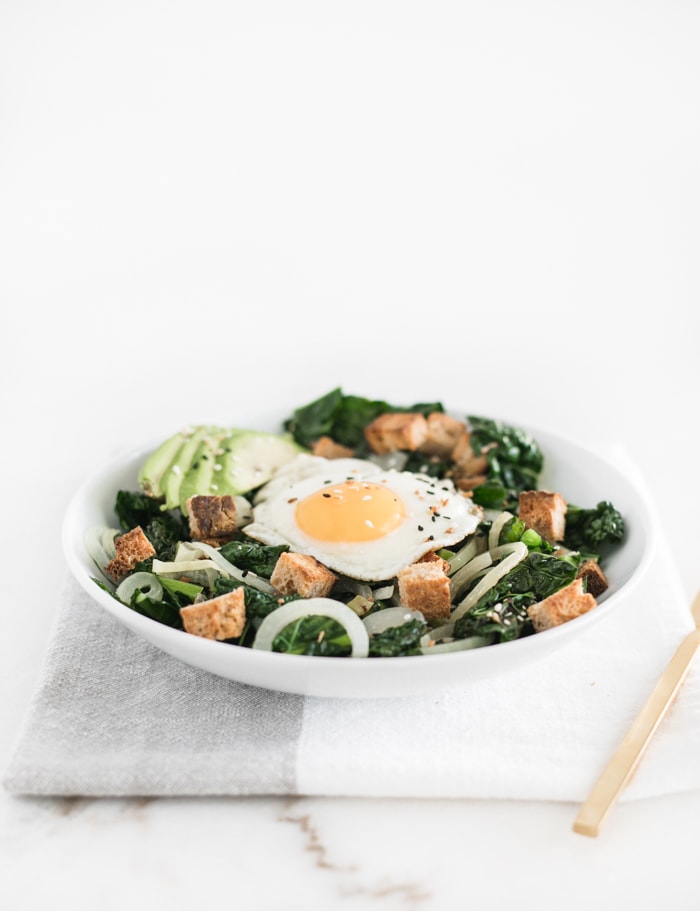 Simple Warm Kale Breakfast Salad
This simple warm kale breakfast salad with caramelized onions, sourdough croutons, and everything bagel seasoning is a delicious way to get veggies in at breakfast or any time of day!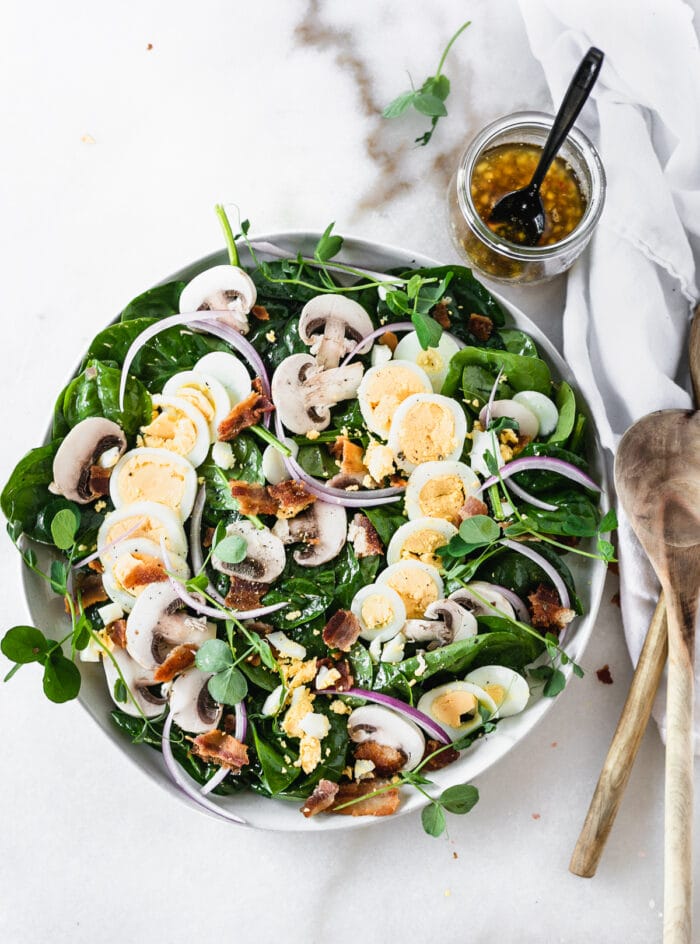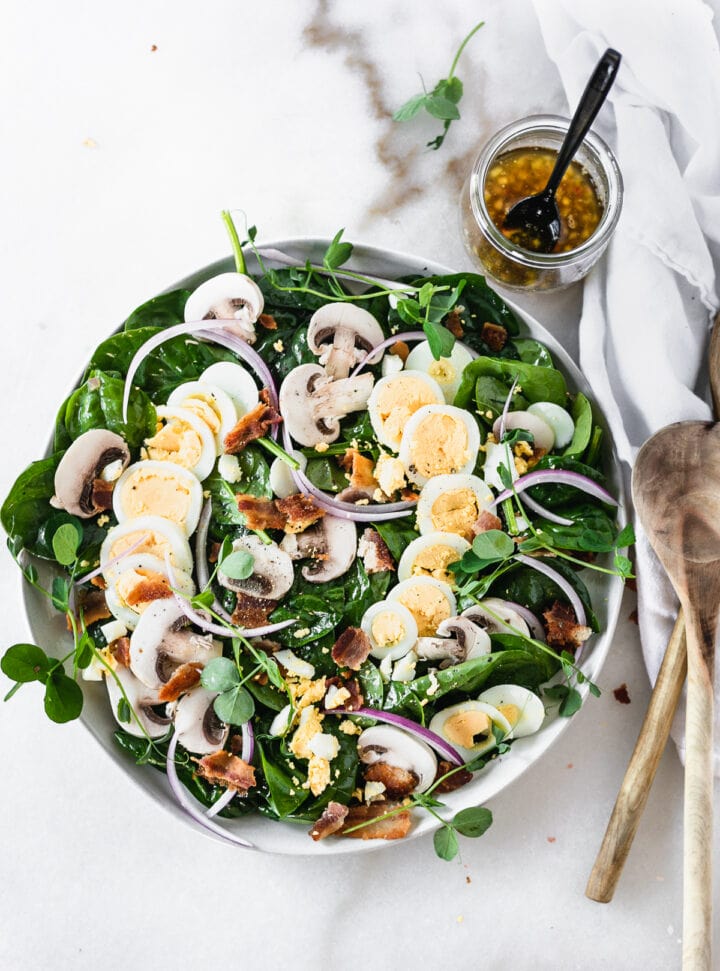 Brunch Spinach Salad with Warm Bacon Dressing
This delicious, healthy brunch spinach salad with warm bacon dressing with eggs, mushrooms, and a warm bacon vinaigrette that slightly wilts the spinach will be a welcome addition to any brunch spread!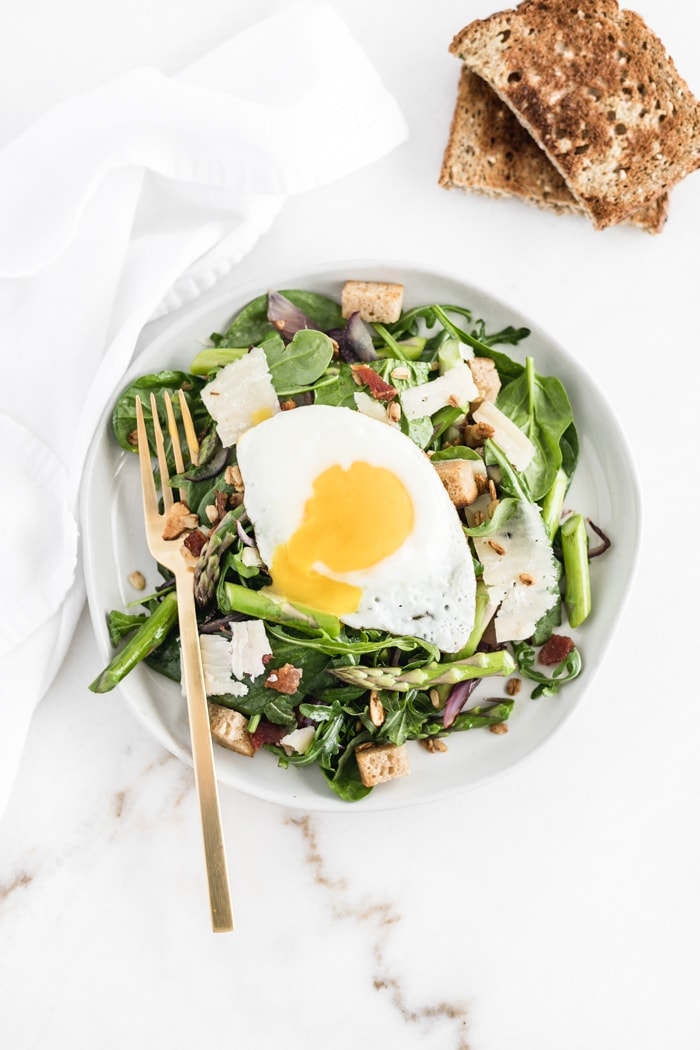 Get your veggies in first thing in the morning with a healthy and delicious spring breakfast salad topped with maple vinaigrette and a runny fried egg!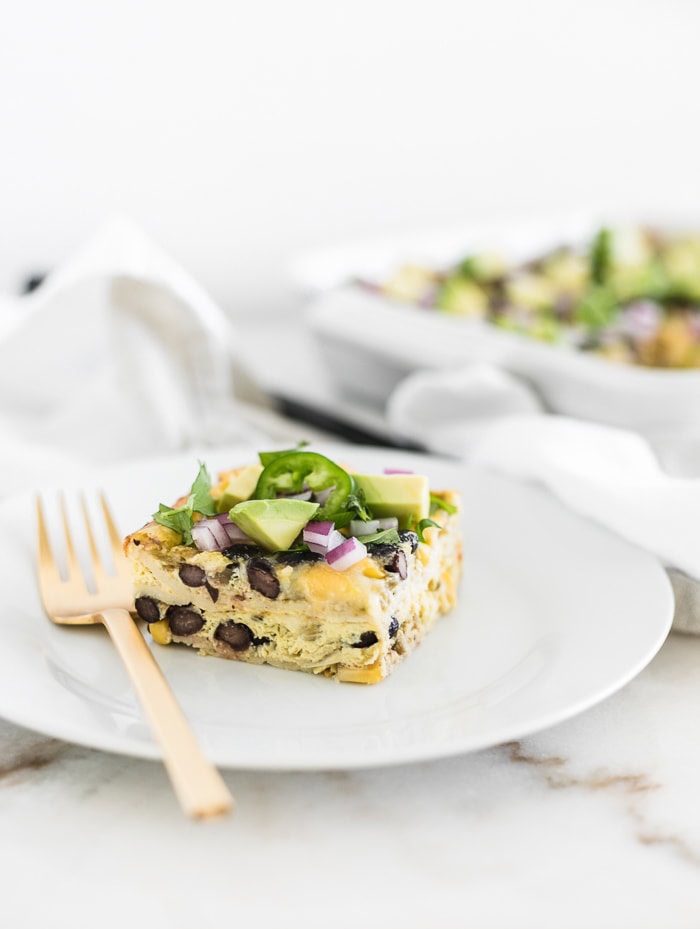 Healthy Green Chile Mexican Breakfast Casserole
This healthy Mexican breakfast casserole with green chiles, beans, corn, and tortillas is perfect for any breakfast or brunch! It's easy to make, so flavorful, and can even be prepped ahead.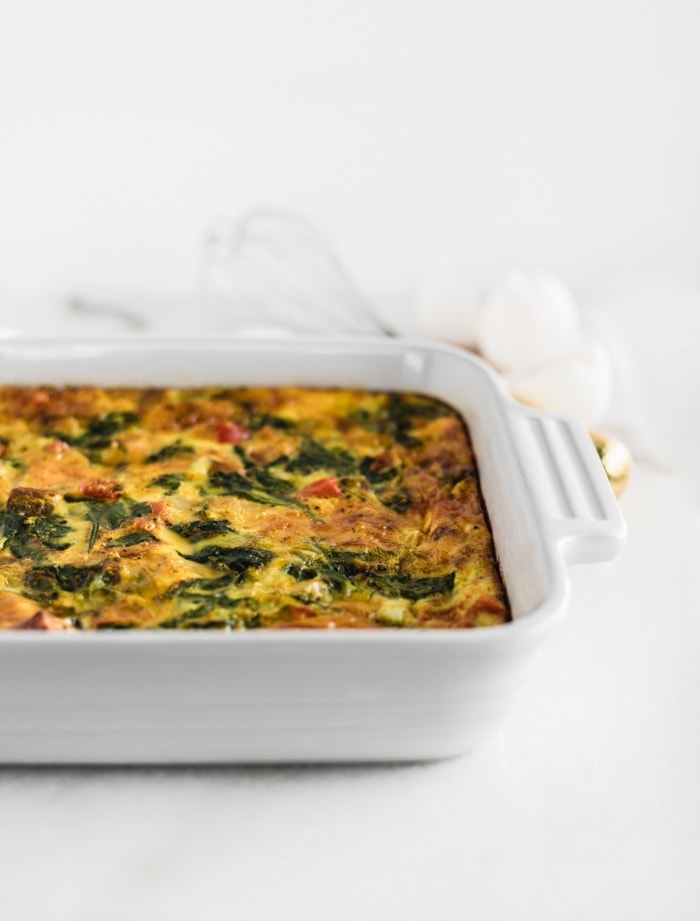 Veggie Sweet Potato Breakfast Casserole
Start your day with a nutritious and delicious veggie sweet potato breakfast casserole! It's a great breakfast to meal prep for busy mornings, and perfect for kids and adults alike.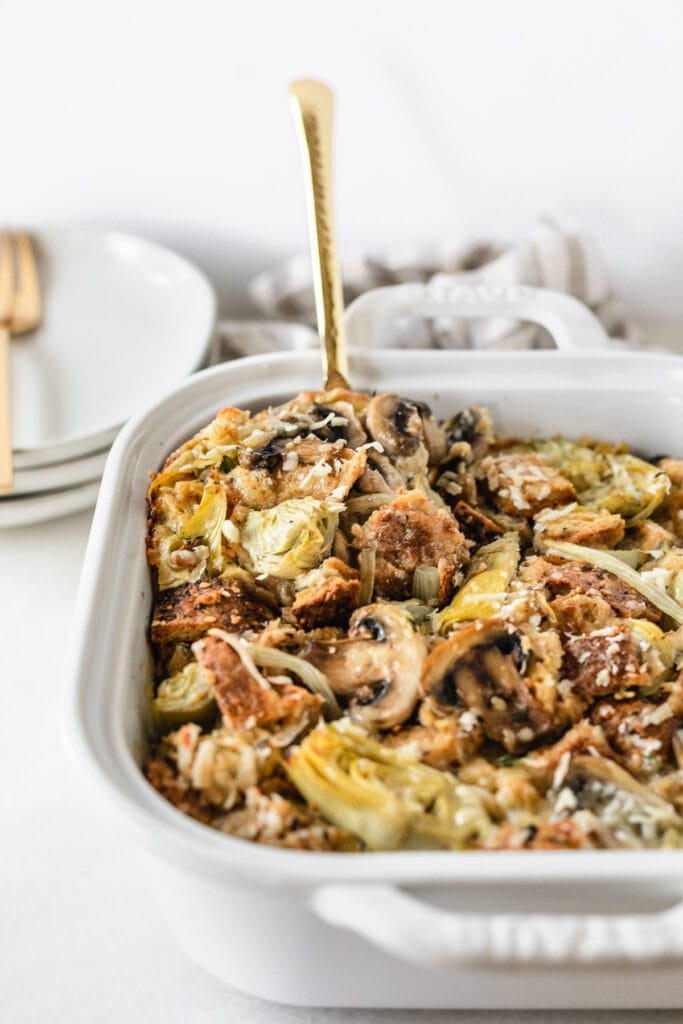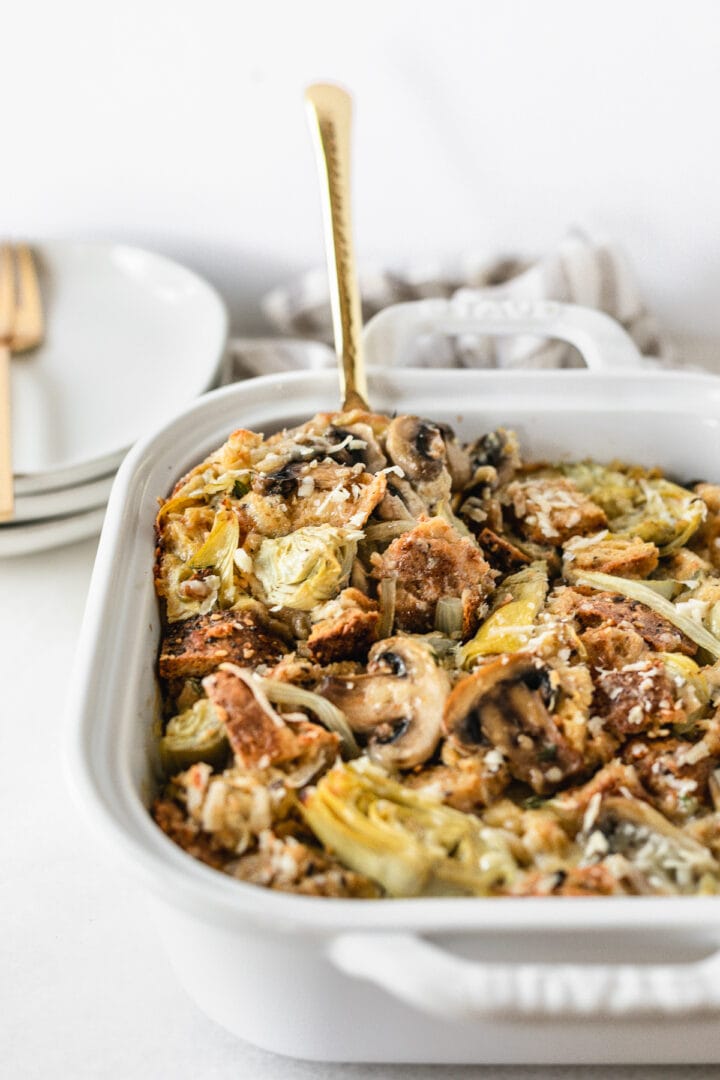 Overnight Mushroom Artichoke Strata
This mushroom and artichoke-filled breakfast bake is a delicious savory, cheesy, make-ahead brunch dish that will be the center of your table!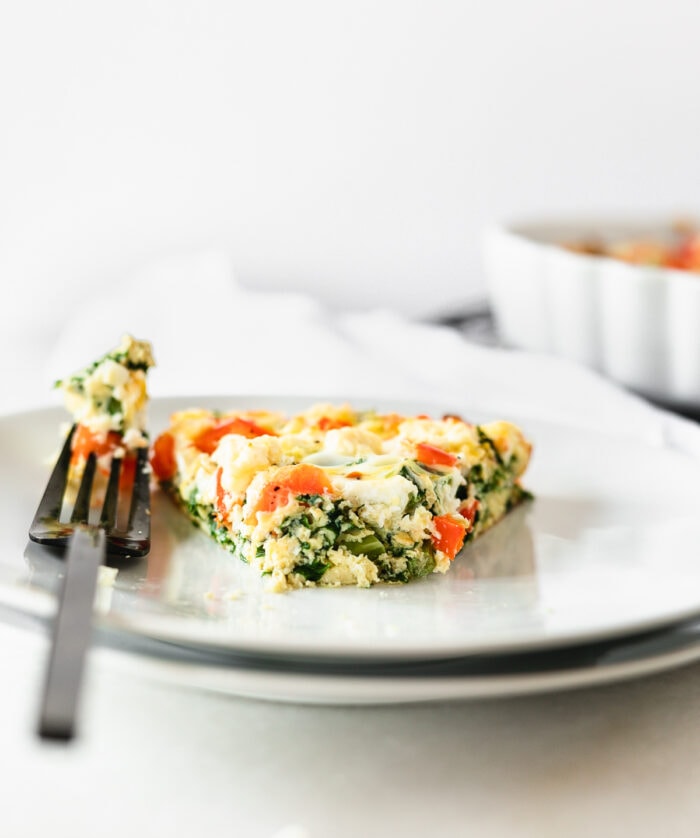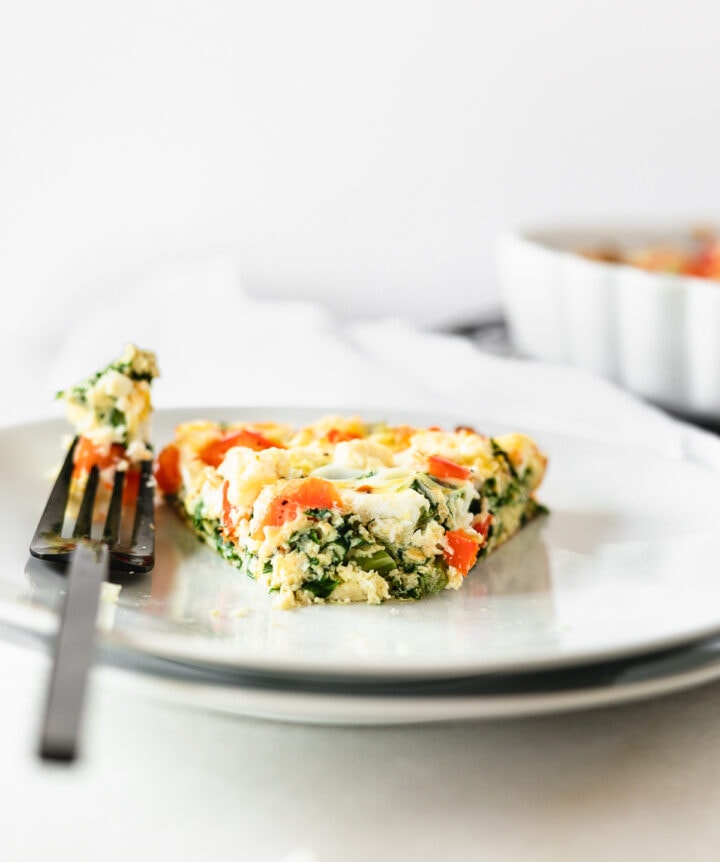 Red Pepper, Kale, and Feta Frittata
This red pepper, kale, and feta frittata is a healthy, delicious brunch dish that also doubles as an easy make-ahead breakfast for the week.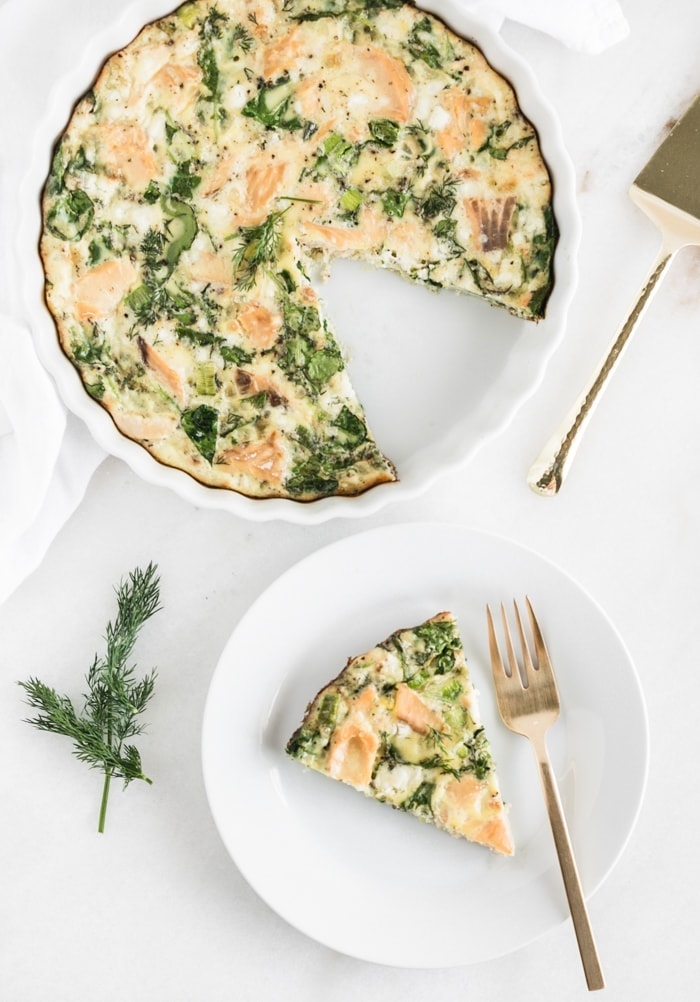 Smoked Salmon and Kale Frittata
Smoked salmon, kale, leeks, fresh herbs, and goat cheese come together in a beautiful, delicious, and easy smoked salmon and kale frittata that makes a wonderful spring brunch dish!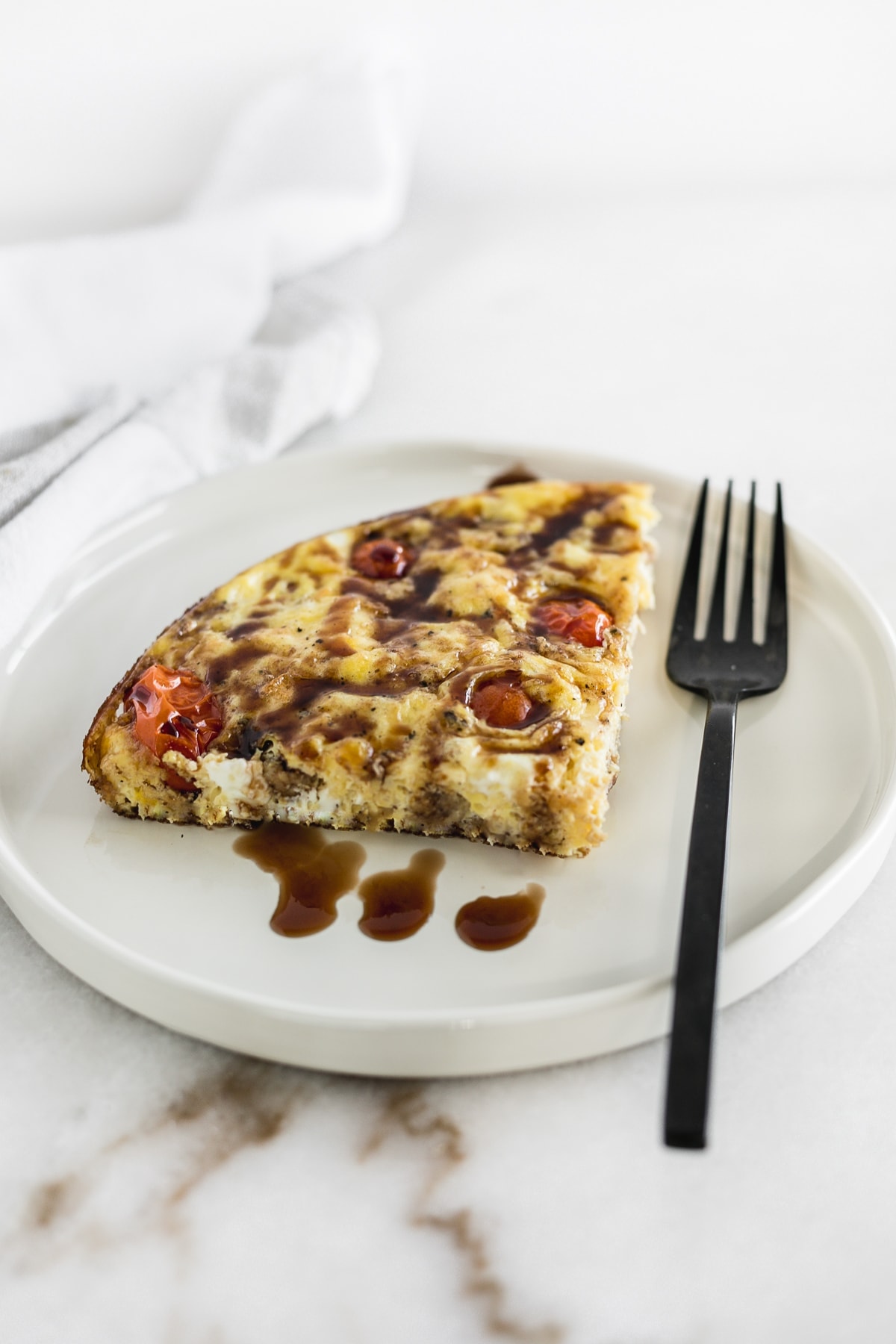 This easy and delicious Italian sausage frittata with tomatoes, basil, and mozzarella is a quick and healthy brunch or dinner!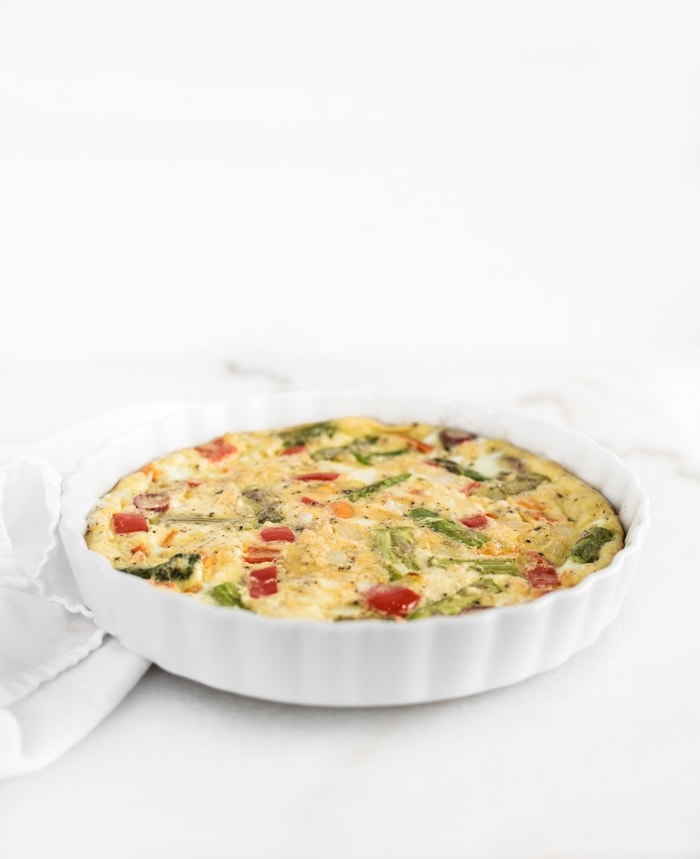 Fridge Clean Out Veggie Frittata
This veggie frittata is a great way to use up any spare veggies that may be going bad soon or that you only have a little bit of. It's great for meal prep, too!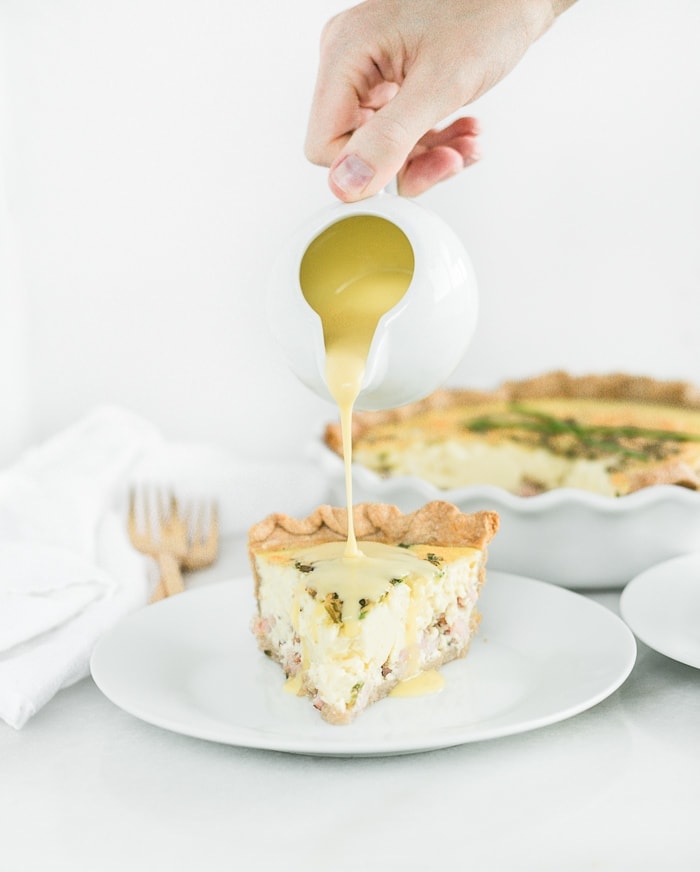 A delicious eggs benedict quiche with easy blender hollandaise sauce is a great way to prepare an eggs benedict brunch without all the work of poaching eggs! It's perfect for breakfast or brunch.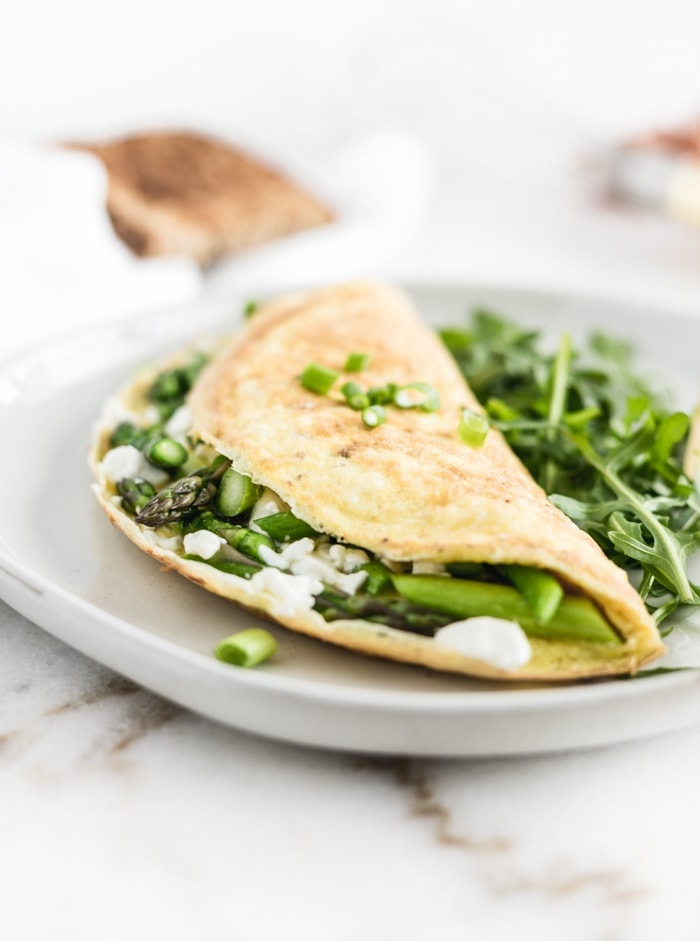 Easy Asparagus and Goat Cheese Omelet
A quick and easy asparagus goat cheese omelet that's both healthy and delicious to whip up for breakfast or for dinner!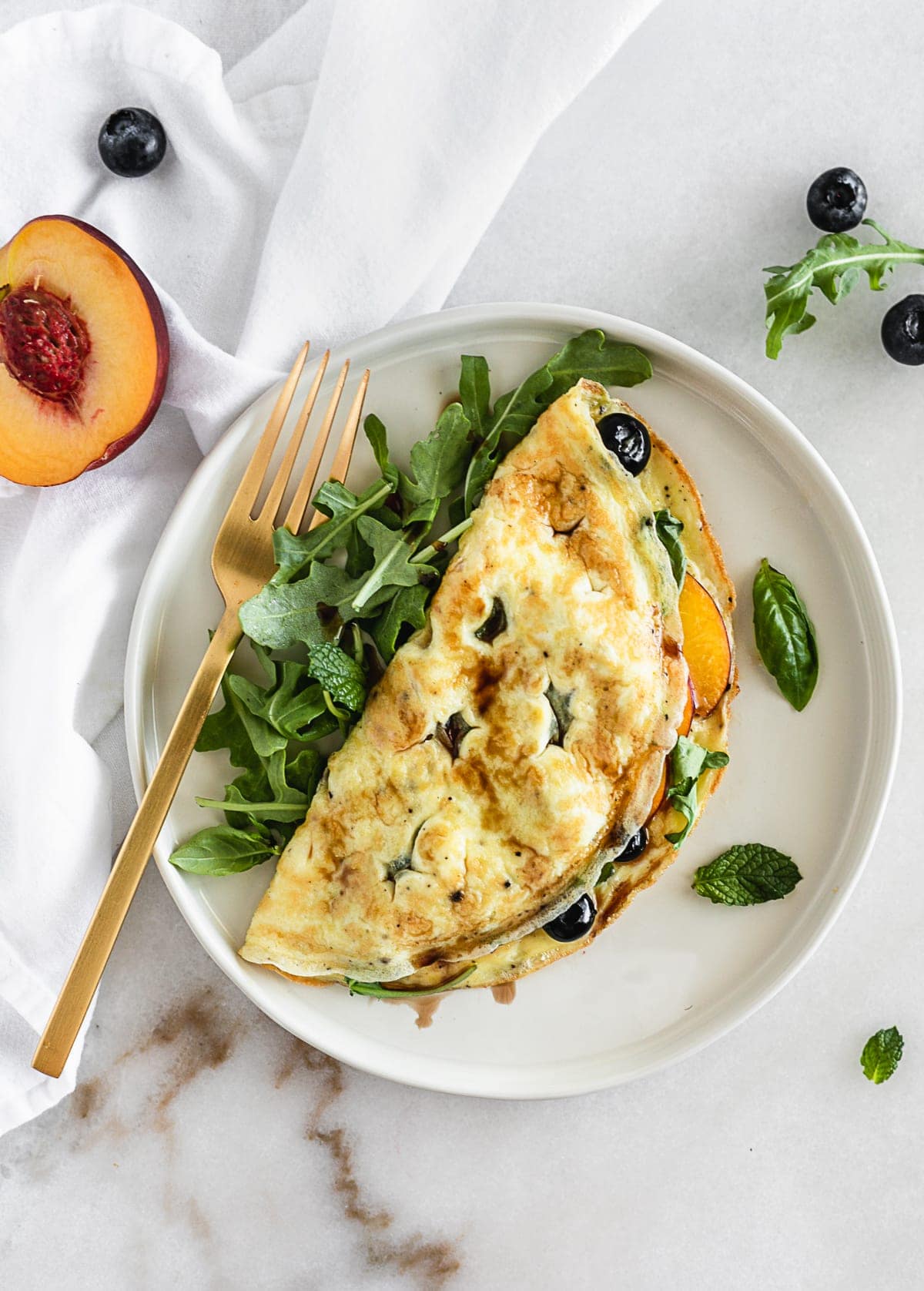 Peach, Blueberry and Arugula Omelet
Try this unexpected peach, blueberry, and arugula omelet is an easy, healthy omelet made with summer fruit and spicy arugula for a healthy meal at any time of day!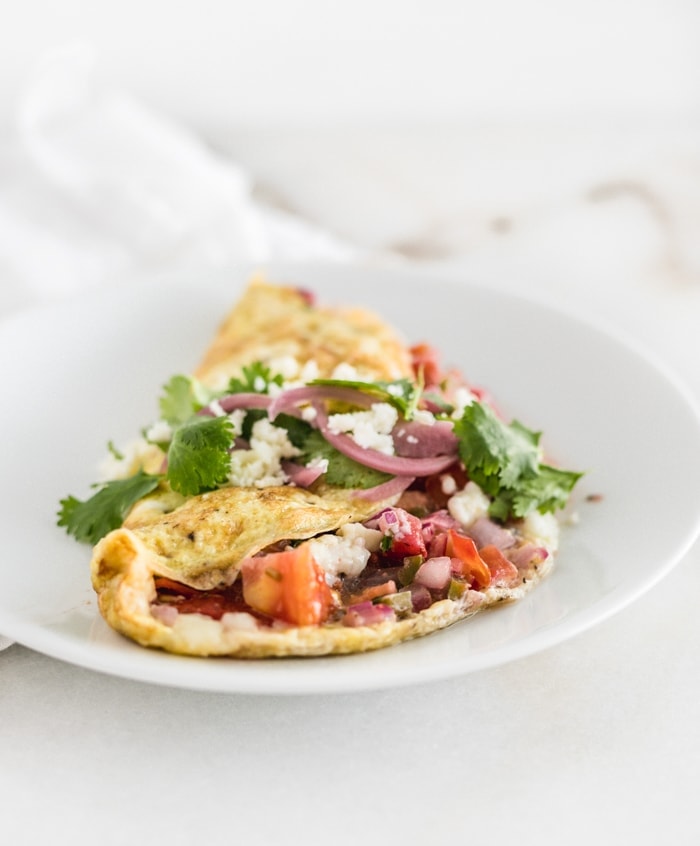 Get creative with a sweet and savory strawberry salsa omelet! It's easy to make and so delicious!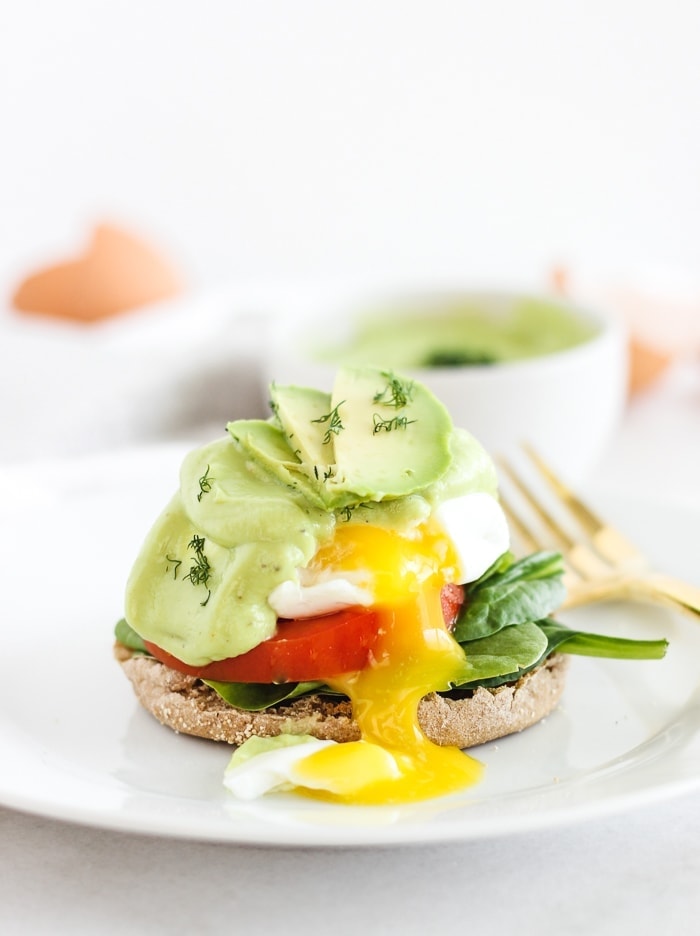 California Eggs Benedict with Avocado Hollandaise
Vegetarian California eggs benedict with avocado hollandaise are a healthier, easier version of the classic eggs benedict breakfast. It's made with whole-grain English muffins, poached eggs, fresh veggies, and a creamy, delicious avocado hollandaise sauce that's so easy to make!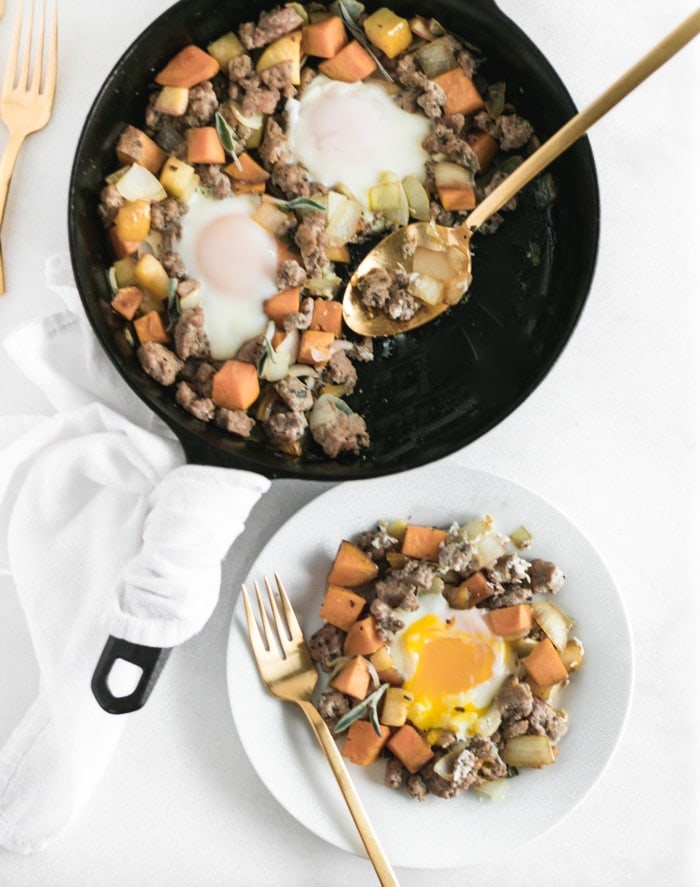 This chicken sausage apple sweet potato hash makes a delicious and easy breakfast, brunch, or dinner!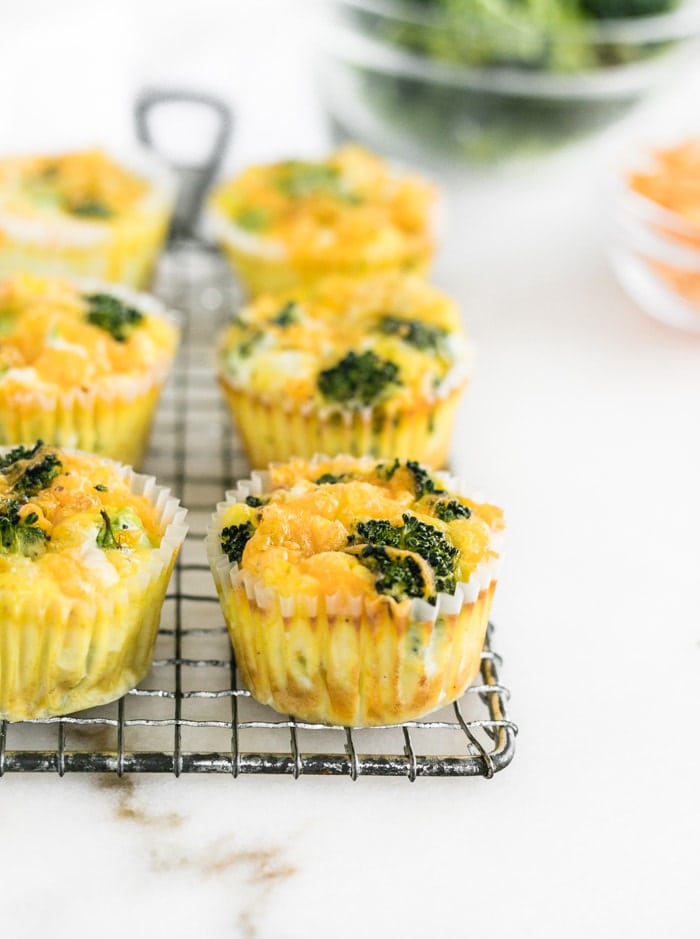 Make-Ahead Broccoli Cheddar Egg Muffins
Easy make-ahead broccoli cheddar egg muffins are full of veggies and protein for a healthy breakfast on busy mornings. This recipe is perfect for weekend meal prep!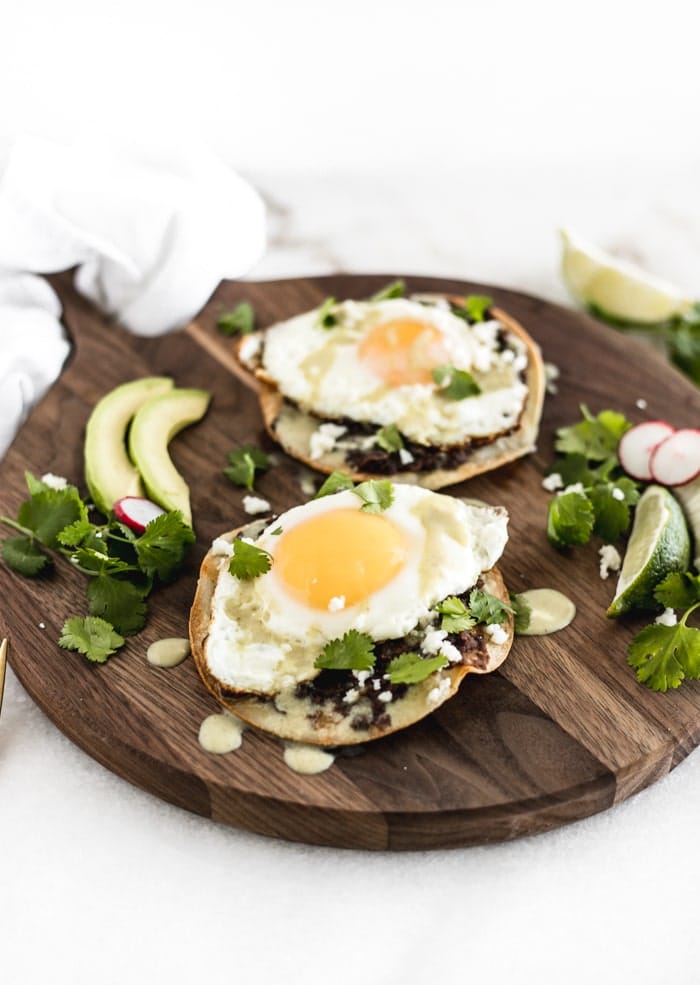 Healthy Huevos Rancheros Tostadas
These delicious, healthier huevos rancheros tostadas are a tasty change-up to spice up your weekend breakfast or brunch! They are a great use for leftover beans.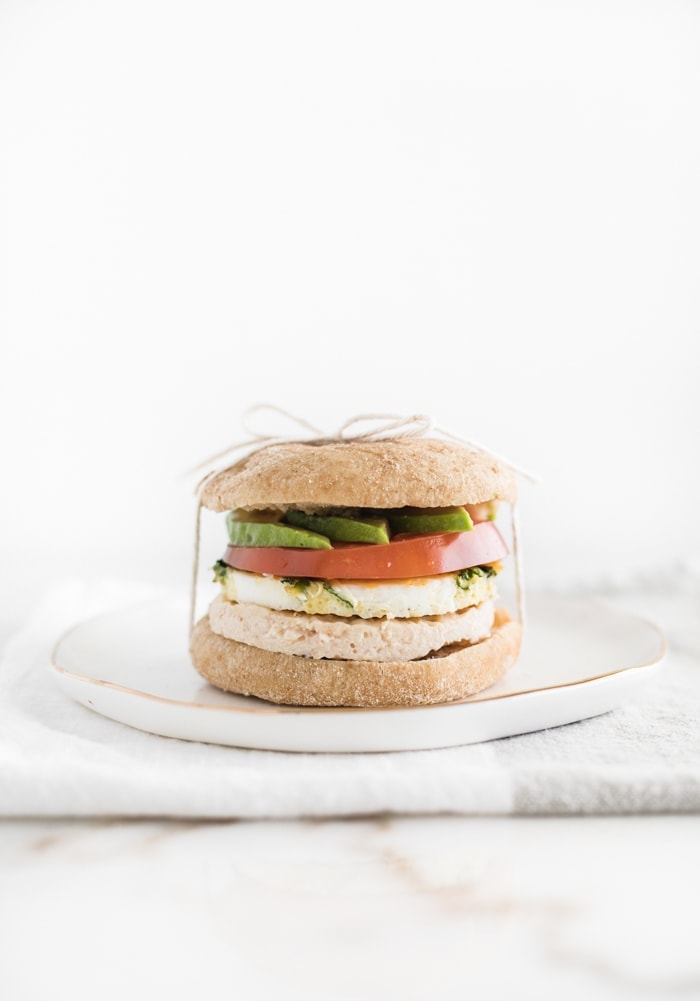 Healthy Meal Prep Breakfast Sandwiches
These healthy meal prep breakfast sandwiches with spinach, eggs, turkey sausage, and whole-grain English muffins are the perfect quick, easy, and nutritious breakfast to fuel your busy mornings!
What are your favorite ways to use eggs?