This red berry sangria is a delicious summer cocktail to share with friends, loaded with the free-radical fighting power of antioxidants! Plus I'm answering the question, 'Is wine healthy?'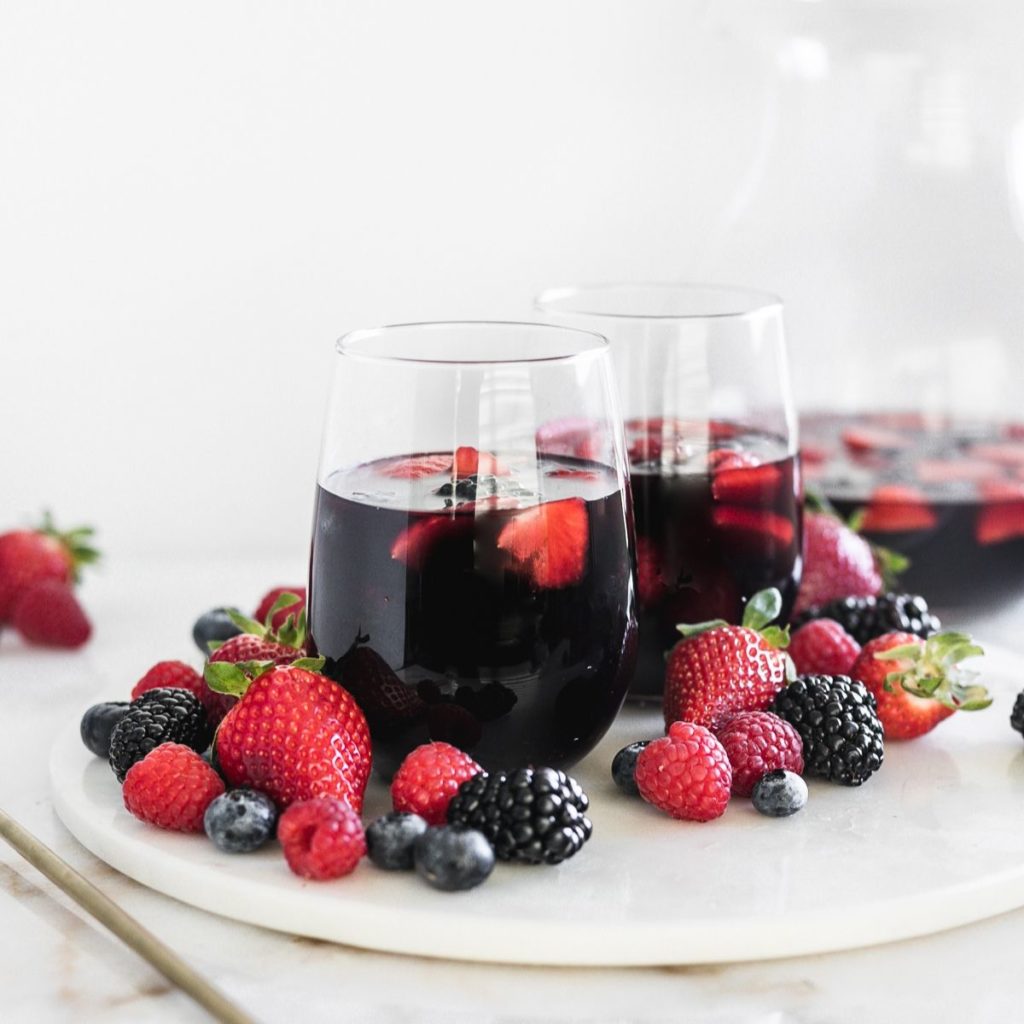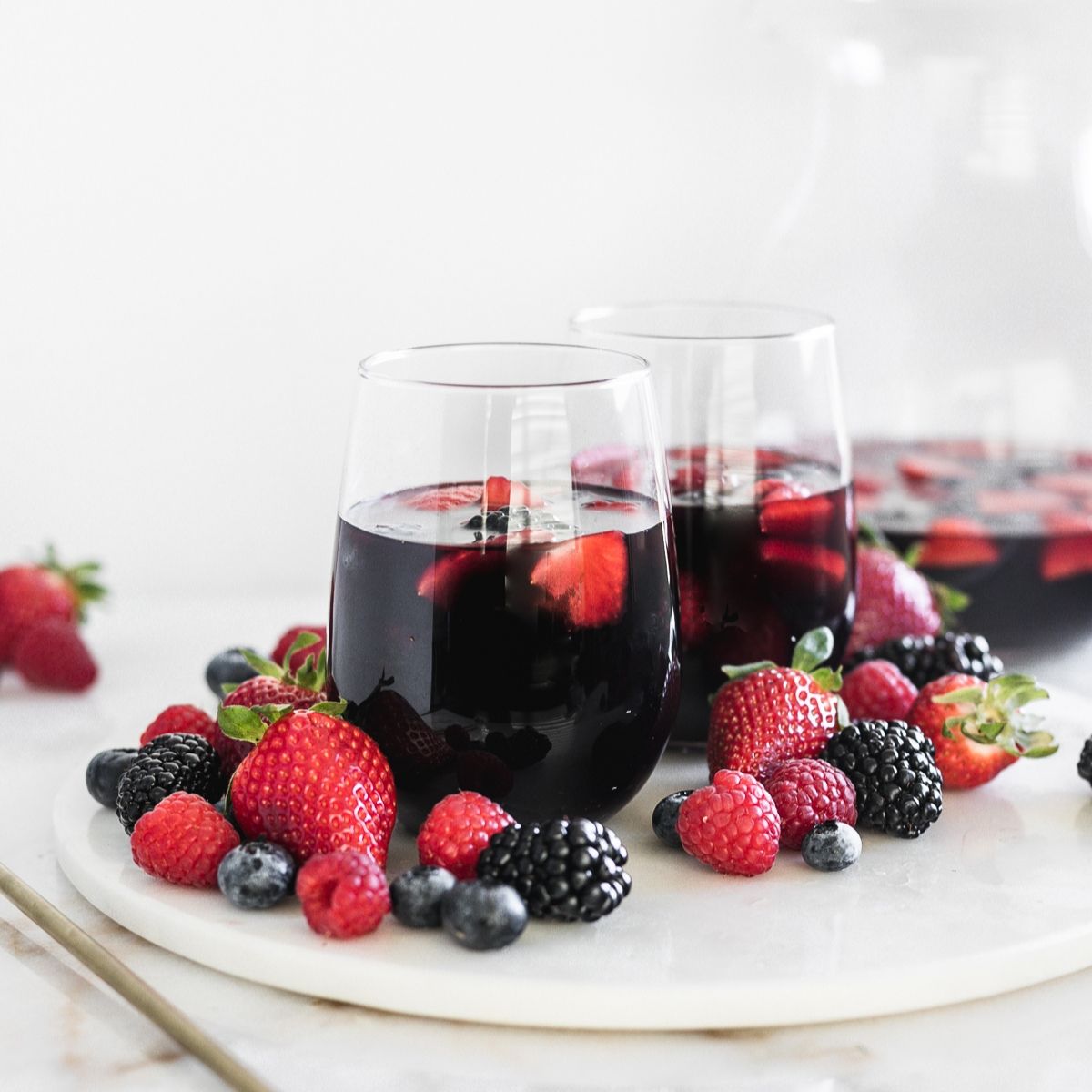 This post was originally published May 2016 and has been updated.
If you've been around here for a while, you know I love a glass of wine in the evening. If you also love wine, welcome, and I'm raising a virtual glass to you! You may have read headlines that red wine is healthy, or that any alcohol is healthy, or the alcohol is unhealthy. Nutrition research (and especially nutrition reporting) is confusing that way. To clear the air, I'm answering the question, "Is wine healthy?" based on the current evidence. And as with every headline, there is usually more to the story and it will benefit you to do your research to make an informed decision for you, because one size does not fit all when it comes to nutrition!
And because I love my wine, and I like you guys, I've created a very summer-appropriate red berry sangria that combines the antioxidant power of red wine with the antioxidant power of berries and pomegranate juice, so that you can get your daily dose of antioxidants while you're sharing a drink with your family and friends this summer!

Is Wine Healthy?
That's kind of a loaded question. When it comes to wine (and alcohol in general), it's a double-edged sword. Moderate consumption is often associated with benefits, while heavy consumption is associated with negative outcomes. So keep that in mind now and any time you read headlines about alcohol. The American Heart Association recommends no more than one drink a day (5 oz of wine) for women or two drinks a day for men (10 oz of wine).
Wine, a fermented beverage made from the flesh and skins of grapes, contains alcohol (obviously), plus vitamins and minerals that may not be present in other fermented drinks. Woo! Wine also contains many polyphenols, including phenolic acids, stilbenes (the one you may have heard of is called resveratrol), and flavonoids. These compounds act as antioxidants, which protect against cell damage. In fact, red wine provides more antioxidants than fruits and vegetables, although the bioavailability of each is still unknown. (White wine, rose and champagne have small amounts of these compounds, too.)
There is strong evidence that mild to moderate daily alcohol intake reduces all-cause mortality (death), and especially reduced mortality from heart disease, versus non-drinkers and heavy drinkers.
Moderate consumption of alcoholic beverages, including wine, has been shown to protect against hypertension, atherosclerosis and heart attacks. In the case of wine, the cardioprotective effects are due to multiple mechanisms in the body, not only from the alcohol but also from the polyphenols (antioxidants).
Even more awesome for heart health, moderate wine drinking has been shown to increase blood concentrations of omega-3's (EPA and DHA) in patients with cardiovascular disease, comparable to consuming fish.
Research on the neuroprotective effects of wine is still evolving, but in some recent studies, moderate alcohol consumption was associated with a lower risk of dementia, and the risk of cognitive decline and Alzheimer's disease was significantly lower. This is thought to be due to alcohol's cerebrovascular effects, as well as from the effect of antioxidant polyphenols, such as resveratrol present in red wine.
Resveratrol is thought to protect against various neurological disorders in experimental models, including brain ischemia, seizures, and neurodegenerative disease models such as Alzheimer's, Macular Degeneration and Parkinson's Disease.
Finally, new research suggests that the polyphenols in red wine may improve gut health, though studies are currently lacking in this area.
And finally, drinking too much is associated with worse health outcomes, including liver disease, some cancers (including breast cancer), high blood pressure, stroke, depression, and alcoholism. Moderation is key!
Of course, drinking is not for everyone (obviously those who are underage or pregnant) and it's a personal choice. If you don't drink, the AHA recommends you don't start. But if you are feeling guilty about your glass of wine each night, don't.

How To Make Easy Red Berry Sangria (With Tons Of Antioxidants!)
Sangria is super easy to make:
Place the (washed) berries in the bottom of a pitcher.
Add the wine, pomegranate juice and orange or raspberry liqueur (or brandy, if you prefer).
Let it marinate in the fridge for a bit. Anywhere from a couple of hours to overnight is just fine!
Top with a little sparkling water if you like, or drink it still. Cheers!

Which Wine Should I Use For Sangria?
That question is completely dependent upon your taste, budget, and what you have on hand, but a few suggestions:
Choose something dry with fruity notes that has good acidity. Avoid wines with heavy tannins or oaken notes.
Don't use your most expensive bottle, but do use something you enjoy on it's own. (Although if you opened a bottle and you don't love it, sangria is a great use!)
Spanish, Italian, and South American varietals are great for red sangria, such as Tempranillo, Malbec, Garnacha, Primitivo, and Bonarda. A Zinfandel or light, fruity red blend are also perfect if you don't want to get too specific.

More Sangria Recipes You'll Love
Did you make this recipe? Please leave a star rating in the comments!
Print
Easy Red Berry Sangria
This red berry sangria is a delicious summer cocktail to share with friends, loaded with the free-radical fighting power of antioxidants!
Author: Kaleigh
Prep Time:

5 minutes

Cook Time:

0 minutes

Total Time:

5 minutes

Yield:

6

drinks

1

x
Category:

cocktail

Method:

no cook

Cuisine:

American
2 cups

fresh mixed berries (sliced strawberries, blueberries, blackberries and/or raspberries)

1

bottle (750 ml) red wine

½ cup

orange liqueur (you can also use raspberry liqueur or brandy)

½ cup

100% pomegranate juice

1 cup

sparkling water (optional)
Ice
Instructions
Place berries in the bottom of a large pitcher.
Add wine, orange liqueur and pomegranate juice. Stir to combine.
Refrigerate until ready to serve, ideally at least two hours or overnight.
If you're using sparkling water, add it just before serving, or top each individual glass with a splash.
To serve, fill glasses halfway with ice. Pour sangria and fruit over the top.
Notes
This recipe is very flexible. Use the ingredients you have on hand!
You can make this sangria a day in advance. The longer the sangria sits in the refrigerator, the more the flavors will meld and mellow, and the berries will soak up more booze.
My favorite reds to use for sangria are Tempranillo, Malbec, Zinfandel, or a dry but fruity red blend.
Keywords: red wine sangria, berry sangria, easy red sangria recipe
Resources:
https://www.ncbi.nlm.nih.gov/pubmed/10940346

https://www.ncbi.nlm.nih.gov/pubmed/30487561

https://academic.oup.com/eurheartj/article/28/14/1683/2887413

https://www.heart.org/en/healthy-living/healthy-eating/eat-smart/nutrition-basics/alcohol-and-heart-health