In this installment of Fridge Foraging, I make creamy coconut turmeric overnight oats, an easy omelet with strawberry salsa, a summery cobb salad, and a salmon peach grain bowl.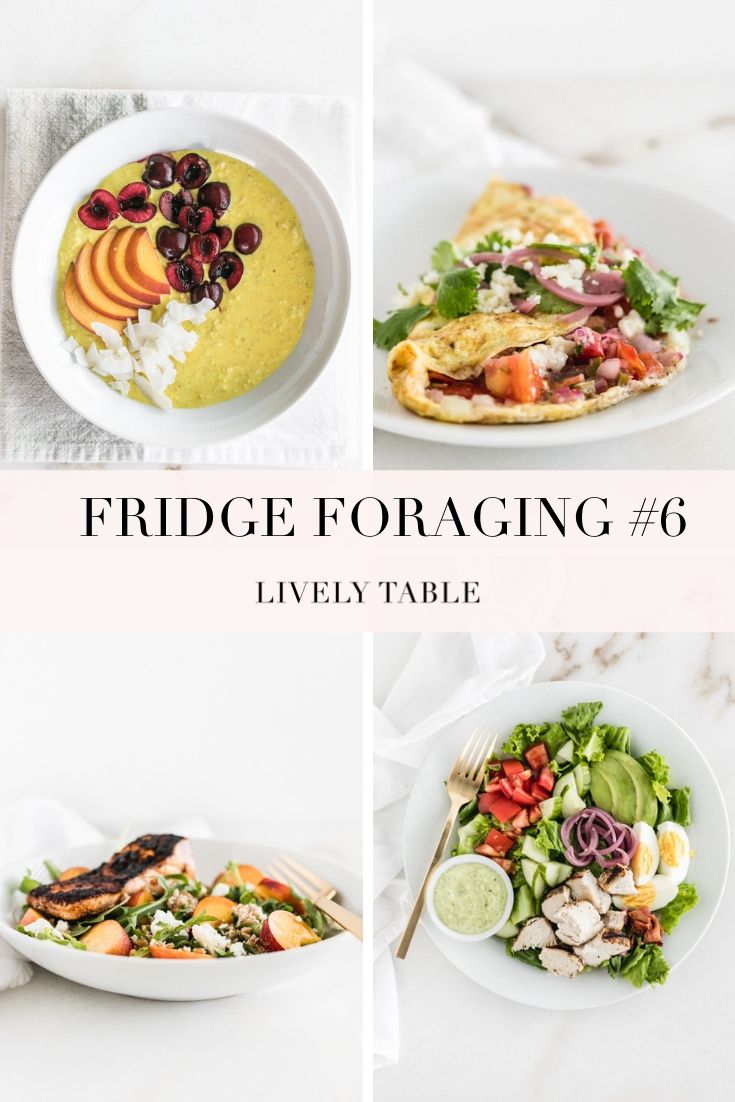 Fridge foraging this month has been fun! Summer months are always so easy and inspiring for me since the fresh produce is so tasty that you don't need to do much to it to make a delicious meal. That also means I usually get over-ambitious at the store and buy a little too much of it, making it a race against the clock to use all of my fresh fruits and vegetables before they go bad.
Here is what I made while Fridge Foraging this month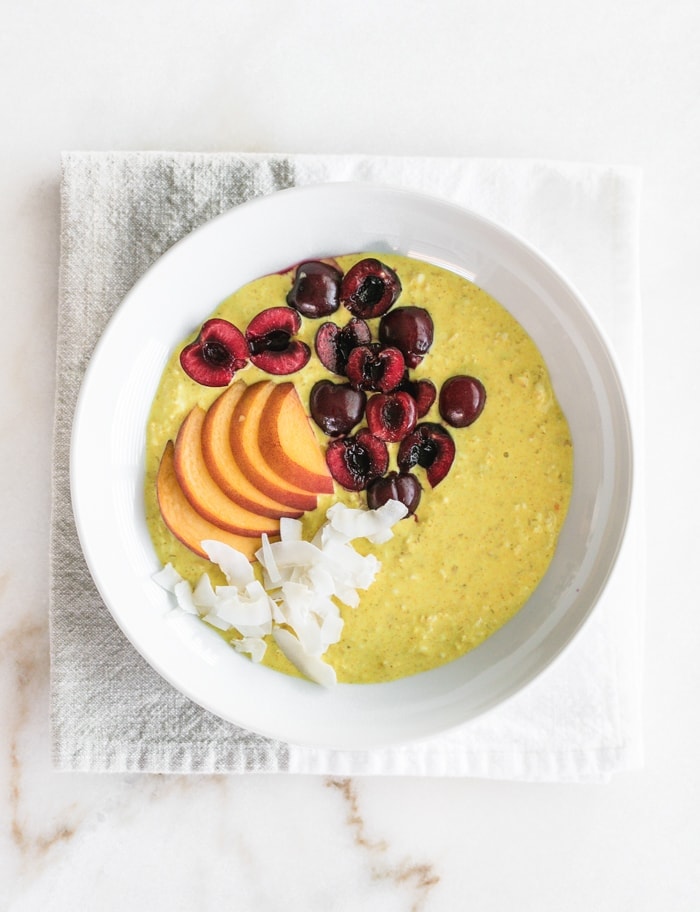 Coconut Turmeric Overnight Oats
I made my spicy coconut chicken one night (so good!) and had leftover coconut flavored Greek yogurt, so I decided to put it to good use as a make ahead breakfast. I have enough turmeric to last me a decade thanks to all the samples I receive as a blogger, so I'm always trying to come up with more way to use it. To make the overnight oats, I just combined the following in a jar with a lid, then placed in the fridge overnight to enjoy in the morning topped with fresh fruit:
1 container coconut greek yogurt

¾ cup milk (any kind works)

½ cup rolled oats

1 tablespoon ground flaxseed

½ teaspoon ground turmeric

¼ teaspoon ground ginger

Strawberry Salsa Omelet
While recipe testing one night, I ended up with half of the grilled tomato and about ¼ cup strawberry salsa. I could have made a taco or some kind, but I decided to get creative with a sweet and savory omelet! It was a little unexpected but so delicious! To make it:
Whisk together 2 large eggs, a splash of water, salt, and pepper.
Pour in a lightly oiled, small nonstick skillet. Let cook over low heat, untouched until eggs are almost set.
On one-half of the eggs, add ¼ cup strawberry salsa, half of a diced grilled tomato, and a sprinkle of queso fresco.
Fold the other side of the eggs over the side with the filling. Continue cooking until eggs are completely set. Top with cilantro, pickled onions, and more cheese.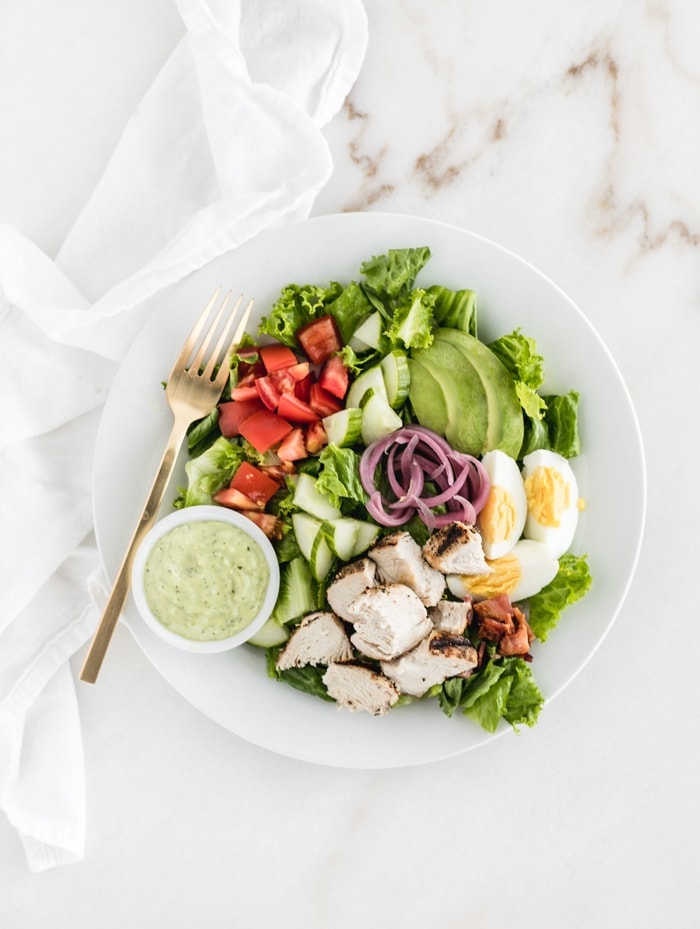 Green Goddess Cobb Salad for 2
More recipe testing is to blame for this salad. I created a green goddess dressing (I'll be sharing the recipe soon!) and have a whole jar in my fridge with no plan for it. I also had 2 heads of lettuce - romaine and green leaf- sitting in the veggie drawer wilting, so I decided I needed to make some big salads for dinner! I'd also made a jar of pickled onions a while back that I've been very slowly making a dent in (see omelet above), so I decided to take some inspiration from Panera's Green Goddess Cobb and make that for dinner one night. It turned out delicious! Here's what all went on this yummy summer salad:
1 head chopped green leaf lettuce
1 tomato, diced
½ avocado, sliced
1 slice bacon, chopped
½ cucumber, sliced
1 grilled chicken breast, sliced
2 boiled eggs, quartered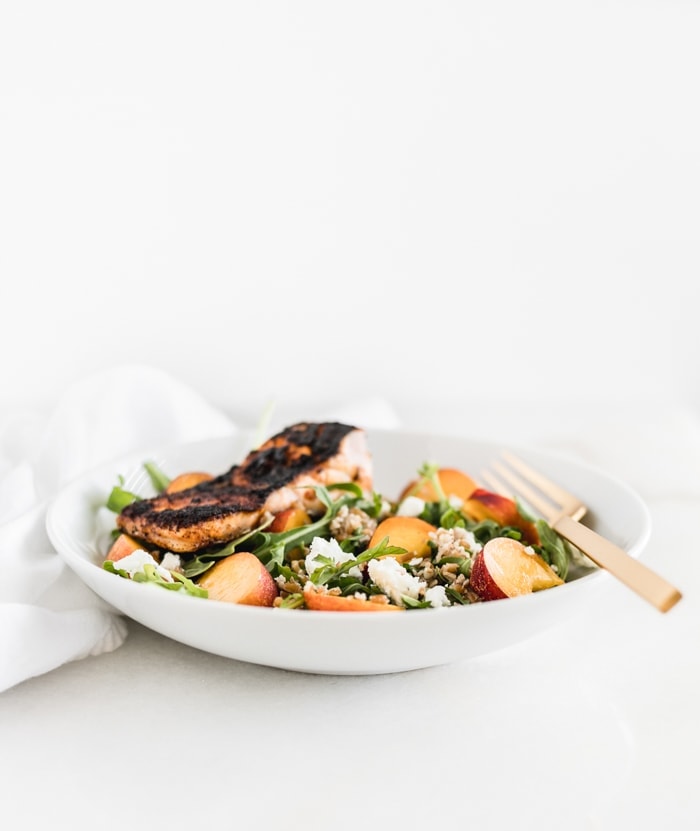 Salmon Peach Grain Bowl
A leftover batch of cooked bulgar wheat has been inspiring me to make all kinds of summer grain bowls for lunch! I topped this one with leftover blackened salmon for extra protein. Here's what went into this salmon peach grain bowl:
½ cup cooked bulgur wheat
Large handful arugula
1 donut peach, sliced
1 tablespoon goat cheese, crumbled
Leftover blackened salmon
Squeeze of lemon
That's it for this month! What have you been making with your leftovers? Let me know in the comments!