Vegetarian California Eggs Benedict with Avocado Hollandaise are a healthier, easier version of the classic eggs benedict breakfast, made with whole grain English muffins, poached eggs, fresh veggies, and a creamy, delicious avocado hollandaise sauce that's so easy to make! (vegetarian, dairy-free, nut-free)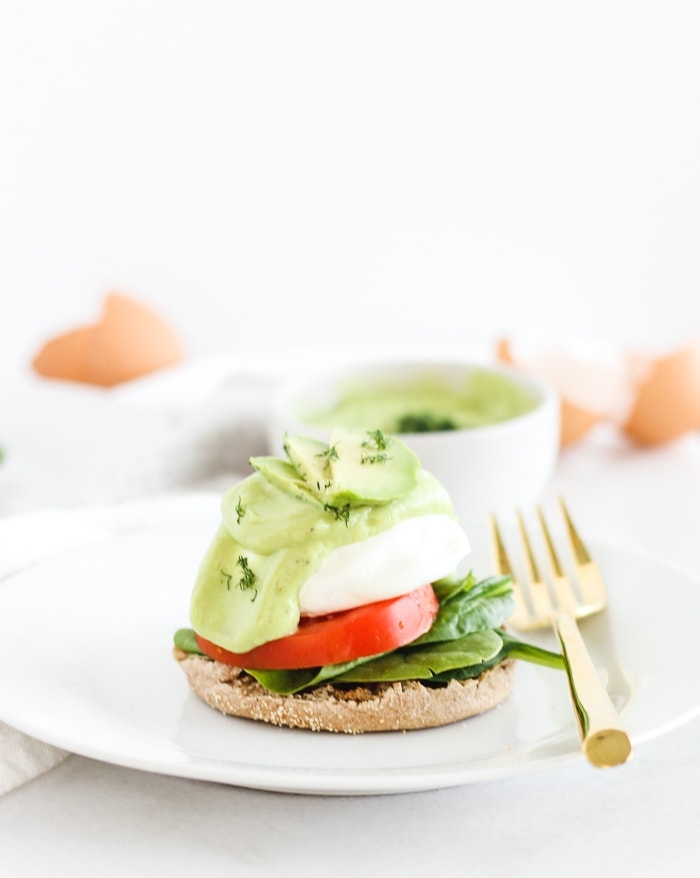 I'm a huge fan of eggs benedict. I get that from my dad. To me, there's nothing better than a runny poached egg oozing onto a toasty English muffin topped with a creamy, savory sauce! Are you drooling yet?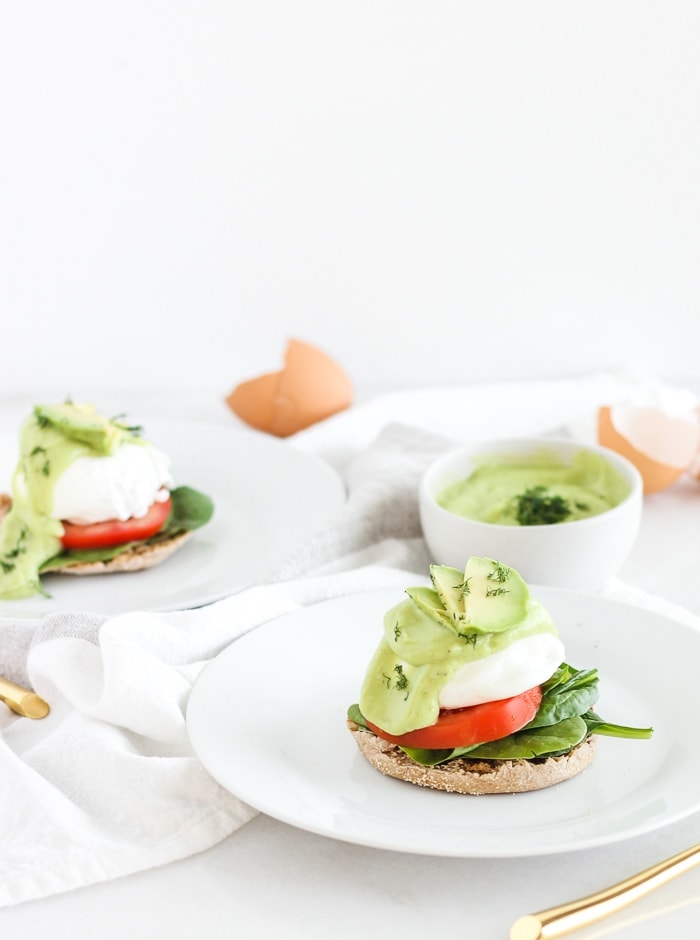 But I'm also not a big fan of breakfast meats. I'll eat homemade venison or turkey sausage every once in a while, or ham if I'm feeling it, but for the most part, I'd rather just leave the meat out of breakfast. Whether sweet or savory, I'm more of a fruit and veggie kind of breakfast gal.
This delicious California eggs benedict with avocado hollandaise combines the best of both worlds for me. Fresh veggies, and a toasty whole grain English muffin with oozing poached eggs and a creamy, dreamy sauce. Brunch just doesn't get any better!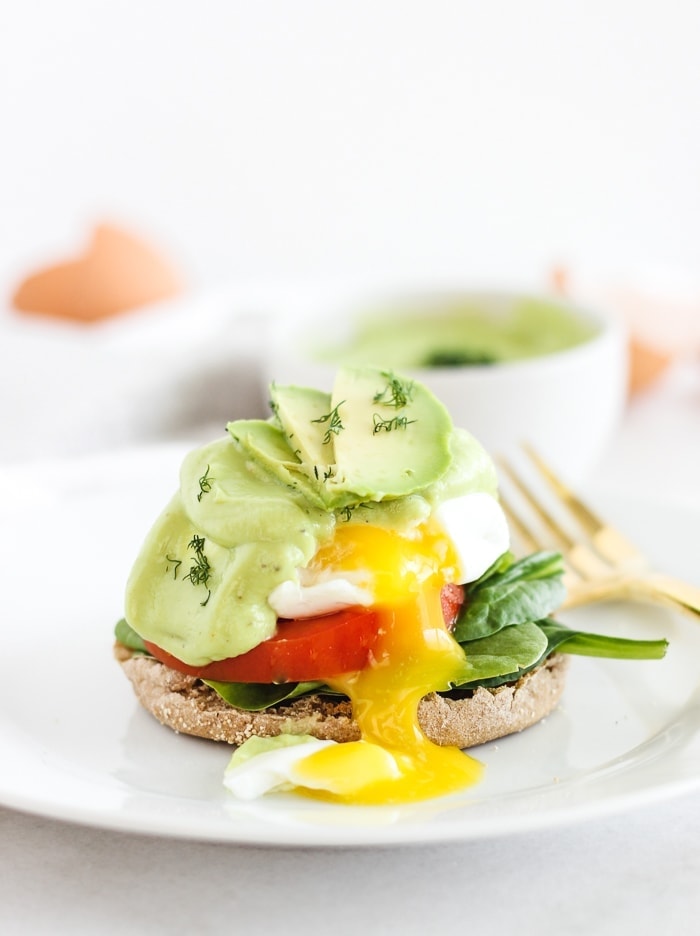 Except that it does. Because this California eggs benedict is super easy to make! Besides poaching the eggs, which takes some practice to master, everything else in this recipe is very straight forward. Especially the avocado hollandaise sauce.
No eggs benedict is complete without a delicious hollandaise sauce. And don't get me wrong, I love a good traditional hollandaise. But it does take some work to make. And especially these days, girlfriend doesn't have time (or enough hands) for all the whisking and keeping warm involved in making traditional hollandaise. So avocado hollandaise it is! (because honestly, what's not better with avocado?) And it is super easy and super delicious. Just blend about 5 ingredients in a blender, and you're good to go.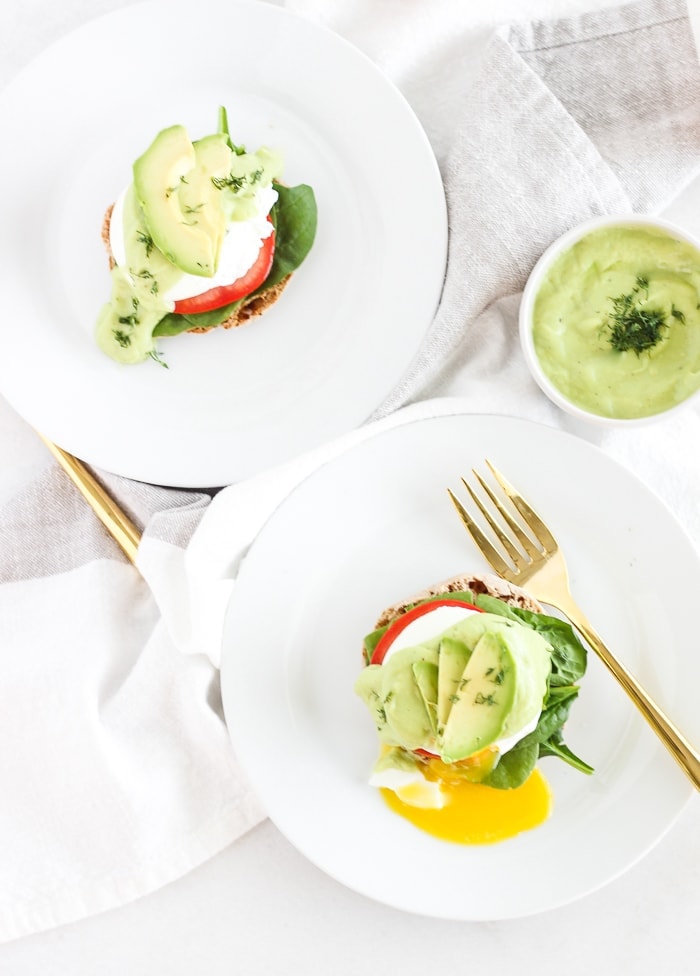 Spoon the delicious sauce right on top of your delicious California eggs benedict, and you've got the most delicious brunch that's healthy, Insta-worthy and easy-peasy. Of course, if you like breakfast meats, feel free to add some crispy bacon or ham to your eggs benny. Happy brunching!
Print
California Eggs Benedict With Avocado Hollandaise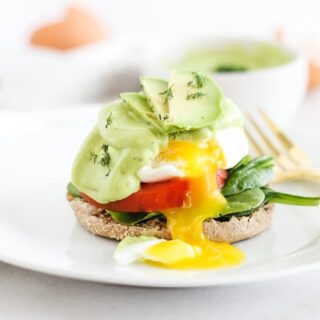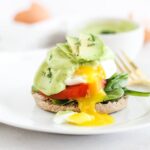 Scale
Ingredients
For the Avocado Hollandaise:
1

small ripe avocado
Juice from

1/2

a lemon
Pinch sea salt
Pinch freshly cracked black pepper
Pinch cayenne pepper

1/4

to

1/2

cup hot water
For California Eggs Benedict:
2

Whole grain English muffins (or gluten-free variety, if necessary)

4

large eggs
White vinegar
Handful baby spinach

1

medium tomato

1/2 cup

avocado hollandaise
Chopped fresh parsley, dill, or chives, for garnish (optional)
Instructions
Place avocado, lemon juice, salt, pepper and cayenne in a blender. Add 1/4 cup of the water. Blend until smooth, adding more water as needed to reach a saucy consistency.
To poach eggs, fill a large saucepan with about 4 inches of water. Add a splash of white vinegar. Heat water to a gentle simmer. Swirl water with a spoon to create a whirlpool, and gently crack an egg into the center. Repeat with a second egg. Cook until whites are done, 3-4 minutes. Remove eggs with the slotted spoon to a plate lined with paper towels. Repeat with remaining eggs.
Half English muffins. Toast and top each half with spinach, a tomato slice, and a poached egg. Spoon avocado hollandaise over the top of each egg. Sprinkle with fresh herbs (optional).
Love this recipe? PIN it!


Recommended tools: