These festive and delicious red, white and blue recipes are perfect for the 4th of July and other patriotic holidays this summer! No dyes, just fresh, delicious, and naturally beautiful.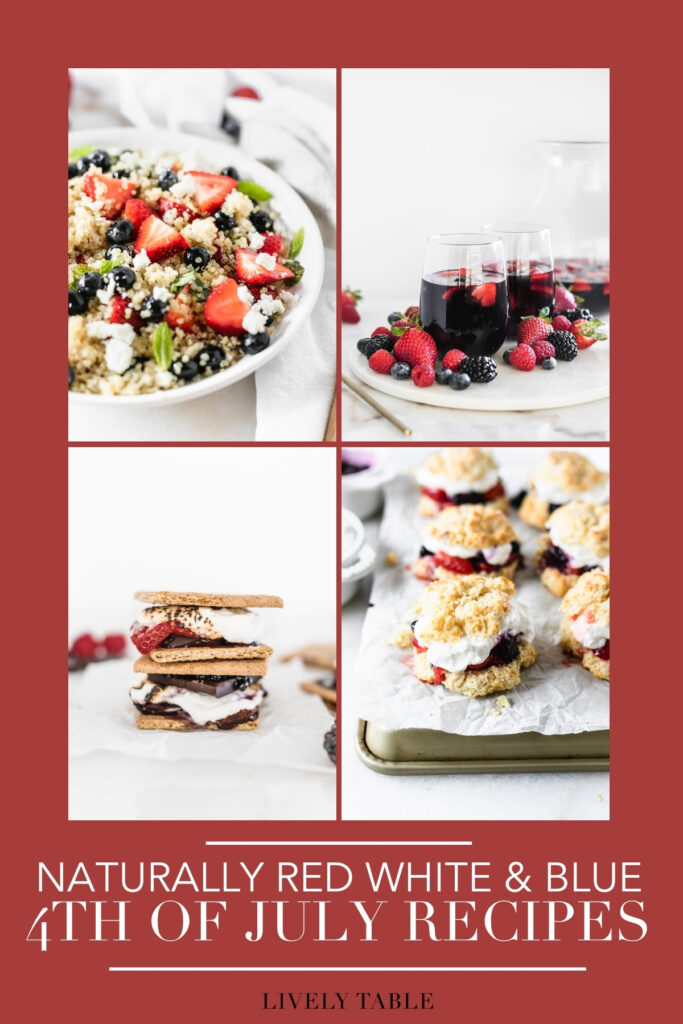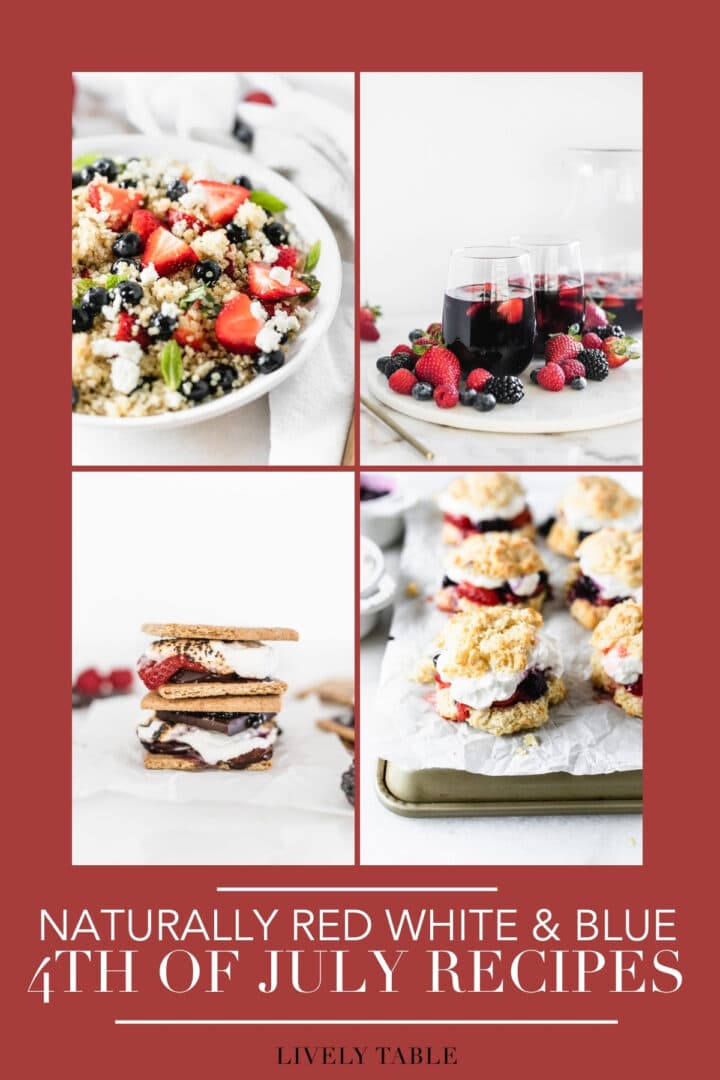 The 4th of July has always been one of my favorite holidays. I love the easy, carefree feeling of a weekend-long summer celebration without the stress and pressure of bigger holidays. And of course, I love the pride of celebrating this great country! Independence Day always brings memories of going to the lake with my family, hanging out on the water, making some delicious barbecue, and shooting off fireworks. I still love celebrating the 4th of July, even though it looks a little different now. But one thing I will always love is a festive, red, white and blue dish! So I've rounded up some fun (naturally) patriotic recipes for you to make for breakfast with your family or to share with friends at a 4th of July cookout.
Naturally Red, White and Blue Recipes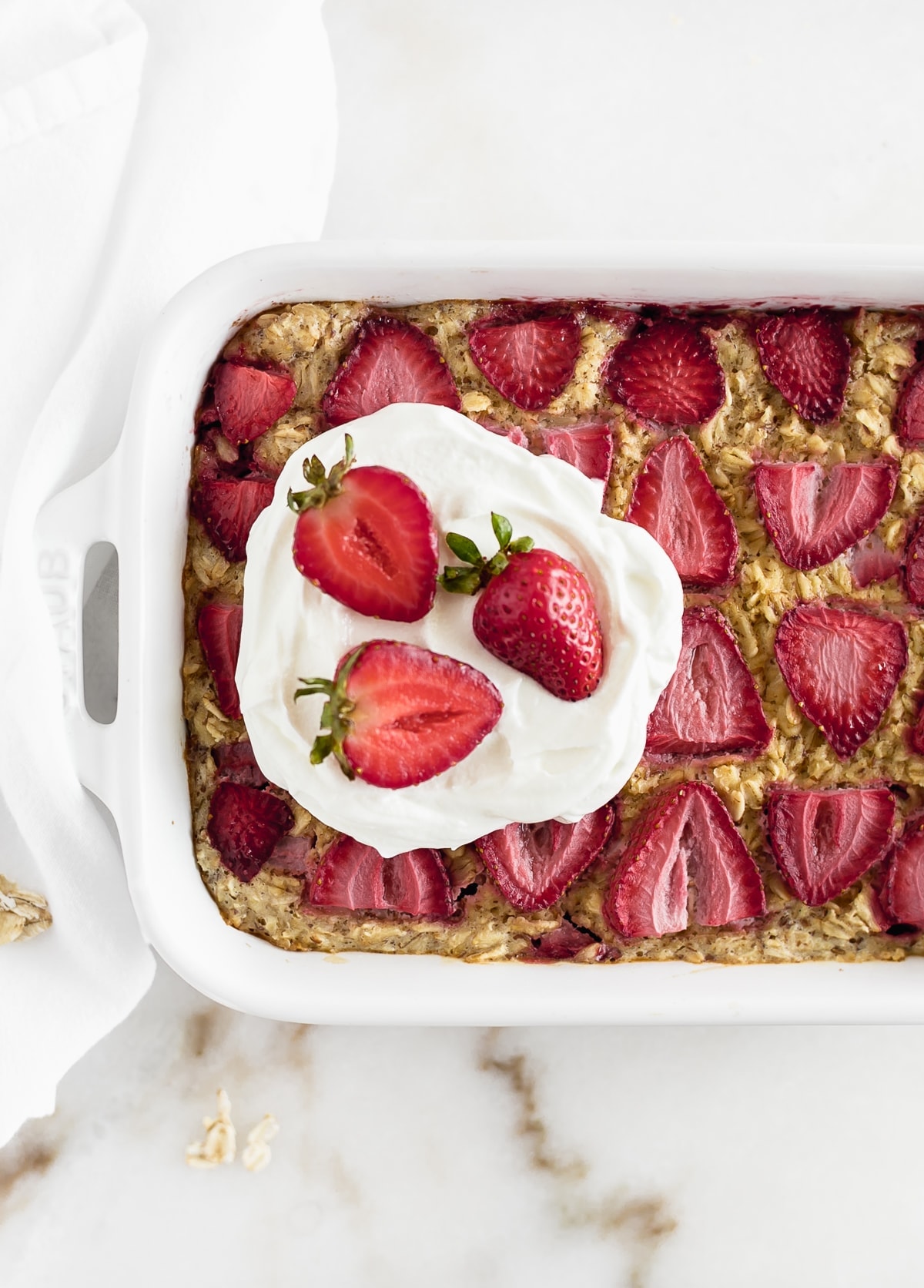 Celebrate strawberry season with this nutritious, lower-sugar strawberry baked oatmeal made with simple ingredients and bursting with strawberries! It's a delicious make-ahead breakfast for busy summer mornings.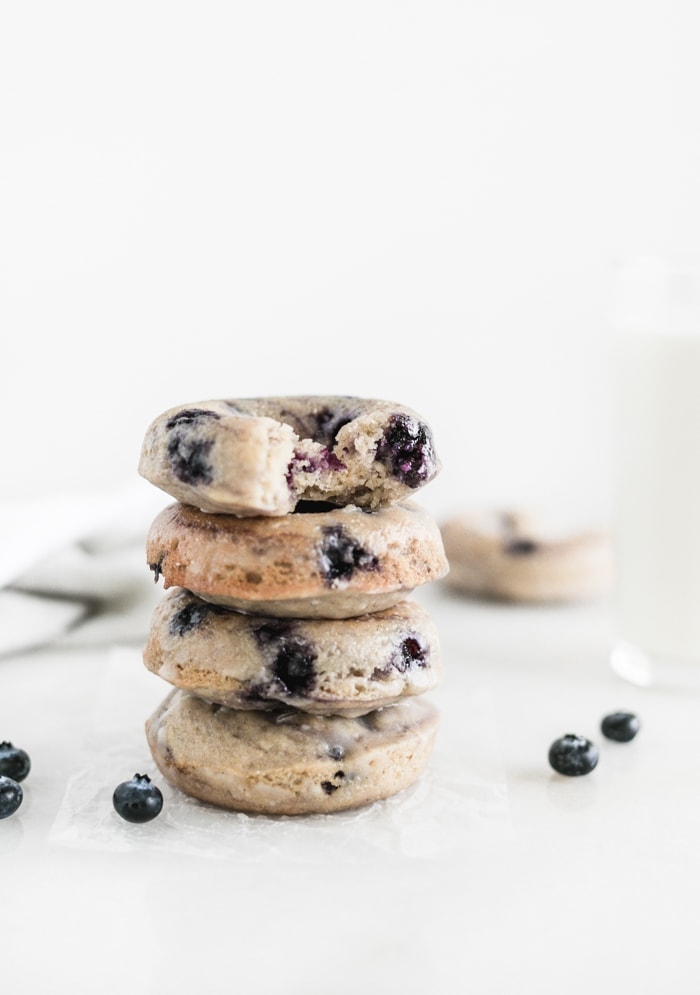 Homemade Blueberry Baked Donuts
These blueberry baked donuts are reminiscent of the classic donut shop blueberry cake donuts but without the mess of frying or trip to the donut store. They're a little bit dense, a little bit fluffy, loaded with blueberries and a hint of nutmeg, all glazed with a sweet glaze.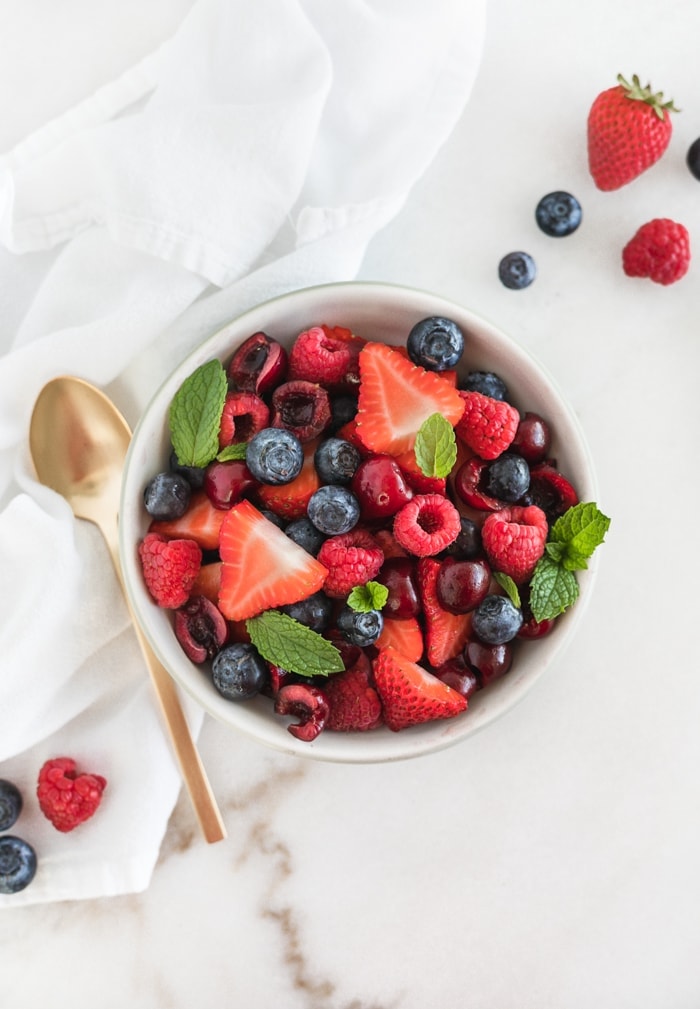 A pretty and patriotic summer fruit salad is the perfect easy summer side dish for all of your summer parties. Make it for Memorial Day, 4th of July, Labor Day, or just because!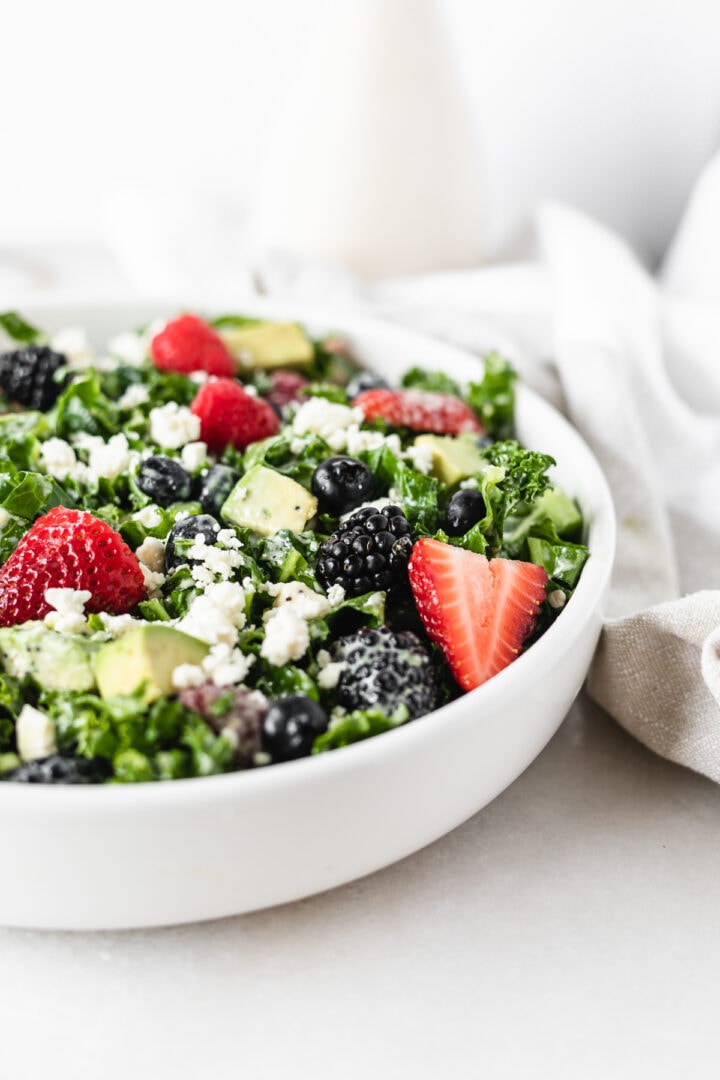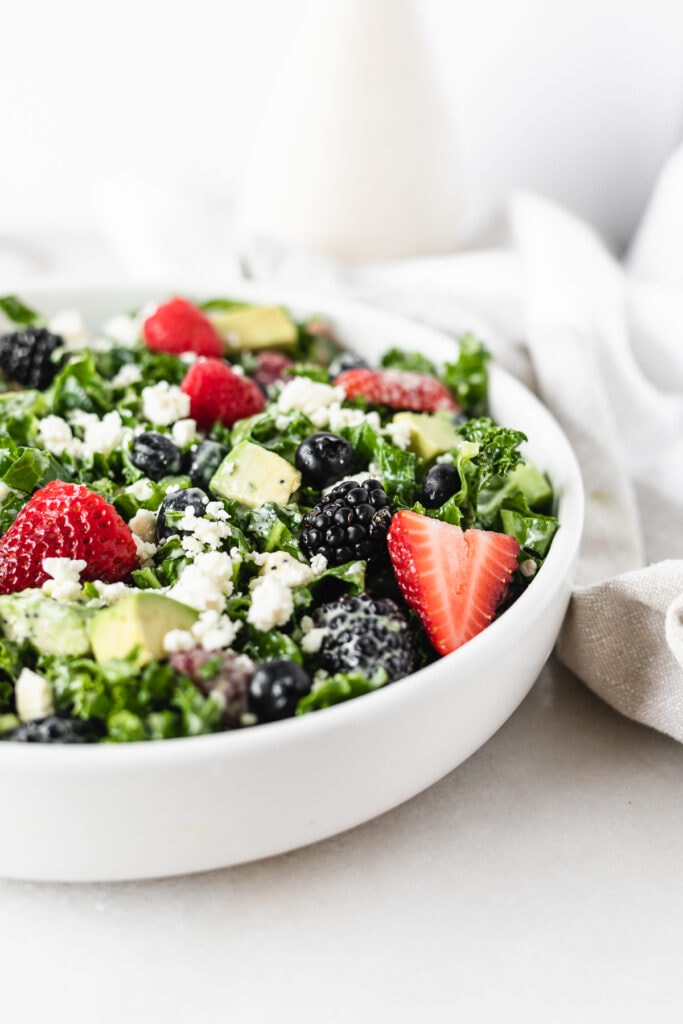 Bursting with tons of berries and creamy avocado, this fresh berry avocado kale salad makes a delicious and healthy summer side dish!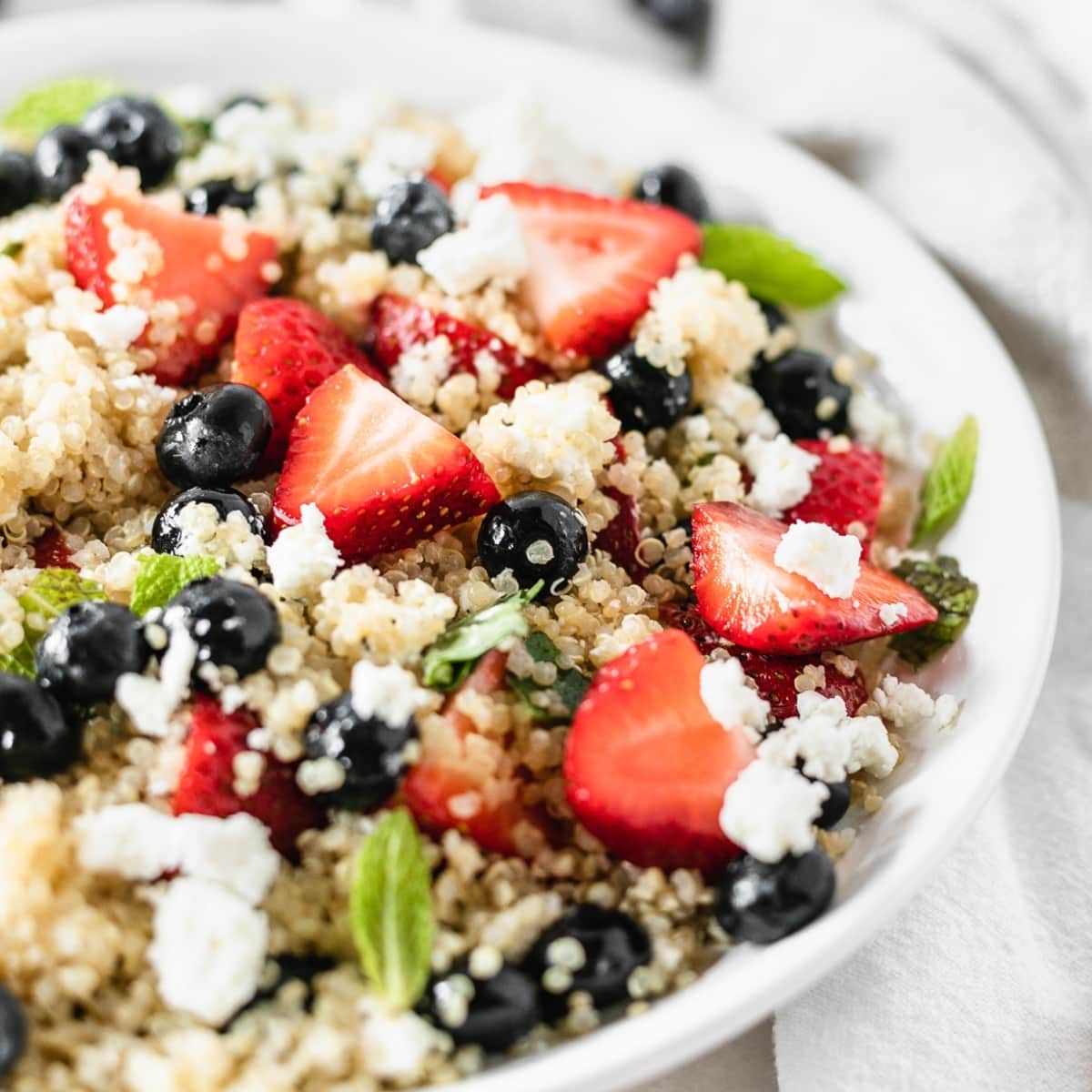 Red, White, and Blue Berry Quinoa Salad
This fun and festive red, white and blue berry quinoa salad is the perfect patriotic side dish to bring to 4th of July parties, and all of your summer cookouts from Memorial Day to Labor Day!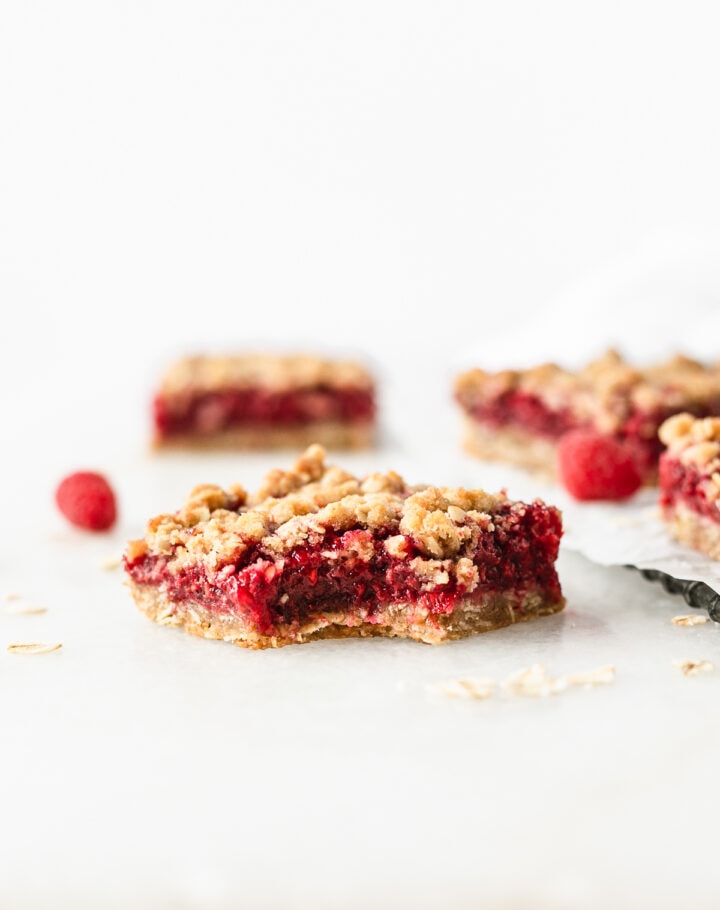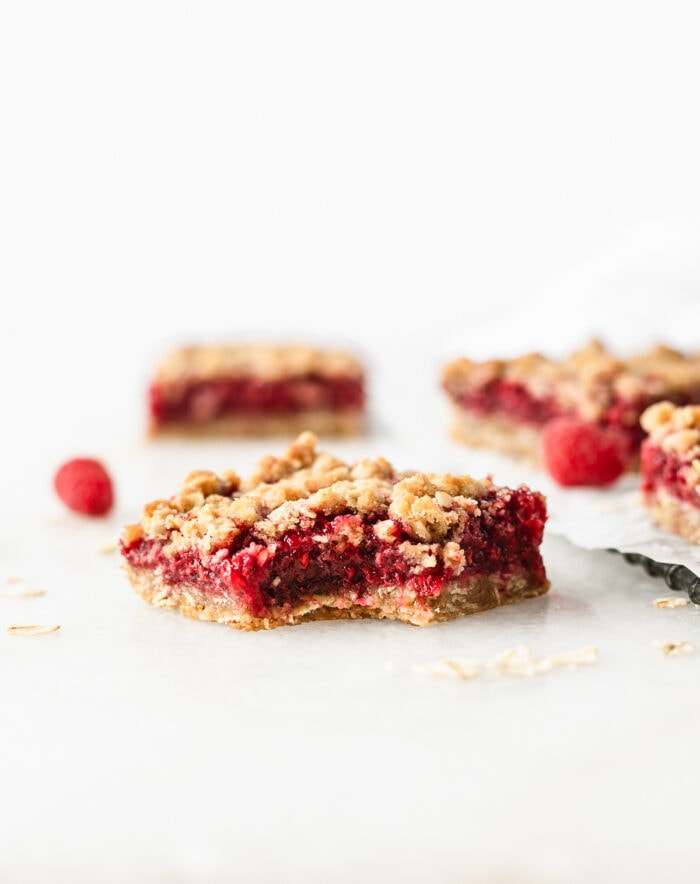 Raspberry Oat Crumble Bars made with real raspberries, whole grain oats and flour are decadent, wholesome, and the perfect simple summer dessert! These dessert bars are simply to die for. I can't decide which part is better, the crumble or the raspberry filling!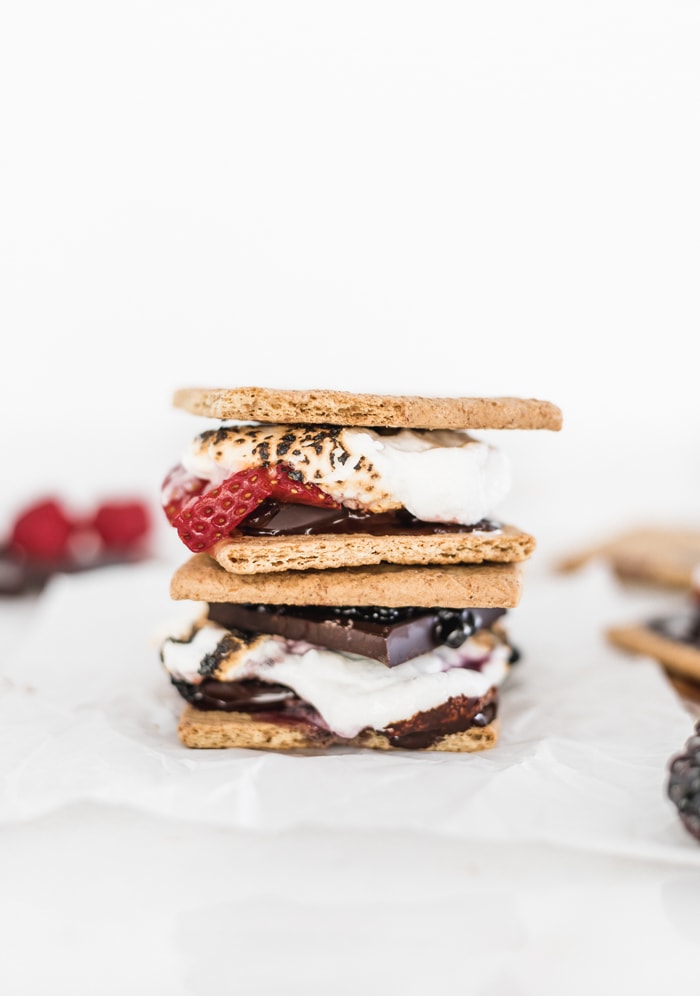 Give your summer s'mores an easy adult upgrade with dark chocolate and berries in these effortless dark chocolate berry s'mores!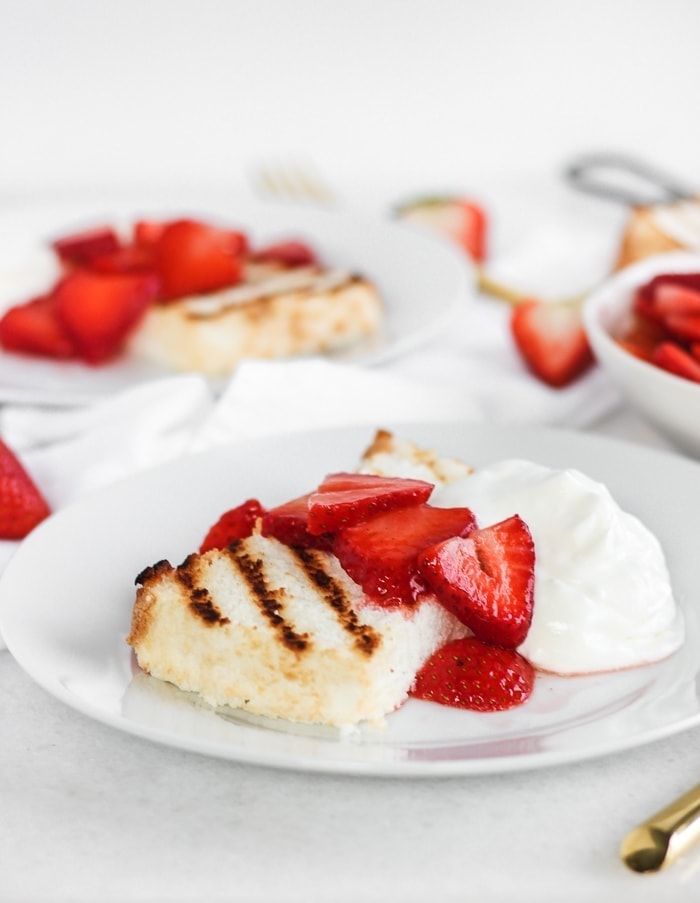 Strawberry and Cream Grilled Angel Food Cake
Fire up the grill for Strawberries and Cream Grilled Angel Food Cake! Light and fluffy angel food cake caramelized on the grill and is topped off with macerated strawberries and fresh whipped cream in this delicious summer dessert!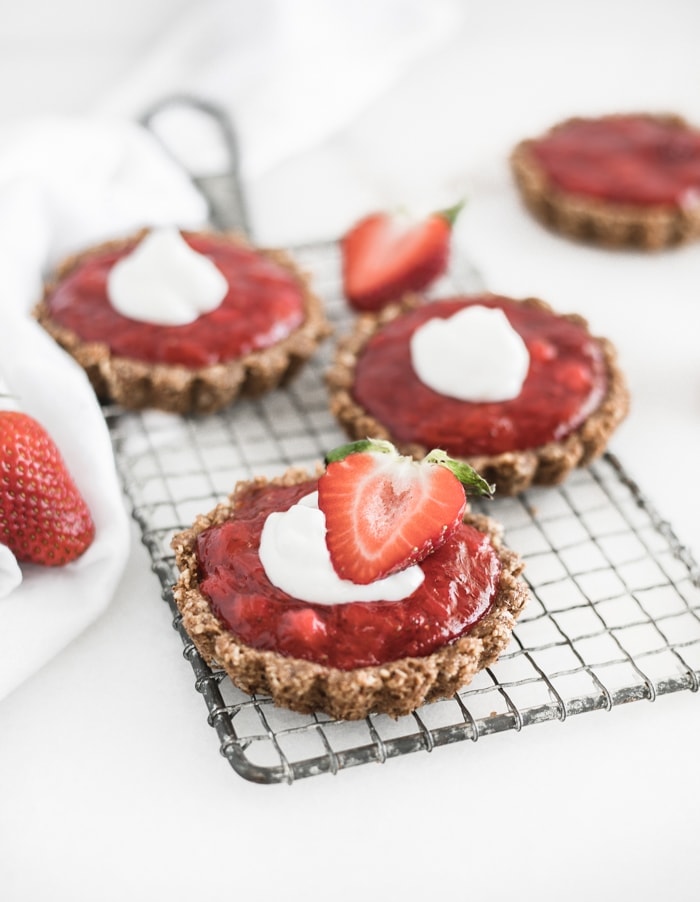 Mini Gluten-Free Strawberry Rhubarb Tarts
Gluten-free mini strawberry rhubarb tarts with a simple pecan crust and a delicious strawberry rhubarb filling are the perfect tiny springtime dessert! These tiny tarts are delicious with a tiny scoop of fresh whipped cream or vanilla ice cream on top.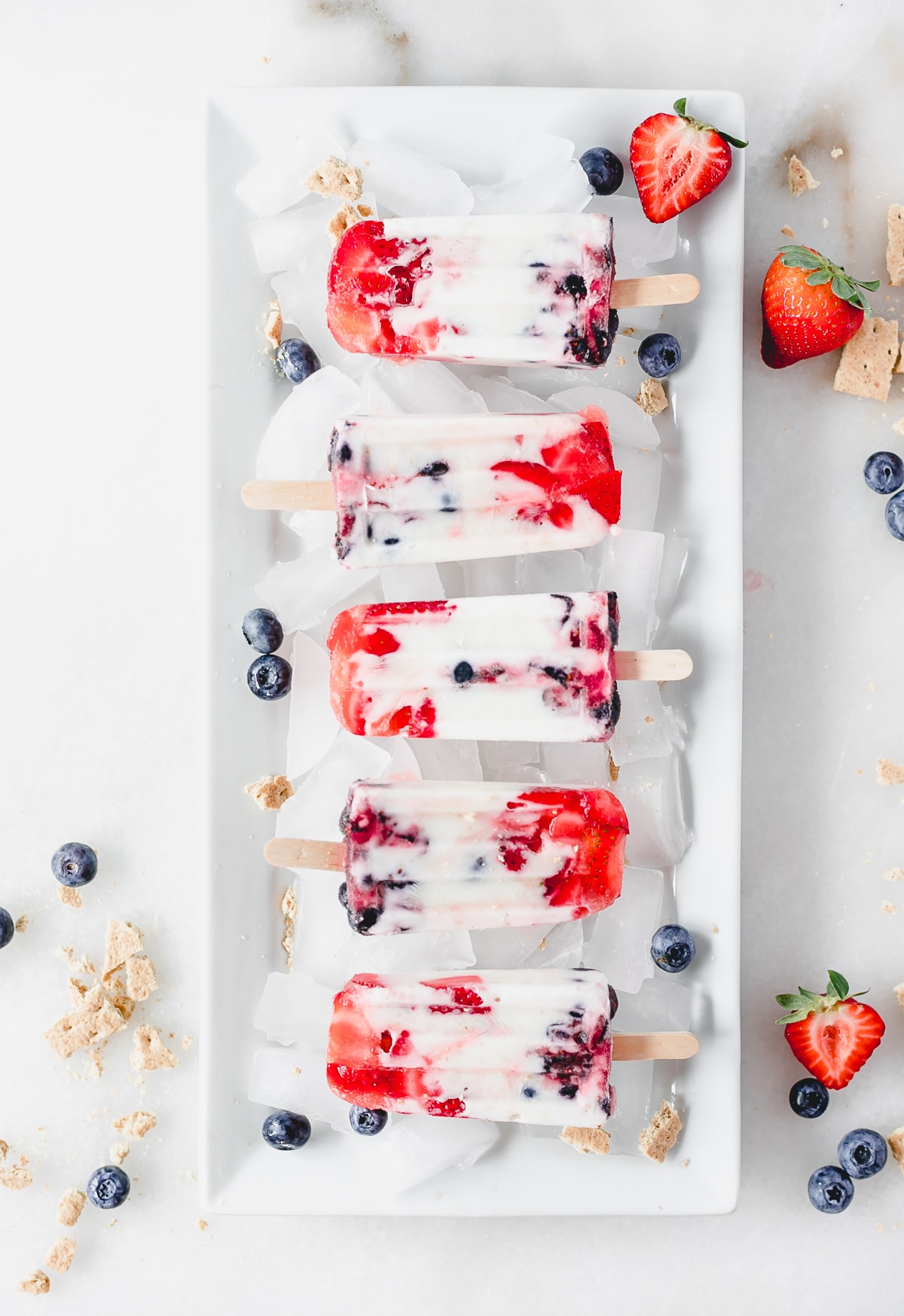 Creamy cheesecake 'bomb pops' with strawberries, blueberries, and Greek yogurt are the perfect healthy frozen treat for the 4th of July!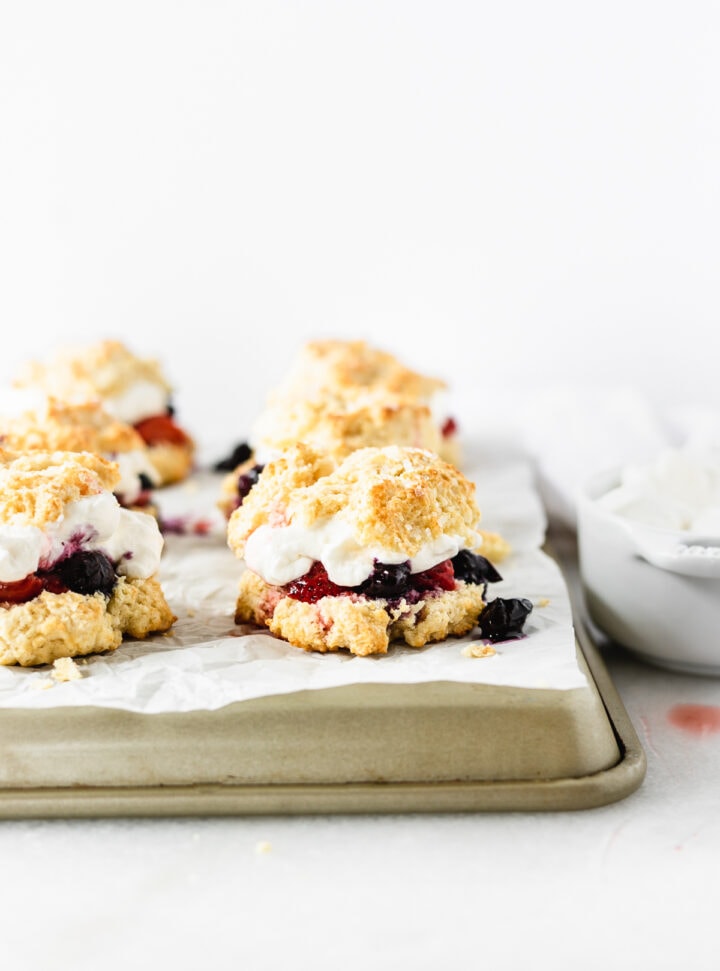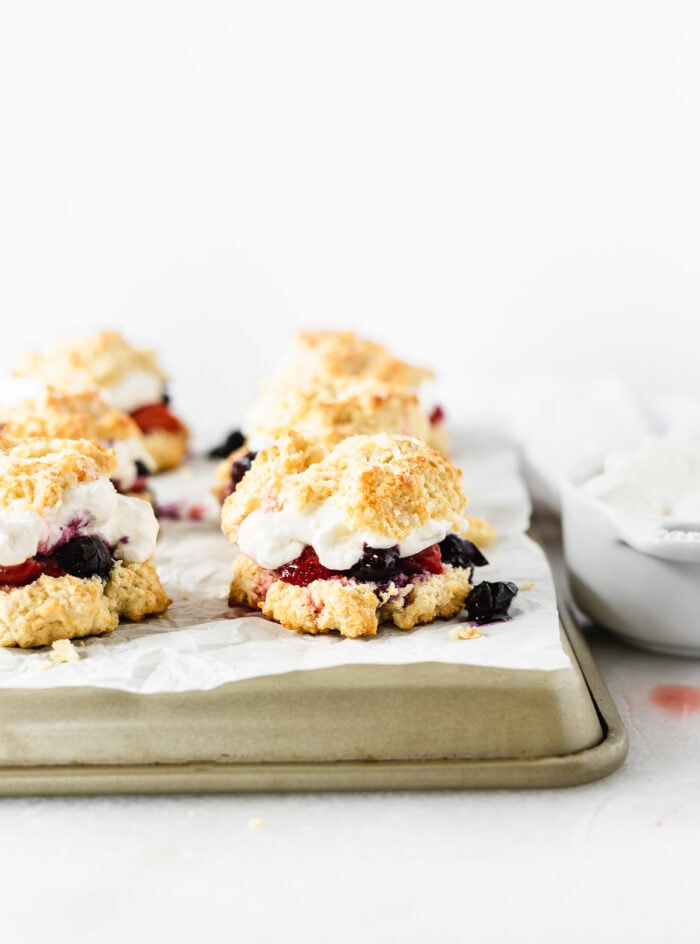 Red, White and Blueberry Shortcakes
Red White and Blueberry Shortcakes with a (slightly) healthier whipped cream are perfect little desserts to celebrate patriotic summer celebrations, from the 4th of July to Memorial Day and Labor Day!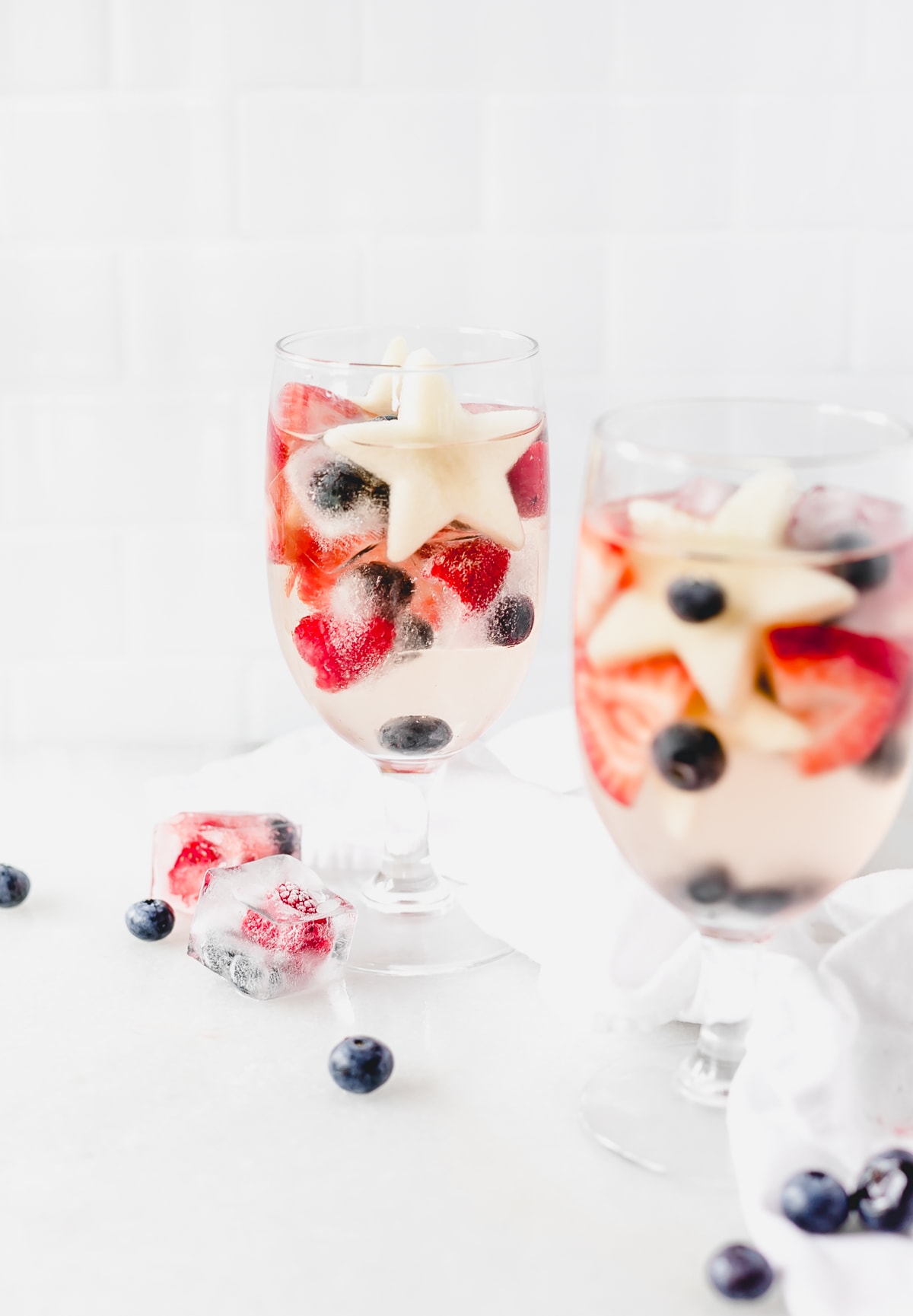 Patriotic Red, White, and Blue Sangria
This patriotic red, white and blue sangria is a fun and festive cocktail for the 4th of July or any other patriotic summer holiday! It's light and refreshing, full of fresh fruit, and it's so fun for summer celebrations.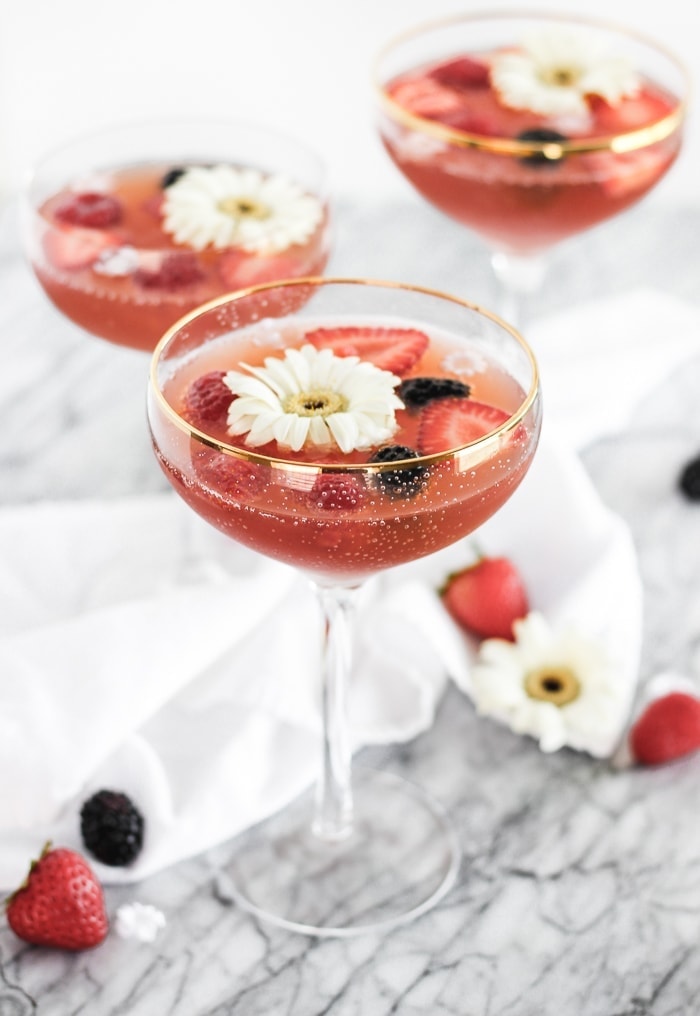 This berry brunch punch made with berries and sparkling wine is an easy, pretty pitcher cocktail that's perfect to serve at brunch for a crowd! It's light and fruity with the optimal booze to juice ratio (that is, high) but not so strong that you're falling out of your chair.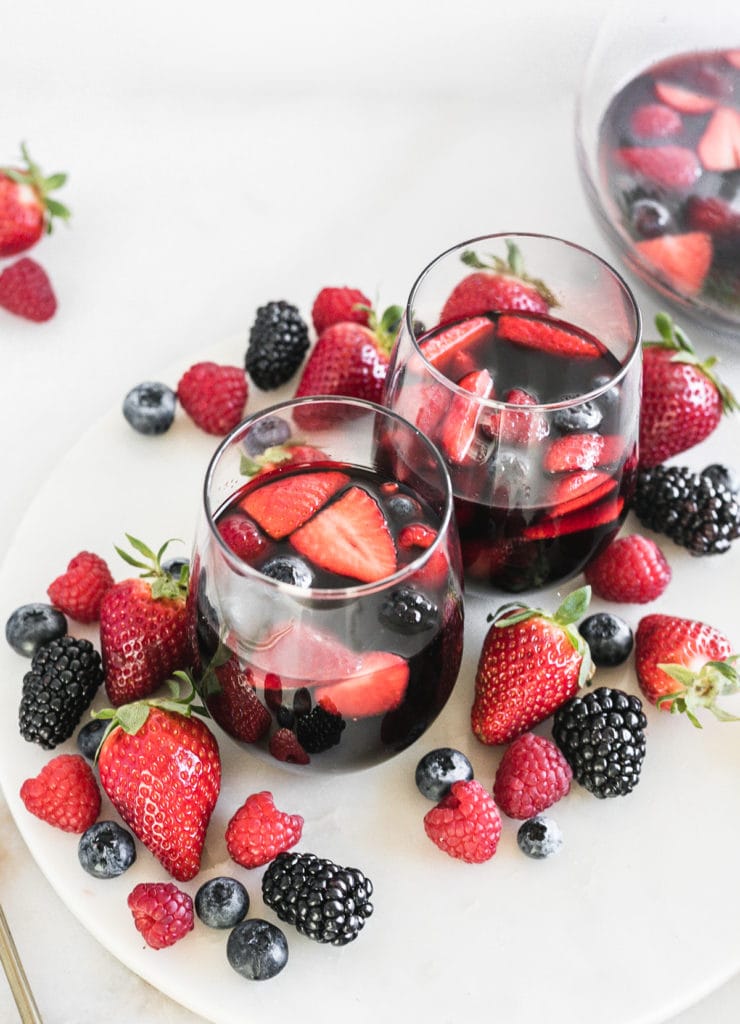 This red berry sangria is a delicious summer cocktail to share with friends, loaded with the free-radical-fighting power of antioxidants!