Love bowl meals? You're sure to discover a new bowl recipe you love in this list of healthy bowl meals for breakfast, lunch and dinner, from nourishing smoothie bowls to hearty grain bowls, to fresh poke bowls and everything in between!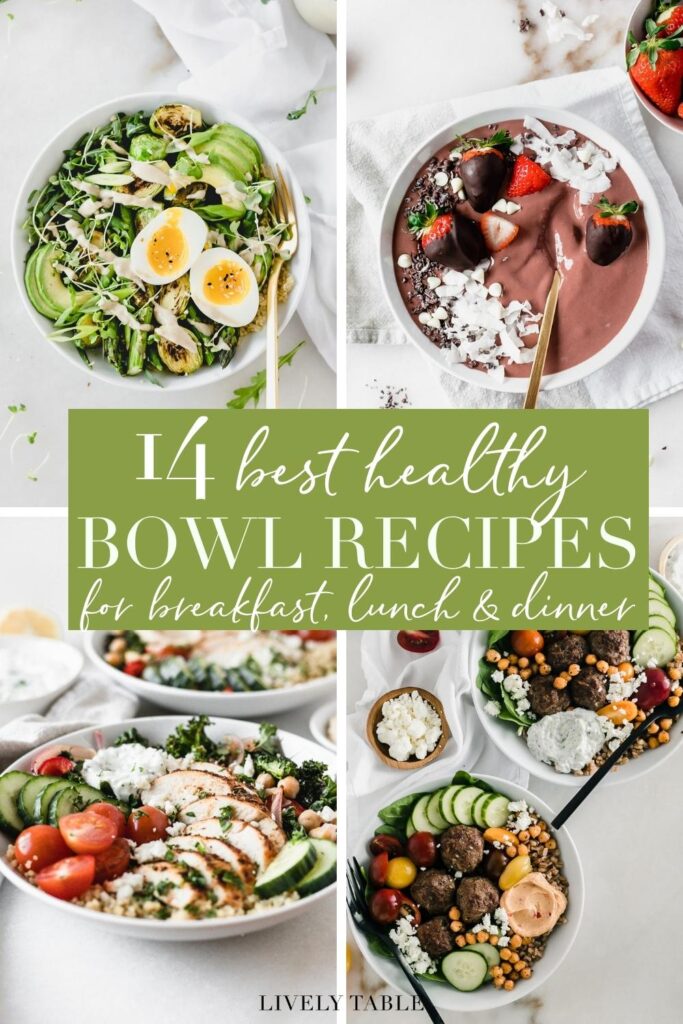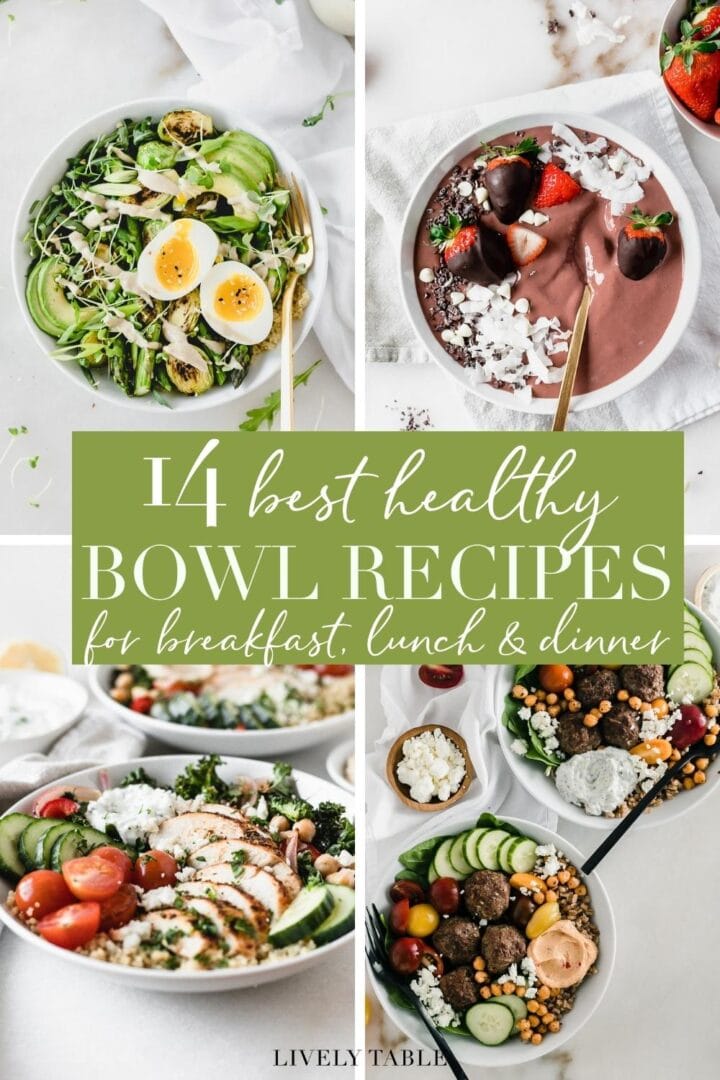 Buddha bowls, nourish bowls, power bowls, grain bowls. Whatever you call them, bowl meals are still having a moment. And I'm not one bit mad about it. It seems like everything tastes better in a bowl, right?
Why Bowl Meals Are The Best Meals
They're delicious. whether it's a smoothie bowl or a grain bowl, there are so many flavors, colors and textures you can pack into bowl meals. For the most amazing bowls, I always aim for tons of flavor from sauces, spices, spreads, or fresh herbs. And the more you flavor each ingredient, the more exciting your bowl will taste.
They're healthy AND satisfying. Bowl meals typically include a filling, satisfying mix of fiber, protein and fat, and they're usually heavy on the produce, which we could all use more of!
They're great for families or groups. Bowl meals are great when you've got picky eaters around, because each person can choose which ingredients to put into their own bowl.
They're great for preventing food waste! Have just a tiny bit of leftover roasted veggies? Maybe a half of a sweet potato, a tiny handful or granola, or a small amount of hummus? Throw it into a bowl. Maybe not all the same one, but you get the idea. Bowls are great for mixing and matching leftovers and tiny bits of food you have floating around into one delicious, lazy meal.
Customizing Bowl Recipes For Your Family
When making bowl meals for your family, lay each component out for each person to build their own bowl. (That way if anyone complains about the meal, it's their own fault!) This is great for picky eaters and family members with different dietary needs. Each of these recipes is easy to customize to fit your family's needs. Swap out the grains for whatever you have on hand. Leave off meat or replace with beans or lentils to make some of these bowls vegetarian. The great thing about bowls is you can switch out whatever you like! So feel free to make each of these recipes your own.
Healthy Breakfast Bowls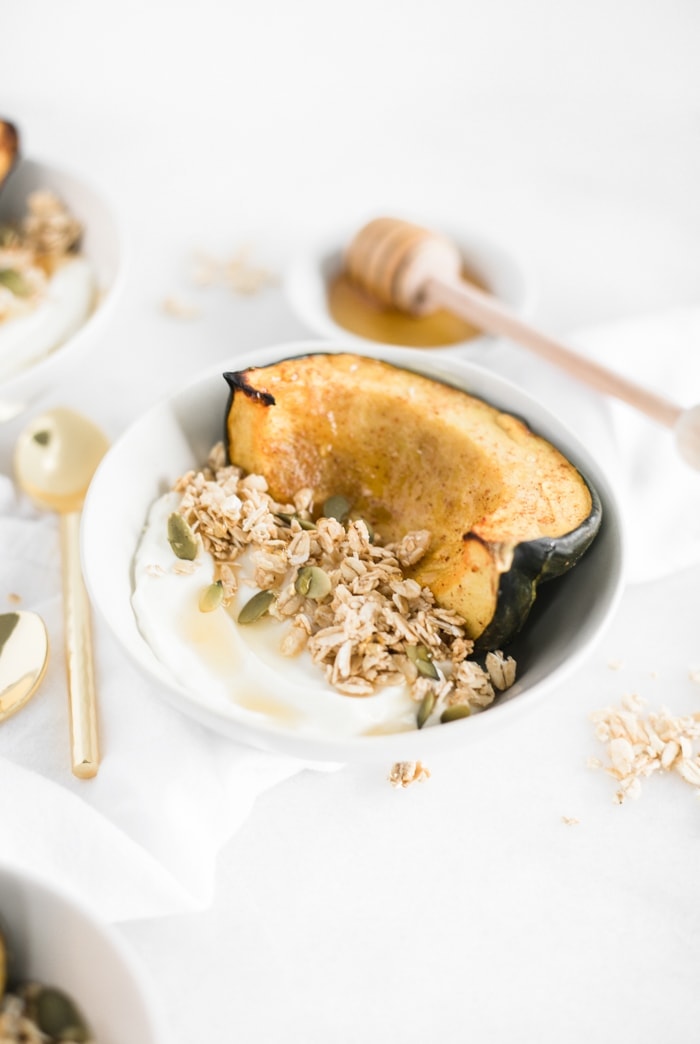 Honey Roasted Acorn Squash Breakfast Bowls Get a delicious serving of sweet fall veggies first thing in the morning with this honey roasted acorn squash breakfast bowl! With a healthy dose of probiotics and prebiotics, it's a great way to naturally support your gut health.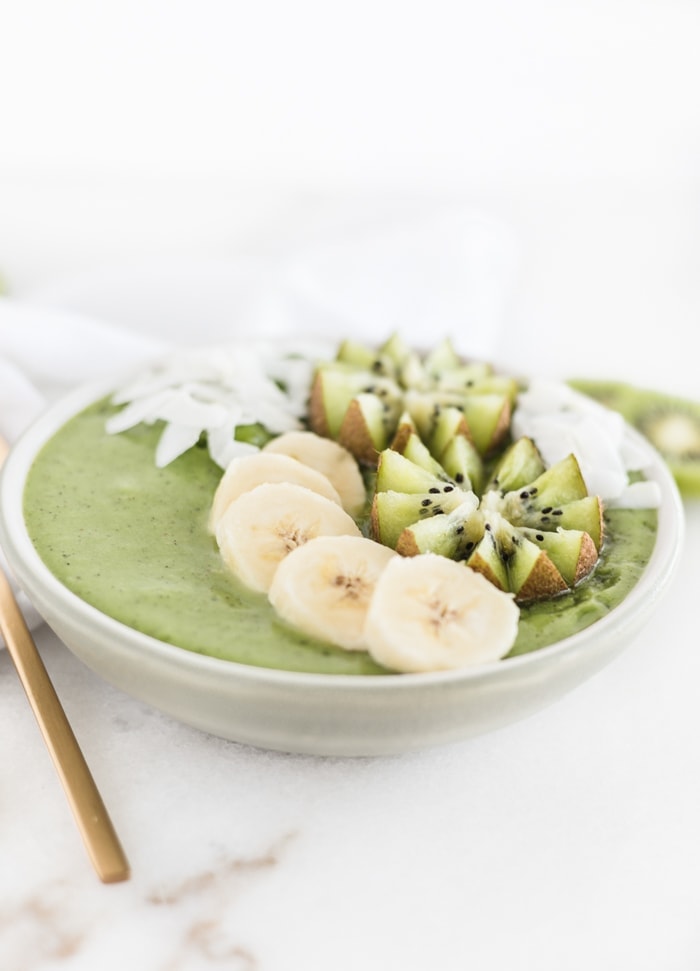 Pineapple Kiwi Green Smoothie Bowl Start your day with a refreshing pineapple kiwi green smoothie bowl!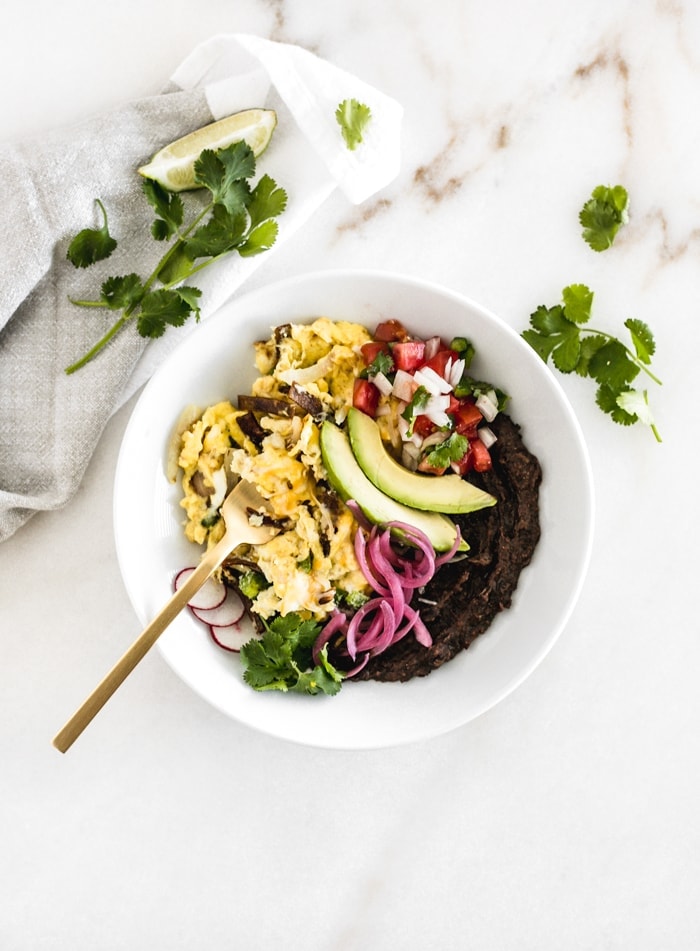 Healthy Migas Breakfast Bowl Start your day with a festive migas breakfast bowl! It's a healthier take on the Mexican brunch favorite migas that will keep you full for hours.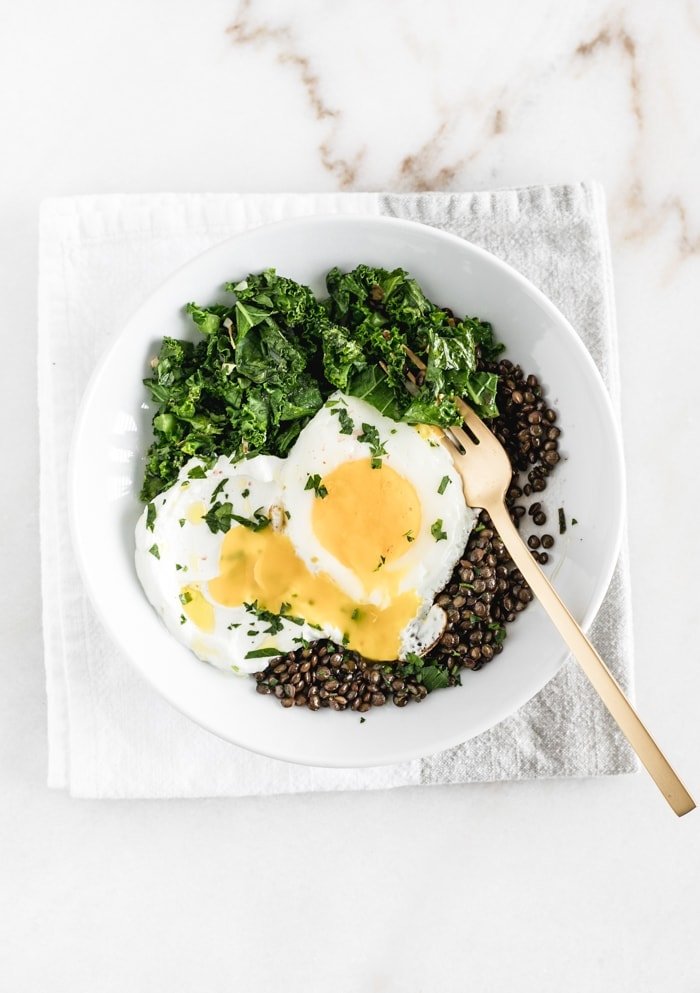 Kale Lentil Breakfast Bowl Kale, lentils, yogurt, and eggs come together to make a healthy, delicious, and savory breakfast with ingredients you probably already have in your kitchen in this Kale Lentil Breakfast Bowl!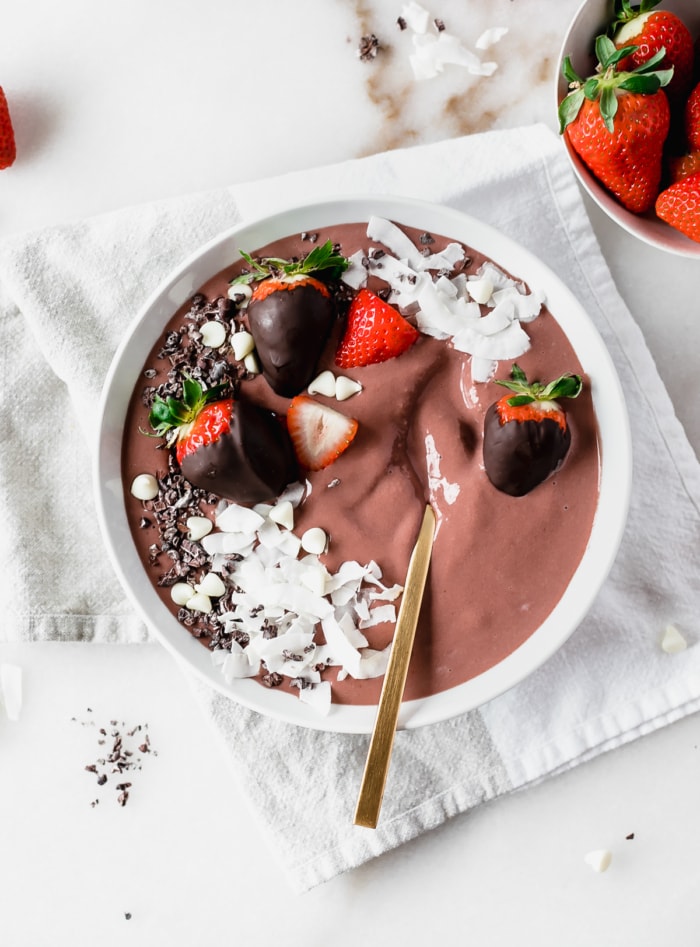 Chocolate Covered Strawberry Smoothie Bowls Creamy strawberry and chocolate smoothie bowls with ALL the sweet, chocolatey toppings - but still lower in sugar!
Healthy Lunch or Dinner Bowls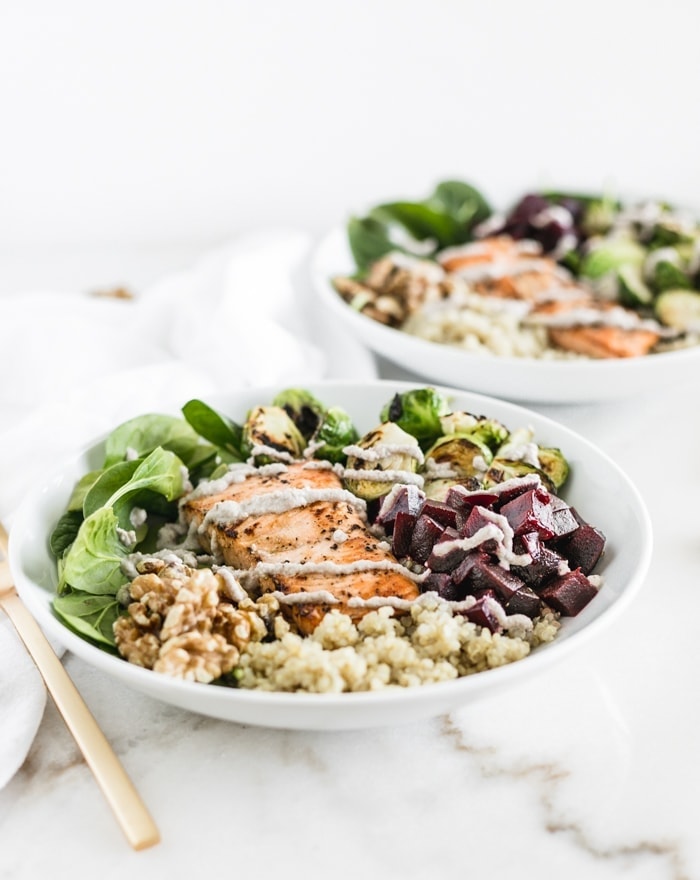 Salmon Walnut Quinoa Bowls These nutritious salmon walnut quinoa bowls with brussels sprouts, beets, and a tangy walnut cream sauce make a delicious and satisfying meal that includes lots of superfoods with cancer-protective nutrients!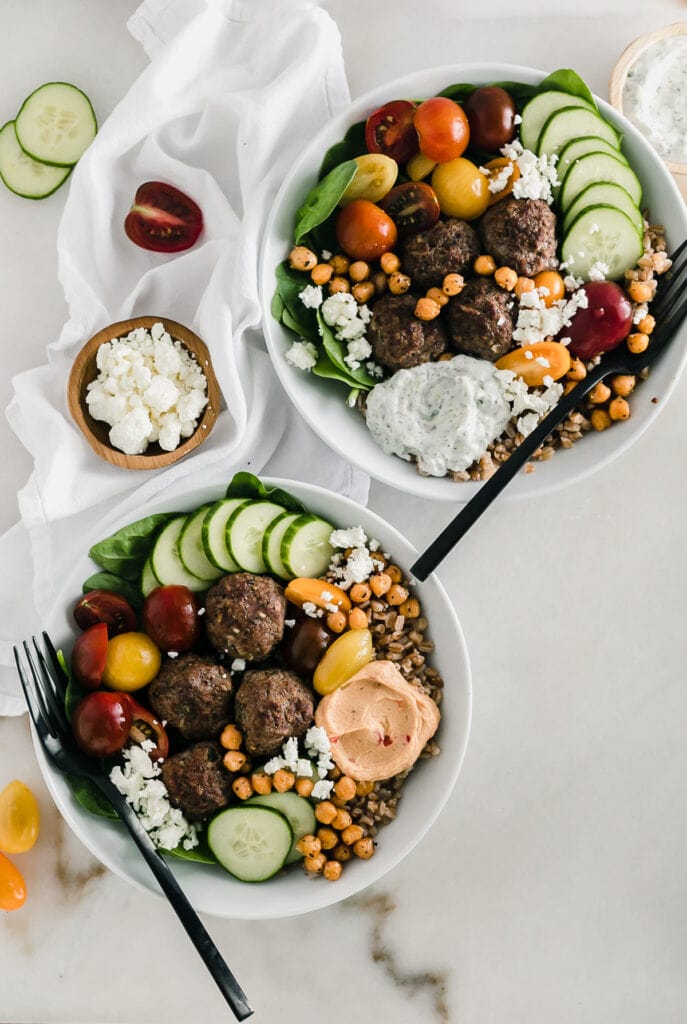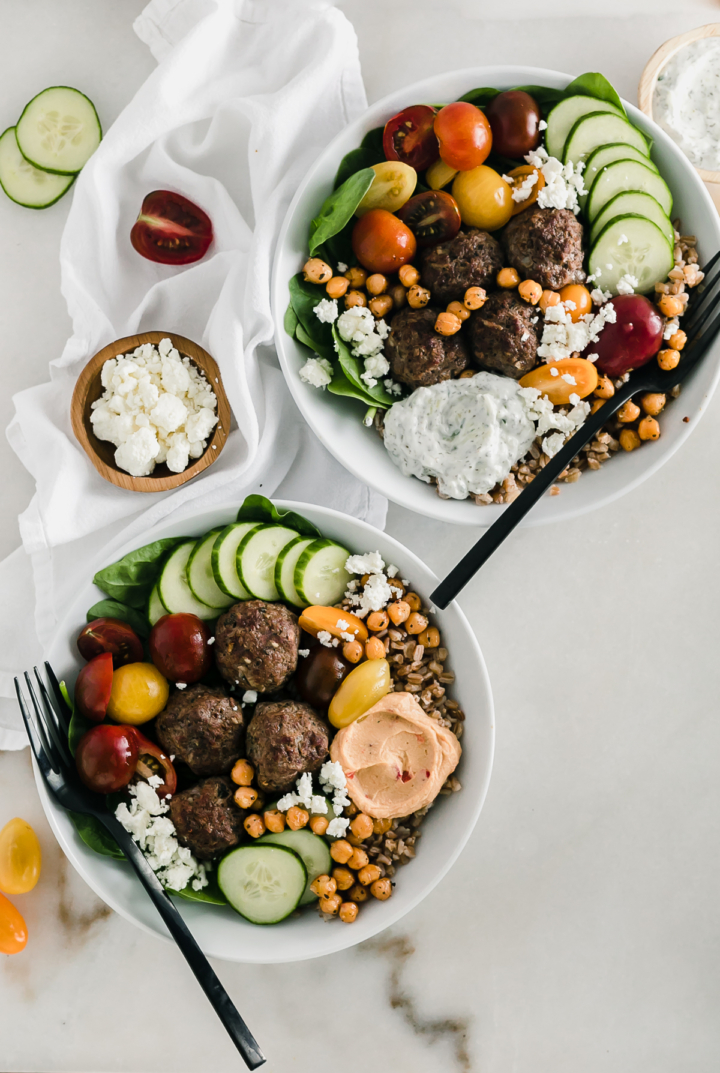 Mediterranean Meatball Grain Bowls Mediterranean meatball bowls with Greek-inspired beef meatballs, whole grain farro, fresh veggies, chickpeas, tzatziki, and feta make a delicious mix and match family dinner that's healthy and filling.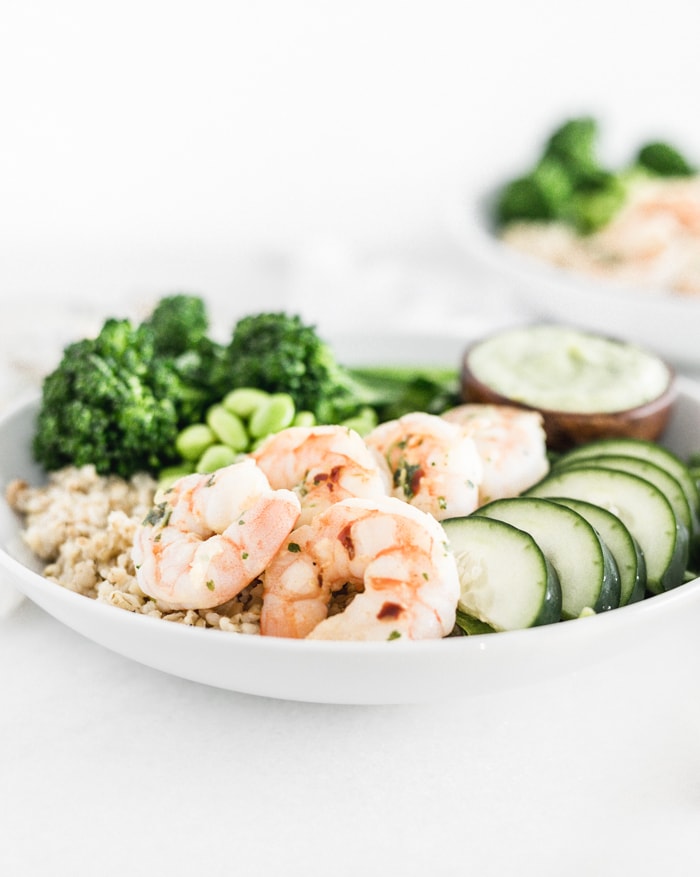 Meal Prep Shrimp Green Goddess Grain Bowls Meal prep shrimp green goddess grain bowls are delicious, nourishing bowls that are easy to make ahead or eat right away for healthy meals at any time!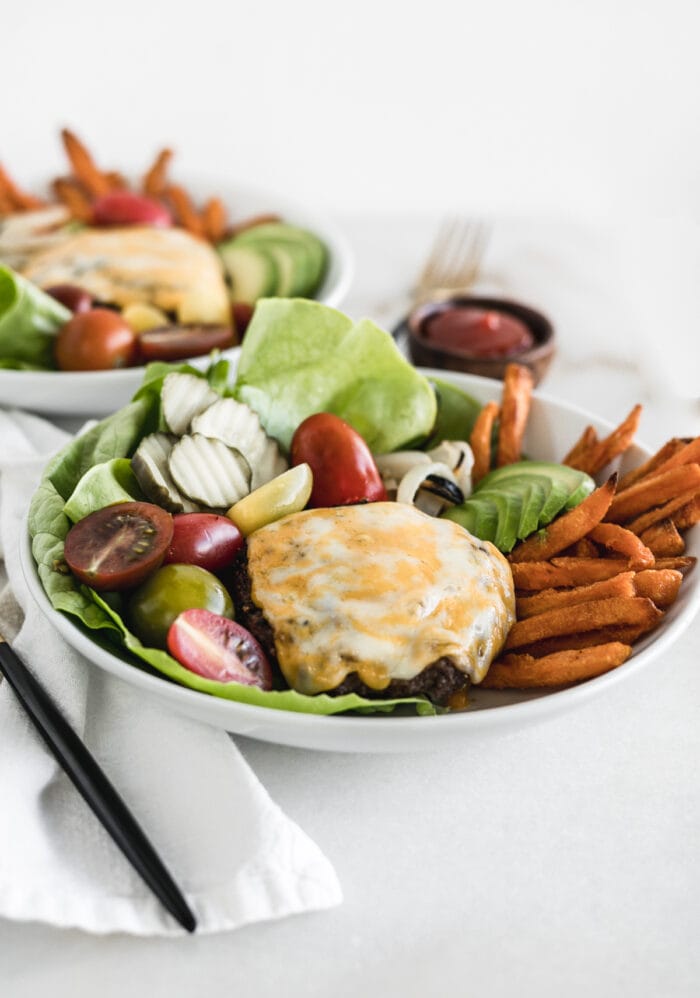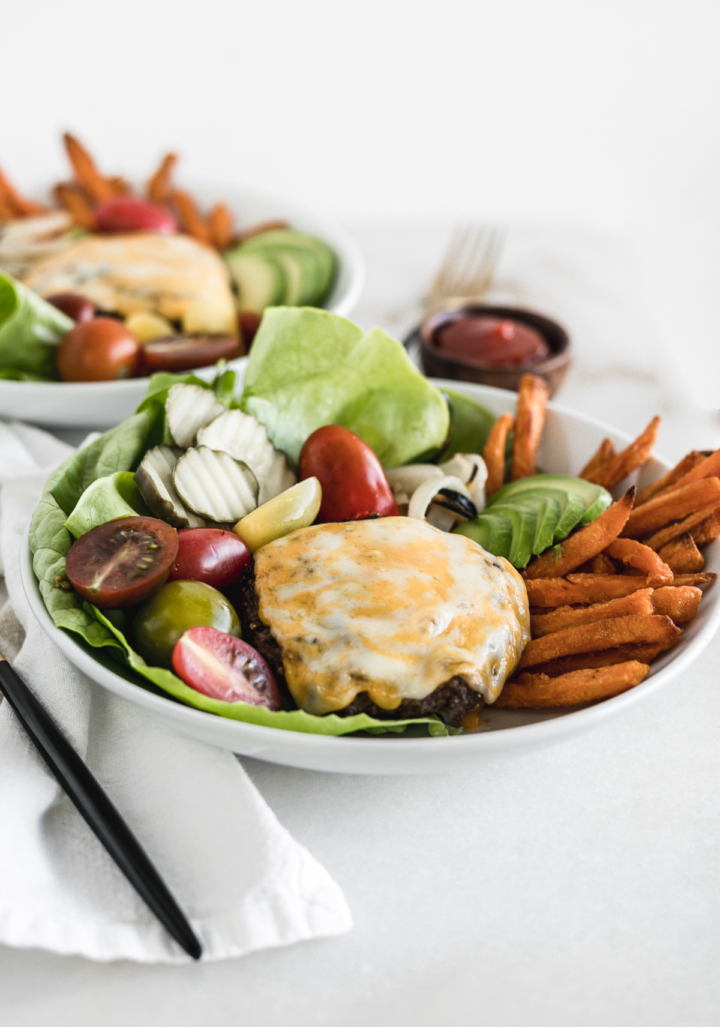 Healthy Grilled Burger Bowls Change up burger night with family friendly, healthy burger bowls! These delicious bowls made with grilled beef burger patties are vegetable heavy and easy to customize.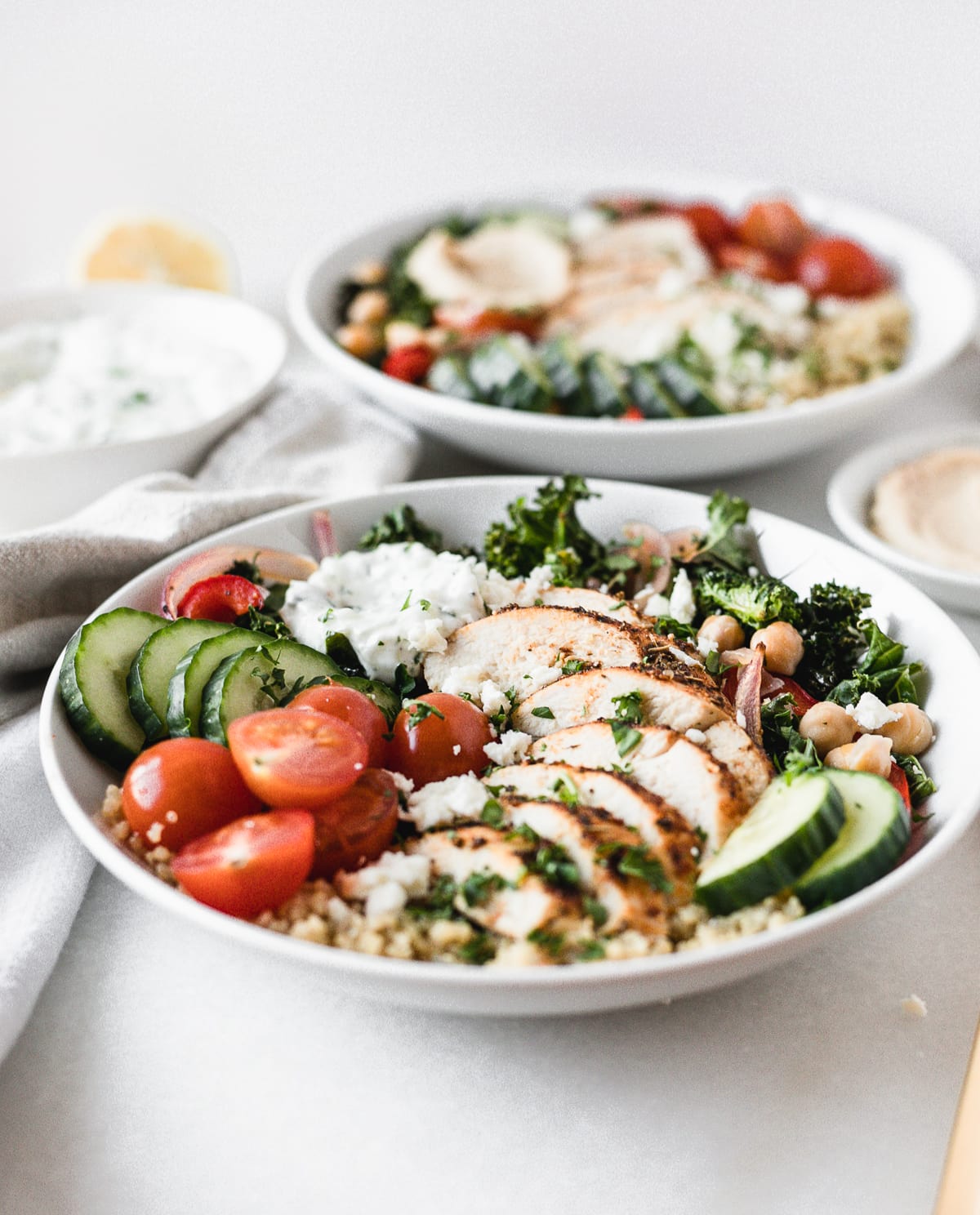 Healthy Sheet Pan Greek Chicken Bowls These delicious, healthy Greek chicken bowls are flavorful and filling grain bowls topped with greek chicken, roasted veggies, and tzatziki sauce. This sheet pan recipe is great for weeknight dinners or meal prep!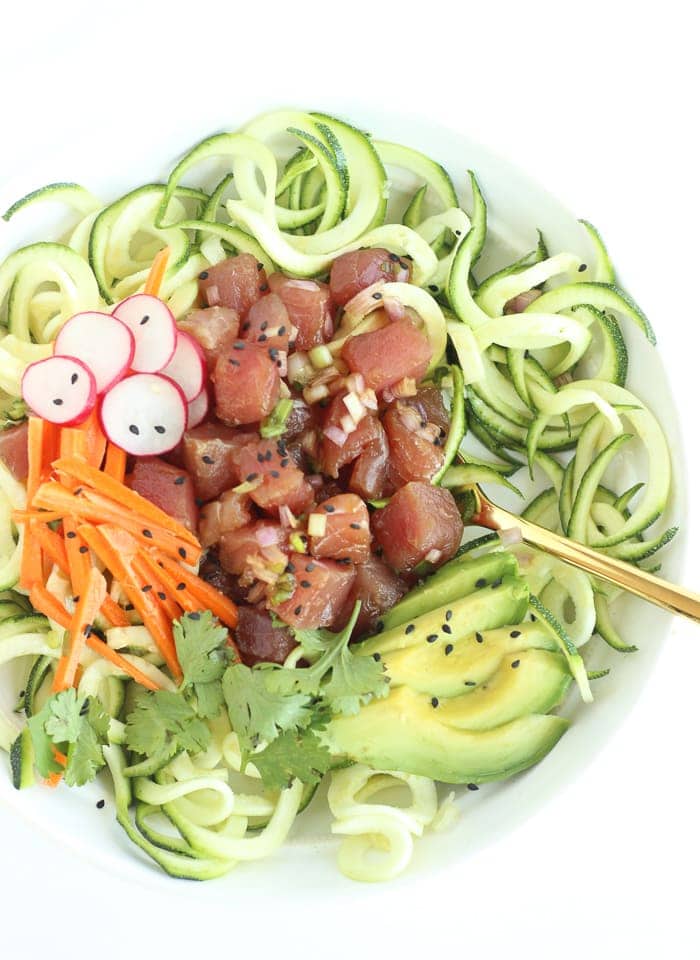 Zucchini Noodle Poke Bowl If you love poke or sushi, you'll love this Zucchini Noodle Poke Bowl! It's a fresh and delicious meal that requires no cooking and is full of fresh vegetables.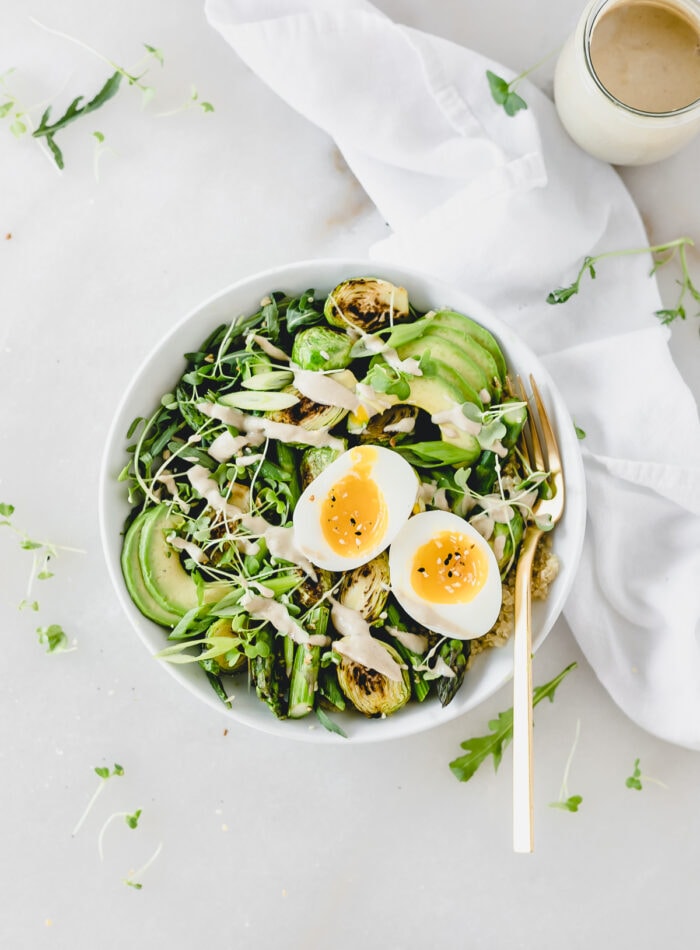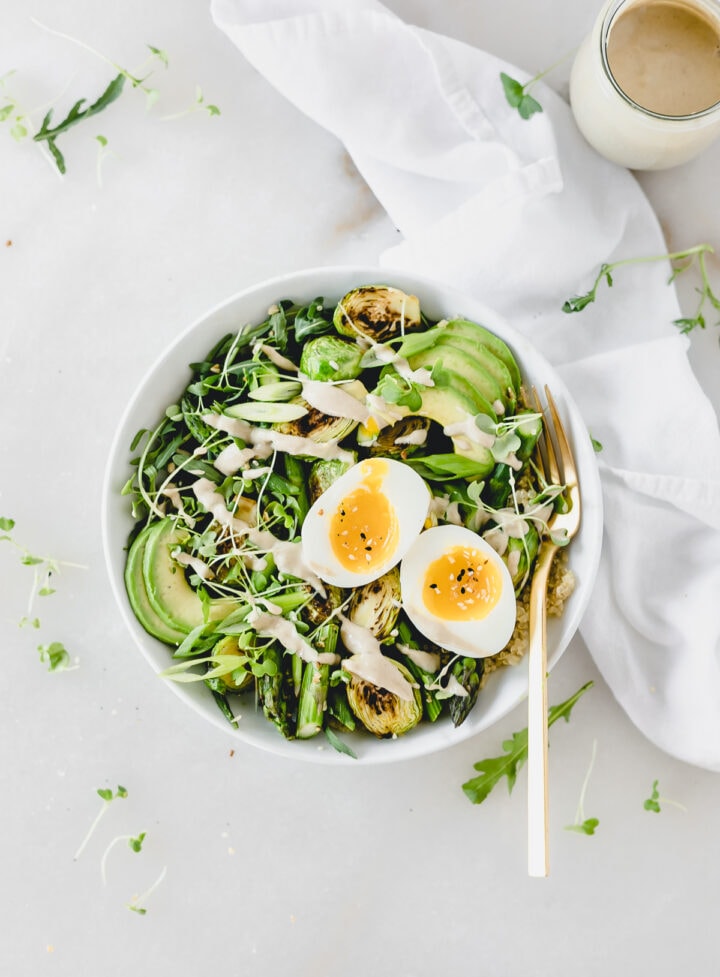 Spring Green Quinoa Bowl Say hello to spring with a healthy Spring Green Quinoa Bowl filled with nourishing green vegetables, quinoa, avocado, and an oozing poached egg!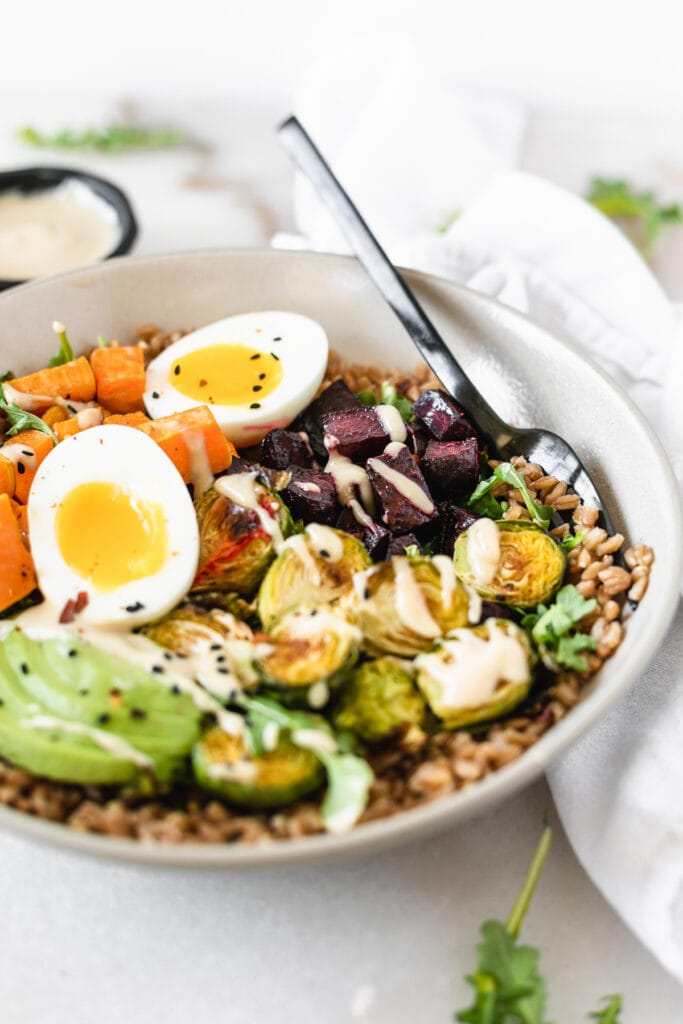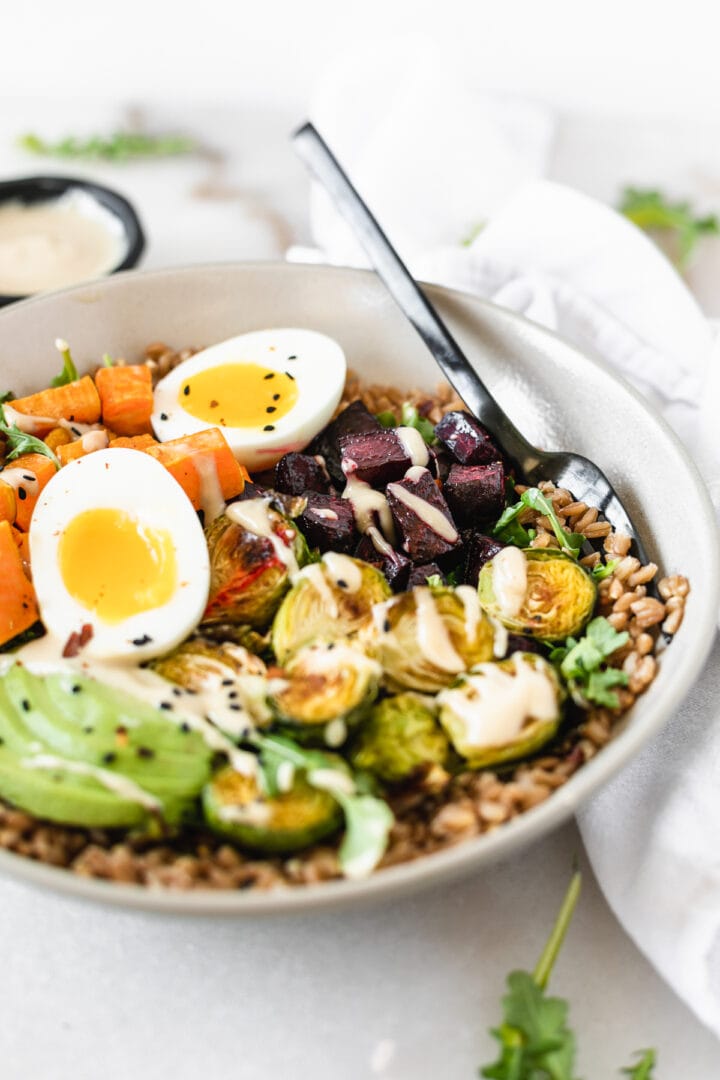 Vegetarian Rainbow Buddha Bowl This Vegetarian Rainbow Buddha Bowl with turmeric tahini sauce is a delicious meal full of nourishing ingredients that are healthy, filling and satisfying! Great for meal prepping healthy lunches.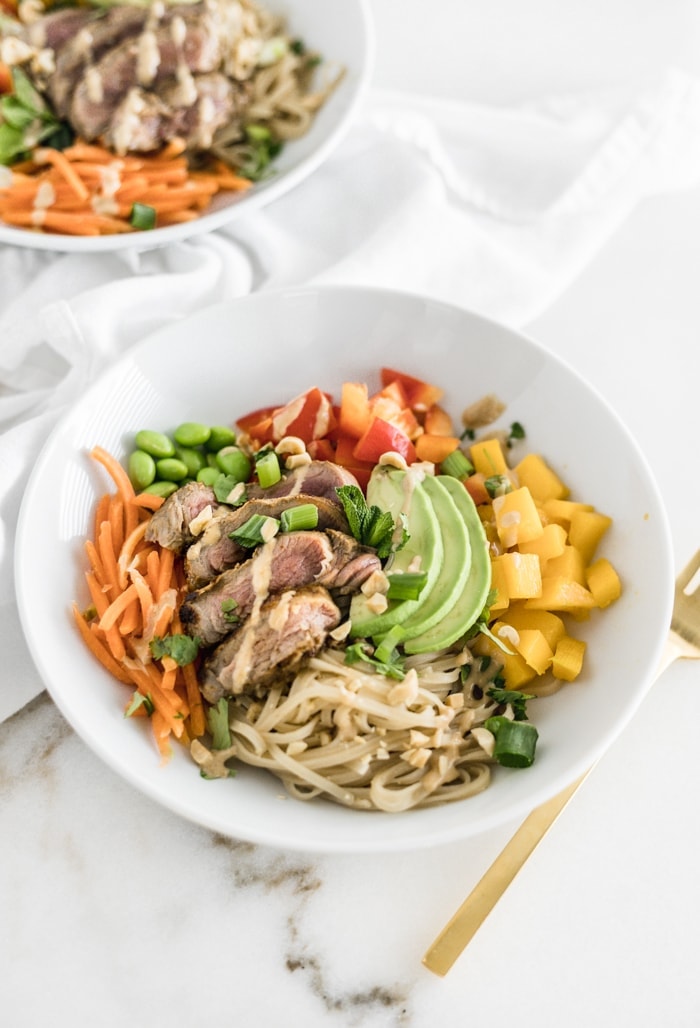 Thai Steak and Mango Noodle Bowl This healthy Thai Mango Steak Noodle Bowl features tender soy-marinated steak on a veggie-filled brown rice noodle bowl with a delicious ginger sauce.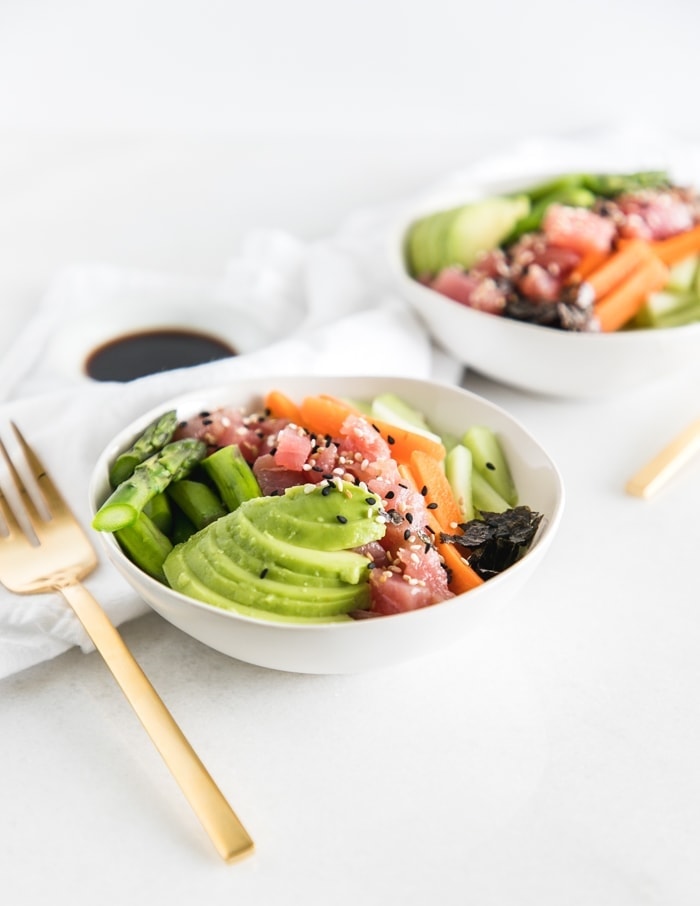 Brown Rice Sushi Bowls Easy and delicious brown rice sushi bowls are customizable so you can create a healthy meal to satisfy your sushi cravings at home!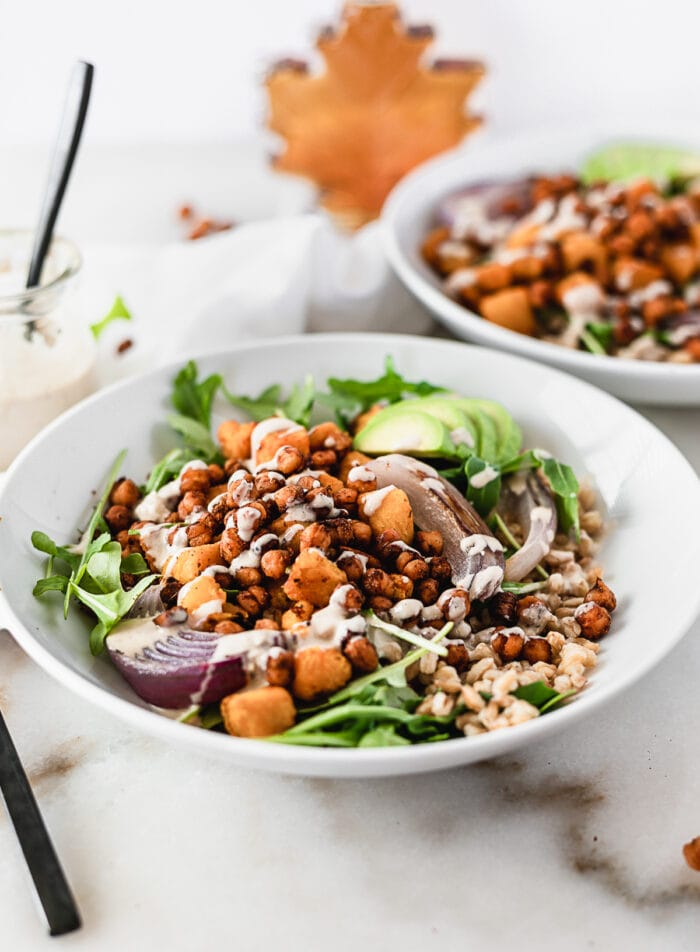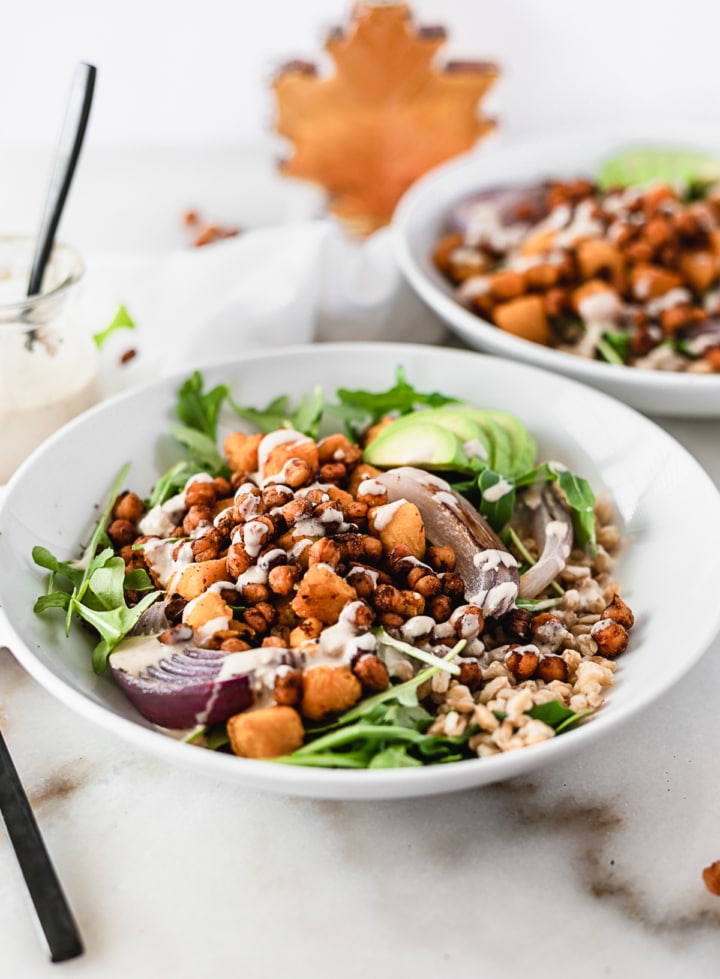 Maple Chili Chickpea Grain Bowls These plant based grain bowls topped with crispy maple chili roasted chickpeas and drizzled with a maple tahini dressing are nourishing and delicious. They're perfect for meal prep!